Do you want to reuse one of your WordPress forms? By copying your form, you'll make quick work of creating the new form. In this tutorial, we'll show you how to duplicate a WordPress form.
Why Should You Duplicate a Form
Copying a form will save you time since you don't have to rebuild one from scratch each time.
Here are some of the most common reasons for duplicating a form:
Frequently used fields that appear in most forms on your website can be cloned.
Testing a form using A/B or split testing can be easy when you duplicate and rearrange it to measure form conversions.
Style forms individually by creating multiple variations.  You can design one form better suited for a sidebar and another for embedding into a contact page.
How to Duplicate a WordPress Form
The first thing you need to do is install and activate the WPForms plugin. Here's a step by step guide on how to install a WordPress plugin.
Also, you'll need to have a form created. You can check our tutorial on how to create a simple contact form as an example.
Step 1: Get Started
Head over to your WordPress dashboard and go to WPForms » All Forms. Here you'll see all your existing forms including the one you want to duplicate.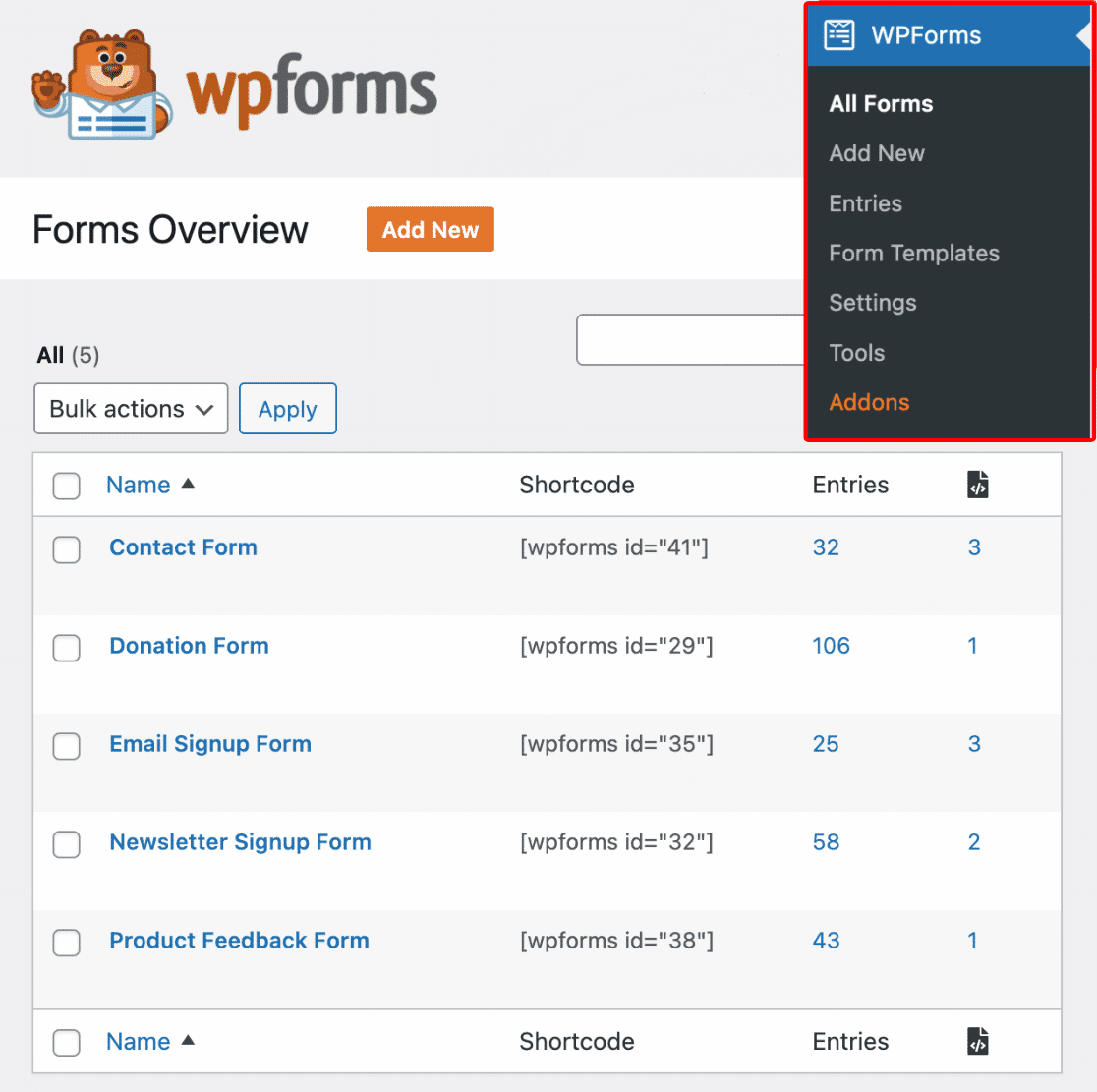 Find the form you want to clone and hover the mouse over the form name to see some options just below the title. Once you see the option Duplicate, click on it to continue.

A confirmation modal box will open up asking you to confirm whether you want to duplicate the form or not. Click on OK to confirm.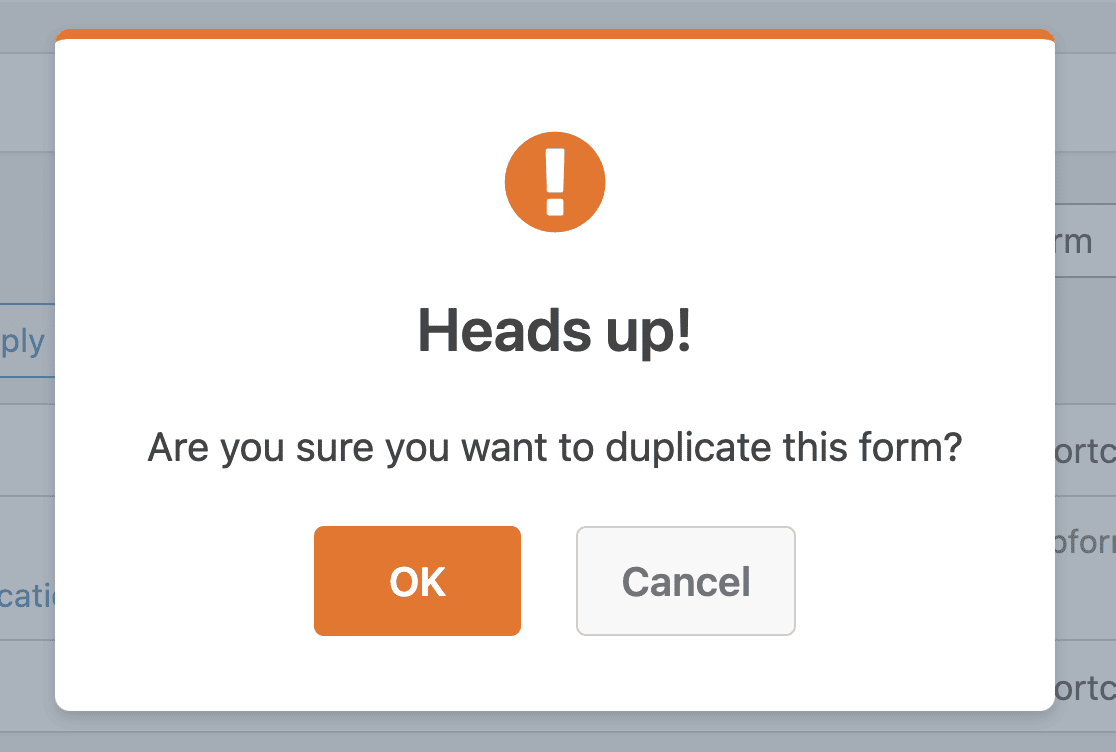 You'll notice that a duplicate form has been created. The title of this new form will be identical to the original form, except that the new form has "(ID #)" included.
Step 2: Customize and Configure Your Form
To change the title of the new form, or to modify the form content and layout, hover the mouse over the form name and click on Edit.

Now click on the Setup tab, present on the left sidebar, to edit the form name. Here you'll find a text box with the duplicate WordPress form name. Change the name as per your wish and then click on Save.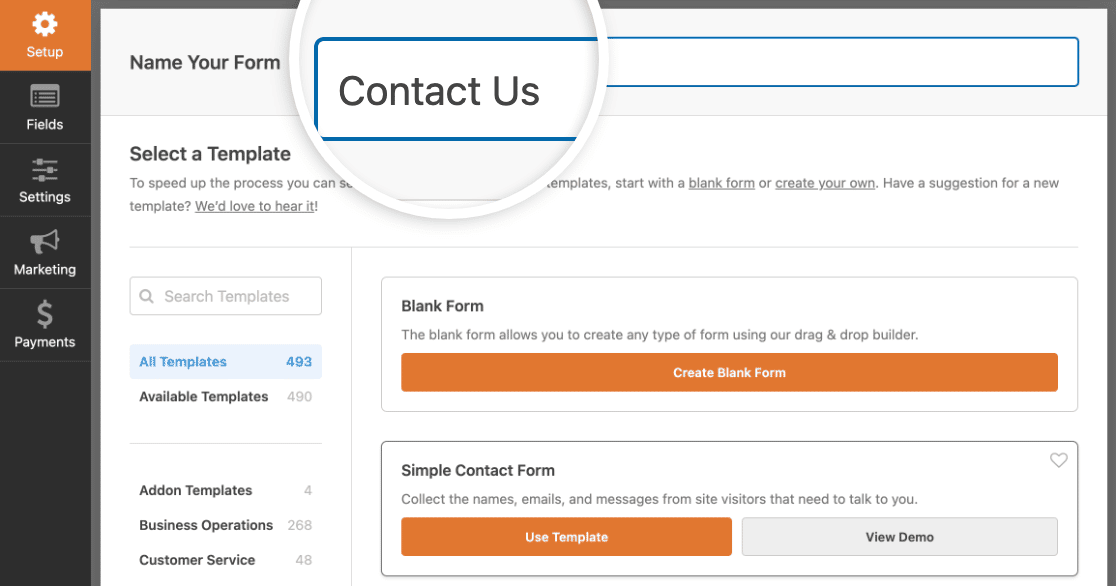 If you want to add a new field, click on the Fields tab and then drag a new field from the left panel to your form. You can also rearrange or edit the form fields by clicking on them.
Finally, go to the Settings tab. Here you can change the form description and submit button text in the General section. You can also enable anti-spam protection to prevent spam submissions in the Spam Protection and Security section.

If you want to create GDPR compliant form, then check both the Disable storing entry information in WordPress and disable storing user details (IP address and user agent) options.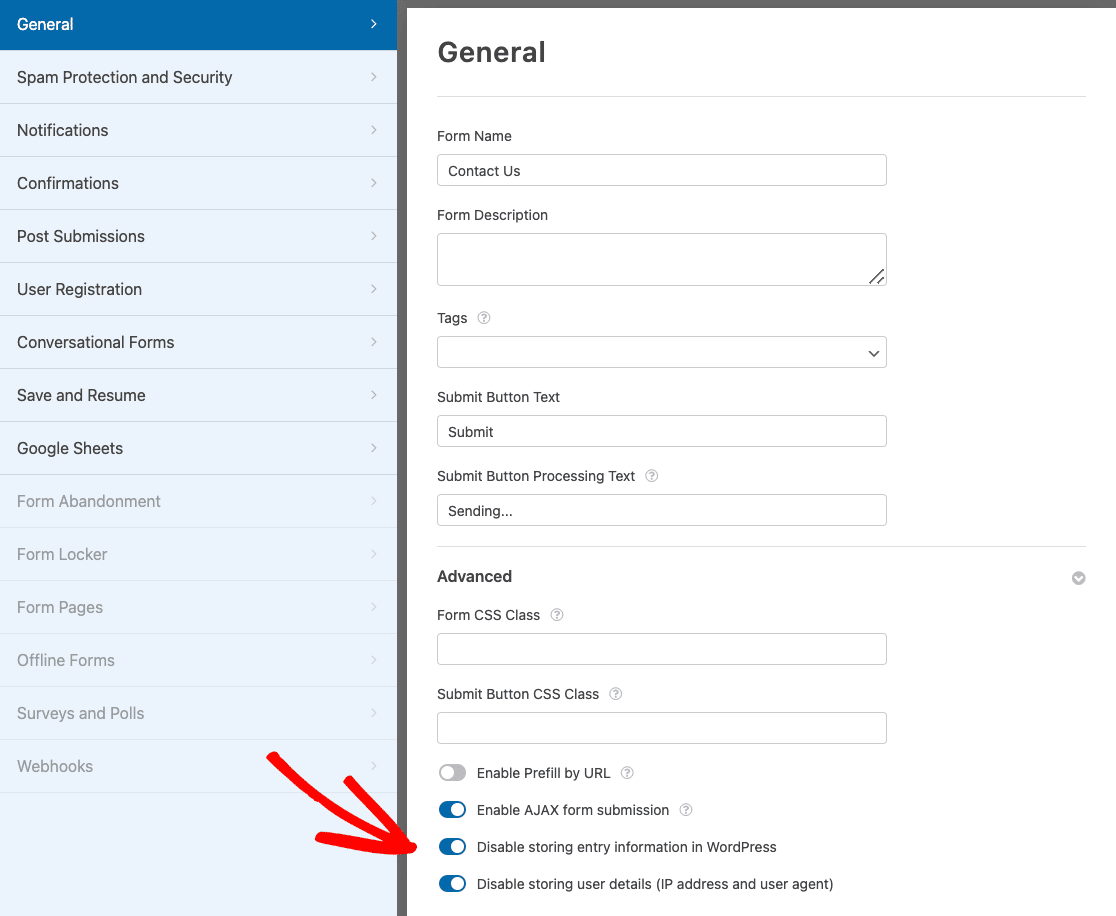 You can also set up form notification emails and adjust the confirmation settings in your duplicate WordPress form if you want.
Step 3: Add Your Duplicate WordPress Form to Your Site
Once you've created and customized your form, you need to add it to your website.
Don't worry! With WPForms, you can easily add your forms to your posts, pages, or sidebar. Let's show you how to add your duplicate form to a new page.
Let's take a look at the most common post/page embed option.
To embed your duplicate WordPress form, create a new page or post in WordPress, or open an existing one in the editor. After that, add a new block and select WPForms.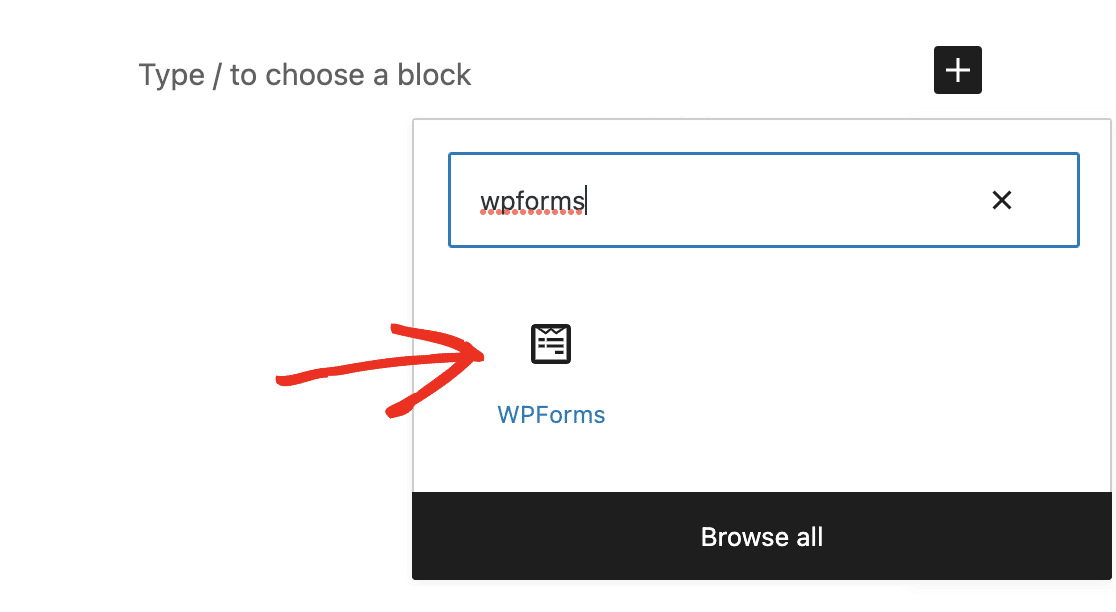 The handy WPForms widget will appear inside your block. Click on the WPForms dropdown and pick the form you've just created and that you want to insert into your page.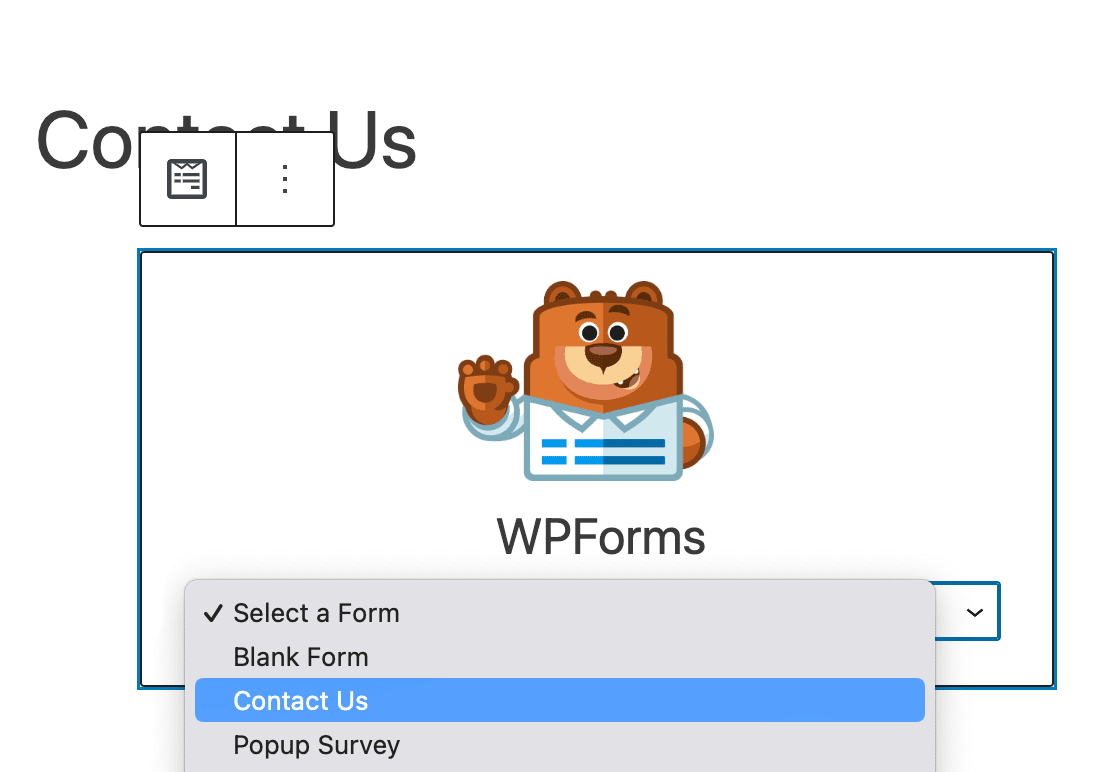 Now, click Preview, and you'll see your duplicate WordPress form as it will appear on your website. If you're satisfied with the way your duplicate WordPress form looks, go ahead and click on Publish and your form will go live on the Internet.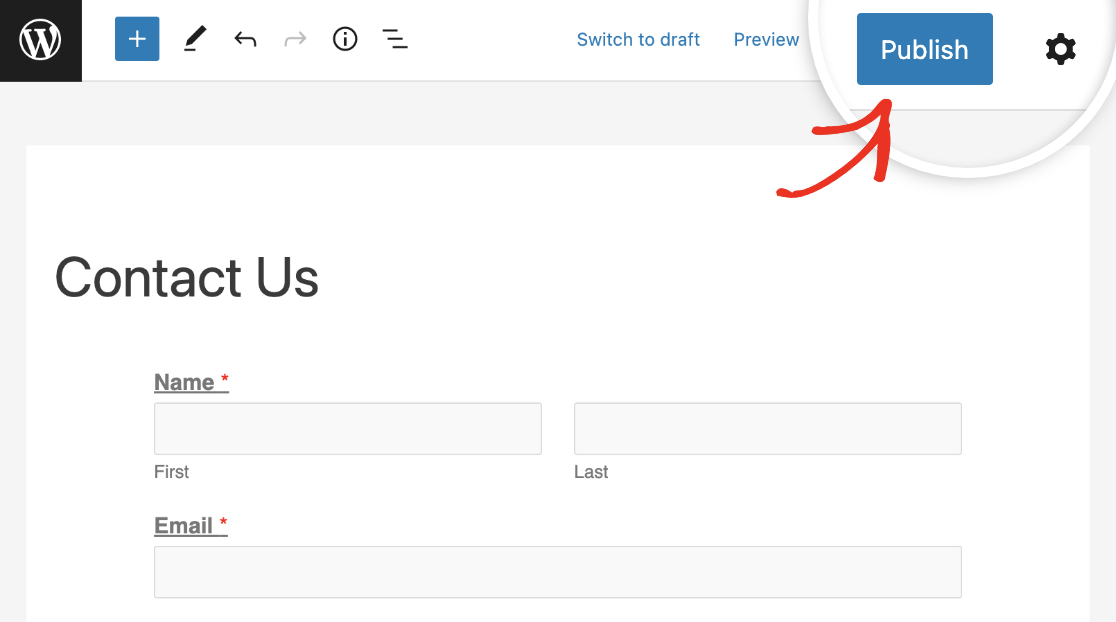 Take a look at your published page to see exactly how your duplicate WordPress form looks on your website!
To view your WordPress form entries after they've been submitted, check out this complete guide to form entries.
Create Your WordPress Form Now
Next, Export Your Form Entries
That's it! You've duplicated a WordPress form with data from an existing form within your website.
Now, whenever you've made a customized form, you'll save yourself the time and energy of recreating a similar form.
Looking for more time-saving tips? You might also want to check out our guide on how to export WordPress form entries to CSV. This will allow you to add information to your email marketing service, analyze the results of advanced form fields, and more.
If you like this article, then please follow us on Facebook and Twitter for more free WordPress tutorials.