How to Duplicate a WordPress Form in One Click
Last updated on Mar 8, 2017 by Courtney Robertson
Do you want to reuse one of your WordPress forms? By copying your form, you'll make quick work of creating the new form. In this tutorial, we'll show you how to duplicate a WordPress form.
When to Duplicate a Form
Copying a form will save you time, since you don't have to rebuild one from scratch each time.
Some of the most common reasons for duplicating a form are:
Frequently used fields that appear in most forms on your website can be cloned.
Testing a form using A/B or split testing can be easy when you duplicate and rearrange the form to measure conversions.
Style forms individually by creating multiple variations.  You can design one form better suited for a sidebar, and another for embedding into a contact page.
How to Duplicate a WordPress Form
The first thing you need to do is install and activate the WPForms plugin. Here's a step by step guide on how to install a WordPress plugin.
Also, you'll need to have a form created. See our tutorial on How to Create a Simple Contact Form as an example to get started.
After you've created your initial form, go to WPForms » All Forms. With your mouse hovered over the options below the form titles, you'll see Duplicate. Select this option.

In the popup modal, confirm that you want to duplicate this form.
You'll notice that the title is identical, except that the new form has "(ID #)" included.  To change the title of the new form, or to modify the form contents and layout, go to Edit.

Then from Setup, change the form name.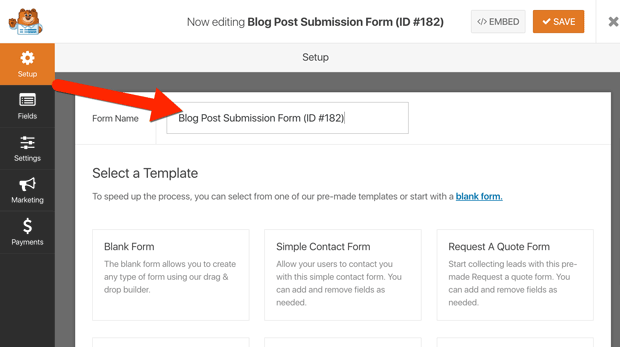 From here, you can edit the fields, settings, and other integrations as you normally would.
Now you're all set! You've duplicated a form with data from existing forms within your website. Now, whenever you've made a customized form, you'll save yourself the time and energy of recreating a similar form.
Looking for more time-saving tips? You might also want to check out our guide on How to Export WordPress Form Entries to CSV, which will let you add information to your email marketing service, analyze the results of advanced form fields, and more — see the tutorial for more details.
If you like this article, then please follow us on Facebook and Twitter for more free WordPress tutorials.