Looking for the best plugin to embed Google maps on your WordPress site?
Placing a map on your website allows you to display your business contact information and help your visitors find your location easily. Also, the physical existence of your business helps you build trust and credibility among your users.
In this article, we've hand-picked the best WordPress map plugins, so you can add and display Google maps on your website effortlessly.
What Is a Map Plugin?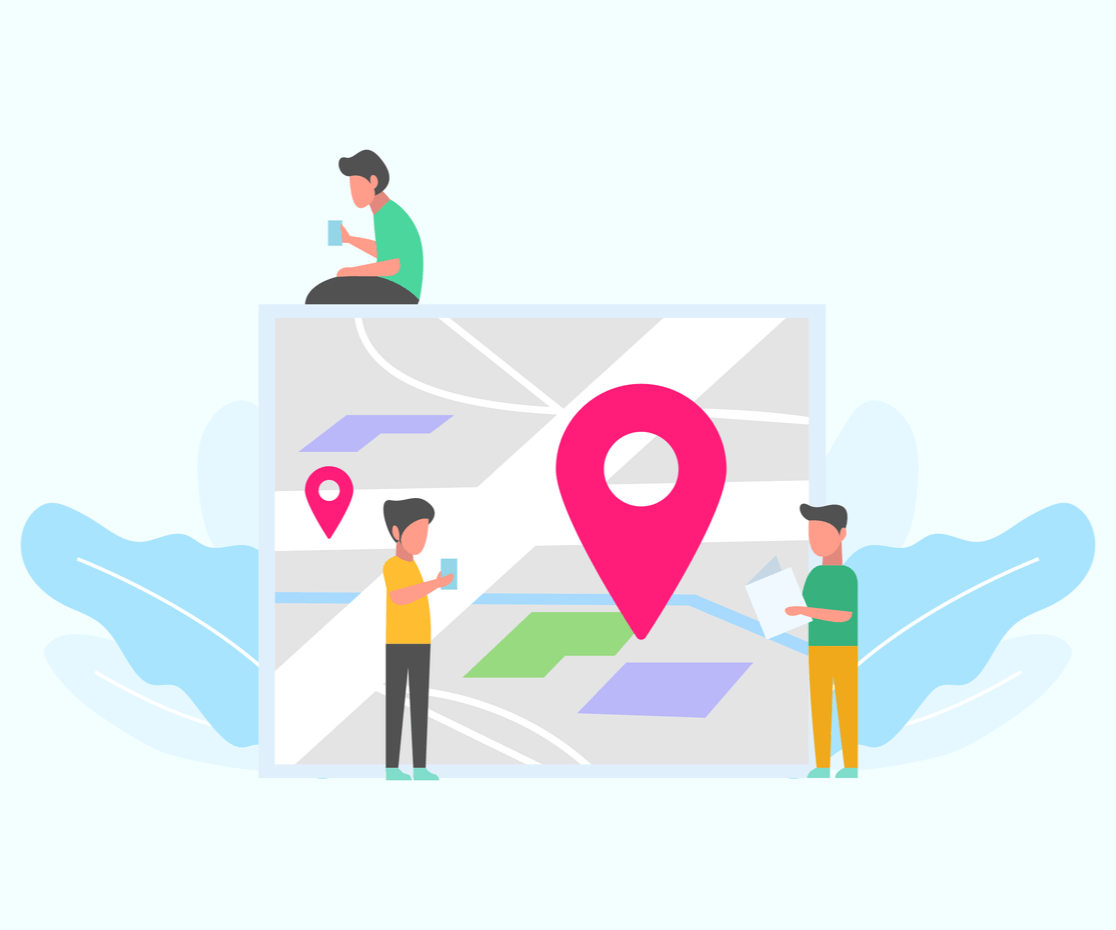 A WordPress map plugin helps you embed and display Google maps on your website – without writing a single line of code! (in most cases)
Generally, a map plugin offers multiple features that you can use to create and showcase customized maps on your website.
With a powerful Google map plugin, you can change map themes, add multiple locations, create custom markers, and much more.
Of course, you can add a custom HTML code to embed Google Map on your site, but doing so will limit many customization options you'll get with a map plugin.
How Do I Create an Interactive Map in WordPress?
The simplest way to create beautiful and interactive maps in WordPress is to use a map plugin.
A plugin opens limitless customization and styling options for your map display. You can completely change the look of your map and match it with your website brand and design.
Maps' styling and customizations with HTML and CSS are time-consuming and require advanced coding knowledge.
If you're a beginner, using a Google map plugin will be a huge time-saver – a better and easier option for you and your business.
How Do I Add a Google Map to WordPress?
You can embed Google maps in WordPress using 2 methods:
Add Google Maps in WordPress manually
We recommend using the Google map plugin for the process. Many map plugins are integrated with easy embedding options that let you quickly add maps on any page or post of your website.
Best WordPress Map Plugins
We've included free and paid map plugins here so that you can choose the best fit for your business. Let's start with the easiest solution for address autocomplete with maps.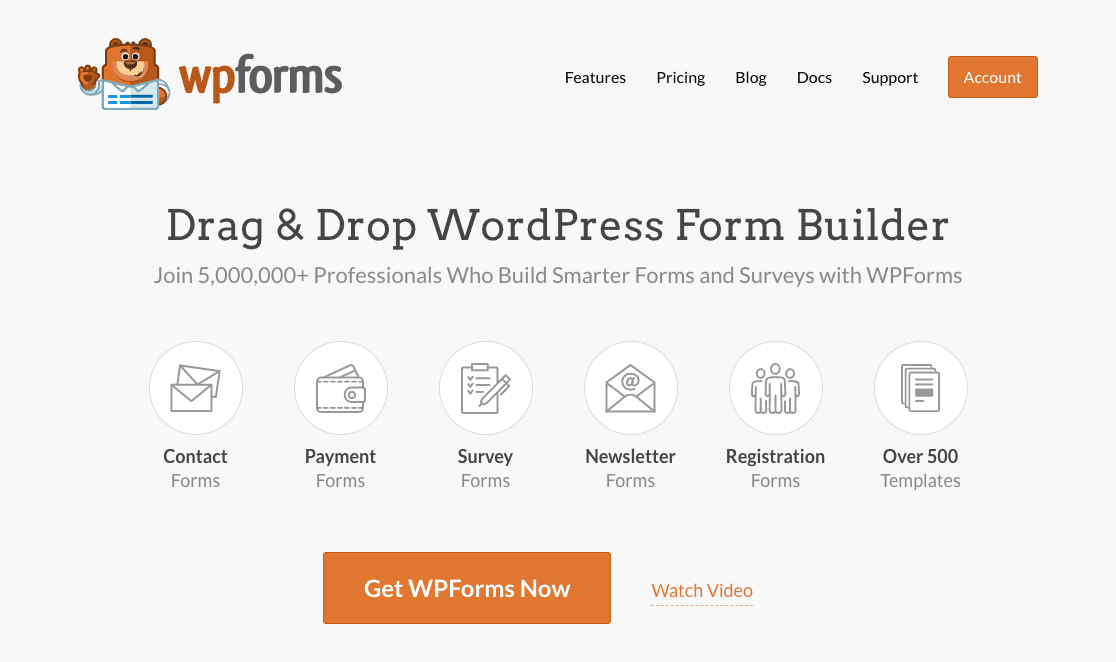 WPForms is the best form builder plugin for WordPress. It's not a standalone Google Maps plugin, but you can do more with WPForms. WPForms is also one of the top WordPress plugins to use with Mapbox,
The Pro version of WPForms comes with a powerful Geolocation Addon that allows you to add a map to your website contact forms without any custom HTML code. All you have to do is connect it to either Google Places or Mapbox.
You can then use a Single Line Text field or an Address field to add address autocomplete to your forms and allow your visitors to move the pin around an interactive map to change their addresses.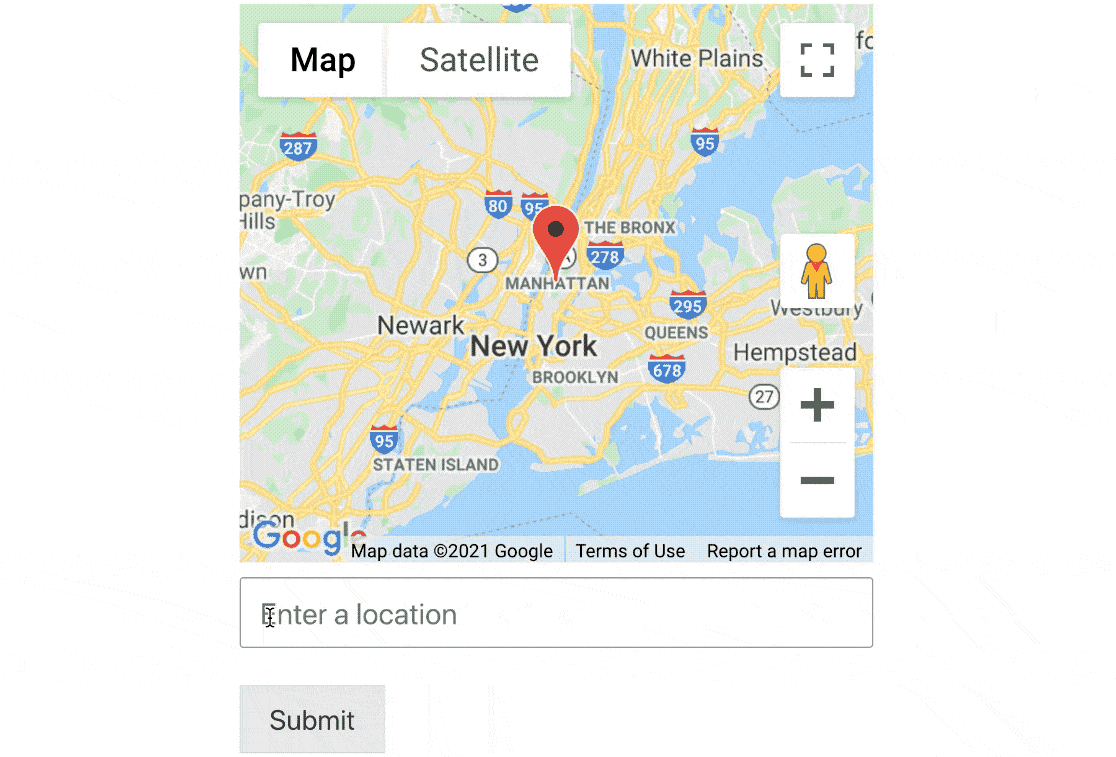 Create Your WordPress Map Form Now
Features: 
Easy and user friendly
Interactive drag and drop builder
Track where your form users are coming from
Lets you create autocomplete address forms in WordPress
Allows you to store your website visitors' geolocation data with their form entry
Give flexibility to users to adjust their location by dragging the map pin.
Apart from the Geolocation Addon, WPForms Pro includes a huge pre-built form template library. You'll get access to form templates for entertainment along with other categories like business operations and marketing. Overall, WPForms includes tons of excellent features that definitely enhance your form-building experience on your website.
Pricing: Starts at $199.50/year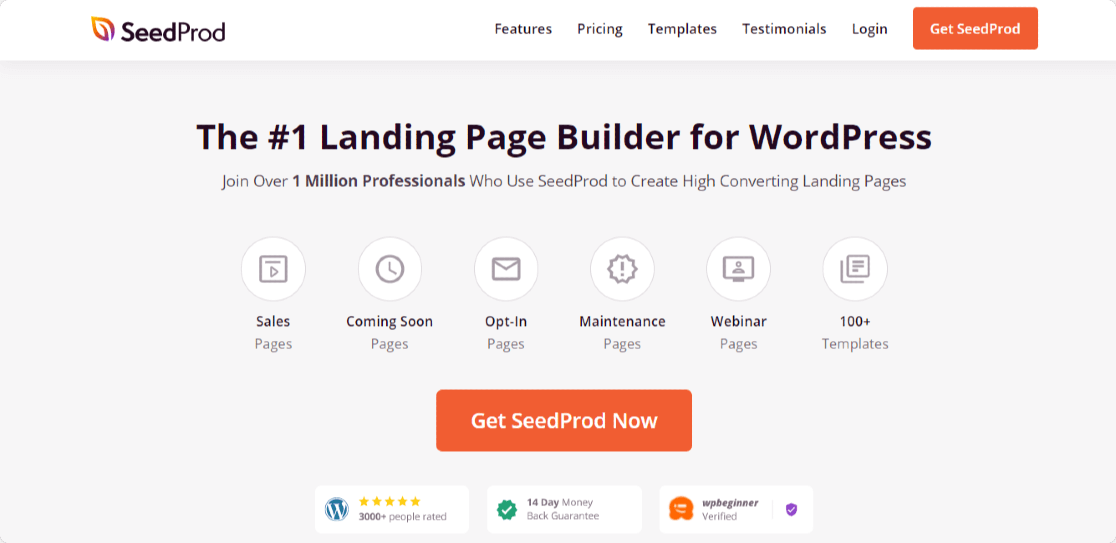 SeedProd is the best landing page builder for WordPress. It comes with a Google Maps Block that lets you add Google Maps on your WordPress website without adding any code.
With its powerful features, you can customize maps on your website however you'd like. The major benefit of using the SeedProd Google Maps Block is that you don't need to copy-paste any shortcode in order to display maps on your web pages.
Just drag and drop the Google map block, add your location, customize map settings, and you're done!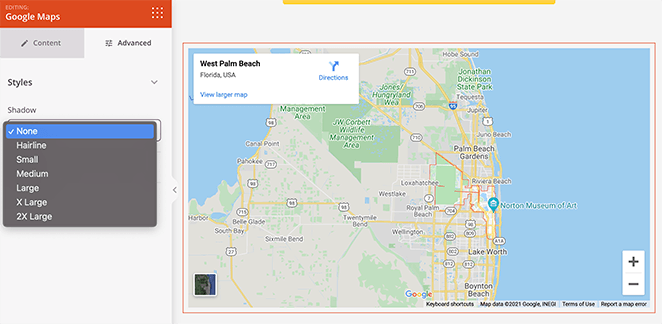 Features:
Drag and drop builder
Flexibility to define zoom level, alignment, and width of the map
Different border styles for Google Maps
Allows you to adjust the spacing around the custom map
Add Google maps on any page/post without coding
SeedProd includes a list of 100+ blocks that helps you create high-converting landing pages. You can use the SeedProd plugin for multiple purposes, including creating maps on your website.
To learn more about SeedProd features, check out our detailed SeedProd review.
Pricing: Starting at $39.50/year.
Alternative: Thrive Architect.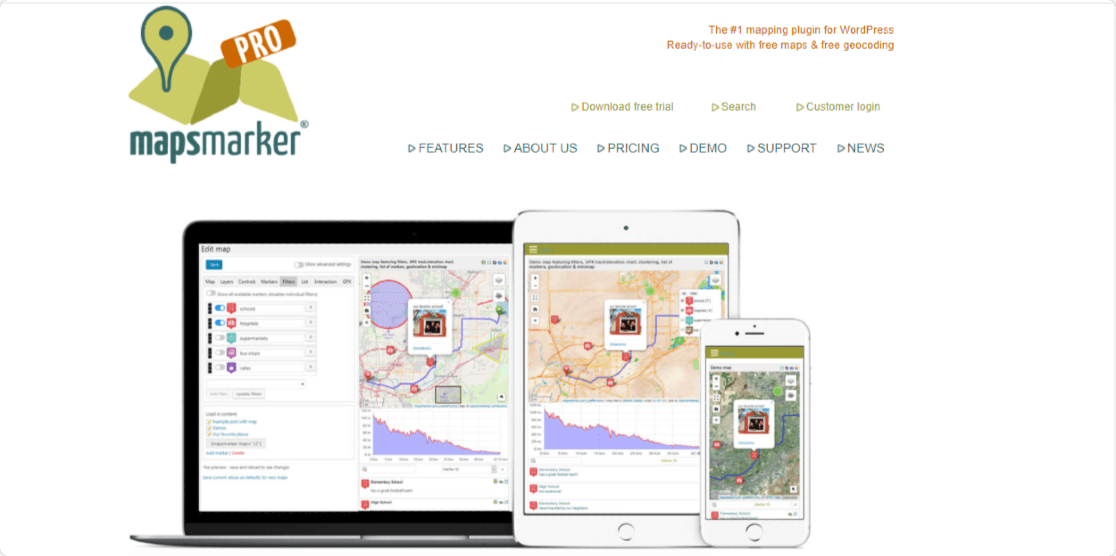 Maps Marker Pro is a popular premium WordPress mapping plugin. You can build any kind of map using this plugin.
It allows you to create a map with multiple locations and custom markers. Maps Marker Pro also offers multiple base maps, including Google Maps, Bing, Mapbox, OpenStreet Map, etc.
Features:
Allows you to create multiple types of maps
Supports different geocoding providers such as TomTom Geocoding, Google Geocoding, etc
Filtering feature for easy map navigation
Create animated marker clusters for each map
Supports GPX tracking
Sort markers by date, name, and distance
Provides an option to share maps offline via QR codes
Apart from the features mentioned above, you can also create multilingual maps using Maps Marker Pro. It's completely compatible with the popular translations plugin like WPML translation and the Polylang plugin.
Pricing: Starts at $39/year.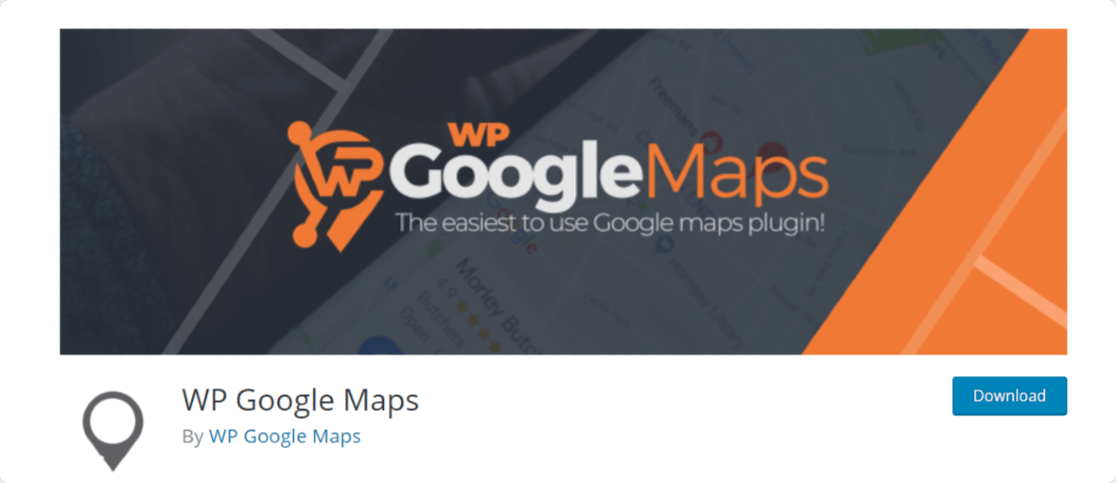 WP Google Maps is a popular plugin to add Google maps into WordPress. It's a freemium tool that offers plenty of powerful features to create customized Google maps on your websites.
You can create a Google map with multiple markers with its Free version, while the Pro version offers more advanced features.
Features:
Choose from 4 Google maps types: terrain, roadmap, hybrid, and satellite
Flexibility to define map color, height, width, alignment, and zoom level
Pre-built map templates for a store locator, directional map, etc
Create Google Maps with multiple markers
Map block for Elementor page builder
Options to add your own map theme
Allows you to add descriptions, links, and images to map markers
Allows you to add categories to maps
Advanced filtering option for map categories
Export/Import map markers to a CSV file
If you're searching for a free plugin to add Google maps to WordPress websites, then WP Google Maps might be a good option for you. Its lite version has 40,000+ downloads and 2000+ 5 star ratings on the wordpress.org repository.
Pricing: Starts at $39.99/year

Interactive Geo Maps is another freemium plugin available to create interactive Google maps in WordPress. Its free version offers some basic map functionalities, while with the Pro version, you can make more engaging maps.
Features:
Easily create maps of continents and regions
Flexibility to add colored markers
Add custom image markers
Vector icon markers
Define center of the map and zoom level
Export map as an image or PDF
Extensive customization options
Mobile friendly
The best thing about the Interactive Geo Maps plugin is that if you don't want to invest in the Pro version, using its Free version, you can create and display simple-looking yet creative maps.
Pricing: Starts at $29.99/year
MapifyPro is the powerful mapping solution available for WordPress. The plugin offers both Lite and Pro versions.
With MapifyLite, you can create standard maps with images, videos, and custom map markers, and for more advanced map features, you can try using its Pro version.
Features:
Add a video and photo gallery to any map
Cluster feature for multiple locations
Display customized map tooltips
Provides an option to share map locations on social media
Add a location directory under the map for better interaction
Styling option for tooltips and pop-ups
100% responsive maps
MapifyPro uses its own unique mapping API; it doesn't depend on the Google Maps API to display maps on WordPress. This means if you're working with MapifyPro, then you need not worry about the frequent changes in Google policies.
Pricing: Starts at $193.8/year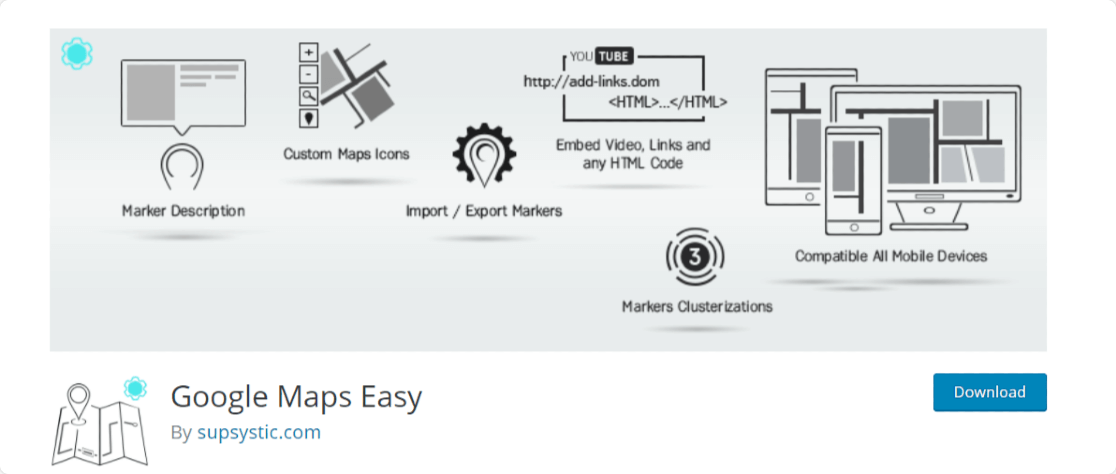 Google Maps Easy is one of the popular plugins to create online Google maps in WordPress. As the name says, creating Google maps with the Google Maps Easy plugin is super easy and flexible. This plugin also comes with both Free and Paid versions.
Google Maps Easy provides 3 embedding options; you can add Google Maps with shortcode, open it in a pop-up or use the Google Maps widget.
Features:
User-friendly and mobile responsive
Create Google maps with an unlimited number of map markers and locations
Add an image, video, email, text, or phone number as a map marker description
Add map with a shortcode or PHP code
Customize Google Maps with colorful skins and beautiful pictures
Flexibility to import and export map markers
The Free version of Google Maps Easy includes enough features to create flawlessly working Google Maps on your WordPress websites. If you don't want to invest in a map plugin, then this plugin is worth trying.
Pricing: Starts at $46/year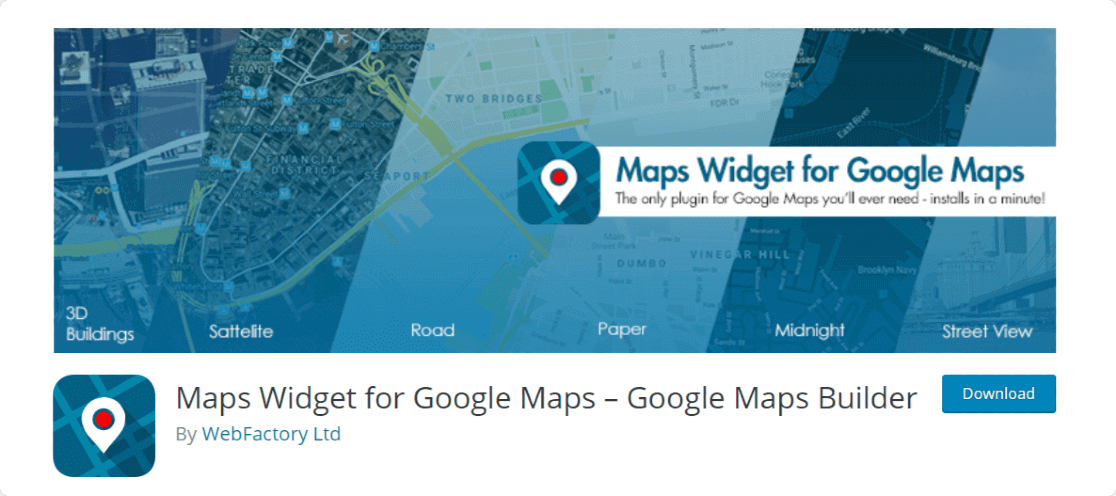 If you want to display a map on your website footer, header, sidebar, or inside a widget, then Maps Widget for Google Maps is the best option for you. It's a premium plugin that allows adding maps anywhere on the site.
Maps Widget for Google Maps offers customization options to create maps that perfectly match your website design and look.
Features:
Fast and lightweight map plugin
Create unlimited maps and add as many pins as you'd like
Advanced map customization options such as zoom level, colors, fonts map type, and map size
Display maps in a lightbox for a better view
Embed maps anywhere on your WordPress website
It comes with a built-in block for modem WordPress editor
The main focus of this plugin is speed and fast loading. Therefore you won't find many features compared to other maps plugins in Maps Widget for Google Maps.
Pricing: Starts at $29/year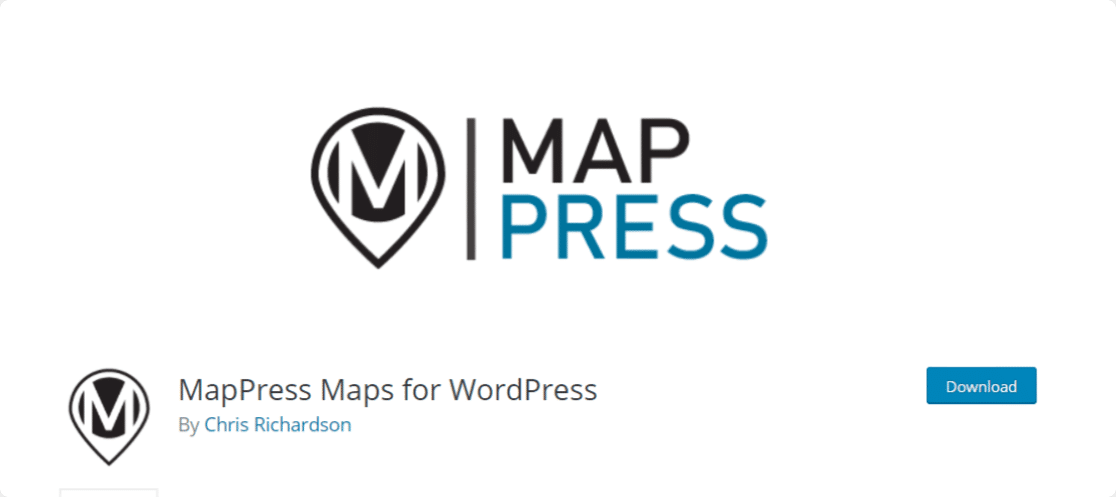 MapPress is another free and easy plugin to add Google Maps on a WordPress website. You can create interactive Google and Leaflet maps with MapPress.
Its Lite version lets you create unlimited maps and allows you to add map markers using the modern and classic editor.
Features:
Free and easy WordPress Google Map plugin
Embed maps with a shortcode, widget, or Gutenberg block
Create a map with latitude and longitude coordinates or address
Define zoom level for the map
Add custom map markers
Allows you to build maps based on custom fields
The good thing about MapPress is that it's not loaded with unwanted map features. This plugin includes a sufficient number of features allowing you to create professional-looking maps with ease.
Pricing: Starts at $49.95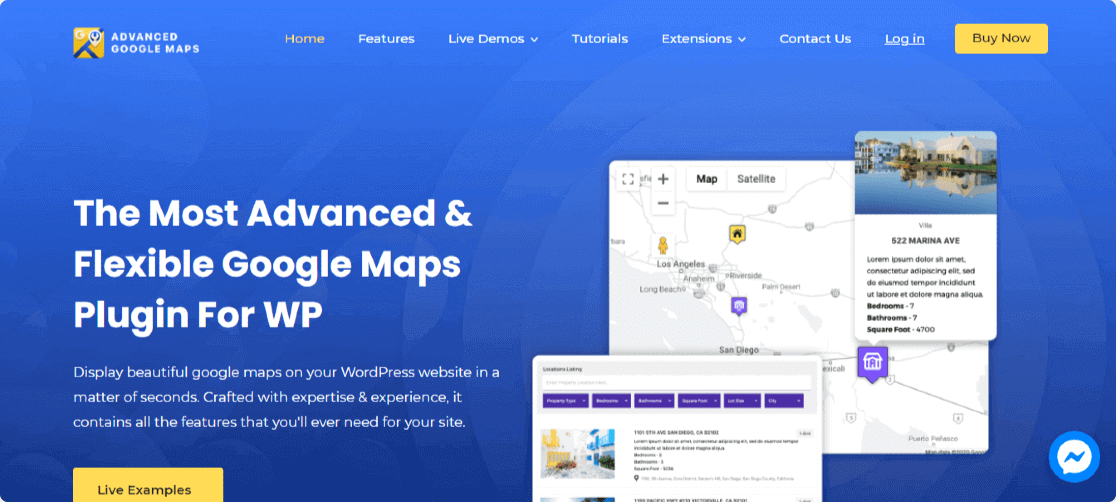 Advanced Google Maps Plugin for WordPress is a premium tool to create Google Maps. You can create maps and add locations by importing CSV files without defining latitude and longitude.
It has multiple styling options and allows you to add Snazzy Maps styles to create more beautiful Google Maps.
Features:
Create maps through importing CSV, without adding latitude and longitude
Smart Geocoding system
Compatible with BuddyPress, Gravity Forms, and AirTable
Flexibility to display WordPress posts on Google Maps
Advanced maps customization options
Add an unlimited number of extra fields
Add marker clusters on Google Maps
Advanced Google Maps Plugin for WordPress is not beginner-friendly but definitely a good option for experienced users.
Pricing: Starts at $59/year
FAQs – Best WordPress Map Plugins
Still have some questions? We've provided answers below to some of the most common questions when it comes to finding and using the best WordPress map plugins.
What can I do with a map plugin on my WordPress site?
Using a map plugin for WordPress lets you embed maps on your site to display locations, such as your exact business location. You can also drop markers, so if you want to embed a map of your business location that includes a marker for the nearest parking garage, you can.
Does WordPress have a built-in map feature?
WordPress does not have a built-in map feature. You need to install and use a third-party plugin if you want to use or display a map on your website.
Will using a map plugin slow down my site?
Using a map plugin shouldn't slow down your WordPress site as most of them are pretty lightweight. That said, if you embed multiple maps on a page, especially if they're complex in nature and include a lot of features, that could potentially slow down your page load time.
Can I create custom maps?
If you want to create a custom map that includes points of interest on it, that's easily done with most map plugins. It's important to do your research first, but many of the map plugins let you customize maps with your own pins and symbols.
Are WordPress map plugins responsive?
Most WordPress map plugins are responsive, so users will see your maps correctly no matter what device they're using. It's always a good idea to do your research ahead of time, though, and check to make sure your specific plugin is responsive.
Next, Connect Your Site to Google Analytics
And there you've it! We hope this article helps you choose the best Google Map plugin for your WordPress websites.
After adding Google Maps in WordPress, you might want to know how your visitors are finding your website on the web; you can find out by setting up Google Analytics. Check out our detailed guide on how to add Google Analytics to WordPress.
Create Your WordPress Form Now
If you're looking for an eCommerce plugin for WordPress, be sure to check out our post on the best WordPress eCommerce plugins.
And don't forget, if you like this article, then please follow us on Facebook and Twitter.