Are you trying to choose between MailerLite vs Contact Contact to run your marketing campaigns?
MailerLite is one of the fastest-growing SaaS platforms for email automation while Constant Contact has remained one of the top-rated email and digital marketing tools for many years.
In this post, we'll see how MailerLite vs Constant Contact compare against each other in terms of their key features.
MailerLite vs Constant Contact: Quick Comparison
Here's a quick overview of the key MailerLite and Constant Contact features.
| | MailerLite | Constant Contact |
| --- | --- | --- |
| Pricing (Starting) | $9/month | $9.99/month |
| Free Trial | 30 days | 14 days |
| Email Automation | Yes | Yes |
| WPForms Integration | Requires WPForms Pro | Available in WPForms Lite + Pro |
| Deliverability Rate | Very high | High |
| Reports & Analytics | Yes | Yes |
| A/B Testing | Subject line, sender, and email content variations | Subject line variations only |
Both MailerLite and Constant Contact provide very similar features. But there are some differences as we'll show below.
MailerLite vs Constant Contact
Let's examine the key features of these two email marketing tools one by one.
1. Email Templates
First, we'll consider how the two tools compare in terms of email templates.
MailerLite Email Templates
MailerLite has a good variety of email templates. These are highly customizable and extremely easy to use with MailerLite's drag and drop editor.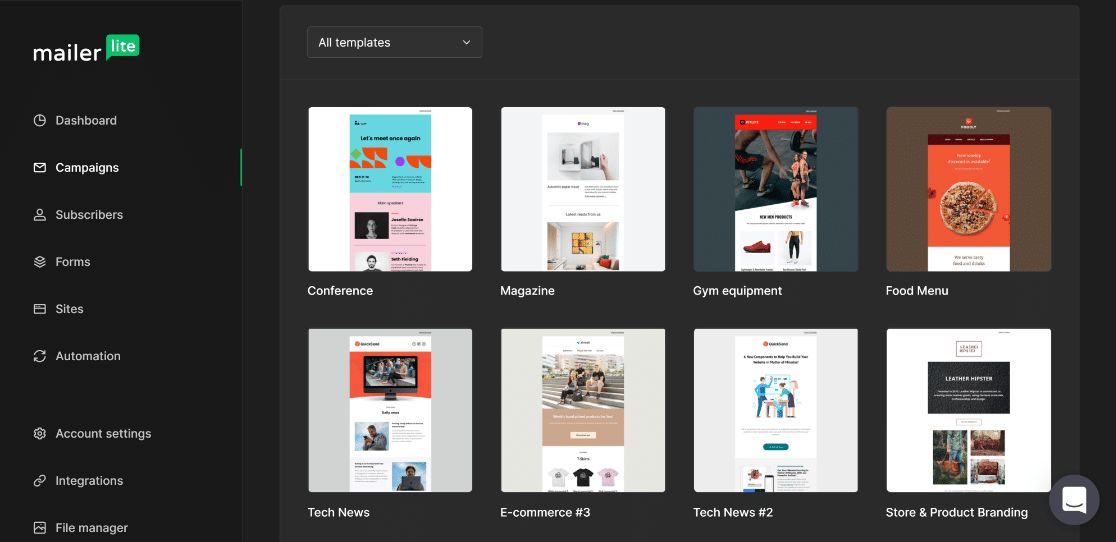 However, the email templates are only available in the paid versions of MailerLite. So if you'd like to build your email campaigns faster with ready-made templates, you might want to upgrade to MailerLite premium.
Constant Contact Email Templates
Constant Contact provides a diverse range of email templates. There are over 200 templates you can choose from, which is a lot larger than MailerLite's template library.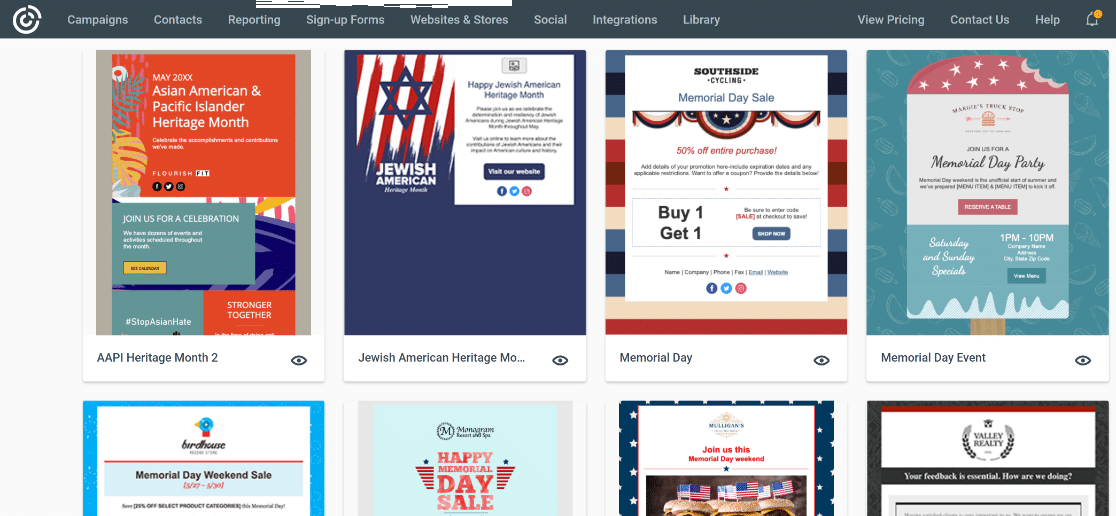 The templates are easily customizable using Constant Contact's drag and drop builder. Because the templates are so many, you can often find one that you exactly need, which minimizes the need to make any changes.
Overall, both MailerLite and Constant Contact make it really easy to build email campaigns with a variety of useful email templates.
2. Automation
Both MailerLite and Constant Contact include email automation features. Let's see how they compare.
MailerLite Email Automation
MailerLite provides excellent email automation features. These are available on the free plan as well.
With MailerLite, you can set up automated workflows based on various common triggers such as a subscriber clicking a link or completing a form. You can also use any specific dates or anniversaries to trigger an email.
The visual workflow editor makes it extremely easy to visualize the automation and create one for yourself using conditional logic or simple linear steps.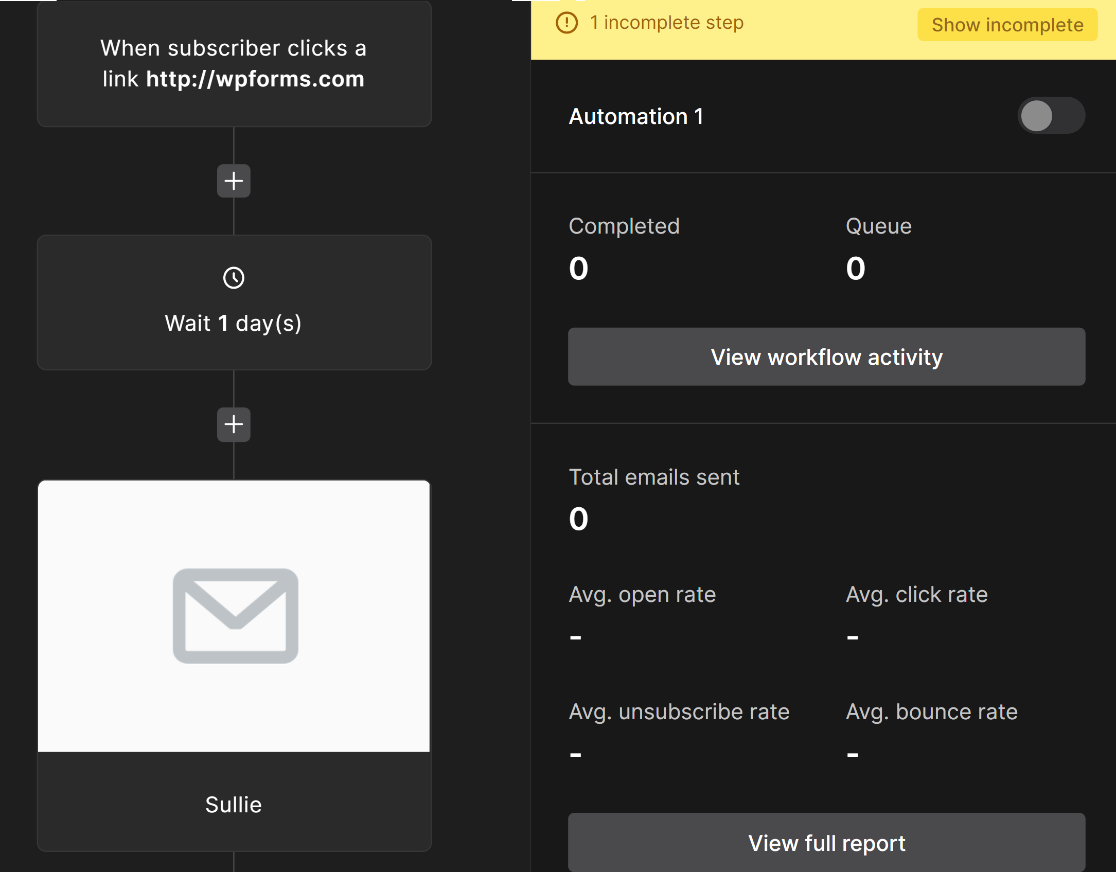 Overall, MailerLite covers pretty much all of the common scenarios that serve perfectly as email campaign triggers for small businesses.
Constant Contact Email Automation
Constant Contact includes various email automation works well for basic purposes like welcome email campaigns, reminder emails for users abandoning carts, birthday emails, and more.
Setting up an automation workflow is pretty easy. To create an automated email series, you just have to draft an email and set a waiting period before the next email in the series should be sent.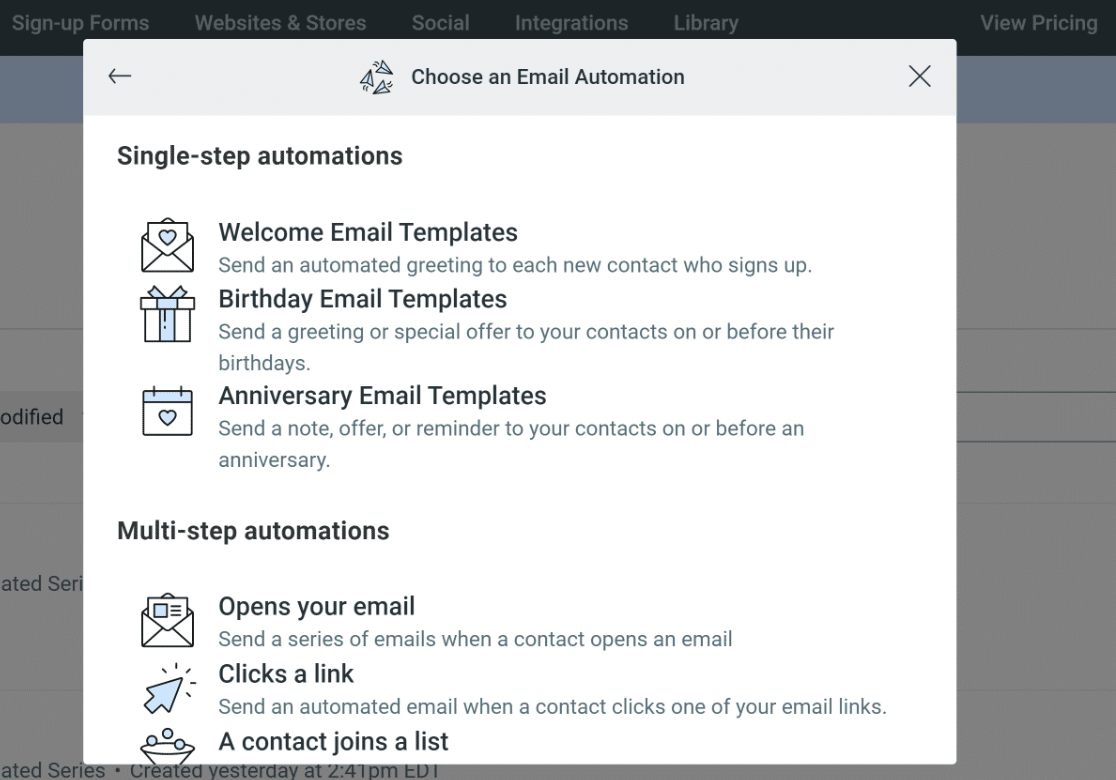 You can create multiple email workflows depending on the trigger actions your user performs.
Whether you're a MailerLite or Constant Contact user, both platforms provide similar automation features that should be sufficient for most small businesses.
3. Integrations
Integrations let you enhance your automation capabilities much farther than what you'd typically have. Below, we'll see the kind of integrations you can expect from MailerLite vs Constant Contact.
MailerLite Integrations
MailerLite supports over 130 integrations with third-party marketing tools. These include WordPress plugins, eCommerce platforms, CRMs, and more.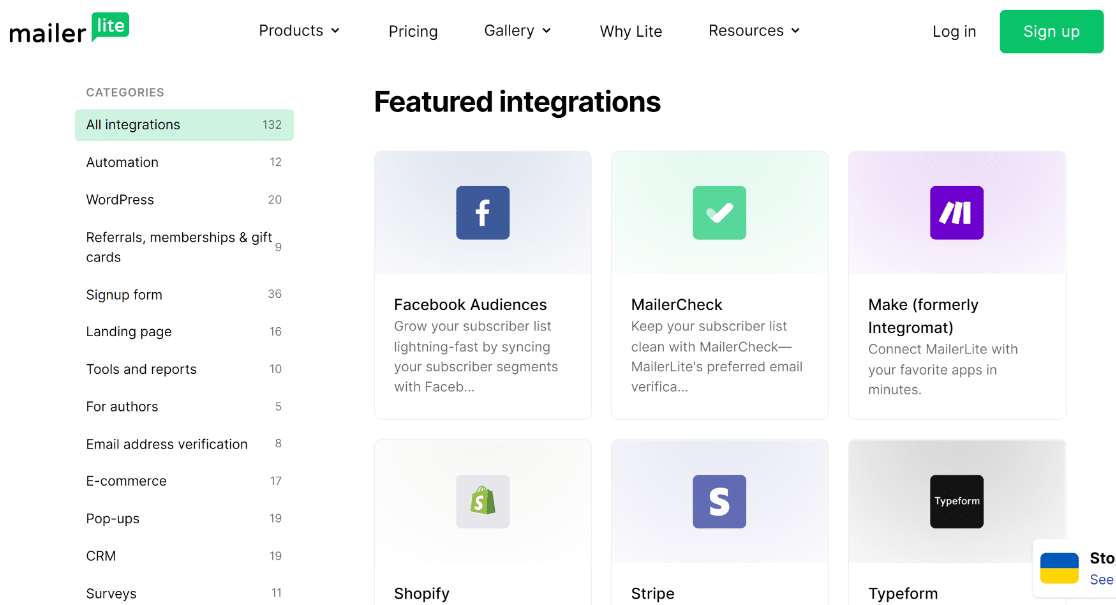 You can even connect your WordPress forms with MailerLite to create efficient marketing workflows.
For instance, you can automatically transfer new newsletter subscribers from your WordPress forms to your MailerLite email list using WPForms. But you'll need WPForms Pro with the MailerLite addon to enable this integration.
These integrations allow you to get the most value out of tools like MailerLite.
For WordPress specific integrations, see our guide on the best MailerLite integrations for WordPress.
Constant Contact Integrations
Constant Contact integrates smoothly with hundreds of marketing tools and apps.
Popular Constant Contact integrations include Shopify, Salesforce, Zapier, and more. It even integrates with call tracking and SMS services, which are often lacking in other tools.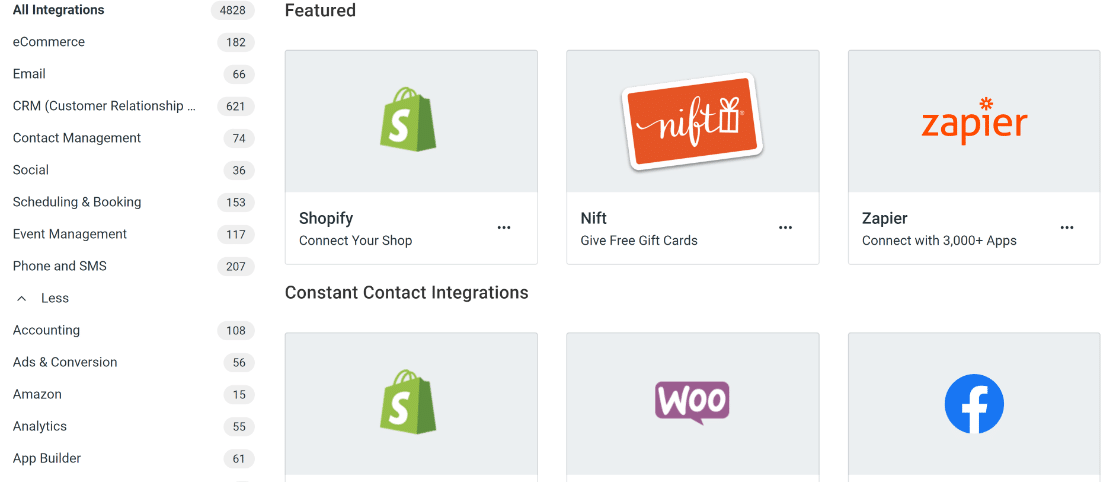 And the best part? You can integrate Constant Contact with WPForms Lite, the free version of the best WordPress form builder. So if you're a Constant Contact user, you can connect it with WPForms for free.
Integrations with Constant Contact are pretty easy to set up and do a great job of helping you save time with repetitive tasks that often require moving data between different apps.
4. Deliverability
A marketing tool needs to have high deliverability rates in order to successfully send your emails to the maximum number of subscribers. Here's how MailerLite vs Constant Connect compares on this front.
MailerLite Deliverability
MailerLite is one of the top-ranking email marketing services when it comes to deliverability rates.
Part of the reason why MailerLite does so well in terms of deliverability is that it has a very rigorous account verification process.
The high standard of account vetting process allows MailerLite to send your emails with full confidence that you're not a spammer and a legitimate user with a registered business.
In return for a slightly long account creation process, you get industry-leading deliverability rates.
Constant Contact Deliverability
Constant Contact does a great job of maintaining high email deliverability rates, even if it's slightly lower than MailerLite.
Regardless, Constant Contact still has a great deliverability rate which ensures that your emails reach your recipients' inboxes in the vast majority of cases.
5. Reports and Analytics
Good email reporting and analytics is critical for measuring and benchmarking the performance of your email campaigns.
MailerLite Reports and Analytics
MailerLite provides simple reports and analytics which display widely used email performance metrics like levels of open and click rates, click maps, devices, and popular links.
MailerLite reports are really easy to access and understand since it doesn't overwhelm you with too many metrics.
Constant Contact Reports and Analytics
Constant Contact has an analytics dashboard that reports common email marketing metrics like clicks, opens, bounce rate, and successful sends.
With these metrics, you can easily measure and objectively compare the performance of your different email campaigns.
6. A/B Testing
Experimenting with subject lines and email content is a proven method to improve your open and clickthrough rates. Here's how the A/B testing features of MailerLite vs Constant Contact allow you to do that.
MailerLite A/B Testing
MailerLite provides a lot of split testing flexibility which can improve your open rates and clickthrough rates (CTR).
You can perform A/B tests on three different criteria with MailerLite:
Subject line: This kind of test is perfect when you want to try different subject line variations to influence the open rate.
From name: Open rate can also be influenced by the sender name appearing next to your subject line.
Content: The content of the email including the text, images, CTAs, and any other element can have an impact on your CTR.

These A/B test options make MailerLite a great option for marketers that like to run real experiments to obtain the best campaign results.
Constant Contact A/B Testing
Constant Contact provides relatively simple A/B testing because you can only experiment with your subject line.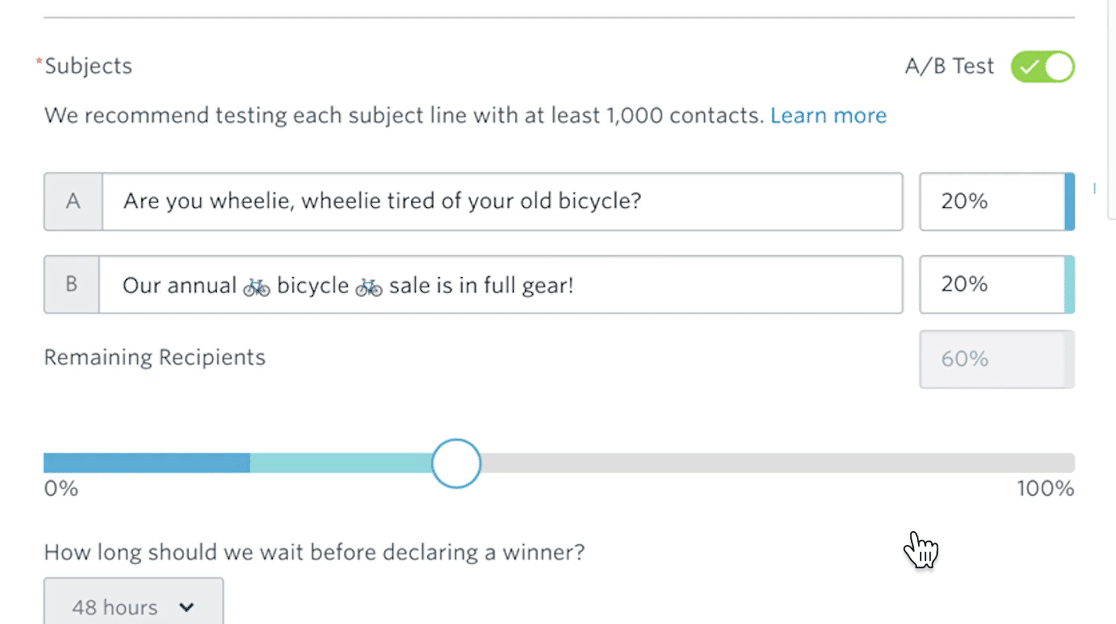 This is good if you're only interested in experimenting with different subject lines to achieve high open rates.
But the lack of other A/B test options can be restrictive because you can't experiment for CTR with Constant Contact.
7. Ease of Use
Marketing tools can sometimes take a while to get used to. Let's see how MailerLite vs Constant Contact stand.
MailerLite Ease of Use
MailerLite takes simplicity to the next level. It's easily one of the easiest email marketing tools to use.
The drag and drop editor lets you draft appealing emails with interactive features in no time. And it's super simple to create automated workflows and integrations with MailerLite even if you're a beginner-level user.
Constant Contact Ease of Use
Constant Contact has a reputation for great ease of use. You can easily navigate to the available features and options in Constant Contact, and quickly draft visually impressive emails.
With tons of email templates and easy customization options, Constant Contact is a fairly beginner-friendly email marketing tool.
And that's it! You now know what you can expect in MailerLite vs Constant Contact. Both are excellent email marketing tools that offer very similar features, so you can't go wrong either way.
Next, Audit Your WordPress Form Links
Are your forms easily discoverable to visitors? One of the ways you can make it easy for visitors to navigate to important forms is by adding enough links. See auditing WordPress form links for details.
You might also want to check out our guide on the best transactional email services.
And if you're trying to switch from Mailchimp to a new email marketing service, we recommend this roundup of the best Mailchimp alternatives.
Create Your WordPress Form Now
Ready to build your form? Get started today with the easiest WordPress form builder plugin. WPForms Pro includes lots of free templates and offers a 14-day money-back guarantee.
If this article helped you out, please follow us on Facebook and Twitter for more free WordPress tutorials and guides.