Do you want to get the best transactional email service for your website?
There are various transactional email services on the market, but not all of these may be the right fit for your business or nonprofit.
In this post, we're going to list our top recommendations for transactional email services and discuss their main features.
What Is Transactional Email & Why Is It Important?
Transactional emails are emails that send automatically when a user performs an action on your website. For example:
A password reset email sent to a user's inbox when they request a new password
An order confirmation is sent following a purchase.
Your customers expect these emails to arrive as soon as they complete an action (newsletter subscription, account activation, etc.). This is why it's extremely important to ensure fast delivery for transactional emails.
To learn more about transactional email, read this article explaining what transactional email is and when you might use it on your site.
Best Transactional Email Services
The transactional email services that we've included in our list provide fast delivery speeds and various other valuable features.
Let's dive deeper into each email service provider.

SendLayer is the best transactional email service with the most user-friendly interface and affordable pricing. It's ideal for growing websites that don't have high volume requirements but need top-level reliability rates.
SendLayer provides all the essential features that you'd expect in a high-end mailer service – except that it costs less than most other providers offering similar features.
What mainly sets SendLayer apart from other mailers is its outstanding ease of use. It's designed to be immediately accessible for beginners even if they've never used a mailer service before. SendLayer has the easiest integration process with WP Mail SMTP by far.
So if you want to connect your WordPress SMTP emails with SendLayer, it won't take you long using the easy setup wizard. This brings awesome benefits like WordPress email tracking data right within your site's dashboard.
SendLayer uses SMTP to ensure fast delivery speeds and over 95% deliverability rate consistently – two vital attributes of a top transactional email service.
And that's not all. SendLayer uses subdomains by default in order to maintain your domain reputation.
You can easily create different subdomains for transactional and marketing emails with SendLayer, enabling you to safeguard your root domain reputation.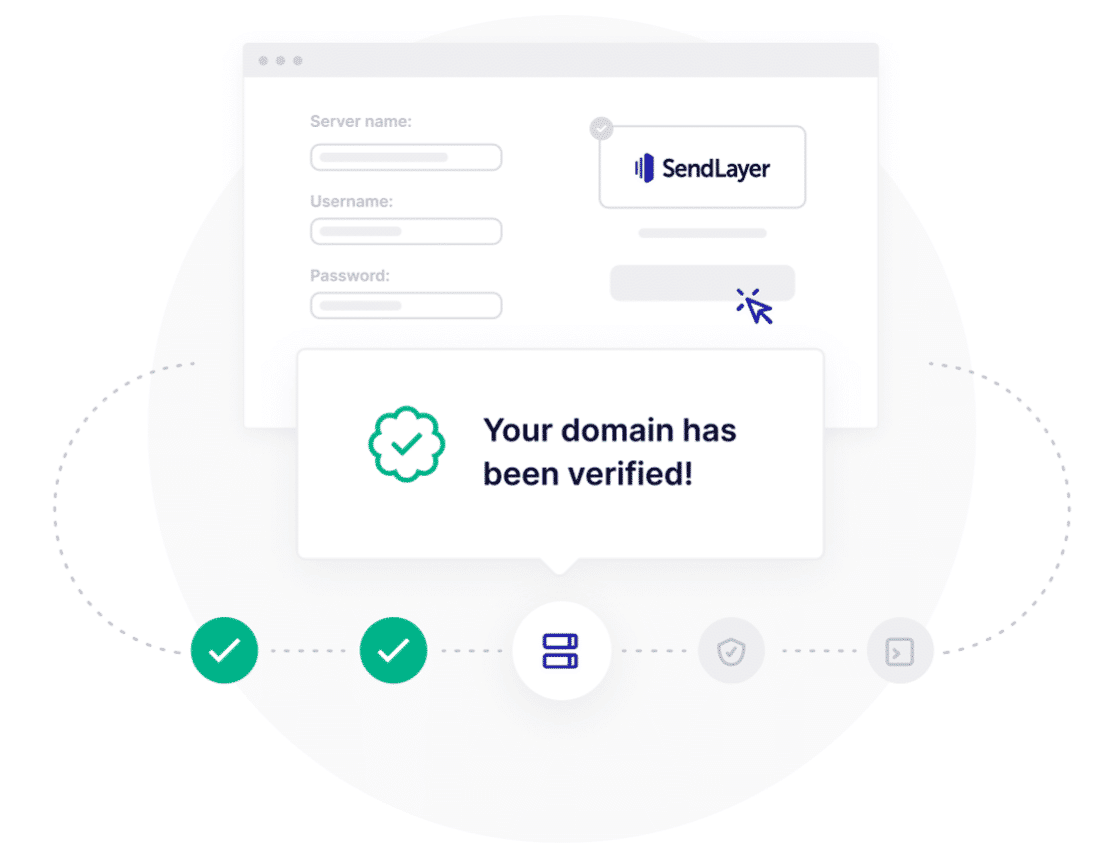 In addition, SendLayer also comes with super useful features like email analytics, which enable you to measure your campaign performance in reasonable detail. For instance, SendLayer measures the open rate, click-throughs, and unsubscribes for each email you send.
Email tracking is especially useful for measuring marketing email campaigns. So SendLayer has the right set of features covering both transactional and marketing emails.

SendLayer also comes with a really simple email list management system. It has one of the easiest contact import tools and also lets you manually unsubscribe users. Plus, there are no limits on how many subscriber email addresses you can have.
You can get started with SendLayer's trial, which lets you start sending emails completely free.
Overall, SendLayer is the most affordable transactional mailer service with excellent features for marketing emails as well.
Combined with its user-friendliness, SendLayer is our #1 recommendation for new as well as established brands looking for a simple yet reliable transactional and email marketing tool in a single package.
You can learn more in our detailed review of SendLayer.
Pricing: SendLayer offers a free plan with an email volume limit. The lowest paid plan starts from $5 and lets you send up to 1,000 emails/month.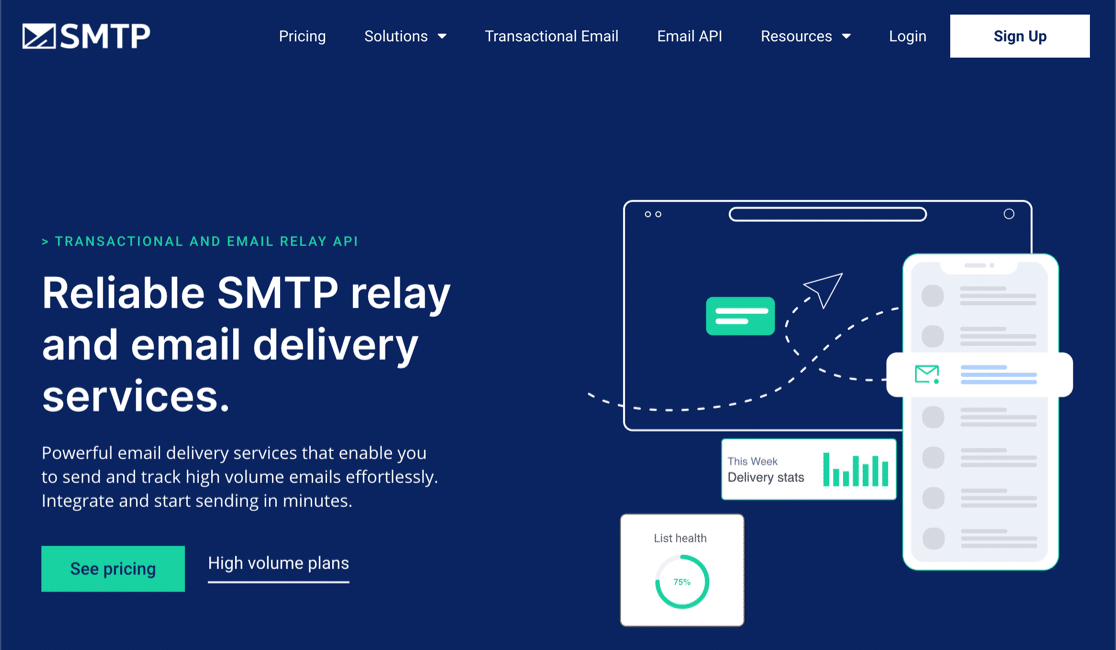 SMTP.com has earned a reputation as one of the most reliable transactional email service providers. It has all the traits of a top-notch email service reputation with fast delivery speeds, high volume limits, and exceptional deliverability rates.
As a well-regarded transactional email service, SMTP.com is highly trusted by mailing servers all around the world. This means that your emails sent with SMTP.com almost always land in the recipient's inbox and avoid the spam folder.
SMTP.com also provides fairly detailed analytics reports to let you monitor how your emails are performing and make any adjustments to campaigns if needed.
It's also one of the easiest transactional mailers to integrate with your WordPress site using WP Mail SMTP. The best thing is that the integration brings email tracking and delivery status data right within your WordPress email log.
Although SMTP.com has a 30-day free trial that lets you send 50,000 emails, the paid plans are considerably more expensive than SendLayer.
This makes SMTP.com a great but not the ideal choice for brands looking for high-volume email sending at affordable pricing.
Overall, SMTP.com is better suited for transactional emails only but not as much for marketing campaigns since it lacks some advanced features like split-testing and SMS marketing.
Pricing: SMTP.com has a 30-day free trial with a limit of 50,000 emails. The Pro plans start from $25 per month with a limit of 50,000 emails/month in the lowest plan.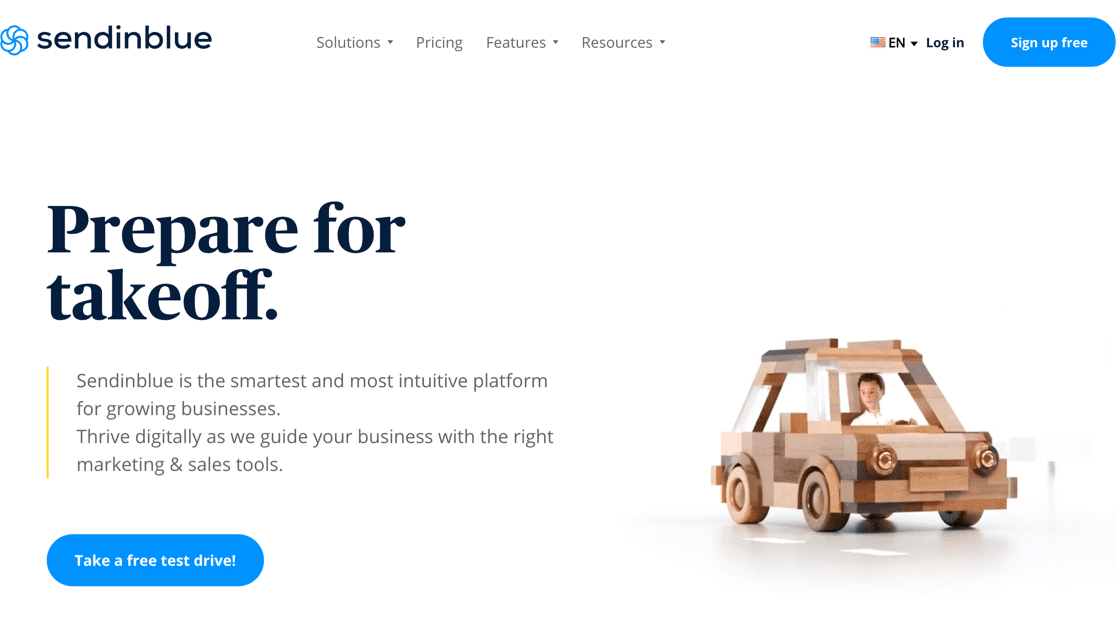 Sendinblue is one of the best transactional email services for beginners and emerging brands. It's a good choice for users with medium email volume needs and excellent ease of use.
When it comes to deliverability, Sendinblue is super reliable. Most emails sent with Seninblue are accepted by mail servers without any issues.
If you need to monitor email status and measure the performance of each email, Sendinblue has got you covered on this front as well.
It comes with advanced statistics that display deliverability and engagement statistics for all of your campaigns in real-time.
Plus, you get decent audience segmentation options to fine-tune your targeted campaigns. You can even run A/B tests with email variations and send the best-performing email to your list for maximum engagement.
And all of this is bundled into a very neat user interface that allows easy management of your emails from a simple dashboard.
Because of these features, Sendinblue is a great overall mailer solution that serves transactional and marketing email requirements equally well.
Pricing: Sendinblue has an unlimited free trial with a sending limit of 300 emails/day. The Lite plans start from $25 with a starting limit of 20,000 emails/month and include A/B testing with advanced statistics. Sendinblue Premium plans offer a bunch of additional marketing features like automation and Facebook ads in addition to all features in Lite plans.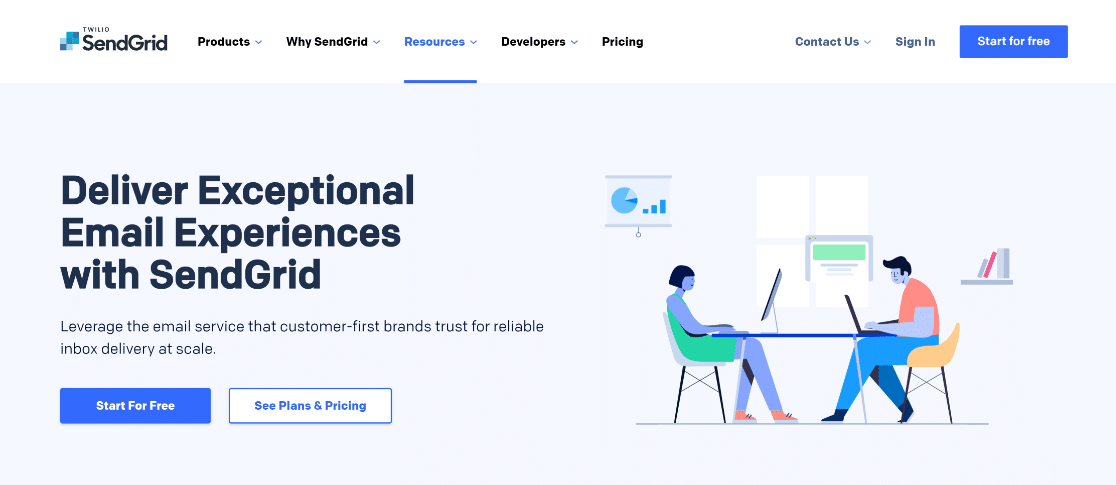 SendGrid is one of the leading providers in the transactional email industry. In terms of affordability, SendGrid falls between SendLayer and other options on this list. So it's neither too cheap nor too expensive.
SendGrid is known for maintaining very high email deliverability rates. Integration with WordPress SMTP is a quick and simple process with SendGrid's API.
And the email analytics features are excellent with highly detailed statistics consisting of email category comparisons, comprehensive insight reports, and deliverability metrics.
With the reputation that SendGrid enjoys, emails sent with SendGrid almost always send successfully and don't trigger spam triggers.
If you like to design your emails in detail, SendGrid's drag and drop email builder gives you the necessary tools to build responsive, appealing emails.
In addition, SendGrid's email testing tools are incredibly effective for spam testing and link validation, allowing you to set up error-free emails for success. Overall, SendGrid is a good overall email marketing tool, though it's a little on the expensive side.
Pricing: SendGrid's free plan allows up to 100 emails per day with great extra features like email statistics. Paid plans are highly scalable in terms of sending limits and start from $14.95 per month.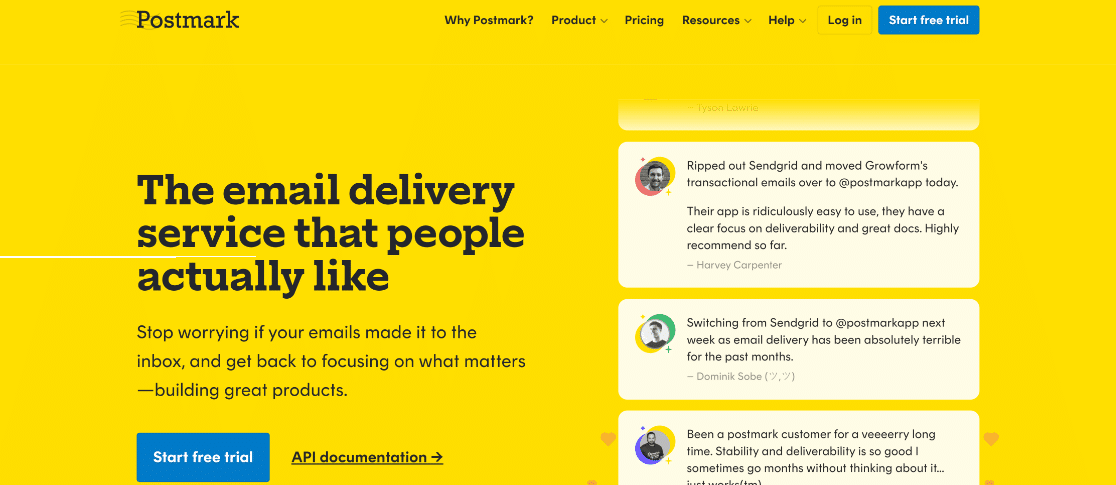 Postmark is mainly only good for one thing but it does it extremely well – quick transactional email delivery.
It's one of the fastest transactional email providers that we've tested. Emails sent with Postmark on average take less than 10 seconds to arrive in the inbox every time.
Postmark isn't a service that offers a lot of features but that's not always a bad thing. For transactional emails, all you really need is excellent deliverability, quick delivery speeds, and basic email tracking. And Postmark has all of that.
With Postmark, it's pretty easy to separate your transactional emails from your standard messages. You get a separate stream for transactional emails which ensures almost instantaneous email delivery. Plus, it also helps maintain your root domain reputation.
Although Postmark is a great choice if you're strictly looking for a transactional mailer only, it's not that powerful when it comes to marketing emails.
Moreover, it's a bit on the expensive side and pricing isn't as flexible as with some other options like SendLayer and Sendinblue.
If your goal is to get a service that can get you the best results for your marketing emails as well as transactional emails, then SendLayer provides better value for money.
Pricing: Postmark's free plan offers 100 emails/month. The Pro plans start from $10/month and with a sending limit of 10,000 emails/month in the lowest plan.
6. [Honorable Mention]: Amazon SES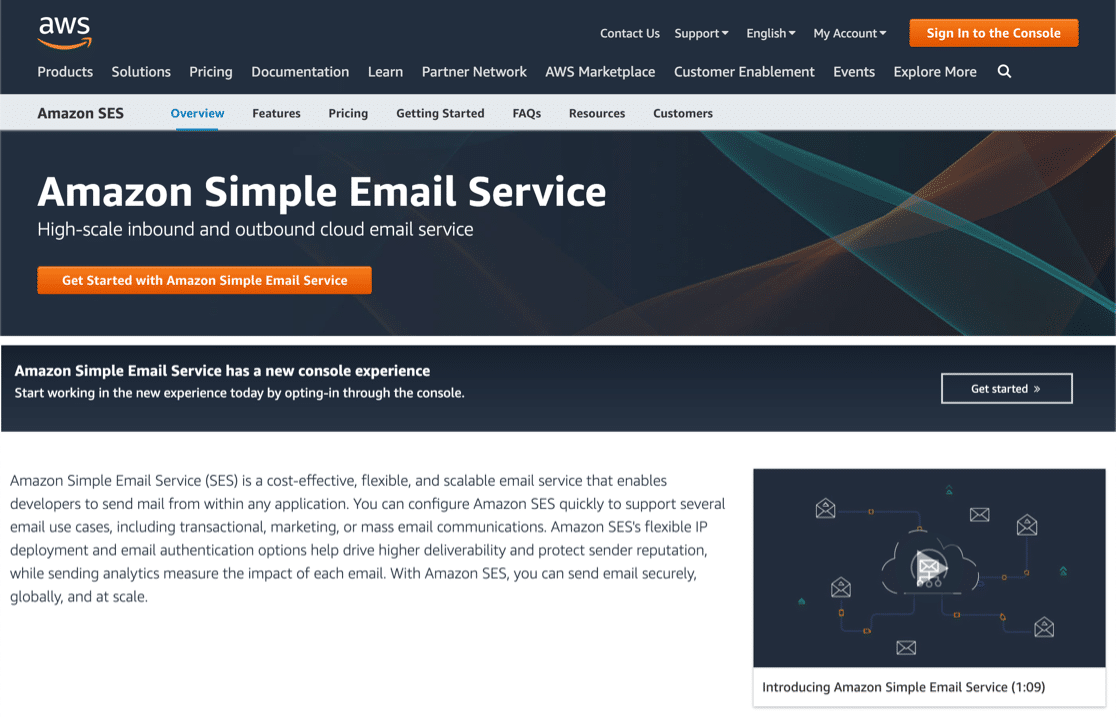 Amazon SES is one of the most cost-effective mailing services that offers impressive scalability. It is a particularly good solution for WordPress sites hosted on EC2.
Amazon SES is very strict with spam, which is why its requirements for verification are a bit more rigorous. The downside is that Amazon SES isn't very user-friendly. In fact, setting it up and integrating it with other services can be a bit too technical for most beginners.
In addition, Amazon SES provides only basic email analytics. It's certainly not the best choice if detailed engagement metrics and campaign performance are important to you.
Overall, Amazon SES suffers from an unimpressive interface that requires some getting used to, but it is a good transactional email service in terms of performance, scalability, and low price. But if you're a beginner, we recommend SendLayer.
Pricing: Amazon SES allows up to 62,000 emails for free each month if your WordPress site is powered by EC2. But it costs $0.12 per 1 GB of attachments. WordPress sites that aren't hosted on EC2 are charged $0.10/1000 emails and $0.12 per GB for attachments.
Which Transactional Email Service Is the Best in 2022?
To sum up, here are our recommendations for the best transactional email services depending on different use scenarios:
Best low-cost transactional + marketing mail service: SendLayer provides the most beginner-friendly mailer with just enough features to provide value without being too intimidating. Best affordable choice for transactional and marketing mailer service.
Best for transactional mails in high volume: SMTP.com is excellent for transactional emails and has a generous email sending limit. A good choice for brands with high sending requirements and which are mainly looking for a transactional mailer.
Best for overall marketing: Sendinblue provides a good balance of advanced features, user-friendliness, and affordability. It has decent analytics features, supports automated mail campaigns, SMS marketing, and even split testing at very competitive price points.
And that's it! We hope this article shines some light on the best transactional email services on the market and what you can expect from each.
Next, See What Users Are Doing on Your WordPress Site
Wondering how people are interacting with your website? See our post on the best WordPress activity log plugins for tools you can use to see user activity on your site in various ways.
You may also want to see our list of the best CRM plugins for WordPress.
Create Your WordPress Form Now
Ready to build your form? Get started today with the easiest WordPress form builder plugin. WPForms Pro includes lots of free templates and offers a 14-day money-back guarantee.
If this article helped you out, please follow us on Facebook and Twitter for more free WordPress tutorials and guides.