Are you wondering how much an email marketing campaign costs?
Email marketing is one of the most effective marketing channels that promises excellent conversions and returns.
And the good news is, you can run email marketing campaigns for fairly cheap (even for free if you have low sending requirements).
In this post, we'll show you how much you can expect your email marketing campaigns to cost.
What Tools Do You Need to Run Email Marketing Campaigns?
When estimating the costs of your email marketing campaigns, the most important factor to consider is the email service provider (ESP).
An ESP is the main tool that you'll be using to manage your email subscribers and send emails.
Beyond that, there are extra tools and services that you can use to improve the quality of your emails and build automated workflows to save time. But these are optional (though they do provide huge benefits). Your final cost will be higher if you decide to add these tools.
We'll recommend a few tools that can make your email marketing easy and successful at the minimum cost.
How Much Does an Email Marketing Campaign Cost
There are various different email marketing services, all of which are priced differently. We'll talk about each of these, focusing on the price in order to estimate how much your email marketing will cost if you decide to use a particular ESP from this list.
The short answer is that you can get started with email marketing campaigns for as low as $129.5.
But first, let's consider what you will require in order to build your email list that you can send your marketing campaigns to.
Tools for Building Your Email List
Before you can launch email campaigns, you must first build a healthy list of subscribers. While there are lots of ways to do that, the easiest and most cost-effective way involves only two things:
A WordPress website
Subscription forms
We'll start by considering the costs of these two components first.
WordPress Website (from $30 a year)
Whether you're a blogger, a business (small or large), or an eCommerce store, you're going to need a website to attract traffic and get subscribers.
To estimate the costs of this, see our article on how much a WordPress site costs. You can start a small website from as low as only $30 a year.
Subscription Forms (from $0 to $299.5 a year)
As people visit your website and start enjoying your content, services, or products, they'll likely want to join your email list.
The easiest way to allow new visitors to subscribe to your emails is by using a subscription form.
But how do you build a WordPress form? That's where WPForms comes in.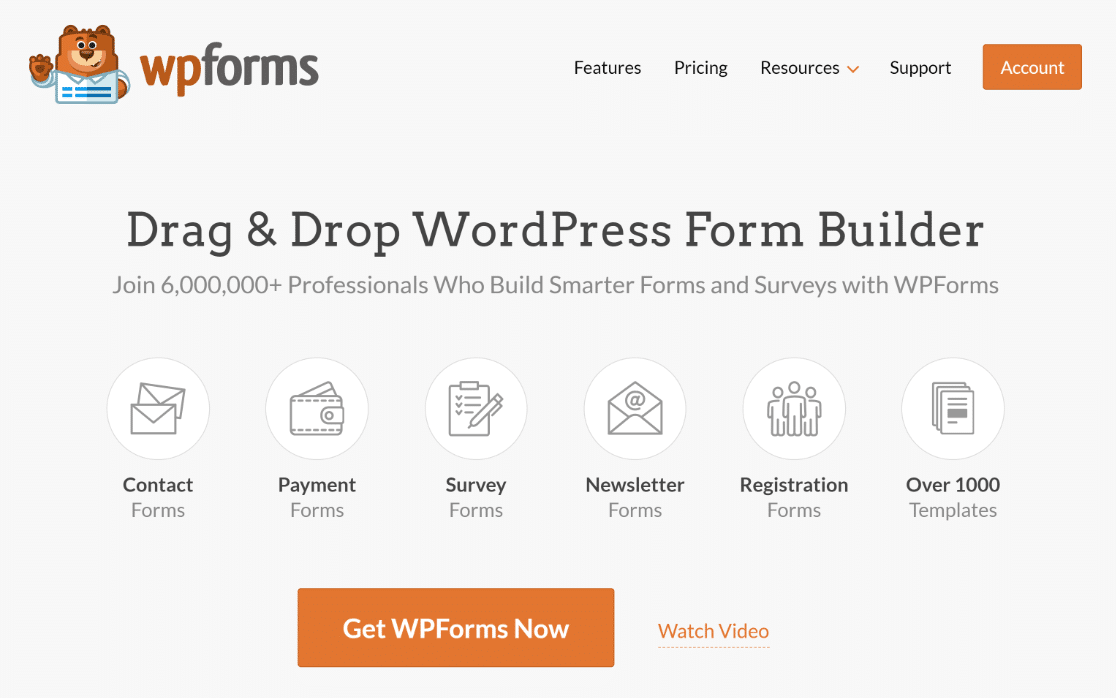 WPForms is the most beginner-friendly WordPress form plugin. It's ideal if you want to build a form on your site that allows visitors to join your newsletter.
The best thing is that you can start building your email list using WPForms for free. WPForms Lite includes many basic functionalities as well as form templates that you can customize and use as a subscription form for new visitors.
And if you want to save time and automatically send new subscribers to your email service, you can easily do that with the paid WPForms plans.
With WPForms Basic and above, you get various email marketing addons that let you integrate your WordPress forms with some of the most popular email marketing services like Constant Contact, Mailchimp, ActiveCampaign, and more (WPForms Elite license supports all marketing integrations, Lower plans may exclude some of these).
Now that you know about the tools you need to build your email list, let's dive right into the most important component, the email marketing service provider.
Cost of Email Marketing Services (from $0 to $45 a month)
All the email providers below are supported by WPForms, so you can integrate your WordPress forms easily with these.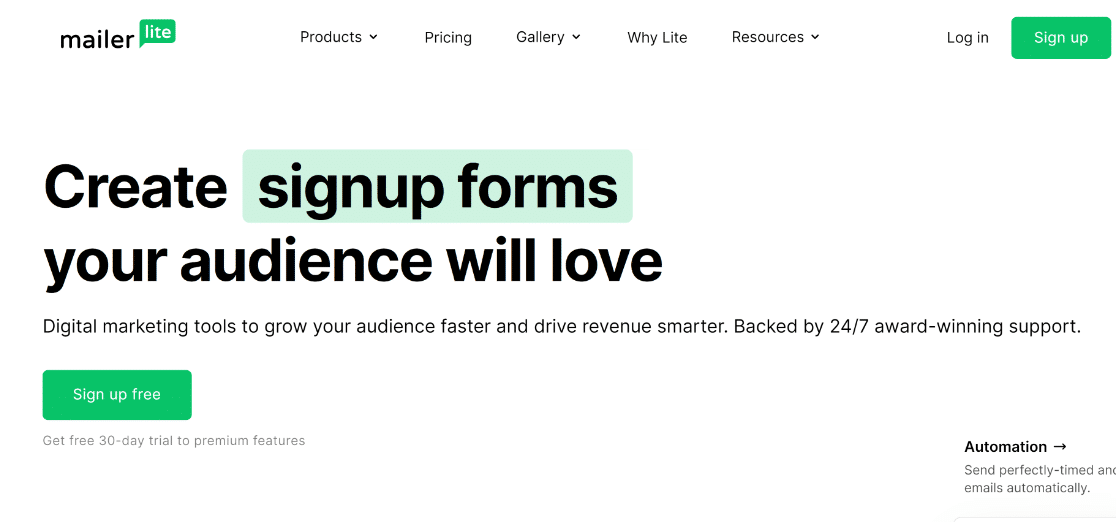 MailerLite is one of the best email marketing services with an unlimited free plan. It includes a really easy drag and drop visual editor for customizing the design of your emails.
With MailerLite, you're likely not going to need to spend any extra money on email designs. The email editor is simple enough to help create visually impressive emails even if you're a beginner.
On top of that, MailerLite gives you very useful email automation features. You get to create simple workflows that allow you to automatically send a series of timed emails based on a particular action performed by a user, such as clicking a link.
Besides, MailerLite is one of the few email marketing tools that provide A/B testing functionality in the free plan.
All of these features are available in MailerLite's free plan. There is a limit on the free plan but it's reasonable. You can send up to 12,000 emails monthly and have up to 1,000 subscribers on your list. 
If this isn't enough, then upgrading to the paid plans may be a good option (starting at $9/month). In addition to large sending limits, you also get extra features such as A/B testing, email newsletter templates, and more.
MailerLite also integrates with WPForms Pro. That means you can send contacts from your form to MailerLite, and grow your email list.
So if you're a small business and you already have a healthy email list, you can start your email marketing today with MailerLite entirely for free! 
Pricing:  MailerLite free plan provides 12,000 monthly emails and up to 1,000 subscribers. You can get unlimited monthly sends and new features by upgrading to paid plans starting at $9/month.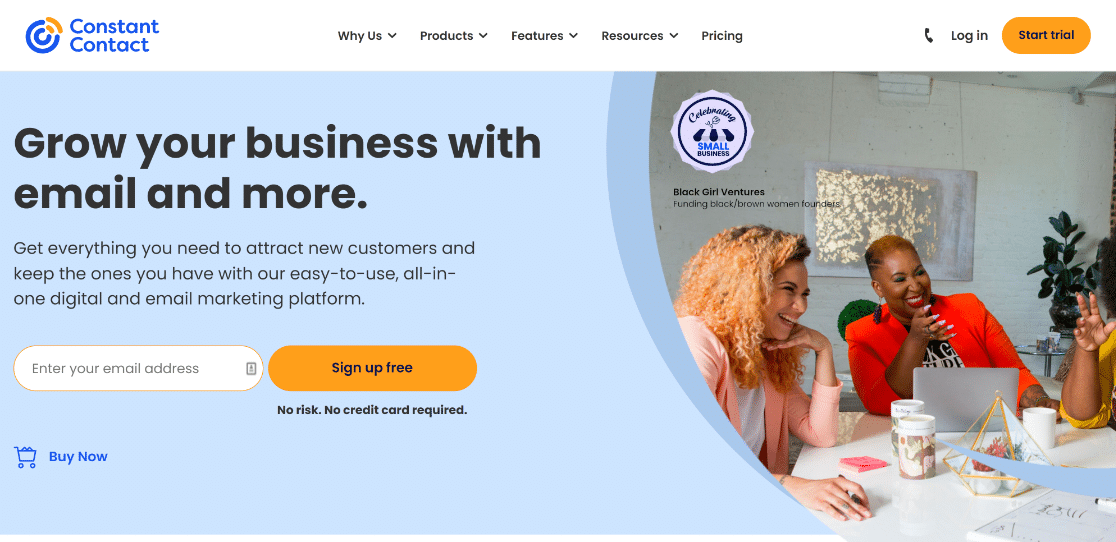 Constant Contact offers all the important email marketing features that you'd expect in a popular marketing service.
The best thing about Constant Contact is the huge variety of email templates it carries. Using the templates really simplifies your email designing process and makes the whole very straightforward.
Other than that, Constant Contact supports basic email automation features, subject line A/B testing, and easy email list management.
Most importantly, Constant Contact is the only email marketing service that you can connect with WPForms Lite (the free version of WPForms). This integration is available right out of the box and you require no addons to enable it.
Unfortunately, Constant Contact doesn't have a free plan. You can get a 60-day free trial, but it has limitations (you can't activate email automations or run A/B tests).
But if you have a paid Constant Contact plan (starting at $9.99/month), you can use it very effectively along with WPForms lite to build your email list and run successful campaigns.
Pricing: Starting at $9.99/month for a list of 500 subscribers.
3. Brevo (Formerly Sendinblue)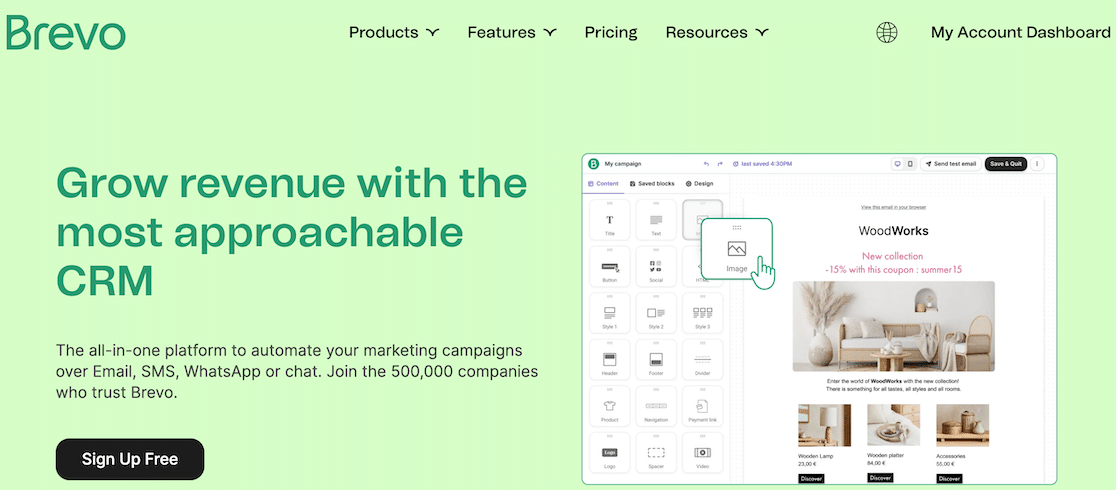 Brevo is a comprehensive digital marketing tool with a well-featured email marketing plan available for free.
Even with the free plan, you can add unlimited contacts and their details to your email list. The email newsletter templates are plenty and customizing them is really easy with Brevo's editor.
Brevo also stands out for its excellent marketing automation capabilities. It lets you create advanced workflows based on a user's behavior on your website, email engagement, and other triggers.
Users who like to keep a close eye on campaign performance will enjoy Brevo's real-time reporting and analytics.
And if you decide to upgrade to the Business or Elite plans, you can unlock A/B testing, as well as some unique features like send time optimization (which sends your emails to recipients when they're most likely to open them).
Brevo connects readily with WPForms Plus (or above) to further enhance automation features and collect leads from your site for faster list-building.
Pricing: Brevo offers an unlimited free version that allows up to 300 emails per day. Paid plans start at $25/month with generous sending limits and some of the best email marketing automation features.

Mailchimp has a pretty attractive email marketing free plan for beginners. With a beginner-friendly email editor, detailed analytics, and various extra features available for free, Mailchimp includes almost everything you need for your email marketing.
The tool allows you to run email campaigns, create one-step automations, and over 200 supported integrations with various other apps. It's very easy to connect your WPForms Plus (or above) with Mailchimp too if you want to increase your email subscribers using WordPress forms.
Mailchimp free limits your emails to 10,000 per month for up to 2,000 recipients, but it may not be ideal if you want to run impactful marketing campaigns, which require a larger list.
However, it has some drawbacks. For instance, you can only create a single email list and there's no way to schedule emails in advance on the free plan. The lack of email scheduling features can be a huge barrier to achieving efficiency.
Overall, Mailchimp gives you a decent amount of features to run email marketing campaigns for your small business for free.
Pricing: Mailchimp allows up to 10,000 emails/month and 2,000 subscribers for free. Paid plans start at $11/month and unlock features like email scheduling, A/B testing, and more.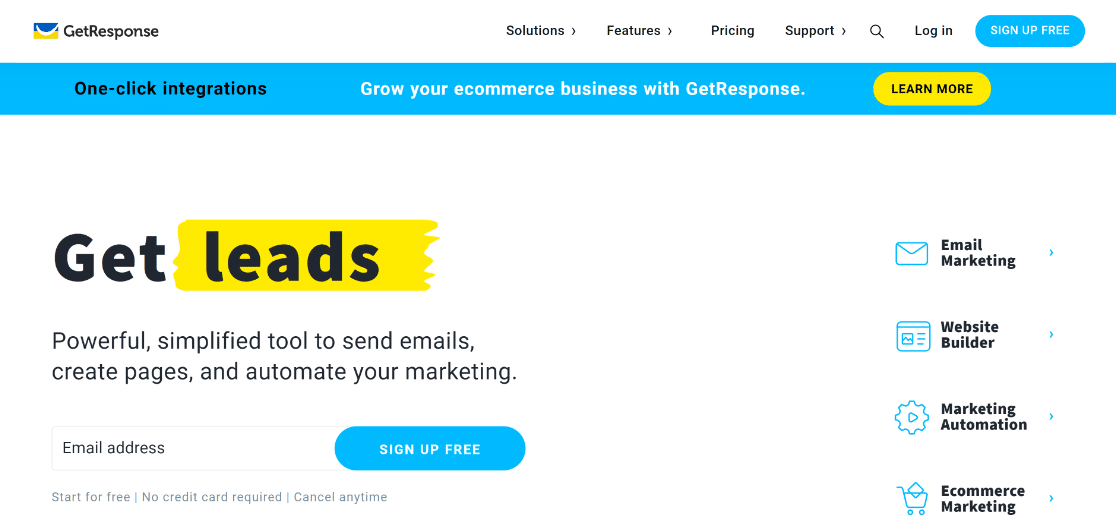 GetResponse is another email marketing service offering advanced automation features. The free plan lets you send unlimited newsletters to up to 500 recipients, which is acceptable.
GetResponse is notable for its fantastic email automation features, though most of these are only available in the paid versions.
However, free users can still access its smart audience automation capabilities that let you segment the audience based on contact details, an action that they performed, geolocation, and more.
It also features a useful spam checker that tests your email content for signs of potentially spammy elements.  This is great if you want to be 100% sure that your email design and content look completely legitimate and credible.
Like other email services on this list, GetResponse connects seamlessly with WPForms Plus (and above) to help you build newsletter signup forms and grow your audience.
Pricing: GetResponse allows unlimited emails for up to 500 contacts. Paid plans start at $15.58, offering plenty of advanced automation, analytics, and list management features.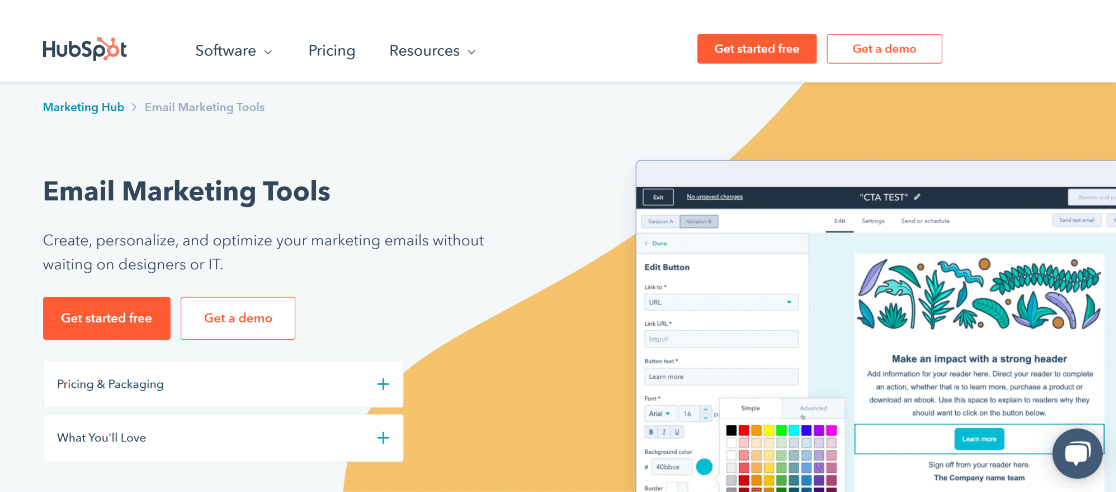 When it comes to free email marketing tools, HubSpot stands among the best that the market has to offer.
With the free plan, HubSpot allows 2,000 email a month. Unlike most other free plans, you can manage up to 5 active lists with HubSpot.
Plus, you get decent analytics and reporting to measure the performance of email campaigns. And the email reply tracking further helps you measure email engagement.
The paid plans allow you to develop marketing workflows for your email campaigns. Additionally, HubSpot integrates with many other third-party apps, including WordPress plugins like WPForms Elite.
This way, you can easily send contacts from your WordPress forms to your HubSpot database.
HubSpot helps you protect your email reputation by providing email health reports. Use this to keep your reputation clean and achieve high deliverability rates.
Pricing: HubSpot Marketing Hub is free of cost for 2,000 emails a month and with other feature limits. Paid plans start at $45/month and come with plenty of extra features.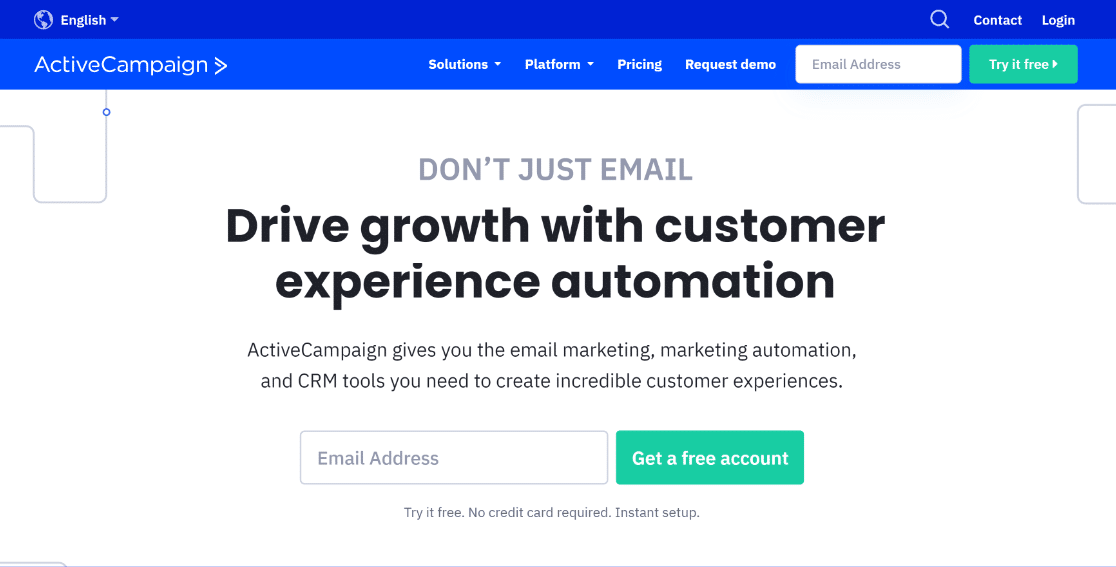 Of all the email marketing tools, ActiveCampaign has the most outstanding email automation features.
The tool comes pre-loaded with a huge range of workflow recipes that you can use to quickly create some common email marketing automations. Or you can create your own workflow logic using simple visual flowcharts.
These automation features also provide excellent value for list management and audience segmentation. With the precise ways that ActiveCampaign allows you to manage your lists and audience, you can easily achieve a high level of personalization in your campaigns.
The WPForms ActiveCampaign addon further extends the range of automated tasks you can perform using WordPress forms and your ActiveCampaign account. But this integration is exclusive to WPForms Elite users.
The only major downside is that ActiveCampaign has no free plans.
Pricing: ActiveCampain starts at $9/month. You can try ActiveCampaign with a 14-day free trial that allows up to 100 contacts and 100 email sends. 

Drip is one of the most popular email marketing tools for eCommerce stores. It's a feature-rich tool that uses incorporates powerful automation features along with decent split testing capabilities.
Drip uses a block editor that lets you build your email designs. This is similar to the modern Gutenberg WordPress block editor. To help speed up your email creation, there's also a decent variety of pre-built newsletter templates.
The audience segmentation options are as good as they come. It gives you a lot of flexibility when segmenting your audience based on their response to automated emails and engagement behavior.
There's also an excellent split testing tool that finds the best performing email based on either open rates or clickthrough rates. Drip's campaign reporting dashboard displays the revenue, clickthrough rate, open rate, as well as the results of split tests.
Drip connects with WPForms Plus (and above plans), so you can automate sending contacts filling out your newsletter signup forms to your Drip list.
Pricing: Drip starts at $19/month. There's a 14-day free trial with a sending limit of 20,000 emails.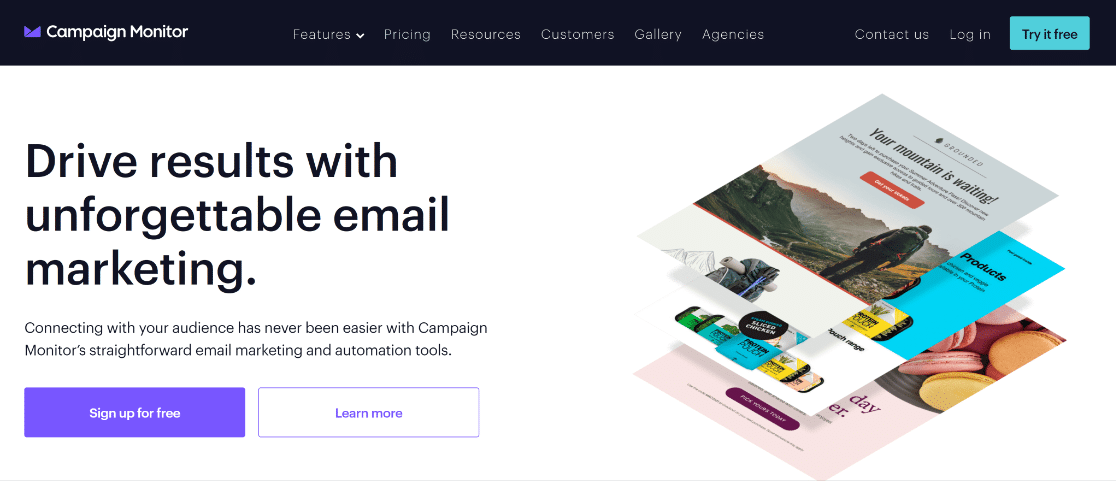 Campaign Monitor is another email marketing tool that specializes in automation. It's also one of the costlier email marketing solutions available.
Campaign Monitor provides a visual, flowchart-style workflow builder where you can choose from various triggers and resulting actions to complete your automation.
Besides, it comes with excellent analytics that provides a broad overview of your campaign performance with common metrics like open and clickthrough rates. And if you want to dig deeper, you can even see how each individual recipient interacted with your email.
The email newsletter templates are great and using the email editor along with all other Campaign Monitor features is fairly easy.
What's more, you can connect it easily with third-party tools like WPForms Plus (and above plans) to transfer new signups from your WordPress site to your Campaign Monitor database.
Pricing: Campaign Monitor has a very restricted free plan that allows only 5 subscribers on your list. The paid plans start at $9/month.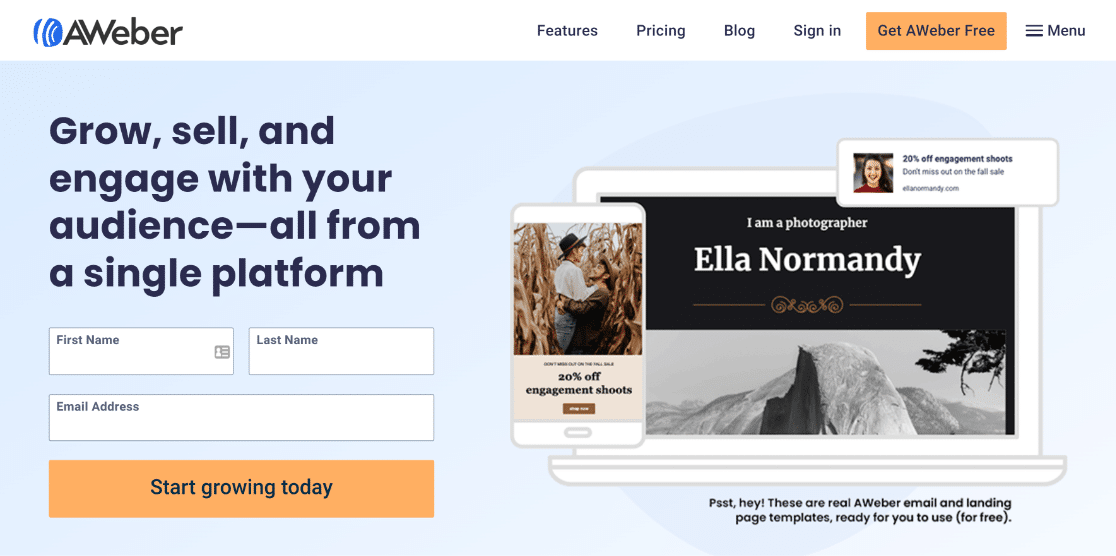 AWeber is a great email marketing service with an impressive set of all-around marketing features.
One of AWeber's major strengths is its A/B testing tool. With this, you can create up to three different variants of your campaign and test their performance with a section of your mailing list.
AWeber doesn't restrict you to only comparing one subject line to another or a content variant against other content variants. You can change any part of your email between different variants to test for open rate and click-throughs at the same time.
It also includes decent automation options that allow you to create some basic workflows, but it's not as advanced as some other tools on this list.
AWeber integrates with WPForms Plus (and above plans). The WPForms AWeber addon enables you to select the email list or audience segment that you'd like a new subscriber to be added to. This ensures a high level of flexibility and allows you to refine your audience segments for the best campaign results.
Pricing: AWeber has a free plan offering up to 500 contacts and 3,000 emails per month. Paid plans start at $19.33/month.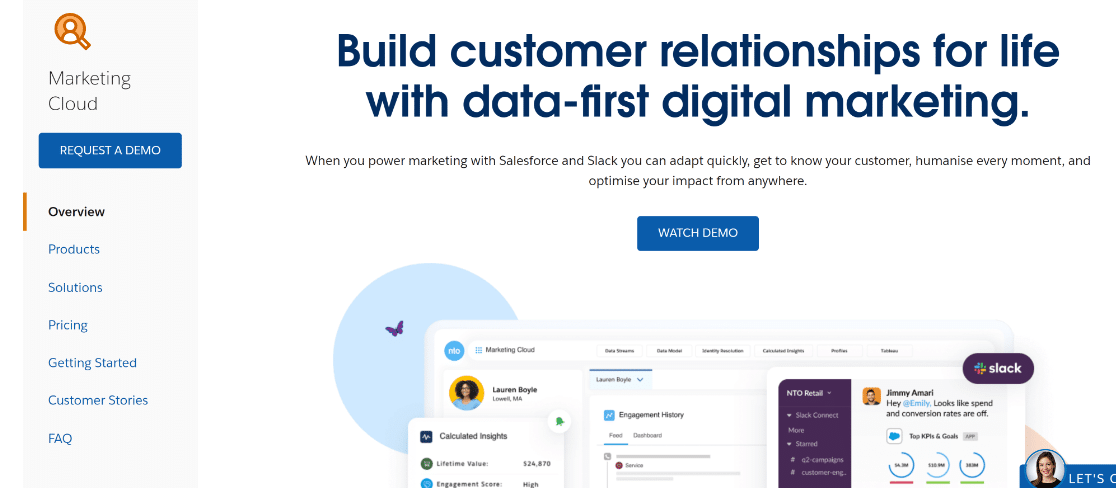 Salesforce is typically known as the best CRM software, but it also includes highly advanced email marketing features.
Marketers mainly like using Salesforce because it provides a high level of automation flexibility. It also gives you a wide range of options when it comes to email personalization to ensure higher engagement levels.
However, it's a platform more geared towards larger businesses that have a lot of experience with CRM and marketing tools. Salesforce is not as straightforward to use as other tools on this list, which may make it a less appealing option. Plus, it's very costly.
You can connect your Salesforce account with WPForms Elite to manage your leads more efficiently between the two apps,
Pricing: Salesforce starts at $400/month. You can try it with a 30-day free trial which limits your email sending to 50 recipients per day.
Overall Email Marketing Campaign Costs
Let's do some basic calculations to estimate how much email marketing campaigns might cost you in a year.
If you're a small business and you can make do with the limitations of a free email marketing tool, you can cut down costs by choosing an option like the MailerLite free plan.
This only leaves you with the costs of your web hosting and WPForms Plus. Meaning, you can start your email marketing for as low as $129.5 the first year!
But what happens when your email list starts to grow and free email marketing plans aren't sufficient anymore?
In that case, Brevo is one of the most affordable solutions. Its paid plans starting at $270 a year have a monthly limit of 20,000 emails, which is a sizable volume. The total costs along with WPForms Plus and web hosting would then become $399.5 the first year, which is still extremely affordable. 
After the first year, your WPForms Plus subscription cost will increase from $99.50 to $199. This would only add $100 to your cost by the next year, so your final cost from the second year onwards will be about $499 (barring any future price changes to WPForms, Brevo, and your web hosting). 
So if you're a small business, you can begin building your email list and running profitable email marketing campaigns for as low as $129.5 with costs increasing to $499 later on if you're careful with how you choose your email marketing and other tools.
Note: These calculations are done on the basis of several assumptions which may not be true in your case. Your actual costs might go higher or lower depending on the scale of your business and the tools you decide to use.
And that's it! You should now have a fairly good idea of how much an email campaign costs.
Next, Speed Things Up With Business Form Templates
Running a business isn't easy, but you can speed things up by using these ready-made business form templates for WordPress.
You might also want to check out our guide on taking over a WordPress site for quick tips when you're ready to make the switch.
Create Your WordPress Form Now
Ready to build your form? Get started today with the easiest WordPress form builder plugin. WPForms Pro includes lots of free templates and offers a 14-day money-back guarantee.
If this article helped you out, please follow us on Facebook and Twitter for more free WordPress tutorials and guides.