Are you looking for the best product review plugins for your WordPress site?
Product reviews are fantastic for building social proof and trust to boost your conversion rate. They're also a great way to increase engagement with your existing customers, especially if you offer customer loyalty rewards or incentives in exchange for reviews.
In this roundup of the best WordPress review plugins, we take a look at the highest-rated options that will encourage more customers to leave reviews, boosting your SEO and giving you an edge over competitors.
Create Your WordPress Product Review Form Now
The Benefits of Product Review Plugins
Customer reviews and ratings are essential if you have an eCommerce site or sell any kind of products online.
A WordPress product review plugin makes it easy for your customers to add reviews, encouraging them to leave valuable feedback and recommendations for other visitors to your site.
The best product review plugins will create schema markup for reviews and product ratings, improving your SEO so your site is more likely to appear in the SERPs (search engine result pages) when a user searches for the products you sell.
Some other great benefits of product review plugins include:
Improve Conversion Rates: Make potential customers feel more confident about purchases and sell more products, as consumers are more likely to buy if they see many other people who have already purchased the product before them.
Boost SEO: Online reviews often include relevant keywords and information that users researching the product will be searching for. This can help your product page rank higher in search engines like Google.
Collect Feedback: Review plugins provide an easy way for customers to leave feedback about products they've bought and suggestions for improvements. This can help you to improve your products and services over time.
Reduce Return Rates: Reviews often provide information and insights not available in the product description. Reading reviews can help to prevent a potential customer from buying an unsuitable product that they would later return or leave a bad review for.
Nurture Customer Relationships: Encouraging customers to engage with your site and brand by leading reviews can increase customer loyalty and build trust, leading to a better brand reputation and more repeat business.
Stand Out From Competitors: All else being equal, a potential customer is more likely to buy the same product from a site with reviews and testimonials than one without reviews.
Convenient and Professional Looking: While technically, you could manually upload reviews to your site, allowing users to submit new reviews directly is easier and more efficient. Reviews published by a plugin will also look great without the need for custom CSS or the help of a designer.
While some eCommerce platforms like WooCommerce have reviews built in, WordPress itself has no built-in system for leaving reviews, so if you don't have an eCommerce site but rather another type of review site, you'll need a plugin. WordPress review plugins also tend to have more features than relying on your eCommerce platform.
With so many benefits, you should definitely consider installing a review plugin on your online store or review website.
The Best Product Review Plugins for WordPress
As different review plugins are designed for different needs, see the table below for a quick overview of the features each plugin offers.
Now you have a general idea of what the plugins we reviewed offer, let's take an in-depth look at each one.
1. WPForms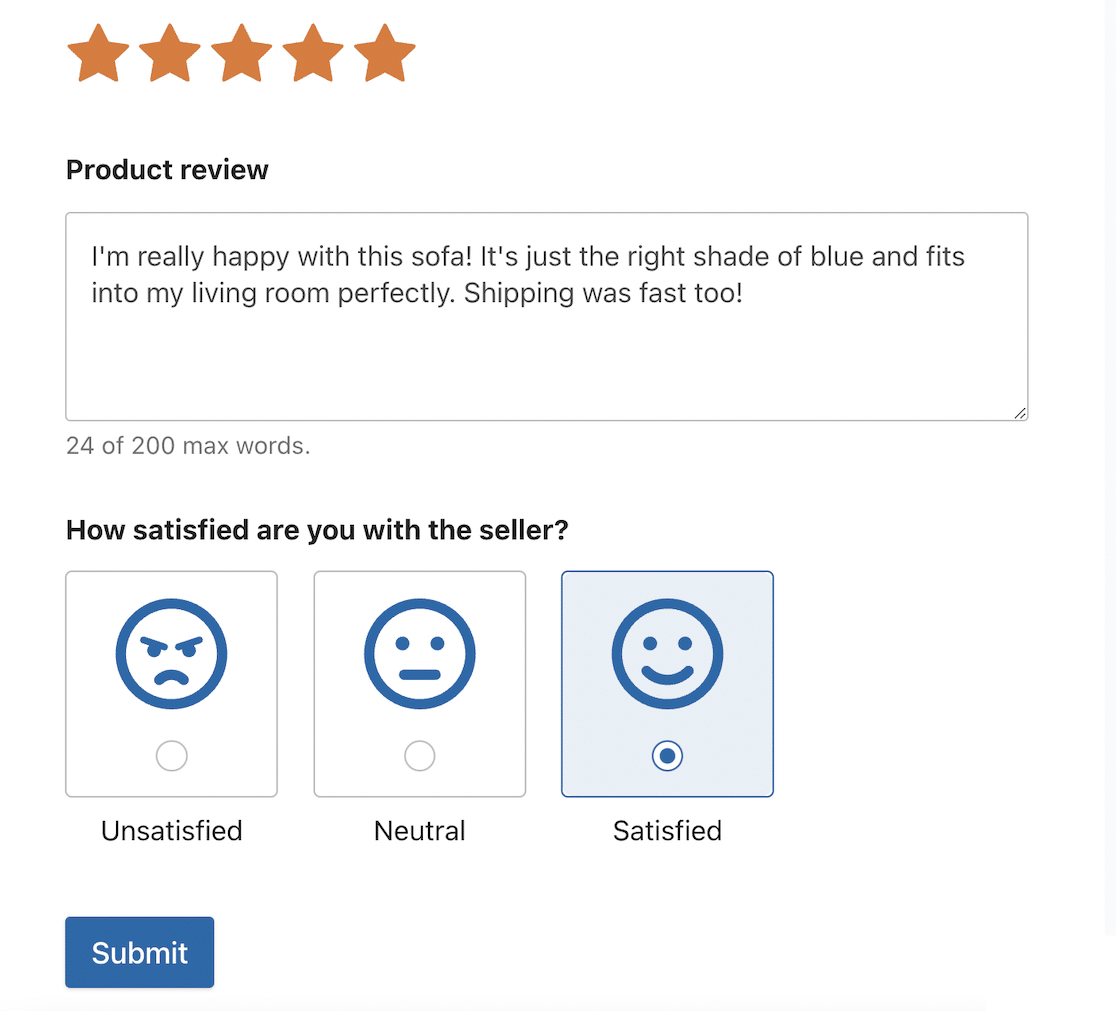 WPForms is the best form builder plugin for WordPress because it's incredibly easy to use and comes with a huge range of features, including various types of rating fields and pre-built review forms.
Once you've installed and set up WPForms, you can start accepting user reviews on your WordPress site in just a few minutes.
Get started with one of the pre-made review form templates, such as the product review form template, book review form, or restaurant review form. You can easily customize the form with the drag-and-drop form builder, which comes with various field types and rating systems for collecting reviews, including:
Paragraph text
Star rating
Likert scale
Net Promoter score
Multiple choice fields with icons such as smiley faces or thumbs up.
WPForms even includes a file upload field so reviewers can upload product images or unboxing videos from the front end of your site. This can be a very effective way to increase customer trust when you're selling physical products.

The post submissions feature allows you to automate the review process so that user reviews can be approved and posted directly to your WordPress website at the click of a button.
And that's not all! The WPForms plugin also has dozens of useful addons to extend its functionality.
For example, you can use the Form Locker addon to restrict access to a form with a password or by email. This could come in really handy if you want to allow only users who have completed a purchase to leave a review.
Our Experience
We designed WPForms to be as easy to use as possible so that you won't find a more user-friendly plugin. Although creating a form for users to submit product reviews is quick and simple, WPForms is incredibly powerful behind the scenes.
With conditional logic and dozens of built-in integrations and addons, you can create advanced workflows for reviews in WPForms.
For example, you could use conditional logic to display a field asking for further feedback if a user gives a rating below a set level.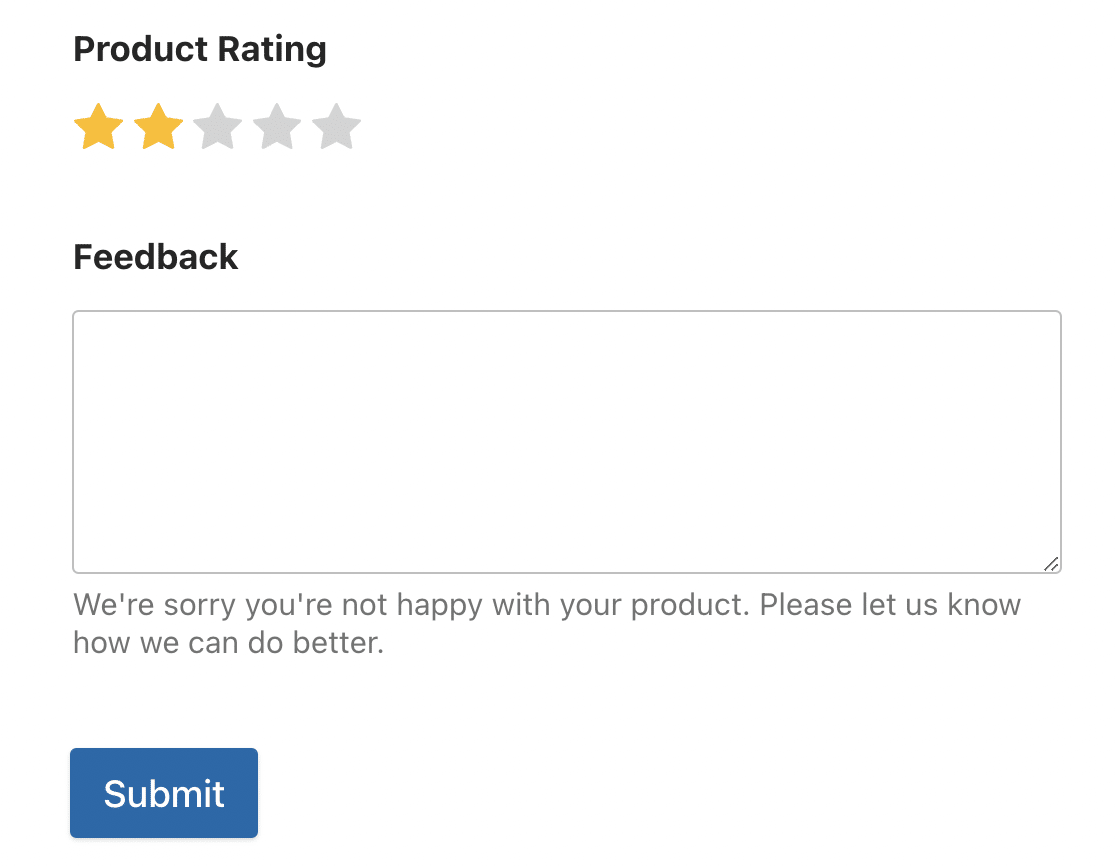 And with the coupons addon, you can easily offer customers discount coupon codes as an incentive for leaving a review.
Our Favorite Features
Drag-and-drop builder makes it incredibly quick and easy for complete beginners to create review submission forms with custom fields.
Over 1000 WordPress form templates, including several pre-built review forms.
Unlimited customization options for review forms.
Advanced field types for collecting ratings and reviews.
File uploads so users can upload photos or video reviews.
Flexible form styling makes it effortless to design your review form to match your branding and WordPress theme.
Easily embed review forms anywhere on your site as a shortcode, WordPress block, or Elementor widget.
Plans and Pricing
WPForms has a free, Lite version. WPForms premium plans with more features and integrations start from $49.50/year.
2. All In One SEO (AIOSEO)

AIOSEO is primarily an SEO plugin, so you may not have considered it for creating product reviews. But AIOSEO's powerful SEO features are precisely what makes it one of the best product review plugins available.
AIOSEO includes a schema generator that makes it easy to add properly structured product and review schemas to your online store.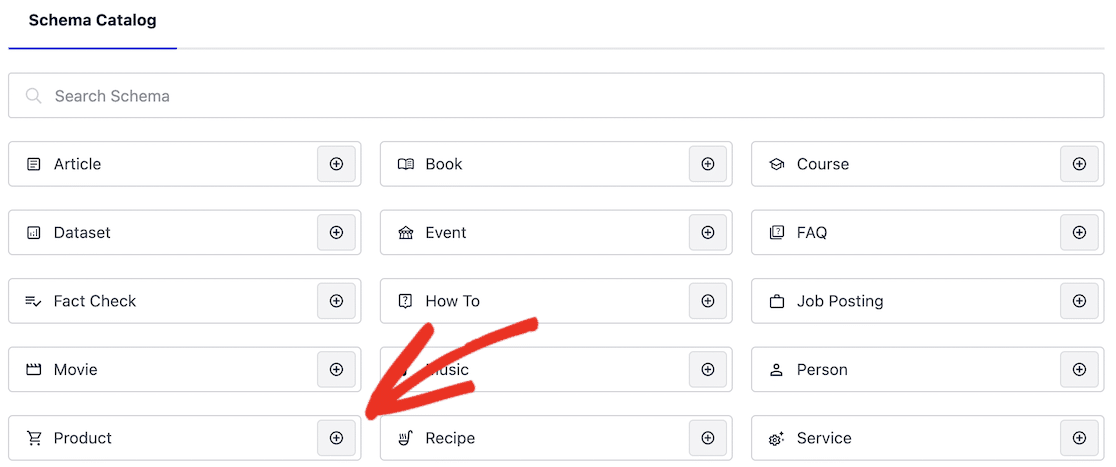 If you've ever searched for products on Google, you'll have seen product schemas in action.
Google uses product schemas to display rich snippets that include useful information about products for consumers, such as price, brand, and an image of the product.
Information from review schemas is often displayed alongside product schema, particularly the product rating, which is illustrated as stars.
In the Google results, products displaying a high star rating are instantly more attractive to online shoppers and are more likely to attract clicks and drive sales. So, using AIOSEO to generate review schema is well worth it to improve SEO and make your products more visible.
Our Experience
We already use AIOSEO to optimize content on the WPForms site, so we're very familiar with how easy it is to use.
Creating a product review is as simple as filling out a form with your product details. For most of these fields, we found we could just copy and paste from the product page.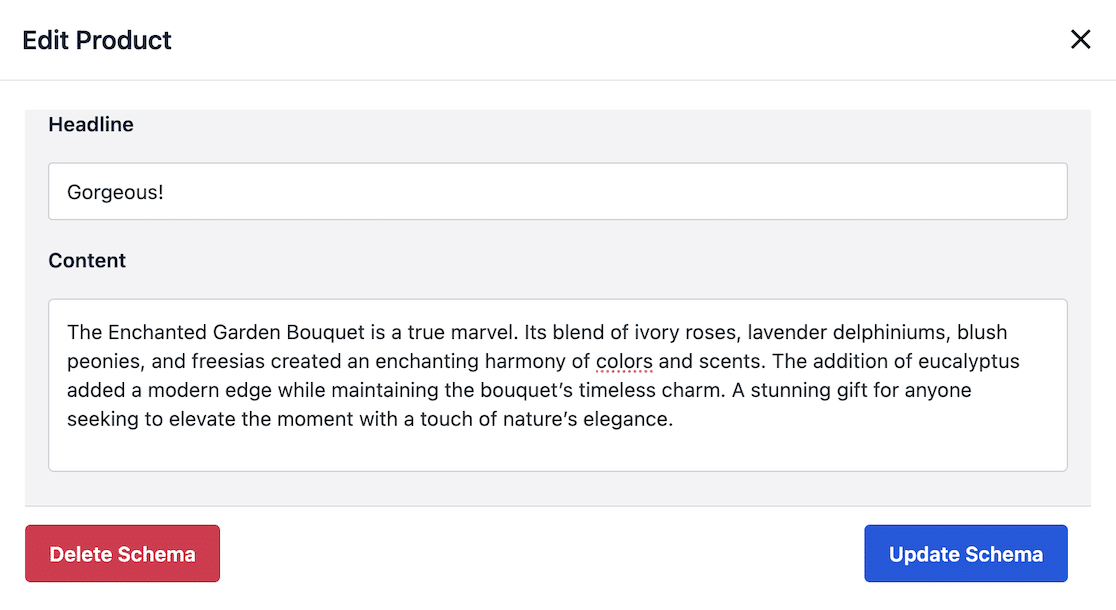 We also liked how AIOSEO automatically fills some of this information from the product page, which makes it really quick to complete the schema.
The plugin includes a handy link to Google's schema validation tool and preview, which we found really helpful when getting started with product schemas.
The main limitation of using AIOSEO for reviews is that it doesn't generate reviews to be displayed on your site – only schema, which allows them to be shown in Google results. But it's a fantastic companion for an eCommerce plugin like WooCommerce, which has reviews built into the platform.
Our Favorite Features
Supports Google Merchant Center (GMC) listing schema so your products and reviews can show up as Google rich snippets.
Works for creating product reviews on posts, pages, custom post types, and WooCommerce product pages.
Option to autogenerate product schema from WooCommerce product pages
Powerful SEO features can help your reviews, products, and website be seen by a wider audience.
Plans and Pricing
AIOSEO premium plans start from $49.60/year, which includes the product and review schema generator tool.
3. Easy Digital Downloads (EDD) Reviews

If you're selling digital products, Easy Digital Downloads is a complete online store solution that makes it easy for you to sell digital products directly from your WordPress site without the need for a third-party service.
The pro version of the plugin comes with a Reviews extension that provides an easy way to publish reviews on your digital products.
You can limit reviews to verified customers or logged-in users, and there's also the option to moderate reviews before publication.
Installing the Reviews extension also adds a new section to the email settings page. Here, you can enable review notifications, send an automatic email requesting a review after purchase, and automatically send a discount coupon to a customer after they submit a review.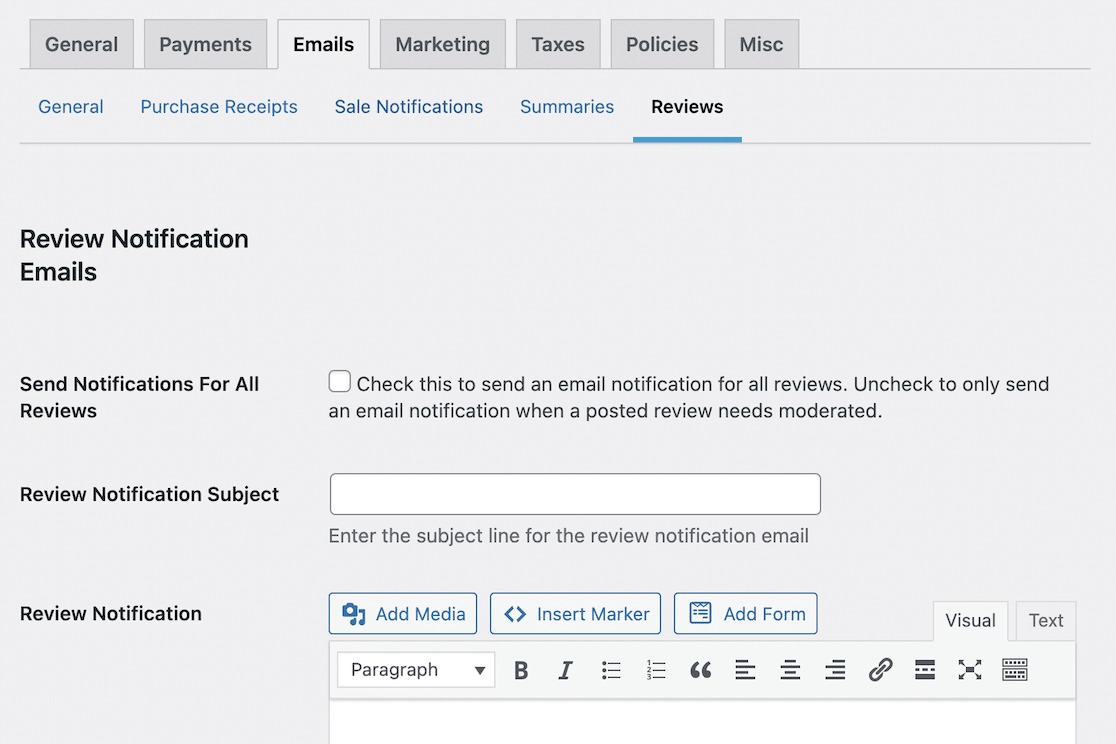 Our Experience
We found EDD reviews simple and easy to use as it's integrated seamlessly into the EDD product page. After users submit their reviews on the front end of the site, they're visible in the WordPress dashboard, where you can approve, edit, or delete them.

We also liked the built-in integration for FrontEnd Submissions (EDD's extension to turn your site into a multivendor marketplace.) This enables customers to rate and review vendors as well as the actual products.
Our Favorite Features
Incentivize customers by sending a coupon after they submit a review
Reviews can be closed or disabled on a per-product basis
Enable vendor feedback for multivendor marketplace sites
Built-in markup for product schema
Enforce word limits on review
Plans and Pricing
An Easy Digital Downloads paid license is needed to use the extensions. These start from $199/year
4. WP Review Pro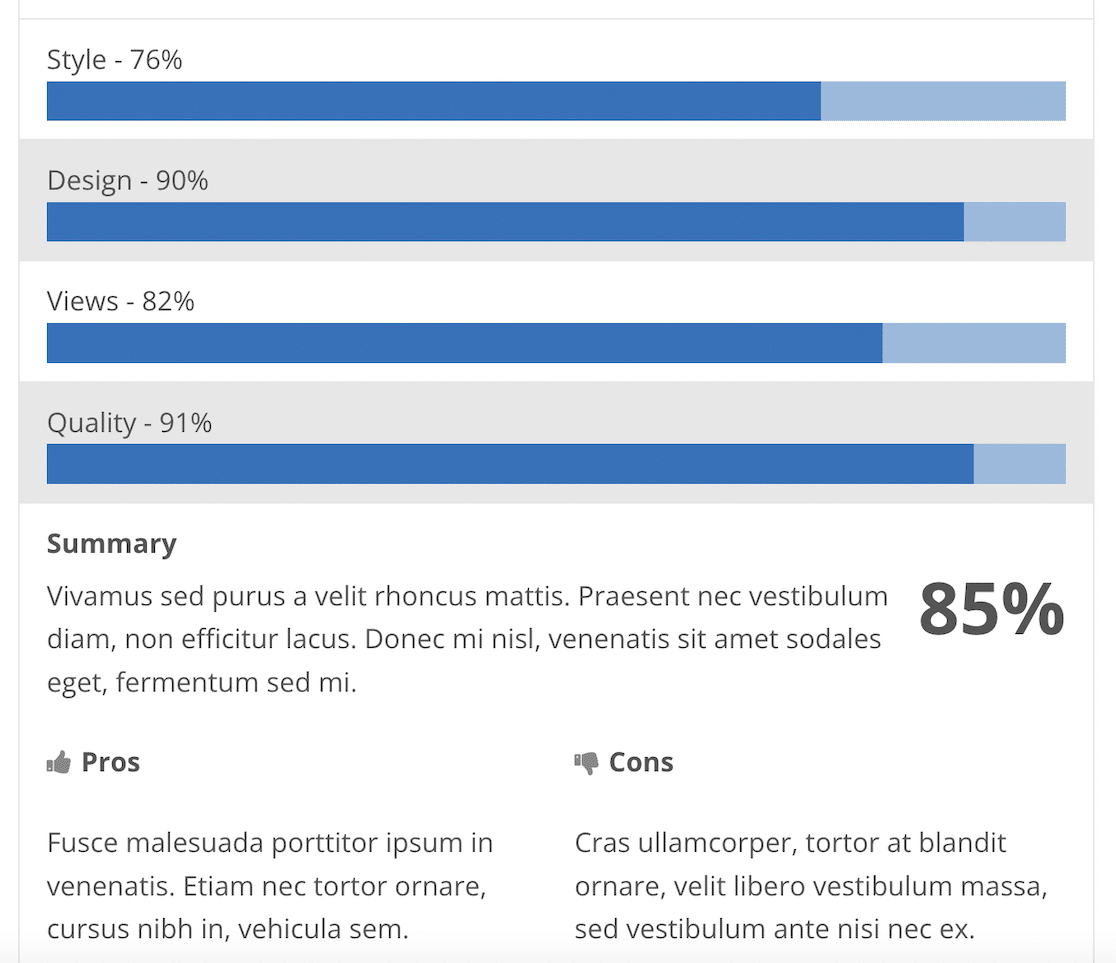 If you're looking for a plugin designed specifically for creating product reviews, WP Review Pro could be a great fit.
WP Review Pro comes with a library of customizable review templates, so you have complete control over the look and style of the reviews on your site.
There's loads of flexibility when it comes to getting your reviews to look just right, and you can choose from a variety of rating styles and customize them in various styles and colors to match your site.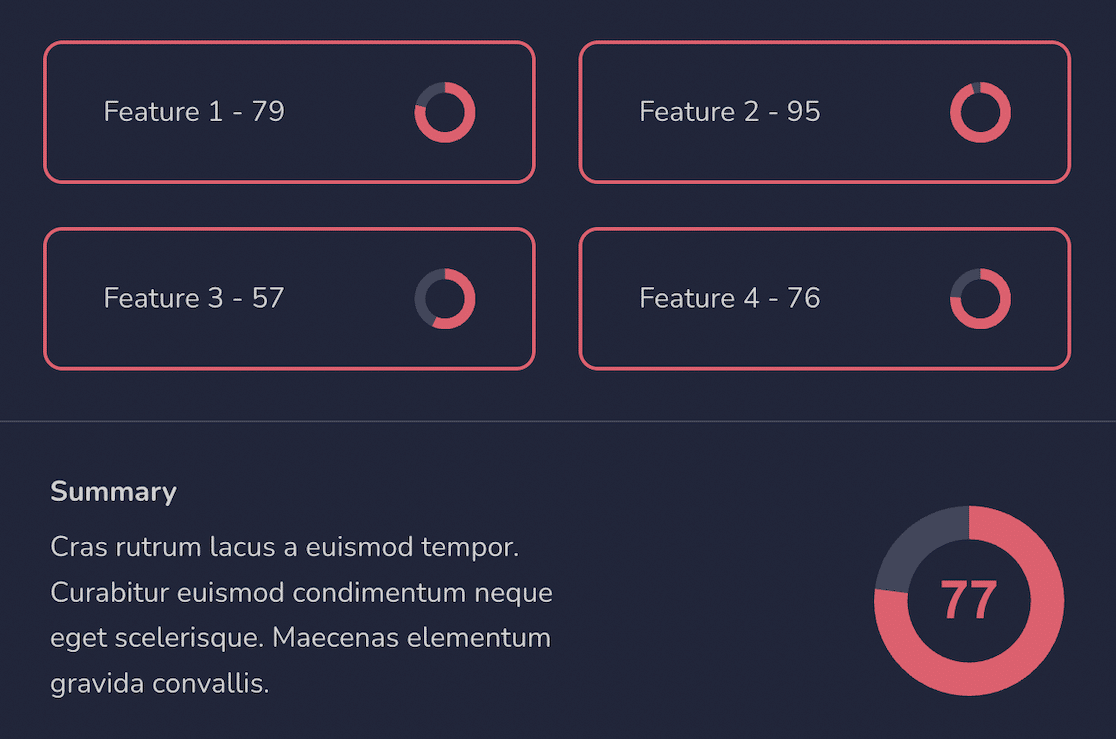 While this may be less relevant to eCommerce sites, this plugin also lets you import reviews from other sites Facebook reviews, Yelp reviews, and Google reviews.
Our Experience
We found the reviews created by this plugin to offer more style variety than any other plugin we tested. As well as choosing colors and fonts, you can set ratings as stars, points, thumbs up, and percentage circles to create eye-catching reviews.
Another useful feature we were impressed with was the option to create comparison tables. This could be really effective for stores that want to make it easier for their customers to compare products or for affiliate sites displaying reviews of multiple products on one page.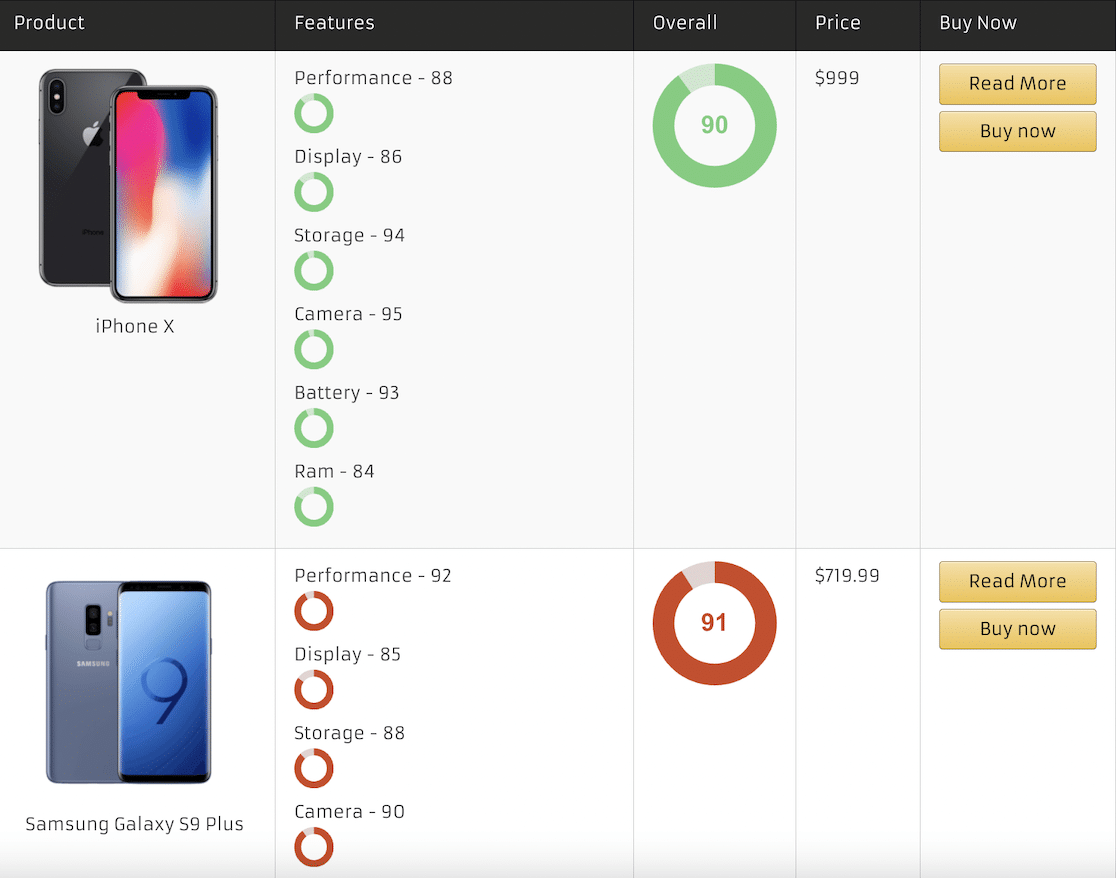 We also found the plugin very user-friendly from an end-user perspective. Review forms are quick to complete and submit, and we liked the click-and-drag action to fill percentage sliders and circles.
Our Favorite Features
Multiple review templates and rating styles, including custom rating icons
Customers can mark other reviews as helpful or unhelpful
Show ratings on your WooCommerce store product thumbnails
List product pros and cons in the review box
Review popups and notification bars to draw attention to particular products
Create comparison tables for multiple products
Animated percentage sliders add a touch of extra flair to your product pages
Plans and Pricing
WP Review Pro costs $67/year
5. Customer Reviews for WooCommerce

WooCommerce has a built-in review system that allows customers to leave a written review and star rating, but it's very basic.
The Customer Reviews for WooCommerce plugin extends the review features of WooCommerce with photo and video reviews, review voting, review filtering, customer questions, and more.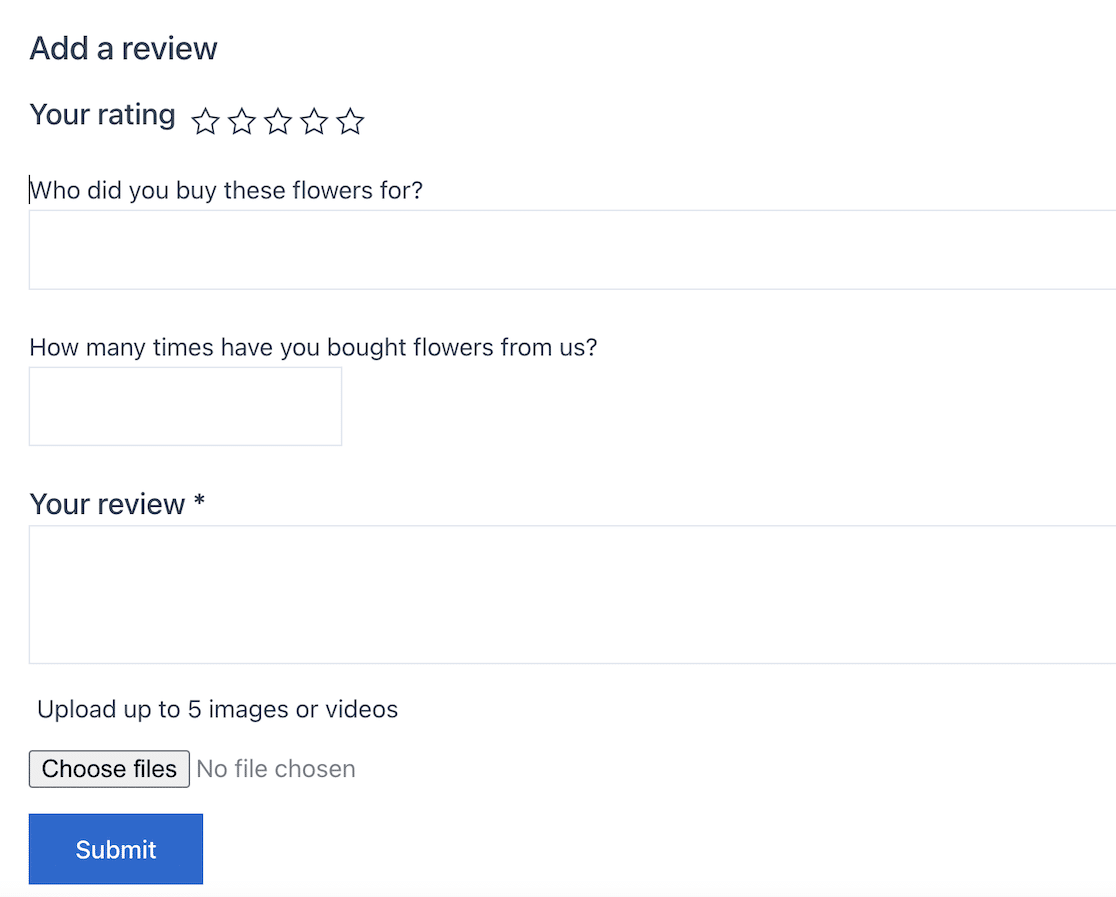 Built-in schema markup and Google Shopping integration help to improve your online store's SEO and display your products directly in Google search results.
Our Experience
We found Customer Reviews for WooCommerce to be easy to use and full of useful features. It builds on the integrated product reviews in WooCommerce, so all you have to do to get started is adjust the settings.
But what we really liked about this plugin is that it allows you to automatically send a personalized email to customers after they make a purchase, asking them to leave a review (and optionally offer them a discount in exchange for a review.) This feature alone will surely help you get more reviews on your online store.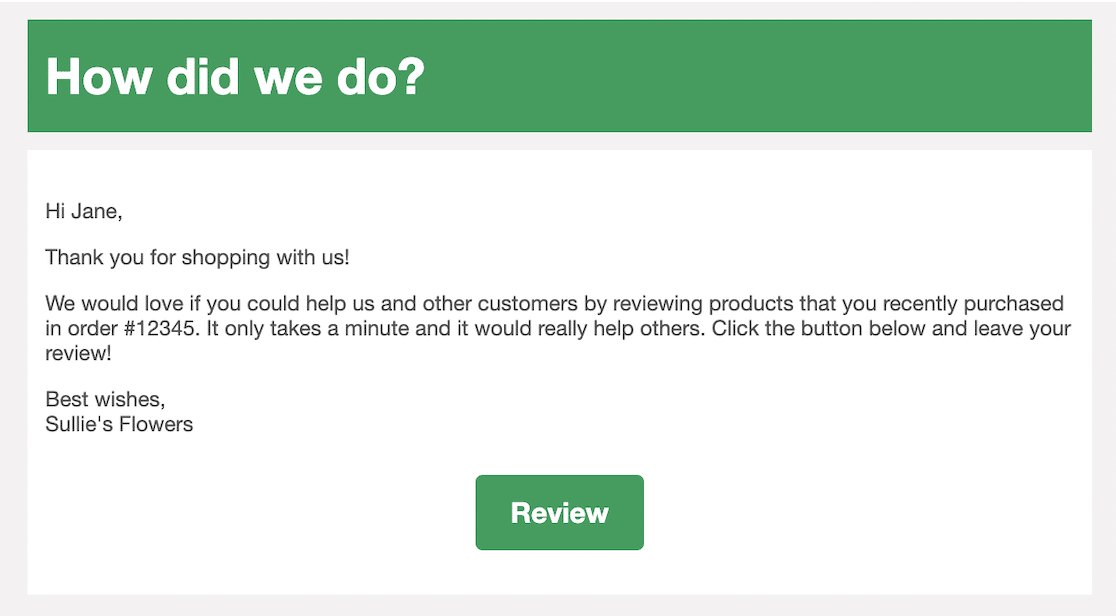 We were able to activate this feature just a couple of minutes after installing the plugin, as a setup wizard walks through the settings of choosing an email delay and optionally restricting it to specific product categories or user roles.
Our Favorite Features
Automated review reminder emails
Third-party verification that your reviews are authentic
Enable reCAPTCHA to eliminate fake and spam reviews
Offer customers a discount if they leave a review
Customers can review multiple products from one page
Potential customers can ask questions about products, and other customers can reply, similar to the product questions feature on Amazon product pages.
Plans and Pricing
Customer Reviews for WooCommerce Pro costs $49.99/Year
6. Site Reviews

Site Reviews makes it easy to add reviews to any page or post on your site with WordPress Gutenberg blocks.
The plugin has multiple pre-built blocks for displaying your latest reviews, a review section, or a review form.
Site Reviews also integrates directly with WooCommerce and automatically generates valid product schema.
Our Experience
Site Reviews is a simple plugin with some advanced review features. We liked how the included blocks for displaying review submission forms, single reviews, or review summaries make it so quick to get reviews on your site.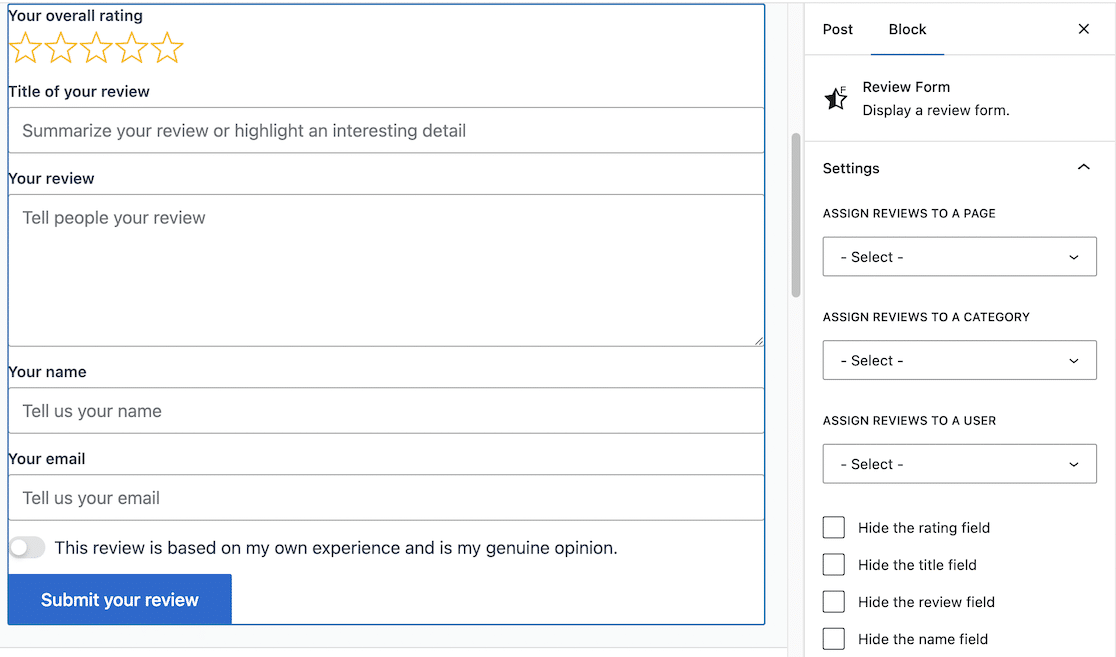 However, when it comes to using the more advanced functionality of the plugin, such as creating a custom form with specific review criteria, there is a bit of a learning curve.
This plugin includes some very attractive template themes, and it was nice not to have to play around with color palettes and custom CSS to create reviews that look professional. The live preview that lets you see design changes as you make them is also a nice touch.
Our Favorite Features
Custom form builder for review submissions with various field types
Drag and drop photo uploader for customers to add photos to their reviews
Carousel and grid view for reviews
Sort, filter, and search reviews
Automatically send custom notification emails when a review is submitted
Easy integration with WooCommerce
Option to respond publicly to reviews
Plans and Pricing
Site Reviews premium costs €89 (approximately $96)/year
7. WordPress Review & Structure Data Schema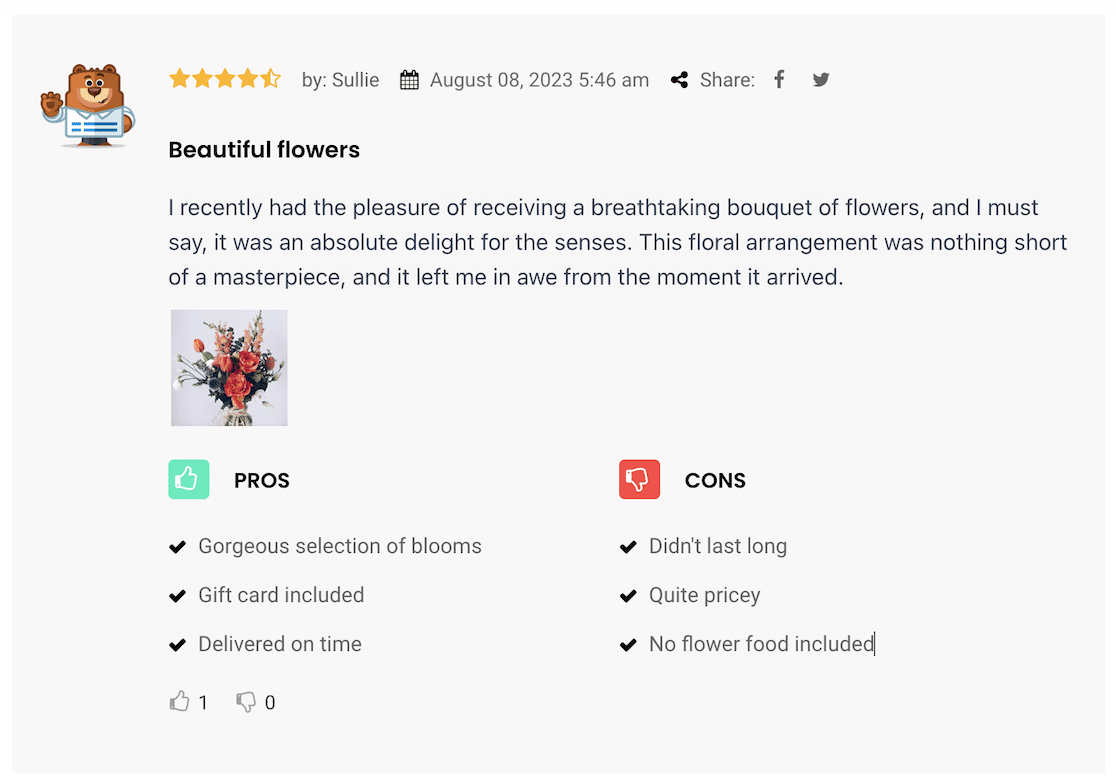 WordPress Review & Structure Data Schema is a lightweight plugin that makes it easy to generate Schema.org structured data for your product reviews so that search engines like Google will display star ratings, product images, and other rich results when a user searches for your products.
This freemium product review plugin automatically generates product schema for your posts, pages, and WooCommerce products.
It also creates attractive, customizable reviews to display on your site with some useful features such as video and image reviews, product pros and cons, and the option to vote reviews up or down.
Our Experience
We found Review Schema easy to use and intuitive from the start, as the interface is very similar to the standard WordPress post composer.
A visual review styler makes it simple to choose how you want your reviews to look and behave, and settings such as allowing image uploads can quickly be toggled on and off.
We also liked that a custom CSS editor is included so you can fully customize reviews to match your site.
If you want to get the most out of this plugin, you really need to install the premium version, as we found the free plugin quite limited.
For example, you'll need to upgrade to get access to product schema for WooCommerce plugins, as well as a lot of other features such as video reviews, likes and dislikes for reviews, purchase badges, and advanced styling options.
Our Favorite Features
Include ratings for multiple review criteria in your product reviews
Sort reviews by rating, date, or filter reviews containing images
Allow users to upload images and video reviews
Collect product pros and cons in reviews
Easy integration with WooCommerce
Fully customizable styles
Allow users to edit reviews after submission
Plans and Pricing
WordPress Review & Structure Data Schema pro plans start from $29/year.
Bonus: WP Customer Reviews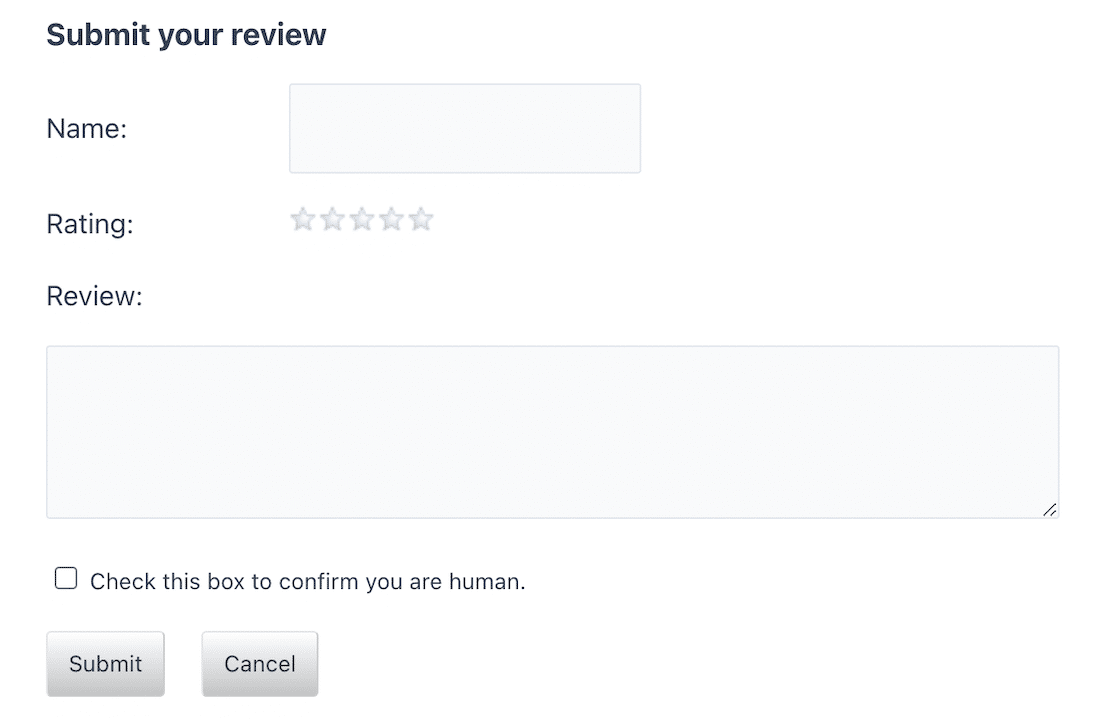 If you're looking for a free product review plugin, it's worth trying WP Customer Reviews. This open-source plugin lacks some of the bells and whistles of the premium plugins, but it's a solid choice if you're looking for a basic WordPress product review plugin on a budget.
Our Experience
This no-frills plugin lacks the user-friendly drag-and-drop editors and extensive settings pages of the premium versions of other product review plugins.
The plugin can be activated on any page or post of your WordPress site by scrolling down and clicking a checkbox to accept reviews. You can also add a shortcode to any page or post to display a review submission form or a number of reviews that you specify.
As we're experienced WordPress users, we're familiar with using shortcodes. But this could be confusing for less technical users, and there are much more user-friendly options out there.
A critical issue with using a free plugin like this is that there's pretty much no support apart from a basic bug report and feature request form. We investigated the community support forum, but most requests for help have gone unanswered. So, if you don't have experience with WordPress development to sort out your issues, this might not be the best choice of plugin for you.
Our Favorite Features
Display reviews over several pages to speed up loading time
Customizable review submission form
Anti-spam feature
Option to add custom fields to review form.
Plans and Pricing
WP Customer Reviews is a free plugin.
FAQs
How do I add reviews to WooCommerce?
WooCommerce comes with a built-in review platform for customers. To activate reviews on your site, make sure the "Enable product reviews" option is checked in your product settings. Customers can then review your products. You can also manually add reviews to your product pages in your WordPress dashboard. If you want to extend the functionality of WooCommerce reviews, you may want to consider using a product review plugin like Customer Reviews for WooCommerce or a schema plugin like AIOSEO,
What are rich reviews?
Rich snippets are a type of structured data that Google and other search engines use to display product ratings, reviews, and other data directly in the search engine result pages. You can use a WordPress product review plugin to generate schema for rich reviews.
What are the drawbacks of product reviews?
When you allow customers to leave reviews on your site, there's always a possibility they could leave a negative review. This could result in lost sales and damage your business's reputation. To avoid this problem, opt for a product review plugin that allows you to approve reviews before they are published on your site.
Can you make money with a review site?
Many bloggers create product review sites that they monetize with affiliate links and advertising. If you're running a review site, it's important to make sure that your reviews are of high quality and provide value to users. Look for product review plugins with key features like product comparison tables and pros and cons.
Best Product Review Plugins: The Final Verdict
While all of these plugins offer great features and will definitely improve your reviews, the flexibility and simplicity of WPForms make it hard to beat. Not limited to product reviews only, this plugin makes it easy to create any kind of form on your website and store or display your form submissions as you wish.
To make the most of your product views, it's advisable to ensure your product pages are optimized for Google rich snippets. For this, you can opt for any of the plugins that generate product and review schema, or simply install a general SEO plugin like AIOSEO.
Create Your WordPress Product Review Form Now
Next, Set Up Google Analytics for WooCommerce
If you're using WooCommerce to sell products on your site, it's important to keep track of the performance of your online store and learn more about how customers are using your site. Check out our tutorial on how to set up Google Analytics for WooCommerce the easy way.
You can also take a look through our marketing ideas for small and local businesses to get more ideas for promoting your products and driving more sales.
Ready to build your form? Get started today with the easiest WordPress form builder plugin. WPForms Pro includes lots of free templates and offers a 14-day money-back guarantee.
If this article helped you out, please follow us on Facebook and Twitter for more free WordPress tutorials and guides.