Are you looking for a fast and straightforward method to set up WooCommerce Google Analytics?
Understanding your customers and the shopping habits they engage in is of the utmost importance in the world of eCommerce.
By connecting Google Analytics to WooCommerce, you can easily track your store's performance to get better insights and more income.
So in this post, we'll show you how to set up Google Analytics for WooCommerce using the MonsterInsights plugin.
Why Do You Need Google Analytics on WooCommerce?
You'll need eCommerce analytics to plan campaigns and make business decisions to increase your revenue. Here's how setting up Google Analytics for WooCommerce helps when running an online store:
Enhanced E-commerce Tracking: From product views to cart additions and final purchases, you can monitor every step of the user journey.
Refined Marketing Strategies: By understanding which channels are most effective, you can target the platforms with the highest ROI.
User Behavior Insights: Discover which products are most viewed, which have the highest conversion rates, and which are often abandoned in the cart.
Optimize Store Performance: Google Analytics can help identify pages that need optimization, ensuring a smoother shopping experience for customers.
Audience Segmentation: Understand your audience's demographics, from age and gender to geographical location.
Goal Setting and Monitoring: Set specific goals for your e-commerce store, such as a target number of sales or a desired bounce rate.
Forecasting and Predictions: With the accumulated data, you can predict future sales trends, helping you prepare for peak seasons or strategize for slower periods.
How to Add Google Analytics to WooCommerce
The easiest method to set up WooCommerce Google Analytics on WordPress with just a few clicks is to use MonsterInsights.
Step 1: Install and Activate MonsterInsights
So the first step is to install the MonsterInsights plugin. It's the best Google Analytics WordPress plugin available.  Plus, you'll get detailed eCommerce reports from directly within your WordPress dashboard.
And you don't need to be technically savvy to use MonsterInsights. That's one of the reasons it's so popular with small business website owners.  You don't have to edit any code or hire a developer.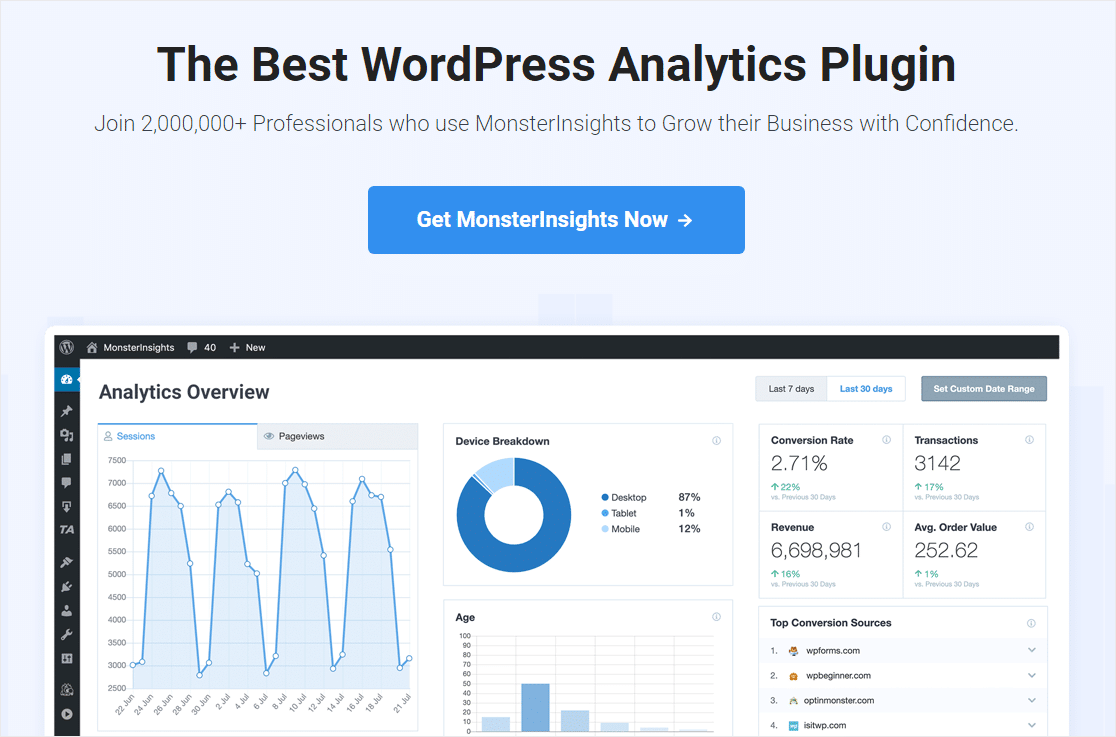 To set up tracking for your WooCommerce store, you'll need a MonsterInsights Pro plan. Once you've decided on a plan that suits your budget, check out this post on installing a WordPress plugin for step-by-step instructions.
Step 2: Connect MonsterInsights to Google Analytics
After the plugin has been activated, the Setup Wizard will appear and walk you through the procedure step by step.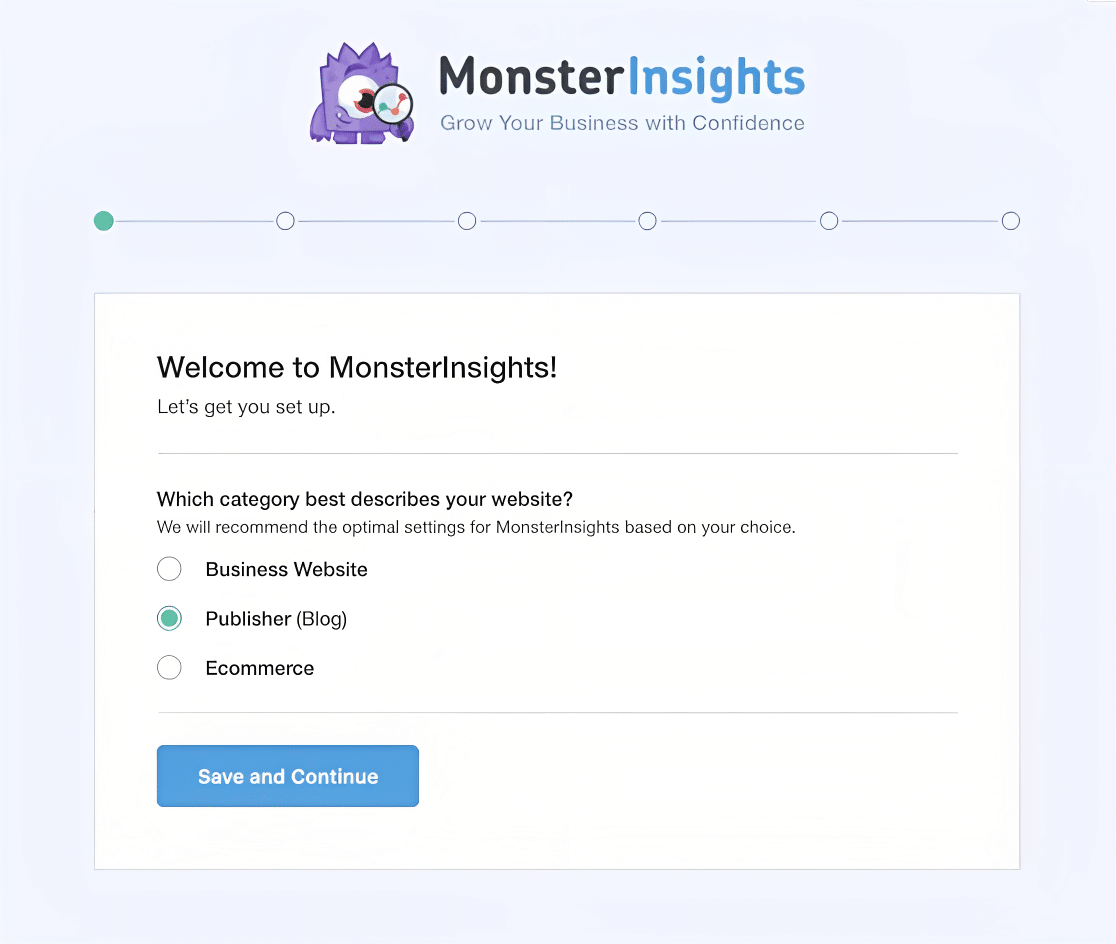 The second screen will ask you to connect MonsterInsights to your WordPress site by entering your MonsterInsights license key.
Simply copy the key from the MonsterInsights account dashboard and paste it into the License Key field, then hit the Connect MonsterInsights button.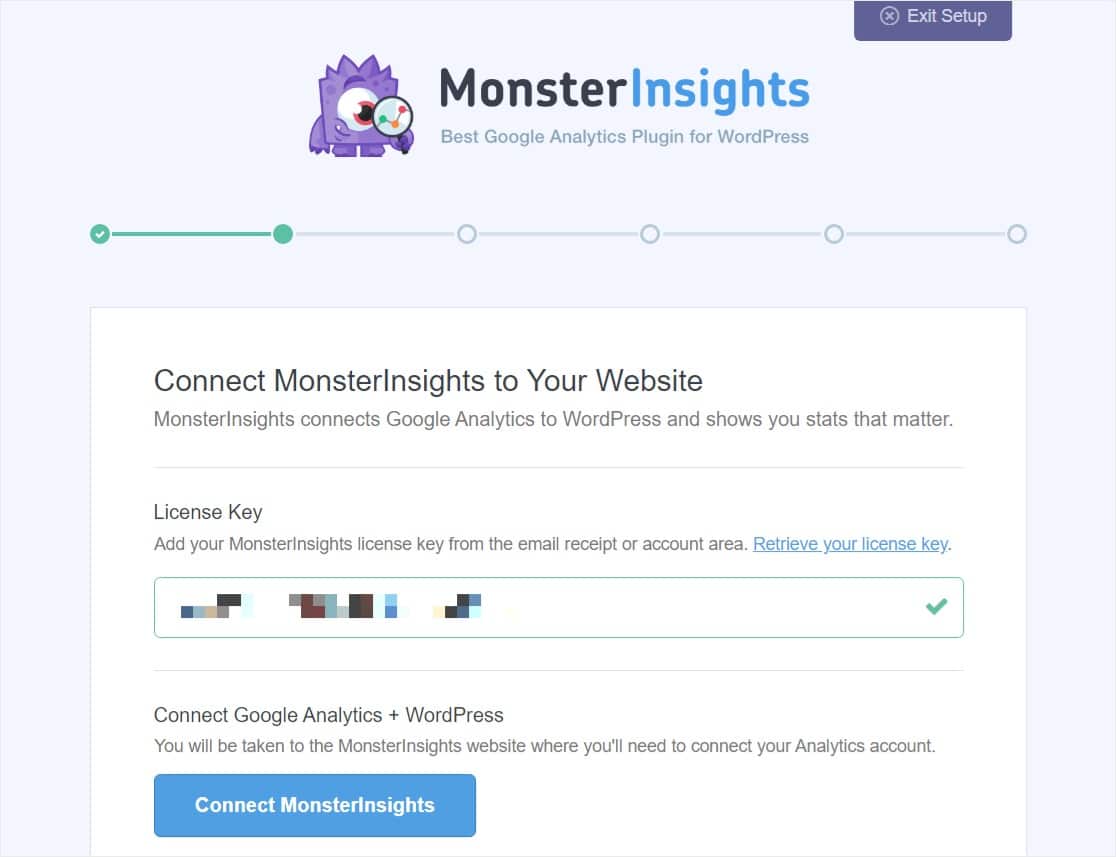 On the following screen, you will be prompted to select a Google account you'd want to link to your MonsterInsights account.
You'll need to pick the account that you created when you initially set up your Google Analytics account for WooCommerce.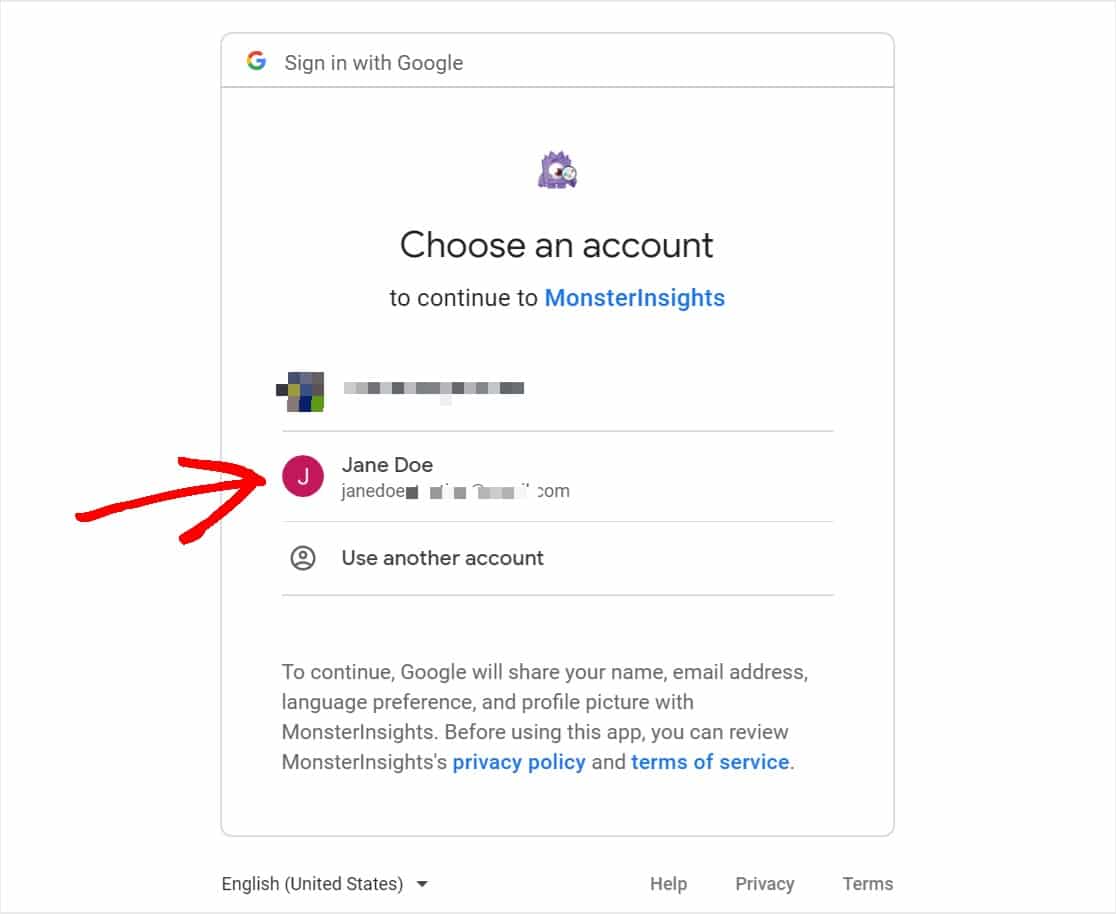 Now, you must provide MonsterInsights permission to access your Google Analytics account. To proceed, click on the Allow option.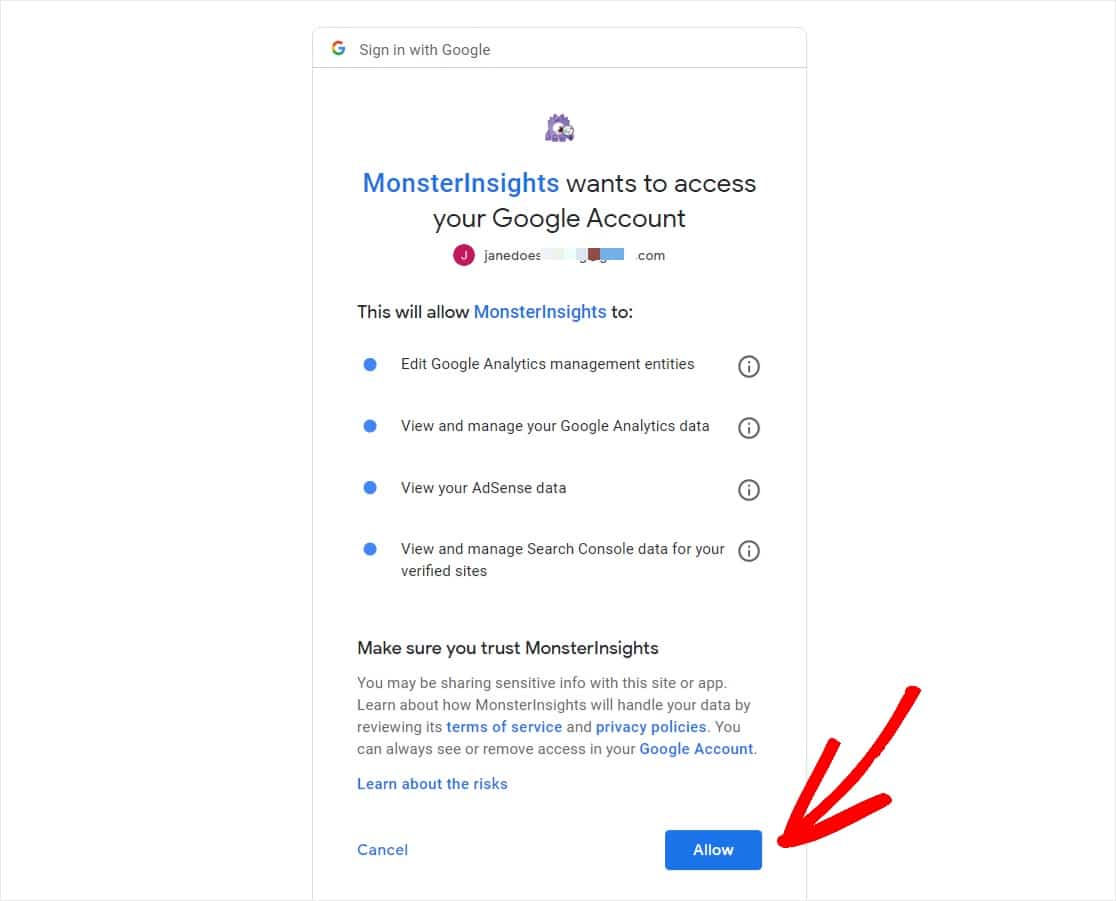 After that, select a profile to continue the connection. If your Google Analytics account is connected to multiple websites, choose the right website property.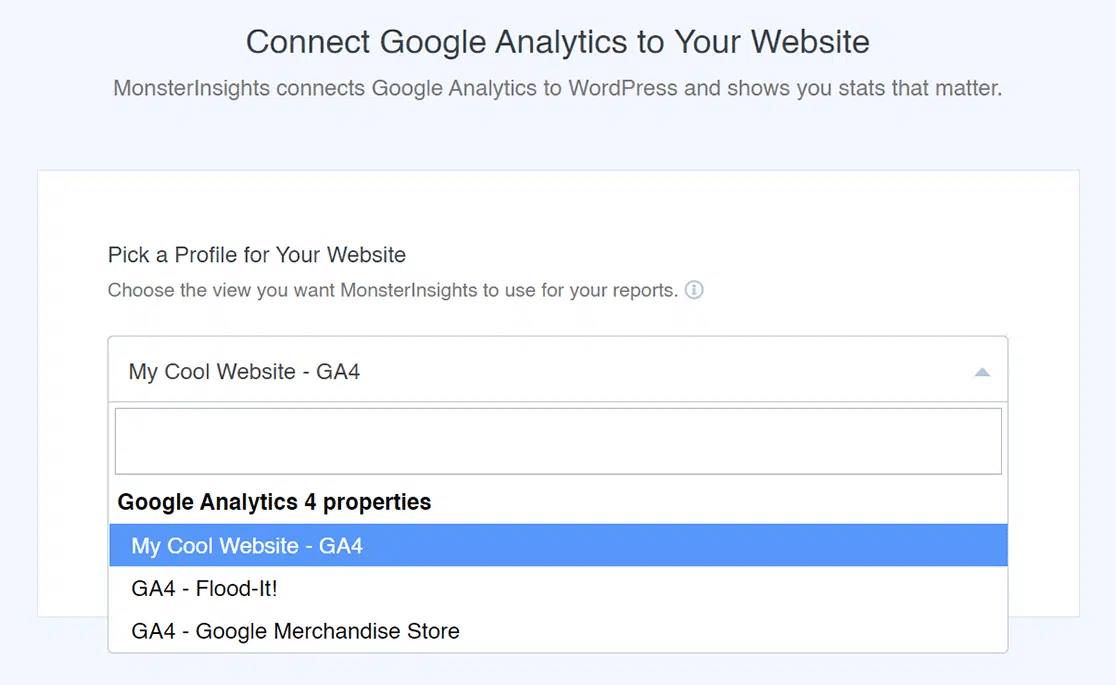 Once the authentication is complete, you'll be sent back to the Setup Wizard. You'll end up on the Recommended Settings page with the following options:
Events tracking — Enabled by default.
Enhanced Link Attribution — Enabled by default.
File Download Tracking — Most used file types (doc, pdf , ppt, zip, xls, docx, pptx, xlsx) are already added by default.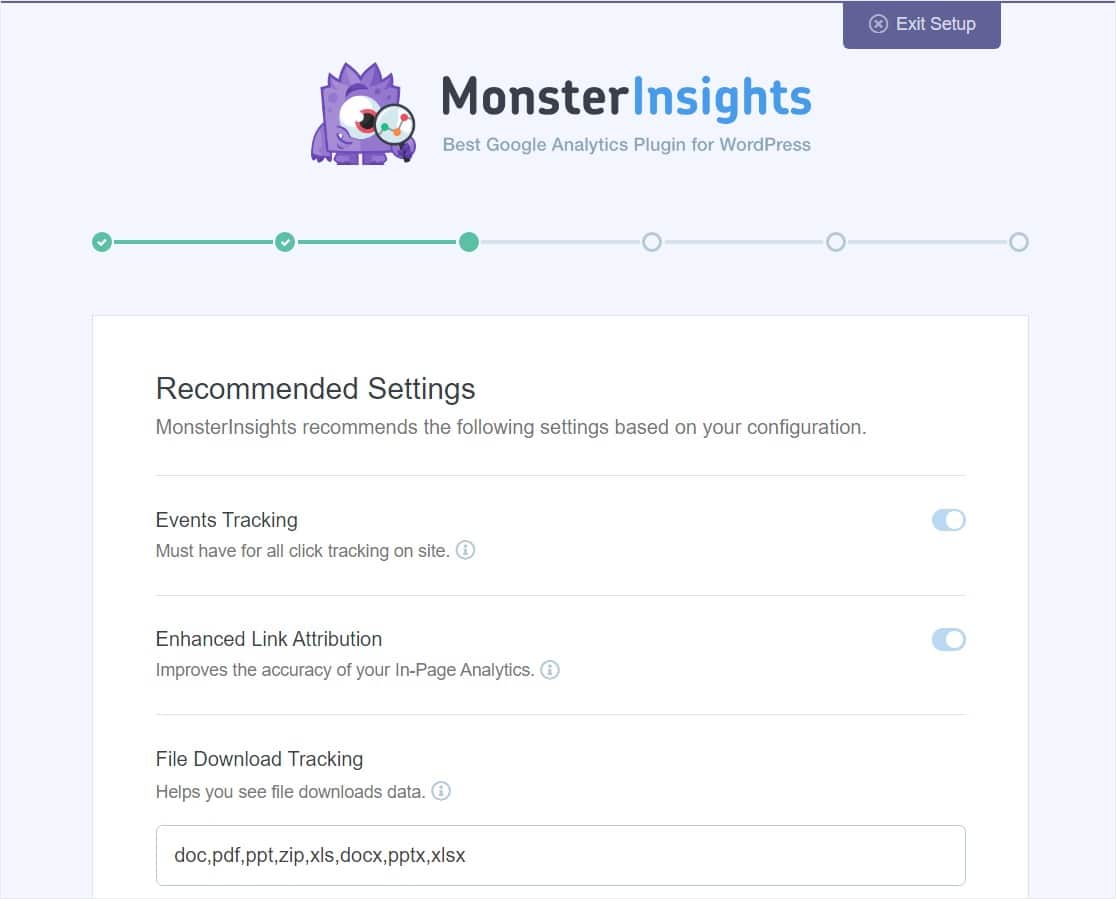 Upon scrolling down a bit, you'll find more configuration settings.
Affiliate Link Tracking — 2 affiliate link paths are added by default, and you can set up WordPress link tracking here quickly.
Access to MonsterInsights Reports — You can choose which users can see your MonsterInsights reports.
Automatic Plugin Updates — You can enable or disable this option to automatically install updates to your plugin.
Show MonsterInsights Badge — Decide whether or not to include a MonsterInsights badge at the footer of your website.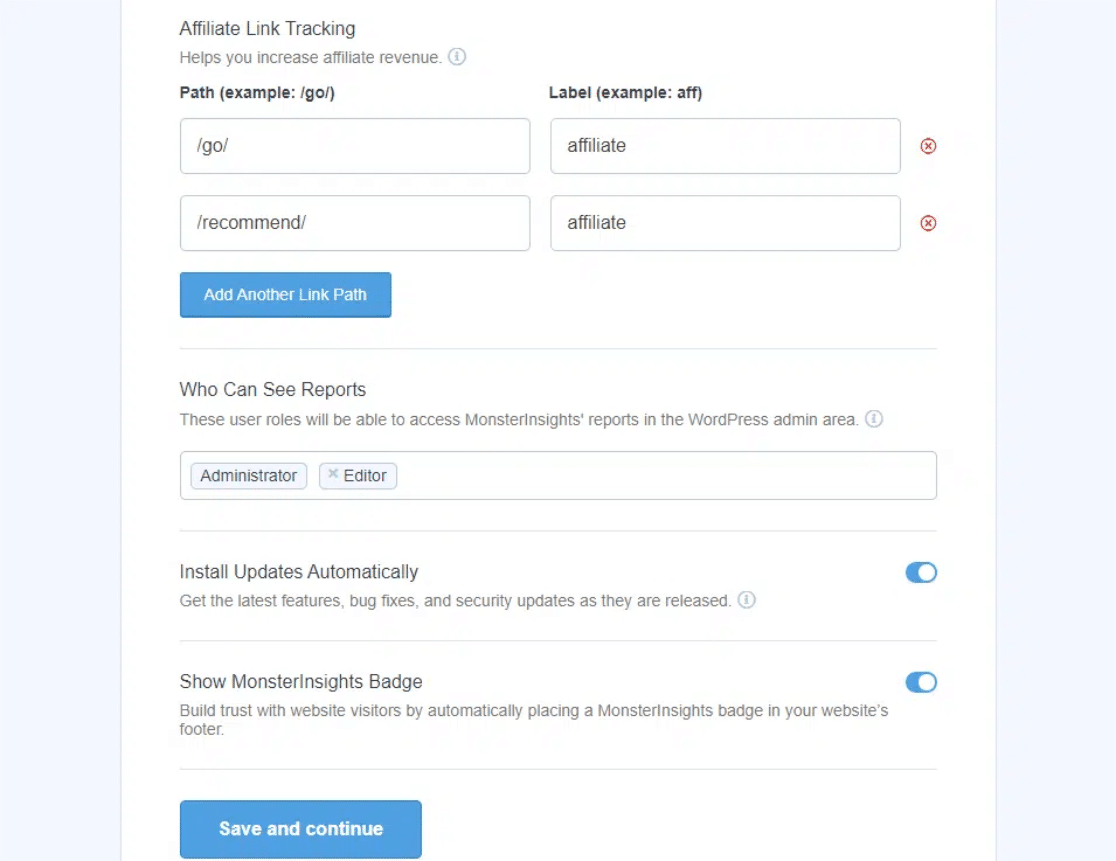 Click the Save and Continue option after going over and configuring these recommended changes. On the next screen, you'll see options for even more tracking options, addons, and helpful plugins.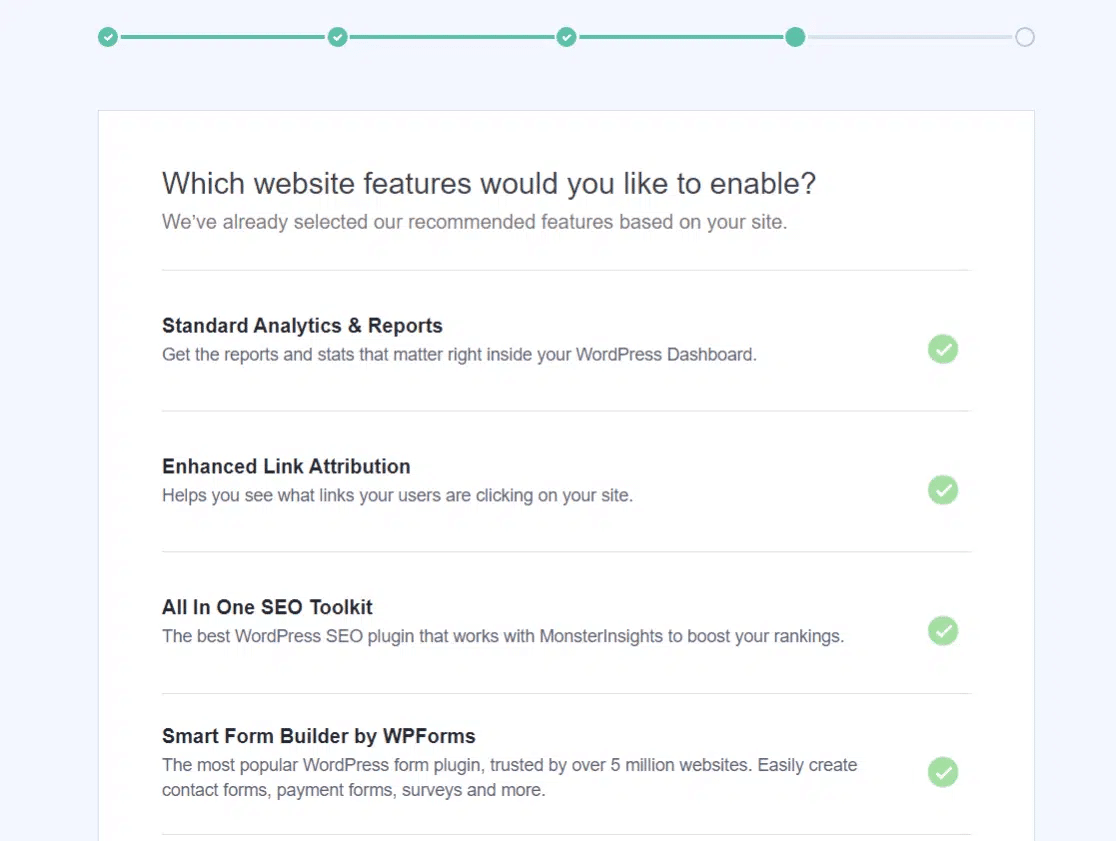 Select all the options you feel are most relevant and cater to the data you want to capture from Google Analytics and hit the Save and Continue button.
After that, you'll see a new screen with this message 'Awesome! Tracking and Analytics are All Setup'.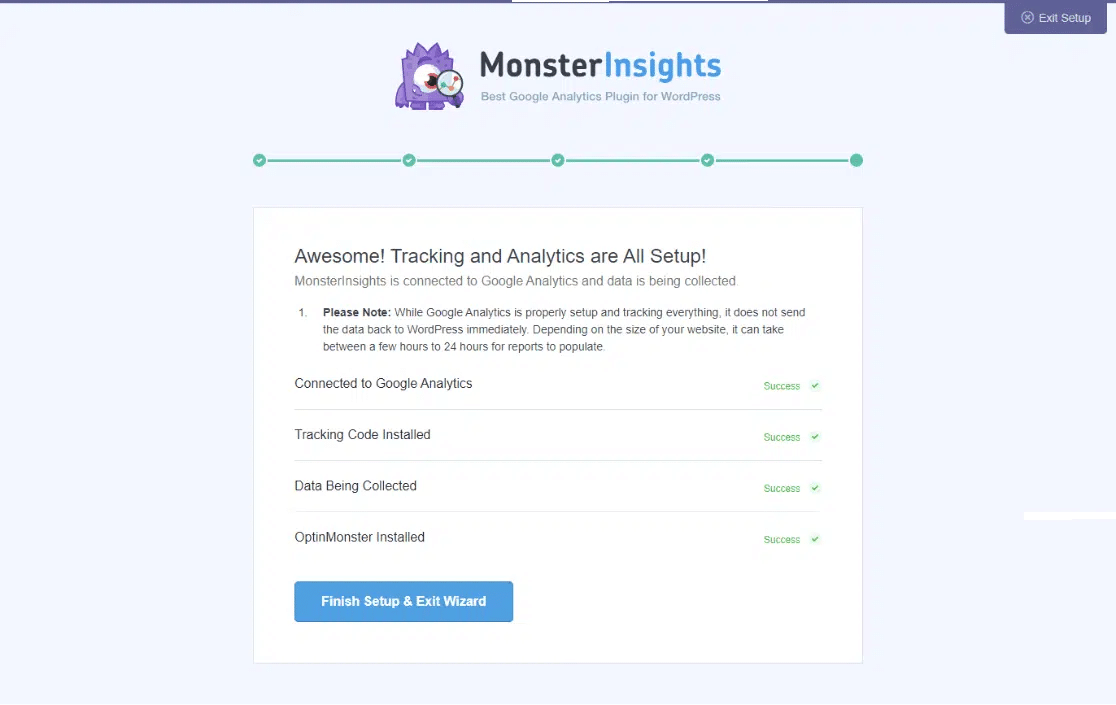 This confirms that the setup process is complete and you've successfully installed Google Analytics on your WordPress website.
Step 3: Install the MonsterInsights eCommerce Addon
Now that MonsterInsights is connected to your Google Analytics account, the next step is to install the eCommerce addon.
Your WooCommerce sales and the performance of your website as a whole are both automatically tracked by this addon.
So, let's activate it. Head into your MonsterInsights plugin in WordPress. Then, click on Insights » Addons and then navigate to eCommerce.
Click Install and then Activate to start using the addon, and you're now ready to view your WooCommerce performance reports.
How to View WooCommerce Reports  in WordPress
After setting up WooCommerce Google Analytics, you can use MonsterInsights to boost your online store's performance.
And that's because it's one of the best WooCommerce plugins. So, without further ado, it's time to track your eCommerce store's performance.
First, view your site's eCommerce report in the MonsterInsights plugin. Head to Insights, then Reports, and pick eCommerce from the menu.
Here you'll see a summary of the activity of your eCommerce store. This has some great stats like:
Conversion Rate —The % of website sessions that result in a sale
Transactions — The # of orders on your website
Revenue — The total of all the orders placed on your site
Average Order Value — The average amount of orders placed on your site
Also, you have the option to change the date of these stats. So, from the Last 30 days down to just the last 7 days, or even set a custom date range.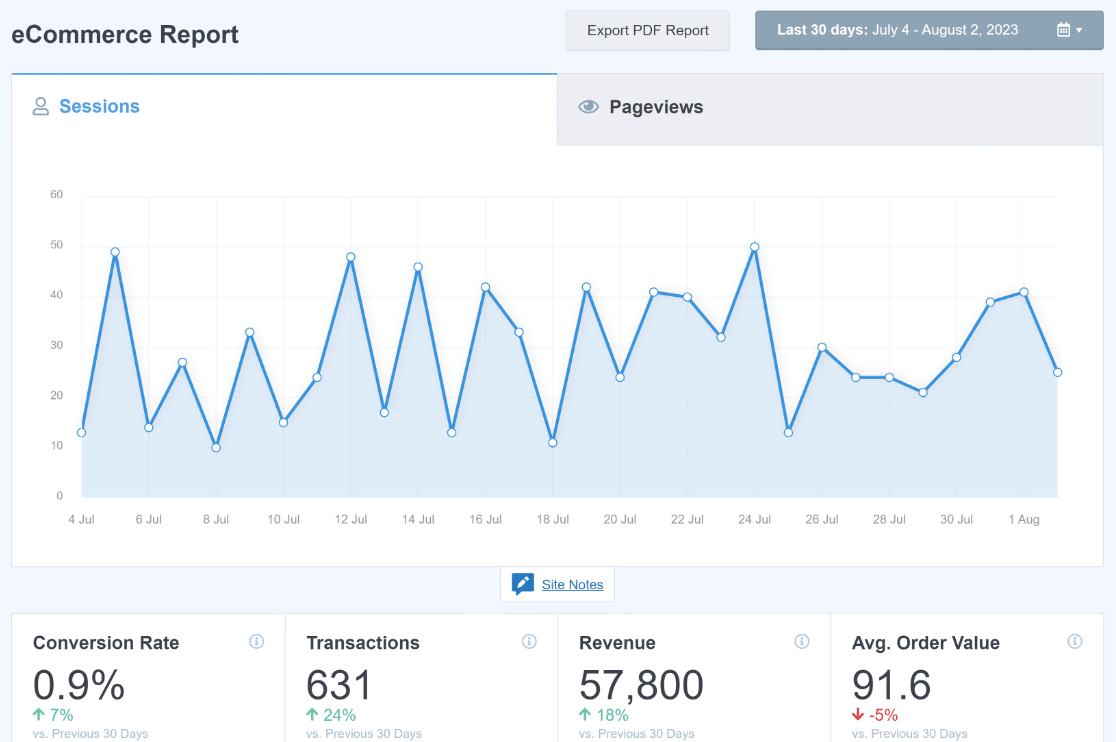 Now, scroll down on this screen to see your Top Products report. This will show you the highest-performing products in your online store.
Plus, you'll see:
The # of products that have been ordered
What % of sales these products made up
The total revenue that this product generated
And this awesome report gives you insights into which type of products you'll want to promote on your site.
It also helps to see which products aren't doing so well with conversions. And that way, you can work on making them better.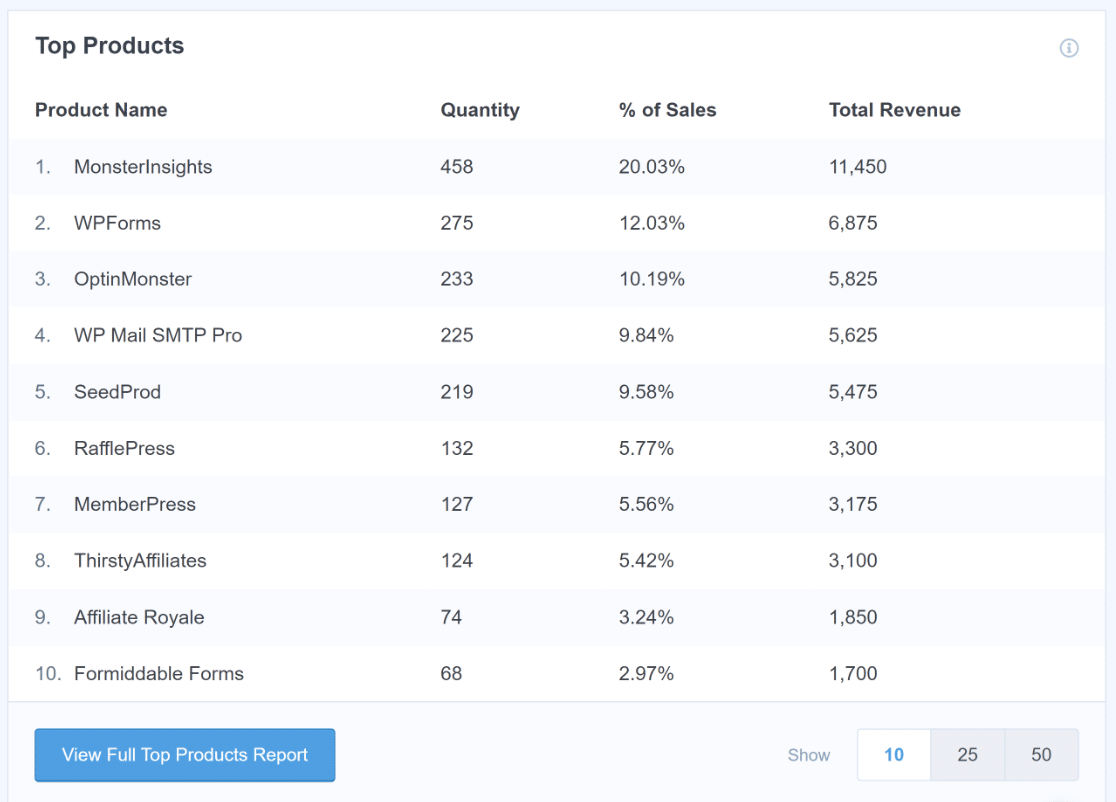 And that's not all. When it comes to WooCommerce Google Analytics, you can also check out the Top Conversion Sources for your online store.
The Top Conversion Sources report will show you the websites that send you the most traffic that converts.
You'll see the number of visits. Plus, their overall percentage of the total visits and the revenue they're earning for your site.
And if you use the data from this report, you can see options for sources that you can focus on promoting your products.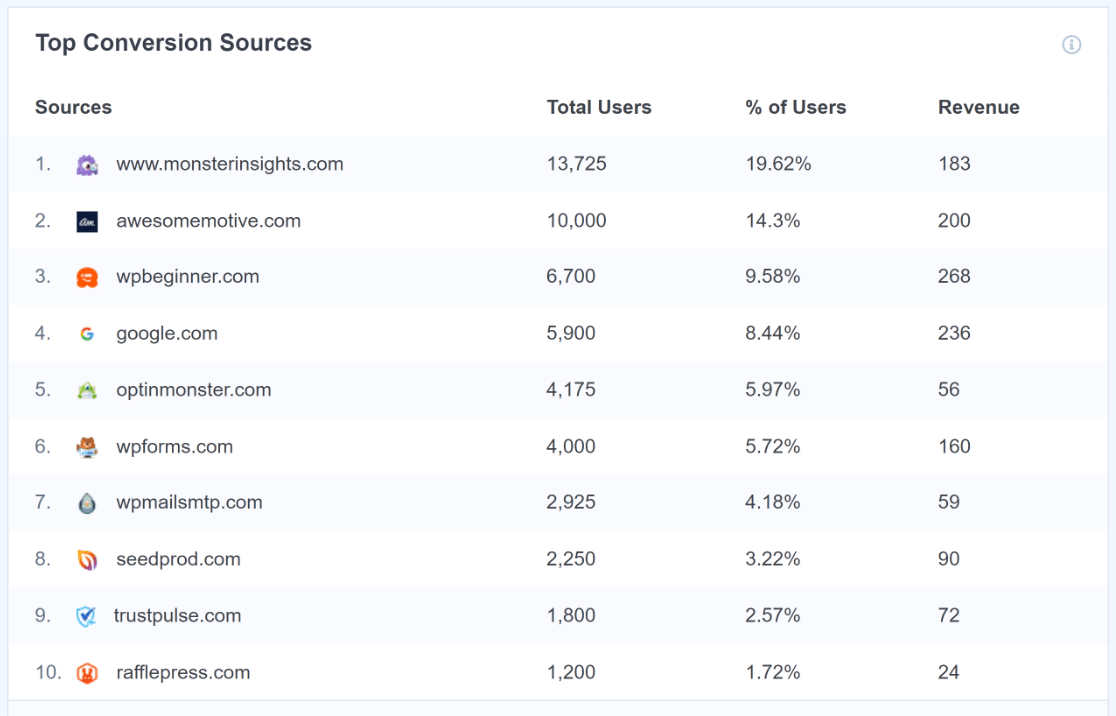 Also, some other reports offered by the MonsterInsights eCommerce addon include Total Add to Carts and Total Removed from Cart.
These show the number of products your customers added. And it shows products they removed at checkout — which can be super helpful!
You can also view the New Customers and Abandoned Checkouts reports. These show the overall conversion efficiency of your WooCommerce store.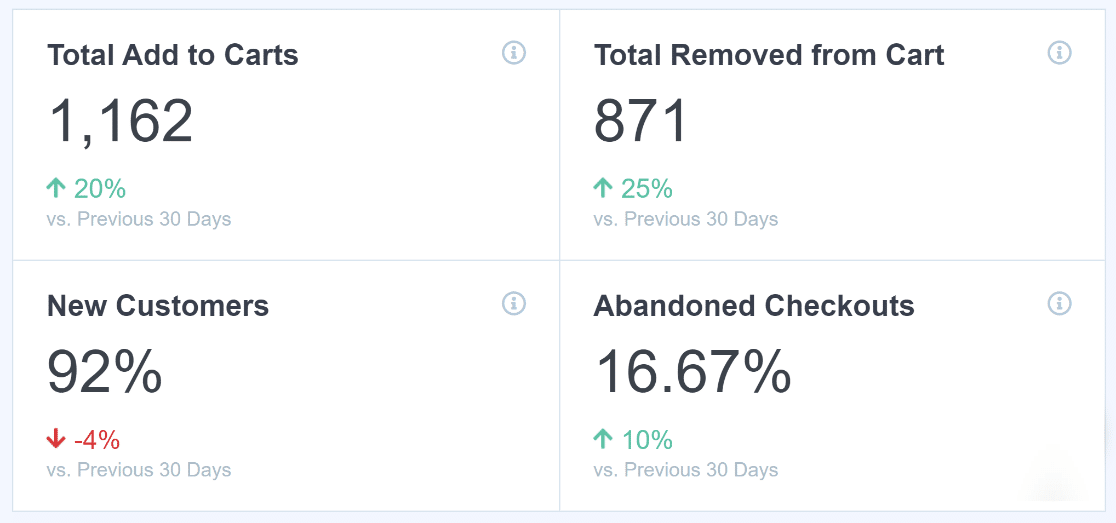 If you want to try recovering some customers who abandon their carts, consider using browser push notifications.
PushEngage lets you easily set up automatic alerts that encourage customers to complete their purchases. It's a great way to increase your WooCommerce conversion rate.
How to View WooCommerce Reports in Google Analytics 4
If you want an overview of your WooCommerce store's performance in Google Analytics 4, navigate to Monetization » Overview.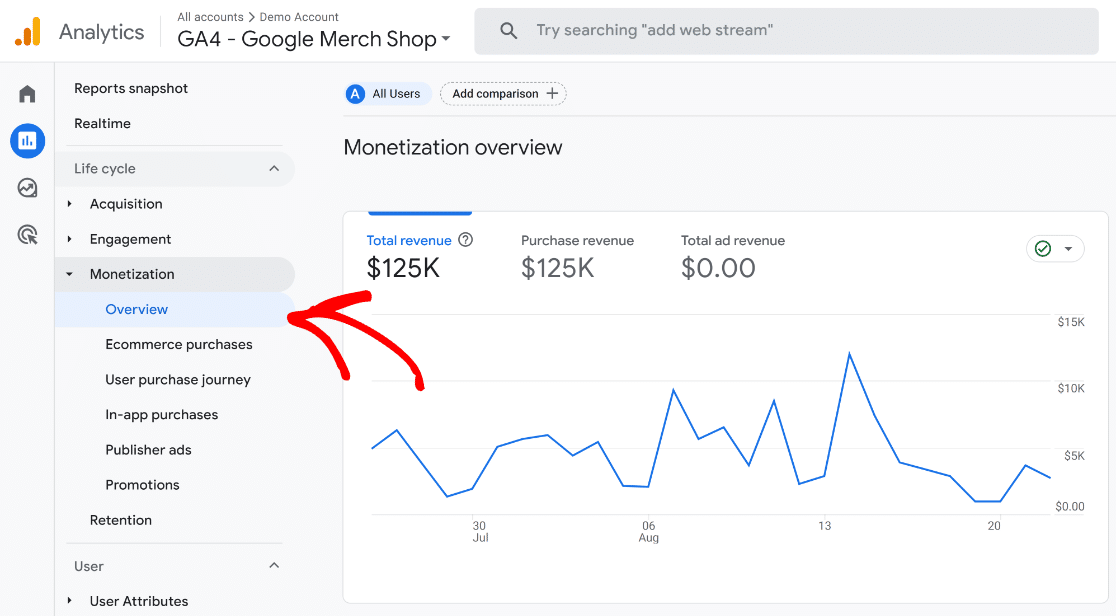 To see sales (purchases) and income statistics for your WooCommerce store in GA4 broken down by channel, go to Acquisition » Traffic acquisition.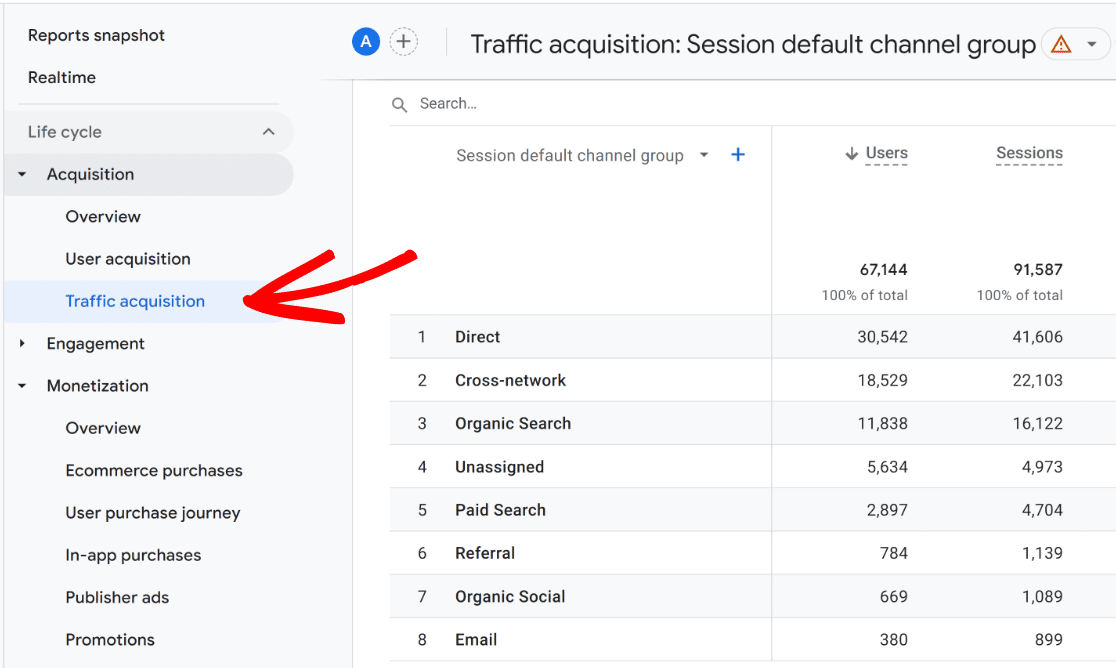 Then, scroll to the right to see Conversions and Total Revenue. Under Conversions, click the drop-down arrow next to All Events and choose Purchase.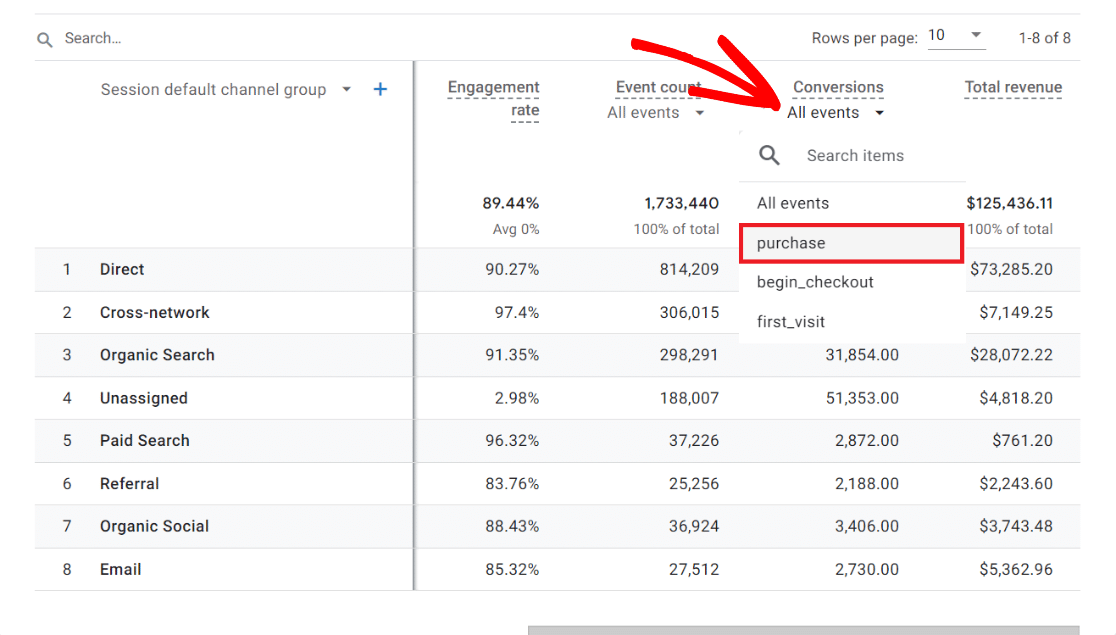 The table is now displaying a breakdown of total purchases and income based on the traffic channel.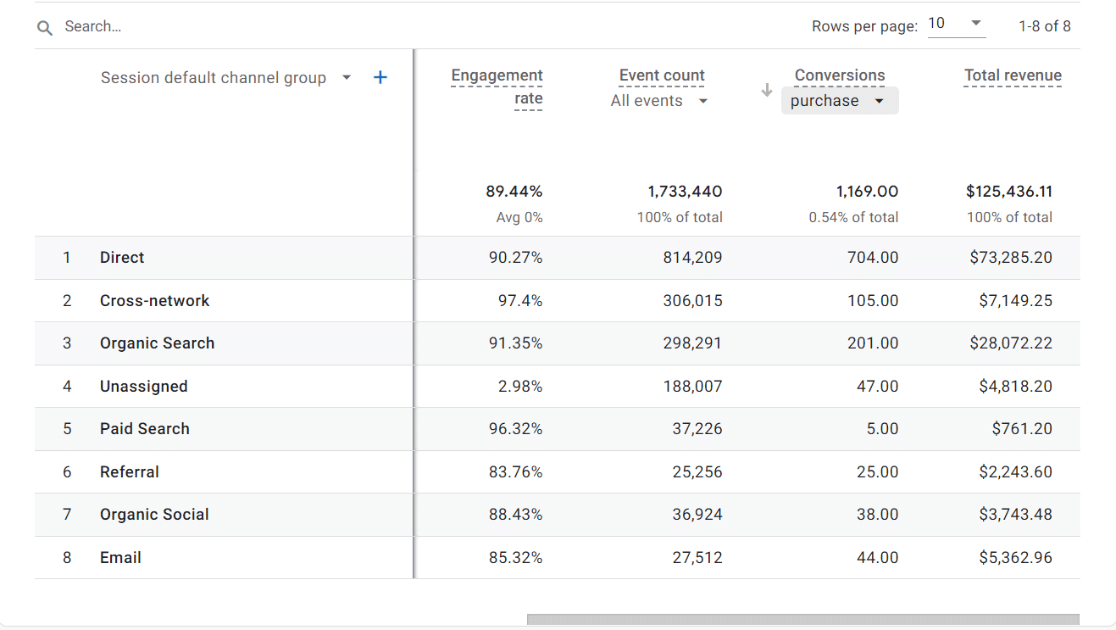 FAQs about WooCommerce Google Analytics
WooCommerce Google Analytics is a popular topic of interest among our readers. Here are answers to some common questions about it.
How do I connect Google Analytics to WooCommerce?
The easiest way to connect Google Analytics to your WooCommerce store is by using the MonsterInsights plugin. MonsterInsights seamlessly integrates Google Analytics with WooCommerce allowing you to track key eCommerce metrics like conversions, revenue, etc. The plugin is free and easy to set up in just a few minutes.
Can you use Google Analytics with WooCommerce?
Yes, you can use Google Analytics with WooCommerce. All you have to do is sign up for Google Analytics, choose the type tracking you want, and once the authentication is complete, you'll need to add the GA4 code to your website's header using a plugin like WPCode to add custom code snippets.
Does WooCommerce integrate with Google Analytics in WordPress?
WooCommerce does integrate with Google Analytics but requires a plugin to enable the connection in WordPress. The MonsterInsights plugin is the best way to integrate Google Analytics with your WooCommerce site. It sets up the tracking code, custom dimensions, eCommerce tracking, and other analytics features for you.
Next, Check These Guides for WooCommerce and Performance Tracking
So there you have it. You now know how to successfully set up Google Analytics for WooCommerce with the MonsterInsights plugin.
Be sure to check out the WordPress link tracking features in MonsterInsights to see which links are getting the most clicks on your site.
You may also want to jazz up the look of your online store. Be sure to head over to our post on the best WooCommerce themes for your eCommerce shop.
Using a coupon code field on your WooCommerce checkout form? You can track the performance of those coupons with WPForms.
Want to make your online store better and boost your revenue? Check out this guide on creating wholesale order forms in WooCommerce.
Create Your WordPress Form Now
Ready to build your form? Get started today with the easiest WordPress form builder plugin. WPForms Pro includes lots of free templates and offers a 14-day money-back guarantee.
If this article helped you out, please follow us on Facebook and Twitter for more free WordPress tutorials and guides.