Want to see some cool Natural Language Form examples so you can start using it to increase your form conversion rates?
Interactive forms are becoming popular really fast because it's an effective way to get more website visitors to complete your forms.
In this article, we've put together a list of some of the greatest Natural Language Form examples for you to check out.
What Is a Natural Language Form?
A Natural Language Form is a type of web form that has text input form fields embedded inside of a conversationally styled sentence. This contemporary type of online form tends to be more engaging than traditional forms because of its narrative style. It's more human, and people love that.
Natural Language Form is also known as a 'Mad Libs style form' by the UI community, based on the iconic US word game that has users insert their own word into a blank space inside of a pre-written sentence.

Natural Language Form Benefits
Conversational interfaces are said to be the next big thing in web forms and website visitor interaction. And for good reason.
Here are some of the benefits of using Natural Language Form on your website:
Increased Conversion Rates. Conversational style forms can boost the success of your lead generation efforts.
Humanize Your Brand. Conversational marketing is a great way to let people know there are real humans behind your forms.
More Beautiful Design. The visual element of a form using conversational style is much more appealing to visitors.
Easy to Make. Modern form builders like WPForms make it super simple to create forms with a drag and drop builder.
Ease of Use. These forms are easy to use and they have a superior user experience compared to traditional web forms.
Gather Better Data with Conditional Questions. You can adjust questions based on user's answers to get more specific data right away by using conditional logic.
Lower Abandonment Rates. Because 81% of people have abandoned a form after starting to fill it out, form abandonment should be something every website owner focuses on.
Nurture Leads. More meaningful interaction helps your leads feel engaged and connected to your brand right away.
Increased User Attention. A simple form with targeted questions engages users as they interact.
Better Psychology. People love to talk about themselves and prefer to fill out forms they feel are talking with them, not at them.
Build Trust. Personalized questions make forms fields feel less mandatory and stiff, so people are more likely to trust them.
Connect With Your Users. Taking a conversational approach to your contact forms personalizes the experience for the visitor and starts nurturing the relationship right away so you can grow your email list fast.
Modern Technology. Natural language form started showing up online around 2010 so it's very new. Because of this, NPL forms are popular on many sleek and professional-looking websites.
Create Your WordPress Form Now
Natural Language Form Examples
Interactive forms with natural language and a gorgeous user interface are popping up all over the internet. And there are so many great ways to use them.
Check out these great Natural Language Form Examples:
1. Conversational Forms Addon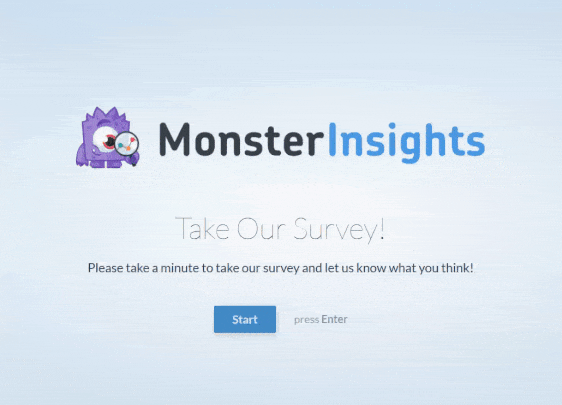 The Conversational Forms addon from WPForms uses interactive forms to engage visitors and improve the overall user experience, resulting in increased conversion rates. Check out this conversational forms demo to see it in action and read how to create a conversational contact form.
2. Inside a Search Function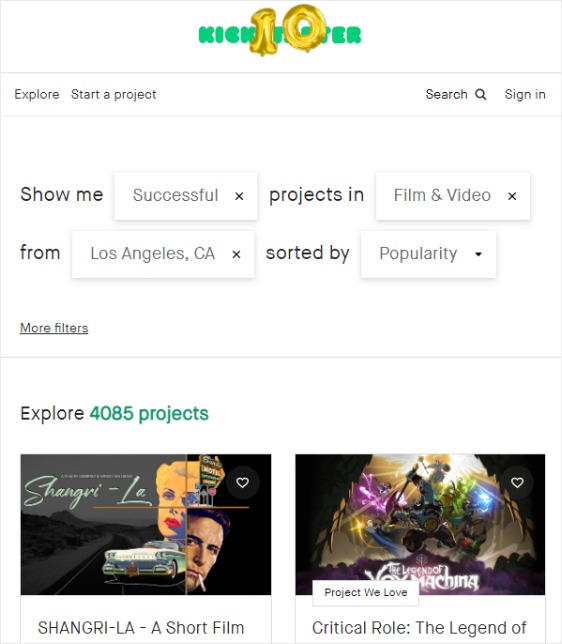 Kickstarter uses natural language forms to let users search for projects on their website.
3. Lead Qualification Form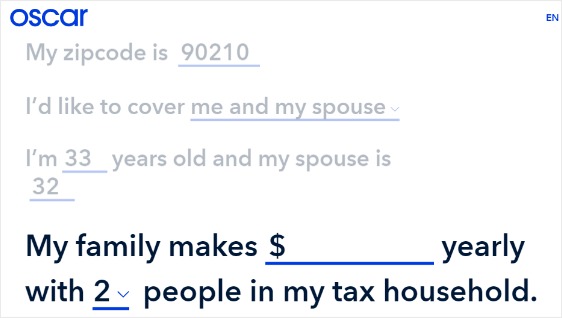 Oscar qualifies leads automatically by asking users to put their zip codes into the form fields first. They use the input fields to make sure the website visitor lives in an area where they offer insurance coverage. And if they don't, a message pops up and lets the website visitor know.
4. Predetermined Field Values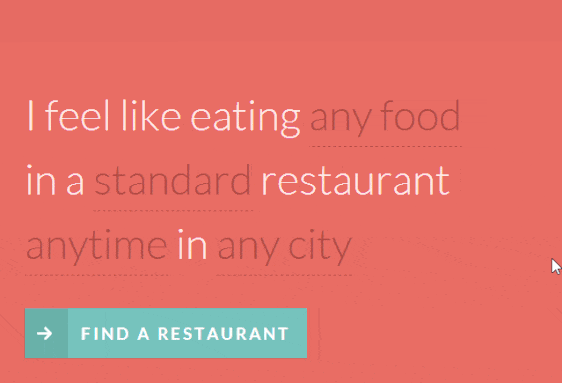 This form suggests answers as well as lets the user enter their own into the form fields. This is a terrific way to put natural language form to work for you in your forms.
5. Automated Text Bots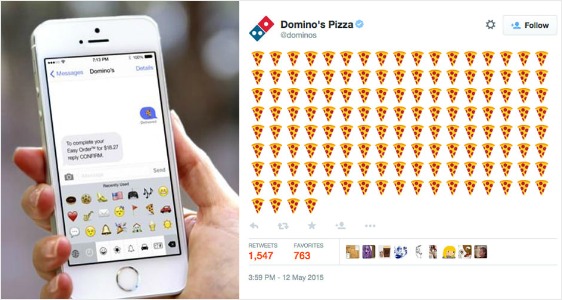 Although not a web form, in this case of natural language form, Domino's offers a fun and quirky way to order pizza. They have interactive and automated text messaging that also uses natural language.
6. Structured Sentences

Here's another simple natural language form example for people looking for loans. This is a great example of putting predetermined fields inside of a structured sentence.
7. Customized Submit Button Copy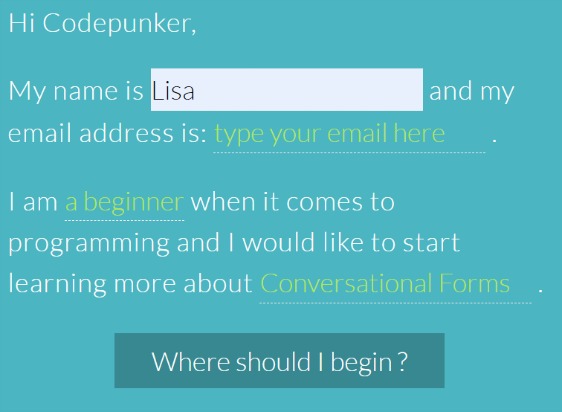 Codepunker has an interesting mix of natural language form and form language design with a single field for user input as well as dropdown field labels to limit the answers to a set of predetermined choices. In addition, they've also done a great job of customizing the submit button copy to seem more like a conversation is happening. Notice that it says 'Where should I begin?' instead of something more generic like 'Submit'.
8. Simple Q&A Style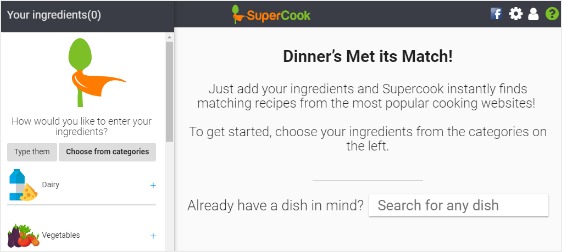 SuperCook has a simple form with straightforward use of natural language for their recipe search. It doesn't use natural language form as heavily as some other examples, but it still gives us an idea of how simple some NLP forms can be.
9. Minimalist Text Fields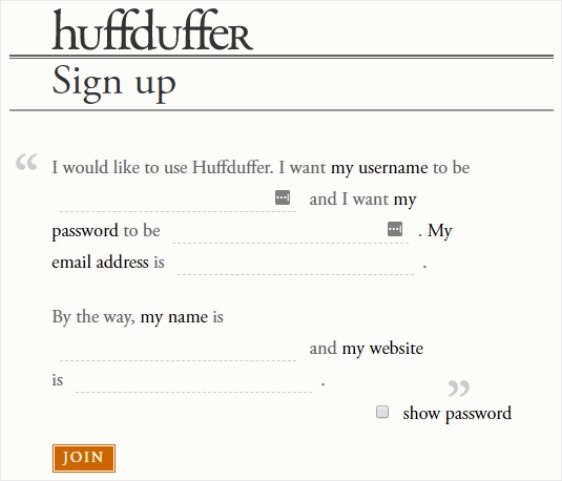 Check out how Huffduffer uses natural language form in a clever way on their user registration form. They keep the design clean by using a minimalist style with open-ended text fields.
10. Interactive Conditional Logic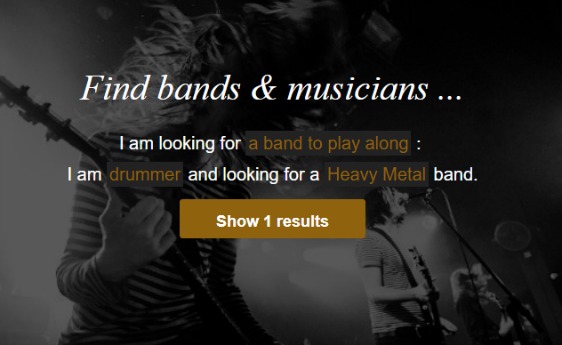 This website organizes their interactive search results form according to conditional selections, meaning the output changes based on what the user selects.
11. Mad Libs Style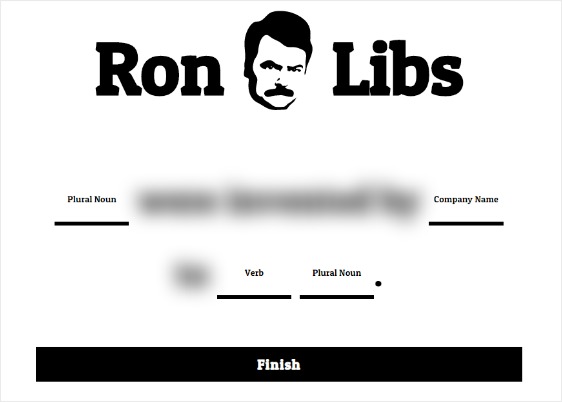 It doesn't always have to be about contact, registration or search forms. Check out this natural language form example that uses a popular TV character for a Mad Libs style form that's just for fun.
12. Lead Segmentation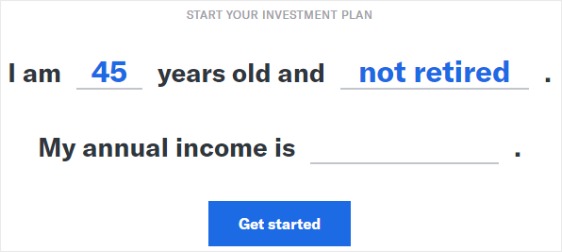 In this case, this conversational style form uses interaction to get straight to the point and ask an important question about income level right away. In other words, forms like this help segment your leads so you can figure out which ones are higher quality.
13. Internal Natural Language Form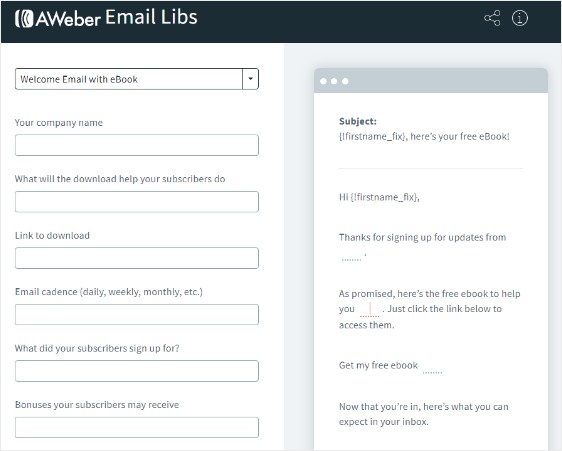 Natural language form doesn't have to be just for the front-end of a website. AWeber uses natural language form inside their product to help their customers build emails to send out. And they use a ton of different templates that offer this.
14. Facebook Chatbot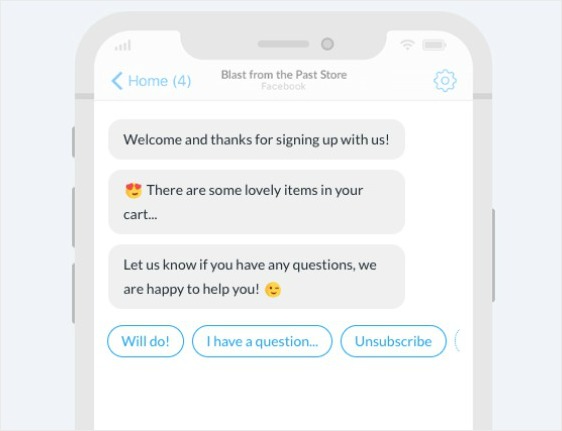 In addition, here's a natural language form example being used within a Facebook chatbot. This is one of the many ways to use conversational marketing and natural language to engage customers and website visitors.
15. Mixed Field Styles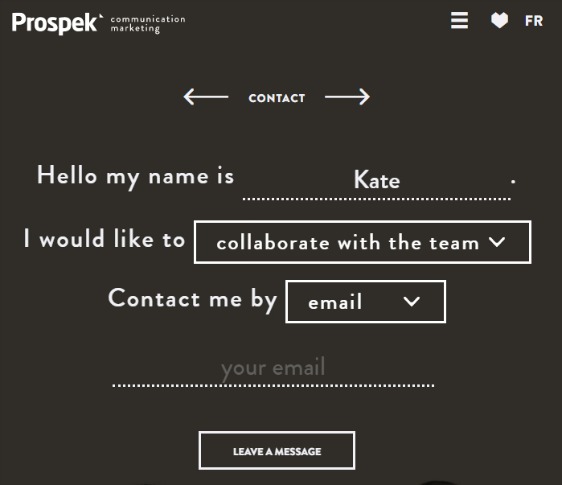 In this case we have another example of using dropdowns that only show pre-set answers as well as blank input fields. Using both is a smart way to take advantage of giving visitors freedom to put whatever they want inside the input fields. And this also helps guide them through filling out other input fields.
Next, Create Conversational Forms
So now that you've seen some stunning natural language form examples, you're probably curious how you can make some yourself! Well, because NPL forms act much like the process of an in-person, one-question-at-a-time conversation, Conversational Forms are a fantastic way to take advantage of many of their benefits.
And it's easy to get started with Natural Language Form and conversational interfaces.
The simplest way is to use the WPForms Conversational Forms Addon.
It offers a quick and easy setup of interactive forms. And if you're already using WPForms, you can change your traditional web form to a conversational form in just a few little clicks.
Plus, the best part is, it requires zero coding knowledge.
In addition, you can use conversational forms to get increased conversion rates on:
Survey Forms – Don't overwhelm people with a lot of survey questions. Instead, use the Conversational Forms one-question-at-a-time approach to improve your survey completion rate.
Job Application Form – Over half of the job seekers filling out your job application forms abandon them because they're too long or complicated. With conversational forms, you can make your job application forms super simple.
Event Registration Form – You have to ask people for a lot of info to plan the perfect event. The step-by-step approach helps you get the data you need without annoying anyone.
User Registration Form – You can use conversational forms to improve your registration form conversion rate and build your membership site.
So to get started, install WPForms and then check out our guide on how to create a simple contact form in WordPress.
After that, check out our step-by-step tutorial on how to install and use the Conversational Forms addon so you can get started using beautiful forms with an interactive interface right away.
In Conclusion
There you have it! You've now seen some of the greatest Natural Language Form examples and have a better idea how websites are using interactive forms to increase their conversion rates.
If you want to learn even more about how interactive forms work, head over to our ultimate guide to conversational marketing.
What are you waiting for? Get started with the most powerful WordPress forms plugin today.
If you like this article, then please follow us on Facebook and Twitter.