Ready for some exciting news?
We're super excited to introduce the brand new Save and Resume addon for WPForms Pro!
With Save and Resume, you can let your visitors save their progress on any form and resume it later.

Our Save and Resume addon will make long forms much easier to complete. It's perfect for complex forms, and you can also use it if a form needs to be filled in by multiple people at different stages in a workflow.
By adding Save and Resume to forms that users find tricky, you could increase form conversions and reduce abandonment. Your visitor can save their entry even if the 'Required' fields aren't yet complete.
We had hundreds of requests for this addon, so we're excited to announce that it's available to our Pro customers from today. Let's look a little closer at how it works.
Save and Resume In Action
Our new Save and Resume feature lets your visitors save their progress and come back later. We've designed it to be flexible while also protecting your users' privacy.
When someone clicks the Save and Resume link, you can initially show them a disclaimer. This explains what will be saved if they go ahead.

Once the user clicks Continue, there are 2 ways to resume an entry: bookmark the unique link, or send it via email.
You can enable one or both of these options.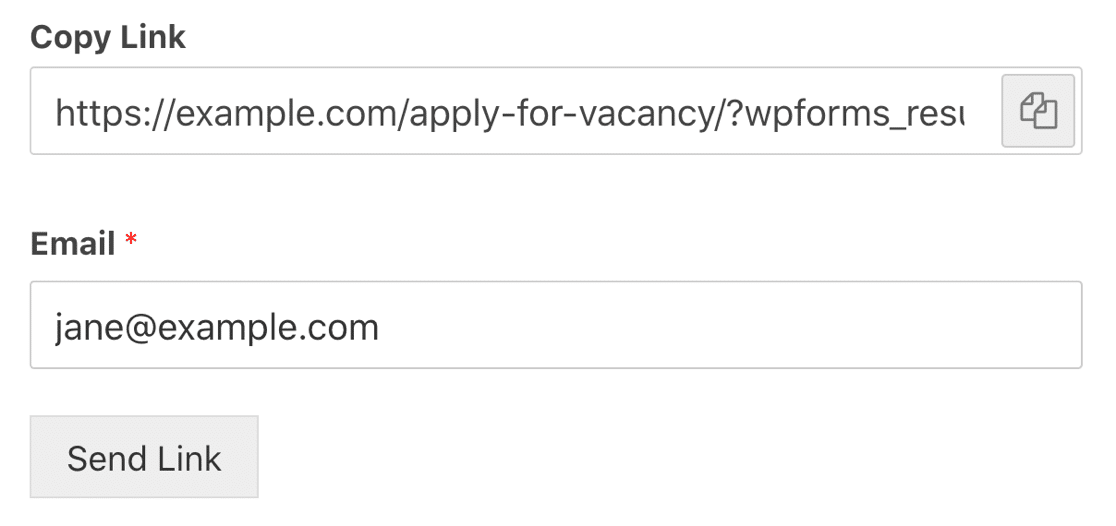 And that's it! The content of the email notification is also completely customizable.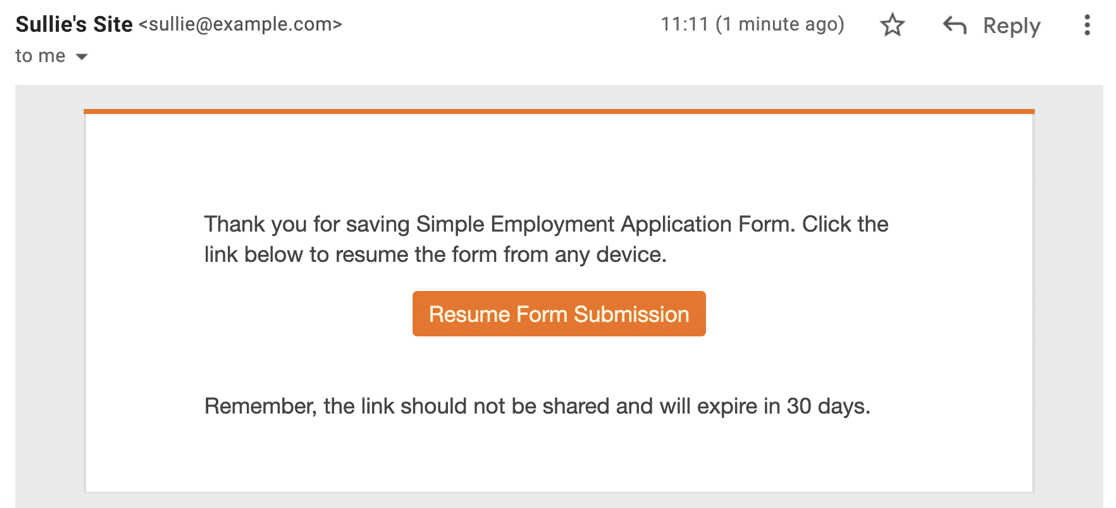 Before we look at the settings for this addon, let's see what a partial entry looks like in your WordPress dashboard.
Working With Partial Form Entries
When your visitor saves a partial form entry, you can do everything you normally do with entries in WPForms.
The entry will appear along with the others in the form entry screen.

Looking closer, you'll notice that saved entries have a status of 'Partial':

You can view, edit, star, or delete these entries in the usual way. And when your visitor returns and completes the form, the Status will change to Completed automatically.
We designed this addon with privacy in mind. Sensitive data like passwords, payment details, signatures, or file uploads won't be saved, so you won't be able to view them in the WordPress dashboard.
That gives your visitors the confidence to use this feature without compromising their own data security.
Now let's look more closely at the settings you can use for each form.
Customizing Save and Resume Settings
In WPForms Pro, each form has its own unique Save and Resume settings. If you want, you can turn it on for specific forms and leave it turned off for others.
You'll find the Save and Resume settings inside the form builder in the usual spot: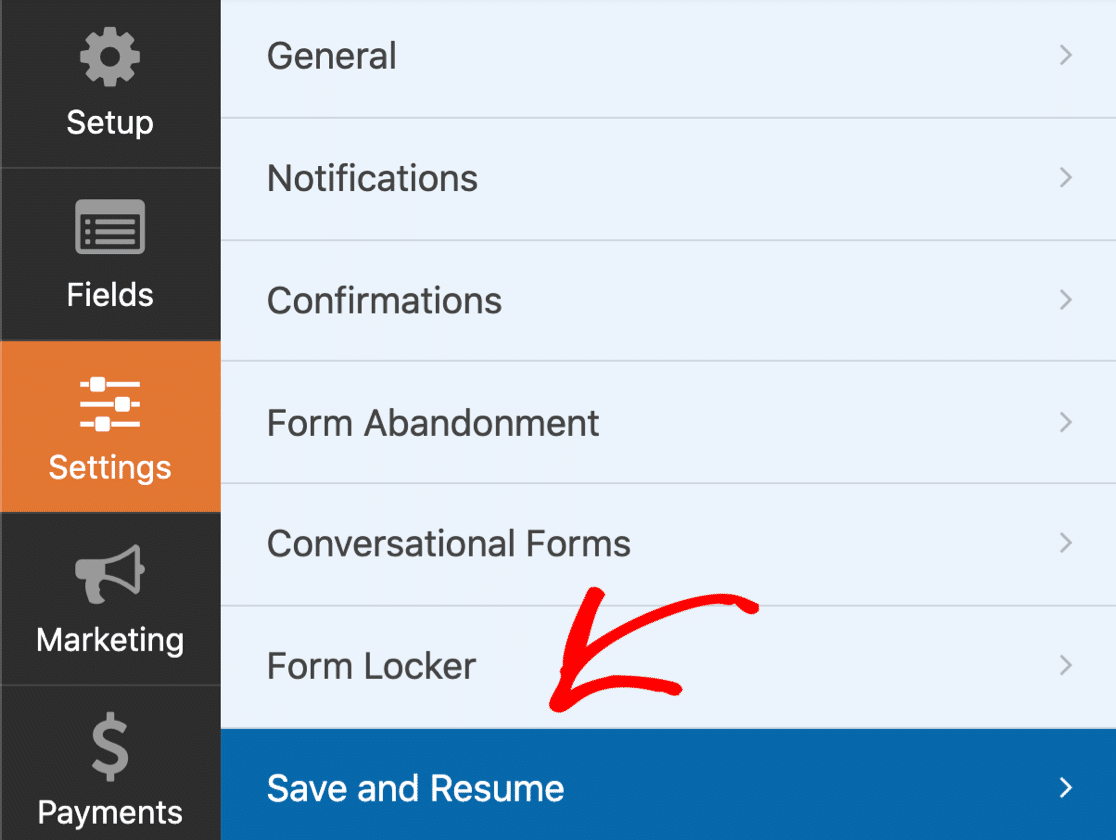 By default, Save and Resume will be turned off for all forms when you enable the addon. Open up the Save and Resume settings and flick the switch here to enable it.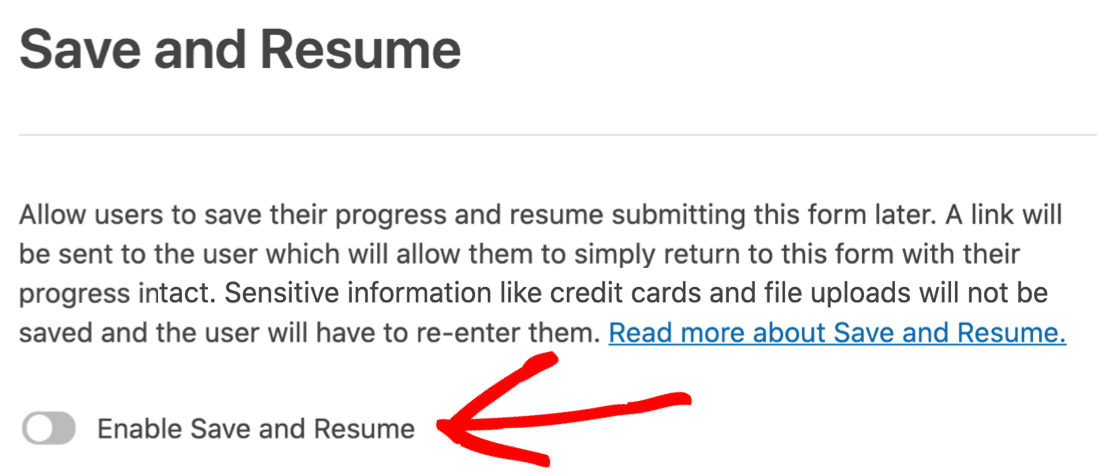 Once Save and Resume is enabled, you'll unlock some brand new settings that let you control how Save and Resume will work.
First, you can change the link text if you'd like to:

You can also enter your own disclaimer message. This lets your visitors know which parts of the form will be saved. The disclaimer adds an extra step so that your visitor can go back to the form if they don't agree.
You can edit the disclaimer, format it using the visual editor, or disable it: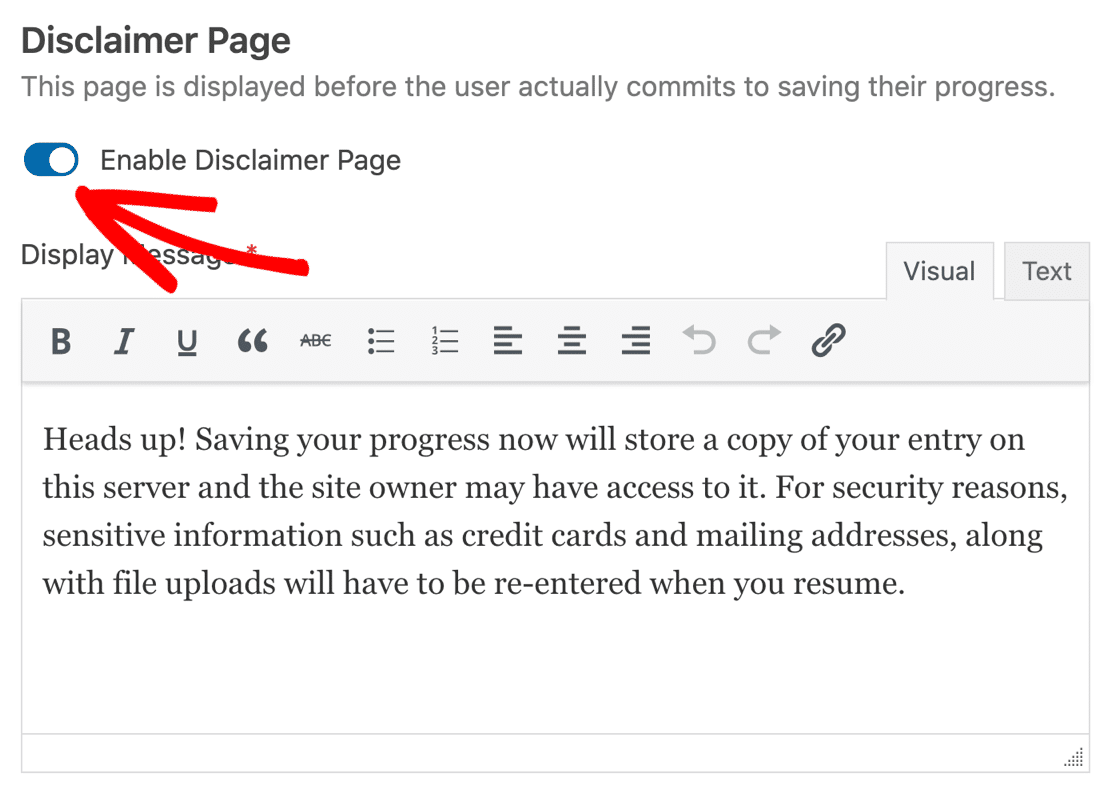 Next, you can display the message that shows after the partial form entry is saved.
If you're working in a team, this is also a great place to remind them about the next step in your workflow. For example, a specific person needs to take over the entry to fill in another section, you could add that information here: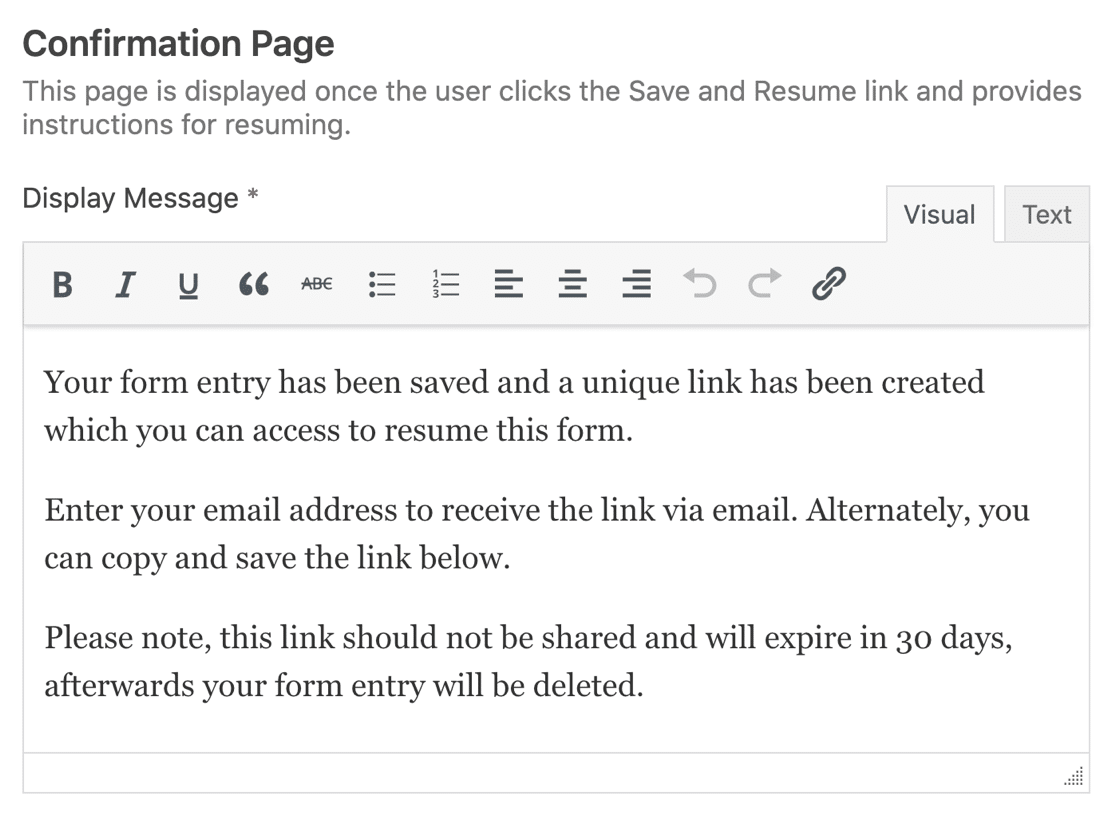 We mentioned earlier that you can show a link to resume the form, allow the user to resume via email, or both. If you have the email notification turned on, you can customize the message and include Smart Tags.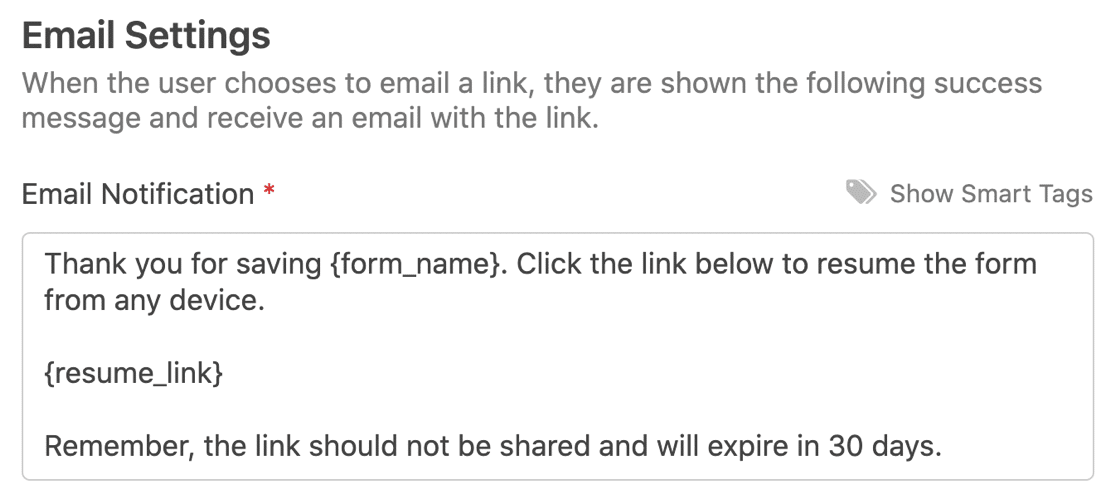 It's that easy. Hit the orange 'Save' button at the top of the form builder to apply your new settings.
What's Next for WPForms?
With the launch of the Save and Resume addon, we want to give a special shout-out to our customers in the WPForms VIP Circle. We know many of you have been waiting for this addon, and we're super excited that we were able to incorporate the features you've been asking for.
As ever, the team is hard at work preparing our next release. And we're always excited to hear feature suggestions from our customers. Don't forget to comment with your ideas and suggestions, or post them in the VIP Circle group!
Jared Atchison