Have you ever seen websites that allow users to submit posts or other type of content anonymously?
Do you want to enable anonymous guest posting on your blog?
In this article, we'll show you how to allow anonymous guest posting on your WordPress blog.
Click Here to Make Your Anonymous Guest Post Form Now
Why Enable Anonymous Guest Posting on Your Blog
So there are a few different reasons why you'd want to let people post anonymously on your blog:
You have the type of website where you want to protect user privacy
You'll get higher engagement from your audience
You can get more people to submit blog posts if they know it'll be anonymous
There will be a variety of content for you to post
So now that you know why you might want to allow anonymous guest posting on your blog, let's take a look at exactly how to do so.
How to Enable Anonymous Guest Posting on Your Blog
Follow these step-by-step instructions to allow people to post anonymous guest posts on your site.
Step 1: Create a WordPress Form
So the first thing you'll need to do is install and activate the WPForms plugin. For more details, see this step-by-step guide on how to install a plugin in WordPress.
Next, you'll need to install and activate the Post Submissions addon so users can submit blog posts on your website.
To do this, go to WPForms » Addon and find the one labeled Post Submissions.
Now, click Install Addon and then Activate.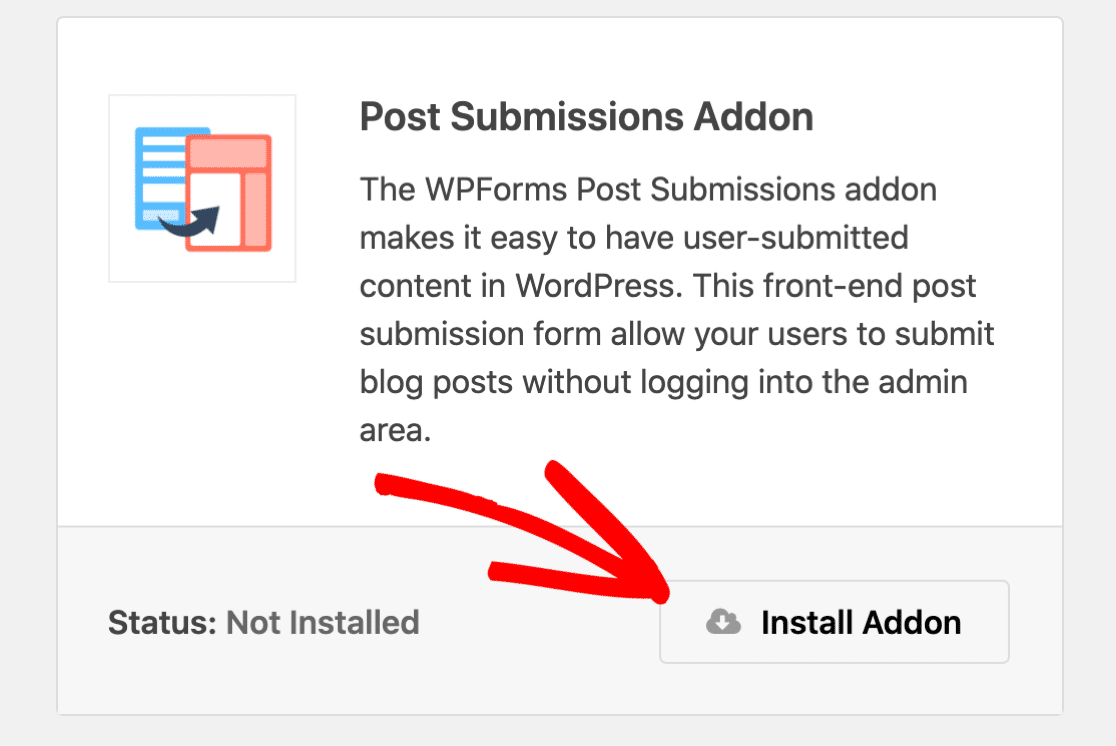 And next, you'll need to create a new form.
To do this, go to WPForms » Add New, name your form, and choose the Blog Post Submission Form template.

And WPForms will create a form for you!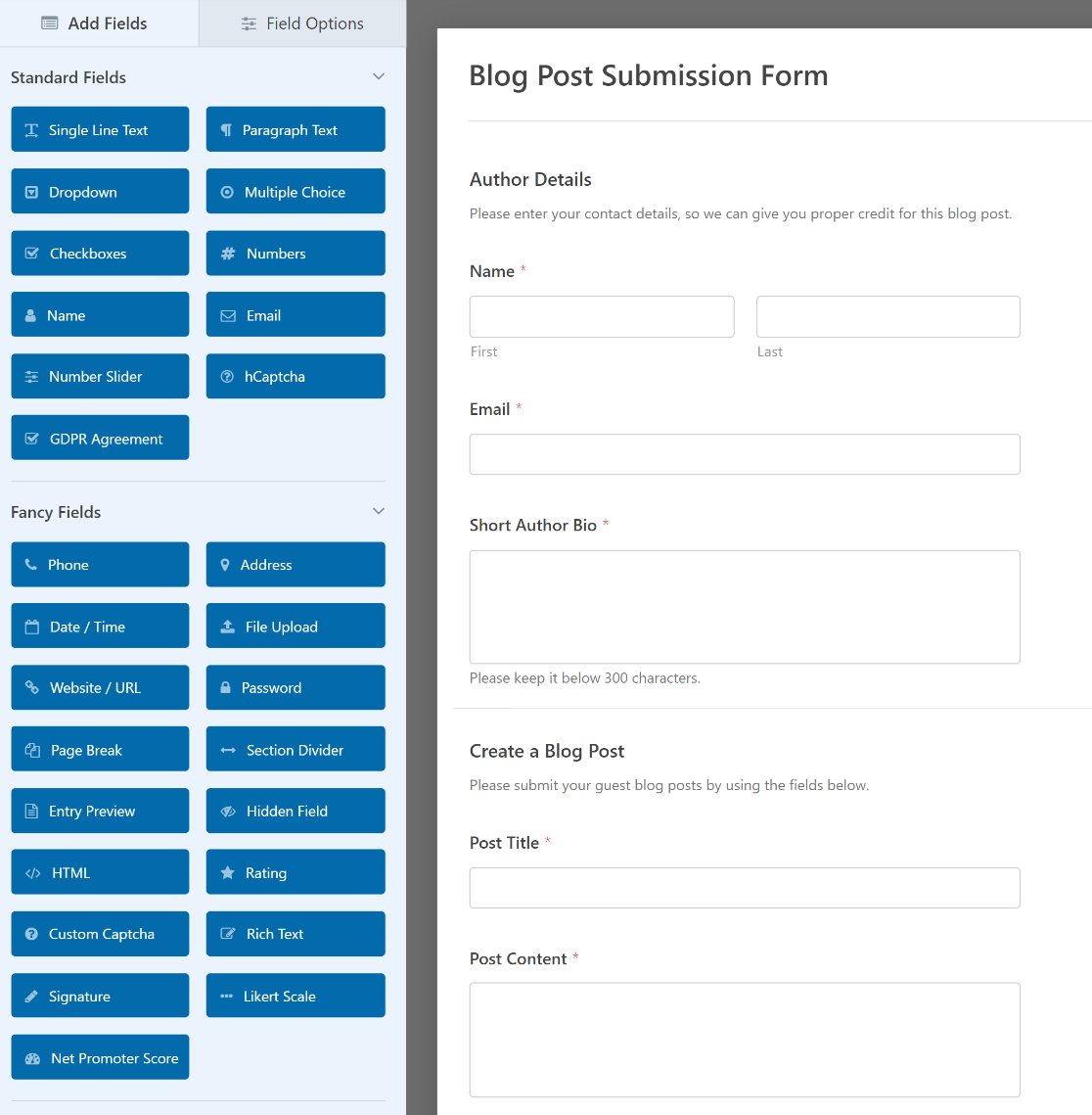 Also, you'll notice your blog post submissions form has the following form sections:
Author Details. This includes name, email, and author bio form fields.
Create a Blog Post. This includes post title, post content, featured image, post excerpt, and category form fields.
You can add additional fields by dragging them from the left hand panel to the right hand panel.
For example, one popular change is to replace the Post Content Paragraph Text field with a Rich Text field. This lets your users style their own text and include images right in their posts.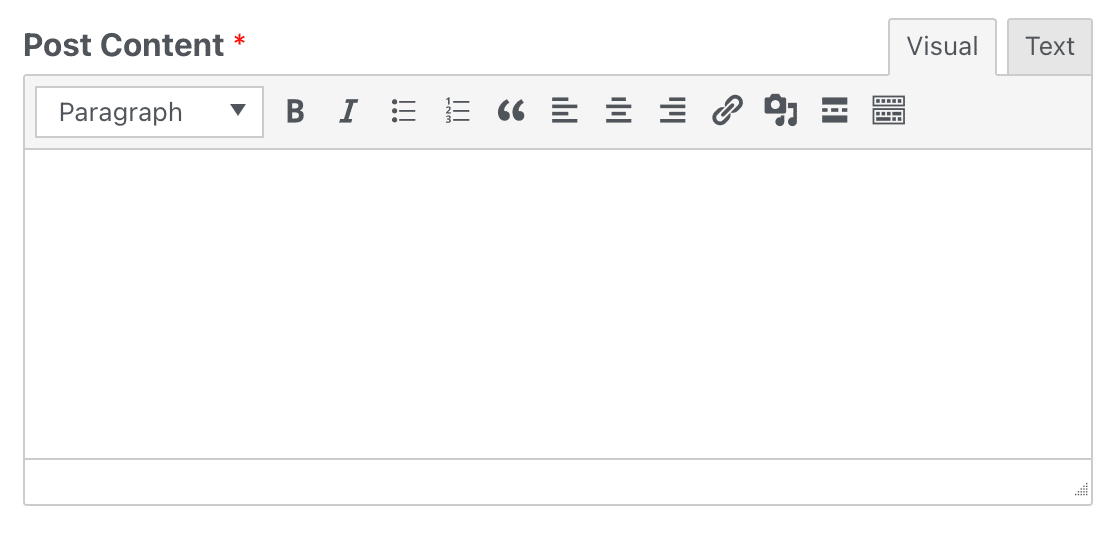 When you add a new field, make sure to click on it to make any changes, such as changing the label or the field size. You can also click on a form field and drag it to rearrange the order on your post submission form.
And if you want to learn more about how to customize your blog post submissions form, check out this article outlining how to allow users to submit blog posts on your WordPress website. You'll also find tips in our guide to accepting posts for an event calendar.
Step 2: Enable Anonymous Guest Posting
Now, before you save the changes you've made to your blog post submissions form, you'll need to enable anonymous guest posting.
So to do this, click on the Name form field in the preview area for your form. Then, on the left-hand side of the Form Editor, find the box labeled Required and toggle it off.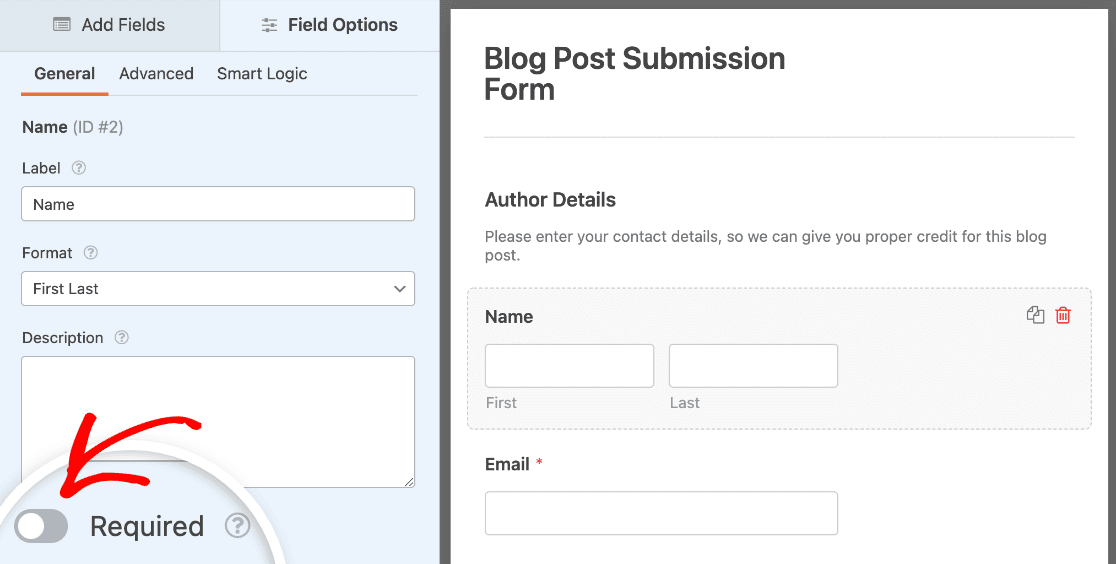 By doing this, you'll let anyone submit your blog post submission form on your website without having to fill out the name form field.
Click Save at the top of the form builder.

Step 3: Configure Your Form's Settings
There are 3 main types of settings to configure on a WordPress form:
General Settings: Here you can change things like your form's name, description, and submit button copy. You can also enable additional spam prevention features to keep your website secure from unwanted form submissions.
Form Confirmations: Form confirmations are messages that display to site visitors once they submit a blog post for your website. WPForms has three confirmation types to choose from: Message, Show Page, and Redirect. To choose more than one form confirmation at a time, check out this helpful tutorial on how to create multiple form confirmations.
Form Notifications: Notifications are a great way to send an email whenever a form is submitted on your website. A notification will automatically send to your once a form is submitted on your site. You can also send one to the site visitor that submitted the form and anyone else that needs to be notified of a form submission. To learn how to do this, read here about creating multiple form notifications.
Click on Settings on the left side of the form builder to access all of these options. Once you've filled them out, be sure to save your form again.
Step 4: Allow Post Submissions
After you've configured the basic settings for your form, you need to make sure the post submission settings are correct to allow anonymous guest post submissions on your blog. First, go to Settings » Post Submissions and turn the Enable Post Submissions option on.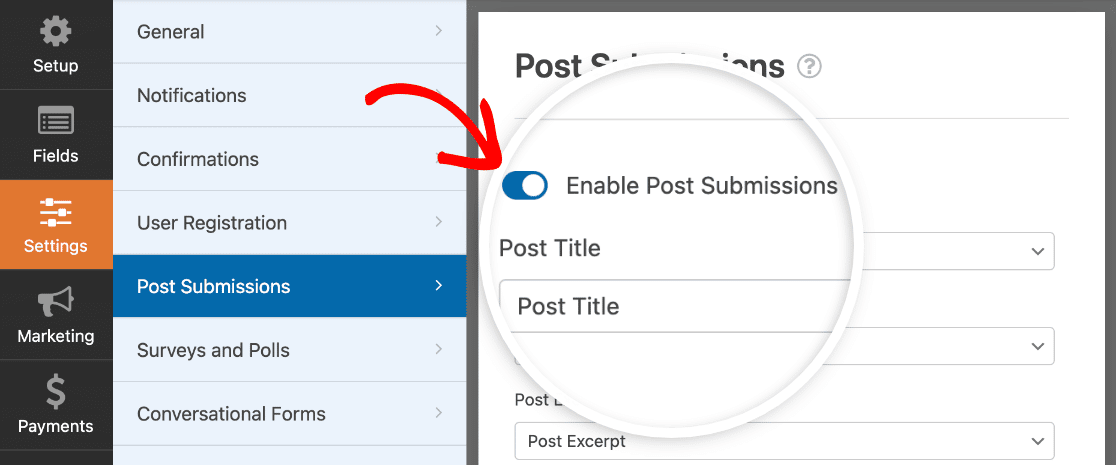 Next, make sure all the dropdown menu items match up to the form field title found above each dropdown menu. If you changed or added any new form fields, you'll need to match them up with the corresponding fields for your posts.
Title: the title of the blog post.
Content: the main body of the blog post.
Excerpt: a short summary of the blog post.
Featured Image: the image added to the beginning of the blog post.
Type: options include Posts or Pages, but can include custom post types as well.
Status: the status you want each blog post to be in when submitted. You can automatically publish all post submissions or require approval before publishing posts to your website.
Author: choose an author for the blog post.
Since you're allowing anonymous guest posting, you'll need to create a generic user in WordPress to display as the author of anonymous posts. You might name the user "Editorial Staff" or something similar. Then you can select this account from the Author dropdown in the Post Submissions settings.
At the bottom of this screen, you'll see a section called Custom Post Meta. This lets you map fields on your guest post submission form to custom fields in WordPress. If you'd like to try it out, check out our tutorial on using custom fields in user-submitted posts.
Save your progress again before you continue.
Step 5: Add Your Form to Your Site
After you've created your blog post submissions form, you need to add it to your WordPress website.
WPForms allows you to add your forms to many locations on your website, including your blog posts, pages, and even sidebar widgets.
To begin, create a new page or post in WordPress, or open an existing one for editing. After that, add a new block and select the WPForms block from the options available.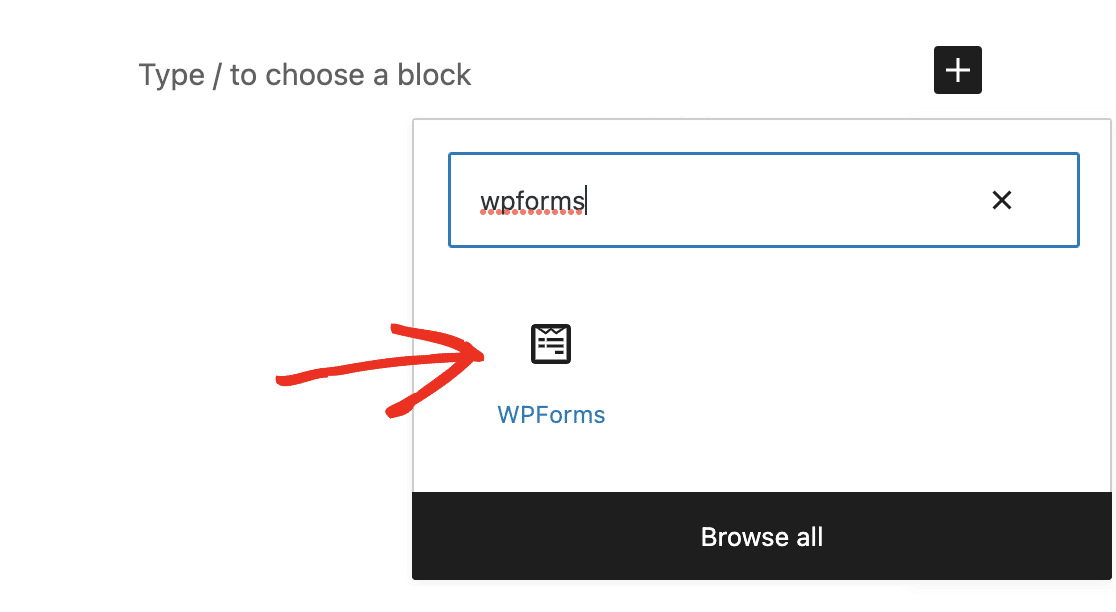 The handy WPForms widget will appear inside your block. Click on the WPForms dropdown and pick the form you've just created to insert it into your page.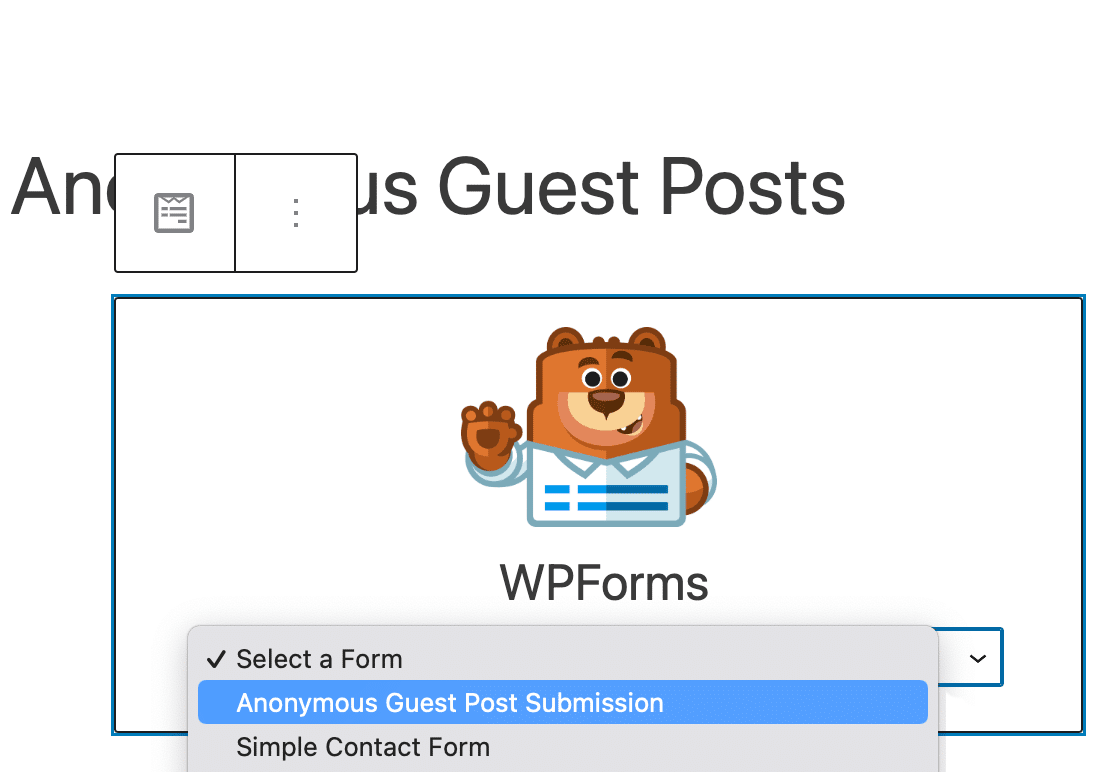 Now, click Preview, and you'll see your anonymous guest post form as it will appear on your website. If you're satisfied with the way it looks, go ahead and click on Update or Publish and your form will go live on the Internet.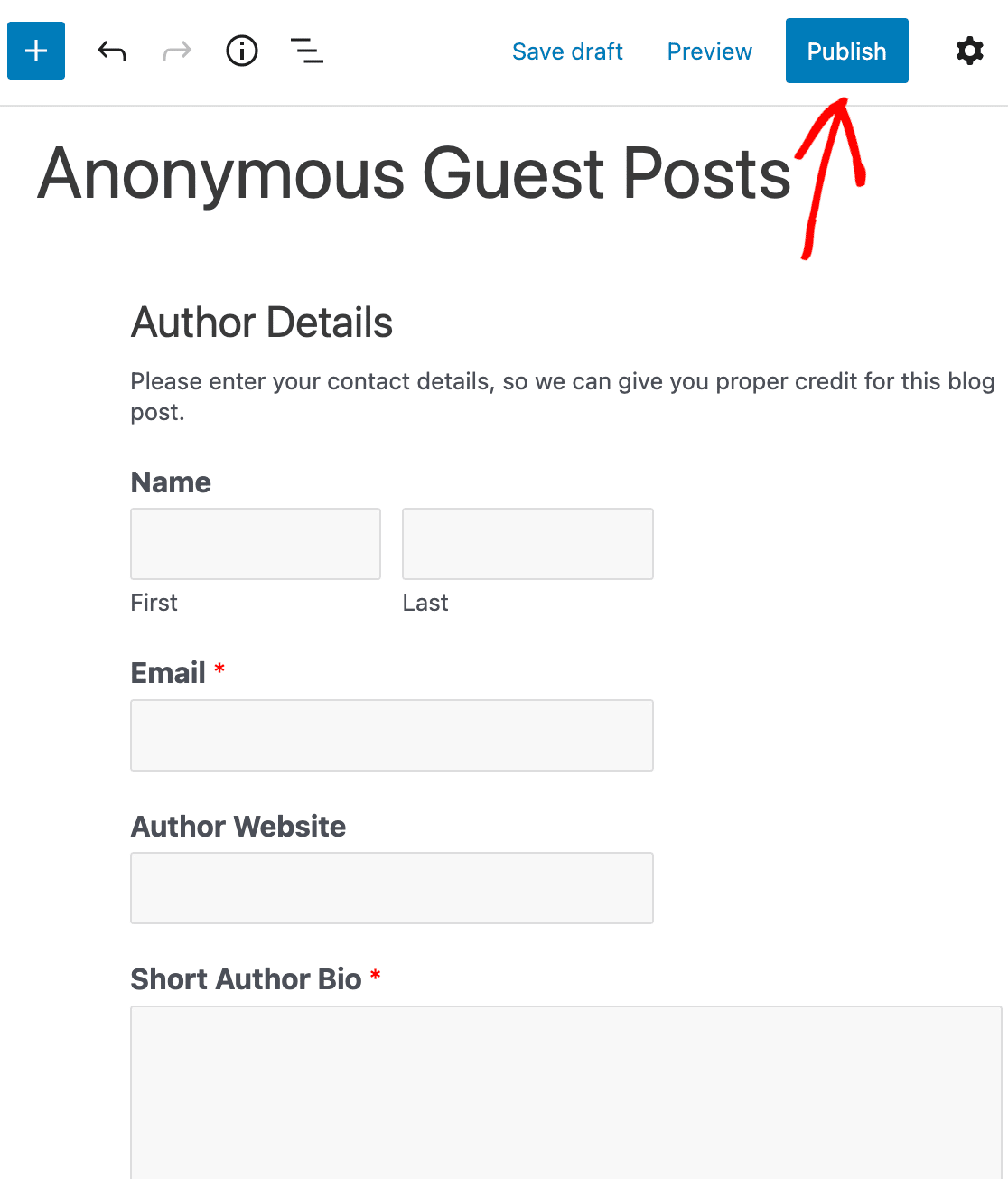 Take a look at your published page to see exactly how it looks on your website!
To view your WordPress anonymous guest posting form entries after they've been submitted, check out this complete guide to form entries. Also, if you want to see where people are submitting from, check out the Geolocation addon.
Click Here to Make Your Anonymous Guest Post Form Now
Next, Get More Post Submissions for Your Blog
And there you have it! You now know how to enable anonymous guest posting on your blog.
To get more content on your blog, see our tips on how to get more guest post submissions. You can also get sponsored posts by requiring payment for post submissions.
So, what are you waiting for? Get started with the most powerful WordPress forms plugin today.
And don't forget, if you like this article, then please follow us on Facebook and Twitter.