5 Best A/B Testing Plugins for Your WordPress Forms
Last updated on Aug 3, 2017 by Shahzad Saeed
Looking for the best WordPress split test plugins to grow your form submissions? By split testing your forms, you can understand what works best with your audience, and optimize your forms for more leads. Here are the five best WordPress A/B testing plugins for your forms.
Why A/B Test Your WordPress Forms?
A/B testing (also called split testing) allows you to compare two or more versions of your WordPress forms or other page elements to see which one performs better.
In an A/B test, you can show multiple versions of your form to similar visitors at the same time by varying different form elements such as headline, images, call to action, copy, fields, etc. You can then compare conversion rates of your variations, and the one that gives a better conversion rate wins.
The main benefit of running an A/B test is that you don't have to make a blind guess on what works best and which form elements bring in more conversions. Rather you can make data driven decisions to boost your form submissions.
How to Enable WordPress A/B Testing
With the right A/B testing plugin, you'll be able to duplicate your WordPress form with a single click and make necessary changes by varying different form elements on it.
Let's take a look at the 5 best WordPress A/B testing plugins for your forms.
1. OptinMonster
OptinMonster is the best lead generation plugin in the market that allows you to create beautiful optin forms that are optimized for conversions. You can create multiple types of optin forms such as lightbox popups, floating bars, slide-ins, etc. OptinMonster comes with plenty of other useful features.
A/B testing: You can test various elements on your forms to see what works best.
Exit intent technology: You can detect user behavior and prompt your visitors with a targeted campaign at the precise moment they leave your site.
Built-in analytics: It comes with a built-in analytics that lets you easily analyze which optin forms are performing the best.
And much more.
A/B Testing Your Forms With OptinMonster
To conduct an A/B test on your WordPress forms, you need to connect your WPForms to OptinMonster. Once your form is connected, you can utilize all the enhanced features of OptinMonster on your WordPress form, including the A/B testing feature.
For more details, you can learn how to conduct an A/B test and 14 A/B tests you can run on your forms.
2. MonsterInsights

MonsterInsights is the best Google Analytics plugin for WordPress.
MonsterInsights makes it super easy to set up Google Analytics tracking on your website. It also allows you to easily connect your website with Google Optimize, the free A/B testing and personalization tool by Google.
You can also get real-time stats on your WordPress dashboard, so you don't always have to log into your Analytics account to see your website stats.
A few more features of MonsterInsights are forms tracking, ecommerce tracking, ads tracking, file downloads tracking, and much more.
A/B Testing Your Forms With MonsterInsights
MonsterInsights makes it easy to track form submissions by connecting your forms with Google Analytics. All you need to do is to enable the MonsterInsights Forms addon in a few clicks. Then you'll be able to easily see all your form stats and conversion rates in Google Analytics.
After enabling the forms addon, you can set up Google Optimize in WordPress, so you can conduct A/B test on your WordPress forms.
3. Simple Page Tester
The Simple Page Tester plugin is the easiest solution to create a simple A/B split testing on your WordPress website. A free version of the Simple Page Tester plugin is available to download from the WordPress.org repository.
The plugin is also compatible with Google Analytics goals.
A/B Testing Your Forms With Simple Page Tester
Once you installed the plugin, you can set up a split test in just 60 seconds. All you need to do is to click Setup Split Test, edit your variation and click Declare Winner.
For step by step instructions, you can watch the video below.
4. Nelio A/B Testing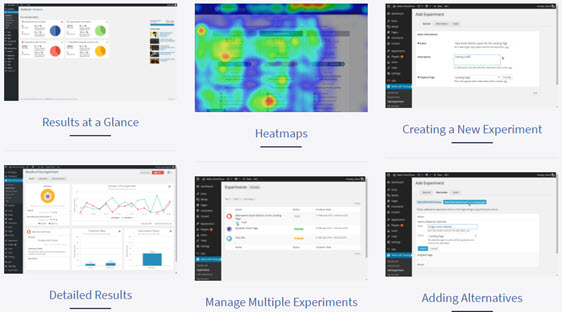 The Nelio A/B Testing plugin lets you easily manage and keep track of A/B tests on your WordPress site. Just like Simple Page Tester, Nelio is a native A/B testing solution for WordPress. The main difference is that Nelio lifts all the processing load from your server and takes it to their cloud, so running A/B tests do not slow down your site.
A/B Testing Your Forms With Nelio A/B Testing
Nelio allows you to choose from several experiment types.
New A/B Test for Posts
New A/B Test for Pages
New A/B Test for Headlines
New A/B Theme Test
New Heatmap Experiment for Page or Post
New Widget Test
You can choose an appropriate experiment type based on the location you want to publish your form. For example, if you want to publish your form on a page, you can choose New A/B Test for Pages, and activate the experiment.
5. AB Press Optimizer
AB Press Optimizer is another A/B testing plugin for WordPress that allows you to create dozens of variations of your WordPress forms and other elements, like images, posts, pages, etc. Unlike most other premium A/B split testing tools, the premium version of AB Press Optimizer is available for one-off payment.
A/B Testing Your Forms With AB Press Optimizer
The plugin comes with an intuitive user interface, so you can easily set your experiments up and running.
You can even schedule the start and end time of your experiments, view real time reporting and set unlimited variations.
That's it!
We hope this article helped you find some cool WordPress split test plugins to boost your form conversions.
Always make sure not to follow the conversion best practices without testing, because they may not work for your unique audience. To boost conversions, you should check out these research-based tips for form conversions. You can also read 4 common form conversions myths debunked.
What are you waiting for? Get started with the most powerful WordPress forms plugin today.
If you like this article, then please follow us on Facebook and Twitter for more free WordPress tutorials.