Building your forms should be as easy as possible. And protecting your forms should be simple too.
So that's why we're beyond excited to introduce you to WPForms 1.6.2 and all the cool new features inside.
Strap in because our latest release has some fantastic updates we think you're going to love.
Elementor Integration Improvements
First up, we'd like to introduce you to the new Elementor Integration for WPForms.
Previously, the only way to use WPForms inside the Elementor builder was to search through tons of different widgets. Now, there's a new WPForms Elementor widget to make creating forms seamless within the Elementor builder.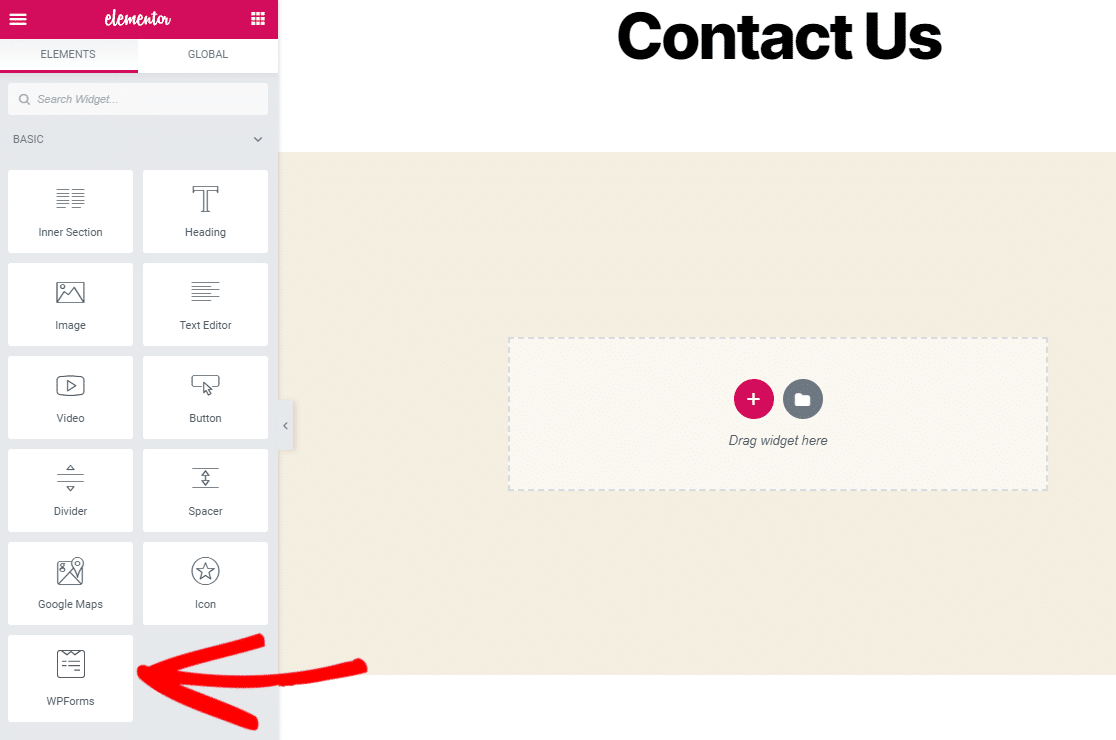 This is a great way to help Elementor users discover WPForms so they can have a fantastic form building experience while building their website. There's a complete workflow built inside of Elementor that walks people through making a form.
On top of that, let's say you're in the Elementor builder and realize you need to update something in your contact form. You can simply click on Edit the selected form from directly within Elementor, and your form will be updated.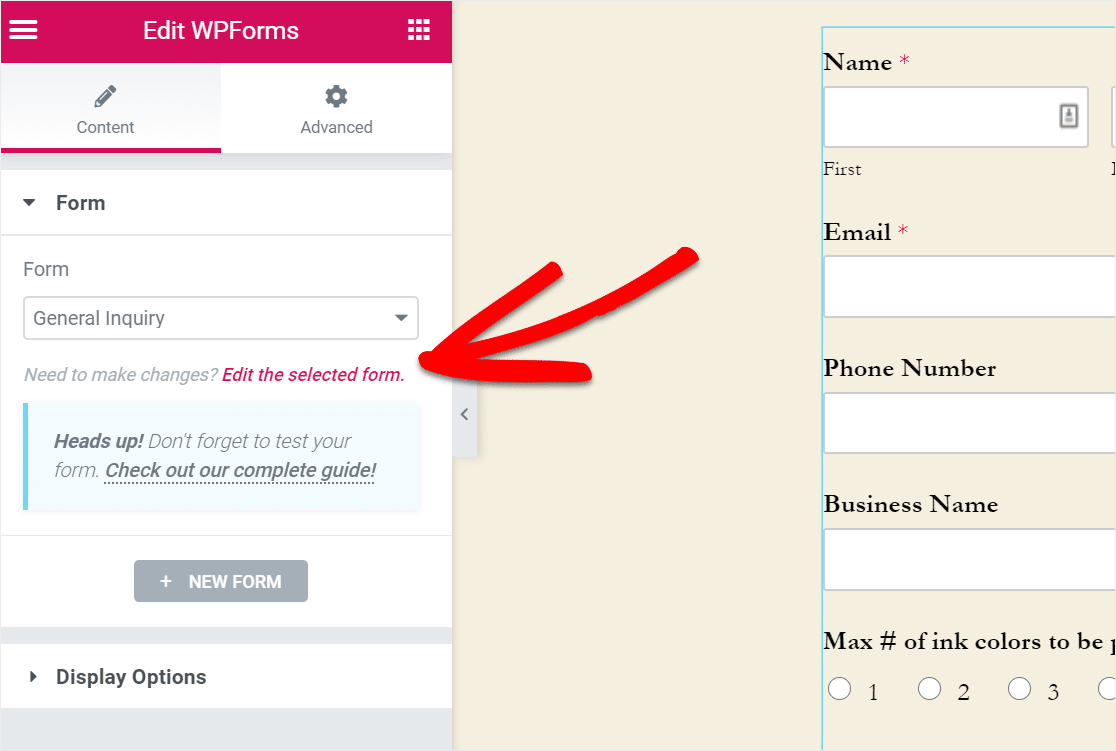 With this new integration, Elementor users can create a simple contact form or edit one in seconds, all within the builder. If you need them, we've put together detailed instructions on how to add WPForms to an Elementor page.
New Anti-Spam Protection
On all new forms, you'll notice the old Honeypot spam feature has been replaced by the new Anti-Spam Protection.
The Honeypot feature was a good solution to help protect our user's forms. But, as we grew, we realized we needed to create even tighter security to combat bots. Moving forward, all new forms created will default to having Anti-Spam Protection turned on.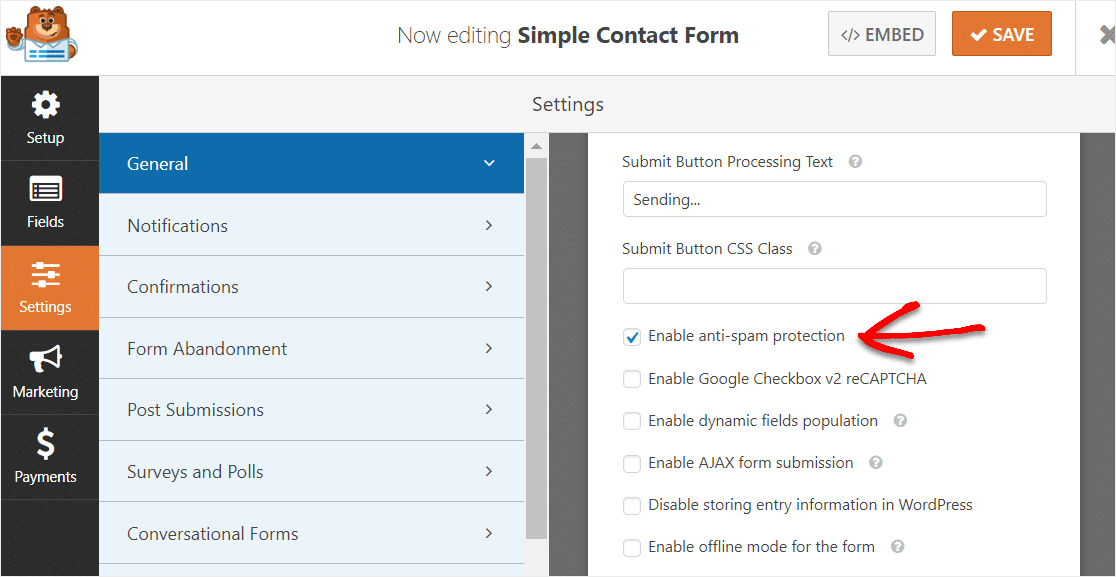 Any form created before the WPForms 1.6.2 release will continue to have the Honeypot option. This new settings option can be enabled on older forms, but new forms won't display Honeypot as an option to switch back to.
See Pricing on Order Forms
Payment fields are getting even more clear for your customers. We heard you loud and clear that you wanted to be able to show individual prices on your order forms. So we made payment fields even better, and you now have the ability to show the cost of each item with just a click.
In your form's settings, simply click on Show price after labels if you want to automatically display the price of items in payment fields.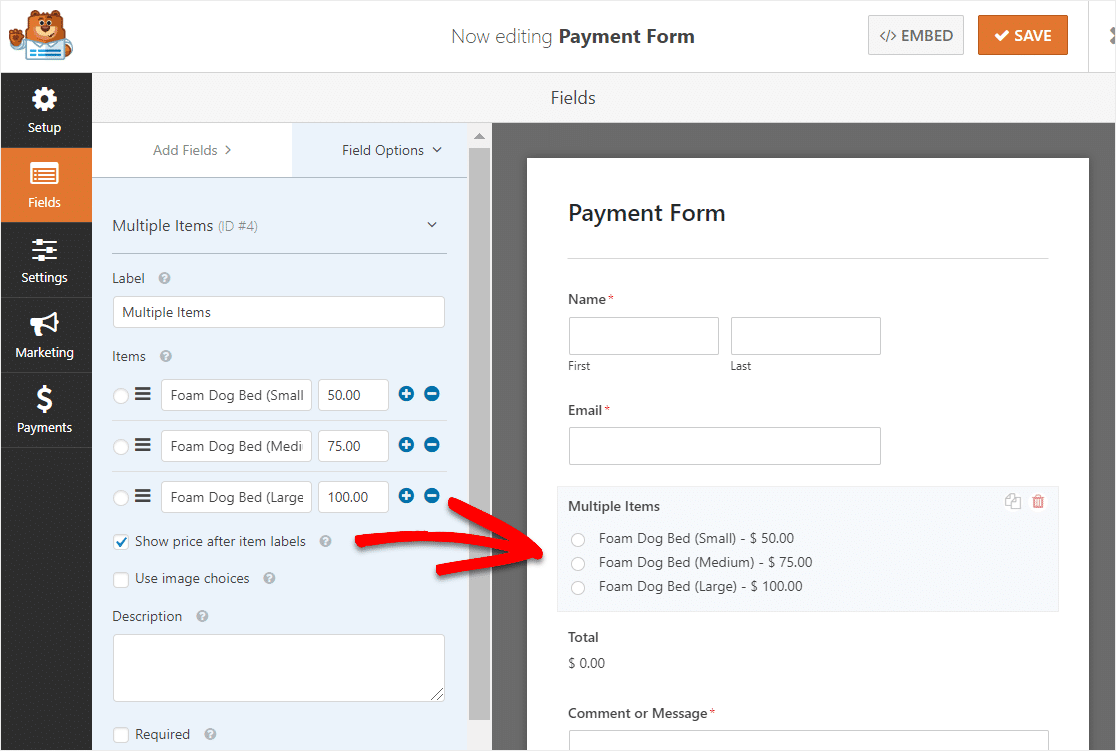 Previously, individually prices didn't show in the list so you couldn't see the amount without looking at the total. Now, your order forms are even more clear.
Extra Guidance For Adding Forms
It's now even easier to add your forms to your WordPress site with the new Form Embed Wizard.
Before this update, when you clicked embed, you'd see a shortcode with directions on where and how to place it. Shortcodes are cool, but the WordPress ecosystem changes fast, and we wanted to make sure our plugin is simple and beginner-friendly in every way.
So, the new Form Embed Wizard will guide you through embedding your form, both for existing pages on your site as well as brand new ones.
If you create a brand new page, all the work is done for you and we'll embed the form you just created into that page automatically. If you're adding it to an existing page, the Wizard will walk you through the process step-by-step.
Make sure to check out our video tutorial on embedding forms for more details.
New & Improved WPForms Challenge
Last but certainly not least, the WPForms Challenge has been updated and unleashed onto the world!
There's a brand new WPForms Challenge that shows up when someone is just getting started. It's radically improved and should make it even easier to build your first form while learning the ins and outs of how to use WPForms … all in under 5 minutes.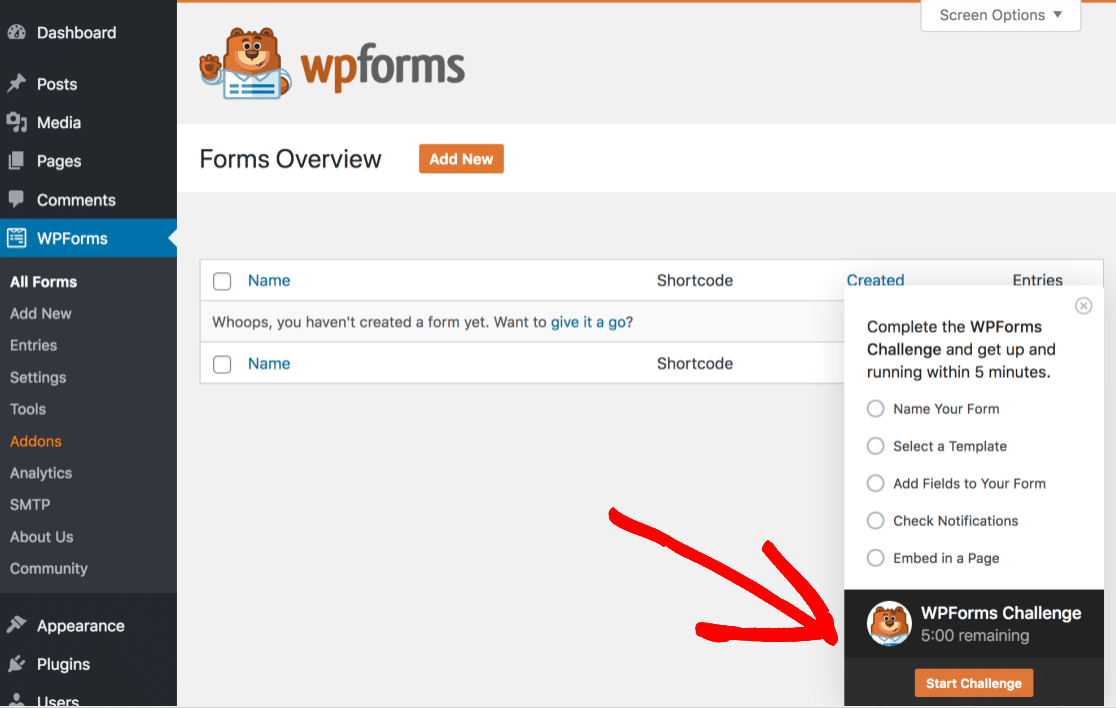 Previously, some people found it hard to complete the challenge on smaller screens without the Challenge modal getting in the way. So now, we've got a sleeker, more modern modal. There's a welcome screen, and we took care to make sure the challenge area doesn't get in the way of your work, even on smaller screens.
Once you hit complete on the challenge, you'll now be prompted to embed your form into a new page automatically or an existing page in just seconds.
We wanted to make it even easier for anyone of any skill level to build their very first forms, and we think the new WPForms Challenge hits the mark even better than before.
Other Important Improvements
It's worth mentioning that we have a lot of other great updates in WPForms 1.6.2. Here are some other notable improvements you'll find:
Modern File Upload – This field is now compatible with even more hosting environments and configurations.
Timestamps on Form Entries – You'll now see timestamps in the date column for form entries.
Word Count in Limit Length Field Improvements – We've adjusted the accuracy of word counts based on differences in input styles. (For example, 1,000 vs 1000).
Improved Number Field – Different browsers are often changing how number fields work. So we've added an extra layer of protection to make sure this field works correctly no matter which browser or device is being used.
Form Field Validation Adjustments – Form field validation will now fail if the input mask is turned on and the user doesn't complete the entire input mask.
And More…
And that's all for today and the monumental WPForms 1.6.2 update. We hope this release makes building your forms simpler and easier than it's ever been.
Make sure to let us know if you have any thoughts on all these new improvements. We genuinely love hearing from you and learning what will help you with your website's continued success.
So what are you waiting for?
Head to your WordPress dashboard, update to WPForms 1.6.2, and give the newest version of WPForms a go.
As always, thank you for your continued support of WPForms. We look forward to bringing you more awesome updates in the future.
Jared and the WPForms team
P.S. Don't have a WPForms Pro license? Click here to get started today and experience the WPForms difference.