We're excited to announce that WPForms 1.5.2 is here!
There are some new features in this release that pack a big punch and will make using WPForms even easier.
Your form fields are about to get a lot smarter so you can get higher quality leads. Plus, Checkbox fields are going to make it even easier to segment and convert visitors into paying customers.
Here's what's new in WPForms 1.5.2.
Phone Fields Now Auto-Detect Country Codes
The Phone field in your forms just got a super helpful revamp.
The new Smart Phone feature auto-detects your user's region as the form is loading. The Phone field will now show which region the person filling out the form is currently located in.
If a user starts to type in a phone number format that's different from the auto-detected format, a message will appear.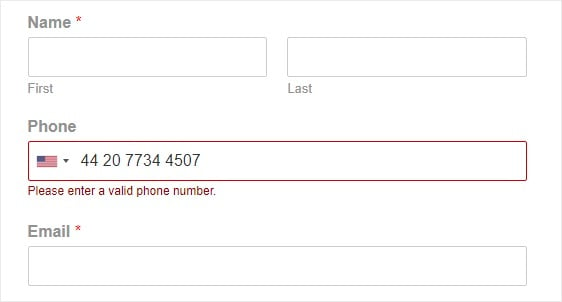 And, it's really easy for the user to change the auto-detected region on the Phone field.
For example, say someone from India is visiting the US. The form will auto-detect that they are in the US and add the US phone number format to the Phone field.
But, let's also say that the user wants to enter their phone number which is from India, not the US.
To do this, they can simply select a different region from the dropdown menu inside the Phone field.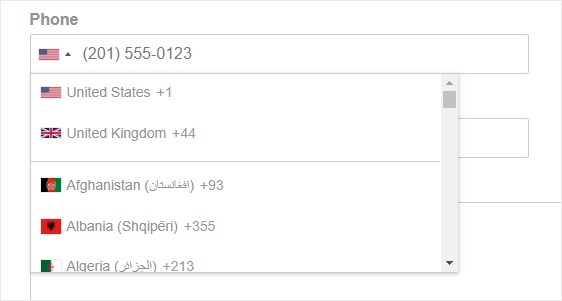 If your business gets form entries from multiple regions, you'll especially love this Smart Phone feature. We also created this new feature so that international users can now get validation when entering their number, not just US users.
The Smart Phone feature will help you manage your form entries and keep phone numbers consistent and accurate. And, you'll end up with higher quality leads.
Head over to how to choose the right form field for your forms to learn more about the different phone formats.
Get More Leads With Email Address Typo Detection
The Email Field now has an exciting new feature you'll love.
The Smart Email feature spots typos in common domain names. The Email field will now display a message suggesting a fix if a user types in their email address wrong.
For example, if someone types in [email protected] or [email protected], they'll see a message with a suggestion of the proper spelling. They can click on the suggestion and the email address will be automatically fixed.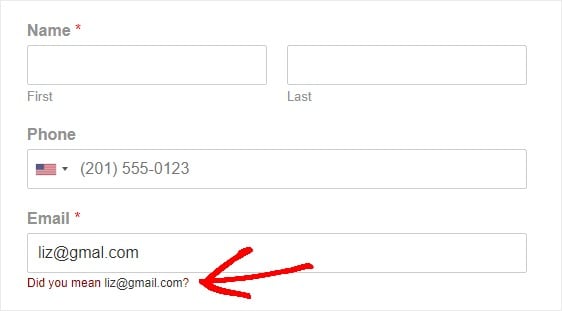 The Smart Email feature works with 30 popular email service domains.
We created the Smart Email feature because we know how important email marketing is to small business owners and website builders.
Because of this, we wanted to help make the form entries you receive as accurate as possible. That way, you can focus on building your email list, not fixing it.
The Smart Email feature is going to help you capture higher quality leads, reduce bounces, and get more conversions by spotting common email domain typos right away and helping correct them.
Limit the Number of Checkboxes Users Can Select
The new Checkbox Total Limits feature lets you limit how many checkboxes users can pick on your form. We're really excited about this great new option and think you will be too!
Before, it was difficult to limit checkbox totals on a form. For instance, say your form had 10 dog breeds listed and you asked people to pick their 3 favorite. Users could've ignored your request and selected all 10 dog breeds!
That's why we made Checkbox Total Limits. It's now easier than ever to build and manage different email lists based on your visitor's individual preferences.
If a user tries to select more checkboxes than your set limit, the form will tell them they've exceeded the number of allowed selections.
Then, the form won't let them submit until that's corrected.
To set or change the Checkbox Total Limit in your Checkbox Field Options, simply click on Advanced Options and enter your desired numerical limit in the Choice Limit box. For a more in-depth look, check out our tutorial on how to limit the number of checkboxes selections.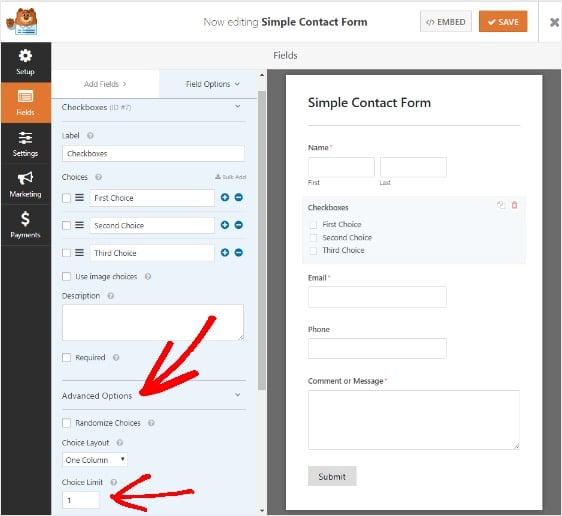 And that covers the newest release!
We think you'll agree that WPForms is smarter and simpler than ever before.
So what are you waiting for?
Give the newest version of WPForms a try and let us know what you think about all the new updates.
As always, thank you for your continued support of WPForms. We look forward to helping you succeed with your website and business.
Lisa and the WPForms team
P.S. Don't have a WPForms Pro license? Click here to get started today and experience the WPForms difference.