Today we're excited to release a major upgrade to our user registration addon.
User registration is one of our most popular features. So we looked hard at all the ways that we could make it more flexible and helpful for you – and your users.
And we also added one of the features you've been asking for: a NEW password reset form!
There's a lot to discover in this release, so we'll dive right in with one of your top feature requests:
User Registration on Any Form
The new user registration addon will make it easier to get more signups, manage registrations, and help visitors interact smoothly with your website.
And a big part of that is streamlining the signup process itself.
So if you were stuck using 2 different forms for orders and user registrations, you can now remove that additional step and do both at the same time.
For example, let's say you're taking payments on a form, but you want everyone who pays to be able to log in to your site. With our refreshed addon, you can now create the user's account when they submit payment.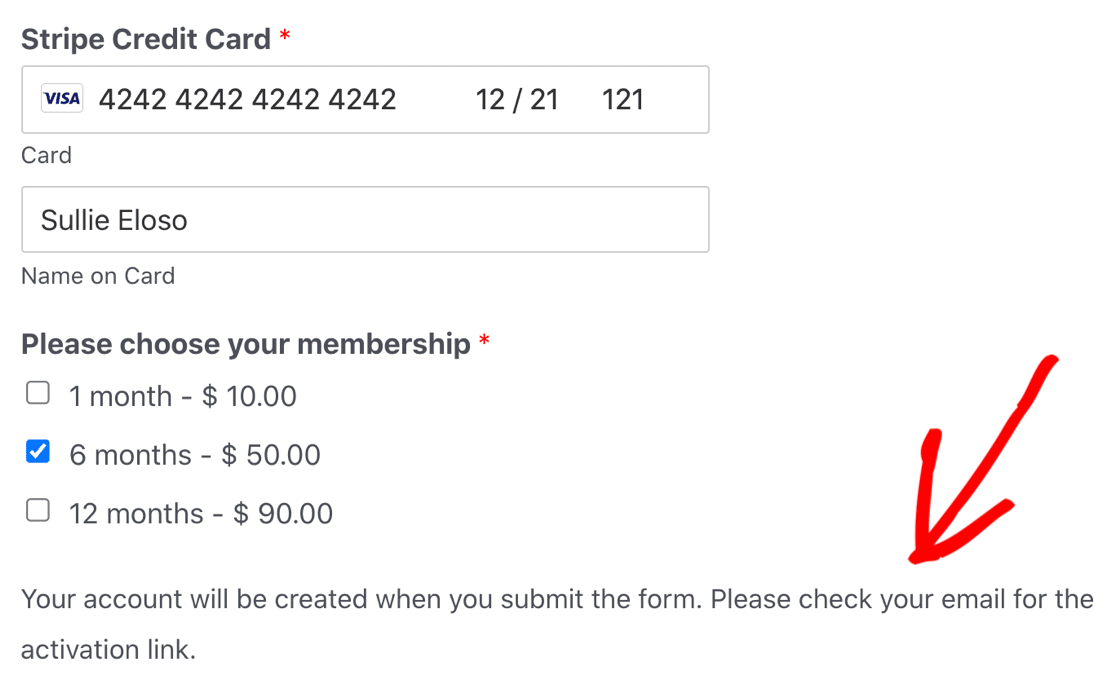 As always…. there's no need to write any code to make the magic happen. All you have to do is flick a switch to enable user registration on the form you already have, then map the email field so that WordPress knows how to sign them in.
Here's another example. Want to get your visitors to upload proof of address, ID… or even a class project?
Now you can create their account at the same time.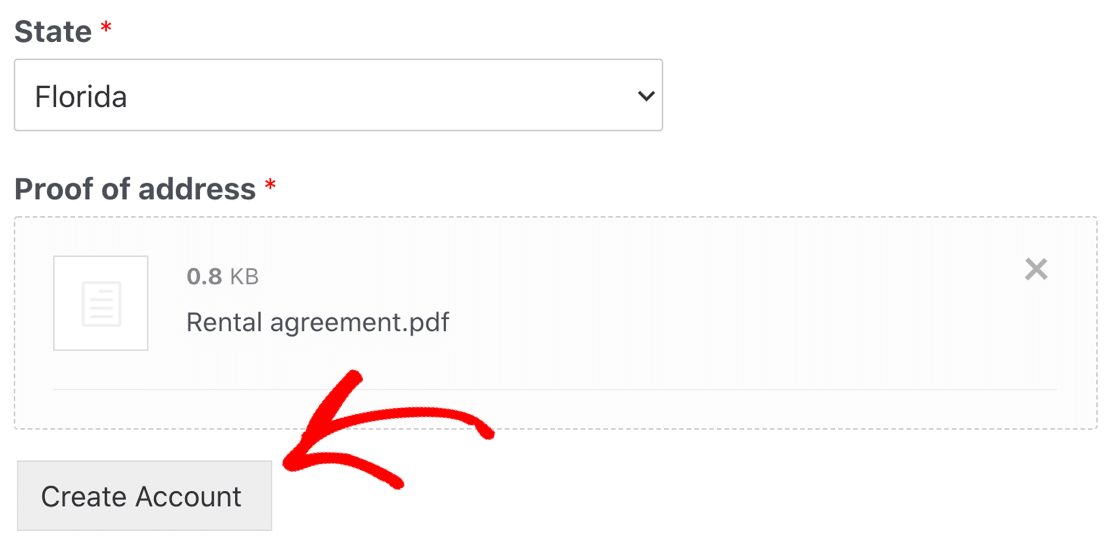 And you can even let your visitor make the choice themselves right here on the form.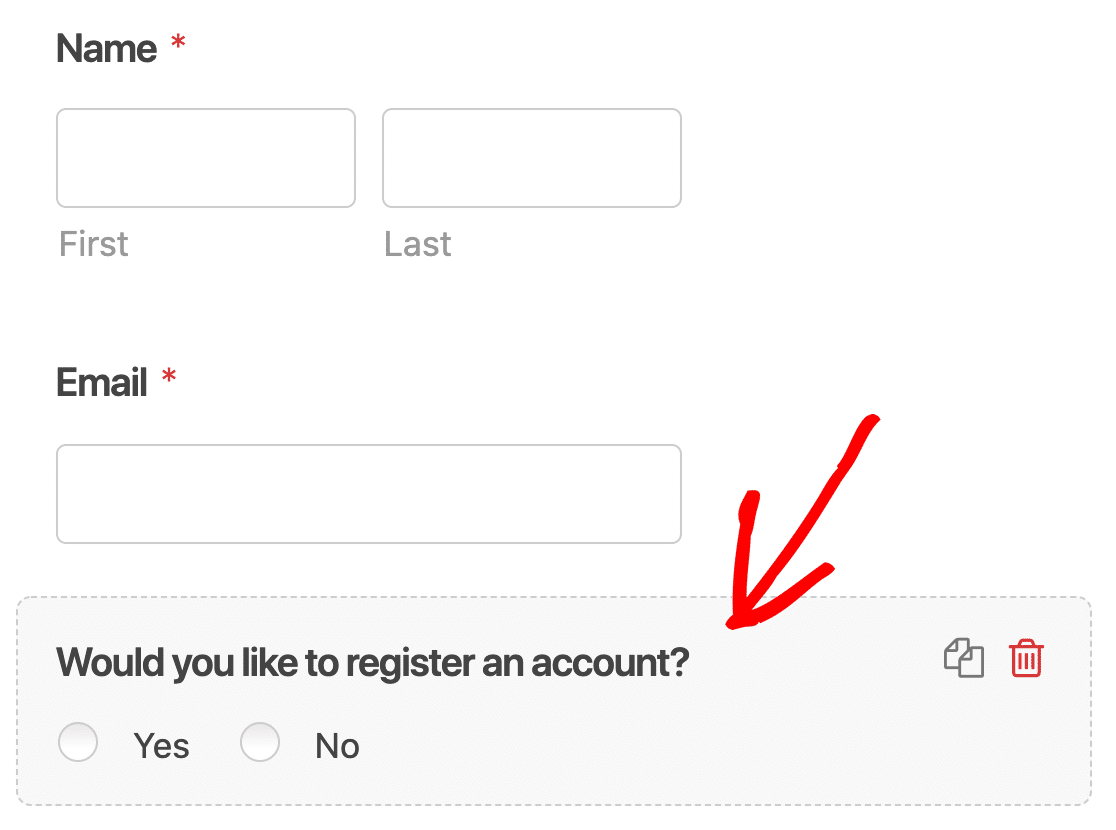 What's the secret? Simple: conditional logic!
Add the fields you need, turn on user registration, then set your conditions in the form settings:

As always, our powerful conditional logic lets you build custom conditions so that you can set the criteria however you want:

What about existing members?
If they're already logged in, you can hide the entire form and display a customizable message instead:

You still have the choice to enable activation and generate a password. And now you can also log in your user automatically on submission.
Looks good, right? But that's just the beginning. Now let's take a look at the 3 brand new form templates we added in this release.
New Form Templates
We've built a vast library of WordPress form templates to make it easy to get started.
And with today's update, you'll get 3 new templates that we've created especially for this addon:
User Registration Form
User Login Form
User Password Reset Form
Once you install (or update) the addon, we'll automatically add these 3 templates to the Addon Templates category inside the form builder.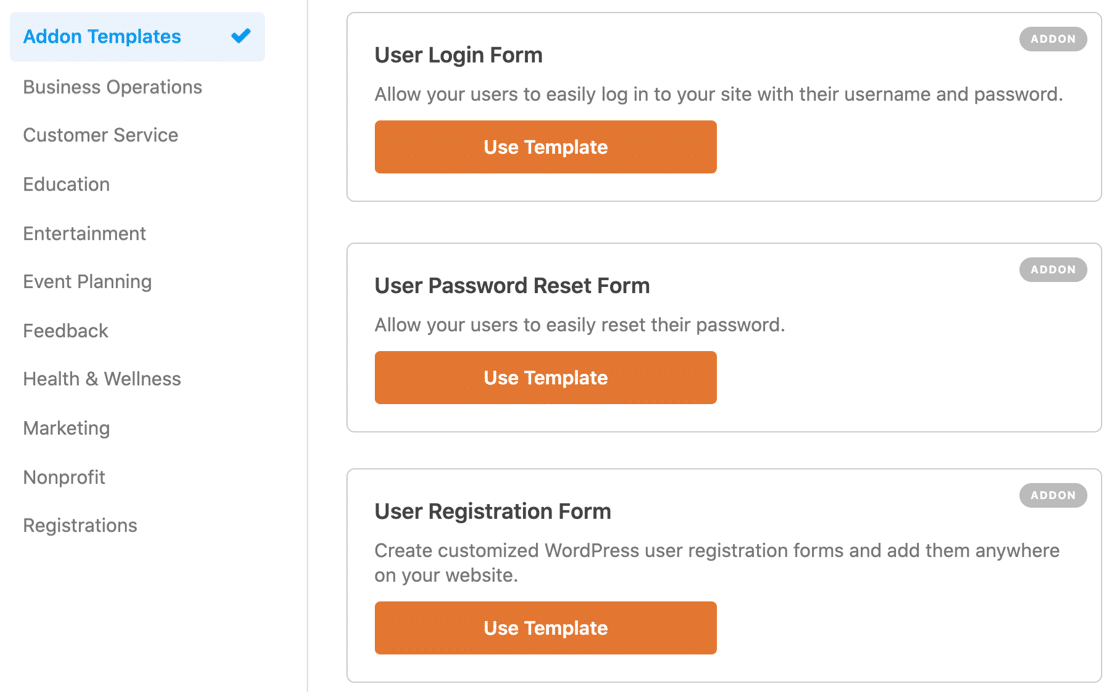 We're always excited to add new templates. In this case, it's even more exciting because the password reset form has been such a popular request from customers.
Today's the day you get to try it out for the first time.
And as with all templates, we made it easy for you to adapt them.
So… how about adding reCAPTCHA on your password reset form? You got it.
The login form can be customized in the exactly the same way. And for a seamless experience, your visitor can also check a box to stay logged in for future visits.
Customizable Notifications
It's important that your visitors have all of the information they need to log in and get started. Automating this will save you a ton of time.
Our new registration addon makes it easy to edit the content of user registration emails without writing code.
Just edit the template in your form settings so that your notifications contain all the information that your user needs.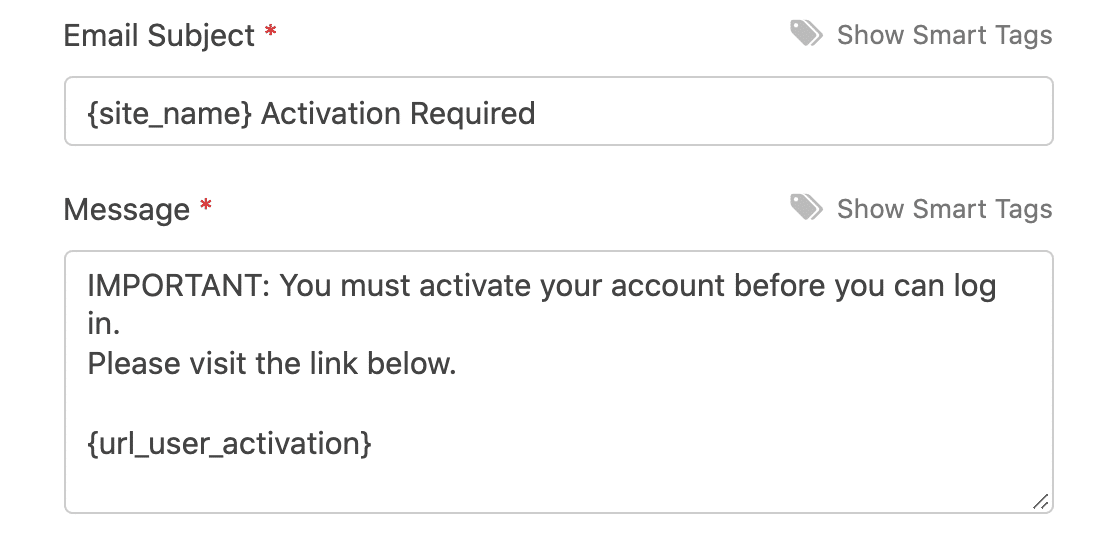 If you want to link to your homepage, explain next steps, or even link to another form right from the email… it's all easy to achieve.
And to make it simple, we added some new smart tags for information like:
Usernames
Passwords
Account activation URLs
Password reset URLs
You can edit the templates in each form's settings and use the new smart tags however you need to.
Speaking of account activation, there's another important change that we want you to know about. If you've got activation turned on, you need to make sure those emails are received.
To make sure every new user actually gets that email, we added a 'resend' link right here on the Users page inside your WordPress dashboard.

It's another helpful tweak that'll make management easy for you and your visitors.
Getting Started With User Registration
Ready to create your new user registration forms? We're excited for you to try all of the new features we've added!
When you've created a new form for user registration, click the Embed button to add it to a new WordPress page.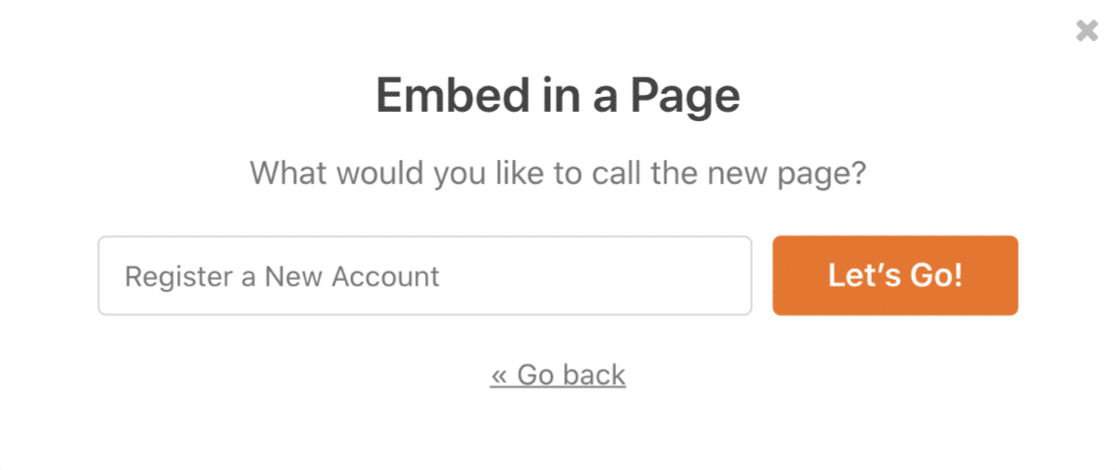 Go ahead and publish your page. Then add it to your WordPress menus using the WordPress Customizer.
Repeat the process with your password reset form page and your new login page. And that's it! You're all set.
You'll find all of the registration and login settings inside the form builder for each individual form.
Looking Ahead
We're nearing the end of 2021, but we're not done yet! Behind the scenes, we're busy planning out what 2022 will hold for WPForms.
And as always, we're incorporating all of your valuable feedback as we plan the road ahead.
If you have suggestions or comments, we'd love to know! As a valued WPForms customer, you're welcome to join us in the WPForms VIP Circle on Facebook to pick up the conversation there.
As always, thanks for your continued support. We hope you enjoy exploring all of the awesome features in our new user registration addon!
Jared Atchison