Over the last week, we have been working hard improving some of the behind the scenes features in WPForms. I'm quite proud to show you our new improved form entry management system which made up bulk of the changes in WPForms version 1.1.5 and 1.1.6.
New Form Entry Table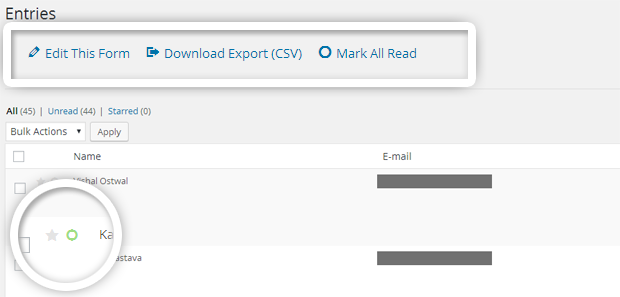 The main thing you'll see in the Entries table is the ability to "star" aka favorite each entry and mark it as read.
You can also sort the entries by the status and download all form entries in a CSV file.
Individual Entry Actions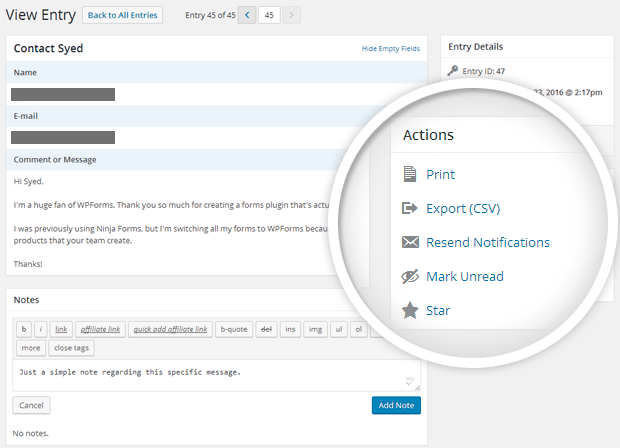 When you click to view an entry, you'll see several entry specific actions.
You can now do the following with each entry:
Print the Message
Resend Admin Notification
Mark it as Unread
Star / Favorite it
Add Custom Notes
Custom notes is very handy if you're using WPForms as a basic CRM.
Misc. Enhancement + Features
We added several enhancements and bug fixes in version 1.1.6. The most notable enhancement was that we added support for WordPress Zero Spam plugin which a lot of you have asked for.
Later this week, we'll be launching our GetResponse add-on as well as improvement to our smart tags for better notifications.
Looking for a drag & drop WordPress form builder? Get WPForms today and unlock all the awesome features.