Are you struggling to pick the right form builder between Gravity Forms vs Fluent Forms vs WPForms?
All three of these WordPress form plugins are incredibly popular and offer excellent features at competitive pricing.
We tested these form plugins to see how their different features compare.
In this post, we'll share our experience with using Gravity Forms vs Fluent Forms vs WPForms so you can make a more informed decision when choosing a form plugin.
Quick Overview – Gravity Forms vs Fluent Forms vs WPForms
Gravity Forms, Fluent Forms, and WPForms are highly-rated form plugins. We recommend WPForms because it gives you the highest templates (600+), has free no-code form styling options, and a Content field for inserting media into forms. Gravity Forms and Fluent have fewer templates and no Content field.
Gravity Forms
Fluent Forms
WPForms
Free version?
No
Yes
Yes
From templates
9+
65+
600+
No-code form styles
Yes
Yes
Yes
Content field
No
No
Yes
Spam protection
reCAPTCHA,
Akismet,
honeypot,
Custom Captcha
reCAPTCHA,
hCaptcha,
Akismet,
Turnstile,
honeypot
reCAPTCHA,
hCaptcha,
Akismet, Turnstile,
Anti-spam tokens,
Keyword fitler,
Country filter,
email allowlist/denylist
What Our Comparison Revealed: Gravity Forms vs Fluent Forms vs WPForms
Let's now take a deeper look to see what separates each of these form builders from one another.
Our User Experience With Each Plugin
Gravity Forms has a visual form builder with drag and drop functionality. You can create your forms by simply dragging and dropping the fields you need.
As a result, we found it very easy to create forms using Gravity Forms, and you usually don't need any coding knowledge to customize your form.

The main form builder interface is clean and uncluttered, so you can comfortably edit your form. Inside the form builder, you'll also find a tab to access your form settings.
The form settings include a variety of options to control your form's behavior, including confirmations, notifications, and integrations.
However, Gravity Forms redirects you to a new page outside of your form builder every time you need to access settings. During testing, waiting for the setting to load every time was slightly frustrating for us and took away from an otherwise smooth user experience.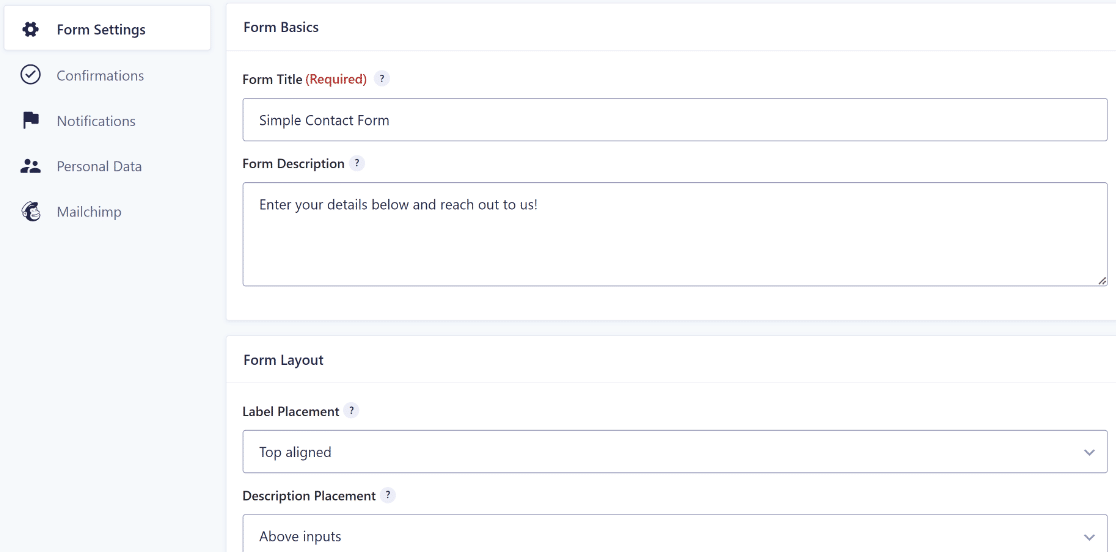 Fluent Forms is also a highly popular form builder for WordPress. Like Gravity Forms, it also features a drag and drop visual editor that allows you to create forms without code easily.
We noticed that its interface is very similar to Gravity Forms. You have your main form builder area on the left and right-hand pane, where you can find all available fields to add to your form.

While Fluent Forms is a user-friendly plugin, it also suffers from the same problem: the settings page loads separately from the form editor.
As a result, it was a bit time-consuming for us to build an advanced form because of the extra loading time every time we needed to switch back and forth to sort some settings out.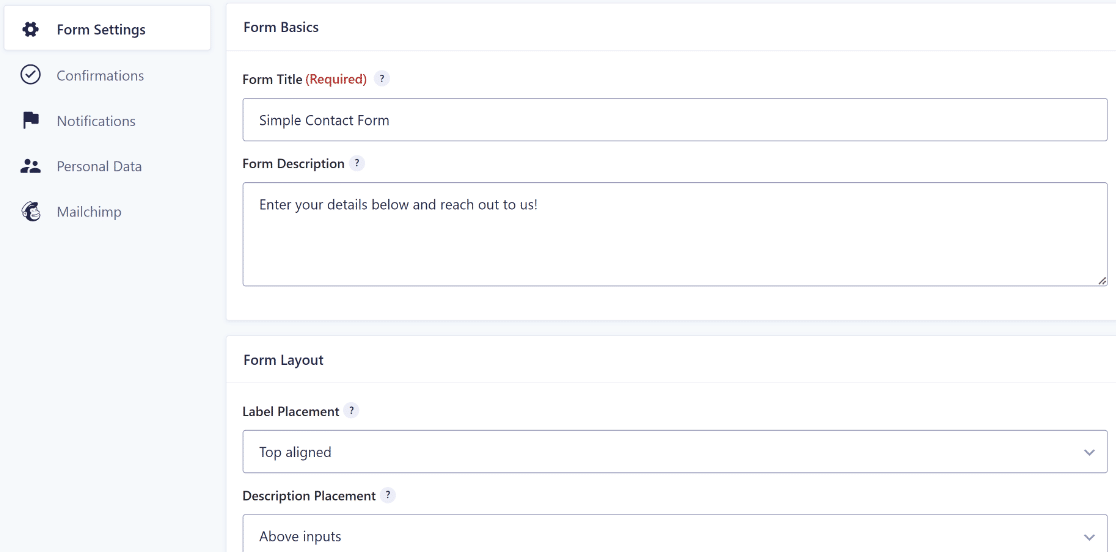 WPForms is a powerful WordPress contact form plugin. Like its main competitors, WPForms has a visual drag and drop form builder.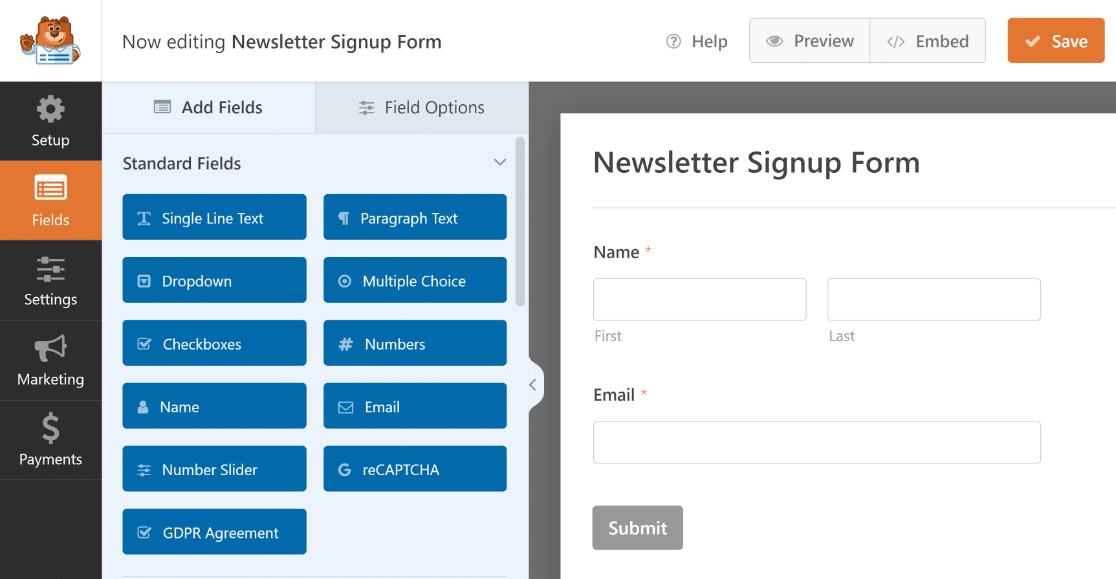 Creating any kind of form with WPForms is fast and requires no coding knowledge at all. The form builder is designed to give users a smooth and seamless experience in creating forms without any interruptions or delays.
Unlike competitors, the settings and integrations tabs in WPForms open instantly inside the form builder itself, so you don't have to waste precious time when switching between the form editing screen and settings.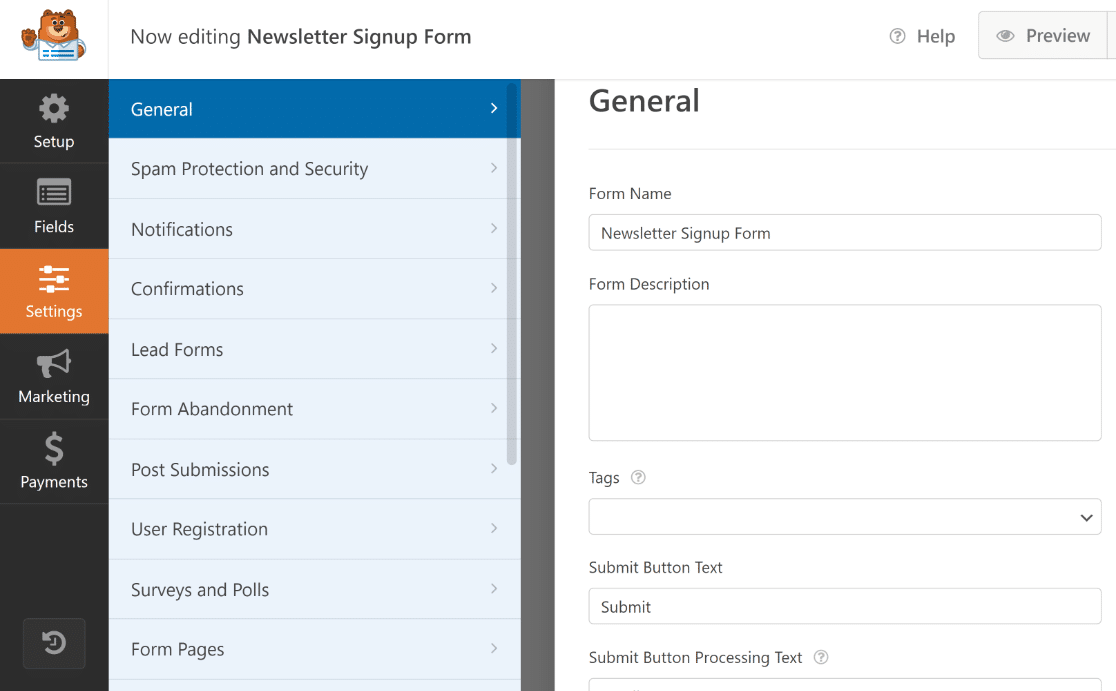 WPForms also covers the whole screen while you're building your forms. It hides the WordPress sidebar menu to enable you to create forms comfortably without distractions.
WPForms also includes a super handy form revisions feature. With form revisions, you can undo mistakes in your forms in a single click by restoring a previously saved version. This built-in feature is available right out of the box, even in the free version.
Overall, we think these small conveniences in WPForms add to an excellent user experience, allowing you to build even advanced forms faster.
Our Favorite Features
We'll now compare some of the favorite form plugin features and how they're handled by each plugin.
Form Templates
Gravity Forms makes your form creation easier by offering 15+ ready-made form templates. You can find templates for some of the most commonly used forms like contact forms, donation forms, newsletter signup, and others.

Fluent Forms has a larger library with 65+ pre-built form templates. You also get over 25 of these templates for free, which is great for unpaid users. Needless to say, Fluent Forms has a better variety of templates compared to Gravity Forms.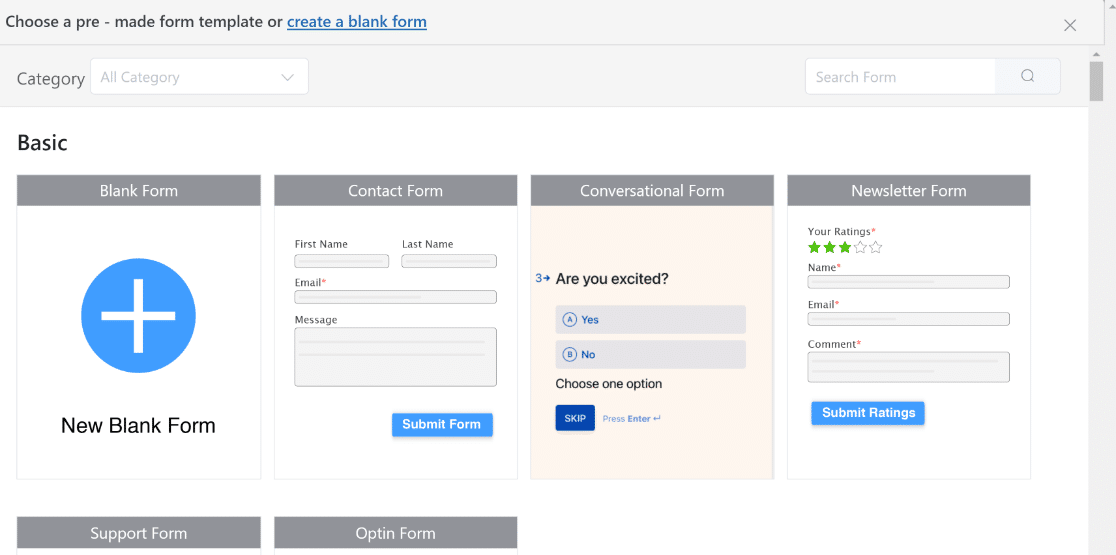 WPForms stands out because it has a library of 600+ form templates. These templates are grouped into various categories like business operations, marketing, nonprofit, customer service, and more. You can find a template for pretty every purpose imaginable.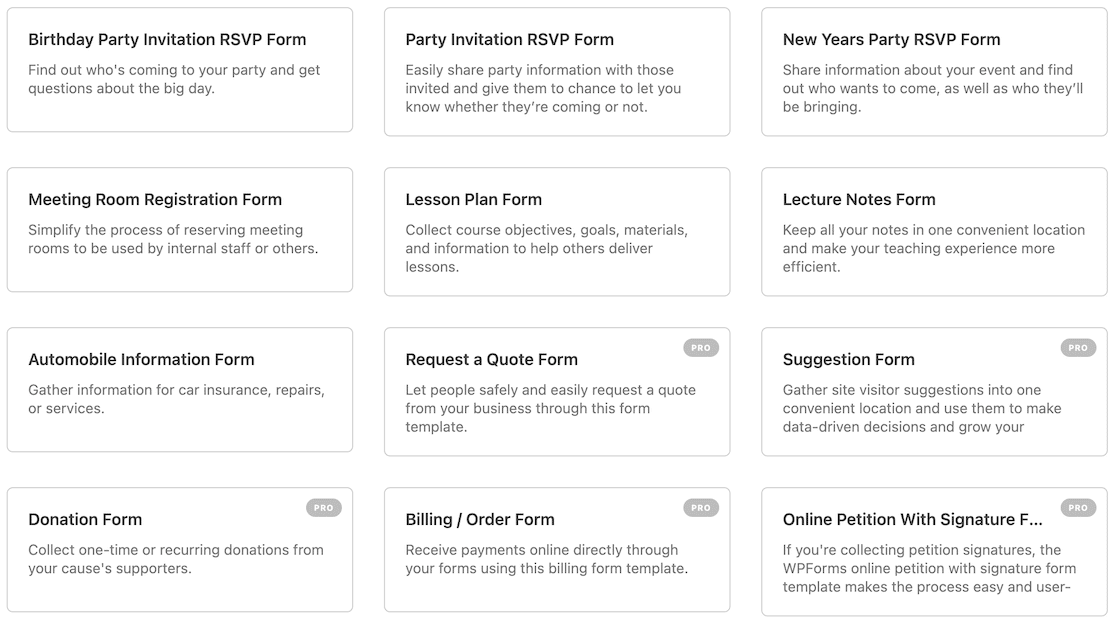 WPForms Lite users can also access 25+ form templates entirely for free.
With so many form templates at your disposal, you can get started even faster and publish forms with minimal changes. But that doesn't mean you can't customize these templates.
You're entirely free to customize any template as heavily as you need. Even if you want to build your form from scratch, WPforms makes it effortless with its full-screen, distraction-free form builder with no load screens between main settings.
Form Style Customization
Gravity Forms lets you customize the styles of different form elements. The styling options are accessible from the Gravity Forms block in the Gutenberg WordPress editor.
Using these options, you can customize the style of your fields, labels, descriptions, and buttons without any CSS. However, we were disappointed to see that you can't edit styles for sublabels, error messages, or change button border and size. So that's a limitation you have to live with.

Fluent Forms offers much more flexible styling options. It lets you customize almost every element of your form, including fields, labels, submit buttons, and even the container. We think Fluent Forms offers very impressive customizability in its form styles.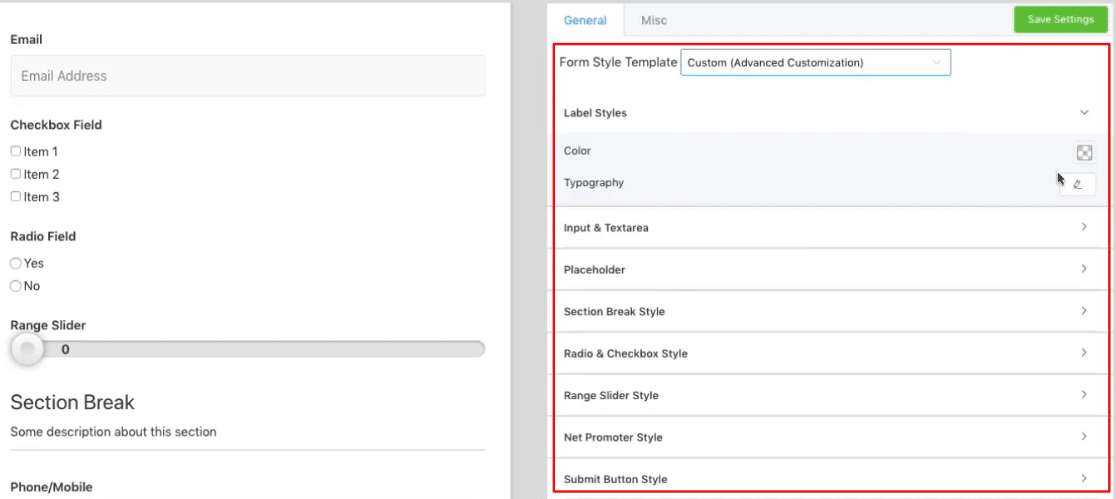 WPForms uses a similar interface for form styles as Gravity Forms because all the styling options are accessible from the WordPress block editor. However, WPForms gives you greater flexibility because it enables you to customize your sublabels, error messages and asterisks, submit buttons, multiple choice, NPS rating, progress bar colors, and more.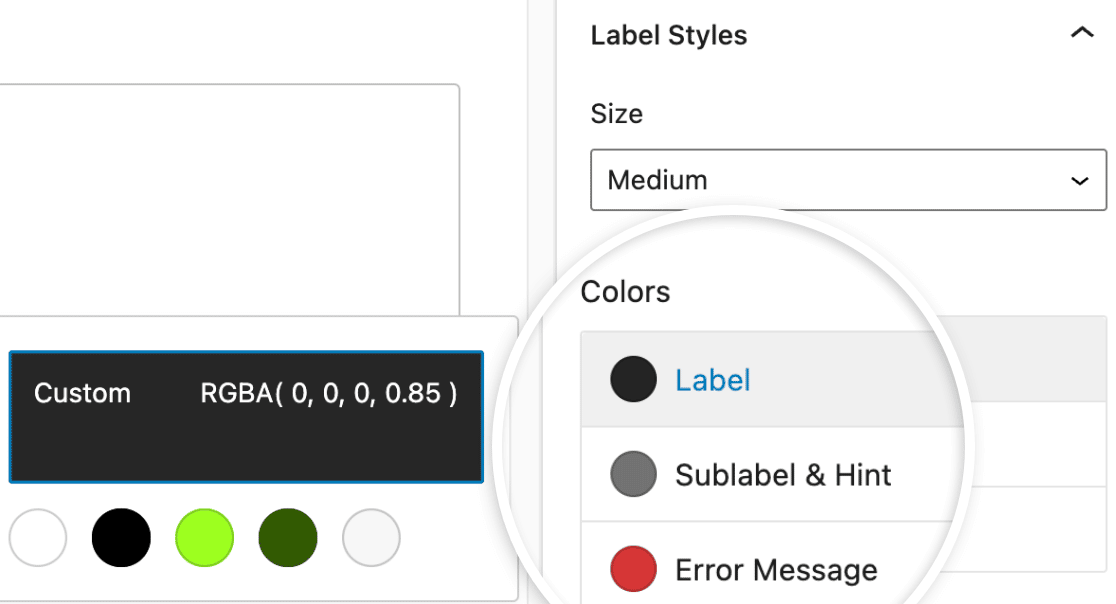 While you can't change the container styles in standard single-part forms, this feature becomes available in the Lead Forms mode when you want visually appealing multi-part forms (we'll get to this later).
WPForms stands out because its no-code form styling tools are available for free. On the other hand, both Gravity Forms and Fluent Forms require paid subscriptions to access their form styling features.
Inserting Text and Media to Form
Customizing the styles of your form is a great way to make your forms more attractive and exciting. But what if you need to add properly formatted content within your form to further engage users with copywriting and images?
In Gravity Forms, you can enter text and images anywhere on your form. This is possible with the HTML field. So this means you'll need to enter content in the HTML format, which can be quite inconvenient.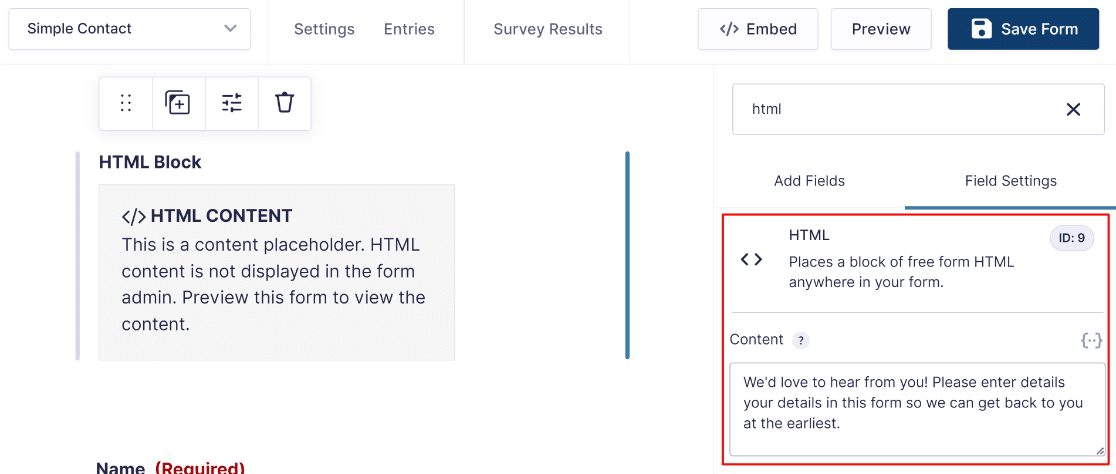 Fluent Forms also gives you an HTML field that you can use to add additional content. The Custom HTML field in Fluent is an improvement over Gravity Forms' because it gives you a rich text editor to format your text without code. However, there's still no way to directly upload and insert images into your form in Fluent Forms.
WPForms is one of the only form plugins that gives you a code-free way to insert text and media anywhere on your form. This is possible with the Content field available in WPForms Pro.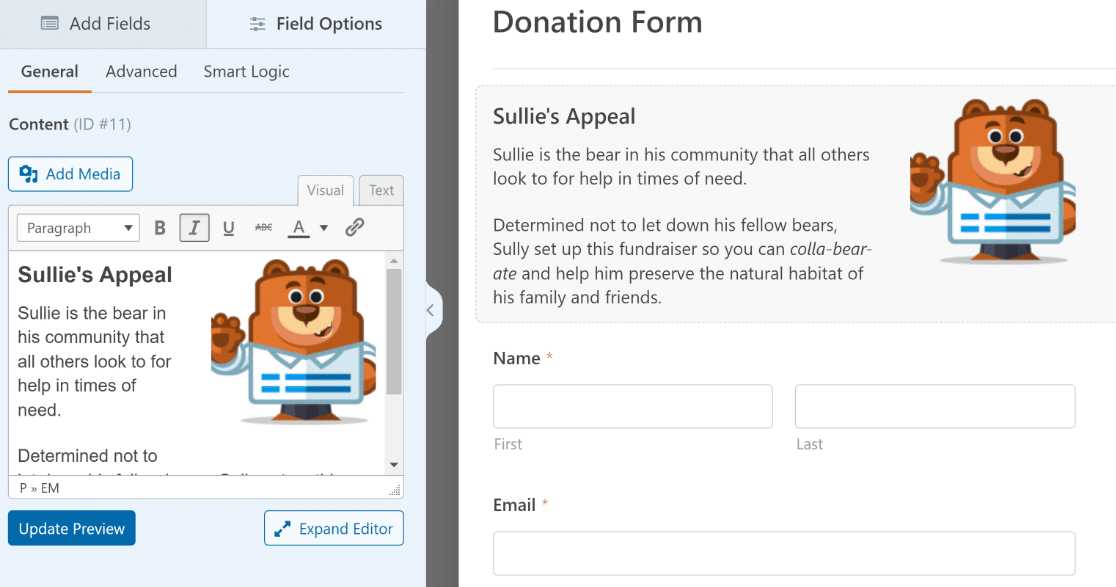 With the Content field, you can add any custom text or insert images using the rich text editor. You're free to format your text as headings, paragraphs, bullet lists, and hyperlink text using the same easy formatting options available in your WordPress editor. Plus, you can directly insert images just as easily as you add images to a blog post.
Use the Content field to add instructional text, provide background and context on the purpose of your form, or simply add graphics to make it more appealing.
Multi-Step Forms
Splitting form into multiple pages effectively reduces form fatigue and encourages more respondents to complete a form submission.
Gravity Forms allows you to freely add page breaks to any part of your form to create a multi-step form. You can do this by using the Page field, which also automatically adds a progress bar at the top of your form. It's a simple but effective functionality in Gravity Forms.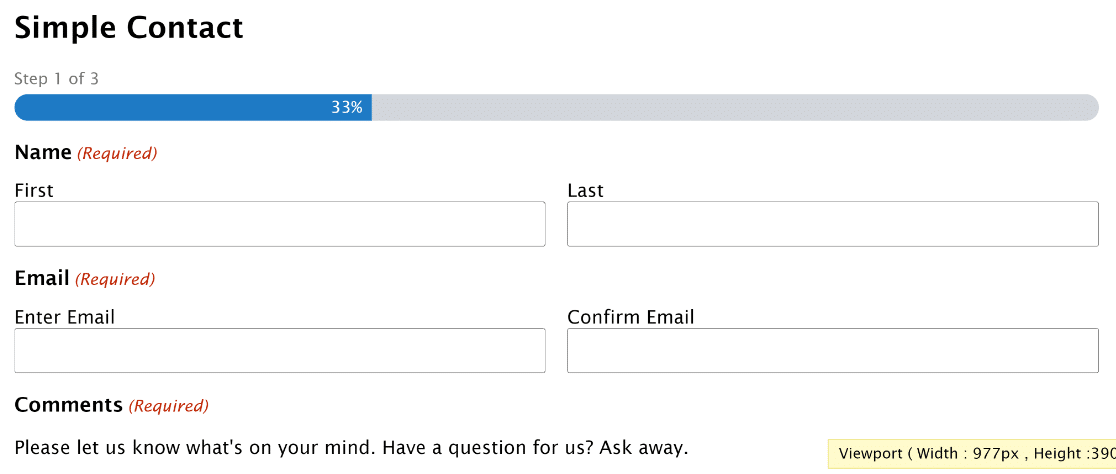 Fluent Forms also supports multi-step forms. The Form Step field serves the purpose of adding page breaks, much in the same way as the Page field in Gravity Forms. However, you've got much better customization options, as you can edit container styles, background colors, and more.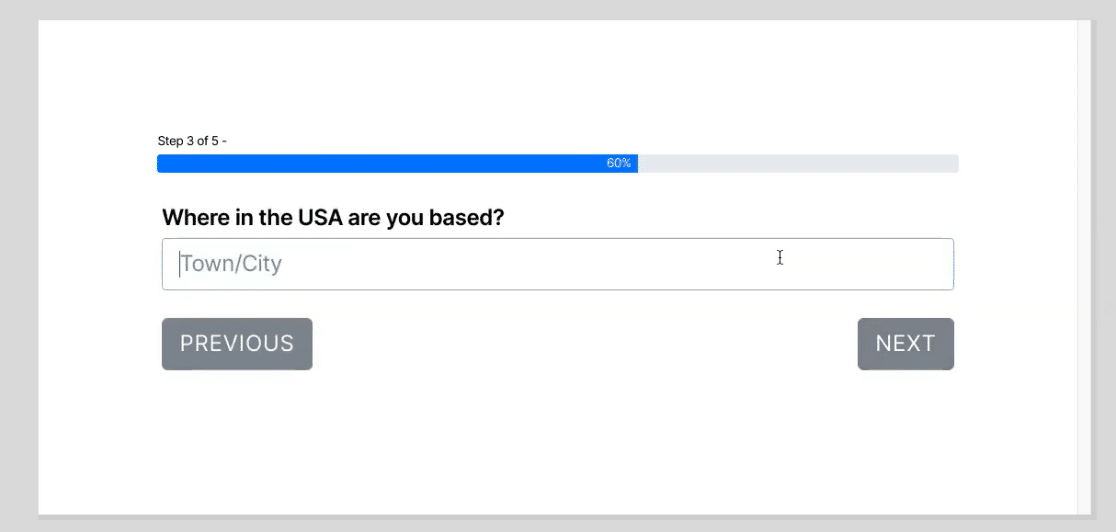 In WPForms, you get the Page Break field for splitting any form into multiple steps. You can customize the appearance of these forms using form styles options in the block editor, like with any standard WPForms form.
But WPForms also gives you more advanced multi-page forms with extra styling options. For this, you need to activate the Lead Forms addon.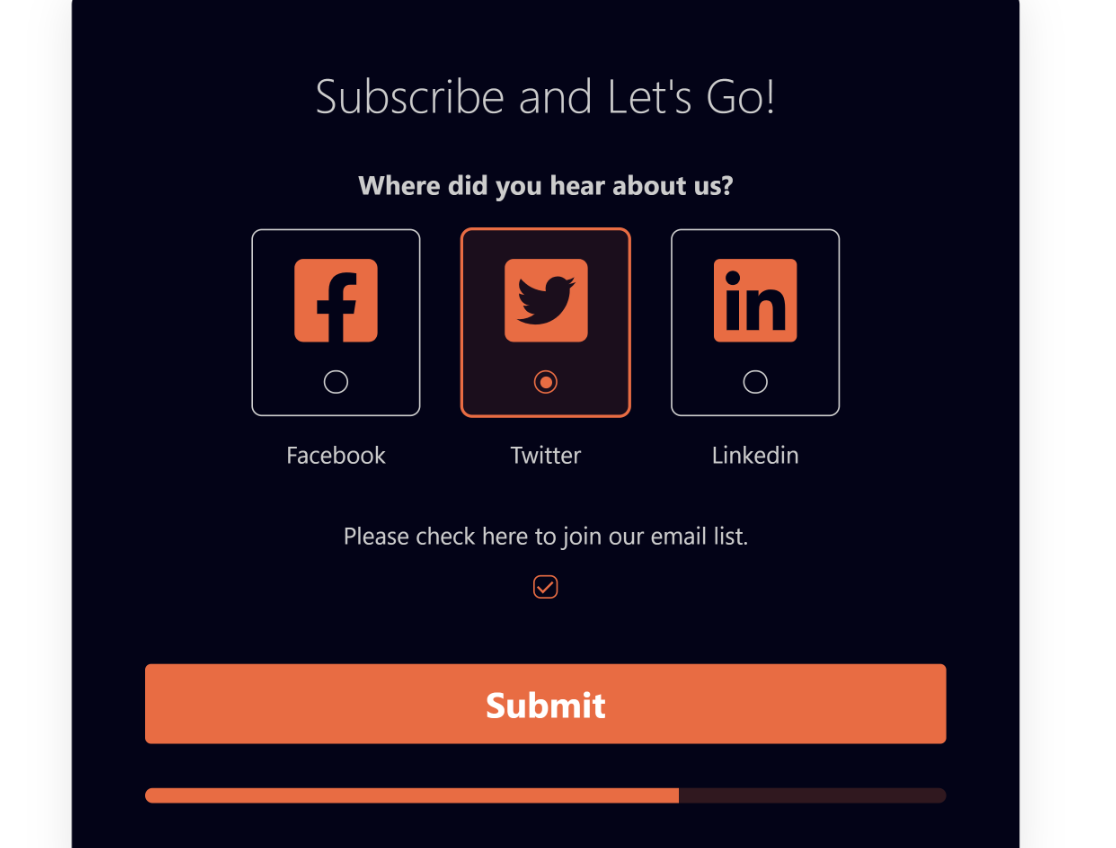 When in the Lead Forms mode, WPForms will automatically insert page breaks after every field included in your form. On top of that, you can also add a container to your form and freely style the container background color or add border effects.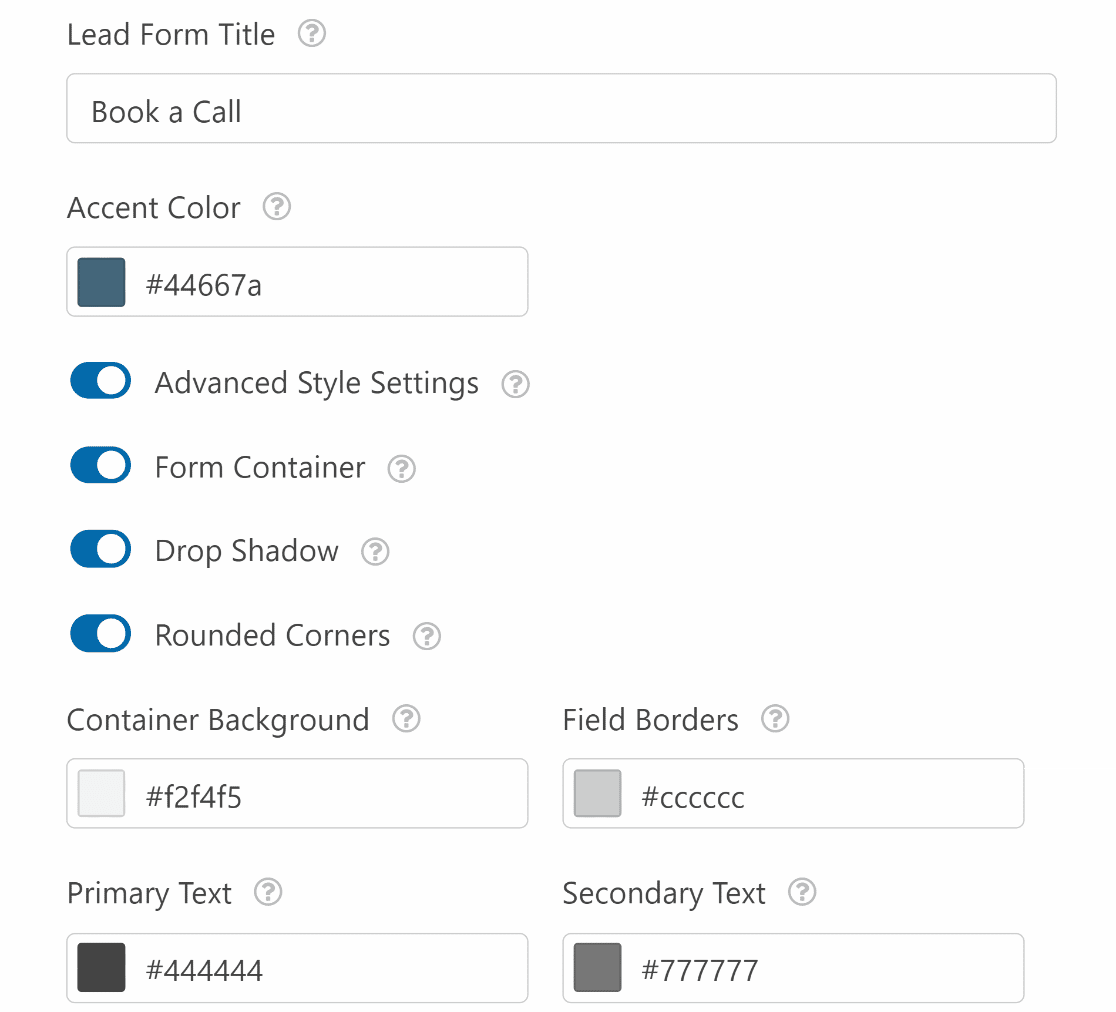 The styling options for Lead Forms are accessible right from the form builder settings, and you can preview your changes immediately by pressing the Preview button.
The Lead Forms addon is perfect if you want to take your multi-step forms to the next level and make them more fun and interactive.
Anit-Spam Options
It's crucial to protect your forms from spam. Contact forms are among the top favorite targets for spambots because many websites neglect the use of proper spam filters.
Gravity Forms has decent anti-spam options. It supports Google reCAPTCHA, Akismet, honeypot field, and custom captcha questions.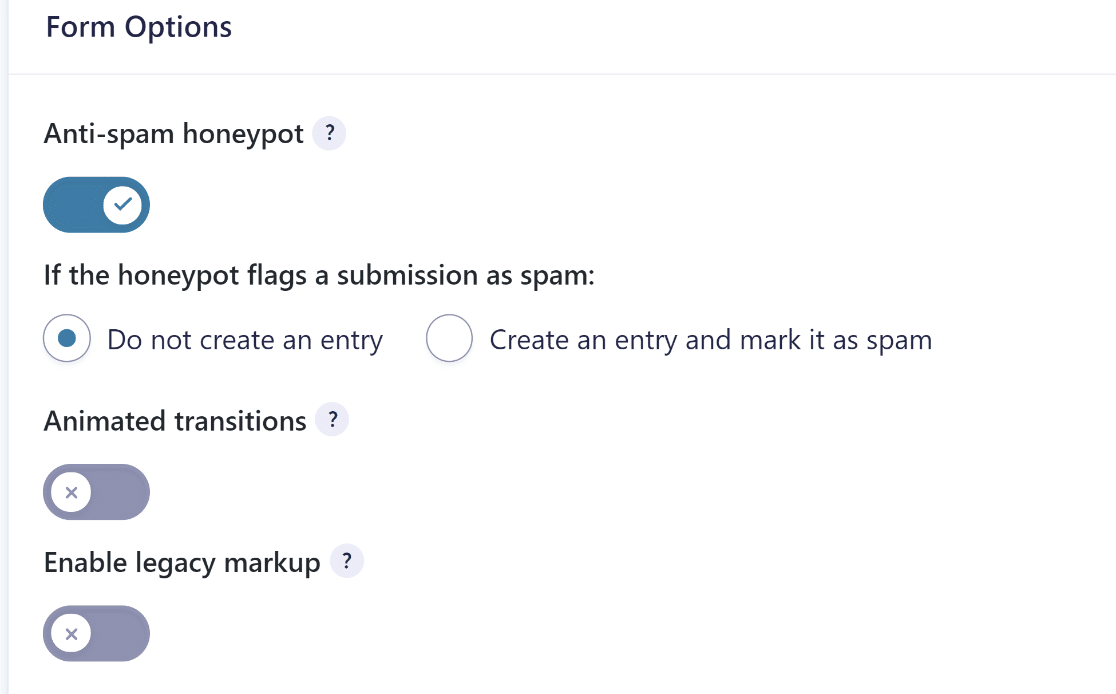 Fluent Forms offers even more spam filtering tools. Along with reCAPTCHA, Akismet, and honeypot field, you can also use hCaptcha and Cloudfare Tunrstile to keep the spam away.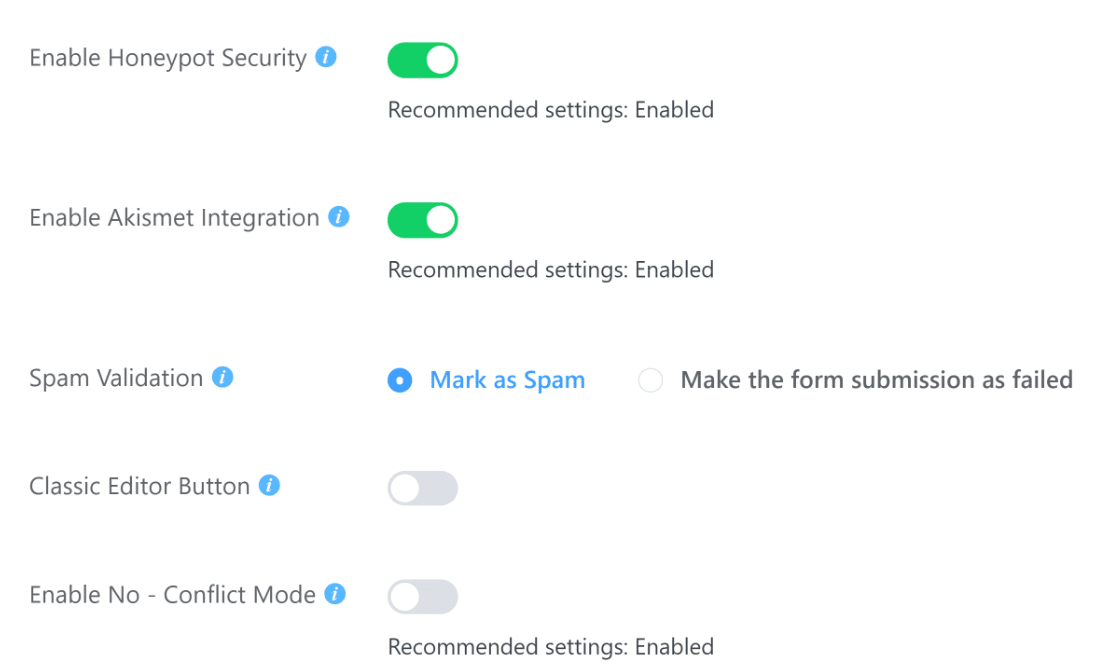 WPForms has the most comprehensive suite of anti-spam tools. Like its competitors, it also offers Akismet, reCAPTCHA, Turnstile, and hCaptcha. But it replaces the honeypot field with the anti-spam form tokens because the honeypot method is not always effective against advanced spambots.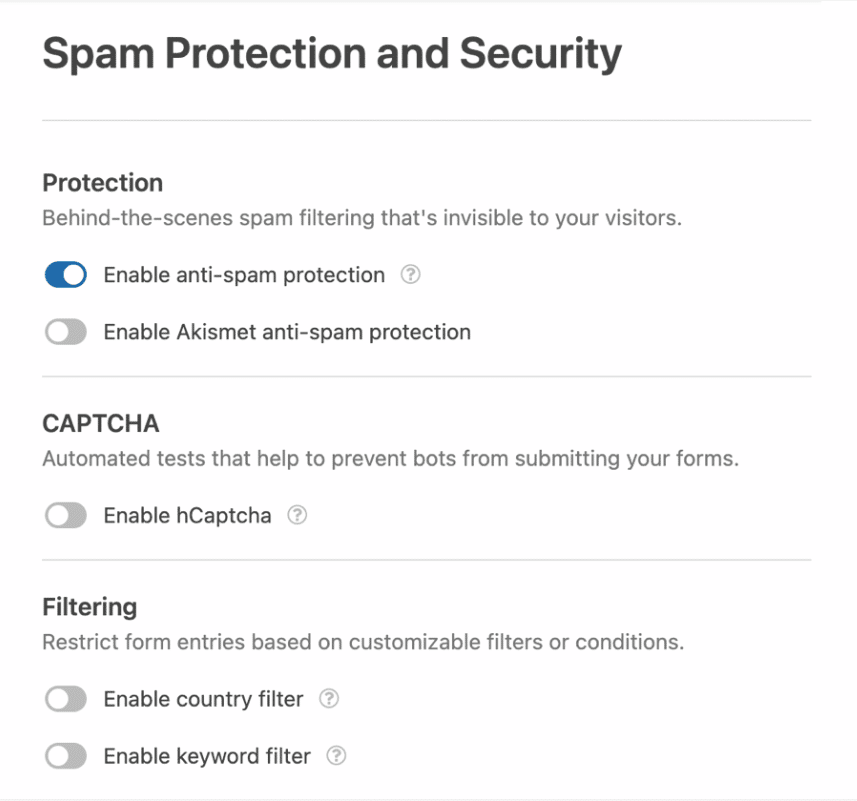 On top of that, WPForms has a keyword and country filter. Using these filters, you can block submissions originating from specific countries or containing specific keywords. These add an extra layer of protection to your forms.
Other Addons and Extra Features
All of these plugins also have a wide range of other features.
Gravity Forms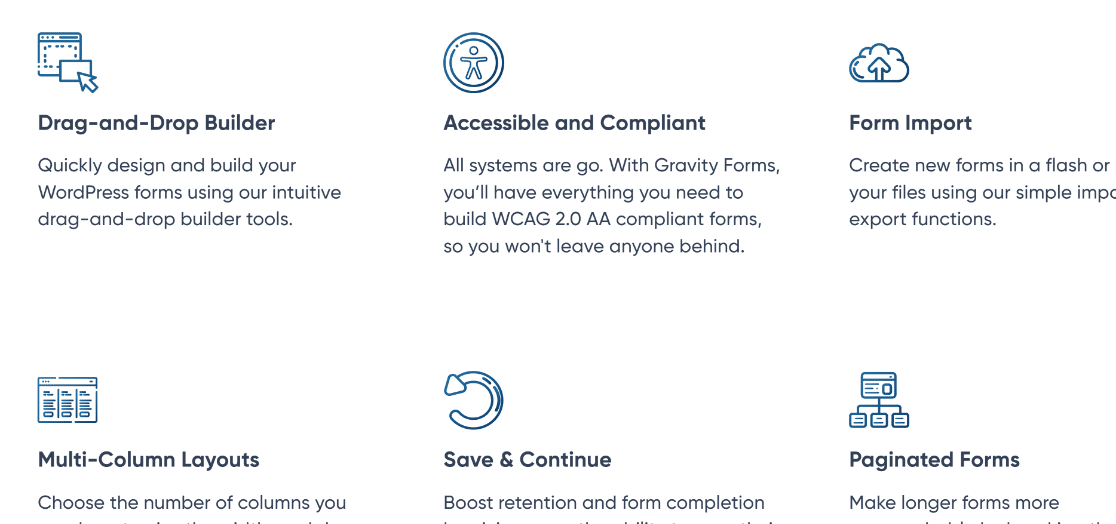 Some other notable features of Gravity Forms are:
Conversational forms
Survey fields
Multi-column layouts
Partial entries
Calculator fields
Payment forms
… and more
Most extra features in Gravity Forms are only unlocked after installing appropraite addons.
Fluent Forms

Fluent Forms is known for its versatile features including:
Conversational forms
Surveys and Polls
Multi-column layouts
Payment forms
Calculated fields
… and more
You'll need to install addons to access most of Fluent Form's extra features.
WPForms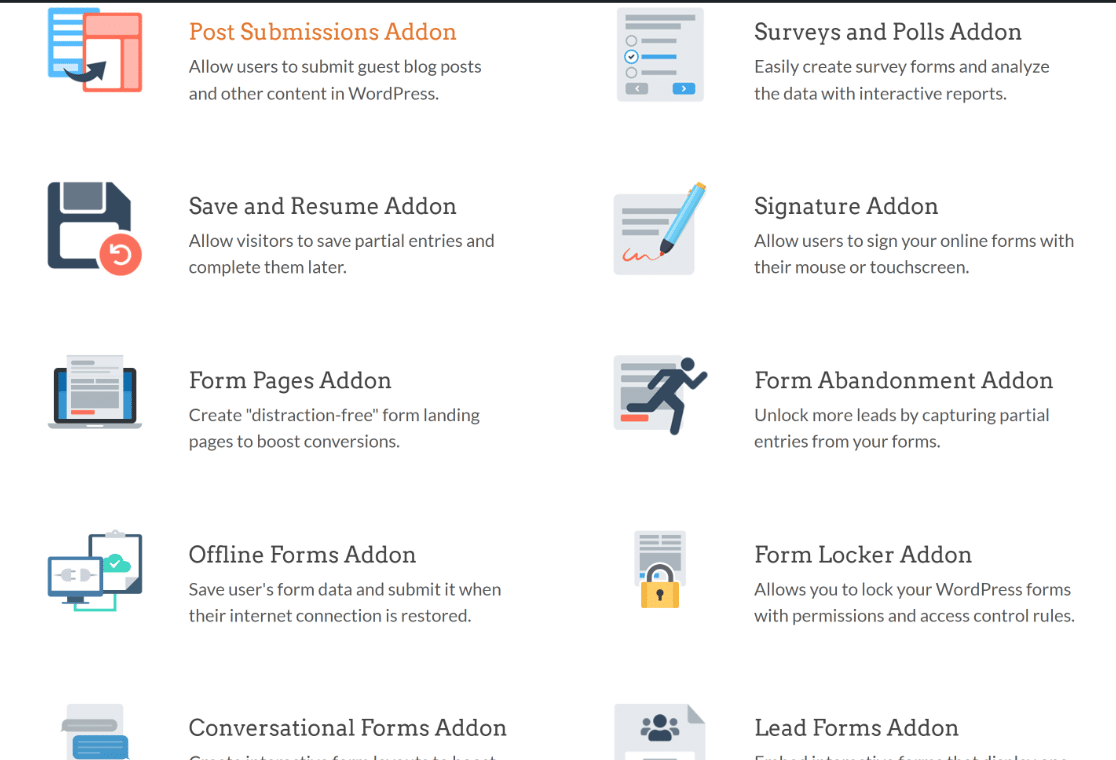 WPForms is one of the most feature-rich contact form plugins that includes:
Conversational forms
Surveys and polls
Multi-column layouts with 8 presets
User journey tracking
Form abandonment
Icon library for radio field
Payment forms (PayPal Commerce, Stripe, Square, Authorize.net)
… and more
WPForms has many features built-in but requires addons to unlock extras.
Our Experience With Support
Gravity Forms offers support through documentation guides, FAQs, video tutorials, a blog section, and support tickets. We enjoyed reading their guides and tutorials as they had clear instructions with images. The support resources are fairly easy for everyone to understand, regardless of their expertise level.

Fluent Forms also has a dedicated support documentation section that includes clear instructions on how different aspects of the plugin work. However, the main doc section is quite cluttered, with a long list of all articles clumped together under each category. This made it a bit cumbersome for us to explore different guides in the doc section.
Besides that, Fluent Forms has an efficient support team that you can reach via support tickets.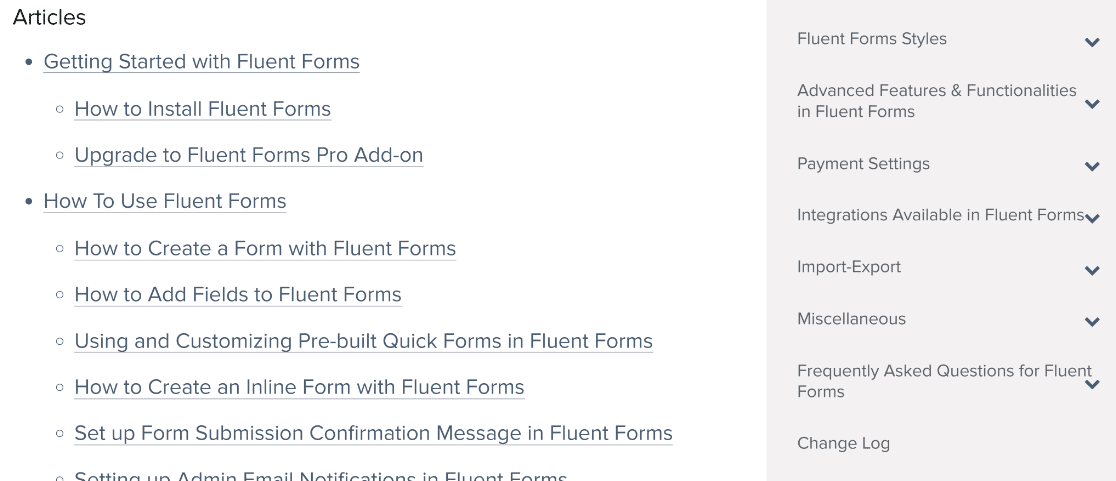 WPForms has an extensive library of documentation guides which is neatly organized into various categories for easy searching.
That's not all. WPForms is also known for its responsive support team that strives to get back to users within 24 hours of the query.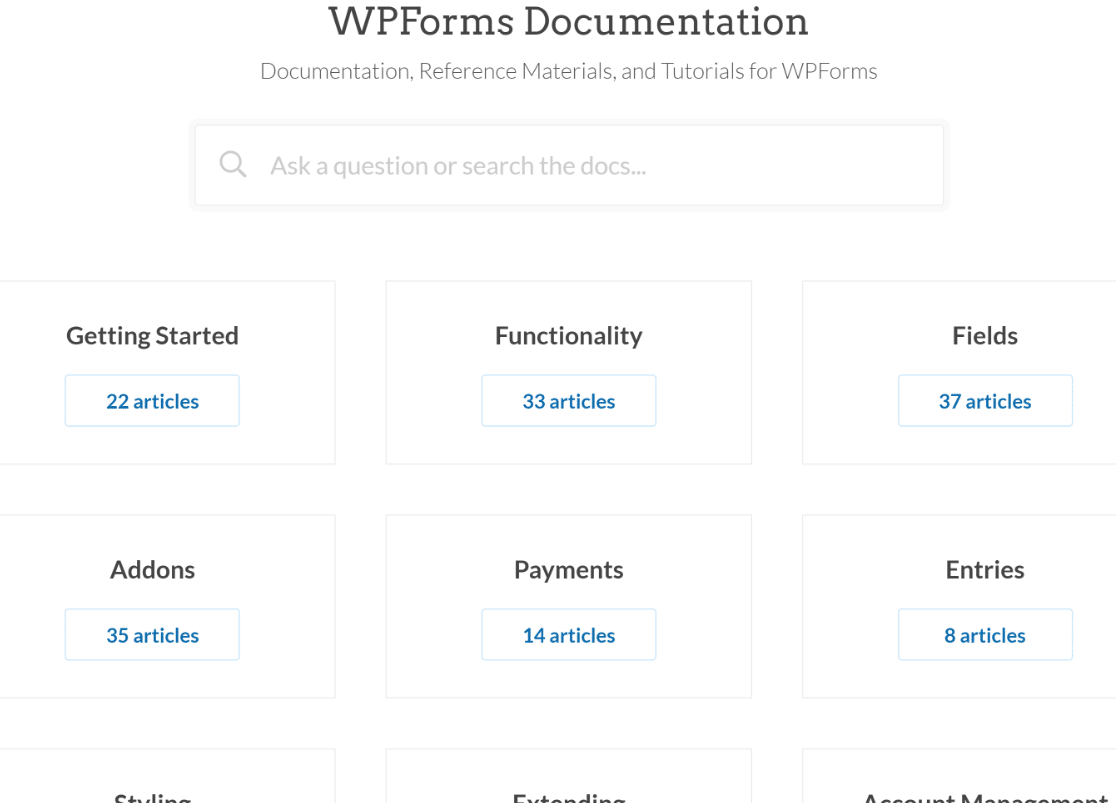 Additionally, WPForms has a very active Facebook group with over 21k members. It's free to join and is frequented by community members as well as the technical team to discuss problems and solutions.
WPForms also has a YouTube channel and a regularly updated blog section covering tutorials for its popular as well as lesser-known features.
Pricing Plans
All of the plugins compared here follow a similar and competitive pricing model.
Gravity Forms
Gravity Forms offers 3 pricing plans: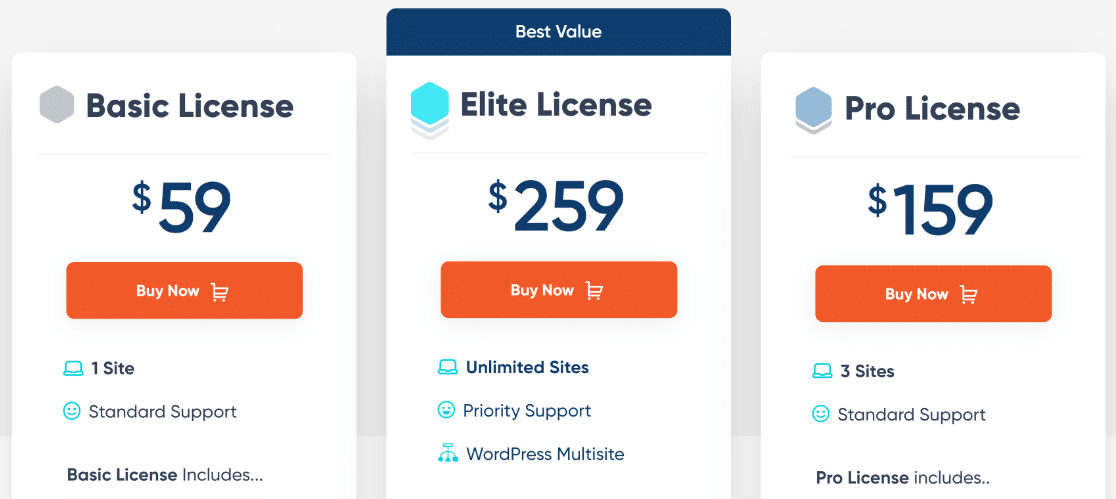 Basic ($59): Includes 1 website license, conditional logic, multi-step forms, and a few basic addons.
Pro ($159): Supports 3 websites and includes payment and CRM addons like Stripe, PayPal, Trello, and Zapier.
Elite ($259): Supports unlimited websites and includes addons like user registration, surveys, partial entries, and more.
Fluent Forms
Fluent Forms also includes 3 pricing plans: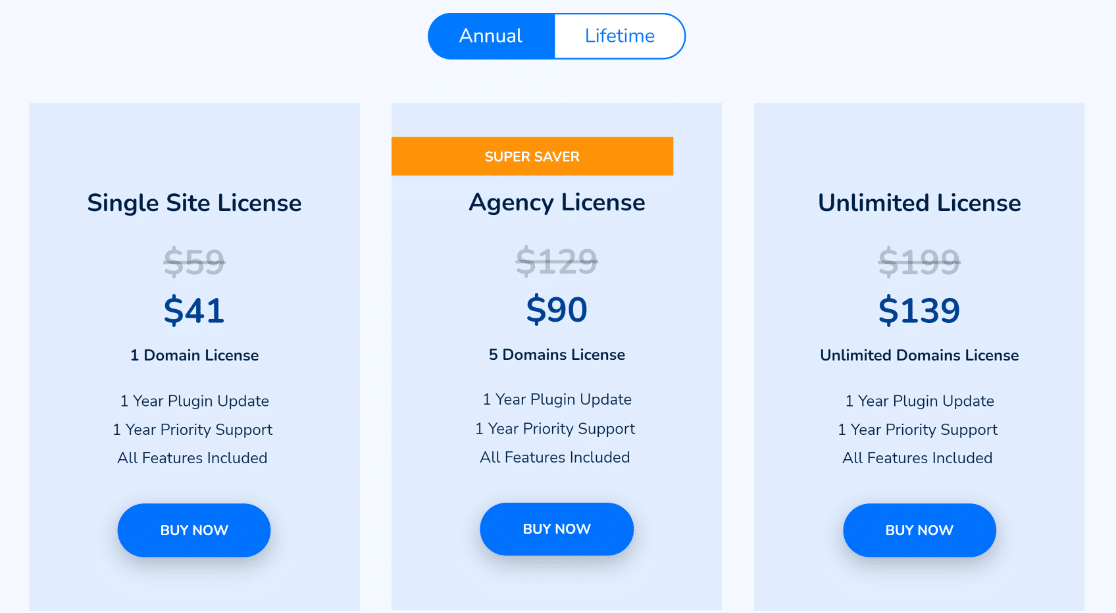 Single Site ($41): Supports 1 site.
Agency ($90): Supports 5 sites.
Unlimited ($139): Supports unlimited sites.
Fluent Forms also offers lifetime licenses and a limited but impressive free version as well.
WPForms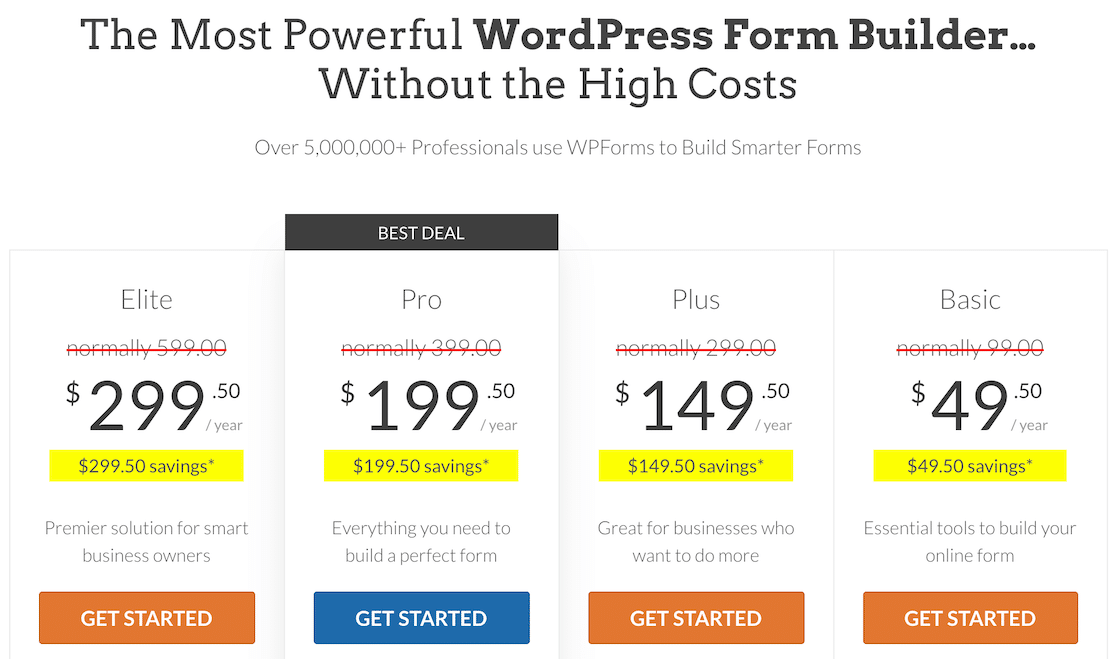 WPForms has 4 pricing plans:
Basic ($49.50/yr): Supports 1 site and includes hundreds of premium form templates, conditional logic, form layouts, and more.
Plus ($99.50/yr): Supports 3 sites and adds marketing integrations
Pro ($199.50/yr): Supports 5 sites and unlocks bonus templates, payment integrations, surveys & polls, lead forms, conversational forms, form abandonment, and more.
Elite ($299.50/yr): Supports unlimited sites and gives to premium CRM and marketing integrations like HubSpot and Salesforce.
WPForms Lite is a free version that offers several valuable features without any cost. For instance, you can access codeless form styling features, form revisions, dozens of free templates, and more.
Gravity Forms vs Fluent Forms vs WPForms: Which Plugin Do We Recommend?
After comparing the top features of each plugin head-to-head, we can safely recommend WPForms as the most powerful form plugin for small businesses.
While there's no denying that Gravity Forms and Fluent Forms are great form plugins, WPForms has an edge in many areas.
To summarize, WPForms gives you:
Hundreds of more form templates
Easy form styling options for free
Ability to add formatted content in forms without code
More powerful anti-spam options
High-converting multi-step lead forms with extra styling options
… and more.
For these reasons, WPForms is the top choice for small businesses looking to take their forms to the next level.
Next, Design Your Forms With Style
Designing forms to look visually appealing is easy with the right tools. With WPForms, you can style your contact forms without working with complex CSS codes.
Also, if you're building your email list, see our guide on requiring an email address to download files.
Create Your WordPress Form Now
Ready to build your form? Get started today with the easiest WordPress form builder plugin. WPForms Pro includes lots of free templates and offers a 14-day money-back guarantee.
If this article helped you out, please follow us on Facebook and Twitter for more free WordPress tutorials and guides.