We have a brand new addon to announce this week… and we couldn't be more thrilled.
Introducing… the HubSpot addon for WPForms!
HubSpot is an easy-to-use CRM platform with all the tools and integrations you need for marketing, sales, and customer service.
Many WPForms customers have asked us to provide a seamless connection between WPForms and their HubSpot CRM. So with this addon, we made it easy to get your leads to your CRM without using code or 3rd party integrations.
Let's take a look!
Setting Up the HubSpot Addon
Our #1 goal is to make it easy for you to run your business. When we planned this addon, we wanted to remove the obstacles and make it completely painless.
When you first connect your HubSpot account, you don't need to go searching around for API keys. You can log in to HubSpot right here from our Integrations screen.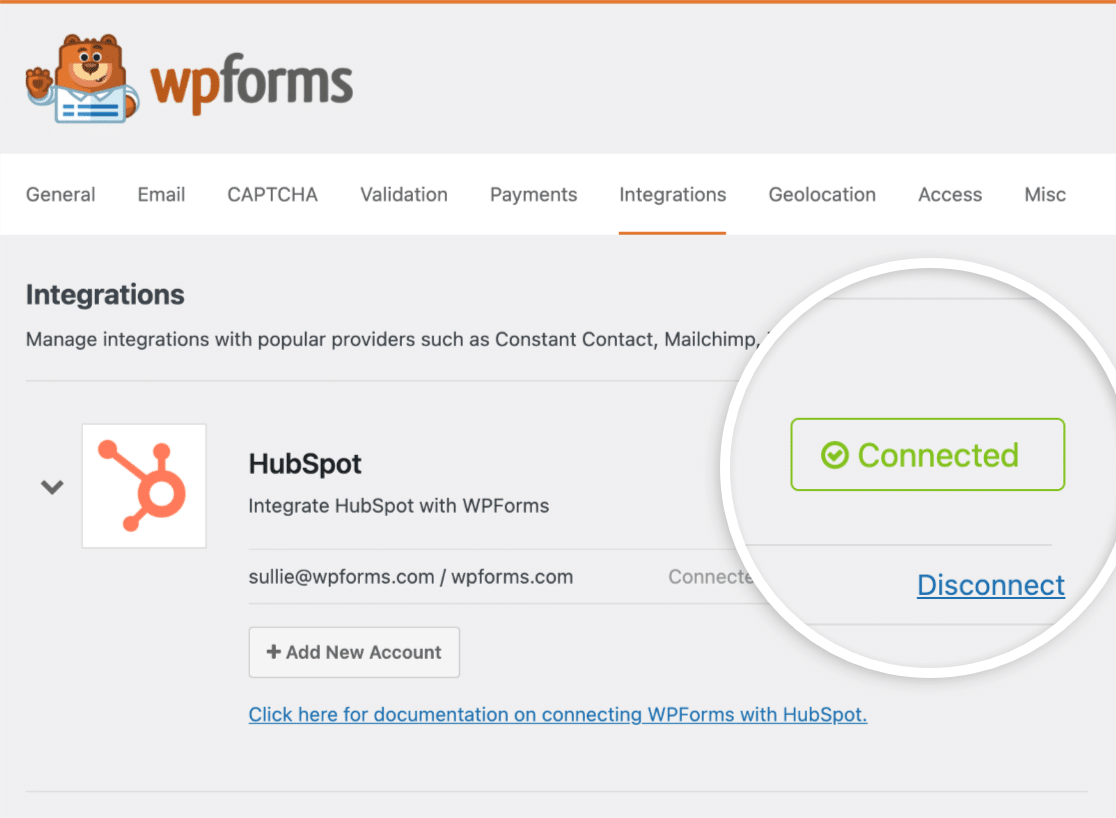 Using more than 1 HubSpot CRM? No problem. You can add as many accounts as you need.
Once you've connected your HubSpot account, you're ready to decide how each form will transfer leads over to HubSpot.
Connecting Your Forms to HubSpot
We wanted to make the connection process as flexible as possible, so we added settings inside the form builder. This lets you create custom rules for each form on your site.
To demonstrate, let's connect a simple lead capture form to HubSpot.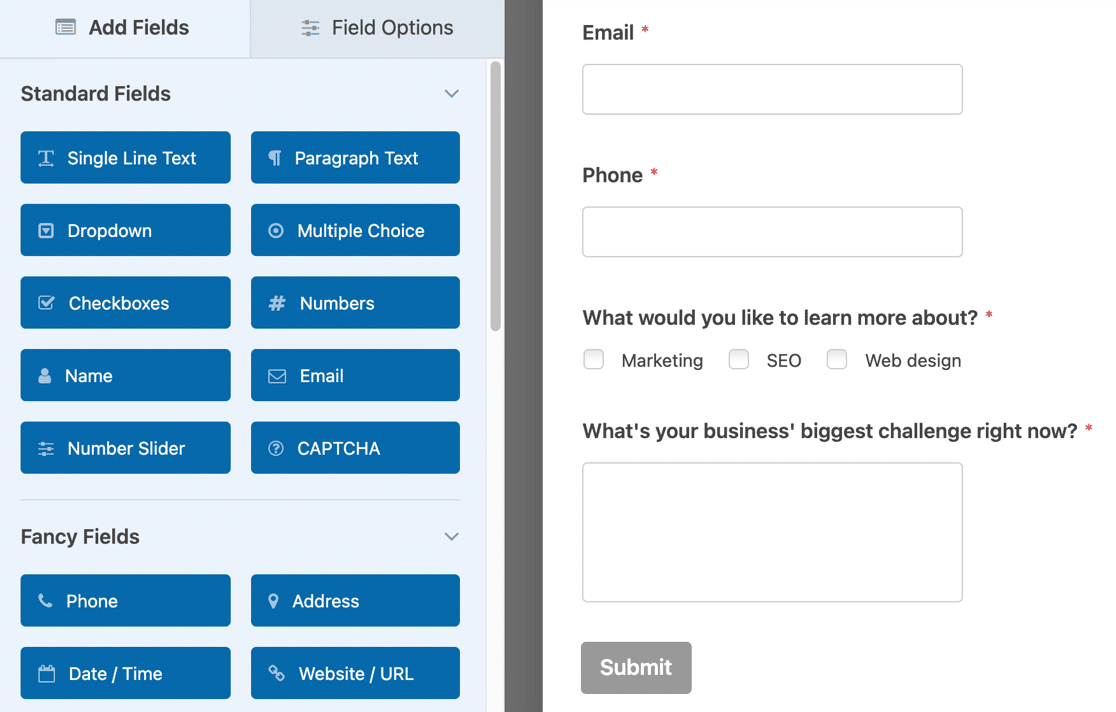 In the Marketing settings for this form, we can quickly add a new connection and set up the field mapping to your CRM.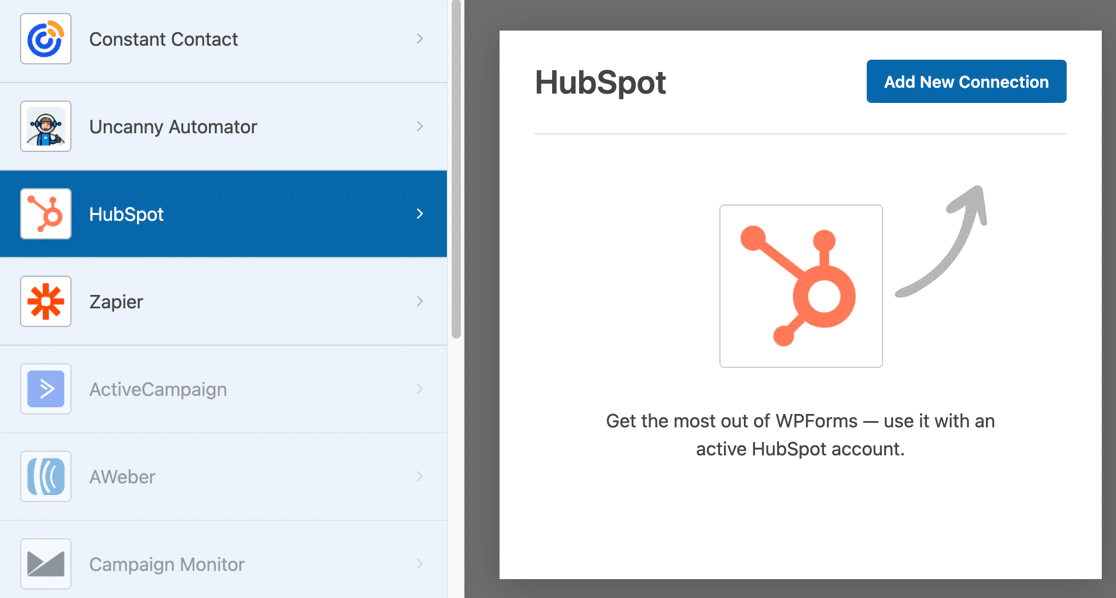 Inside the connection settings, we've made it easy to set up 4 important actions:
Create or update a contact
Delete a contact
Connect a company
Disconnect a company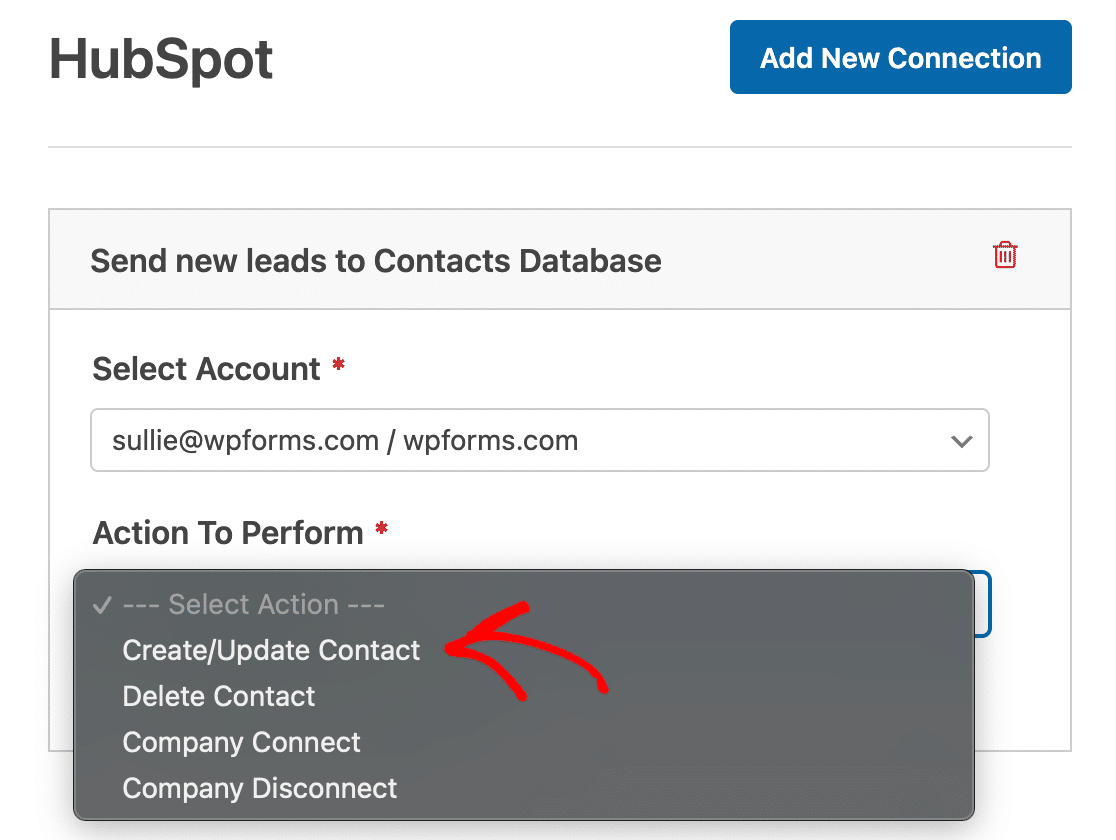 And to make sure every lead gets followed up faster, you can assign the new Contact to a specific person in your team – right from the form builder. When the lead is sent over to HubSpot, it'll alert them via email.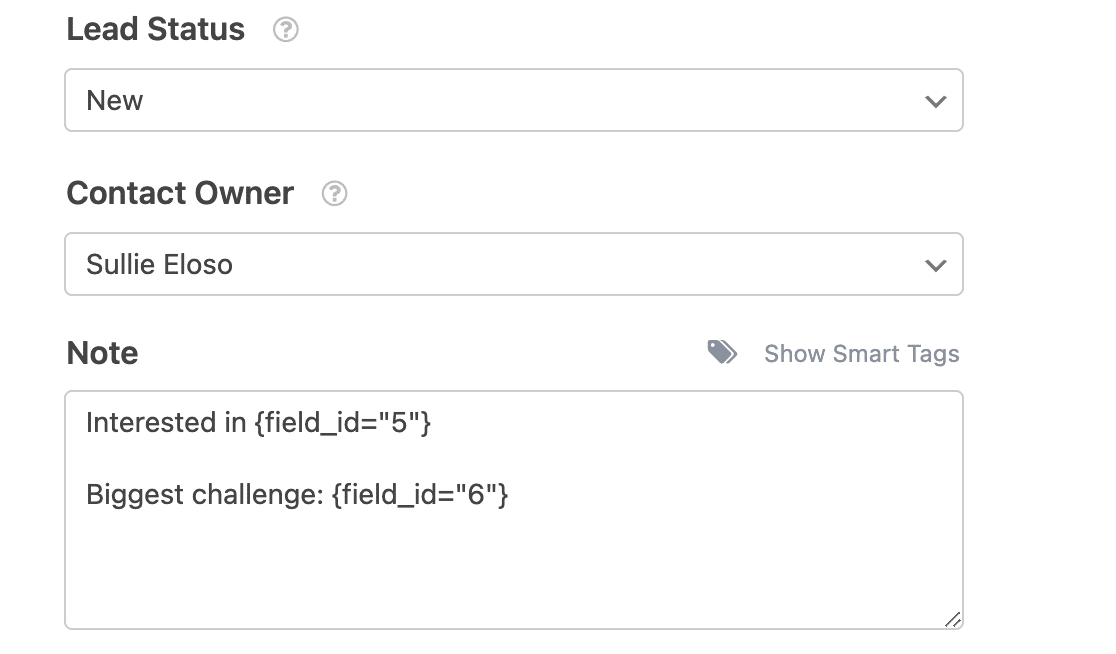 Did you notice the Note field? You can use this field to add a comment to the contact record when it's transferred to HubSpot. We added Smart Tag support to make this feature super flexible.
And that's it! After a lead submits your form, we'll transfer the data to your CRM behind the scenes so that it won't slow down your site.
Mapping Custom Fields to HubSpot Properties
HubSpot Properties are incredibly flexible. They let you save custom information into fields that you create.
And with our HubSpot addon, you can connect any field on your form to a custom property in HubSpot.
First, make sure your property has been created in HubSpot. When you open up the connection settings in WPForms, we automatically retrieve the whole list.
The addon supports all standard properties, plus any extra ones you've created to suit your business.

That's all there is to it! When you submit form, you'll see the contact transferred over to HubSpot with all of the fields perfectly matched.
But that's not the end of the feature list! We wanted to give you complete control, so there's one more setting we want to show you.
Adding Contacts With Conditional Logic
We couldn't launch the new HubSpot addon without adding one of our most powerful features: smart conditional logic!
You may not want every form entry to create a contact. So conditional logic lets you set criteria to control who gets added.
For example, let's say we only want to add a contact record if the lead checks specific checkboxes on the form. We can create that condition easily inside the connection settings.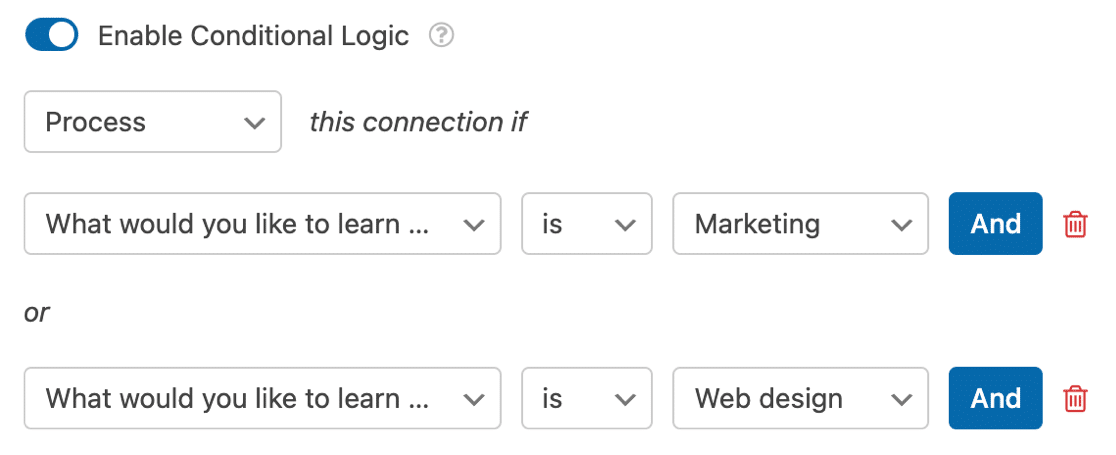 And that's it! Now WPForms will automatically send leads to HubSpot if they match your conditions. If they don't, you'll get the form entry just like you always do, but your CRM won't be filled with unqualified leads.
Now that you've had an overview of the HubSpot addon, we're super excited for you to give it a try. If you encounter any difficulties, our support team is standing by to help!
Looking Ahead
We hope you enjoy our new direct integration with HubSpot! Now you can get your leads to your CRM quickly and grow your business faster. We're looking forward to hearing your feedback about this awesome new addon.
We're already busy working on the next brand new addition to WPForms. If you want to be the first to know what's coming up, go ahead and join the WPForms VIP Circle on Facebook to get the latest updates.
From all of us at WPForms, thank you for your continued support. We hope you enjoy taking the new HubSpot addon for a spin!
– Jared Atchison