Looking for a WP Charitable review to get all the information about this plugin? You're in the right place.
Collecting and managing donations in WordPress can be tricky. Most solutions out there are either too limited or too pricey (or both), with platform fees that bite into your fundraising efforts.
WP Charitable can help you get around these challenges.
We've tested this plugin extensively. And in this WP Charitable review, we'll share our thoughts on it, so you can decide if it's the plugin you need for your nonprofit.
How Does WordPress Allow for Donations?
WordPress allows for donations in a number of ways.
You can use the PayPal donation button, which is a simple but limited solution.
You can set up a nonprofit donation form with a payment gateway integrated into the form.
Finally, you can use a plugin like WP Charitable, which provides the most comprehensive donation management solution for nonprofits.
By the end of this article, you'll have enough information to determine if WP Charitable is the right solution for you.
WP Charitable Review: Is This the Best WordPress NonProfit Plugin?
We've tested WP Charitable, and we'll share our honest verdict on it, covering areas such as features, ease of use, support, and pricing.
Ready? Let's go!
WP Charitable Features
WP Charitable comes packed with a set of useful features to get your fundraisers off the ground quickly. Here are some of the top features that make this possible:
Easy Donation Management
With WP Charitable, it's quite easy to collect and manage your donations from within the WordPress environment.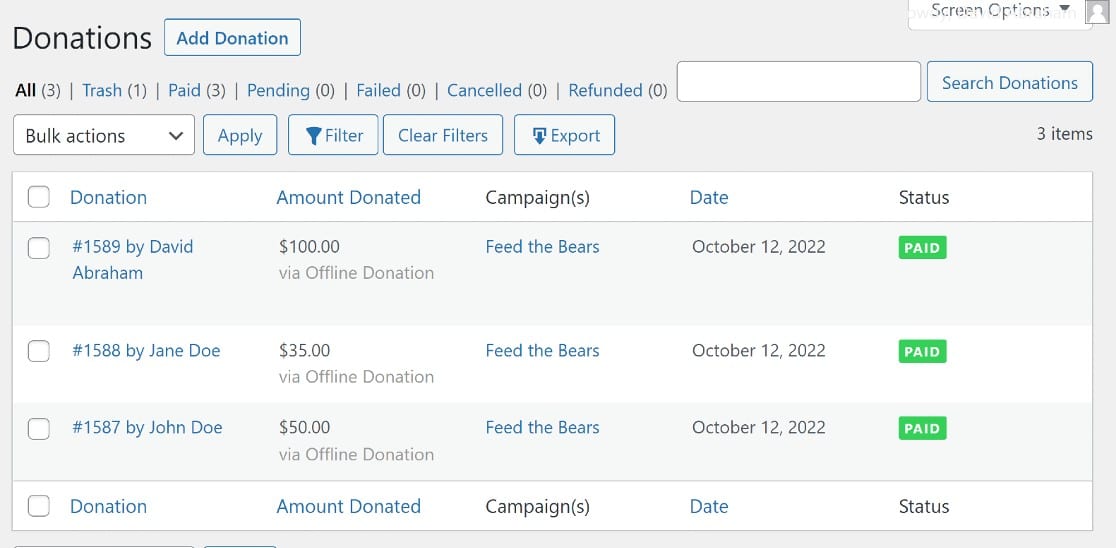 You can accept donations, keep records of donors, and see insightful analyses of your campaigns, all within the WordPress admin area.
You'll even be able to do things like create or edit individual donation records within the dashboard. For example, you can set the Donation Status for an offline donation to Paid when you receive the payment.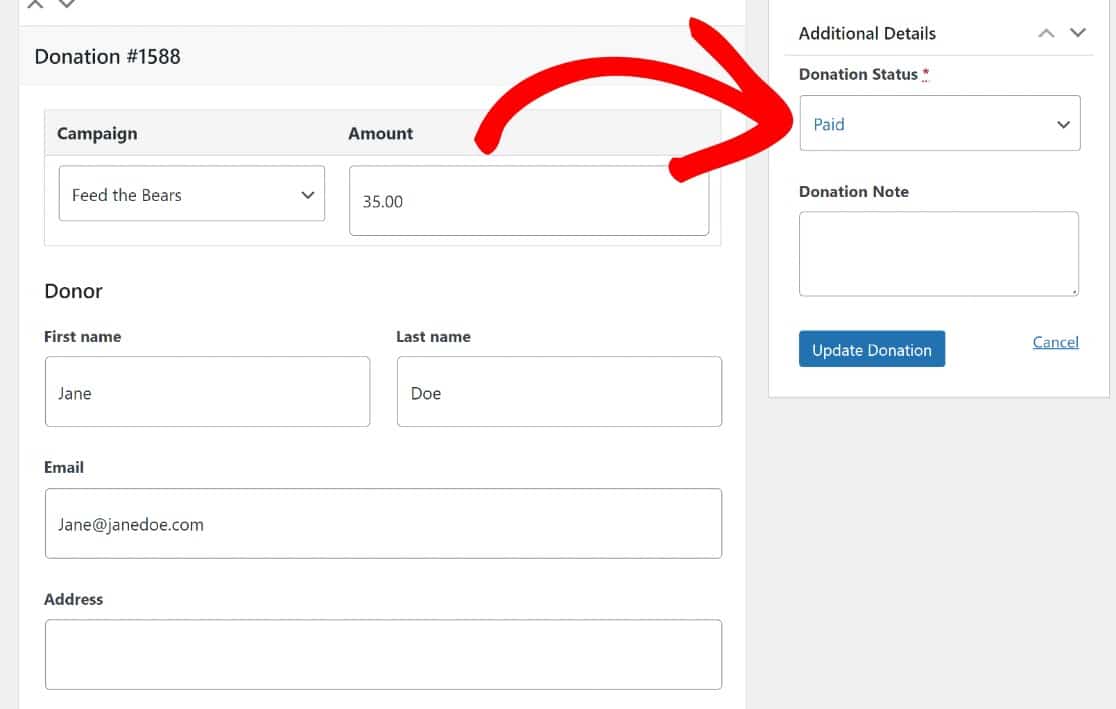 You'll also be delighted to learn that the plugin allows you to create unlimited campaigns.
Payments
By default, you'll be able to accept payments offline or using PayPal. If you'd rather use a different payment gateway, you can add a few more using one of several WP Charitable extensions.
There are 9 different payment gateway extensions available, including popular options like Stripe, Brain Tree, and Authorize.net.
We've found that getting started with a payment gateway integration is really quite straightforward. While the process is slightly different depending on which gateway you choose, each one takes just a few steps.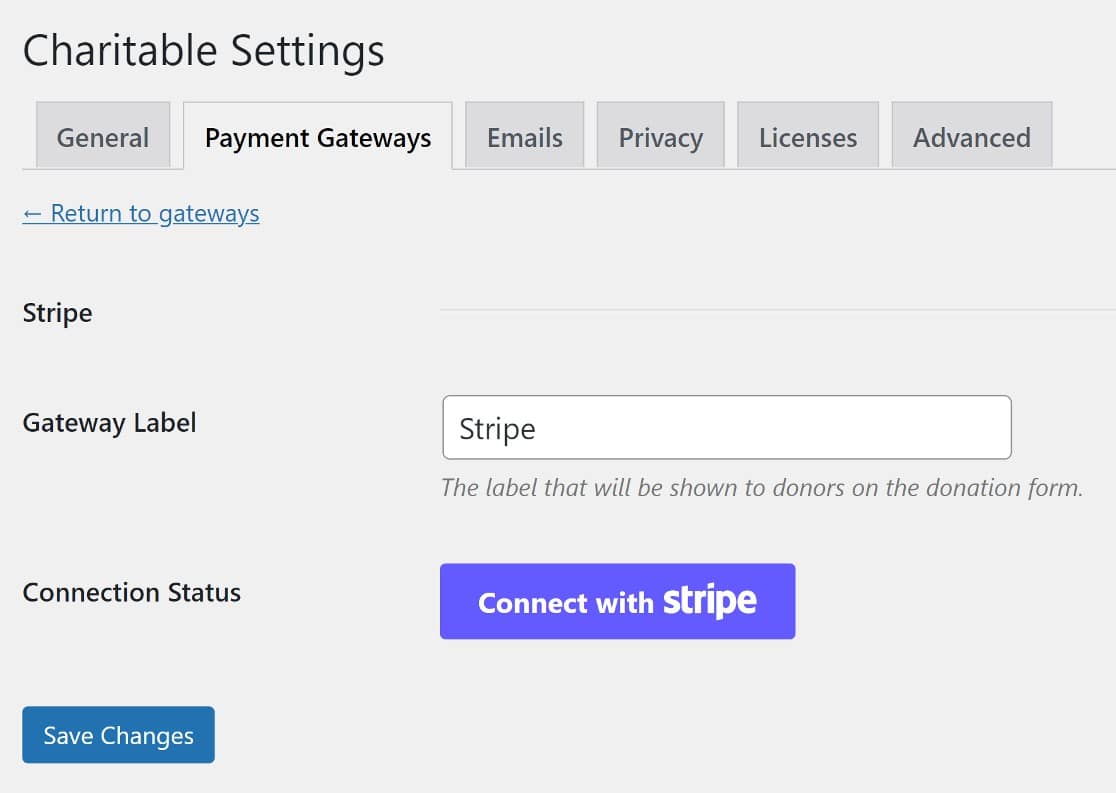 You'll also be delighted to learn that WP Charitable does not collect any extra fees when you process a transaction. And if you want, you can install the Charitable Fee Relief extension that lets donors pay the cost of transaction fees charged by the payment gateway.
This means you get to channel more of the funds you raise to the causes that really matter to you.
Flexible Campaign Structures
WP Charitable allows you to gain the most value from your campaigns by structuring them creatively. Here are some potential ways to do this:
Recurring Donations: Instead of collecting a single one-off donation, you can maximize donor lifetime value by collecting periodic donations using the Charitable Recurring Donations addon.
Peer-to-Peer Fundraising & Crowdfunding: Social proof and word of mouth are powerful tools that can help you spread the word and influence more people to donate to your campaigns. The Charitable Ambassadors addon allows you to utilize the network of your supporters to attract more donors to your cause. You can also let your supporters run fundraisers for their own cause using your platform.
Since no two fundraising campaigns are exactly the same, you'll enjoy having the flexibility that WP Charitable offers.
Email Receipts
When you receive donations, you'll want to have an easy way to acknowledge them and to say thank you to your donors.
With most other plugins, you'll need a third-party email plugin or app to manage this. With WP Charitable, we found that there is a simple inbuilt way to send messages to your donors.
To enable email receipts, simply navigate to the Emails tab in the Charitable dashboard by clicking Charitable » Settings » Emails.

You'll see that there are a few different email settings, which allow you to choose which events you'd like to send emails for.
You might want to enable email notifications for regular donations, for example. Simply click the Enable Email button.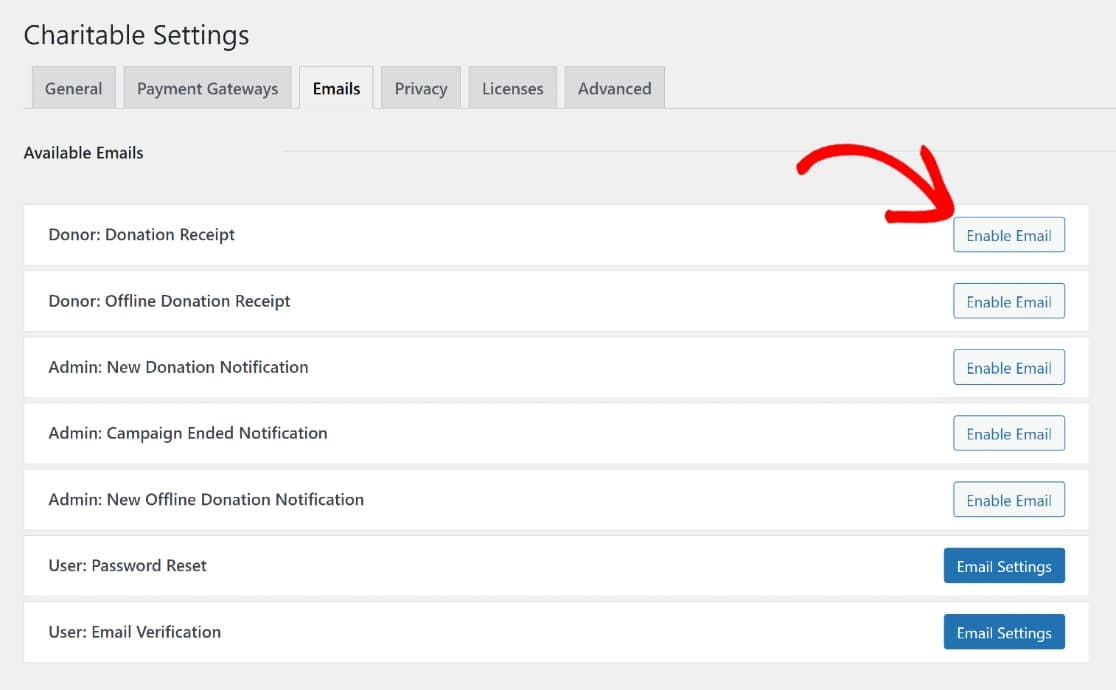 You'll notice an additional button labeled Email Settings. Click on this to customize the email template that will be sent when users make a donation.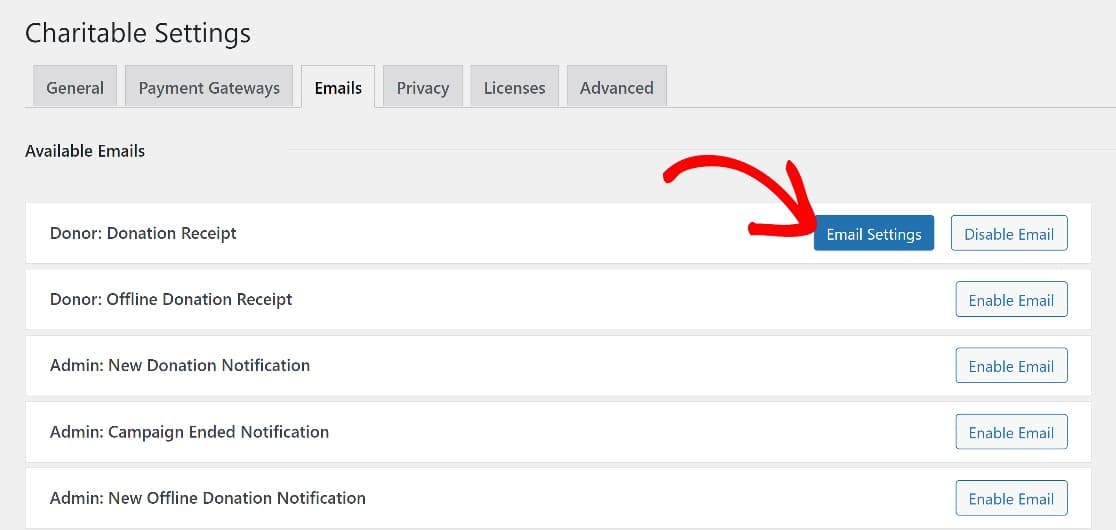 You can now add some text to customize the subject, headline and body of your email. As you'll see, the template editor uses the same layout as the WordPress editor, so you can even add images to your templates if you'd like.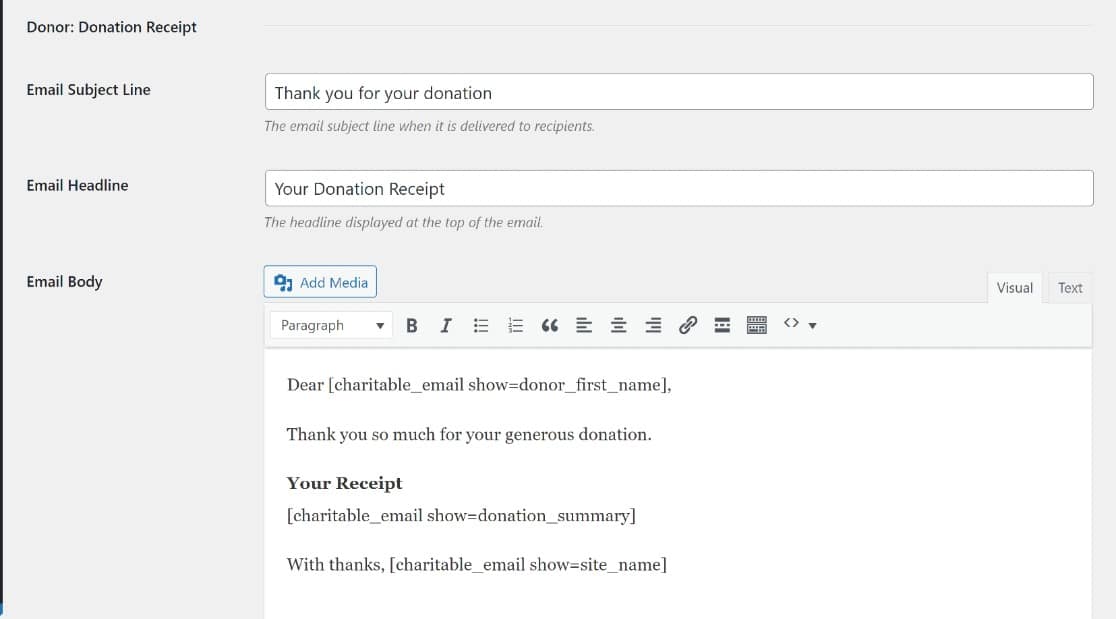 You can further customize the template using shortcodes that pull specific data fields from donor entries.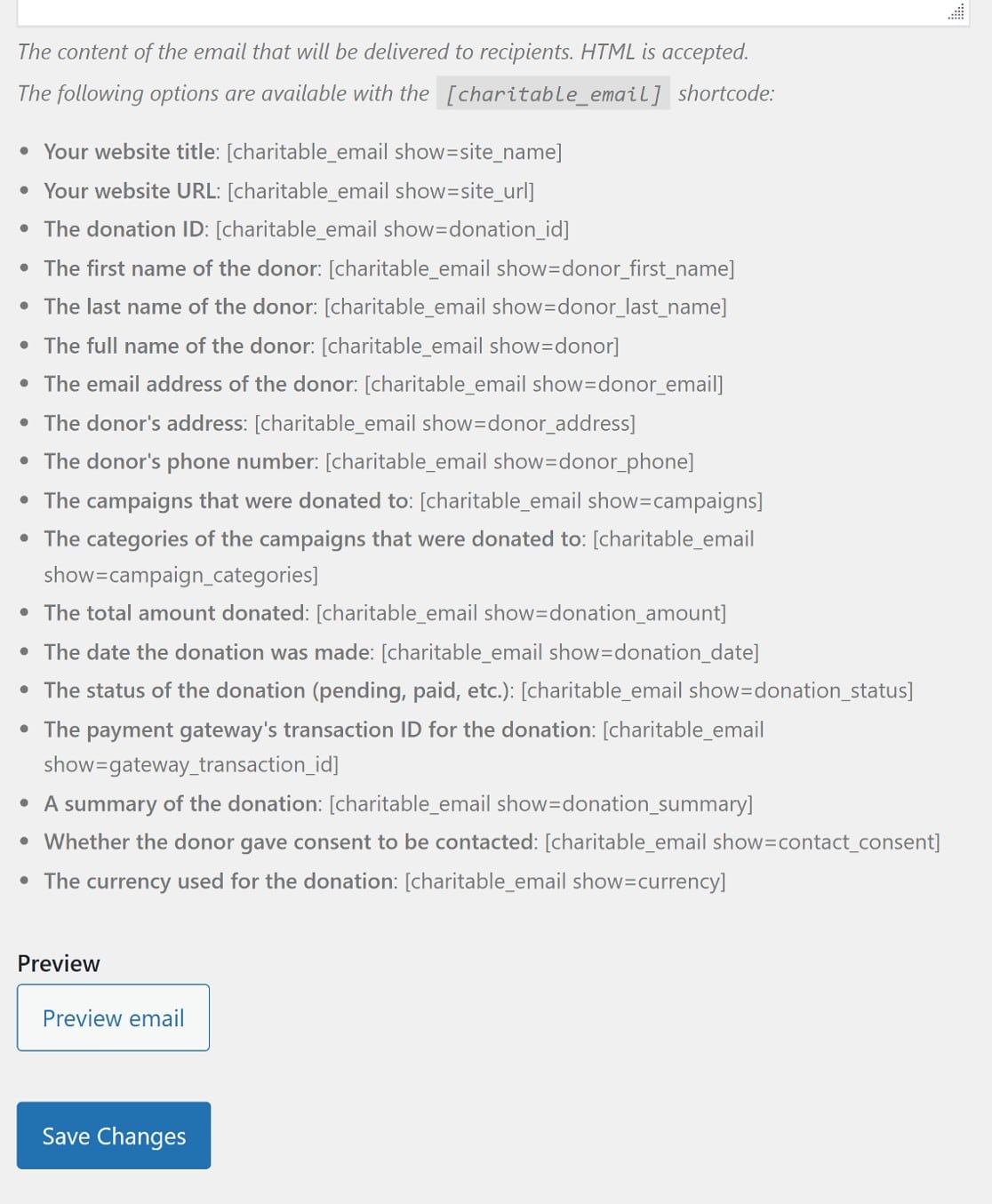 And that would be it! We'd add, though, that you should consider setting your website up with at least one of these top SMTP plugins to ensure your emails get delivered.
GDPR Compliance
For any site that collects user data and donations, GDPR compliance is very important. This is an EU regulation that governs how sites can collect, store and use user data.
We looked into the WP Charitable privacy protection settings, and we found that it's more than suitable for meeting the GDPR requirements.
The plugin allows you to control your privacy settings easily by giving you full control over things like what data you keep and for how long. You can do this from the privacy settings page, which you can find by navigating through Charitable » Privacy.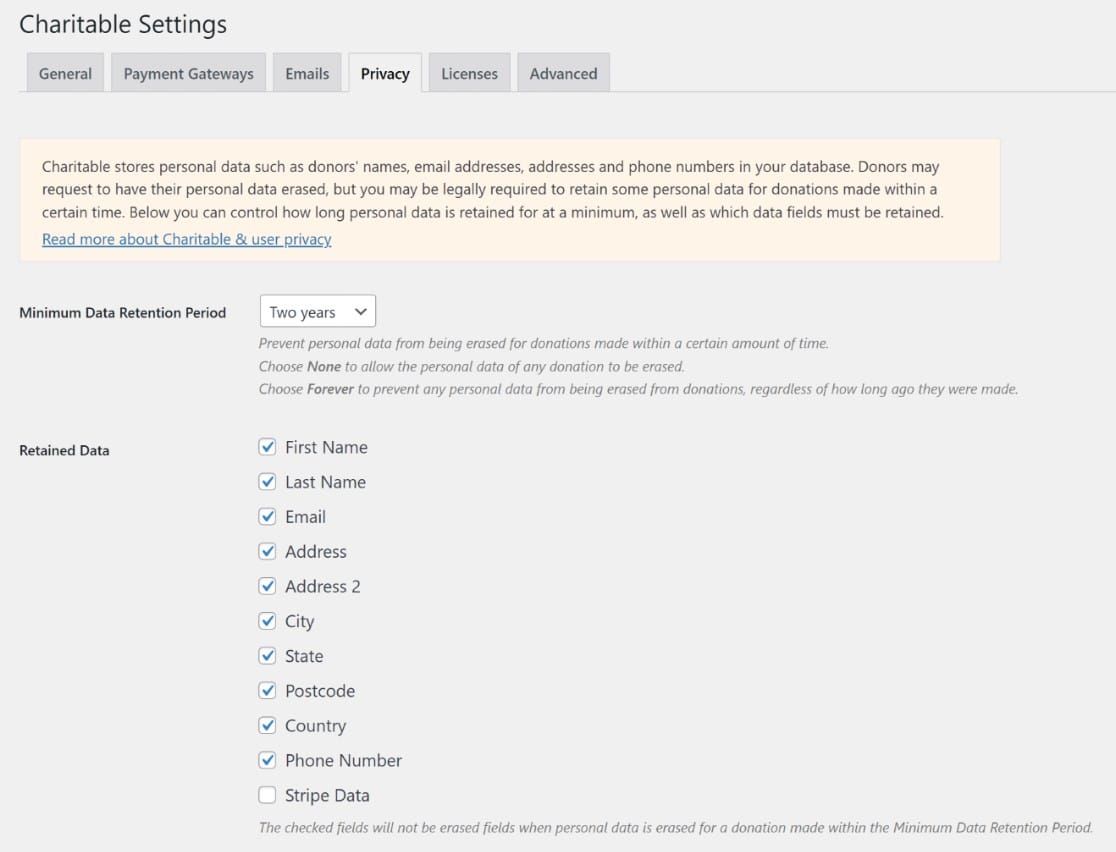 As you'll see, when it comes to privacy regulations, you'll be well covered!
Customization
WP Charitable is simple and works well out of the box. But you can also extend it if you need to, using its extensive code snippets library.
WP Charitable Ease of Use
WP Charitable is exceptionally easy to use. From installation to setting up your first campaign, the process is seamless and takes just a few minutes.
Once you've installed and activated the plugin, you'll want to head into the WP Charitable settings to check that the base configuration is suitable. In most cases, there won't be too much to change here.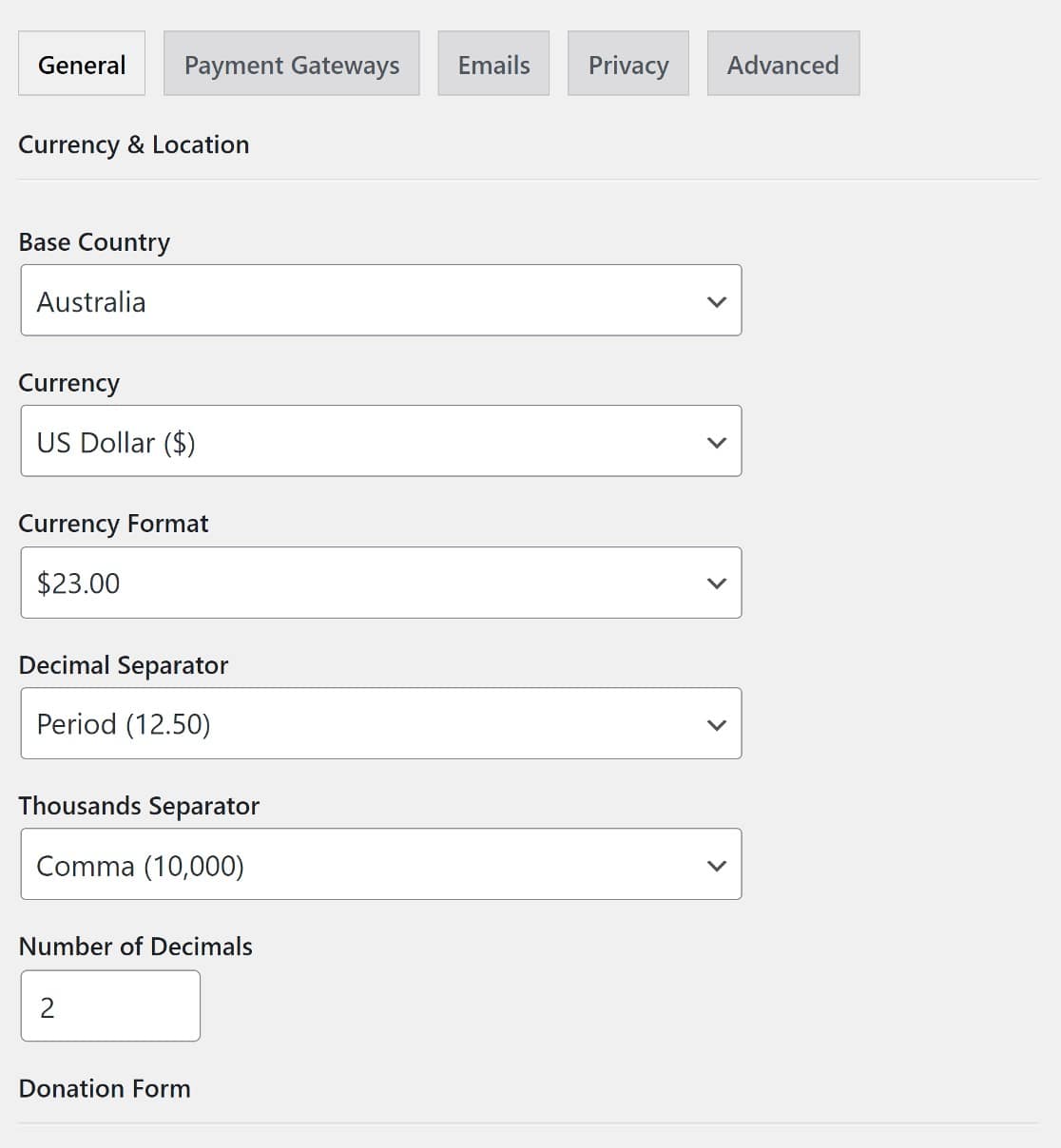 You should also check the Payment Gateways settings to see if the available options are suitable for you.
As mentioned, the plugin offers you the options of accepting payments offline or using PayPal, which can be extended with one of the available payment gateway integrations we spoke about previously. By default, this will be set to offline, but you can easily switch it to PayPal.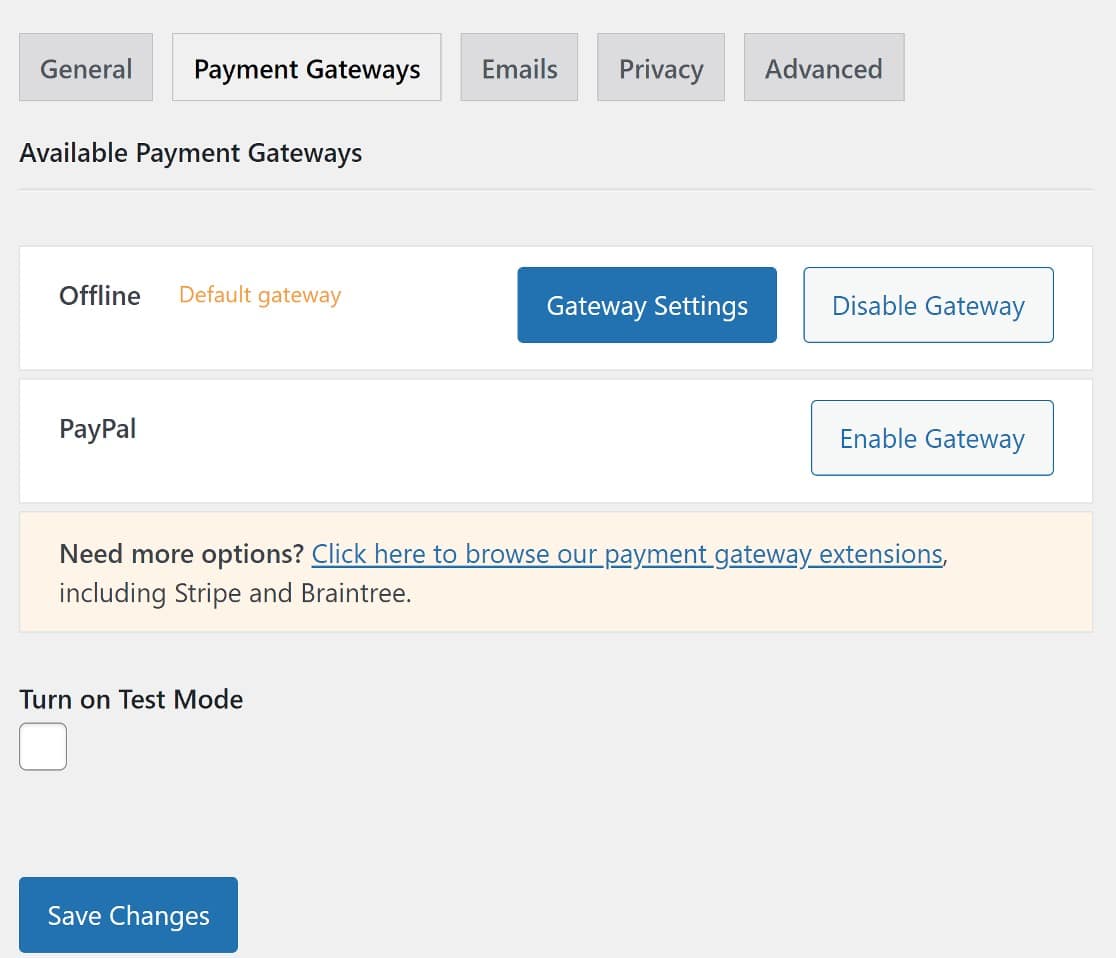 To create a new campaign, all you'll have to do is click through Charitable » Add Campaign, and then set up your Campaign. Enter your campaign name, description, goal, and end date, and you'll be ready to launch!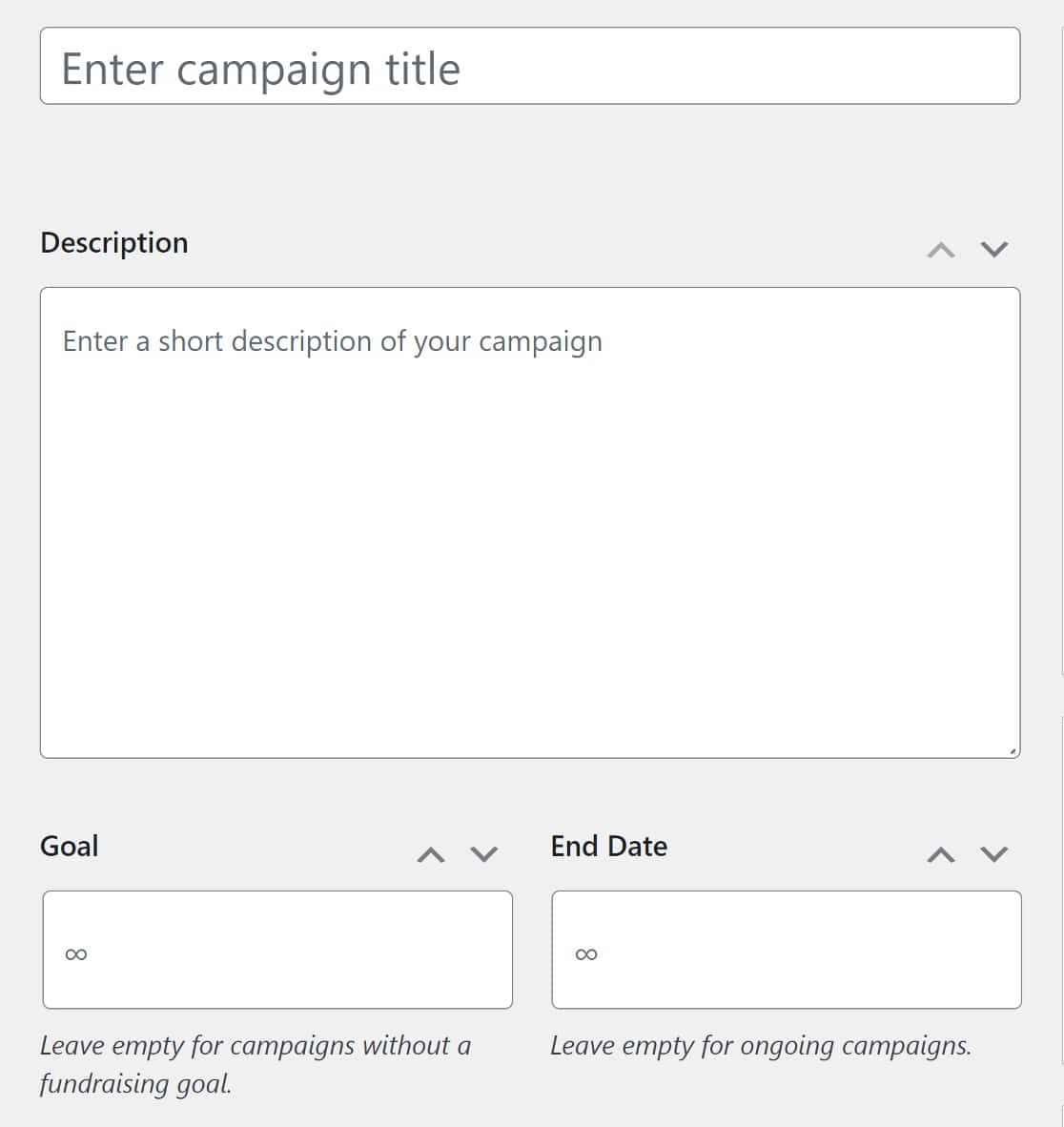 You'll see that campaigns have the same backend layout as default WordPress posts and pages, making them easy to work with.
When we tried it out, it took us about 4 minutes from installation to setting up our first campaign! And, on the frontend, we found that it's even easier for users to make donations.
They'll simply need to enter their name and email and, depending on your choice of payment gateway, go through an extra step or two to make their donation.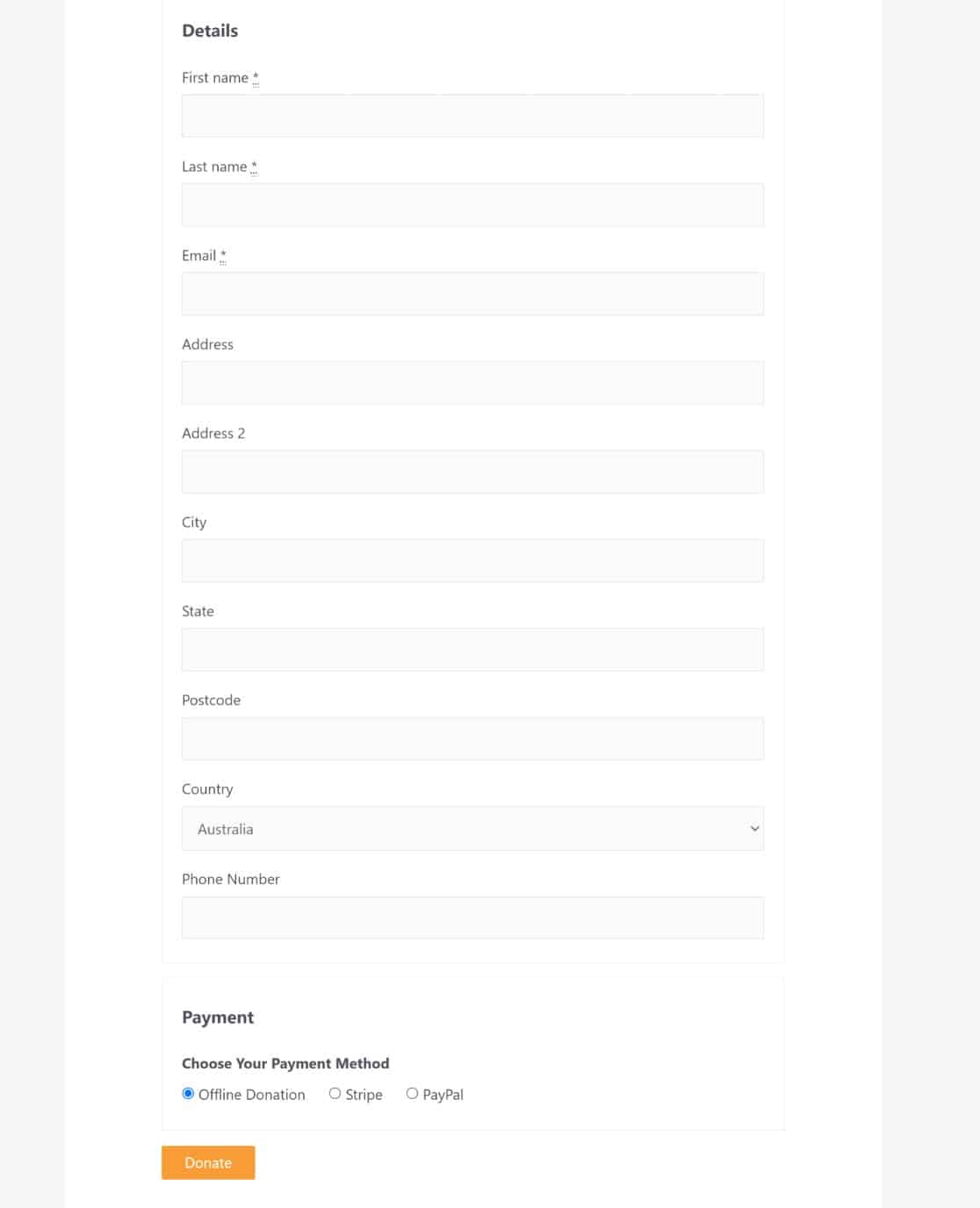 WP Charitable Support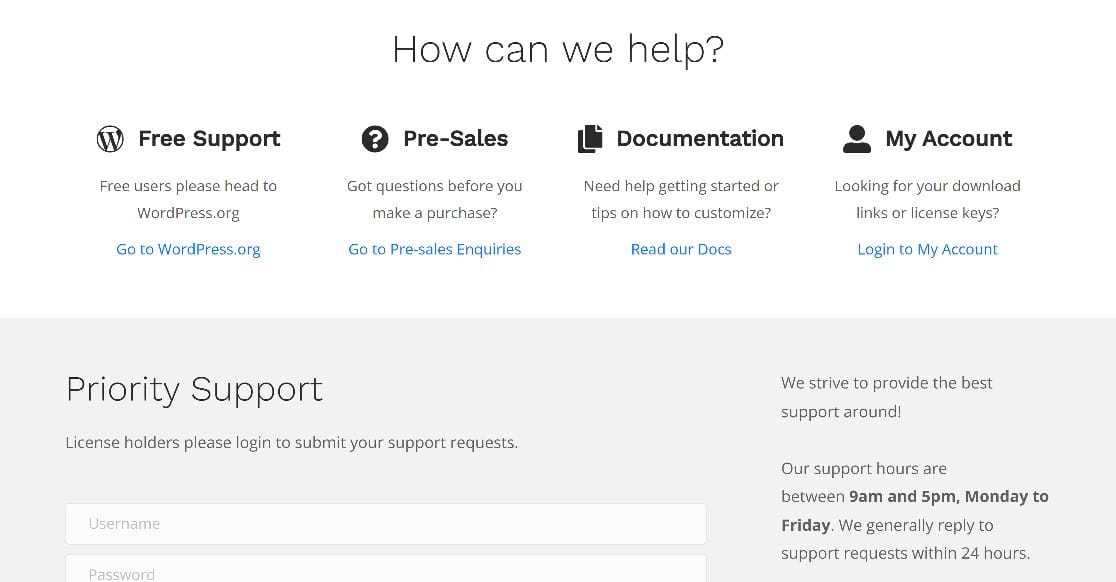 For troubleshooting issues with your WP Charitable installation, you'll have 4 main options. The easiest options to start with are the documentation and tutorials provided by WP Charitable.
For direct contact with the WP Charitable team, prospective customers can create a support ticket to discuss pre-sales questions. Holders of a paid license are entitled to priority support.
WP Charitable Pricing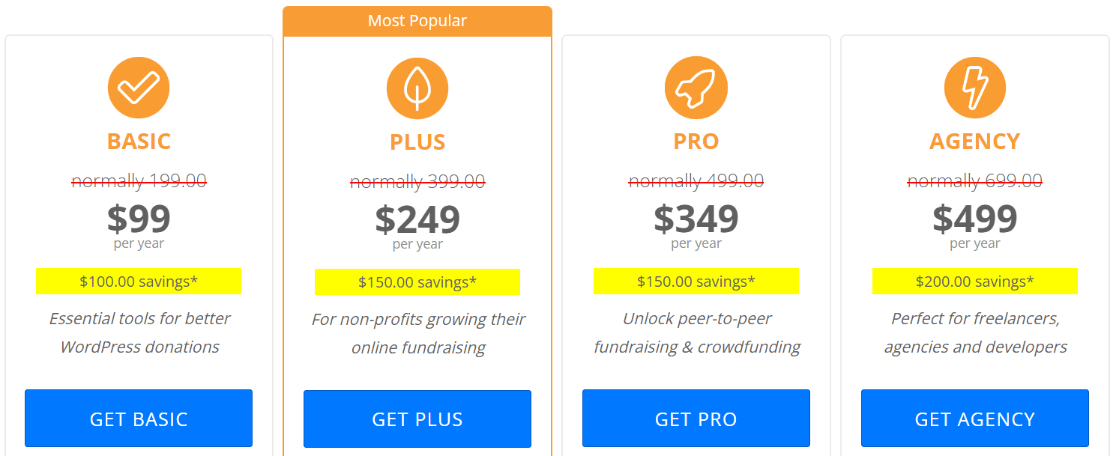 WP Charitable has a free version that comes with powerful core functionality. For a greater range of powerful features, you can try the paid plans, which start at $99 per year for the Basic plan.
WP Charitable vs GiveWP
In our opinion, WP Charitable is the most complete WordPress donation management plugin. But there are some close competitors to consider. The most popular alternative to WP Charitable, would be GiveWP.
GiveWP is a good donation management plugin. It offers some features that are similar to WP Charitable, including customizable donation forms, recurring donations, and peer-to-peer fundraising.
But is GiveWP an equal alternative to WP Charitable? While both plugins offer some comparable features, WP Charitable is a better option for managing donations in WordPress as it comes with significantly cheaper pricing.
GiveWP starts at $149 annually, but you can get started with WP Charitable's Basic plan for just $99 annually, making it the better value-for-money solution.
WP Charitable Review: Final Word
WP Charitable is a powerful WordPress donation management plugin. If you're looking for a one-stop solution that gives you flexibility in designing fundraising campaigns, a broad range of payment options, ease of use, and the most convenient pricing, WP Charitable is the one.
In addition to the benefits we've discussed above, the key thing to remember is that WP Charitable helps you channel more funds toward the causes you support by not charging any platform fees and by making it easy for donors to cover any fees charged by the payment gateway.
And that's it for our WP Charitable review! As you get started with building out your fundraising campaigns, check out these donation form examples to inspire your fundraising.
Next,  Explore the Top WordPress Donation Plugins
We've just shared our detailed WP Charitable review, showing why we think it's the best WordPress donation management plugin.
But, sometimes, you won't need a full donation management solution. What if all you need is a contact form that collects donations, for example? There are other ways and other plugins that allow you to collect donations in WordPress.
For the details, here's our guide to the best WordPress donation plugins for nonprofits.
Create Your WordPress Form Now
Ready to start building WordPress forms? Get started with the easiest-to-use WordPress form builder plugin today. WPForms Pro includes a free file upload feature and free file upload form and offers a 14-day money-back guarantee.
And don't forget, if you liked this article, then please follow us on Facebook and Twitter.