Last week, we teased that we were on the verge of releasing one of the most requested features for WPForms.
Well, the time has come.
Today, we are extremely excited to announce that you can now accept recurring Stripe payments on any of your WordPress forms.
The Stripe Addon for WPForms is one of our most popular addons. And for good reason.
As the best online payment solution in the market, Stripe makes it easy to accept credit card payments online.
Pair that with the fact that WPForms is the easiest and most beginner friendly WordPress form plugin, and you're just asking for success.
So, let's take a look at what Stripe recurring functionality offers you and your customers!
WPForms Form Entry Improvements
One thing we boast about here at WPForms is how easy it is to manage all different kinds of form entries, even those that involve payments collected from customers.
With Stripe recurring functionality now in full swing, we want to make sure you can quickly glance at your form entries and know immediately which payments are recurring, and which were one-time payments.
So, we've introduced the recurring payment icon that appears next to any form entry that is now collecting regular payments.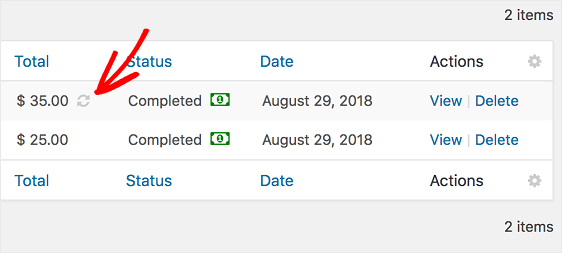 But that's not all.
Now that you can offer recurring payments on your WordPress forms, we've updated how recurring payment entries look in the WordPress dashboard, so you can continue to manage payments with ease.
For instance, you can see the value of each payment and the recurring schedule that was chosen by your customer.
You also have the option to jump directly to your Stripe account to view the following by clicking on the available links:
Transaction ID: information about the actual payment that was processed
Subscription ID: details regarding the recurring payment
Customer ID: information about the customer who made a recurring payment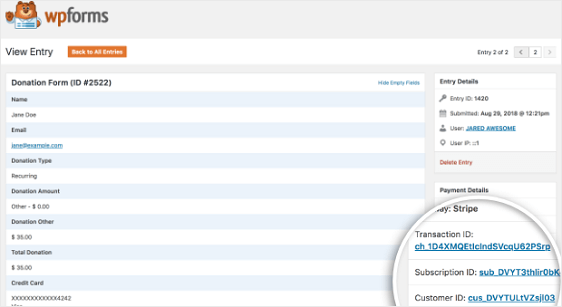 We make switching between the WordPress dashboard and your Stripe account as seamless as possible so that managing customer payments doesn't become a hassle.
Form Entry Data
In the past, when someone submitted a payment using your form, WPForms would send the Entry ID to your Stripe account for viewing.
But that information alone isn't really all that useful. So, we've made some changes.
Now users can access their Stripe account and see which form the recurring payment came from, the Form ID, and the Entry ID.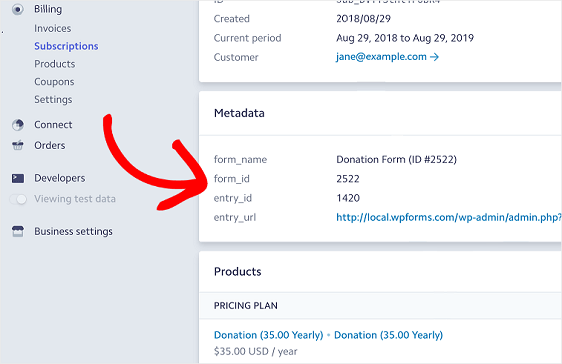 And to makes things even better, we've included a link to your Entry ID so you can easily jump from your Stripe account to your WordPress dashboard to view form entry information.
Connecting WPForms with your Stripe account in the simplest way possible is our number one priority.
But we also wanted to give you the opportunity to learn more about which forms are converting, so you can grow your business and generate more revenue.
WPForms Payment Settings
Last, but not least, we want to give you a sneak peak into how the payment settings in the form builder have changed to accommodate this exciting new functionality.
Before, when configuring your Stripe payment settings, all you had to do was enable Stripe payments, determine a receipt setting, and enable conditional logic if you wanted to.
Now, once you enable recurring payments, you'll see additional settings to configure recurring payments to match your needs.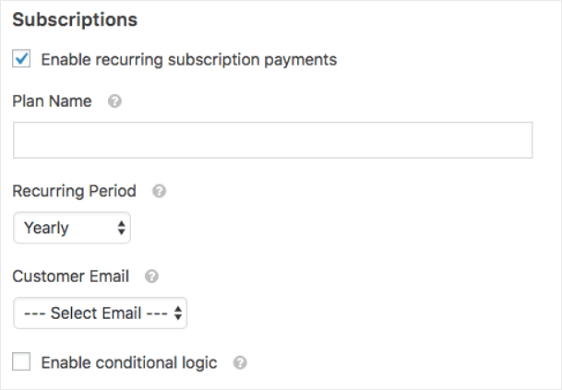 To start, name your plan and choose a recurring time period:
Daily
Weekly
Monthly
Quarterly
Semi-yearly
Yearly
Next, select Customer Email so Stripe can create a customer profile.
And now for the best part – enable conditional logic.

If you want to let customers choose between making a one-time payment or setting up recurring payments, then you need to enable conditional logic. This will trigger recurring payment functionality when your customer selects that option on your payment form.
And there you have it!
I know it took us a while, but we're glad to get this feature released.
As always, thank you for your continued support of WPForms, and we look forward to helping you create better online forms!
Jared and the WPForms team
P.S. Don't have a WPForms Pro license? Click here to get started today and experience the WPForms difference.