We're excited to announce that we're giving you more of what you love – control over your forms.
The Form Locker addon continues to grow in popularity so it's just been updated with some great new abilities along with a fresh design.
We've made it easy to restrict ages, verify email addresses, and more. So get ready to explore everything that's new with the Form Locker addon.
Improved Design
One of our most popular addons is now more powerful (and beautiful) than ever.
First up, you'll notice the Form Locker settings have been re-organized to make it easier to set up and use this robust addon.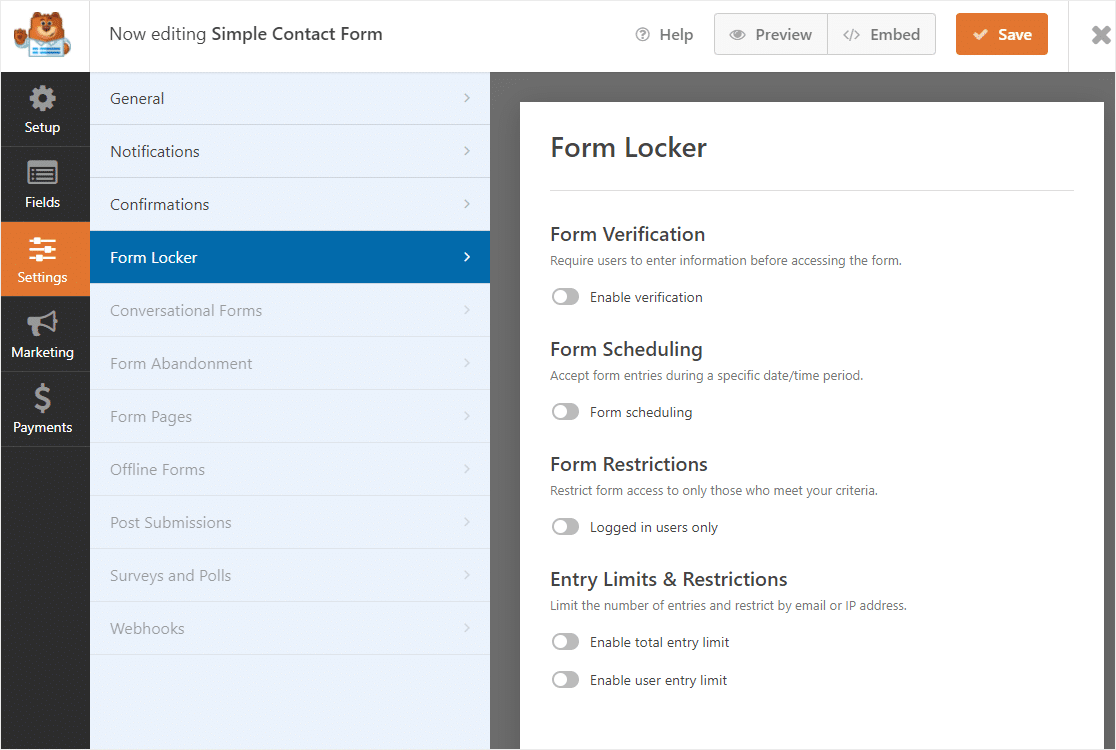 In our last update to the plugin, we refreshed the form builder. In the new Form Locker addon, you'll see a streamlined interface that matches that redesign and makes using it much easier.
And making the Form Locker addon easy to use is important to us, especially because it does some brand new things that were so excited for our users to jump in and take advantage of.
Restrict Users by Age
You told us you love the password verification option, so we're unleashing two new verifications you can now use on your forms, starting with birth dates.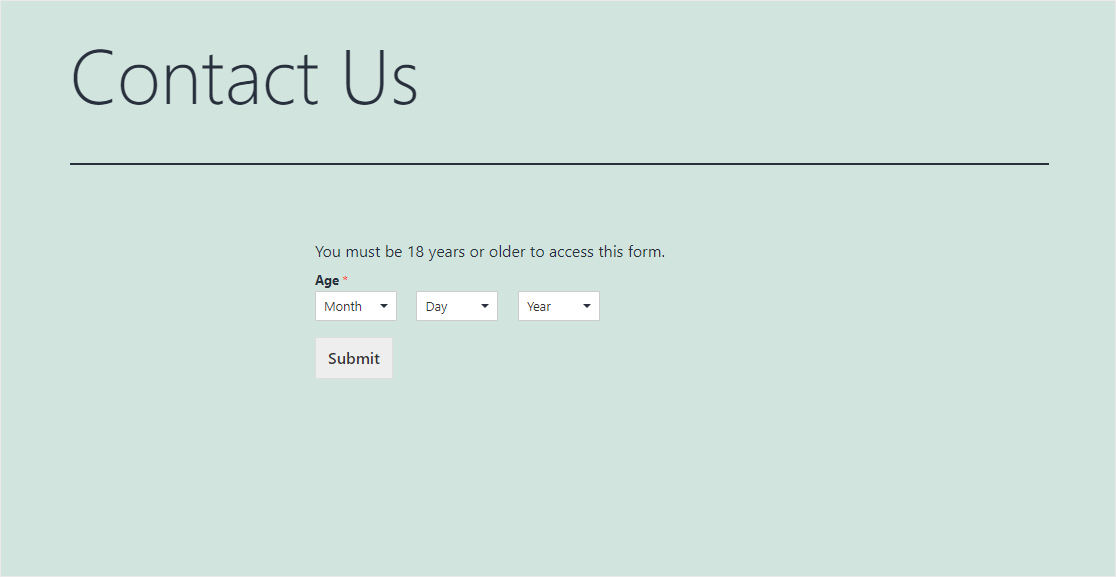 You can now verify the age of your form users before letting them submit a form on your website. This lets you customize the minimum or maximum age required in order to be verified.
And, you can customize your own display message to be shown above the age verification field for extra clarity and further control.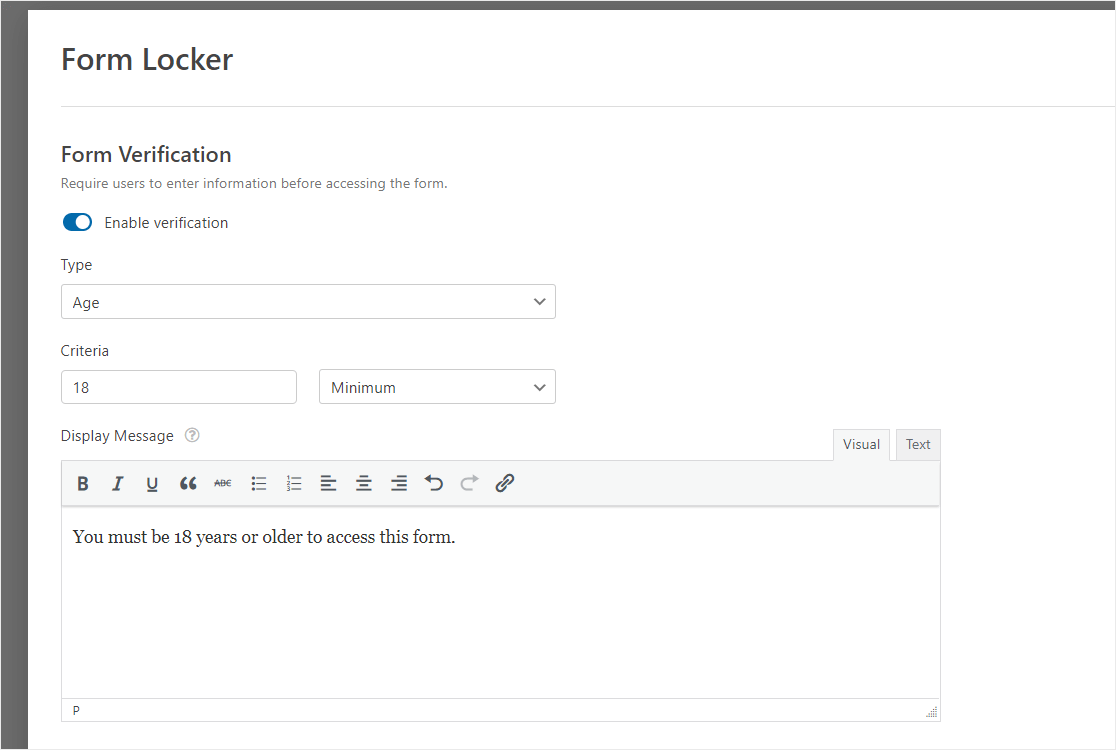 We didn't offer this ability in the past, and it's been highly requested. So, we made sure that age restrictions were added to the newest version of the addon.
Once you have this restriction set up and turned on, your form users will be prompted with an error message when they try and submit the form if the date they've selected isn't within the range you set.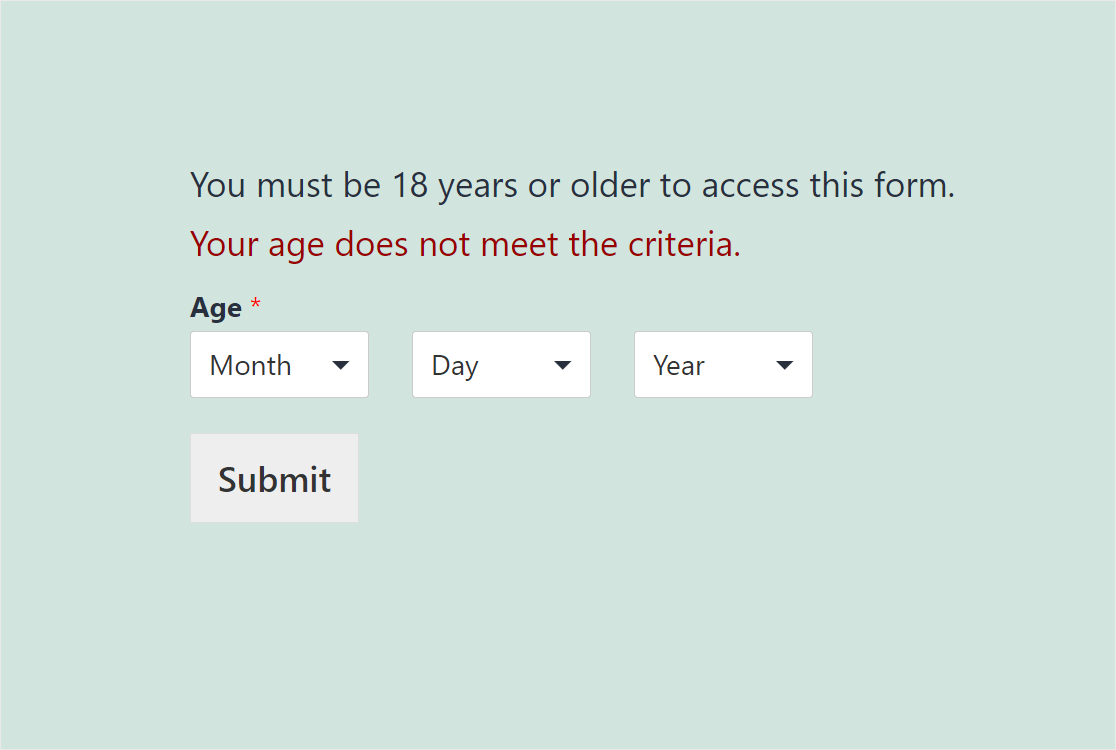 We hope you find this new age restriction useful and think it'll help in cases when you only want a specific age range of people filling out your forms.
Restrict Form Access Until Email Is Verified
We heard you loud and clear that you wanted more verifications, so along with age restrictions, we've also added Email Verification to the Form Locker addon.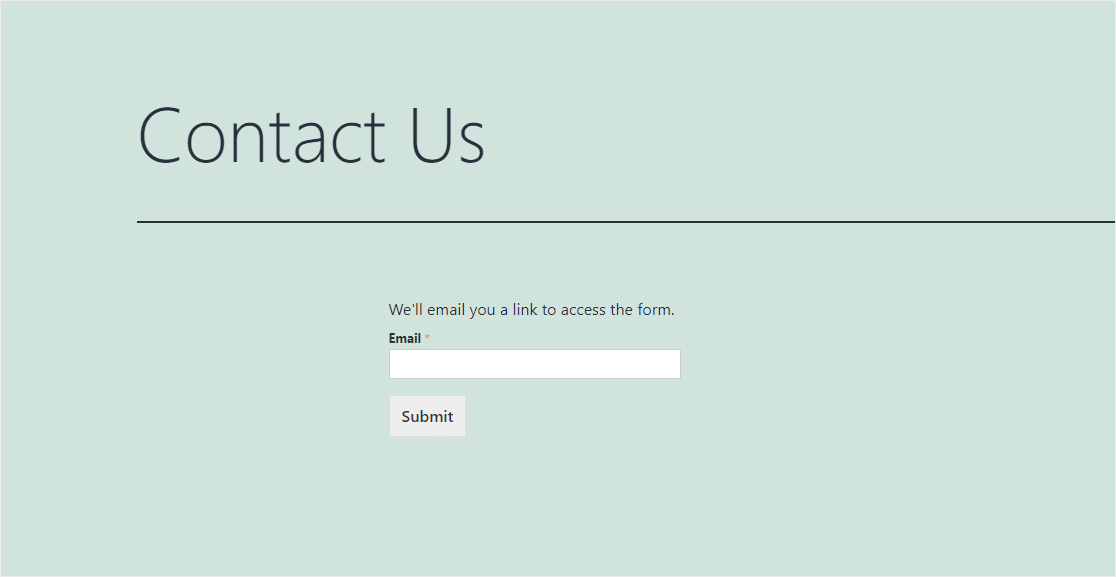 This will block access to a form until a valid email is verified.
Meaning, when someone visits the form with your Email Verification turned on, they'll be prompted to provide their email address first before they can access the form.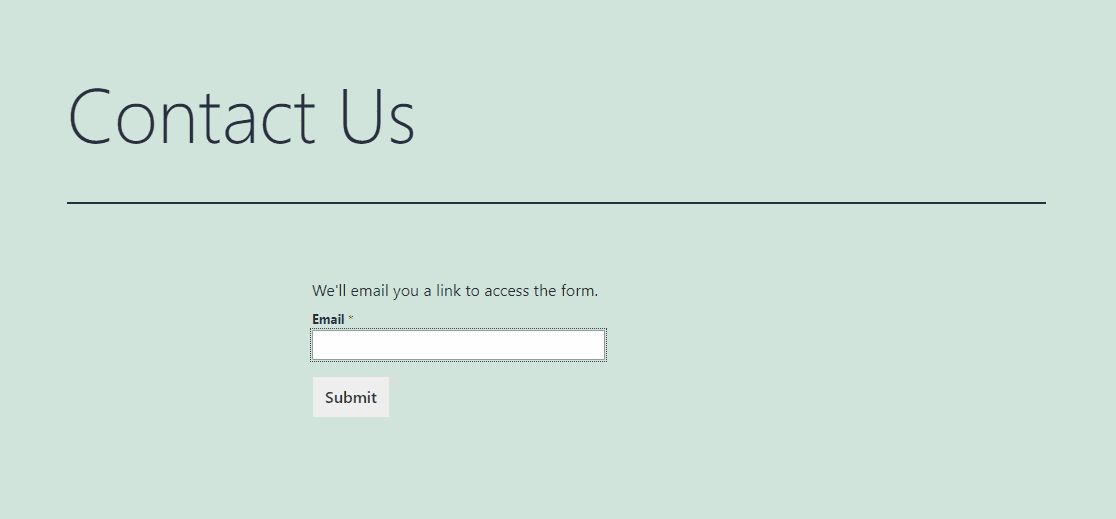 Then, the plugin will send an email with a link that will then grant access to view the form.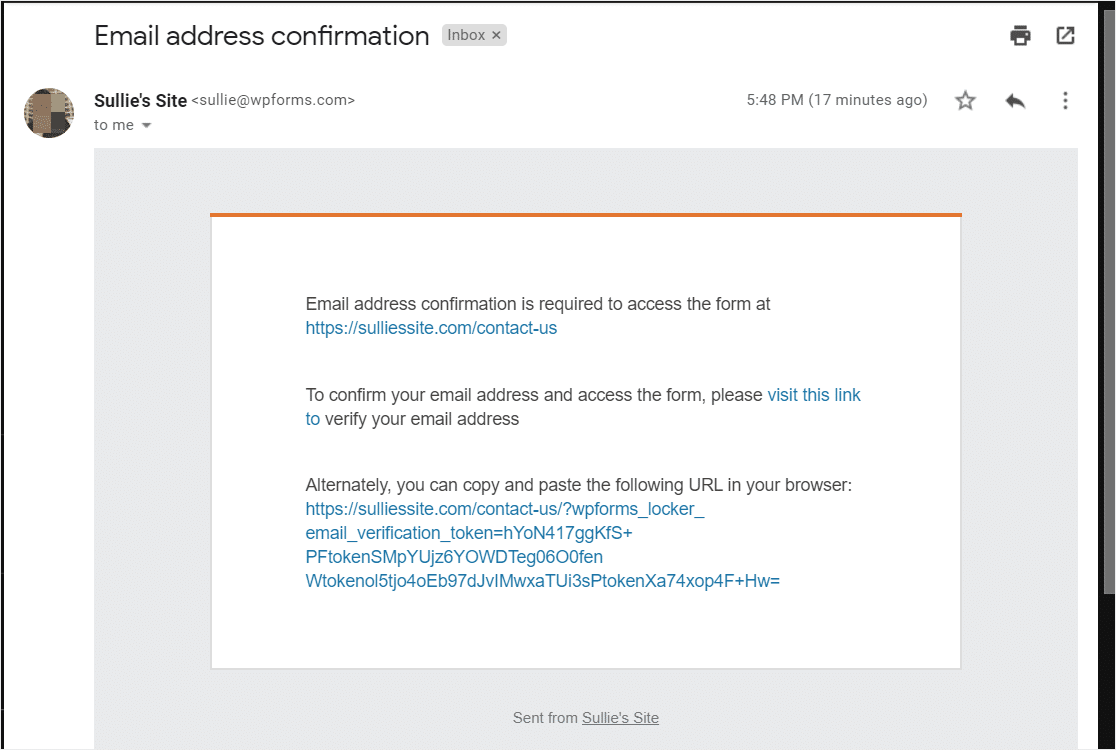 So if the email address isn't real, the user won't be able to access the form.
This is a great way to make sure someone provides a valid email address before they can use your form. That way, your forms are extra secure.
In the future, we'll be adding the capability to store this email address as part of your form entry. So you can help your email lists stay nice and clean, and not bogged down with fake or misspelled email addresses.
Advanced Entry Limits
Entry Limit capabilities have also been improved. You can now limit entries by user IP or email.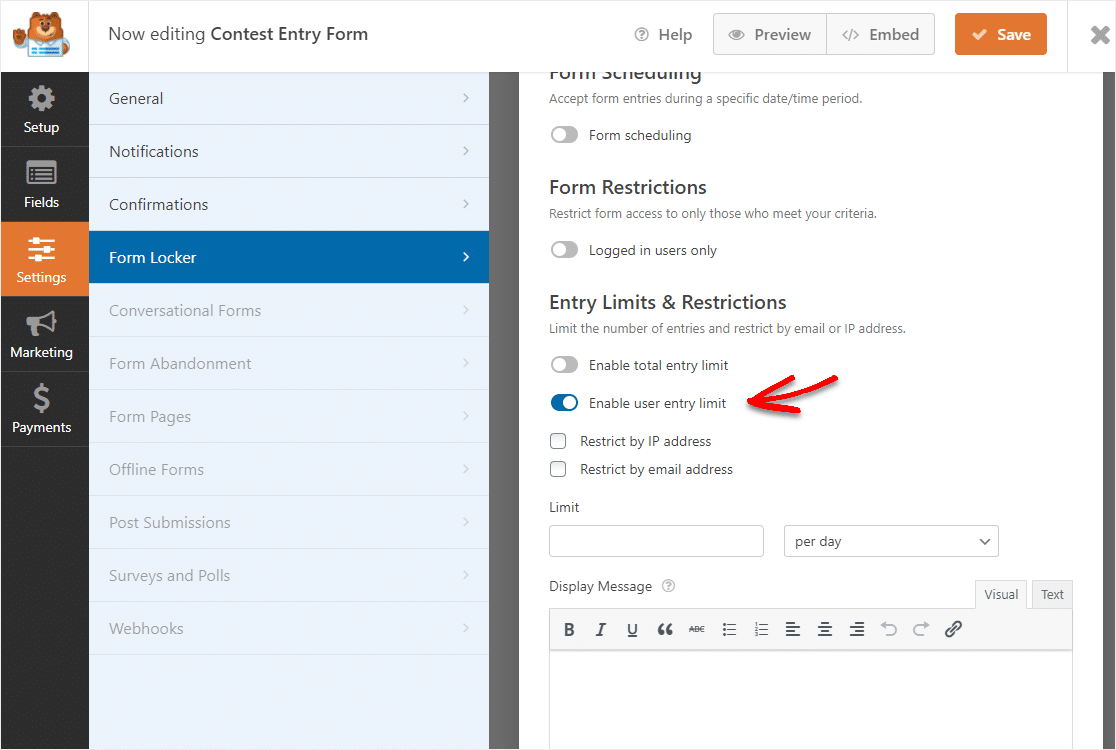 On top of that, you can now set an exact limit to the number of entries per day, week, month, or year.
We previously offered a basic entry limit feature on forms, but it didn't have the amount of control we realized users wanted.
These new Advanced Entry Limits options should be especially helpful if a user is running a WordPress contest or giveaway, for example. You can now limit a specific person to one entry per day (without putting a cap on the total number of entries your form can accept).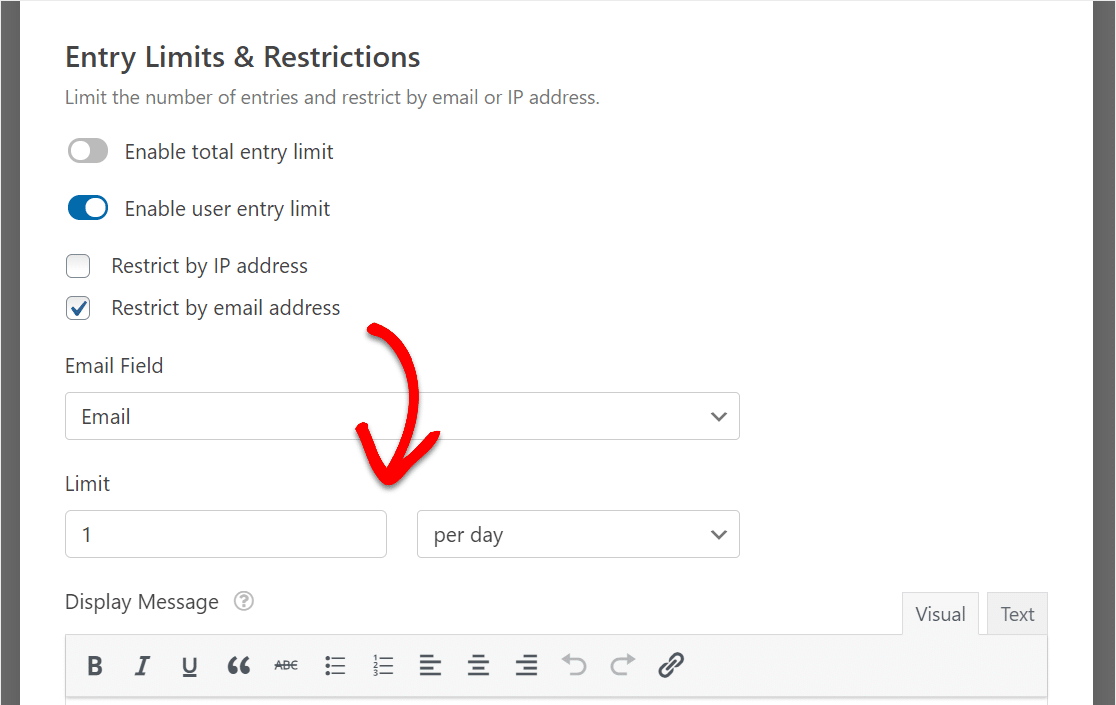 This new flexibility can be a big deal in cases where the more entries received, the better.
And speaking of flexibility, this new entry limit feature lets you customize the message shown if someone tries to fill out your form more than once.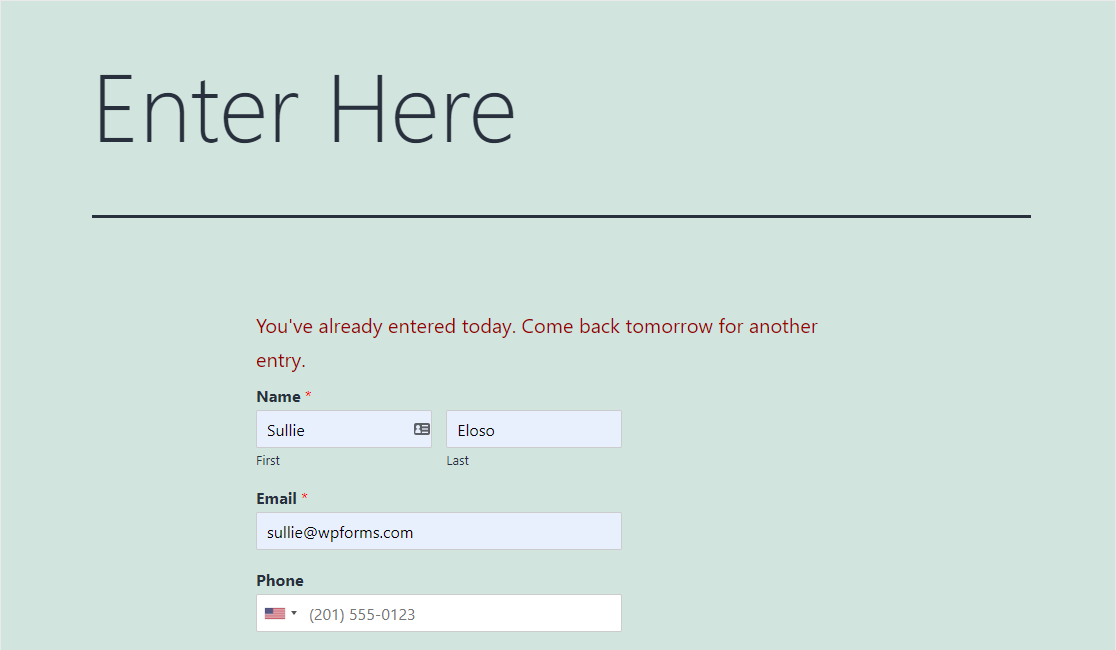 While the Form Lock addon had a solid foundation when released, we listened to your feedback and decided to make it even more useful and powerful.
With even more granular controls and features inside of the addon, we think nearly every type of website owner can benefit by tapping into the power of the Form Locker addon.
From conducting a successful contest to controlling the age of your form users, there's now a lot more you can do with this update. Check out our team's updated documentation on how to install and use the Form Locker addon for a step-by-step walkthrough of the entire addon.
Feedback? We Want Your Suggestions
And that covers everything new in the Form Locker addon. Make sure to update it today to try it out for yourself.
If you don't have it yet, get started with WPForms Pro now to instantly unlock access to the improved Form Locker addon.
These updates happen because of your input. Please, keep the feature requests and feedback coming and reach out to us with your thoughts!
We're so excited for you to try the new Form Locker addon and we thank you for your continued support of WPForms.
Jared Atchison and the WPForms team