Today we're thrilled to announce that WPForms 1.5.5 has arrived.
It's now going to be simpler than ever to view and export form submissions from your site. You'll be able to make better business decisions because you now have much more control over your form entries information.
Here's what's happening in WPForms 1.5.5.
Improved Entries Exporting Experience
As WPForms has grown, so have our users. So many of you have become power users and have asked us for more control over exporting your form entries.
Previously, the only way to export entries in WPForms was to go to the Entries area, click on view, and click on the Download Entries (CSV) button to save them all to your computer. And sometimes, that export wasn't always reliable for those of you with tens of thousands of entries.
There were also no filters and you would get all the entries from your forms — with no other options or report customizations.
The new Entry Export feature can handle a massive amount of entries and lets you filter which ones you want to export. That way, you can save time finding the data you need inside your form submissions.
You'll find the Export Entries feature under Tools » Export. It includes several filters for you to select or deselect based on the data you'd like on your exported CSV file including:
Form Fields
Additional Entry Information
Date
Search
Want to quickly see the emails you've collected from a form but don't want all the other info that was submitted? Use these checkboxes to customize which form fields will show up on your exported report to make things a little bit easier.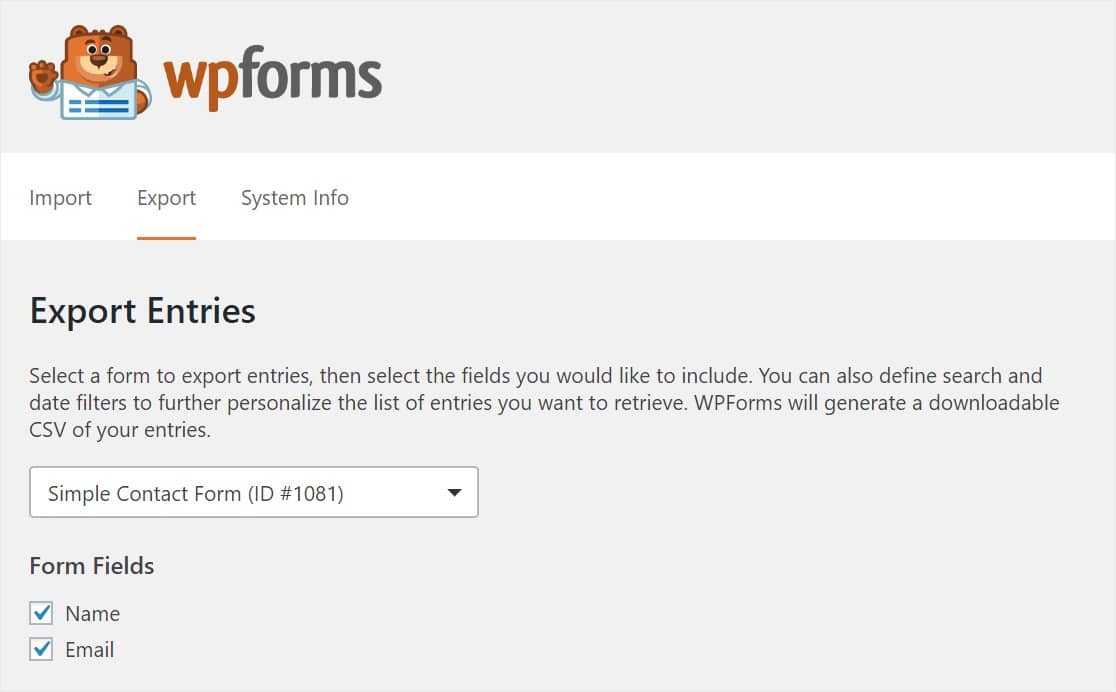 You can even add additional info, such as Geolocation data or Stripe payment info if you're using those addons. Plus, you'll be able to search through your form fields to look for or exclude specific information.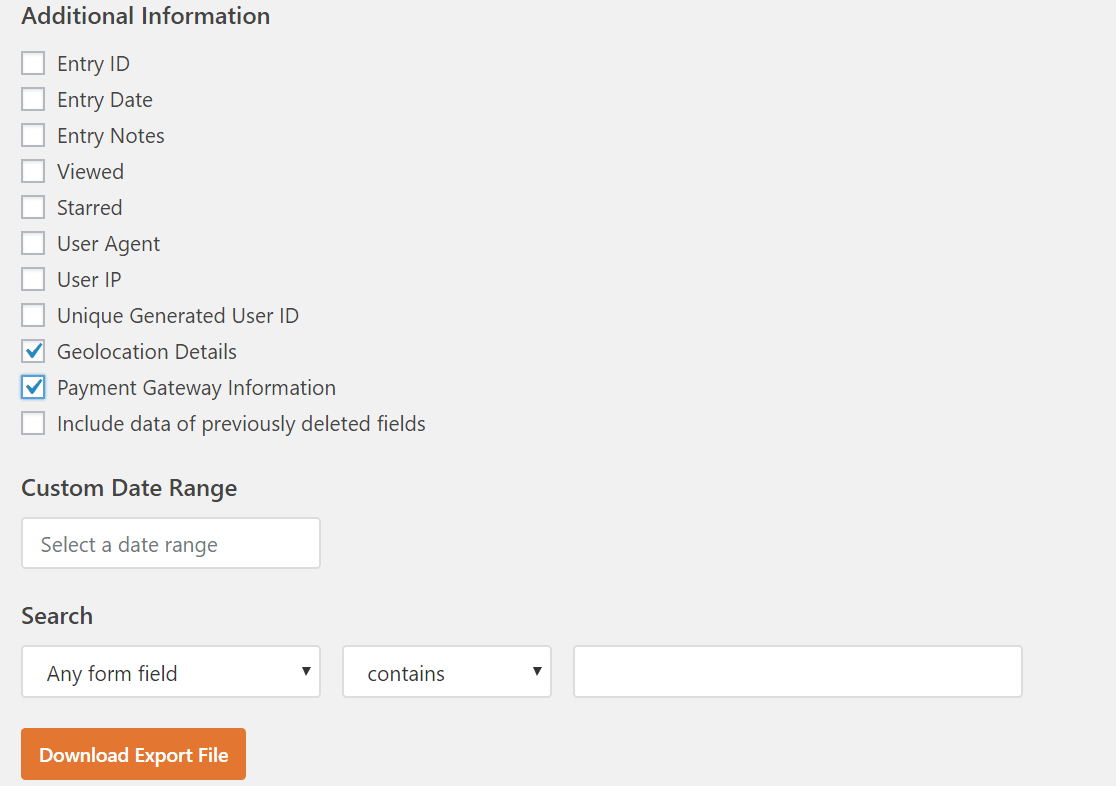 The Entry Exporting experience is much more polished and we think it's going to make using WPForms even easier.
New Default Entries Page
Before, the Entries screen defaulted to the first form you made. Often, the first form you've ever created isn't your most popular form. So, it wasn't super useful to display that form as the default on this page.
We wanted to make it simpler and faster to see your form entries. With this latest release, when you click on Entries you'll now see an Entries Overview Dashboard with your forms' total entries instead.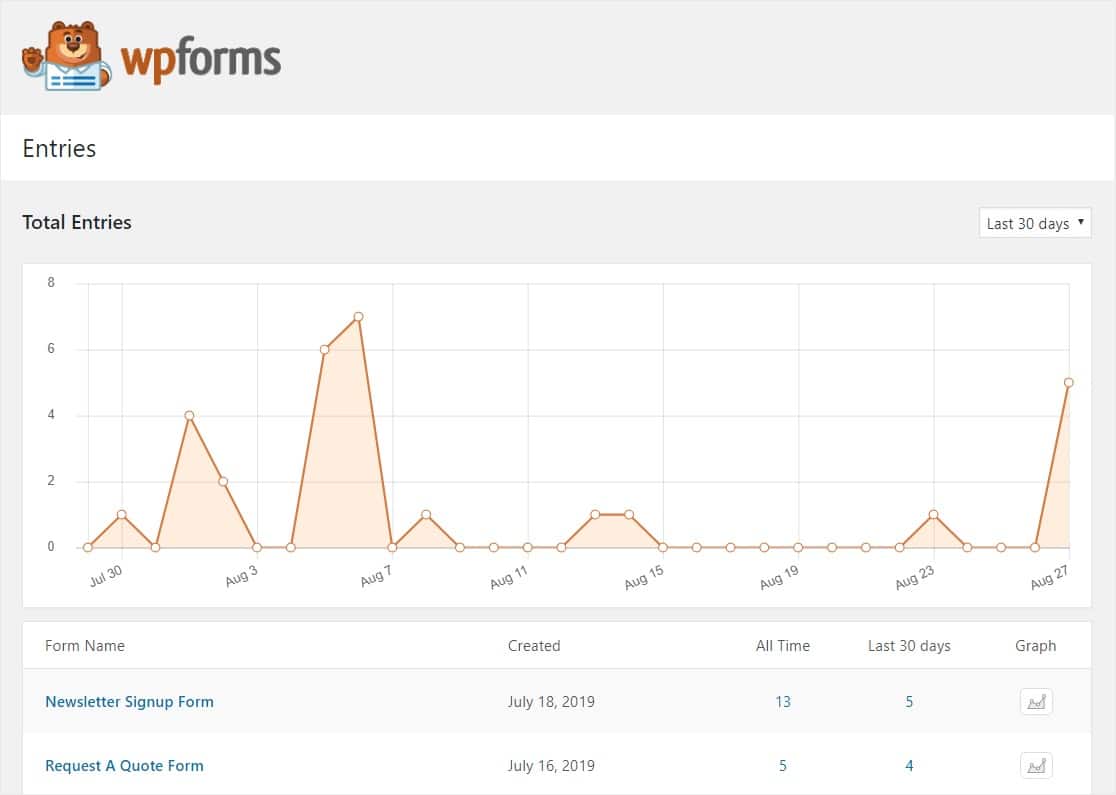 You'll see all your forms on this new page, sorted by the amount of entries in the date range you select.
You can also check out the All Time entries total and click on the Graph button to see data visualization of any of your forms. You'll see a quick overview and be able to tell how your forms are performing with just a glance.
And that covers it for the 2 new features you'll find in WPForms 1.5.5. Try the latest version and keep us posted on what you think.
As always, thank you for your continued support of WPForms. We look forward to helping you succeed with your website and business.
Lisa and the WPForms team
P.S. Don't have a WPForms Pro license? Click here to get started today and experience the WPForms difference.