We're excited to share with you that WPForms 1.5.3 has just been released and it's got some great new features.
This update makes it even easier to use the most beginner-friendly form plugin in the market. Plus, your forms are getting smarter and faster so you can get even more conversions on your site.
With that, let's take a look at what's new in WPForms 1.5.3.
Created AJAX Form Submissions
With our latest update, you can now prevent a page from refreshing when someone submits a form.
WPForms now lets you enable AJAX form submissions in the form settings.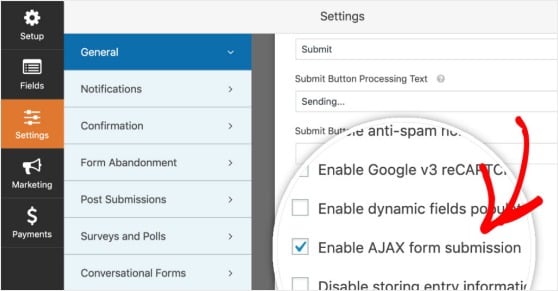 This is especially useful in popups, overlays, modal windows, and with file upload fields. Without AJAX form submission enabled, the entire page would need to refresh after someone hits submit. This could cause a popup or modal window to close, and users could miss important confirmation messages that keeps them engaged.
Now, with AJAX mode enabled, there's no need for the page to reload after someone hits submit.
The user stays on the same page, sees a spinning wheel confirming the form is processing, and receives a confirmation message — an improved user experience so you get even more leads, faster.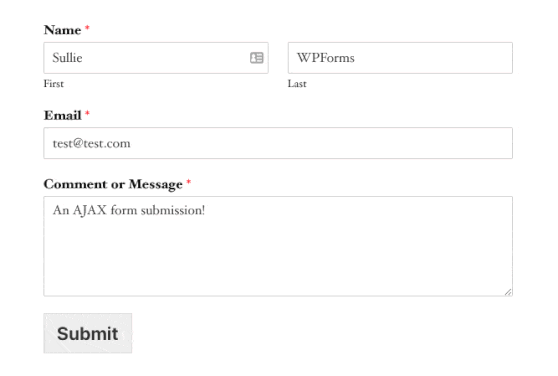 Learn more about how to enable AJAX form submissions here.
We think you and your website visitors will find it's a better, faster experience overall.
Added Google reCAPTCHA v3 Option
We've had a lot of you request it, so now Google reCAPTCHA v3 setup for WPForms is here. It can be found under Settings » reCAPTCHA.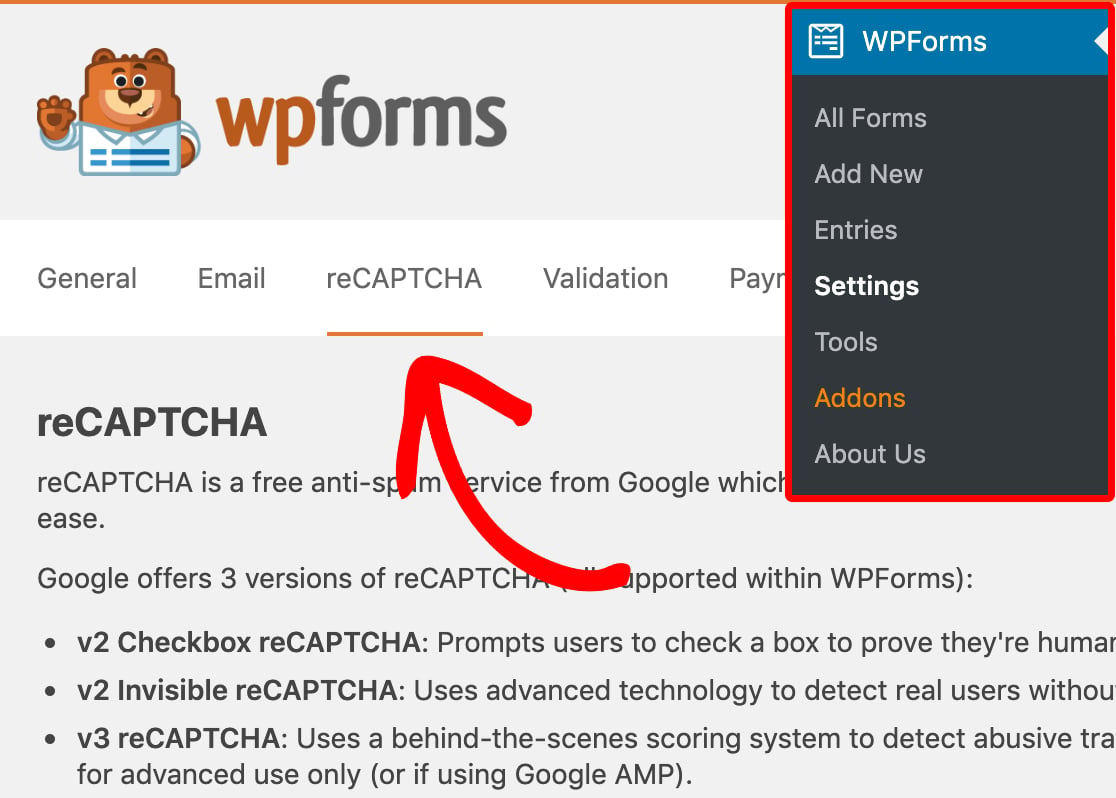 Google's reCAPTCHA v3 was released in fall of 2018 and runs completely in the background of your site. Your visitors don't see a checkbox (like v2 Checkbox reCAPTCHA) and aren't asked to answer any image-based questions (like v2 Invisible reCAPTCHA) to ensure they're human.
Similar to v2, when someone loads a page, v3 tries to check and do some logic to see if it thinks it's a spammer or a bot.
But the main difference with reCAPTCHA v3 is that there's no test for the user to complete to prove they're human.
On the back-end, v3 automatically gives a score for the user. If that score falls below your Score Threshold (found in settings) the user can't submit the form at all. Which could be a plus or minus, depending on how you want your forms set up.
Not only does our new release give you the chance to choose to use Google reCAPTCHA v3 and adjust your Score Threshold, but you can now also edit the Fail Message.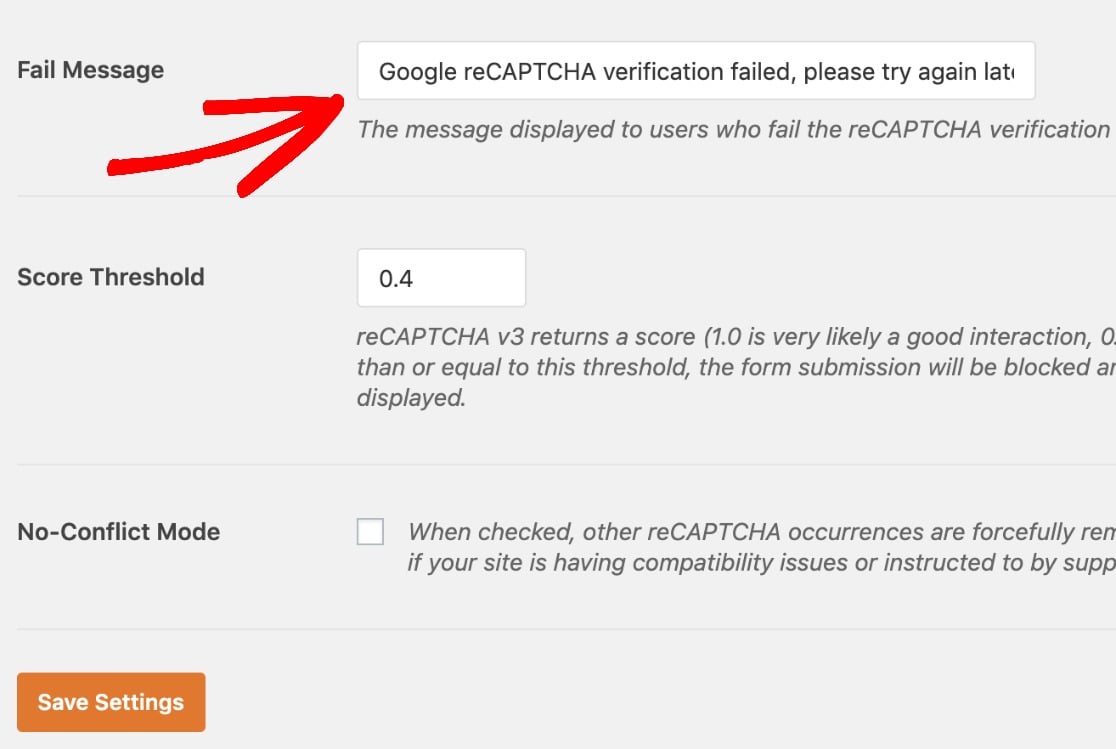 This is extra helpful if you want to add the score Google recorded for the failed attempt to your fail message so visitors can see it. That when, your users can tell you what their score was if you're troubleshooting and find you need to lower your Score Threshold.
To learn exactly how to setup reCAPTCHA and for more on which version may be right for your site, check out how to install and use the Custom Captcha addon in WPForms.
With the newest WPForms update, it's now easier than ever to add any version of reCAPTCHA to your forms.
Added Google AMP Compatibility
WPForms Lite now includes full compatibility for Google AMP.
Google AMP, or Accelerated Mobile Project, is an open source initiative with the goal of making web content load faster on mobile. If you've done a Google search on your mobile devices, odds are you've visited an AMP-enhanced web page. It's quickly becoming the standard viewing experience for publishers.
For a page to be 100% AMP compatible, it enforces various strict requirements on what can run on the back end of your site. That's why the entire experience is near instant. Notably, it doesn't allow loading extra javascript to enhance functionality.
But in WPForms Lite version 1.5.3, all your forms will work perfectly with the AMP plugin, and pass those strict validation requirements. Plus, you'll get more submits since the user experience is so fast.
While Google AMP compatibility is currently only available for WPForms Lite, we're looking forward to bringing improved compatibility to Pro users in the near future. It's also important to note that Google reCAPTCHA v2 isn't supported, so you'll need to use the new reCAPTCHA v3 if you want enhanced spam protection with AMP.
For a more in-depth tutorial, check out our guide on how to use WPForms with AMP.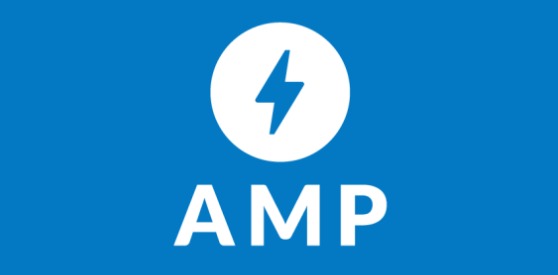 We worked in partnership with the Google team to bring these exciting new AMP capabilities to WPForms.
We also want to thank WP Engine and the StudioPress team for helping us throughout to make sure that WPForms AMP and other features work seamlessly with the new Genesis AMP update.
Added French + Portuguese (Brazilian) Translations
We know that if you're using WordPress is a language besides English and your site's plugins aren't translated too, if can create inconsistencies and make building a website harder than it should be.
That's why we've added even more translations to the world's favorite contact form plugin.
WPForms 1.5.3 brings the new capability to fully translate into:
French
Portuguese (Brazilian)
We want to make it easy for anyone to use WPForms, even if English isn't your native language. We've got a handy guide on how to translate WPForms into a different language for you to check out, too.
And that covers the WPForms 1.5.3 update and its cool new features.
Give it a spin and let us know any thoughts you have, we're always here for our users.
Ready to experience the speed and ease of WPForms Pro? Click here to get started today.
As always, thank you for your continued support of WPForms. We look forward to bringing you more updates soon!
Lisa and the WPForms team