One of the unique ways that WPForms makes form building easy is by providing pre-built form templates, so there's no need to start from scratch each time you need to build a form.
Today, we're excited to announce the release WPForms 1.4.0 with some cool new entry management features, plus our brand new Form Templates Pack Addon with 100 new pre-built form templates to save you time – no matter what kind of form you need to create.
New Form Templates Pack Addon
The new Form Templates Pack Addon adds 100 new templates so you can now build all kinds of forms in just a few clicks.
These work like our original pre-built form templates, so you can easily add or remove fields with the drag and drop form builder to fit your unique needs.
The new templates include:
Contest Entry Form
Employee Referral Form
File Upload Form
General Donation Form
Girl Scout Cookie Order Form
Meeting Room Registration Form
Party Invitation RSVP Form
Support Ticket Form
Testimonial Form
Tshirt Order Form
Volunteer Recruitment Form
…and dozens more!
Remember you can also create your own custom form templates as well. And if you have ideas for new templates we should include in the Form Templates Pack, please get in touch. We're planning to keep adding lots of new templates, so we'd love to hear your ideas.
The Form Templates Pack Addon is now available to Pro and Ultimate license holders. You can get started with WPForms or upgrade your license to start using the new templates today.
What Else Is New in WPForms 1.4.0?
WPForms 1.4.0 comes with a lot of changes to make for a smoother experience in building your forms.
We're especially excited about a couple of new form entry management features:
Customize Columns for Each Form
Your entries table columns can now be customized. Now you have complete control over what fields you want to see.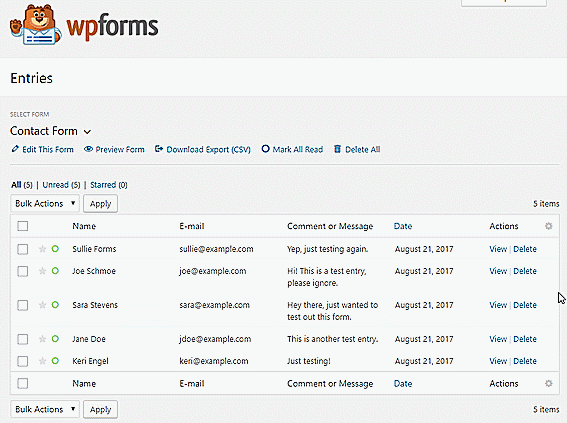 Delete All Entries
You might have noticed something else new in that screenshot… When viewing your form entries, there's a new button to Delete All Entries:
We added this to give you more complete control over how you store data from users.
This is also a great option to use for your giveaway and contest forms, so you can easily delete all entries and run your contest again.
That's it for this update! Want to try out the new templates and quickly create your own forms in seconds? Get started with WPForms today!
Remember to subscribe to our email newsletter and follow us on Twitter and Facebook to be the first to know about new updates and addons.
Keri and the WPForms Team