Sound the alarm, we've just released WPForms 1.6.9 and there's a new field in town. Plus, we've expanded our Entry Editing options and added new keyboard shortcuts.
These new functions make it even easier to make form entries error-free, so you can build a bigger, better email list that converts.
Here's everything you need to know about what's new in WPForms.
Introducing Entry Preview Functionality
The day is here! Our brand new Entry Preview functionality has arrived.
You can now allow your form users to preview their form entries, before, during, or after they've submitted them.
This cool new functionality includes a new Entry Preview field, plus the ability to show an Entry Preview to form users after submission using form confirmations.
Let's dive deeper into how to use both of these cool new actions you can add to your WordPress form-building arsenal.
Sparkling New Entry Preview Field
We've added a new field to the form builder that we think you'll love using.
You can now add an Entry Preview field to your forms that will give people a chance to see what they've entered before they even hit submit.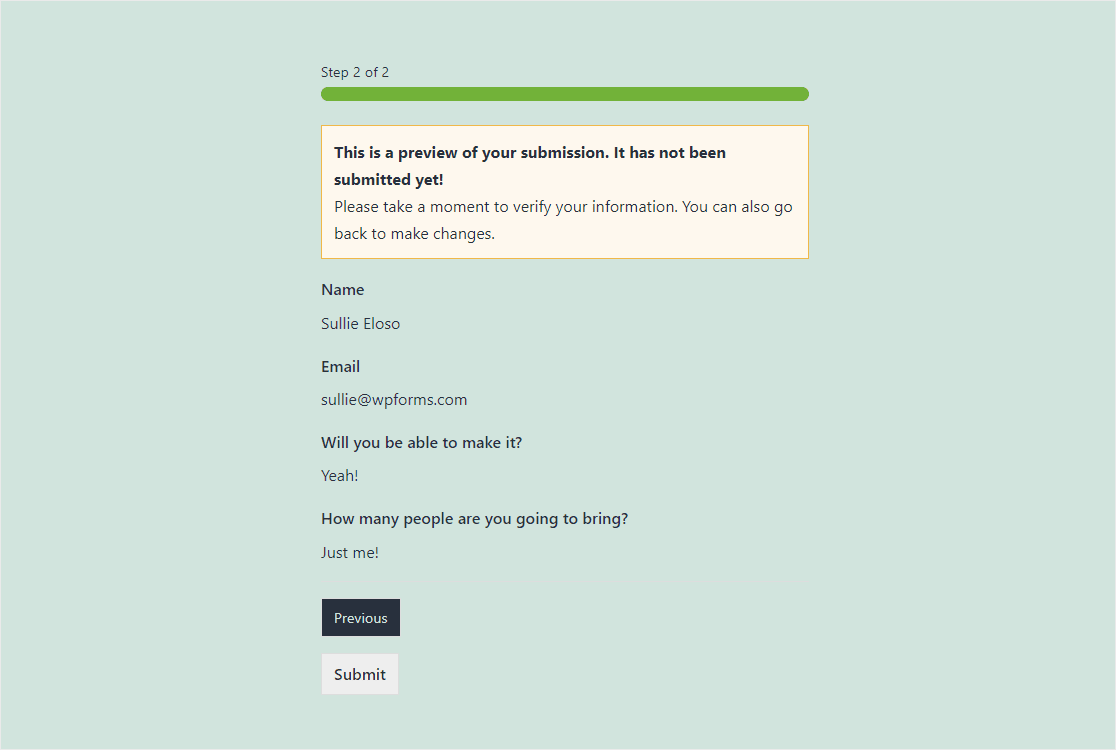 Once your user is viewing their Entry Preview, they can either confirm the data is correct and hit submit or go back to edit anything they need. Meaning cleaner, more accurate form submissions for your business.
We've created this field because we wanted to give you more flexibility if you've got a lengthy form or simply really want users to make sure their details are correct.
But this isn't the only thing the Entry Preview field does. There are two different ways to use it. Right before someone hits submit, or multiple times throughout the process.
Giving you flexibility coupled with power is important to us at WPForms, so let's look closer at how you can get the most out of each of these methods.
Using a Single Entry Preview Field
Sometimes you may want your form users to see a display of what they've filled out on your form before they hit submit and send you their details.
To do this, you can now simply add the Entry Preview field to the end of your form, save and publish it, then you're good to go.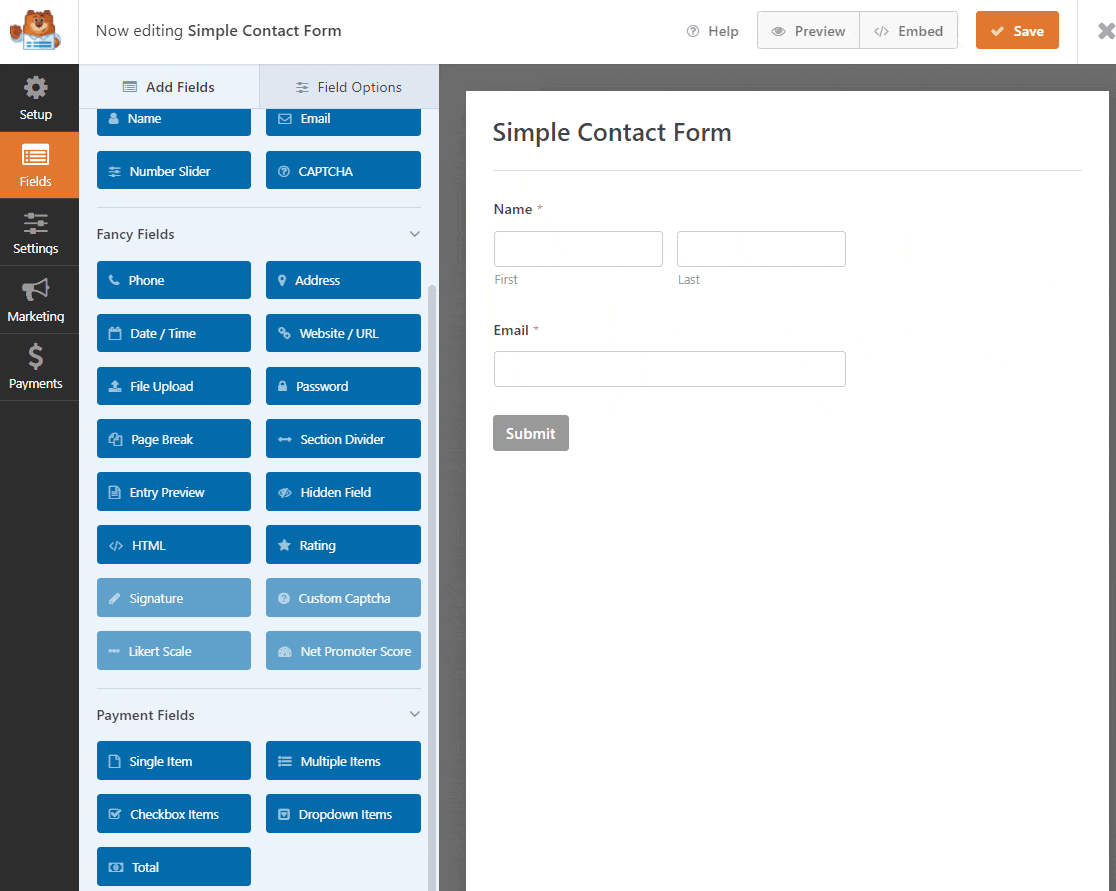 Using Multiple Entry Preview Fields
Because the Entry Preview field works alongside page breaks for maximum flexibility with placement, they can be easily displayed more than once within your form.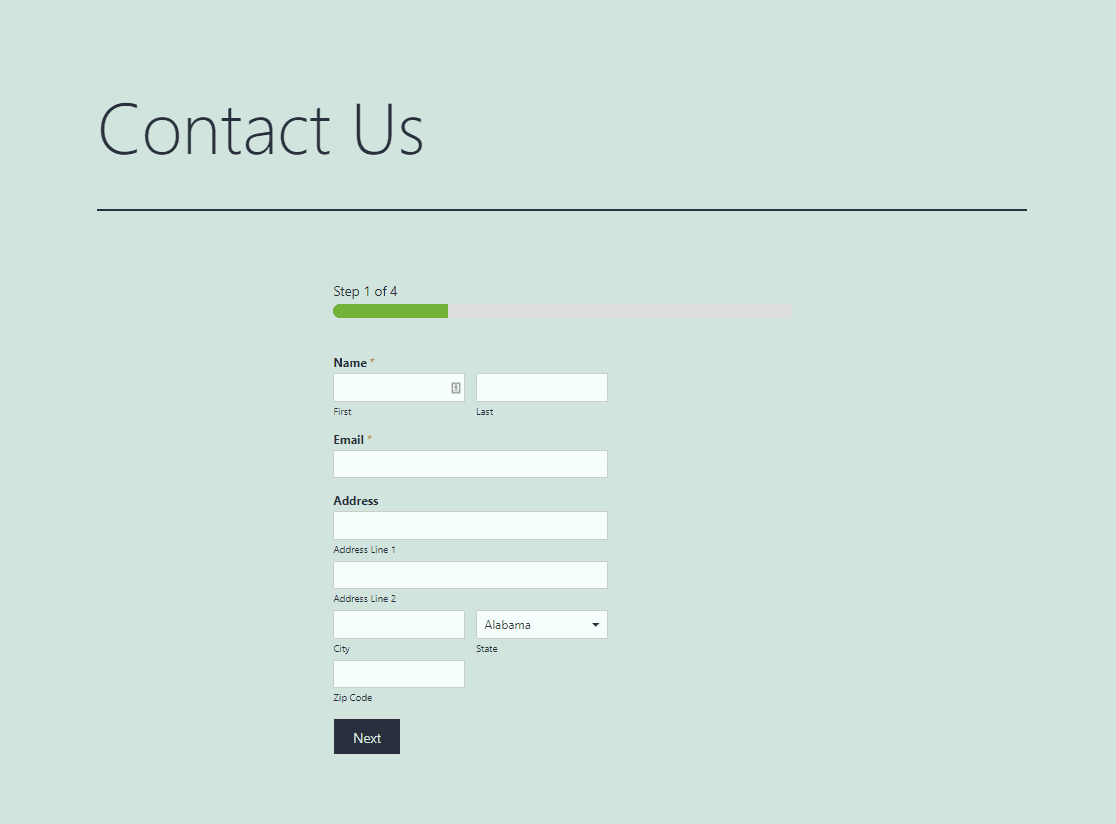 This works by displaying the previous information your form user has filled out as a preview, so they can seamlessly review it while they're filling out your form.
With multiple Entry Preview fields on your form, you'll be able to collect better data and spend less time trying to manually fix errors in entries.
Adding Entry Preview fields throughout your form can be especially useful for things like job application forms, agreements, or even an existing multi-step form that you'd like users to see previews of as they're filling it out.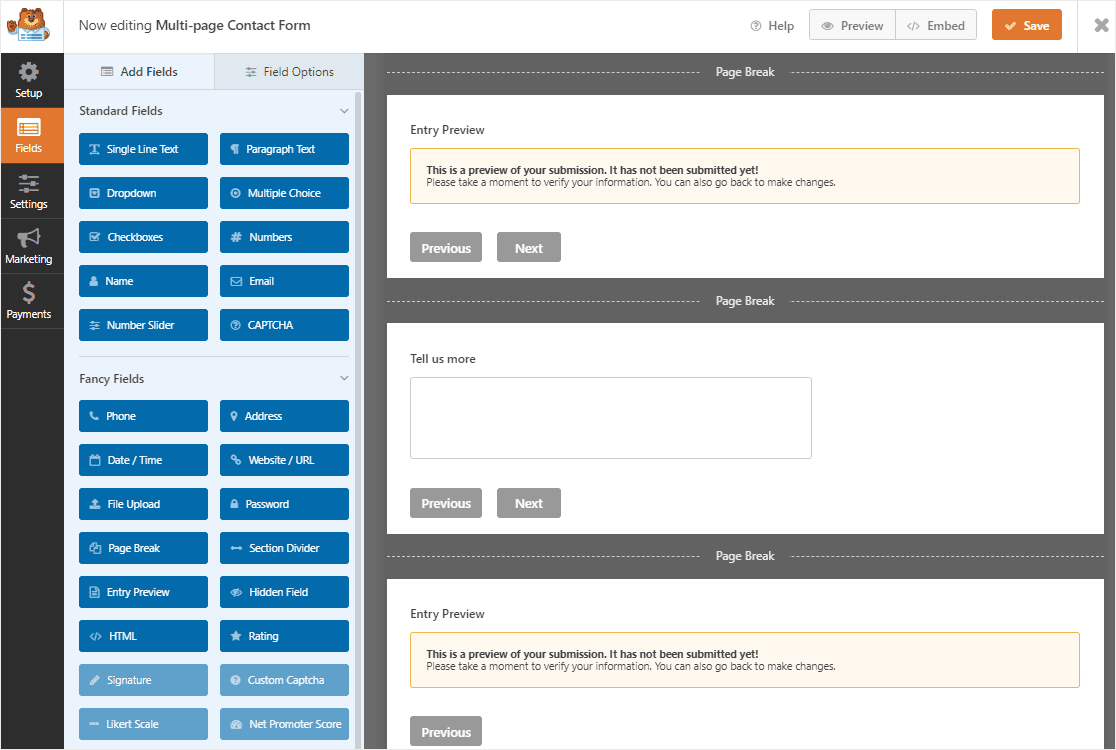 You wrote to us and said you wanted to make sure people are previewing their form data throughout the process of filling out your form, so we made it happen.
We think you'll really love using multiple Entry Preview fields on forms where it's important to give someone a chance to double-check their details for accuracy.
And, giving you customization to this field was important to us, so you can make it work best for your leads, customers, and website.
Entry Preview Field Customization
We're always thinking about making forms customizable to fit your business's exact needs. So we made it easy to customize the new Entry Preview field.
If you're using the Entry Preview field inside of your form, you can edit the text on the 'Previous' button if you choose. And in the settings, you can adjust the optional message that shows up to users when they're viewing the preview.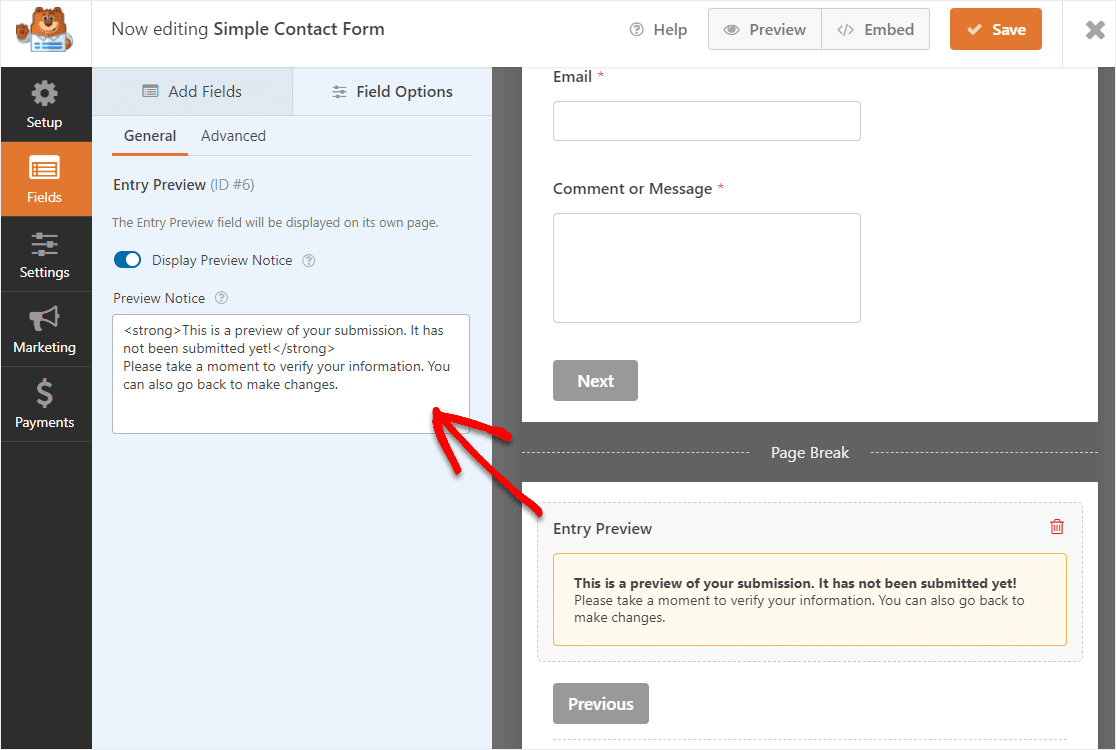 You'll get a lot of mileage out of these customization options if you're wanting to align the language on your forms to your brand's specific tone.
With this release, you can also take advantage of the new Entry Preview feature by enabling it to show up after someone finishes your form, which we'll cover next.
Entry Preview in Form Confirmations
For those who want to show an Entry Preview after a form submission, we've got you covered too.
WPForms 1.6.9's new Entry Preview features don't end with just the Entry Preview field. You can also now easily display a preview of a completed form entry to a user.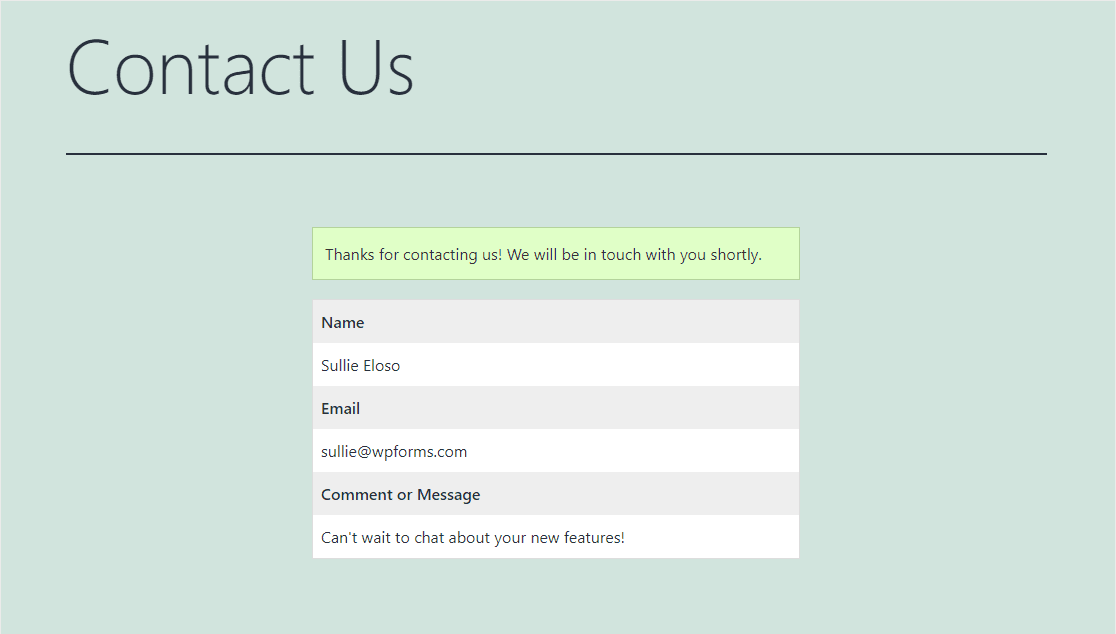 This is done by enabling Entry Previews in form confirmations, so a snapshot of everything someone just filled out will show up immediately after submitting the form.
With this turned on, your leads and customers will get to see their entry details right away after they've sent their information through – which can be especially helpful for things like event RSVPs or agreements and contracts that you'd like to offer people a chance to save for their own records.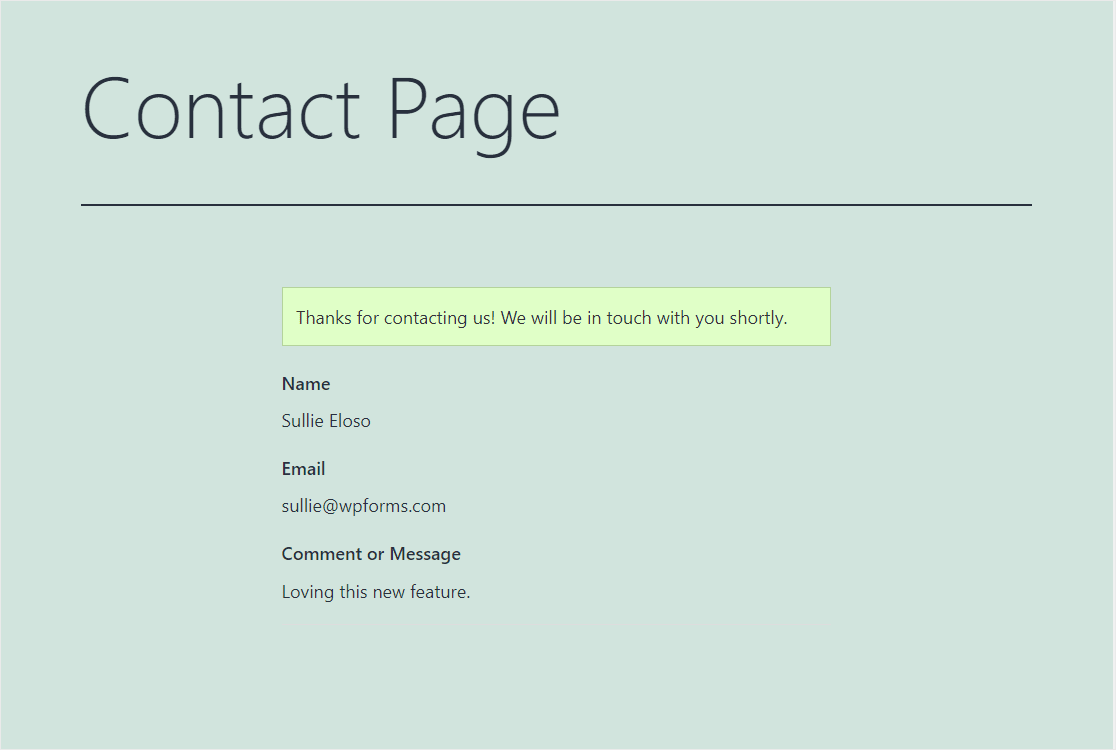 You'll find the brand new option to Show entry preview after confirmation inside the Form Confirmation settings. And we've made four different available layout style options that change how your entry preview screen will look.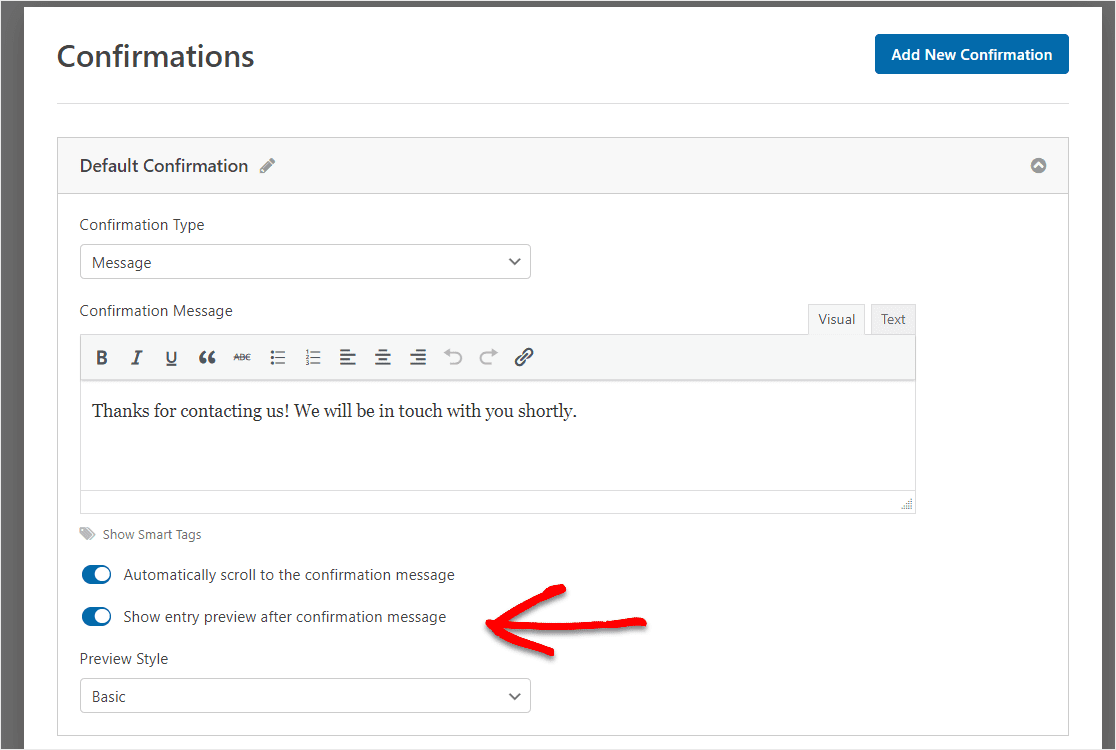 Showing the Entry Preview Field in form confirmations can be especially useful if you'd like to offer people the opportunity to do things like print their form entries for their records.
For example, say you've sold a ticket to an event through an order form. You can now invite your attendees to print their completed form entries to bring to the event for an easy, organized entry process (and proof of payment).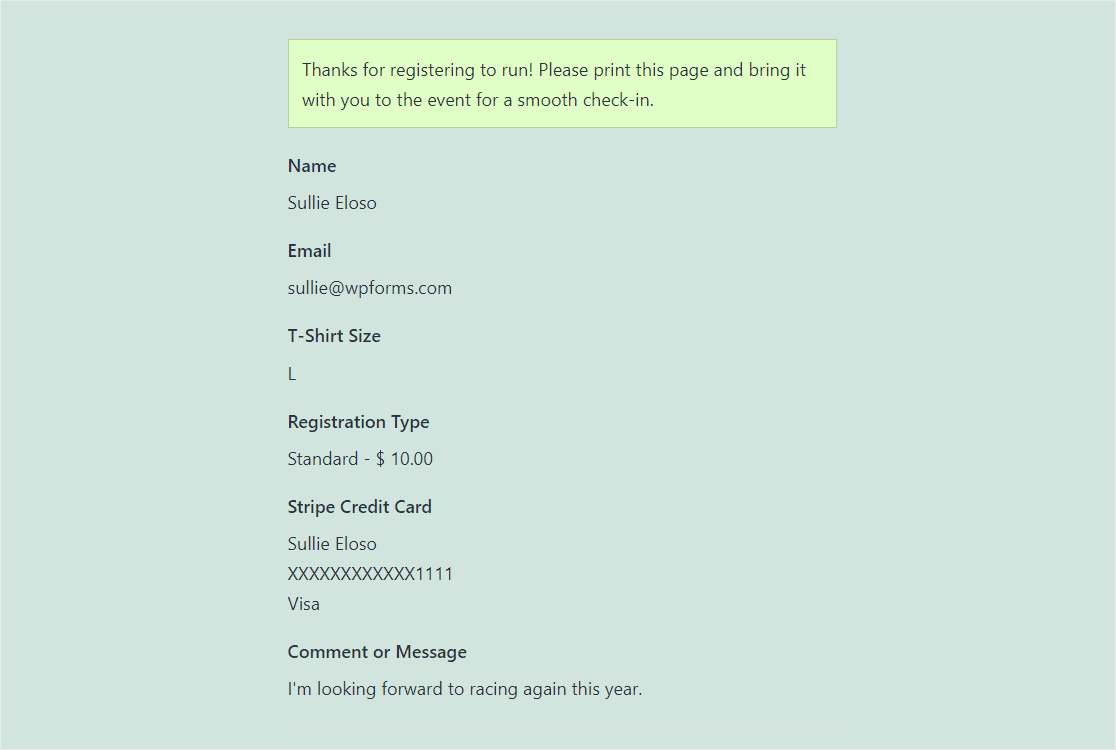 This will help make forms easier to use and manage in many ways, including reducing errors and giving form users access to their completed entry immediately.
Plus, we've built this feature to be available in multiple layout options.
So when using the Entry Preview feature in your form confirmations, we've created several different preview layout options for you to choose from.
Basic Entry Preview Layout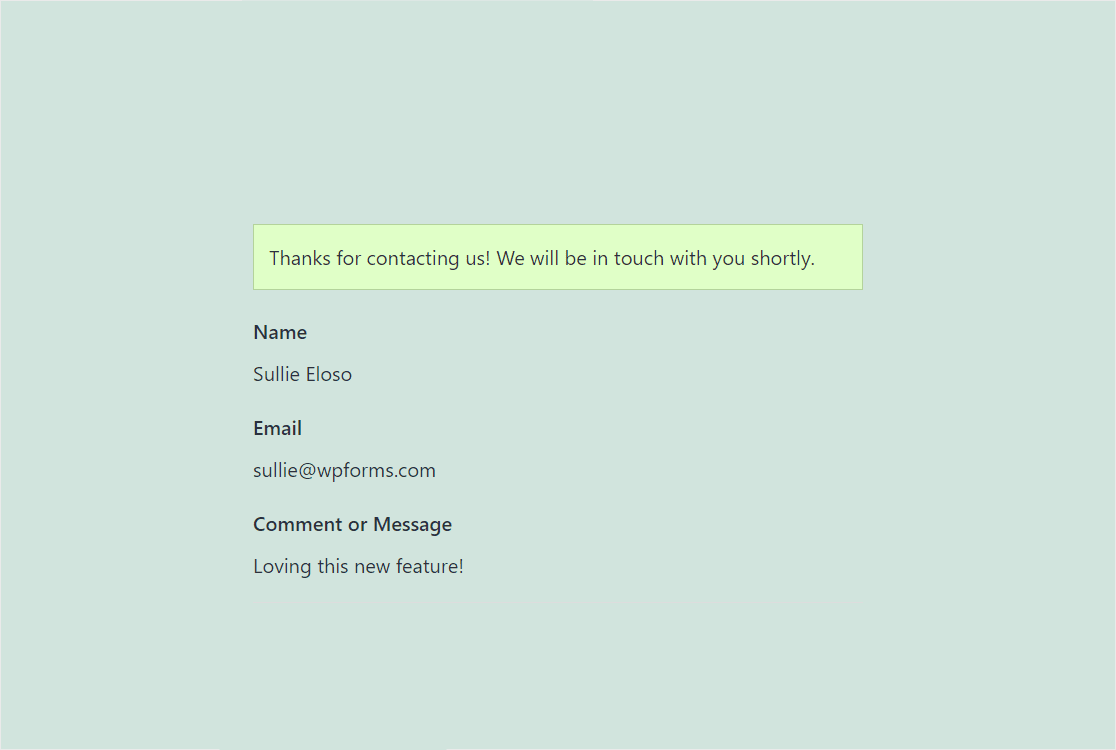 Compact Entry Preview Layout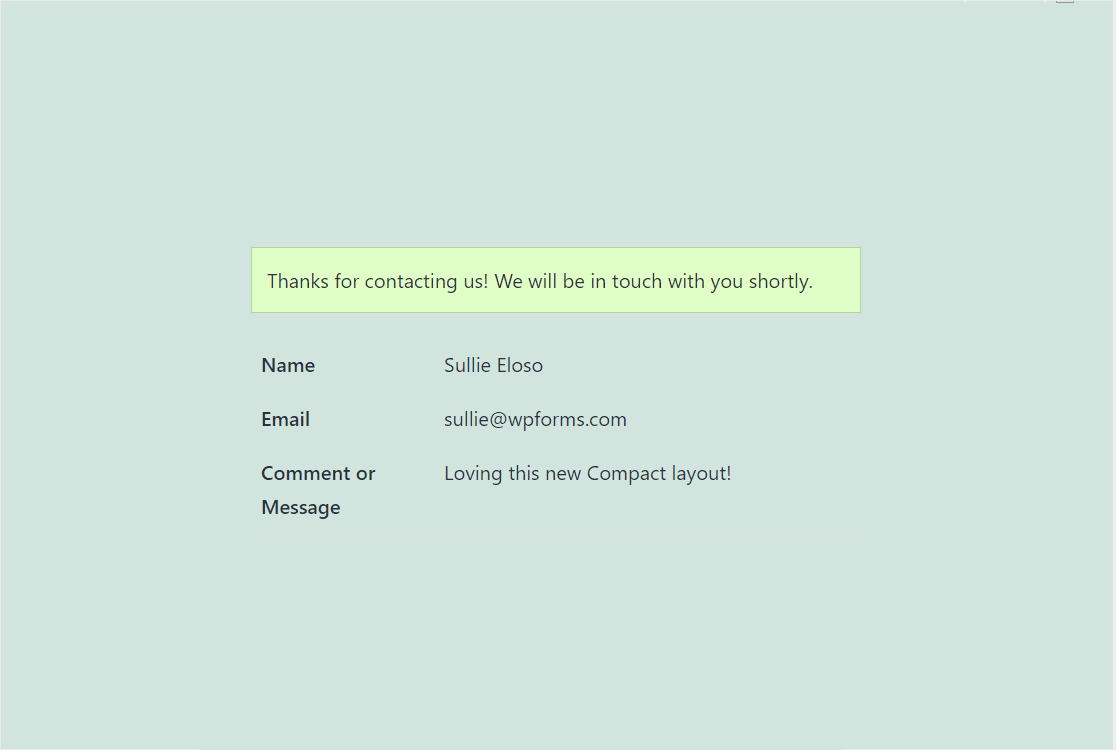 Table Entry Preview Layout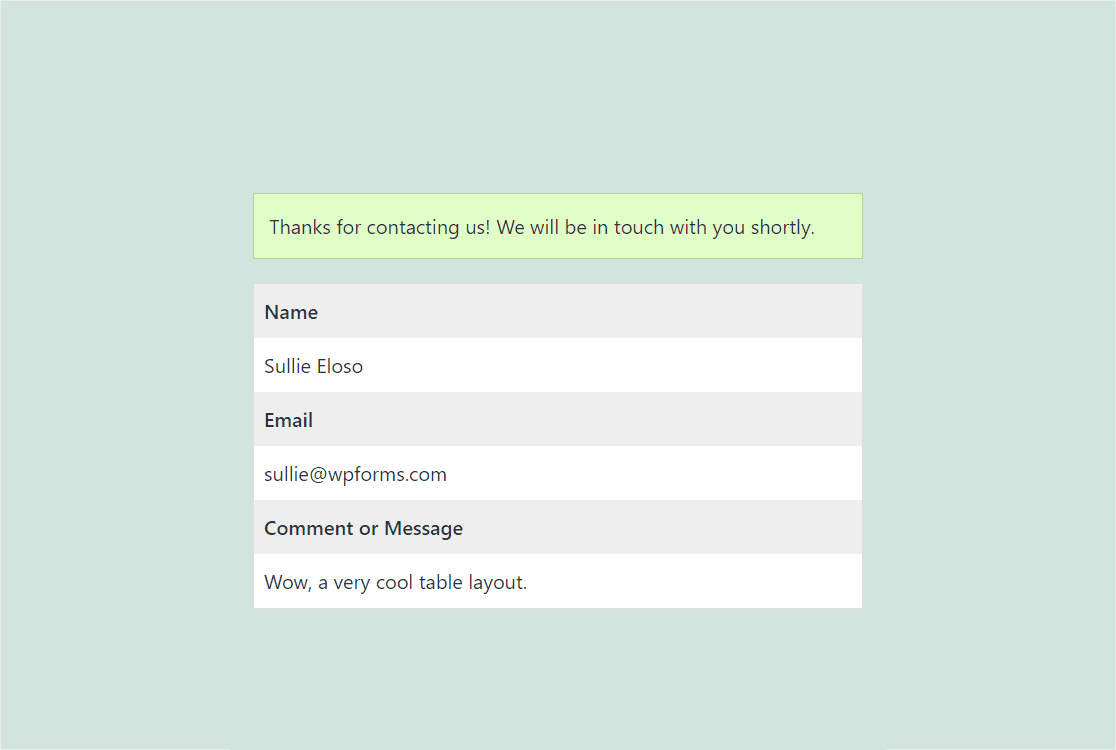 Compact Table Entry Preview Layout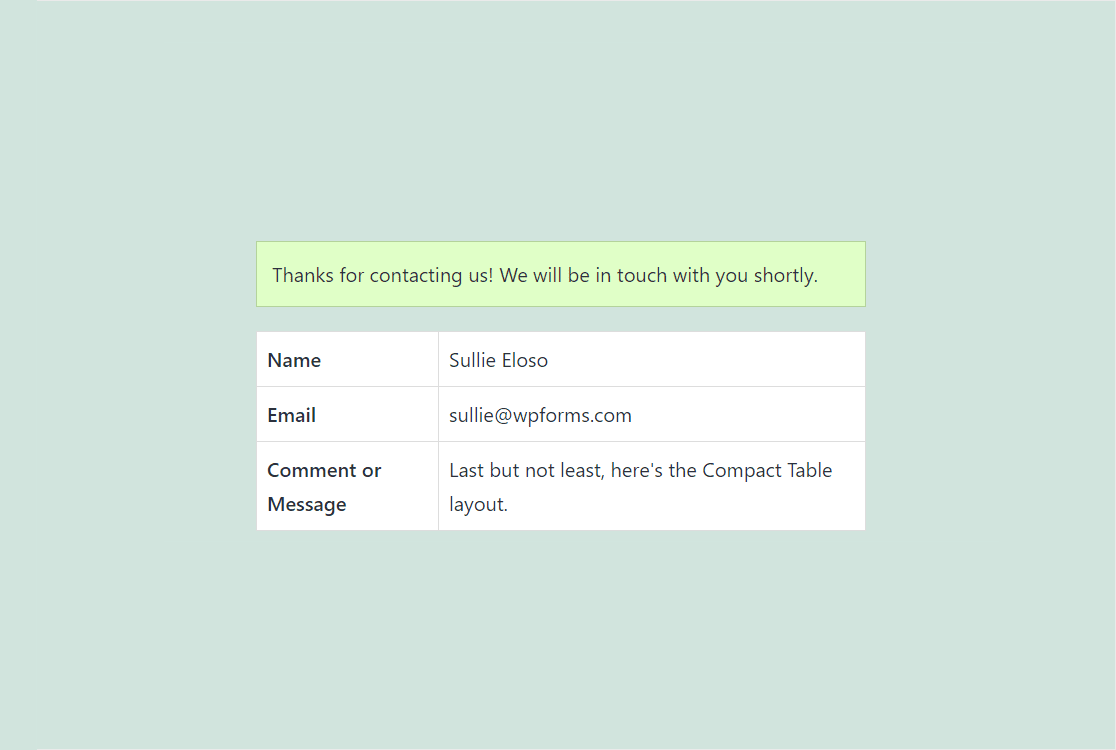 The moment after someone hits submit can be a big one. So we hope you find these flexible options and different layout choices helpful when customizing your form user's experience to meet your website's needs (and impress your customers while you're at it).
Expanded Entry Search Options
We've made it even easier to search through the details of your form entries.
The Entries Search Bar can now search through data in a form entry that isn't included in a form field, giving you quick access to even more useful data.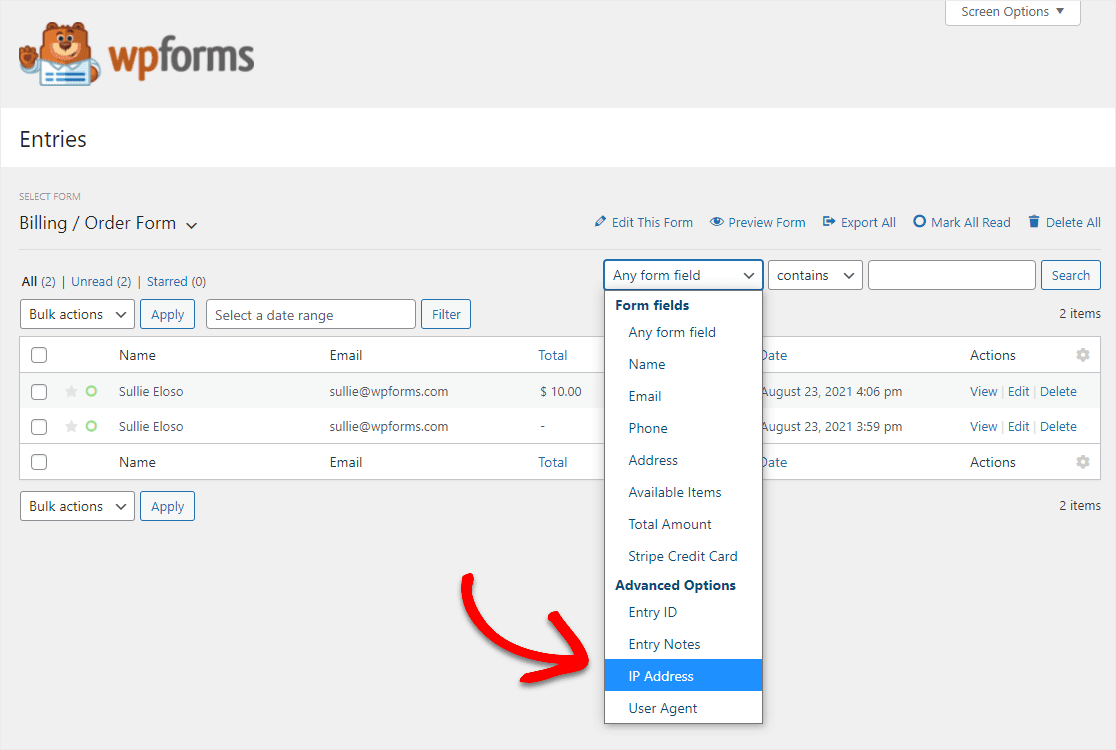 Previously, the Entries Search Bar could only search within form fields. We realized that we needed to expand this search function to include other data that could be relevant and useful to your entries, like other entry details.
So in the 1.6.9 update, we've expanded the searchable data of your form submissions including:
Entry Notes
User IP
Entry ID
User Agent
We wanted to make these new search functions available so you can access specific details you may need inside a form quickly and efficiently.
And since you have the ability to export form entries, we wanted to make sure to include more search filters in your entry export.
Additional Entry Export Search Filters
Since the Entries Search bar is becoming much more powerful, we knew it would be inconsistent if our Entry Export feature wasn't given these same granular search and filter abilities.
We wanted to make sure the new Advanced Options data would be part of the awesome entry export filters we already offer. So you guessed it, you'll now see these additional filtering options under Additional Information when exporting form entries.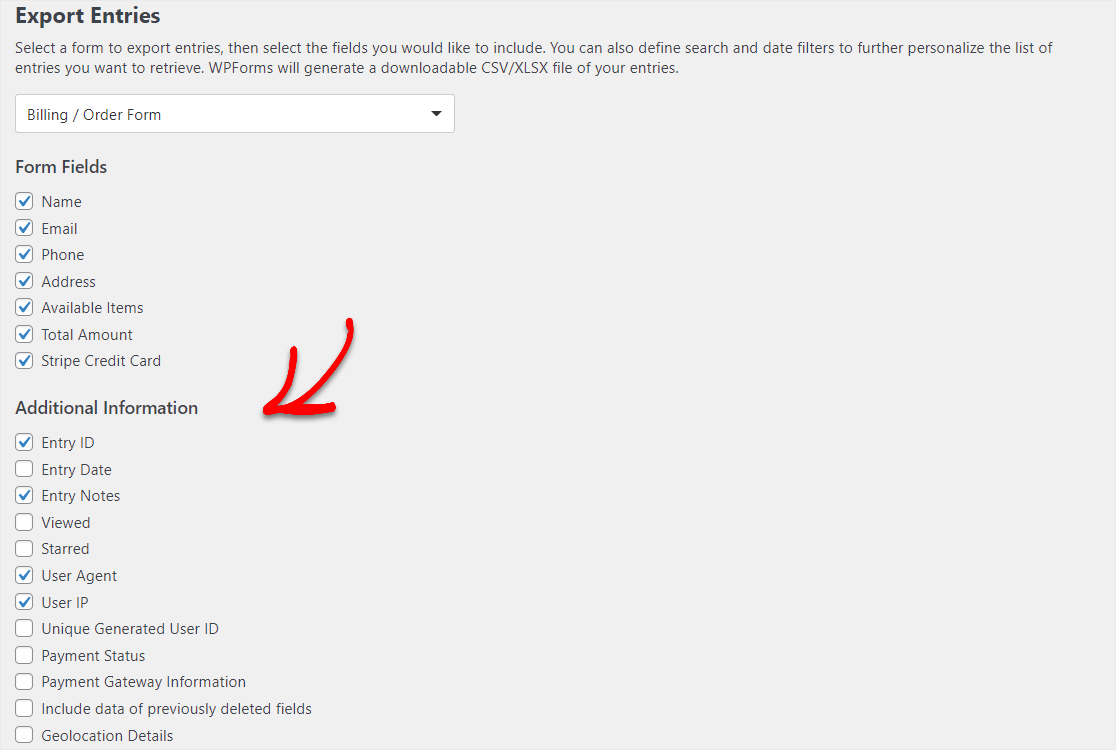 You'll also be able to search within these fields on the Export Entries screen. Meaning, if you're wanting to include or exclude anything specific from your export, you can do just that.
For example, say you've noticed an IP address that's been filling out your forms a lot. With WPForms 1.6.9, you can search for that specific data and ask that it be excluded from your export.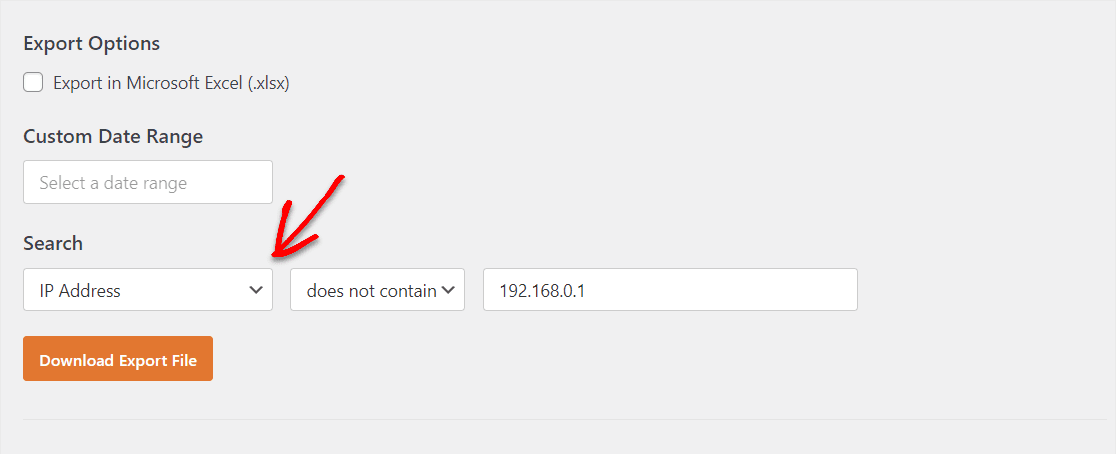 You asked us for more filtering with exporting so you could access the data you've collected faster. So, these new entry export filters have a ton of flexibility, and we think they'll truly help put all that fantastic form data your website gathers to work for you in all kinds of impactful ways.
Entry management, including the ability to edit, search, and export form data, is available with all paid WPForms licenses.
Form Builder Keyboard Shortcuts
WPForms 1.6.9 also introduces keyboard shortcuts to the form builder.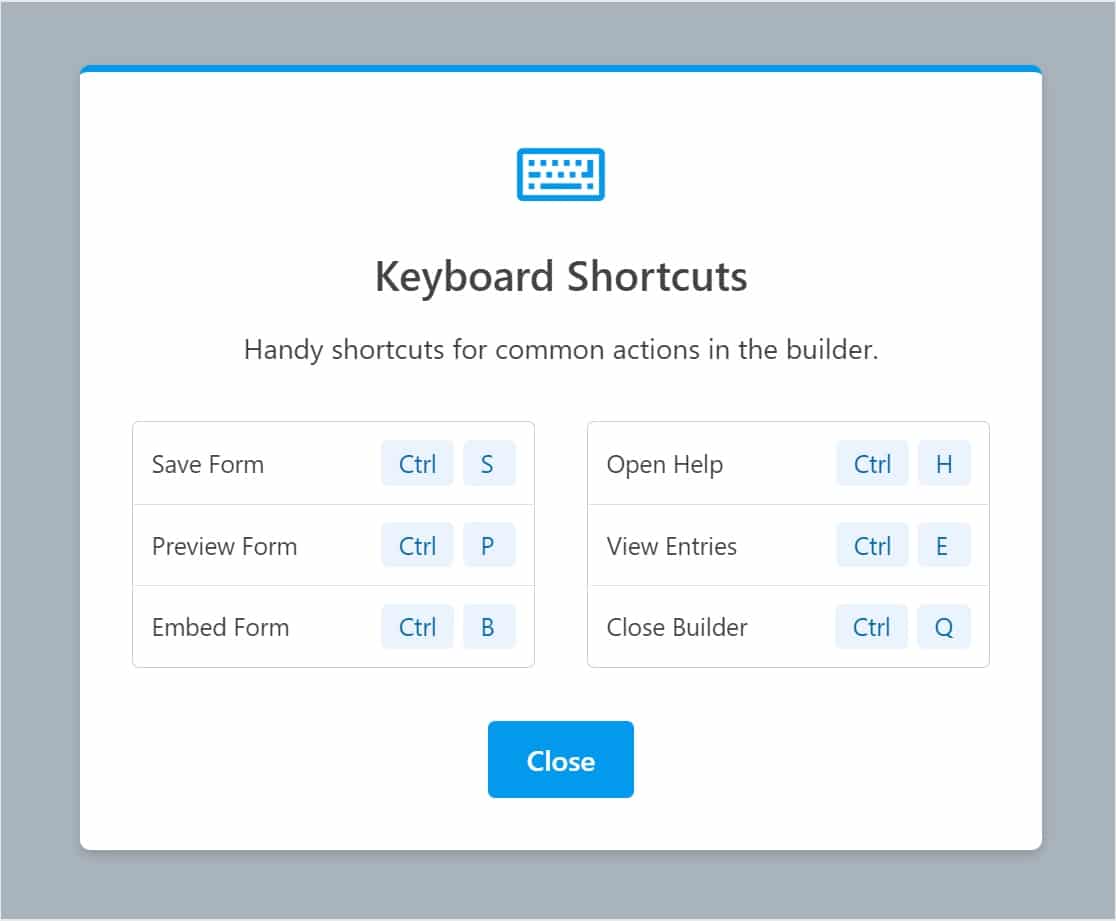 Simply open this screen from the form builder by using Ctrl + /, and you'll see an informative screen containing the following optional shortcuts:
Ctrl + S = Save Form
Ctrl + P = Preview Form
Ctrl + B = Embed Form
Ctrl + H = Open Help
Ctrl + E = View Entries
Ctrl + Q = Close Builder
You can easily close the shortcut screen when you're ready by pressing Ctrl + / again or escape.
Simple to memorize, these shortcuts should be great for power users who want to move through the form-building process even faster.
Wrapping Up WPForms 1.6.9
That's all for this monumental update to the plugin, but there's always more just around the corner.
If you have any requests for new features or other ideas, we're always listening and want to hear from you. Feel free to get in touch or leave a comment here.
We want to thank you for all your support and feedback in making WPForms the best WordPress form builder out there.
Jared and the WPForms team
P.S. Don't have a WPForms Pro license? Click here to get started today and experience the all-new Entry Preview functionality yourself.