From the beginning, our goal has been to make WPForms the easiest and most powerful contact form plugin on the market.
Today, we're excited to announce the latest release of WPForms with new features that make it more powerful than ever.
Not only will these features help you to create even more advanced forms, but they're also helping to pave the way for our upcoming new addon (coming soon – more info below!)
Here are all the details on what's new:
New Rating Field
We know you've been eagerly awaiting this one. A lot of you have asked us for the rating field, and it's now available in WPForms.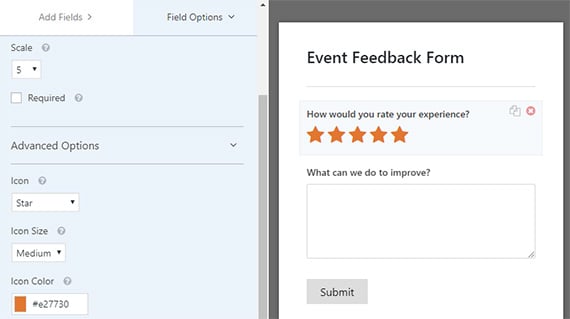 It's completely customizable (and totally beats the pants off of all our competition – not that we're biased 😉 ). Our devs did an awesome job on this one!
We have some pretty neat options available. You can select:
rating scale (rating out of 1-10)
icon style (stars, hearts, thumbs up, or smileys)
icon size (small, medium, large)
icon color (unlimited color picker, or enter a hex code)
It even works with conditional logic, so you can show or hide other fields based on the user's rating.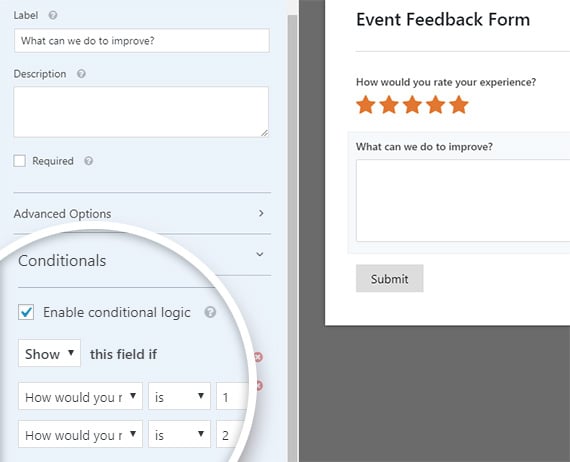 The new rating field is available to Pro license holders. For more details, see our documentation on how to add a rating field to your WordPress forms.
Search and Filter Entries
Here's another feature that's been a popular request…
In the last release, we quietly made some changes to the database structure that WPForms uses to store entries. The new structure helps us better organize your data.
This laid the groundwork for today's release: now you can easily search and filter through your form entries within your dashboard. You can search by specific field or across all fields: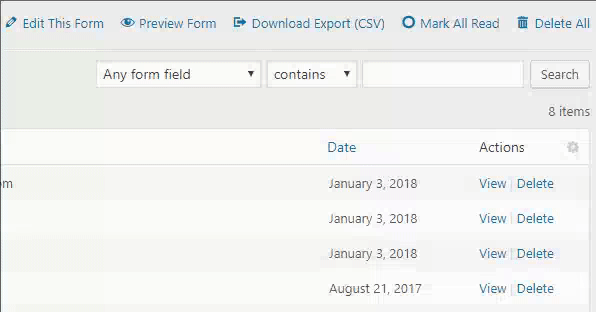 You can also filter form entries by date: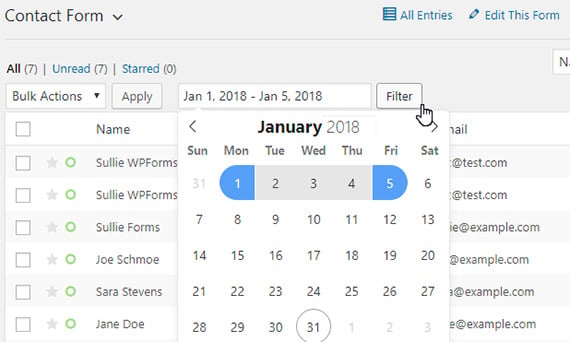 To check out all the options, see our guide on how to search and filter your form entries.
Multiple Choice and Checkbox Random Ordering
There's also a new advanced setting for Multiple Choice and Checkbox fields to randomize choices.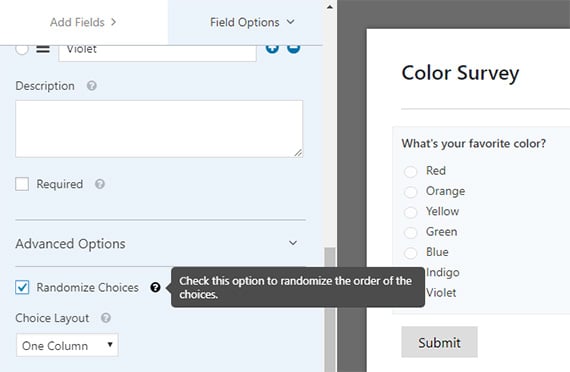 What's Next? [Sneak Peek]
There's one underlying theme that ties these updates together…
Most of the new features in WPForms 1.4.4 are laying the groundwork for our upcoming new addon: Survey and Polls.
With the Survey and Polls addon, you'll be able to unlock the true power of the new ratings field. Plus, being able to randomize multiple choice and checkbox fields will help you to get more accurate results from your surveys and polls.
Here's a quick sneak peek for you: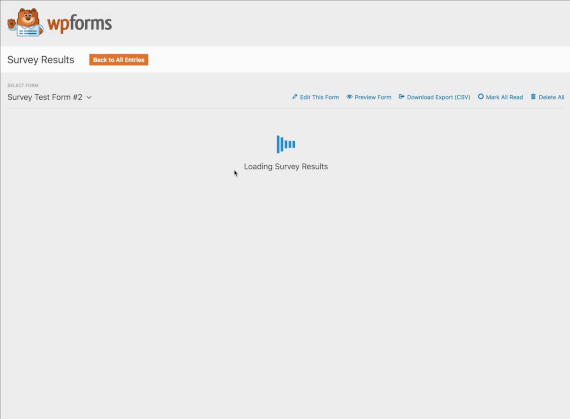 The Survey and Polls addon will be releasing soon, so stay tuned to the blog and be sure to follow us on Twitter to be the first to know!
As always, thank you for your support. We hope you enjoy these features and look forward to bringing you more updates soon!
Keri and the WPForms Team