Six months ago, we announced that we acquired the best SMTP plugin for WordPress.
Our goal: Make it easy to solve the email deliverability problems that the entire WordPress community faces.
After months of development, we're excited to share with you that WP Mail SMTP 1.0 is nearly ready!
Before the release, in the interest of transparency, we wanted to give all WP Mail SMTP users a heads up on what's coming.
WP Mail SMTP 1.0 – What's New?
This is no ordinary update. In fact, we've spent the past 6 months completely rewriting the plugin from the ground up, using modern standards and practices and adding new features.
But don't worry – if you're currently using WP Mail SMTP on your site, rest assured it will continue to work as normal.
Also, WP Mail SMTP will continue to operate as an independent plugin. There's no need to use WPForms in order to use WP Mail SMTP – although we do recommend it as the best drag & drop form builder for WordPress 🙂
After updating, you won't even notice a difference until you check out the settings page.
There you'll see our new pigeon mascot, Suzie…

…and several new options for securely enabling SMTP on your site – quickly and easily.
Previously the only option was to set up SMTP using your Gmail, Yahoo or Microsoft Live/Hotmail/Outlook email account. However, this method is less secure because it stores your email login and password in your WordPress dashboard, where other WordPress administrators have access to it.
In the new version of WP Mail SMTP, you'll have four different options:
SMTP
Mailgun
SendGrid
Google (G Suite or Gmail)
In other words, WP Mail SMTP will now do the job of 4 plugins in 1. The non-SMTP methods will be more secure, since you fill in your API key and other info without having to store a password in plaintext.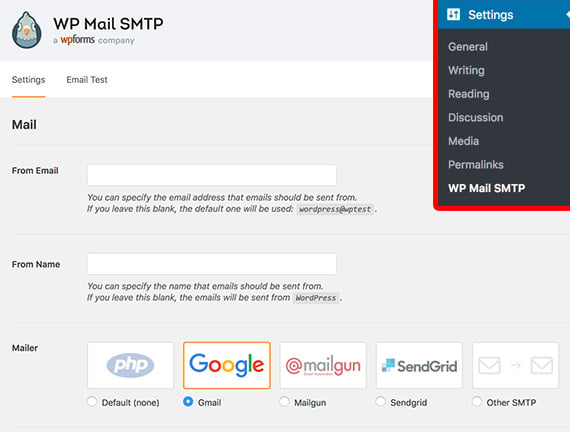 Now we'll actually have native integrations with those providers. That means if your web host is blocking the common SMTP ports, which is common, you can use any of those other services to bypass the problem.
Plus, support for these providers was built in a modular way. This means in the future it will be easy for us (or other developers) to add support for other popular providers such as Postmark, Amazon SES, and more.
When Is the Launch Planned?
We're planning to release WP Mail SMTP 1.0 release next week, so stay tuned and be ready to update!
If you have any questions, please feel free to get in touch.
Thanks for all your support! We're excited to bring you these new features and look forward to developing more soon.
Keri and the WPForms Team