WPForms believes creating and managing your website forms should be simple.
So we've added some new things to make it easier to do just that in WPForms 1.6.6.
We've got a ton of improvements and tweaks rolling out in this update, and there are 2 new features we've added to the core plugin we think you'll want to hear about. So let's jump right in and see what's in store for you.
Delete Uploaded Files
The first big change with this update is that users now have the ability to delete submitted files.
This was a popular request, and we think this will help make it even easier for you and your team to manage form entries.
If you've got a form with a file upload field on it, you can now go into your submitted entries and find the option to delete the upload.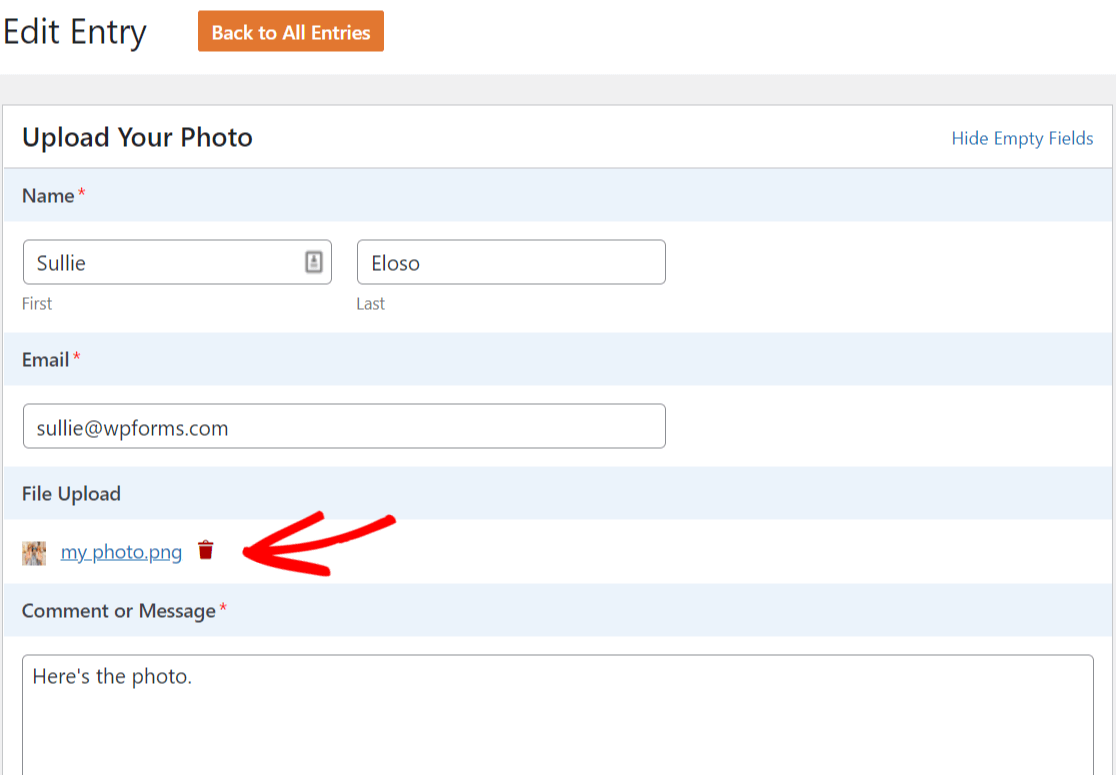 Anyone you've granted permission to edit entries through the Access Control feature can delete data from the file upload field.
Previously, you could edit fields of submitted data on forms, but with the exception of the field upload field. We took that exception away with this update.
You'll also notice that when you delete files submitted through forms, they'll be removed from the location they've been uploading to (based on your field settings).
This new option works great when a form user has uploaded multiple files and you only need one.
For example, let's say you allow more than one file to be uploaded to your form. But, someone accidentally uploaded the same file more than once. You can easily remove one of the files by clicking on the red trash bin icon next to the file to delete it.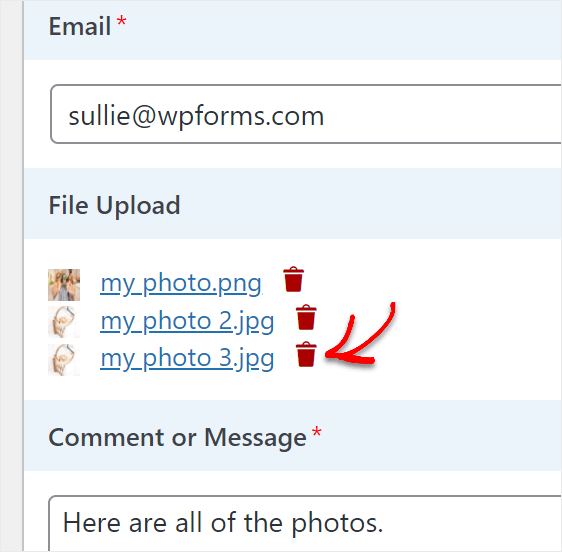 Because the file will be gone forever once deleted, you'll also get a popup notification to confirm that you'd like to permanently remove it.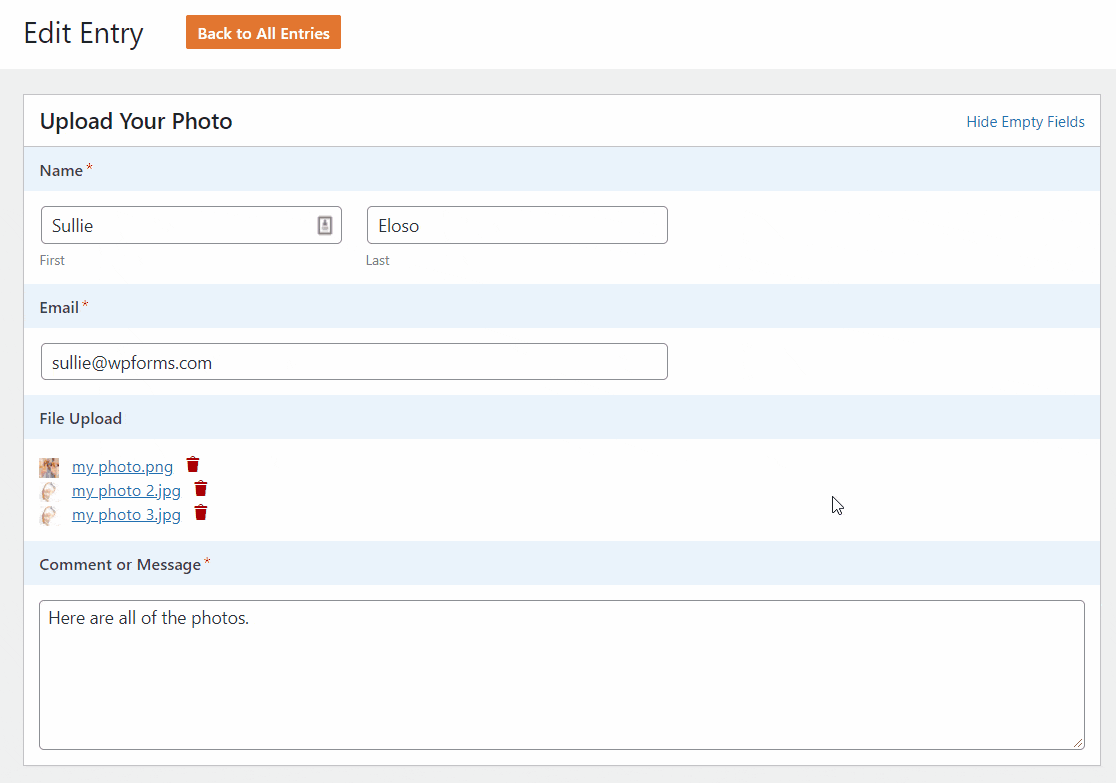 Previously, uploaded files were not affected when an entire entry was deleted. This wasn't very intuitive because users would have to complete an entirely new step to go and find the file then delete it.
We realized most people were assuming that when they delete an entry, all information associated with it would be removed as well. So, we knew this was an important function that needed to be added.
So now, once you delete the entire form entry, the associated file will be deleted from your WordPress database or media library.
Entry Editing is available to all users with a paid WPForms plan.
We're thrilled to bring a more cohesive experience to Entry Editing with these new functions for the file upload field.
Limit Payment Email Notifications
We heard you loud and clear.
Because of your feedback, you'll see that in WPForms 1.6.6 we've made it possible to limit email notifications to fire off only when a payment is completed.
Before this update, it wasn't possible to only send a payment email notification if the payment actually got completed. The emails would send right away, the moment someone had submitted the form.
However, when it comes to payments, a lot happens behind the scene between hitting 'submit' and a payment actually going through. So, we knew it would be useful to add an option under Form Notifications to only send an email once the payment had completely finished processing.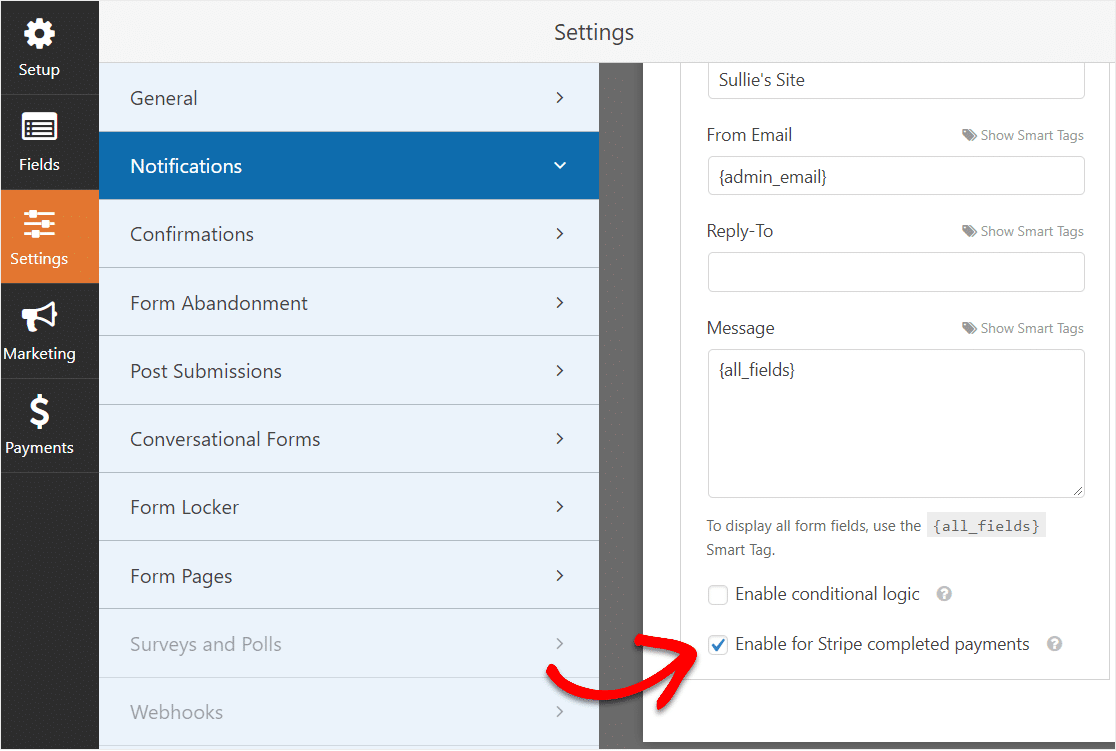 This will work with both Stripe and PayPal payments, as well as the Authorize.net addon, and you'll receive separate notifications depending on which payment processor was used on your form.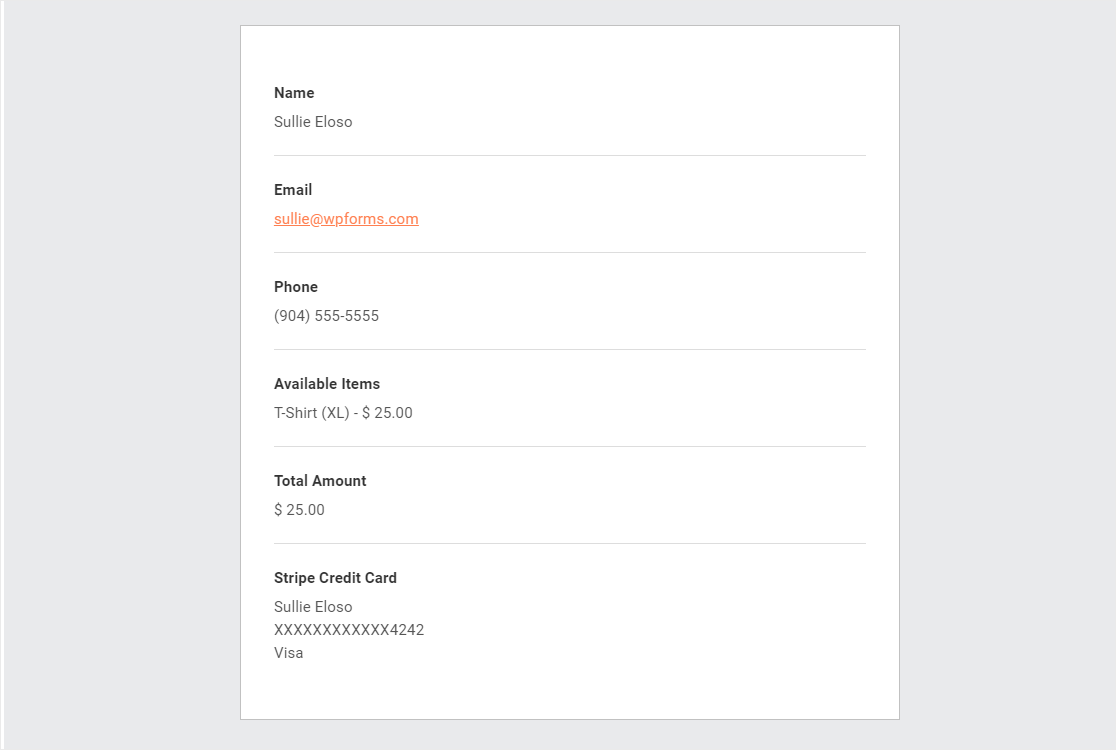 We're incredibly excited about this feature because we know it will help clarify when a payment has been processed since sometimes that doesn't always happen.
Sure, sometimes payments fail for one reason or another. But with this new feature, your marketing automation will be even more streamlined now that you can set things up to only send emails once the purchase goes through.
Payment Forms are a WPForms Pro feature, so Pro users will be able to access the payment notification feature and check out the new limiting option today.
Get Started With WPForms 1.6.6 Today
And that just about wraps it up for what's new in WPForms 1.6.6. We hope this update helps make using your web forms and running your small business website that much easier.
We'd also love to hear what you think about this update, or any other thoughts you may have about WPForms and what you'd like to see next. Please get in touch if you'd like to give us some feedback.
So don't wait another moment before you update the plugin and see all the shiny new improvements for yourself.
As always, thank you for your continued support of WPForms. We look forward to bringing you more updates in the future.
Jared and the WPForms team
P.S. Don't have a WPForms Pro license? Click here to get started today and experience the WPForms difference.