We're excited to welcome a new marketing addon to the family this morning.
Introducing… the MailerLite addon for WPForms!
MailerLite is an email service provider known for its easy-to-use interface and an awesome free plan. It's a popular email marketing tool for small businesses.
We've received a ton of requests for developing an easy native integration between WPForms and MailerLite from our customers. And we heard you!
With the new MailerLite addon, you'll no longer need to copy and paste your leads from WordPress forms into your MailerLite list. Our integration will automatically take care of it for you!
Let's see how.
Enabling the MailerLite Addon
We believe that integrations should be simple and straightforward. Previously, connecting MailerLite with WPForms was difficult and time-consuming.
We wanted to change that with this addon.
Now, you just need to enter your MailerLite API token into the WPForms integrations settings to establish a connection.

If you have more than 1 MailerLite account, we've got you covered! You can connect all of them with WPForms.
Once you've connected your MailerLite accounts with WPForms, you can automate the process of adding new contacts from your WordPress forms to your MailerLite subscriber list.
Connecting WordPress Forms to MailerLite
To get the most out of the MailerLite connection with your forms, we included the connection rules within our form builder interface. This way, you get full control over how each form should communicate with your MailerLite account.
Let us show you a simple newsletter signup form with an active connection to MailerLite.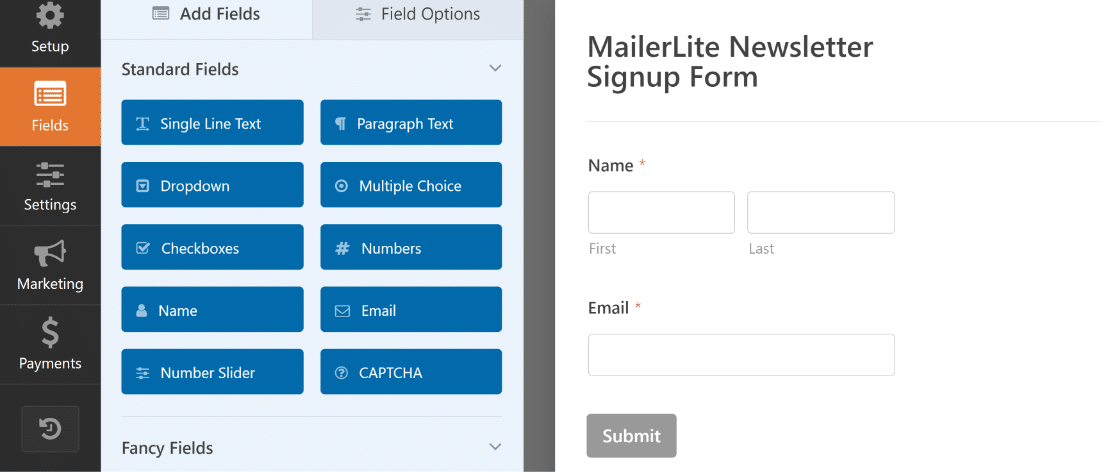 So how do you set up field mappings between your form and your MailerLite subscriber dashboard? It's simple!
All you need is to go to the Marketing settings from your form builder and select MailerLite.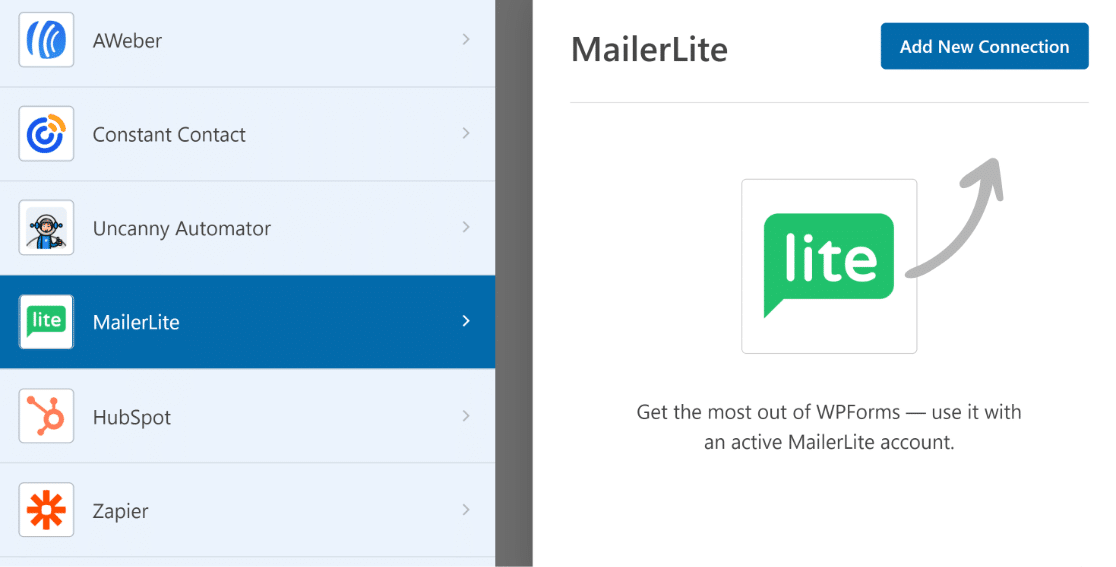 We've given you the flexibility to automate useful actions from these settings such as:
Add a contact to your MailerLite subscriber list
Remove a contact from your MaiLerLite subscriber list
Delete a contact entirely from your MailerLite account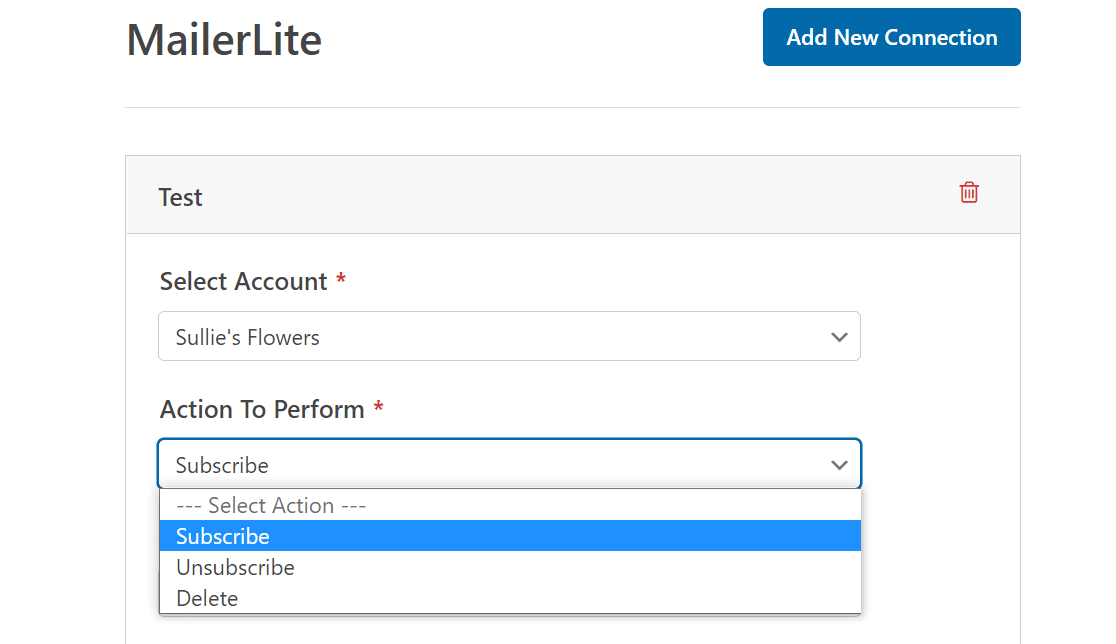 We've also included an option to assign contacts to particular interest groups and filter them by type. This is useful when you directly want to add contacts to specific groups based on common interests, behaviors, and so on.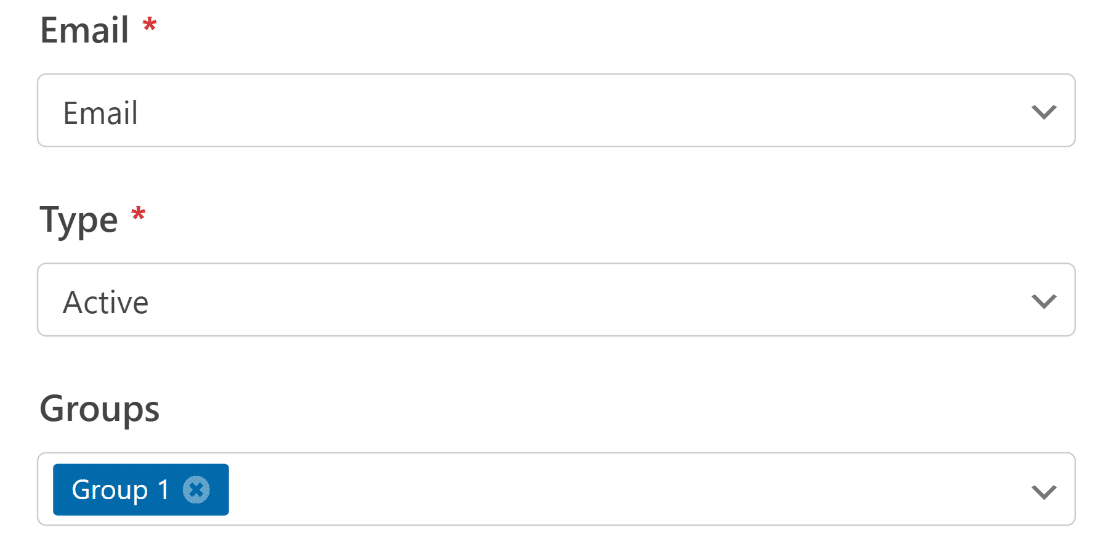 That's all you need to do in order to start sending contact data from your newsletter signup form to your MailerLite account.
Mapping Custom Fields to MailerLite Fields
By default, MailerLite has 9 custom fields that you can map your form fields to. Plus, you can even create additional fields if you feel the need.
Custom fields are useful if you'd like to collect more contact details with your forms and save these into appropriate fields in your MailerLite account.
Our MailerLite addon lets you map any custom MailerLite fields to corresponding form fields using simple dropdowns.

Now every time you submit a form, you'll find all the information from your form fields matching perfectly with your MailerLite custom fields.

But wait! There's more…
Conditional Logic for Subscriber Management
If you've used WPForms before, you're probably aware of the great flexibility that our conditional logic feature adds to your forms.
We made sure to include our popular conditional logic functionality with this MailerLite addon as well!
Conditional logic helps when it might not make sense to add a contact to your mailing list.
For instance, if a contact chooses not to opt in to receiving your newsletters, you can simply leave them out of your list.

And there you have it! WPForms will now only transfer contact information to MailerLite if they meet certain criteria, as decided by you. You'll still receive these form entries in your WordPress dashboard and emails, but they won't be added to your MailerLite subscription.
Pretty cool, right?
We hope you'll give this addon a try and that it helps increase your business efficiency.
What's Next?
We're really excited about the MailerLite addon and would love to see our customers benefiting from it by growing their email list faster. If you have feedback or suggestions, feel free to reach out to us.
The entire WPForms team is grateful for your support and feedback. We hope you'll enjoy using the MailerLite addon as much as we enjoyed creating it!
– Jared Atchison