Building an email list is essential for your business, and AWeber is one of the best email marketing services with its powerful options to segment your audience using tags.
And with WPForms' new support for AWeber tags, effective email marketing is even easier.
Now there's no need to go back and forth between your AWeber account and WordPress dashboard to generate your forms. You can quickly and easily tag new subscribers automatically when they fill out your WPForms email newsletter signup forms.
AWeber tags are great for:
Sending interest-based campaigns to subscribers who optin on a certain page or post
Targeting subscribers who optin to receive a specific lead magnet
Sending customers-only content to subscribers who signed up while filling out an order form
How to Tag New AWeber Subscribers
To start tagging your new subscribers, simply create an AWeber subscribe form with WPForms.
Then, in the Marketing » AWeber menu, scroll down to the bottom. You'll see a new Lead Tags field where you can enter your tags.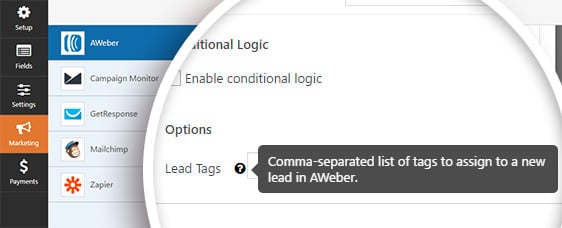 You can enter as many lead tags as you want, separated by commas.
Now whenever a new subscribers fills out this form, those tags will be automatically applied. You can create as many different AWeber signup forms as you want, all with different tags.
Now you can boost your email open rates and get more clicks by segmented your audience automatically, as soon as they sign up.
The AWeber Addon is available for all Plus, Pro, and Ultimate license holders. You can go ahead and download it right now from your account page.
What are you waiting for? Give AWeber tags a try now, or click here to get your license.
There are so many exciting new features we're working on that we can't wait to share, so be sure to subscribe to the newsletter and follow us on Twitter and Facebook to be the first to know.
Thanks once again for all your support and feedback in making WPForms the best WordPress form builder.
Keri and the WPForms Team