Are you looking for the best paywall plugins for WordPress sites?
Paywall plugins help you monetize your content by limiting access to paying members only.  Doing so will enable you to generate more revenue and create unique, high-quality content in the long term.
There are many paywall plugins for WordPress sites out there, but not all of these are equally good.
In this article, we will look at the best paywall plugins for WordPress sites that will help you successfully monetize content using paywalls.
Can You Add a Paywall to WordPress?
Yes, you can add a paywall to WordPress using plugins.
The paywall is a great way to provide premium content to your paid users while still allowing the general audience to access regular content on your site.
There are many WordPress plugins out there, such as MemberPress, that can help you set up a paywall on your website.
WordPress paywall plugins are easy to get started with and do not require you to hire coders to set up a paywall on your website.
Let's look at some of the best Paywall plugins for WordPress that can help you set up gated content.
Best Paywall Plugins for WordPress
The best Paywall plugins for WordPress that work seamlessly with WordPress themes and provide the best features and professional-looking designs are listed below.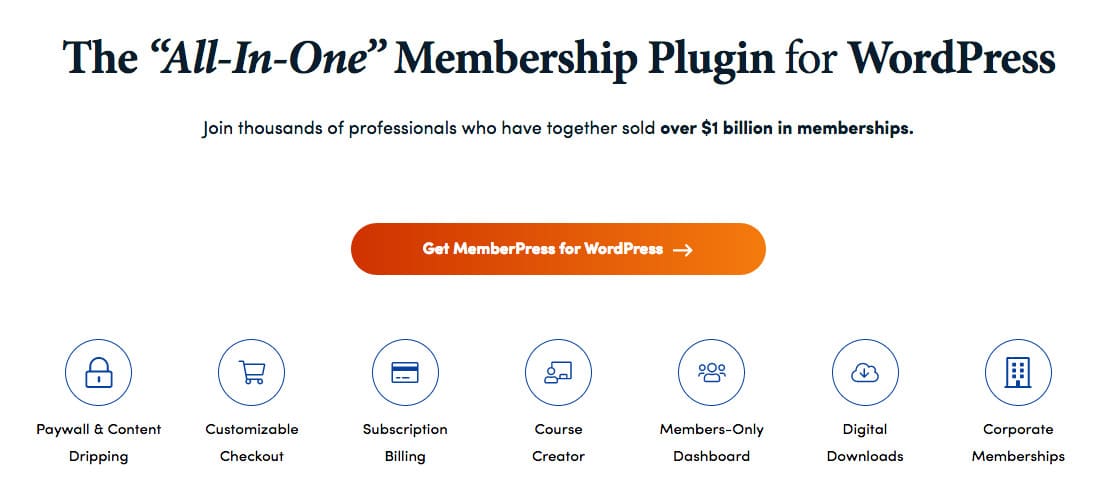 MemberPress is the best paywall plugin for WordPress. It's easy to set up and helps to efficiently restrict specific pages, posts, files, and categories to paying site members.
It not only creates content-sharing membership portals but also provides tons of features that integrate seamlessly with WordPress and help you monetize your content immediately.
Some of the notable MemberPress features are:
Easy Setup: It is straightforward to get started with MemberPress. Install the plugin, configure your payment gateway, create membership levels, add some products, and you can start inviting members to join.
Restrict Content: You can restrict regular users' access to posts, pages, tags, categories, and more. Control what users from different membership levels can access depending on their membership status.
Integrations: Integrate MemberPress with popular email marketing services such as Mailchimp, Constant Contact, GetResponse, and Drip. You can also integrate with BuddyPress to create forums and Amazon Web Services to grow your business.
Payment Gateways: With MemberPress, you can easily accept payments from your subscribed members using popular payment gateways like Stripe, PayPal, and Authorize.Net.
Content Dripping: MemberPress allows you to gradually release content to your members to increase client retention.
Course Builder: MemberPress has a built-in Course Addon to help you create, manage, and sell online courses.
Widgets: Your paying members can quickly sign up using the login widget for sidebars.
Walkthroughs: MemberPress provides helpful walkthrough tutorials to guide you through their processes.
MemberPress provides additional features such as coupon generation, dynamic pricing, content dripping, and detailed analytics to monitor how your membership sites perform.
Pricing:  MemberPress pricing plans start at $15/month, billed annually.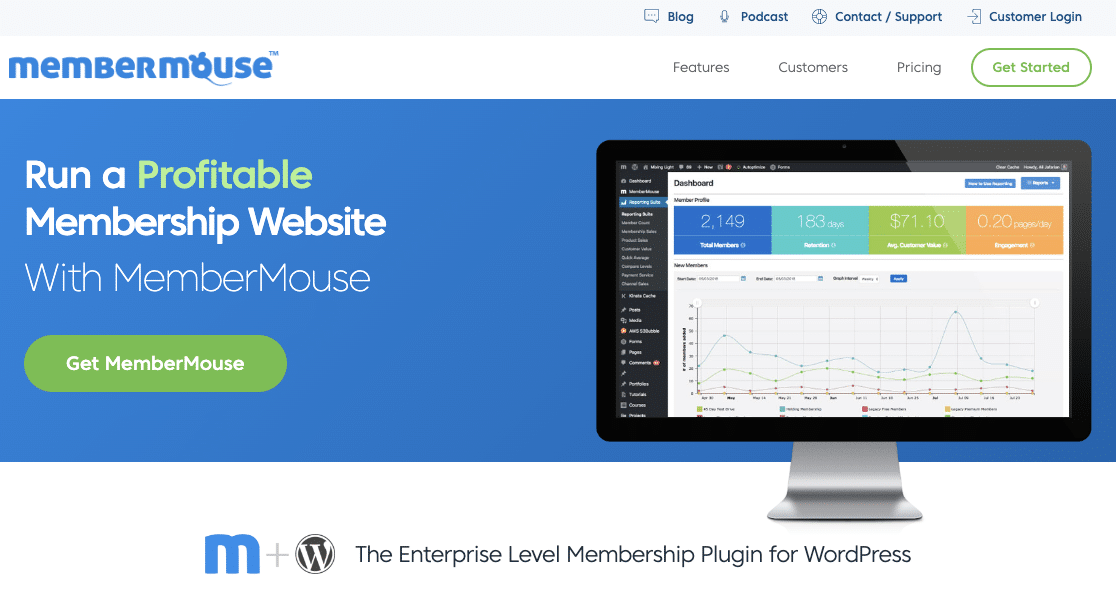 MemberMouse gives you the tools you need to set up a flexible content paywall. You can set up multiple membership levels and custom content dripping schedules to grant access to your users whenever you want.
This plugin also offers some more advanced payment and checkout options, including prorated upgrades for customers who want more access to your content and upsells to encourage bigger sales.
Other features include:
Physical Product Sales: MemberMouse lets you sell one-time purchase physical products alongside your paywall subscriptions.
Member Dashboard: You can keep track of all your members and your sales analytics in an easy-to-read dashboard.
Integrations: You can use your favorite payment methods and email marketing tools alongside MemberMouse.
MemberMouse is ideal for enterprise-level membership and paywall sites, with lots of other advanced features to help you manage tons of subscribers.
Pricing: MemberMouse starts at $199.50/year.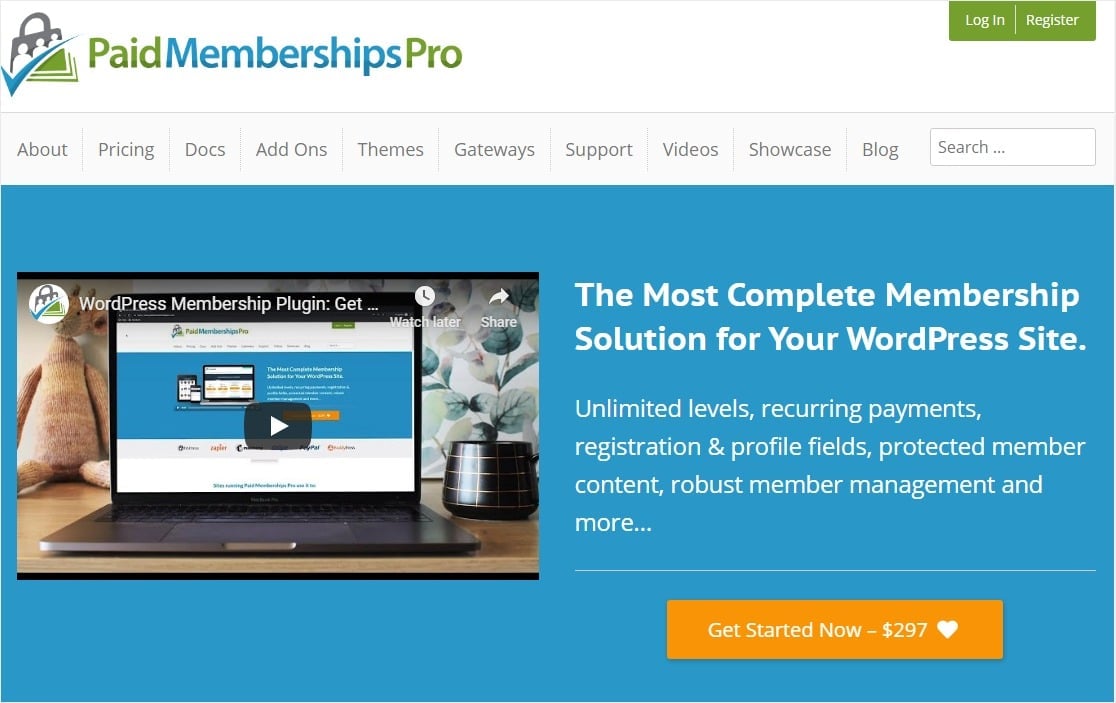 The best part about Paid Memberships Pro is that it can be customized to fit your business needs.
Paid Membership Pro has numerous useful features that help provide an intuitive user experience, restrict user access to premium content, sign up members, and collect recurring subscription payments.
Some of the features of Paid Memberships Pro include:
Popular Payment Gateways: You can collect payments with multiple payment gateways like Stripe, PayPal, Authorize.net, Braintree, and 2Checkout.
Flexible User Restriction: You can allow users to purchase individual content, one-time access, or single-category purchases.
Admin Reports: You can track your membership site's performance with sales and revenue reports.
Paid Membership Pro offers a free core plugin with fundamental features like unlimited restricted content, payment collection with Stripe and PayPal Express, and unlimited membership levels.
Pricing:  Paid Membership Pro pricing plans start at $247/year.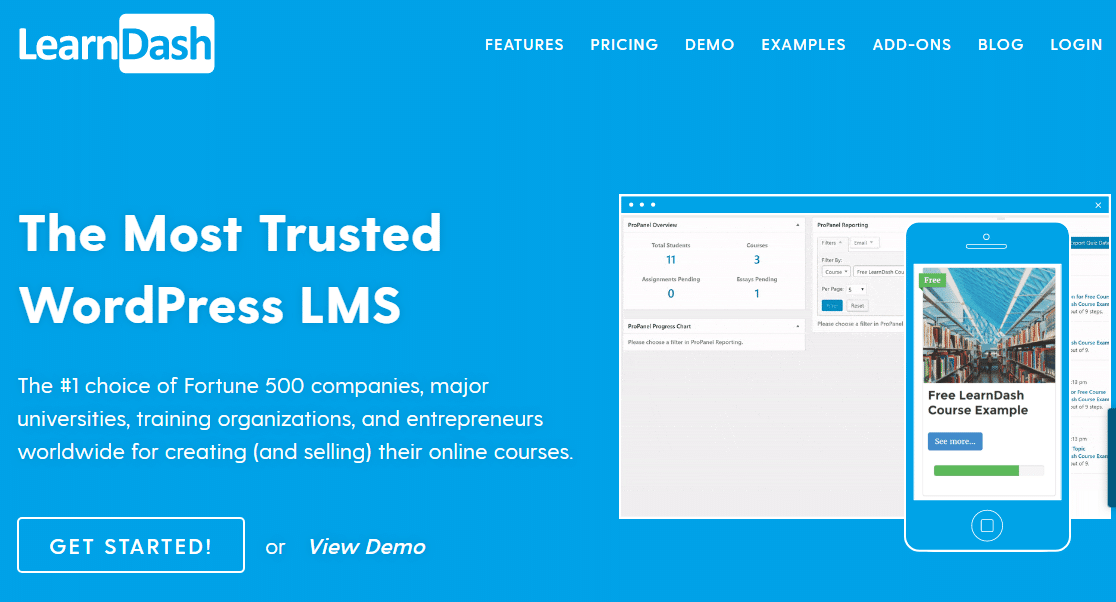 LearnDash is a popular online learning management system (LMS) plugin that can help you create and sell online courses on your WordPress site. It is a helpful plugin for creating an engaging and user-friendly learning experience for members.
LearnDash offers features including:
Useful Integrations: You can integrate LearnDash with popular marketing platforms such as Mailchimp to send email notifications to members. You can also integrate it with popular apps like Slack, PayPal, and Zapier.
Advanced Course Builder: LearnDash has a drag and drop course builder allowing you to easily create multi-layer courses with categories, lessons, topics, assignments, and quizzes.
Learning Certificates and Badges: LearnDash provides learning certificates and badges when members achieve learning objectives to keep courses fun and engaging to members.
Another really cool LearnDash feature is called CoursePoints. Members can earn points when they complete a course and unlock other courses on your website with the earned points. This feature can help you increase engagement on your website.
Pricing:  LearnDash pricing plans start at $199/year.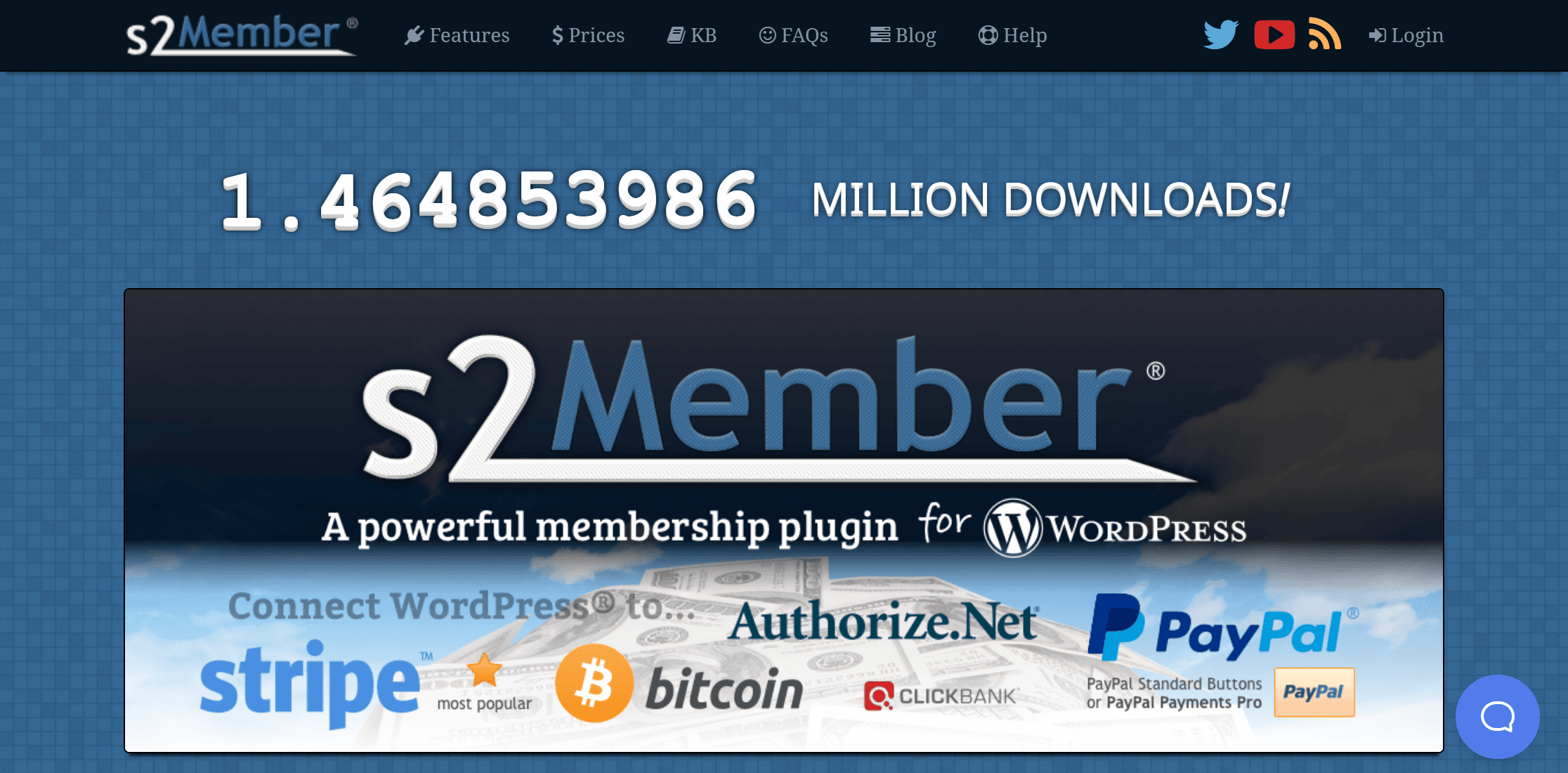 s2Member is a handy paywall plugin known for its easy customization options and giving website owners maximum control over their content.
With the s2Member plugin, you can lock your entire website for some users or specific parts of the website for regular visitors. Only the paying members can access and navigate the complete website.
Some other key s2Member features include:
Content Dripping: This feature allows you to gradually release premium content to paying members of your site one at a time. Content dripping is a proven way to minimize membership cancellation rates and increase user retention.
Shortcodes Library:  You can get shortcodes for different scenarios and control access to content in various ways.
Unlimited Membership Tiers: You have the complete freedom to add as many membership tiers as you want.
However, s2Member is not a beginner-friendly plugin, and it can take time to get used to it. Still it's a powerful WordPress paywall plugin if you get the hang of it, as it provides complete control over your membership site.
Pricing: s2Member offers a free plugin. If you want its Pro version, you'll have to pay a one-time fee of $89 for one site and $189 for unlimited sites.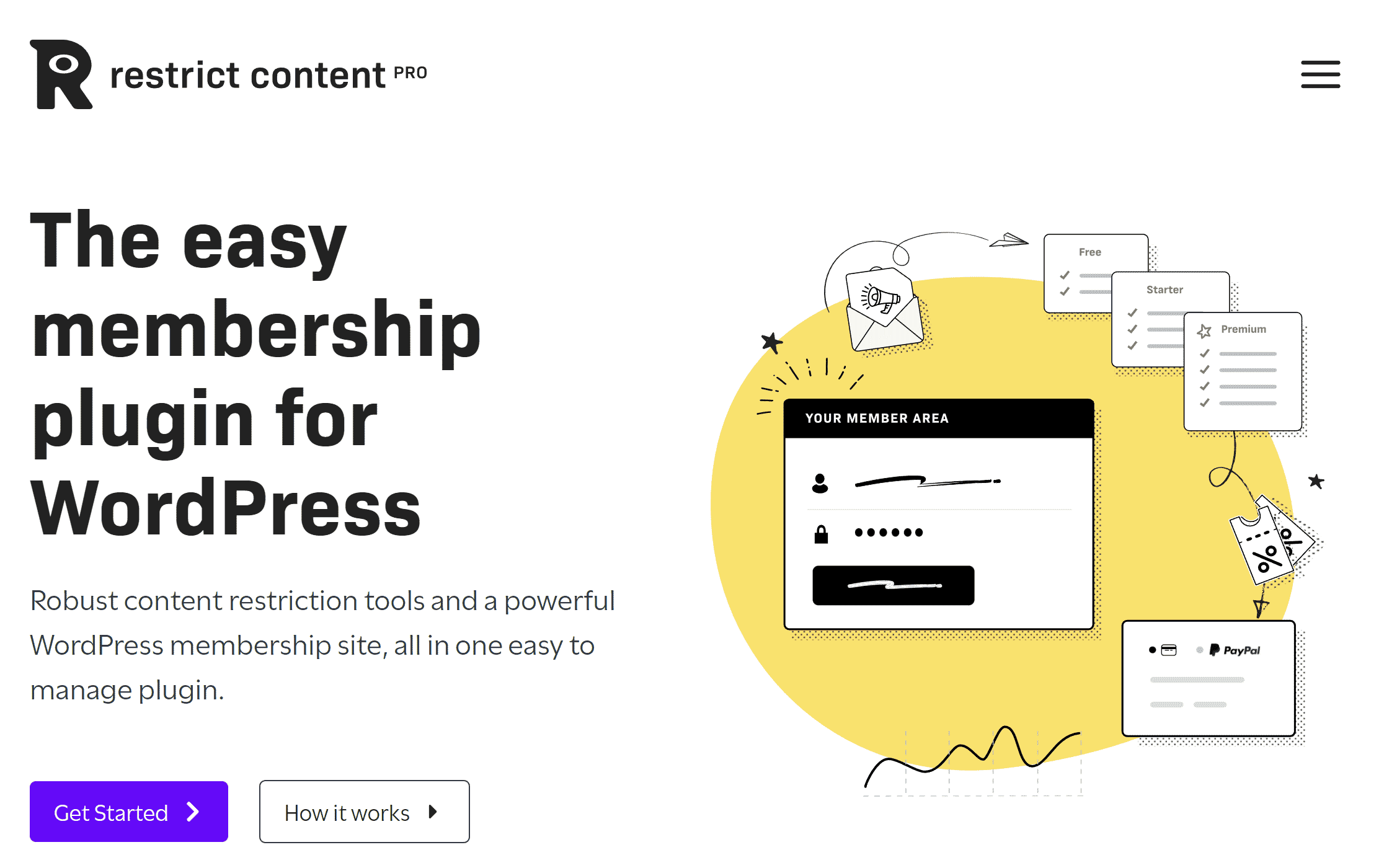 With Restrict Content Pro, you can restrict users' access to your content in several ways based on membership status, content category, or tags.
It's a lightweight WordPress paywall plugin that comes with powerpack features such as:
Native Payment Integrations: With Restrict Content Pro, you can collect payments with popular payment gateways such as PayPal, Stripe, Braintree, 2Checkout, and Authorize.net.
Flexible Subscription Levels: You can create as many subscription levels as you want and assign prices, add optional signup fees, or provide user roles for your membership site. Members can easily upgrade or downgrade from a subscription level.
Easy to Use: Restrict Content Pro is beginner friendly and works seamlessly with the WordPress interface, themes, and other plugins.
Restrict Content Pro includes a comprehensive customer dashboard and detailed revenue reports. It also offers a free plugin with restricted use.
Pricing:  Restrict Content Pro pricing plans start at $99/year for 1 site.

aMember Pro is one of the best paywall plugins for WordPress because of its flexible features that help you create any membership website you want.
Some of aMember Pro's notable features are:
Complete Member Management: aMember Pro has an easy-to-access admin panel that allows you to add, edit, or delete members from their subscriptions. It also provides detailed reports and runs batch operations, saving your time.
Language Support:  It has 6 language translations for both admin and frontend interface. You can view your membership sites in German, Spanish, Greek, Russian, French, and Chinese, other than English.
Automated Processes: You only need to set the product and payment gateways to offer during the initial signup, and aMember Pro will automate the entire membership site building process.
aMember Pro offers more features like access to payment gateways, content dripping, coupon codes, and more. However, aMember Pro is not a native WordPress paywall plugin; thus, compatibility issues may occur with your plugins and theme.
Pricing:  aMember Pro comes at $149.36 for a lifetime license.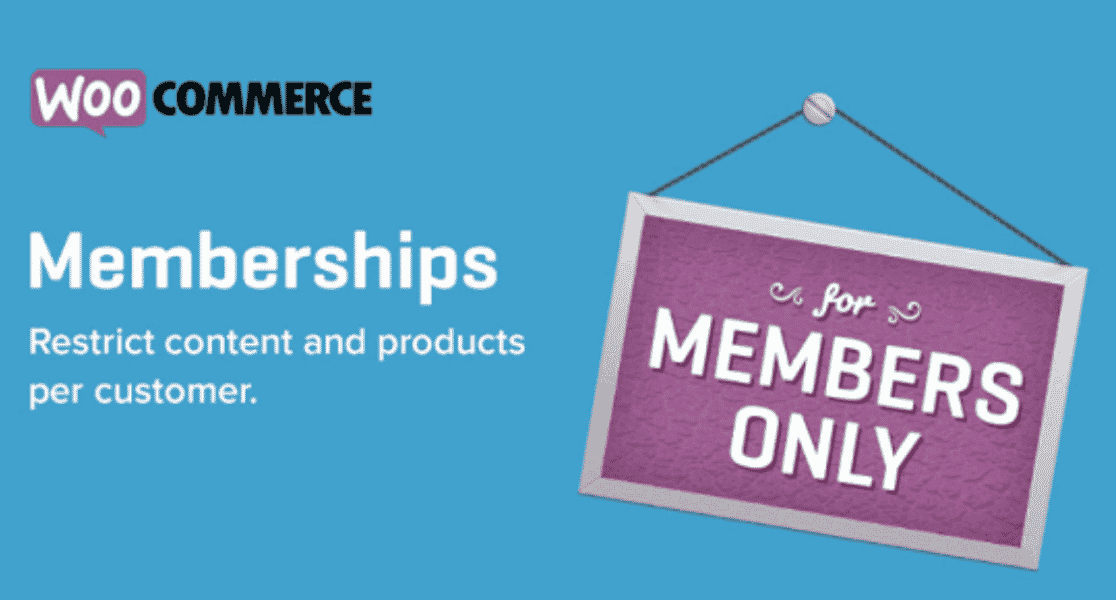 You can limit the sale of products and services to registered users on your eCommerce site using the WooCommerce Memberships plugin.
It allows you to create locked content and products on your site. Some of the features of WooCommerce Memberships are:
Membership Flexibility: You can create different memberships such as product membership, part of product purchase membership, or monthly/yearly subscription membership.
Content Dripping: You can release content gradually in a typical drip fashion to boost engagement. You can also set up a free trial and lock content when the trial period is over, requiring payment to continue accessing the content.
Member Rewards: You can reward members with things like extended free shipping and special discounts to increase customer loyalty and retention.
It offers features like easy customer management and import/export of customer information to get member data out of WooCommerce and into other tools.
Pricing:  WooCommerce Memberships pricing starts at $199/year for a single site license.
Which Is the Best Paywall Plugin for WordPress?
MemberPress is our top recommended paywall plugin because of its comprehensive features and beginner-friendly interface among all these best paywall plugins for WordPress.
With MemberPress, you can set up content dripping, create multiple courses, and get detailed reporting on the membership site's performance.
It also offers advanced paywall features to generate income from premium content created only for paying members.
If you are looking for a free paywall plugin for WordPress sites, Paid Membership Pro and s2Member can be good options. Otherwise, MemberPress is the best choice for a paywall plugin for WordPress sites.
Keep in mind that you can't create custom registration forms with MemberPress. WPForms is the best online form builder tool for creating custom registration forms. It is trusted by over  5 million users and has 12,000+ 5-star reviews.

That's all we have for you today. These are the best paywall plugins for WordPress to restrict content on your membership site.
Next, Create a Membership Site With WordPress
Do you want to learn how to create a membership site with WordPress?
Membership sites are the best way to restrict user access to your content and generate revenue by charging for users' access to restricted premium content. Check out this tutorial to create a membership site with WordPress.
Ready to build your membership registration form? Get started today with the easiest WordPress form builder plugin. WPForms Pro includes lots of free templates for customer registration and offers a 14-day money-back guarantee.
Create Your WordPress Form Now
If this article helped you out, please follow us on Facebook and Twitter for more free WordPress tutorials and guides.