We get it — Sometimes you have a lot of data that you want to manage on your forms. And keeping it all organized needs to be easy.
So we're thrilled to introduce you to WPForms 1.6.1, featuring our all-new dropdown field.
It's now easier than ever to collect data from your visitors, while keeping your forms looking sleek.
Let's jump into what the latest WPForms feature does and why you'll love it.
A Modern Dropdown Field Experience
Besides backend improvements, WPForms 1.6.1's shining star is an updated form field. The sparkly new dropdown field now gives you the option to switch to Modern styling, and also has the ability for you to turn on Multi-select.
You told us you wanted to be able to manage your form data easier. And for power users, we know that sometimes you need to add a lot of options in your Dropdown fields to get the detailed info you need from your customers.
So now when the Modern styling option is enabled on your dropdown field, you'll notice it looks much more contemporary.
This is because the new Modern style dropdown field features:
An overall cleaner look
A much slicker and organized search function
Ability to let users easily remove a selection and start over if they've made a mistake
Capability for users to use their keyboard to browse through and select different options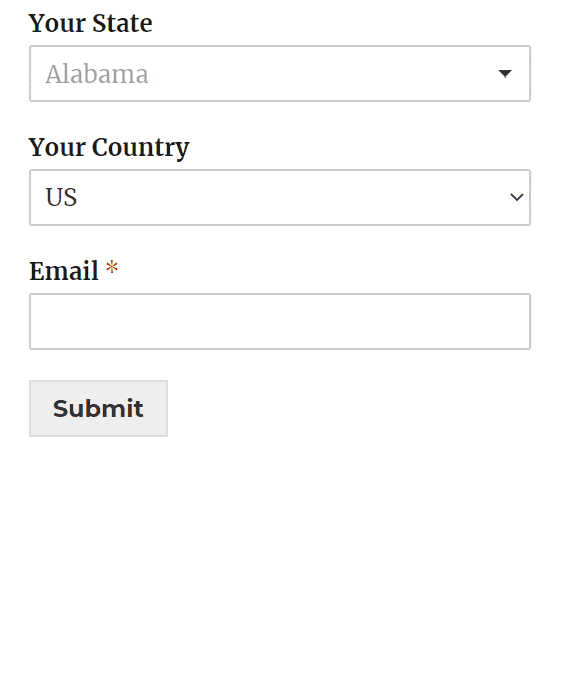 With this update, your dropdown fields will still default to the Classic style, but the Modern dropdown field can be a snazzy replacement for the Classic one in just a click under Advanced Options.
The digital marketing community knows that unorganized, long forms can lead to higher form abandonment rates that hurt sales. So compared to the Classic style, the improved search function and overall enhanced interface make the Modern style a wonderful experience for you and your visitors. Especially if you have a lot of data, and therefore options, that you're trying to fit into a single dropdown field.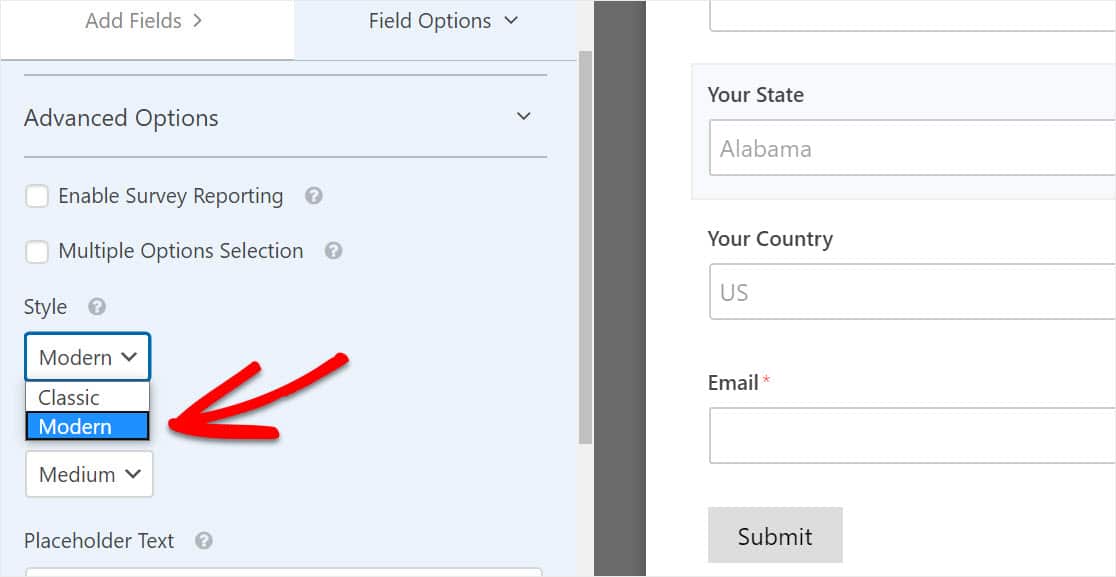 Switching the dropdown style from Classic to Modern won't change the basic functionality of this field, but it'll look a whole lot sleeker.
And if you do want to change the functionality of your dropdown field to let users select more than one option, it's going to work a whole lot better in the new Modern style.
Sure, the Classic dropdown field works well if you have just a few options listed. For example, asking for gender. But let's say you want to ask visitors which US state they live in — that's a lot of options! A situation like this is less than ideal in the Classic dropdown field. It just won't look great.
In the Classic dropdown style, Multi-select can take up a ton of room. You'll have to display every single one of your options, or, switch to a Checkbox form. It wasn't very intuitive and we wanted to offer you a better option (but a Classic style dropdown field with Multi-select is still available if you find yourself wanting this style!).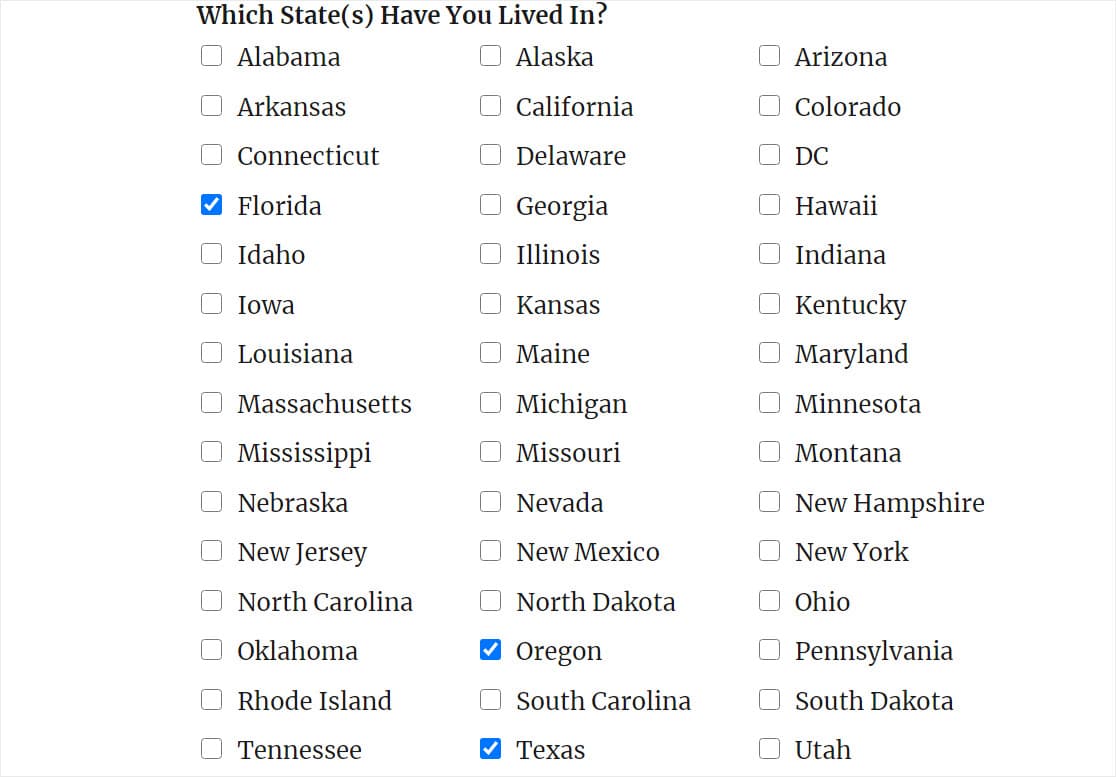 So since we strive to keep your forms looking beautiful and working smoothly, we've released the Modern dropdown field to meet your needs.
Multi-Select in the Modern Style Dropdown
If you enable the new Multiple Option Selection in the Modern dropdown field, things get really cool. The Multiple Option Selection lets users pick more than one option, essentially turning your Modern style dropdown field into a field that functions much like a Checkbox field. For instance, you'd enable this option if you want to know which states your visitor has ever lived in.
And thanks to your awesome feedback, each selection acts as a 'tag'. Meaning, it looks super organized and gives people the ability to remove an option or options they've previously selected.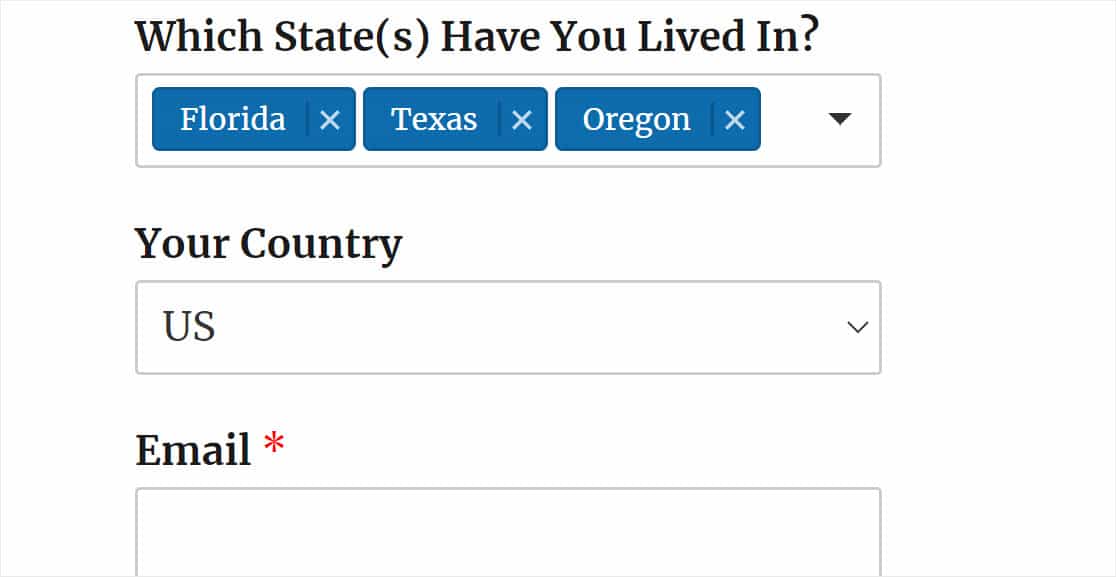 The look is a lot cleaner, and we're super excited about it. But don't forget, you can leave the field on the default Classic, switch to Modern, or change back to Classic if you'd like, at any time.
And you can still use the Classic dropdown field to let users select multiple options by using their shift key. It's not as fancy as the Modern dropdown field with Multi-select, but you can enable this setting if you'd like.
The Modern dropdown field and Multi-select option keeps large sets of data looking a lot less overwhelming, while still giving your users all the options you want.
These updates to the dropdown field apply to the Payment dropdown field as well!
Final Thoughts
So there are the details on WPForms 1.6.1 and the new dropdown field. We hope this new feature wows both you and your form users.
Not a WPForms customer yet? Click here to get started today!
Go ahead! Give WPForms 1.6.1 a spin and let us know what you think about the new dropdown field updates. Or, just get in touch to help us decide what future releases will benefit you all the most.
Thank you for your continued support of WPForms, the world's best contact form plugin.
Jared and the WPForms team