Today we are excited to announce the release of WPForms 1.4.5!
This is one of our biggest releases to date. We added a lot of exciting new features that will help you create and customize advanced WordPress forms with just a few clicks.
Let's dive right in and see what's in store for you.
Add Images to Multiple Choices Fields
Before today, adding images next to your multiple choice fields in WordPress forms was not easy.
If you wanted to create an order form with product images or survey form with image choices, then you had to follow a tutorial that asked you to add custom code and CSS which was not easy for beginners.
At WPForms, our goal is to make the most beginner friendly WordPress forms plugin, so we tackled this problem head-on and solved it for our users.
Now you can easily add images to your checkbox, multiple choice, and multiple choice payment fields with just a few clicks (no coding necessary).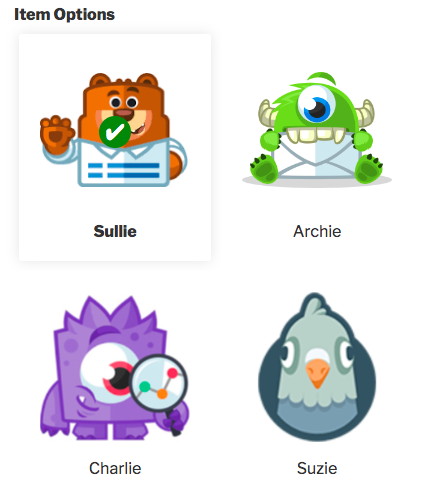 All you have to do is enable the image choices feature under field options and then upload your images for each choice.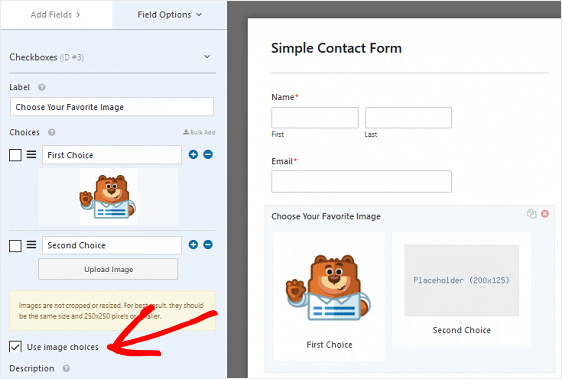 This feature is perfect for times when you want to:
Display product images on order forms
Present poll options that have visual answers
Add imagery to your request a quote forms
And so much more!
Our multiple choice images feature lets you change the layout, choose a style, and even randomize the order of your image choices.
It even works with our smart conditional logic, so you can show or hide fields based on your visitor's selection.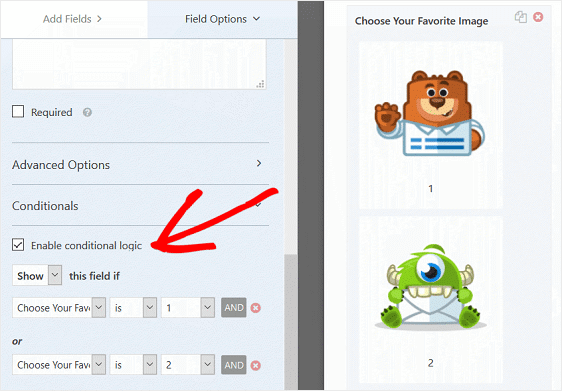 And the best part is that you get this feature at no additional cost because you're a WPForms Pro user.
No other WordPress form builder has a feature like this because it's complicated. But simplifying complicated features like this is how we earned our reputation as the most beginner friendly WordPress form plugin in the market.
For more details on how you can add multiple choice images to your forms, check out our documentation on adding image choices to WPForms.
But that's not all…
Better Disclaimer & Terms of Service
With rising privacy concerns, and the fact that privacy laws are tightening, we want to make it easy for you to comply and let your site visitors know their data is protected.
Plus, we want to make sure that adding your site's privacy policy or terms of service doesn't take away from the visual appeal of your form because of its length, or force site visitors to another page to agree.
So we have created a way for you to add a terms of service checkbox to your form, and display it in a scrollable text box.

This ensures that your form isn't overloaded with text, and the information is visible to the user without leaving the form page.
Better terms of service field like this not only makes your form more user friendly, but also help reduce form abandonment.
For step by step instructions, check out our tutorial on how to add disclaimer/terms of service agreement formatting to your forms.
Custom Input Masks
If you are looking for a way to format specific fields, then you're going to love custom input masks.
Input masks allow you to require a specific format for the data that you're collecting such as:
Phone Number
Zip Code
Username
Product SKU
And much more!
When a user clicks on a specific form field, they will see underscores in a format like this:

With this new feature you can:
Limit the number of characters that can be entered
Decide whether to only allow numbers, letters, or both
Configure things such as uppercase and lowercase
Guide users as they fill out your forms
Add things like hyphens and parentheses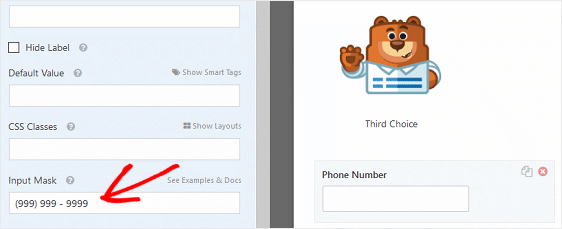 For examples of basic and advanced input rules, check out our complete guide on how to use custom input masks in WPForms.
500% Improvement in Performance
No WPForms update is complete without some under the hood improvements designed to make your experience better than ever.
And this time, it's all about the form editing speed and performance.
In the past while WPForms worked great for simple forms, the form editing experience would slow down as you started to add hundreds of fields in a form.
Well that's not the case anymore. Even with hundreds of form fields, you'll experience a whopping 500% faster form editor than before.
That's all for this release. We hope you like the new features and improvements. Go ahead, give it a try and let us know your feedback.
Don't have a WPForms Pro license? Click here to Get started today and experience the WPForms difference.
As always, thank you for your continued support of WPForms. We look forward to bringing you more updates soon!
Lindsay and the WPForms team