Documentation, Reference Materials and Tutorials for WPForms
How to Add Disclaimer / Terms of Service Agreement Formatting
Would you like your users to agree to terms before submitting a form? In WPForms, you can easily add special formatting to terms of service or disclaimer text so that even a large amount of text looks clean and professional. In this tutorial, we'll show you how to a formatted agreement field in WPForms.

Before we get started, you'll need to create a form or edit an existing form.
In the form builder, go ahead and add a Checkboxes field. Then, click this field to open its Field Options.
Within the Field Options, you can change the Label. For our example, we'll name the field "Terms of Service". After renaming the field, you'll need to delete the extra checkbox options by clicking the minus buttons.
Note: If you'd prefer to remove the field label, open Advanced Options and check the box for Hide Label.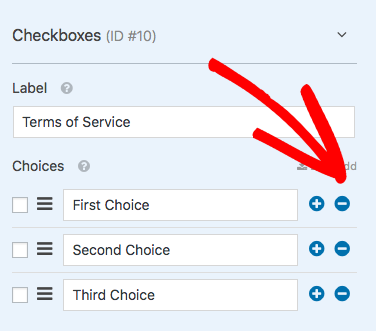 Next, you can change the text for the remaining checkbox option. For this example, we'll enter "I have read and agree to the terms of service listed below."
Then, you can add your terms or disclaimer text to the Description area. The Description area accepts regular text as well as HTML.
Since we want to be sure all users agree to these terms before the form can be submitted, we'll also check the Required box.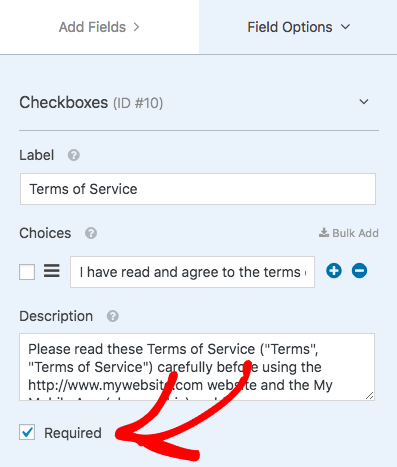 Once the description text is ready, we can add special formatting. To do this, you'll need to open Advanced Options section. Then you can check the box labeled Enable Disclaimer / Terms of Service Display.
Once this option is checked, the description text will be placed into a specially formatted box with a vertical scroll bar.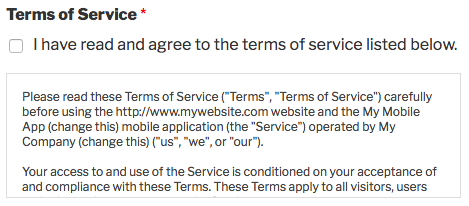 That's it! You can now easily add an agreement field to your forms.
Next, would you like to learn how to set up and customize emails for your forms? Be sure to check out our tutorial on automatic form notification emails for all the details.