Keeping track of everything that's happening on your website can be overwhelming sometimes, especially for non-technical people. We know this, so we've made it a goal to creates solutions that make running your website, and knowing exactly what's happening with it, even easier.
So that's why we're so thrilled to announce our partnership with WP Activity Log.
This amazing collaboration is going to make things a whole lot easier for you to keep track of WordPress and WPForms activity, and we can't wait to jump into the details about what this means for you and your website.
Capture More Meaningful Data
WP Activity Log is an easy-to-use and incredibly comprehensive WordPress activity log plugin. It's well-loved across the WordPress community and it's installed on 100,000+ websites.
The plugin focuses on covering WordPress from head to toe, and keep logs of changes for tons of activities like:
Content (posts, pages, and custom posts types)
Comments
File uploads, edits, and deletion
WordPress users profiles
Plugins and themes
Multisite networks
And more…
And now, WP Activity Log is integrated with WPForms. So if you'd like to keep a log of comprehensive changes that you and your team are doing in WPForms, you can do so by using the WP Activity Log add-on for WPForms.
Detailed Logs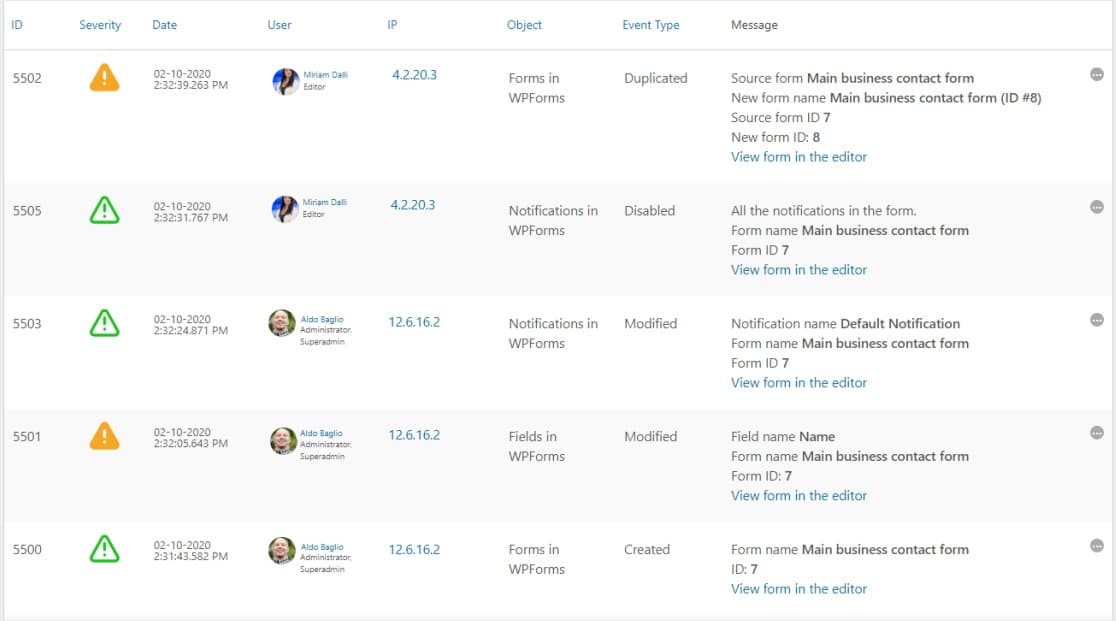 WP Activity Log does more than just keep a log that shows things were changed. It shows you what was changed, giving you more granular insight into your website.
Here are some of the changes in WPForms that can be tracked using WP Activity Log's new add-on:
An entry is deleted
A form is created, renamed, modified, deleted, and duplicated
A form field is added, modified, or deleted
A notification is added to and deleted from a form
For example, if you've got an administrative assistant or a sales person assigned to track your leads that come through on your forms, you can check and see when they were viewed and what actions were taken with that entry.
Ease of Use
WPForms is all about keeping things easy so that business owners of all skill levels can manage their own websites without hassle.
That's why were such huge fans of WP Activity Log — it's insanely easy to use. Once installed, the plugin automatically gets to work keeping track of nearly everything that happens on your WordPress website.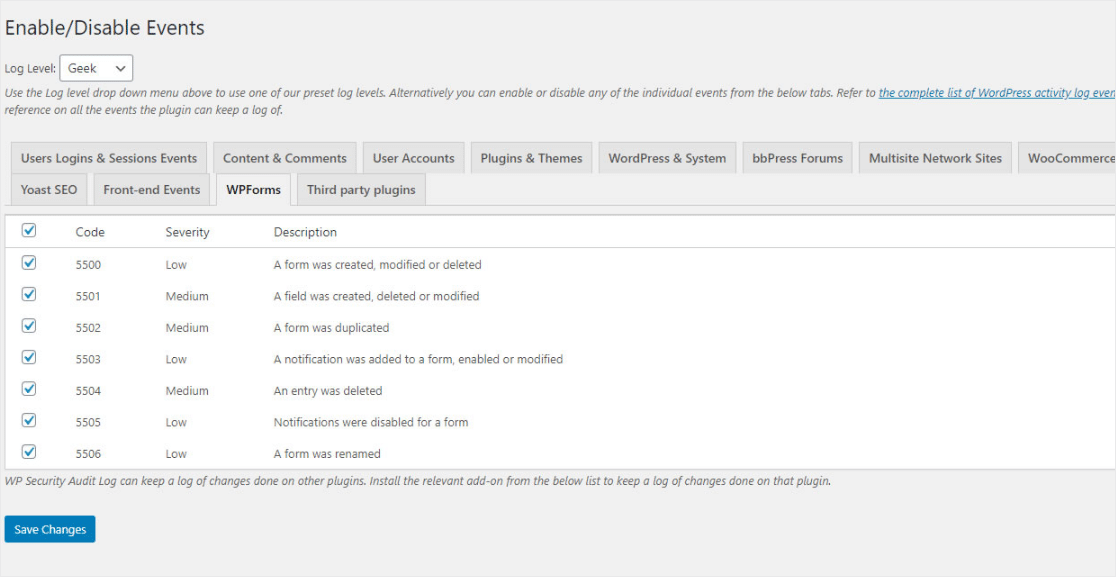 You can even set up the plugin to send you email and SMS notifications right when a change happens!
Extensive Compatibility
Looking for compatibility?
We also love that the WP Activity Log plugin also not only works with WPForms but also with the other popular WordPress plugins including bbPress, All in One SEO, and WooCommerce. It can keep a log of 400+ specific changes in WordPress.
Having a clearer understanding of what's happening with your WPForms and when it's happening can help you run your business online smoothly. So if you're looking for more detailed WordPress data logging, WP Activity Log is a fantastic choice for you.
We're so excited to partner with WP Activity Log to bring website owners even greater awareness of what's going on with your WPForms.
Not using WPForms yet? Click here to get started with WPForms today.