Hot on the heels of our last announcement, we're celebrating the release of WPForms 1.7.3 today! It includes some super exciting new features that'll make form management so much easier.
Introducing form revisions and form trash!
If you've ever had the sinking feeling that you broke a form, or deleted the wrong form by accident, this update will add some valuable safeguards for you and your team.
Form Revisions: Restore a Previous Version of Any Form
Despite our best intentions, we all sometimes accidentally save the wrong version of a form. In some cases, the conditional logic that you carefully configured is broken by an accidental change.
We've all been there. Mistakes like this are easy to make and time-consuming to fix.
Our new form revisions gives you simple, fast version control for your WordPress forms. Whenever you save a change, you can see all of the previous versions – including who made the change and when.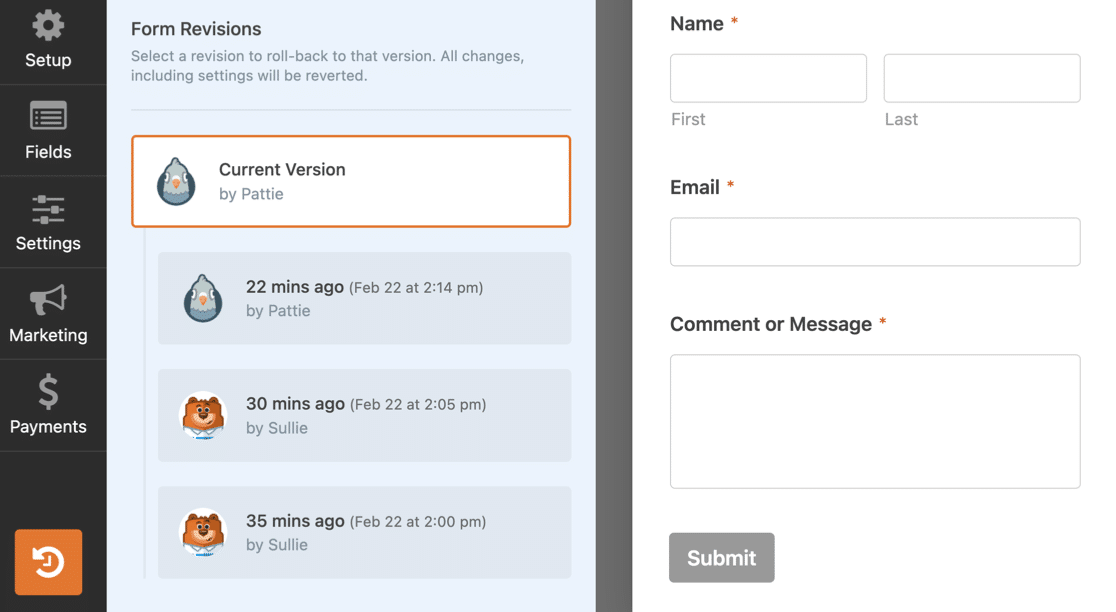 If you want to roll back to a previous version, you can restore it quickly without rebuilding it from scratch. And if you're not sure which version you need to restore, you can preview each version of the form before you restore it.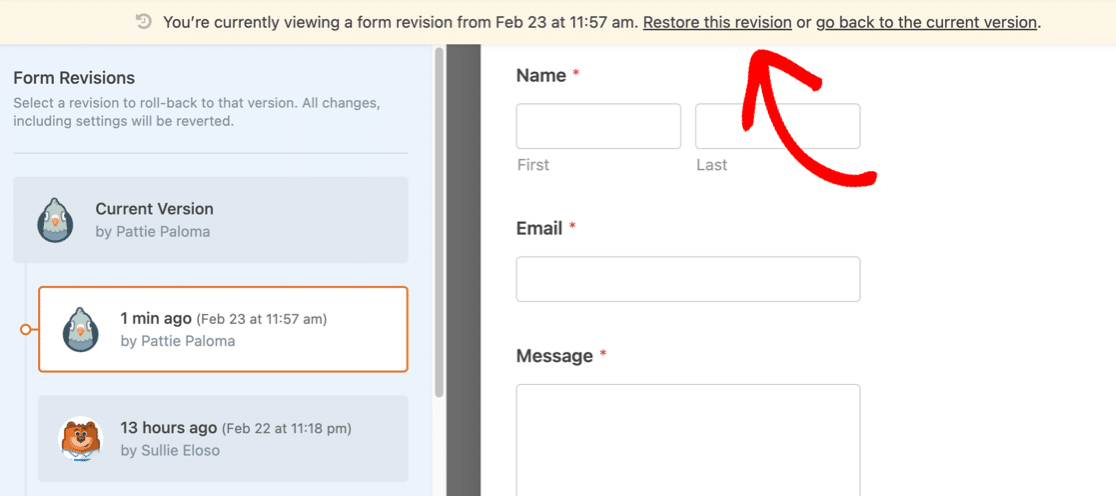 When you've selected the revision and restored it, we automatically save your changes as the latest version.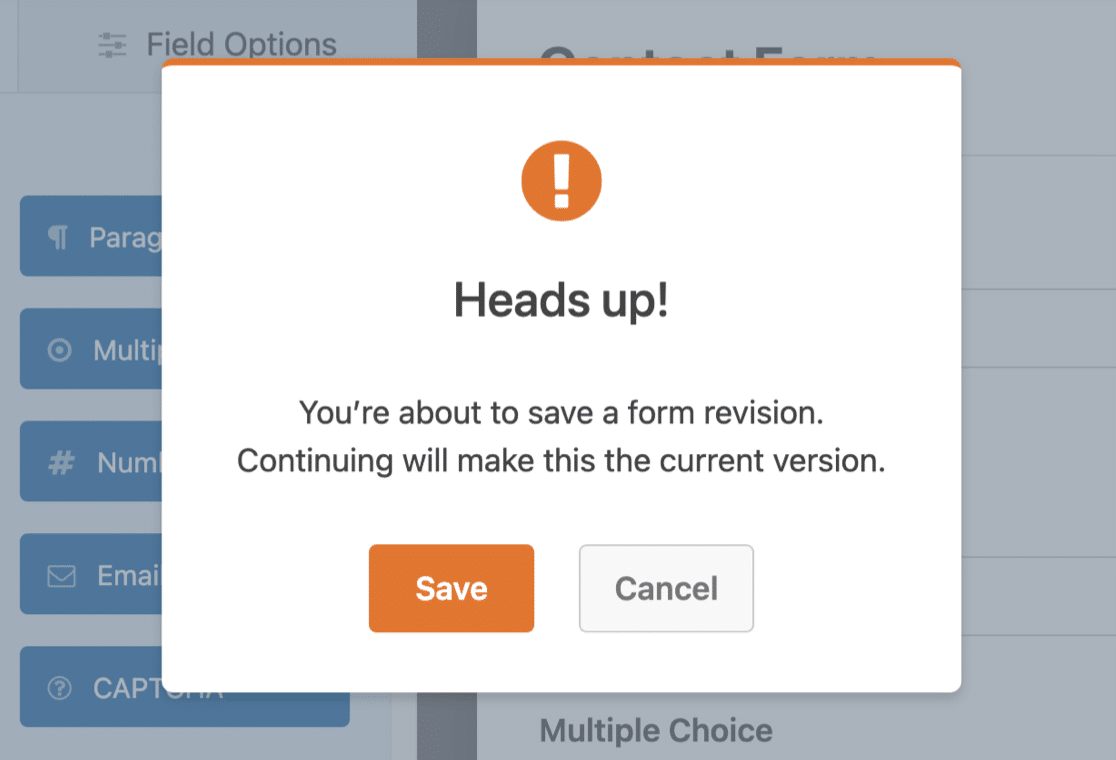 Our new 1.7.3 release gives you the power to step back in time: you can review changes made by your team, undo mistakes, and compare previous versions of your form if you need to.
But wait: what happens if a form gets deleted?
We've got a new feature that'll help with that too.
Form Trash: Recover Deleted Forms
Have you ever deleted the wrong form by mistake?
In the past, deleting a form didn't just remove the form. It also removed the entries.
We recognized that this was a pain point for you, and we decided to fix it.
Now, when you trash a form, it's moved to a new trash area on your forms overview page.

Forms will stay in the trash until you decide to permanently delete them. This gives you plenty of extra time to review deleted forms before they're gone for good.

Changed your mind? You can easily restore a form from the trash. When you do that, all of the entries that were associated with that form will be restored as well!
Our new form trash feature guards against disaster. It's a safety net that'll make it easier for you to manage your website, especially if you have multiple team members working on your forms.
Time for one more feature. It's not quite Easter just yet, but we did slip a little early Easter Egg into our last release!
Did You Spot Our New Form Search?
If you updated WPForms after our last release, you'll have noticed that you can now search for forms in WordPress!
The new search field makes it easy to locate the form that you need to edit – even if you have thousands of forms (as we do!)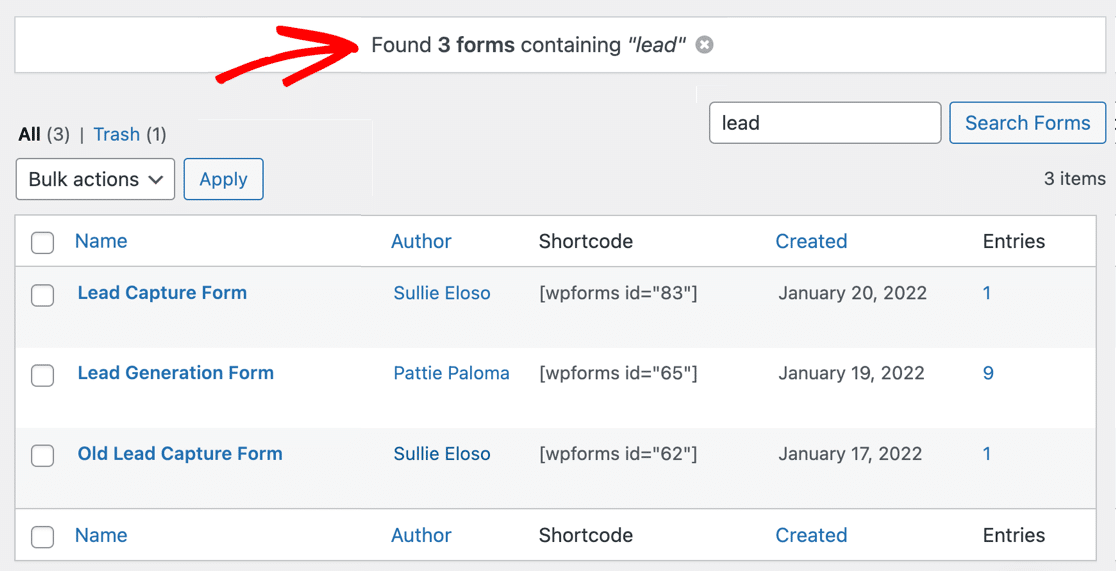 Searching for forms has really improved our workflow. We hope that you've enjoyed the extra convenience it offers too.
If you don't see form search, updating to 1.7.3 will activate it on your site, along with form revisions and form trash.
There's More to Come!
We're hard at work on our next release already. We'll share the news as soon as we're done!
To get all of our updates, you can join the conversation in the WPForms VIP Circle on Facebook.
That's it for now. We hope you love these new features! As always, we welcome your feedback and suggestions. Just post a comment below!
Jared Atchison