Today's the day! WPForms 1.7.0 is here. And we're super excited to roll out one of our all-time top feature requests.
Introducing… the Rich Text field for WPForms!
In our 1.7.0 release, the Rich Text field takes center stage. It allows users to submit information through your forms with visual (or 'WYSIWYG') formatting.
We've also added Uncanny Automator integration so you can easily automate different actions using form submissions.
First, let's look at Rich Text editing. Ready to take our new field for a test drive?
Introducing Rich Text in WPForms
Rich Text editing has been top of your wishlist for some time now – and it's definitely been top of ours too.
So we're pleased to announce that the Rich Text field works in exactly the same way as the regular WordPress toolbar. There's nothing new to learn here – you'll feel right at home.

With this new field, your visitors can now add and format submissions using:
Headings
Colors
Bold, italics, and underlines
Links
Quotations
…and a lot more!
Our new Rich Text field makes it easy for visitors to add images and even edit the underlying HTML. You can also use it to get entries that are easier to read, or even get complete blog post submissions that you can publish in seconds!
We'll look into that in just a minute. First, let's take a closer look at how you can get started with this brand new field.
Adding a Rich Text Field
If you're a Pro customer, you'll see the Rich Text field in the form builder as soon as you update to the latest version of the plugin.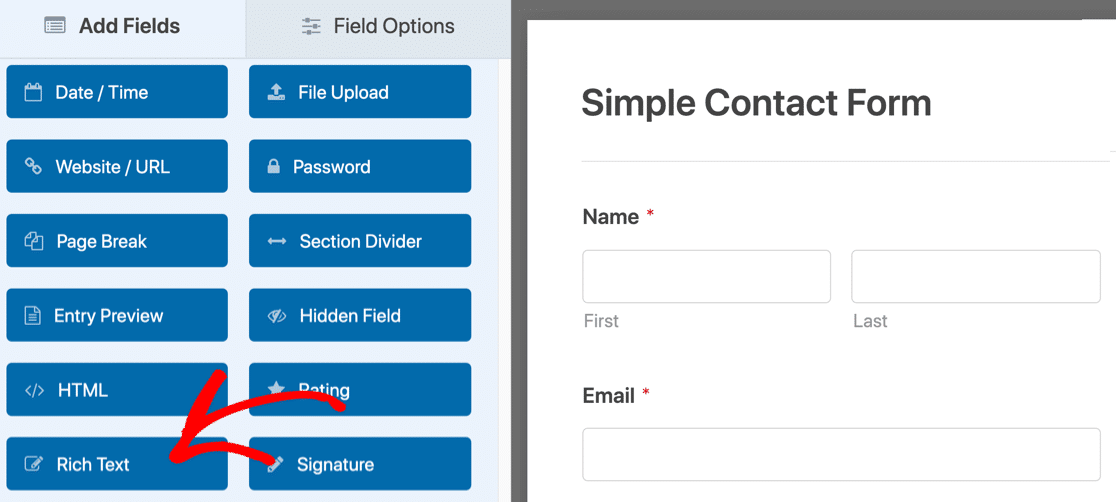 To add the field to your form, drag it over from the left hand panel and drop it into position. Then click on the field to open up the options.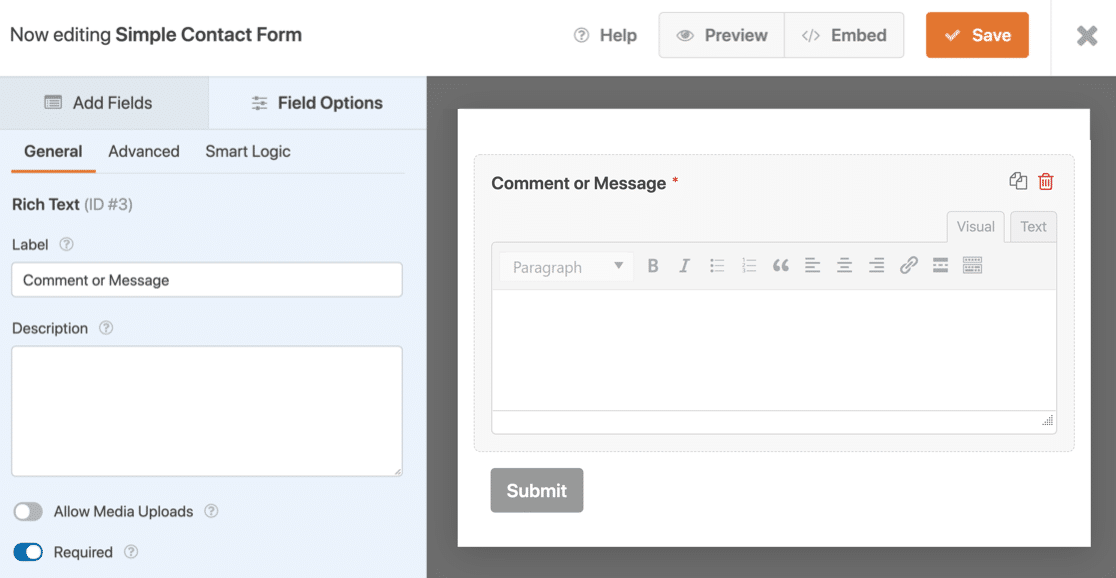 At the bottom right, you'll notice that image uploads can be turned on or off. This gives you the flexibility to control what your visitors can upload to your WordPress site.
For example, if you don't have much disk space on your hosting plan, you can leave image uploads turned off so you don't go over your limits.
You'll also notice that another switch appears when you turn on Media Uploads.  It allows you to choose whether you want to store the images in the Media Library:

Storing images in the Media Library makes it easy to use the uploaded images on your website. If you don't want to do that, the uploads will be stored in a different location.
The advanced options also let you control the toolbar and field size so you can get the field looking exactly the way you want.
And that's it! Save your form, or publish it, and your Rich Text field is ready to go!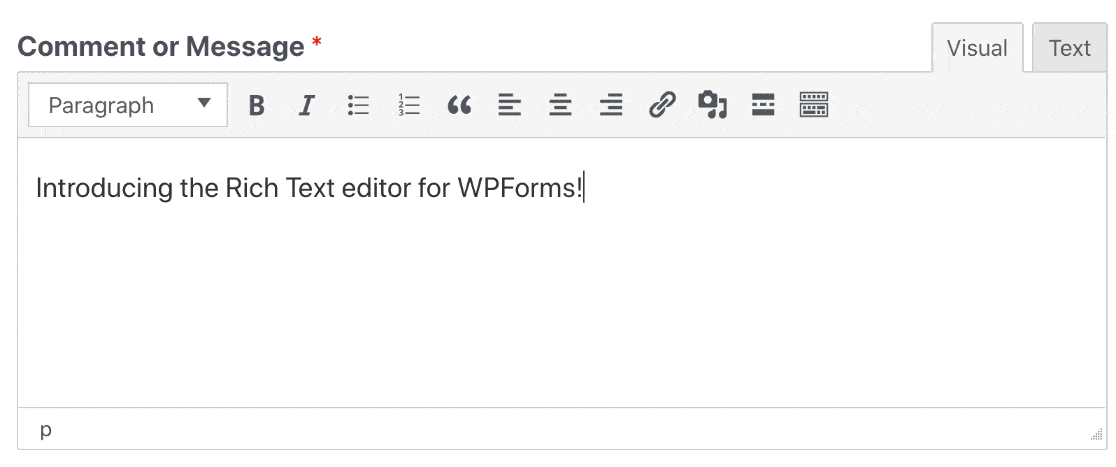 When you receive a new form entry, you can preview it will all of the formatting already applied. You can also edit the entry using the visual editor here if you need to.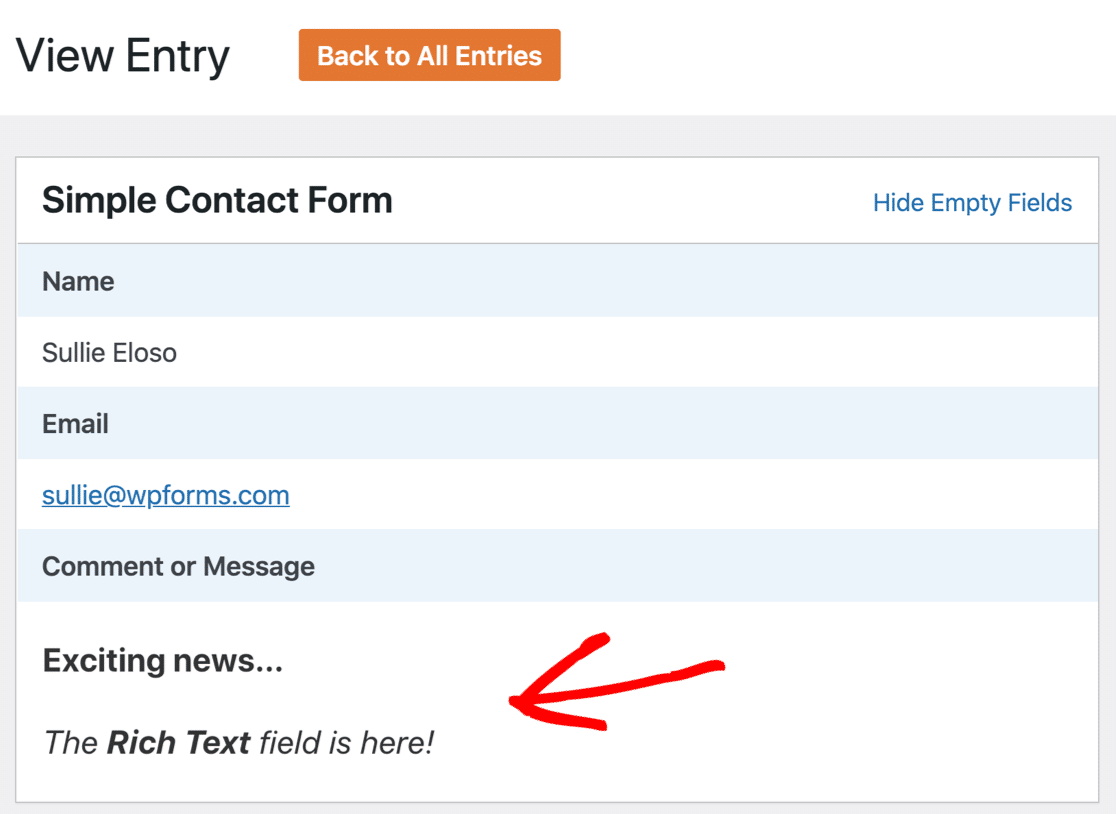 Keep reading… we're even more excited to show you what happens when you use the Rich Text field with our Post Submissions addon.
Enabling Rich Text Post Submissions
The WPForms Pro Post Submissions addon lets you accept blog posts using a form on your website.
It makes it easy to get content from visitors without giving them a WordPress account.
Now, using the Rich Text field, you can let your contributors format their entire submission right there in the form!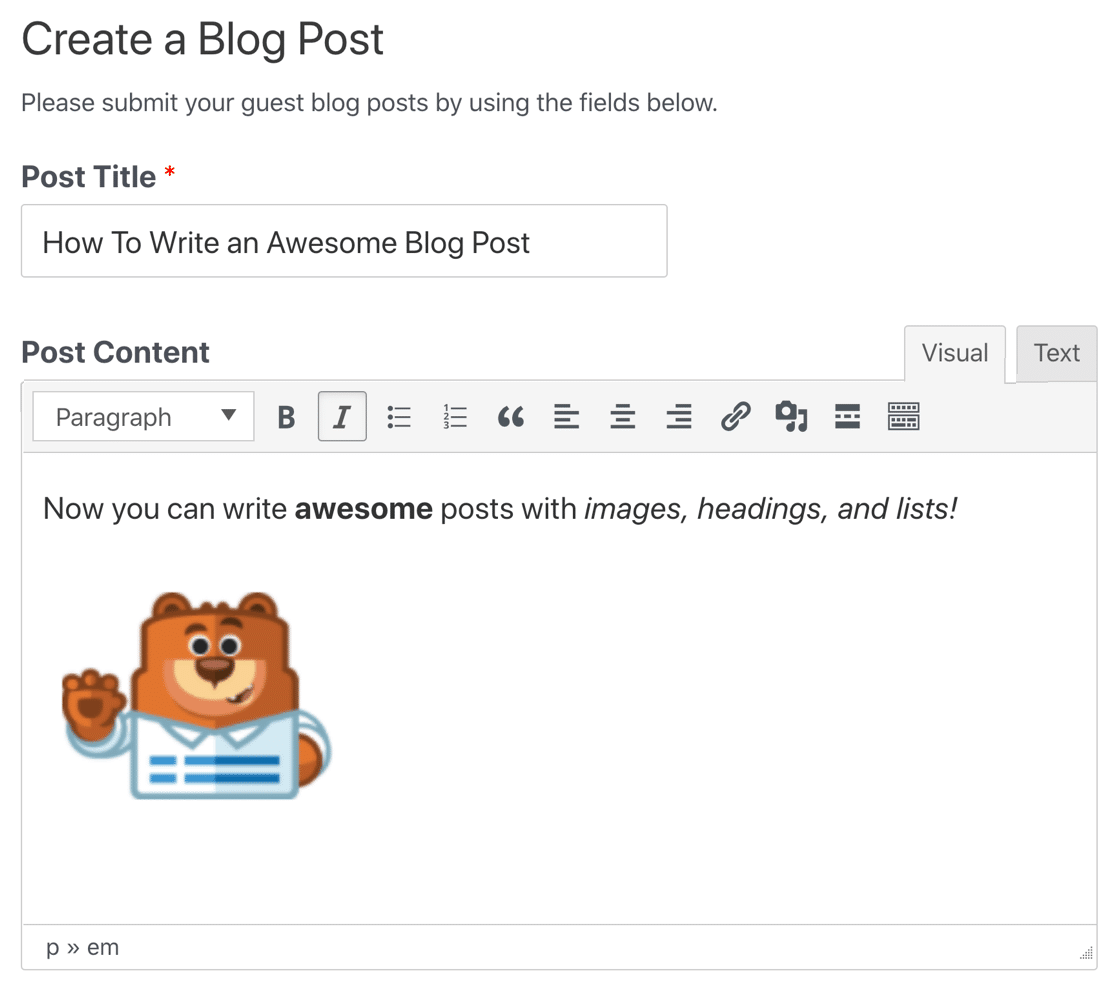 From today, you no longer have to spend time applying your own formatting. The Post Submissions addon can be used to accept content like:
Guest posts
Reviews
Testimonials
Student assignments
Case studies…
The possibilities are endless!
So we're excited to show you this combination because it's going to save you a ton of time.
If you're already accepting posts on the frontend with the Post Submissions addon, you can delete the existing text field and replace it with a Rich Text field right now.
Don't forget to open up the form settings and re-select the Post Content field after switching: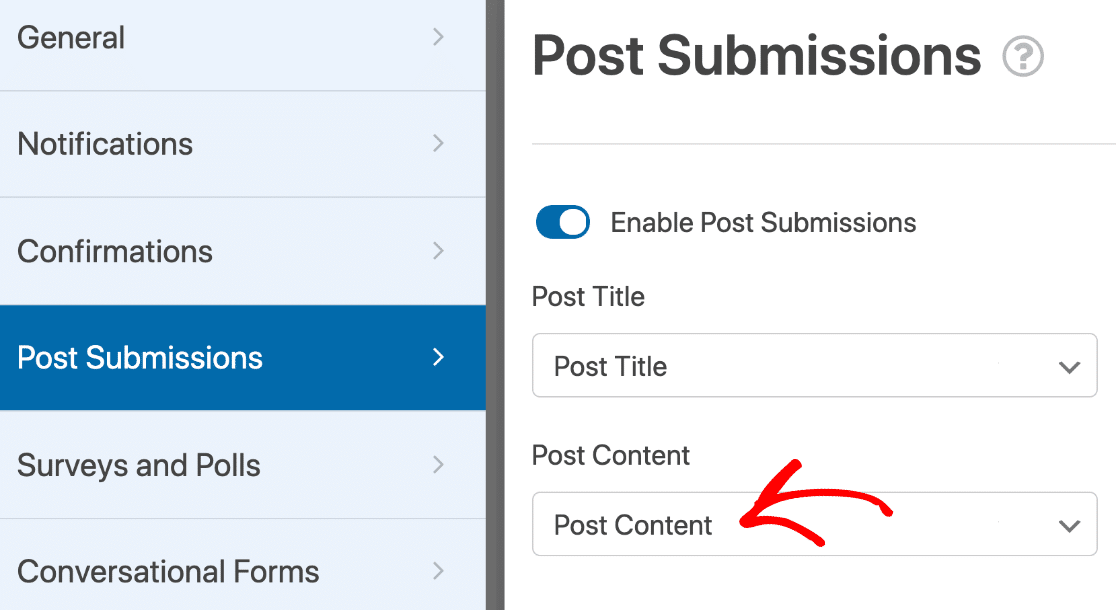 Save your form.. and that's it! You've upgraded your form to full WYSIWYG editing in just a few seconds.
Now for our final trick: using entry preview for your Rich Text submissions.
Using Rich Text With Entry Preview
In our last release, we added the entry preview field. And from the feedback we've received so far, you're loving this new feature.
So we figured: why not combine these 2 fields? There's nothing more frustrating than submitting carefully formatted content only to notice a mistake when it's too late.
So in WPForms Pro 1.7.0, you can use the Rich Text field and an entry preview field together. That means your visitors can preview their formatting before they hit Submit.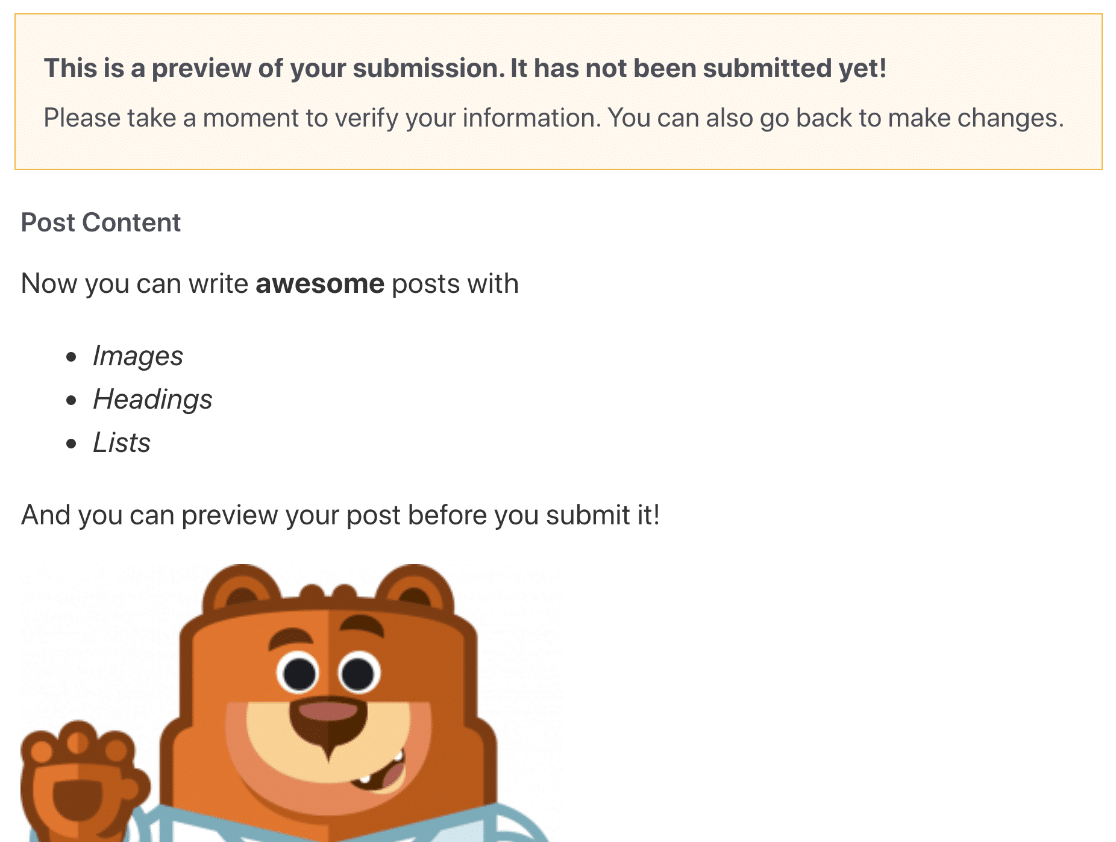 We can't wait to see how you use entry preview for your Rich Text fields!
But before you do that, there's one more awesome addition in this release.
Uncanny Automator Integration
Uncanny Automator is one of our all-time favorite WordPress plugins. It allows you to create your own bespoke automations that link different plugins and services.
So when you get a form submission, it can trigger an action in another plugin – or even a separate service outside of WordPress.
In our 1.7.0 release, you can unlock the full power of Uncanny Automator inside WPForms: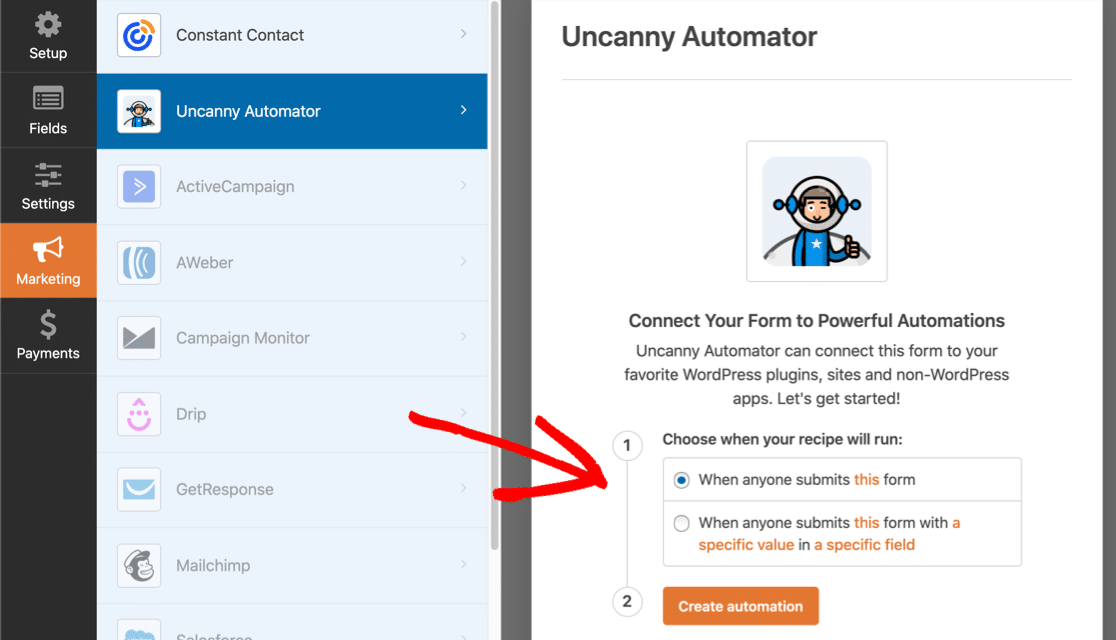 The truly awesome thing about Uncanny Automator is that there are no limits (or fees) when automations run.
For example, let's say you want to add someone to a BuddyPress group when they submit a specific form in WPForms.
All you need to do is head to the Marketing settings on your form to set it up. When you click Create automation in WPForms, Uncanny Automator will guide you through the set-up steps.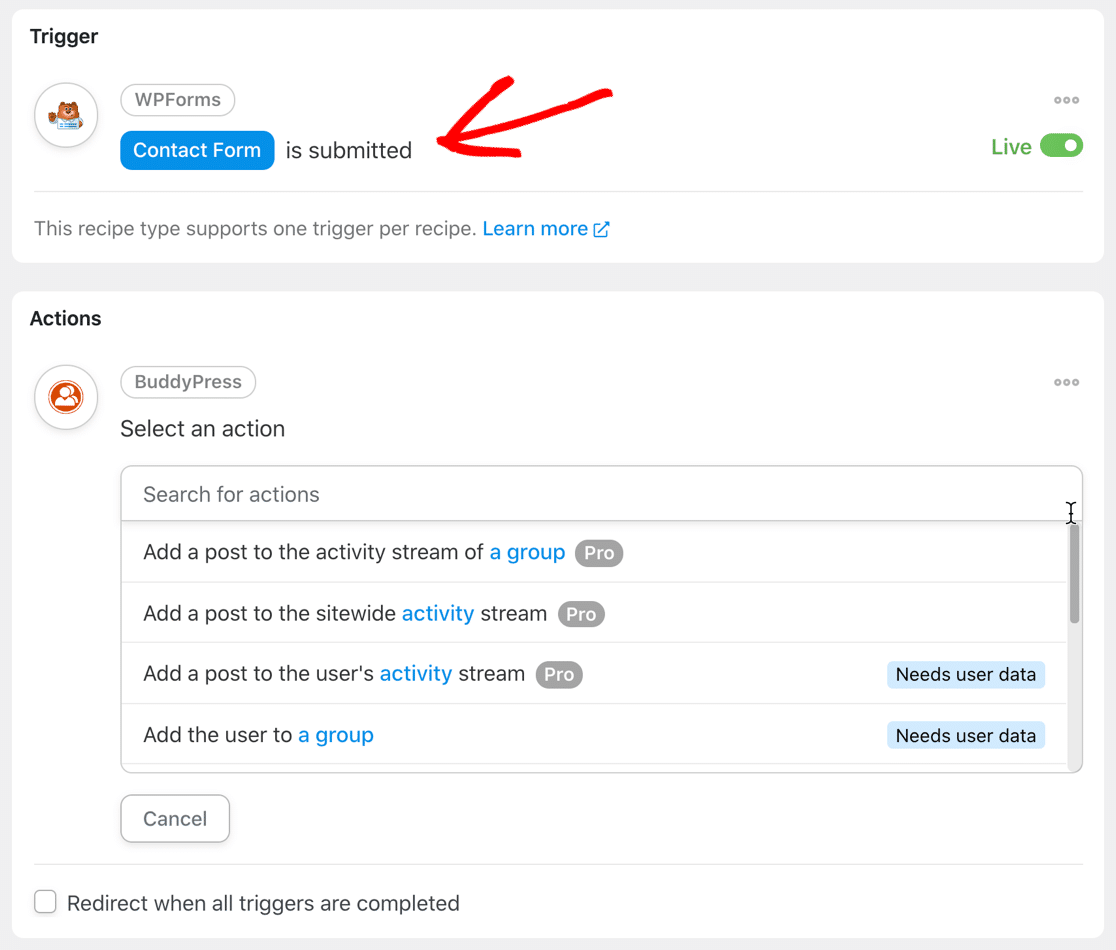 And once your automation is live, every form submission will run that action. If it runs once a day, or 100 times a day, you'll never hit a cap on your usage.
Uncanny Automator supports hundreds of different actions across dozens of services and plugins. For example, you could use WPForms to:
Automatically add new contacts to a Zoom meeting
Send a WooCommerce coupon to anyone who signs up for your newsletter
Notify yourself of a new lead from your form via Slack
Add a visitor to a course in LifterLMS.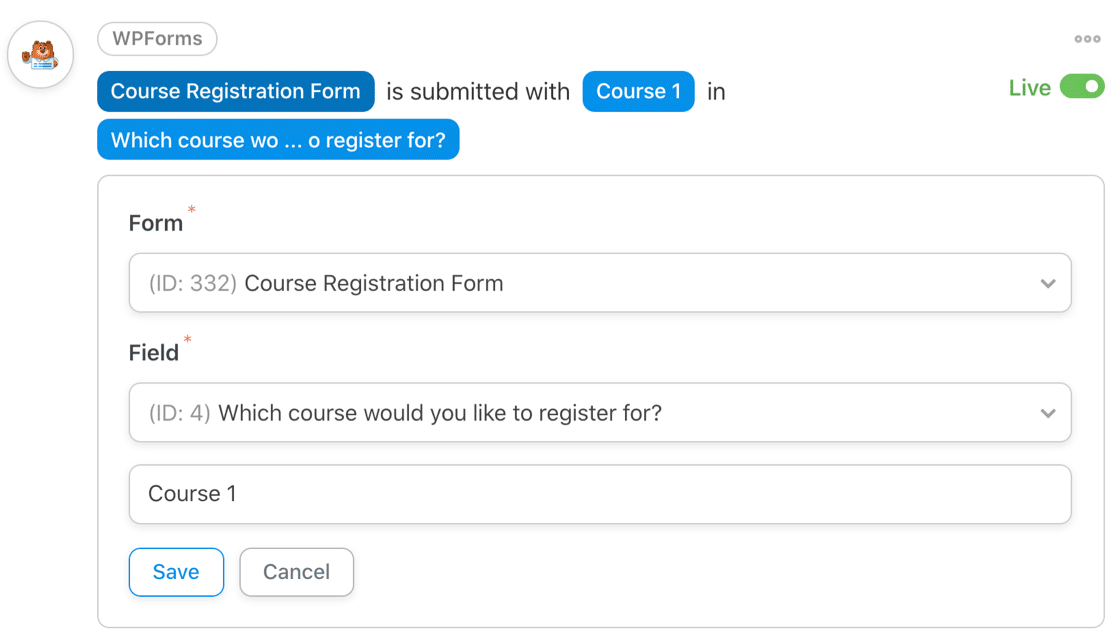 We've been huge fans of Uncanny Automator for some time now, and this new integration makes it a lot easier to unlock its full power in WPForms.
Give it a try – and don't forget to send us your feedback!
One Last Thing…
That's about it for this release. But before we finish up here, we want to send one last message of thanks to you – our customers.
Because last weekend, we hit 5+ million downloads on WordPress.org.
In fact, we achieved this massive milestone on our co-founder Syed Balkhi's birthday, which made it even more special!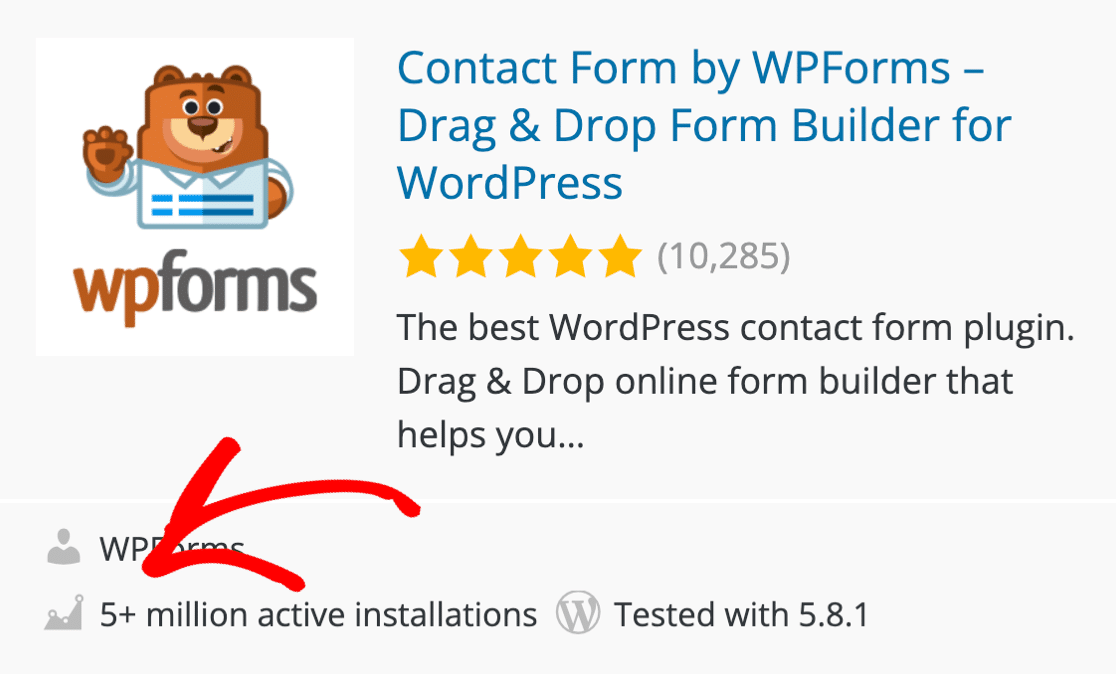 We're one of only 9 plugins in the history of WordPress to have passed the 5 million downloads mark. We're so grateful to you, our users and customers, for getting us there. We couldn't have done it without you!
From the whole team, thank you for being part of the WPForms family. We hope you love using the Rich Text field and Uncanny Automator integration.
Jared Atchison