We're back with another announcement this week, and this time, we wanted to share a major upgrade for one of our most popular addons.
Introducing Geolocation 2.3… now with the addition of Mapbox!
After Algolia Places shut down, we wanted to move fast and provide an alternative geolocation service.
So: why Mapbox?
Mapbox is the most popular geolocation service that offers address autofill and autodetect features for free (up to a certain limit).
After the Algolia Places sunset, we decided it was the right time to add Mapbox as one of the available geolocation providers so that you have an alternative to Google Places.
Ready to see Mapbox in action with your WordPress forms? Let's take a peek.
Easy Mapbox Integration in WordPress
Ease of use is always at the heart of everything we do. This is why we made sure to make it as simple as possible for users to connect Mapbox with WPForms in the Geolocation addon.
All you need to do is select the Mapbox Search API as your geolocation provider for WPForms. Then copy and paste the Mapbox Access Token into the Geolocation settings.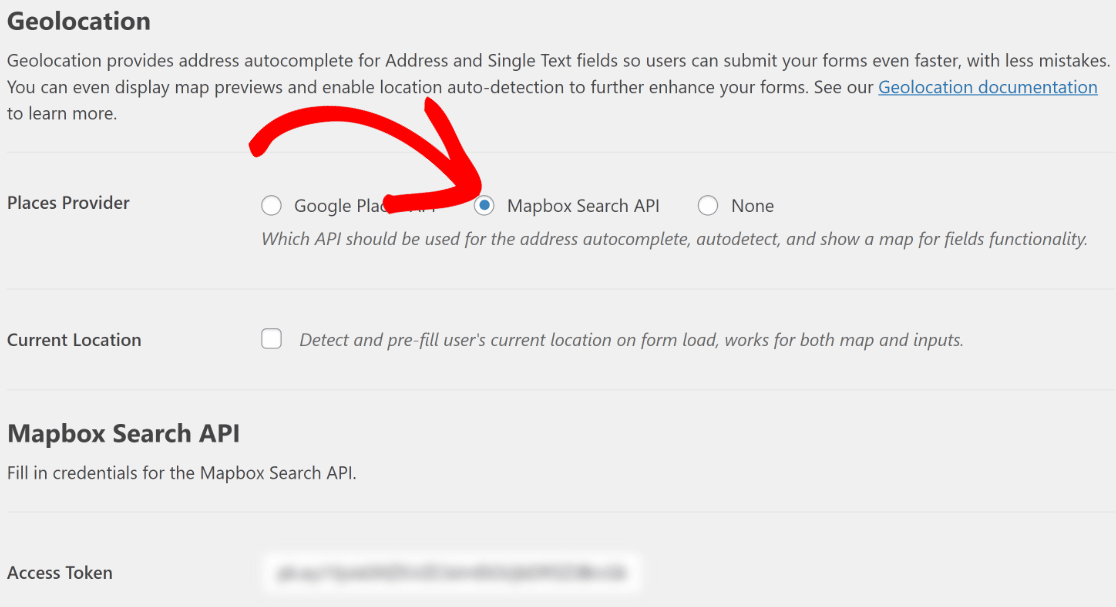 You can then immediately start building forms with the extra functionality that the Geolocation addon provides, including address autocomplete.
Adding autocomplete makes your forms easy to fill out, helping to increase form conversions and reduce abandonment.
Mapbox Address Autocomplete
Mapbox works well for all locations, both international and US addresses. It can be added to a Single Line Text field or an Adress field on your form.
To enable it, toggle on the Enable Address Autocomplete setting in the Advanced options for the field.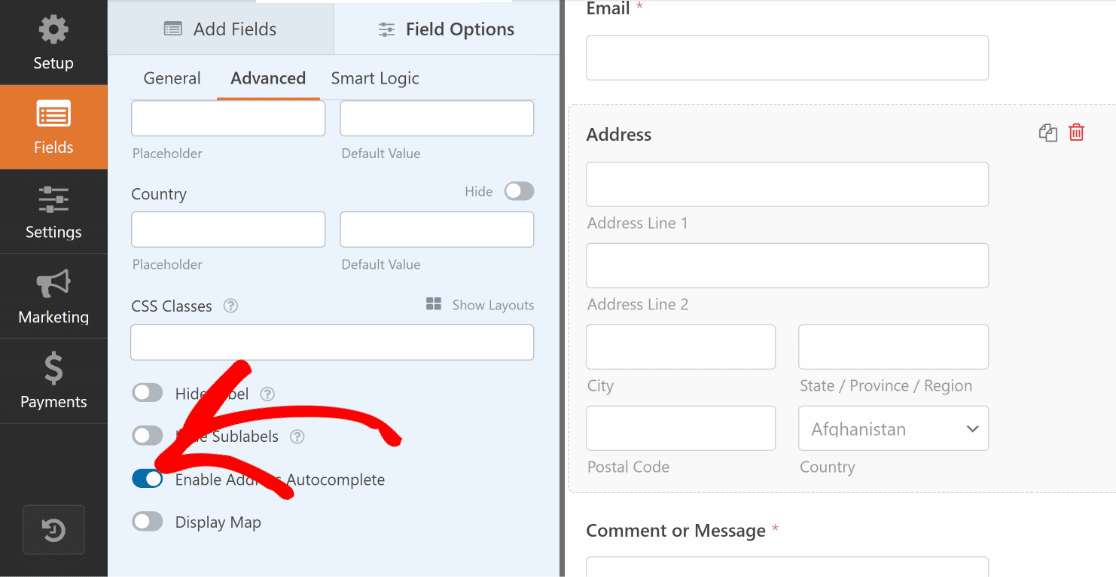 With autocomplete enabled, Mapbox will display address suggestions as soon as users start typing their addresses in your form. When they click on a suggested address, it will autocomplete all related Address fields for the user.
Here's how the autocomplete feature looks on the frontend: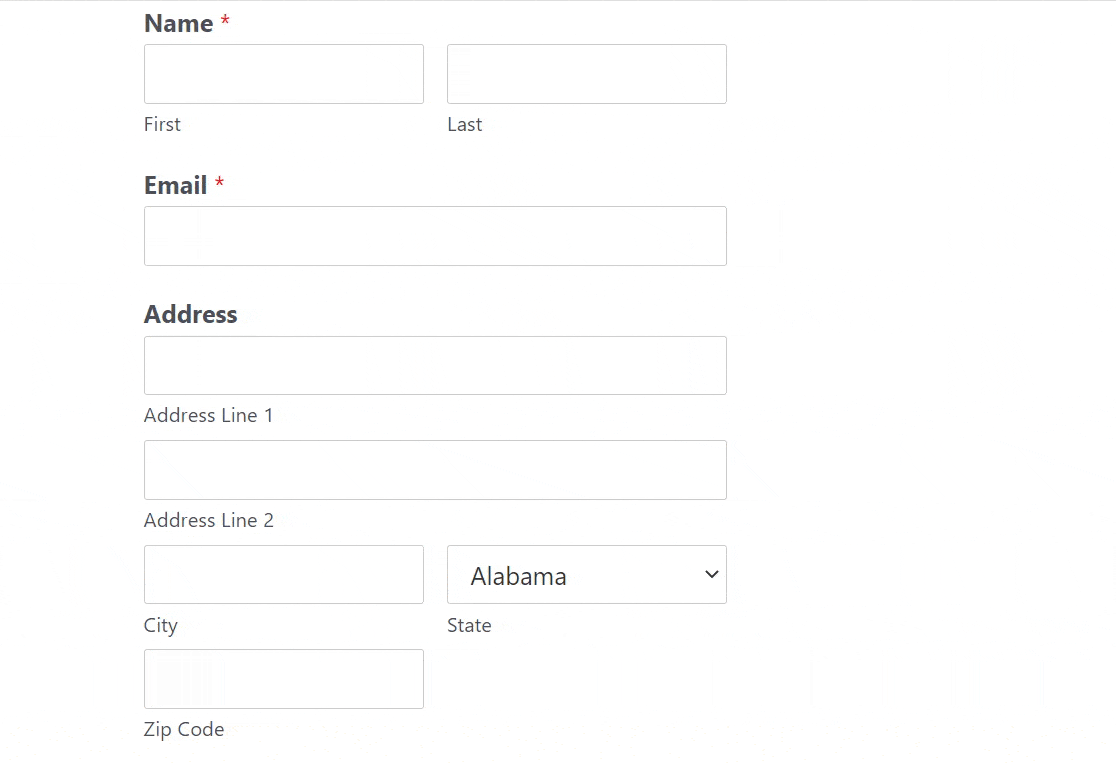 The Single Line Text autocomplete is great for compact forms. If you decide to enable it on an Address field, your visitors will be able to restrict address suggestions by the country or state they've selected in the dropdown. This helps make the automatic suggestions more accurate.
As you can see, the convenience this feature offers to your users is massive!
Interactive Map Display
As with Google Places, you can now also display a map on your form using the Mapbox Search API. This option is available when you enable the address autocomplete setting.
Address autocomplete is extremely convenient in itself, but you can make things even faster for your visitors by adding an interactive map to your form. You can turn this on by clicking the Display Map toggle.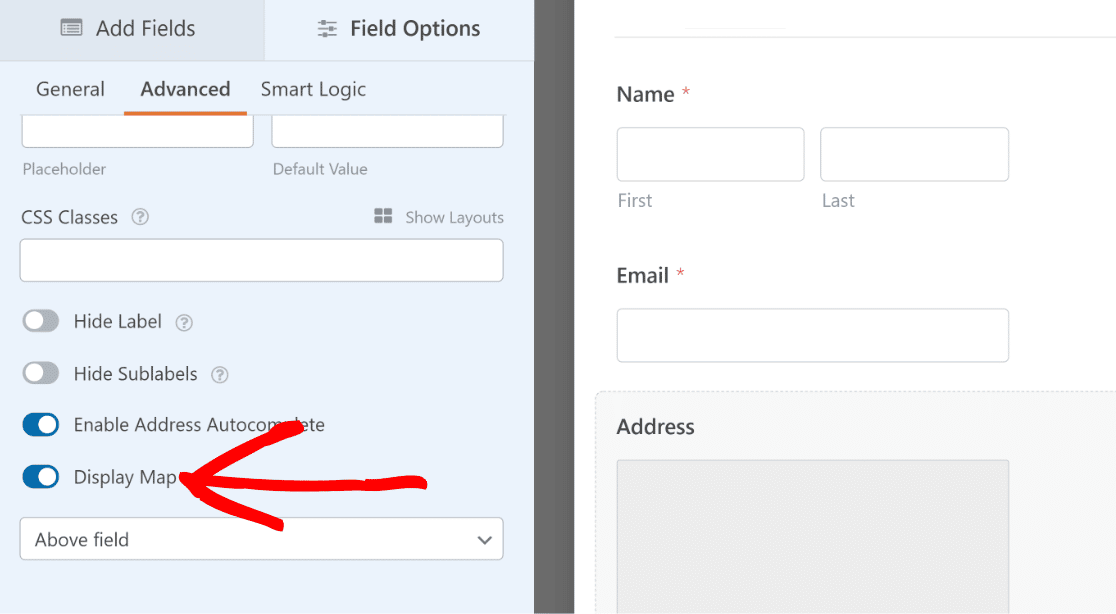 The interactive map is a great visual aid for users who want to pinpoint their exact locations in a form. When a user drops a pin to a location on the map, the Address field will update automatically.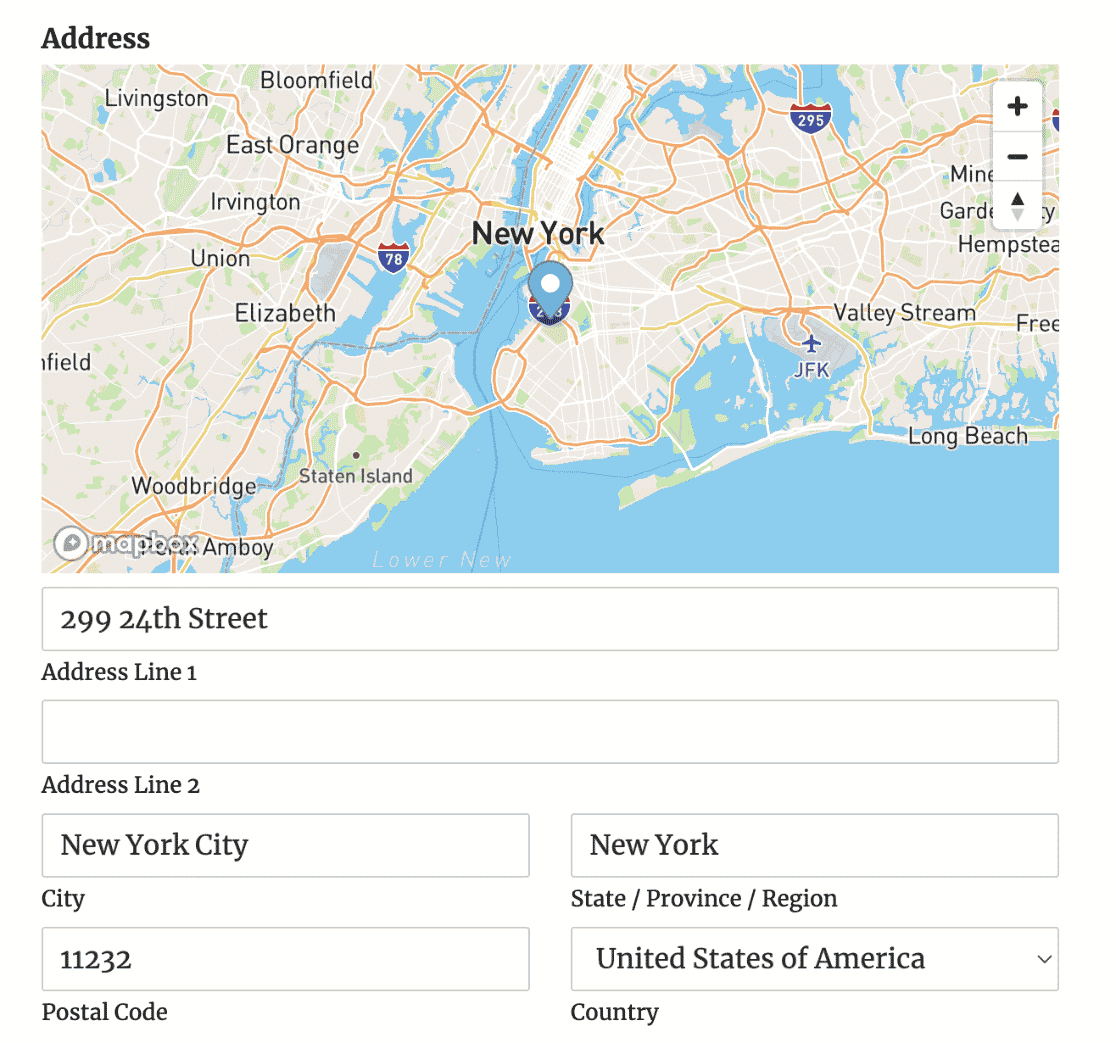 We think the Mapbox map display will be super useful for both site admins and your site visitors, providing speedier form completion and better address accuracy.
Address Autodetect and Pre-fill
When customers visit your forms, having their correct addresses already filled in advance can take the user experience to the next level.
This feature is especially useful for mobile users who want to fill out a form but don't want to type their details in each field.
You can enable the autodetect and pre-fill feature from the Geolocation settings.

Once enabled, users visiting your forms will now see a browser prompt asking for location permissions. If the user allows, the Address field will pre-fill based on their current location as relayed by their device.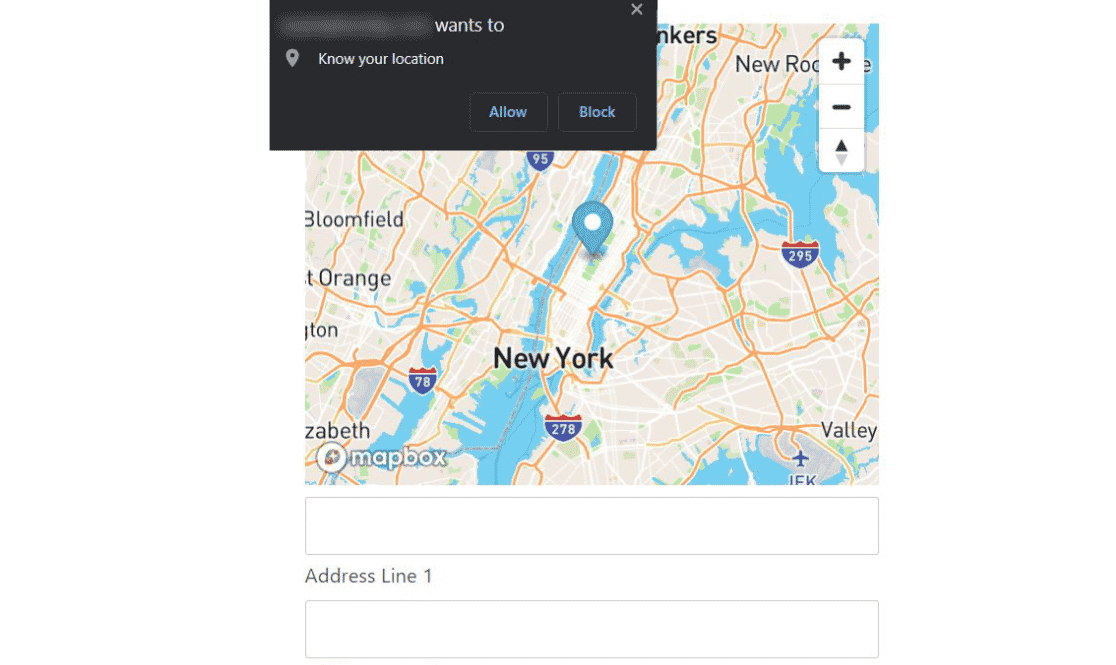 We're sure that your visitors will enjoy this added convenience of address pre-fill and complete your forms faster without quitting midway.
Gearing Up for the Next Awesome Update
We're thrilled with how this update turned out and we hope you'll love using Mapbox's geolocation features with your WordPress forms.
Just to note: as before, you can still view customers' addresses along with their entries. That functionality has always been present in the Geolocation addon, so if you enjoy using that, nothing will change.
If you haven't already upgraded the addon, now would be a great time to try it out! And if you're new to WPForms, now's the time to grab a Pro license and take Mapbox for a spin.
We're very close to rolling out another addon update to make WPForms even more useful for you. So make sure to keep an eye on our blog.
Until then, we can't wait for you to give the Mapbox Search API integration a try.
Jared Atchison