We're ending 2019 with a bang — we've just released WPForms 1.5.7 and it's got some spectacular new features.
This big release is an exciting one — It's going to make it easier to get higher quality leads, set up reCAPTCHA, edit forms, track entries, and find support.
Get ready…Here's your first look at all the shiny new updates in WPForms 1.5.7.
New Number Slider Field
We've added a new form field in this release. The Number Slider field gives you the option to add a number slider to your forms.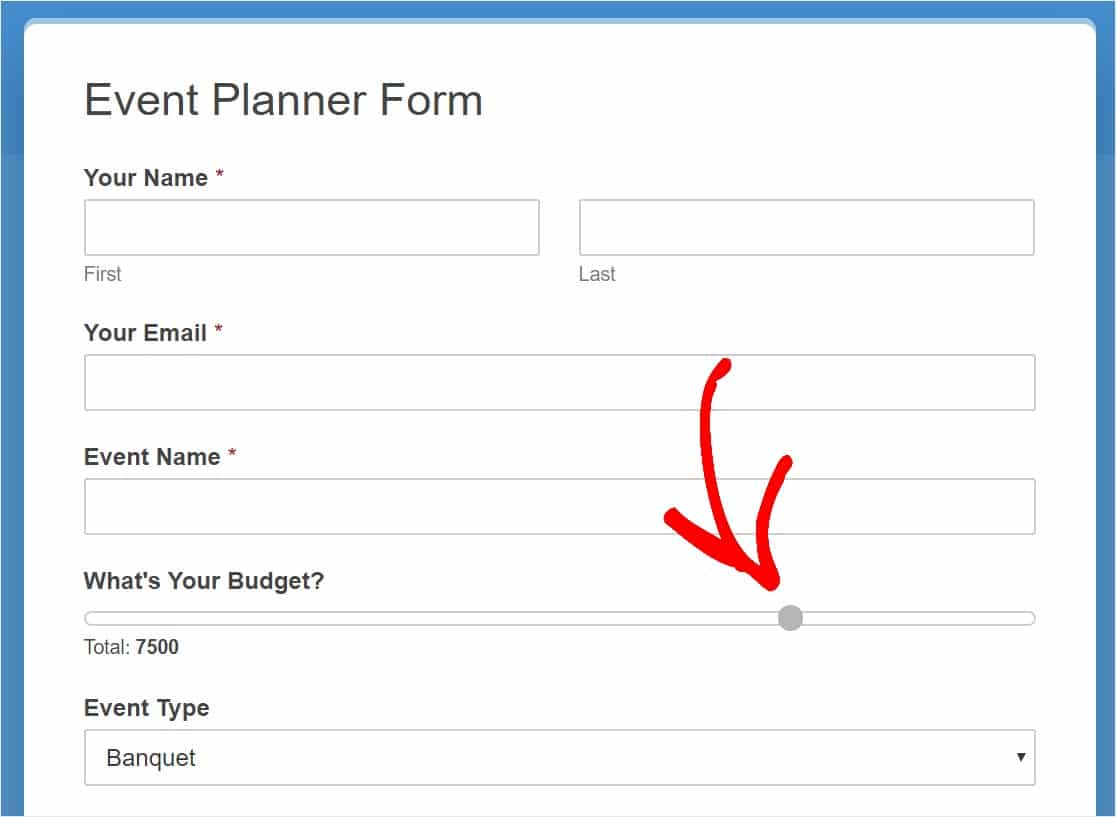 Once you add this field to your forms, your website visitors can simply drag the slider to whatever amount they'd like.
And there are some really nifty settings inside of the Field Options as well for the slider. You can set the minimum and maximum value, change the increments, hide the total value, and more.
This is a great field to add to your forms to get deeper insights into your leads. For example, let's say you're a wedding planner, you can now add the Number Slider field to your contact form to ask people what their maximum budget is. That way, you get higher quality leads with more details from the very start.
Improved reCAPTCHA Experience
We know WordPress security is essential, and no one wants spammy form entries. So that's why we offer Google's reCAPTCHA on our forms.
But previously when editing a form, it wasn't clear that Google's reCAPTCHA was available to all users (including Lite, the free version of WPForms). We heard you and we made a change to make it less confusing.
There's now a reCAPTCHA button that will direct you to enable reCAPATCHA. And once it's on, you can use that same button to disable it if you need to.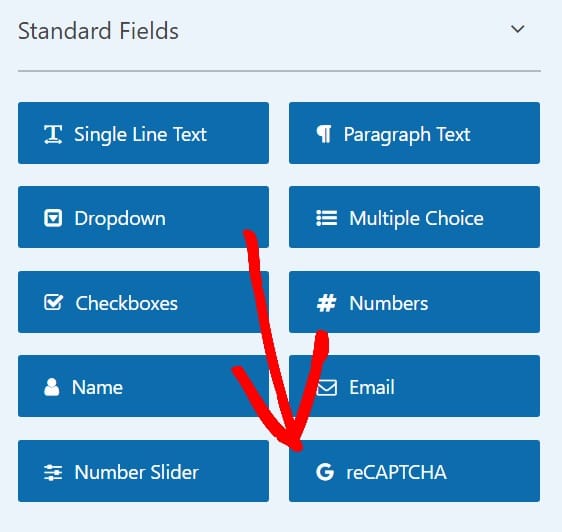 You also used to have to go into the form settings to see if reCAPTCHA was enabled.
Now, you'll see a badge displayed on the form in the editor confirming reCAPTCHA is indeed turned on. How cool and simple is that?!

You'll still see the Captcha button in the editor. But now that there are two buttons, this will help differentiate between Google's reCAPTCHA, which is available to all users, and the Custom Captcha Addon that's available to Pro users and lets you create a custom question or math Captcha.
Label HTML Blocks
We've also added labels to HTML code blocks.
Before the update, you'd have to click on each block in the editor to see which code was inside.
This created an extra and unnecessary step to customizing your forms, especially if you used multiple HTML blocks. So we created an optional backend label area in the Field Options on all HTML code blocks.

Now, you can type information into the label area for each block and easily identify what's in it, making your forms easier to edit and manage.
Entries View Customization + Logs
Also with this new release, viewing your form entries has gotten even better. You'll now have even more control over which entries you want displayed.
When viewing the entries list for a form, you can now customize your Entries FIeld Columns to include not only the new Number Slider field, but also Entry ID and Entry Notes.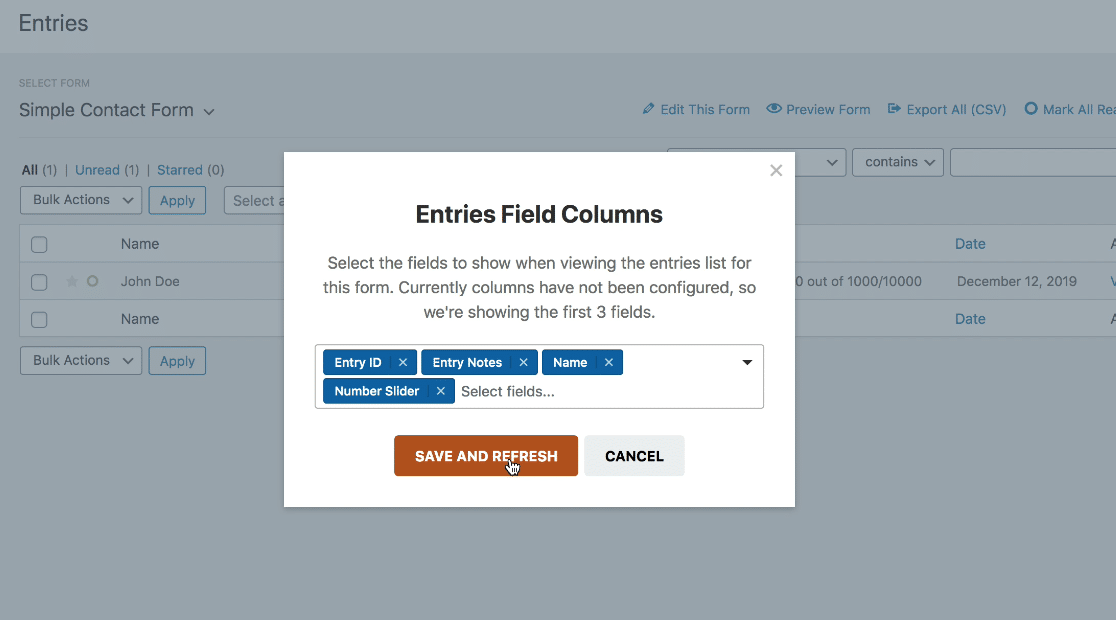 Entry notes show how many notes have been left — great for keeping track and communicating internally about actions taken on entries.
And that's not the only feature we've added to form entries that help when multiple people need to use a form and handle its submissions — Entries now have logs.
With Entry Logs, you can see actions taken on Entries. For example, say you've got a job application form on your site and your job workflow says that you don't take action on an entry until your manager has starred it. Inside the log, you can see who read and/or starred an entry and exactly when it happened.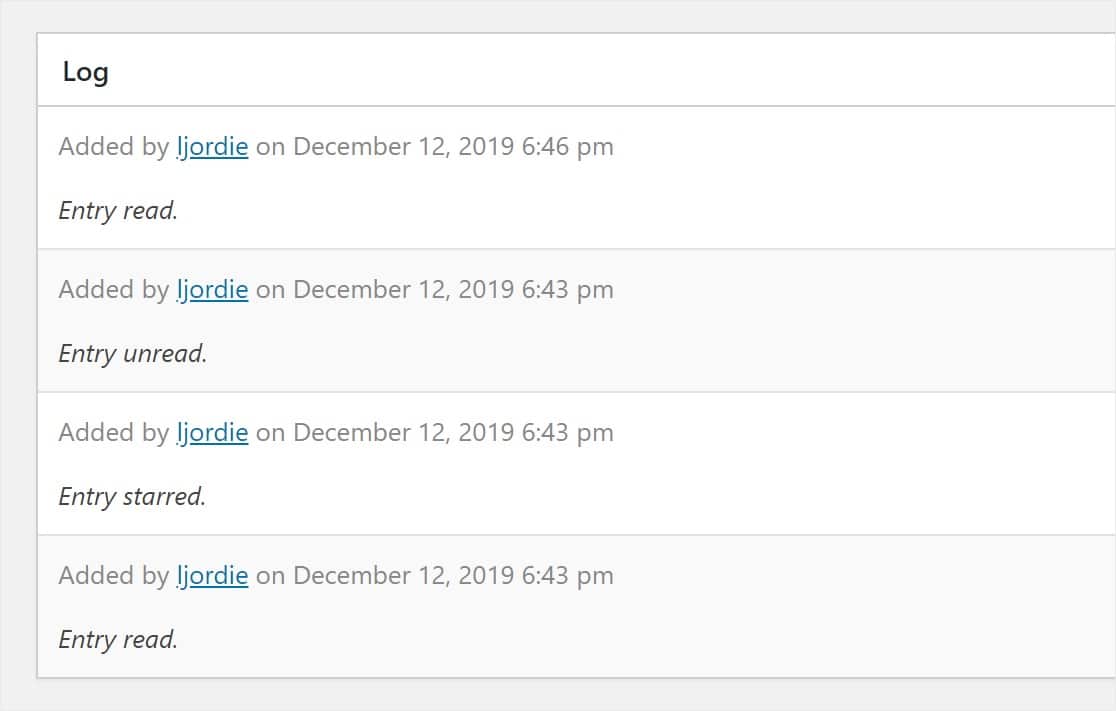 We wanted to make it even easier for you to track and stay organized with your entry data, so you can get even more insight about your prospects.
Easily Access Quick Links
Making and managing a website can be hard. But because WPForms is built to be beginner-friendly, we know it's super important to get help when you need it.
That's why the admin area on the dashboard now features a Quick Links icon.
Just click on Sullie on the bottom right of your screen from within the plugin, and you'll see a helpful menu expand. You can get to support and documentation, access our VIP Circle Community Group, and even suggest a feature.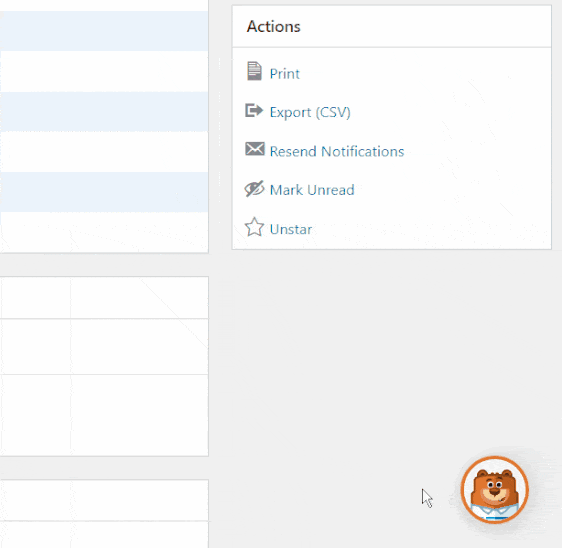 All of our most helpful resources are now easy to find in one place — You can use them to become a WPForms master in no time so you can boost your conversion rate and save yourself time.
So that's what new. We hope you love all the new goodies inside the WPForms 1.5.7 release. Feel free to let us know any thoughts you have as you're exploring the new features.
From the WPForms family to yours, we genuinely hope you enjoy the holidays. Keep a lookout for another cool update not long after the world rings in 2020?
Lisa and the WPForms team
If you're not using WPForms Pro yet, what are you waiting for? Click here to get started now and unlock all the features of the most powerful and easy-to-use form plugin available.