We just rolled out our first release of 2020, and it's one worth celebrating.
We're always hard at work bringing you the new features you ask for, and we're really excited about this one!
It's time for Site Admins to rejoice… You can now limit what your users can access in the WPForms plugin. Here's a look at the biggest change in this latest update, the new Access Control feature.
New Access Controls
The latest WPForms update is full of lots of improvements and tweaks, but Access Controls is the biggest change you'll now see.
You wanted more granular controls over what WordPress users can and can't do with WPForms, so we've brought it to you.
Previously, Site Admins had complete control over WPForms. But as we grow, we know your websites are growing too. So we knew we needed to create a more granular experience that lets you get business help from others without giving them complete control of your plugin or site.
Even if you trust your team, it's not always best practice to give everyone access to sensitive information — especially if they have no need for it.
So, this update introduces more controls over the different areas of WPForms.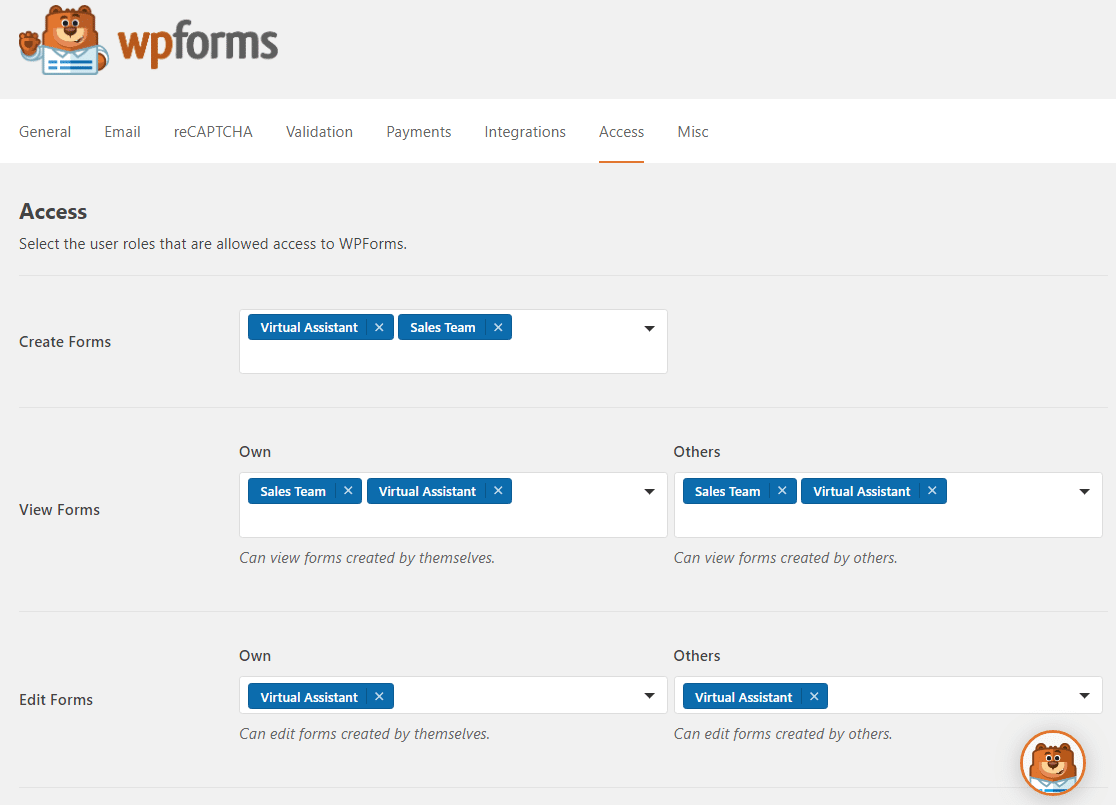 You can now get help from someone on your team by granting them specific permission to things like:
Building Forms
Editing Forms
Deleting Forms
Viewing Form Entries
Editing Form Entries
Deleting Form Entries
And More
With Access Control, you can get help from others with these things without giving them full access — simply by clicking on the Access button under WPForms » Settings.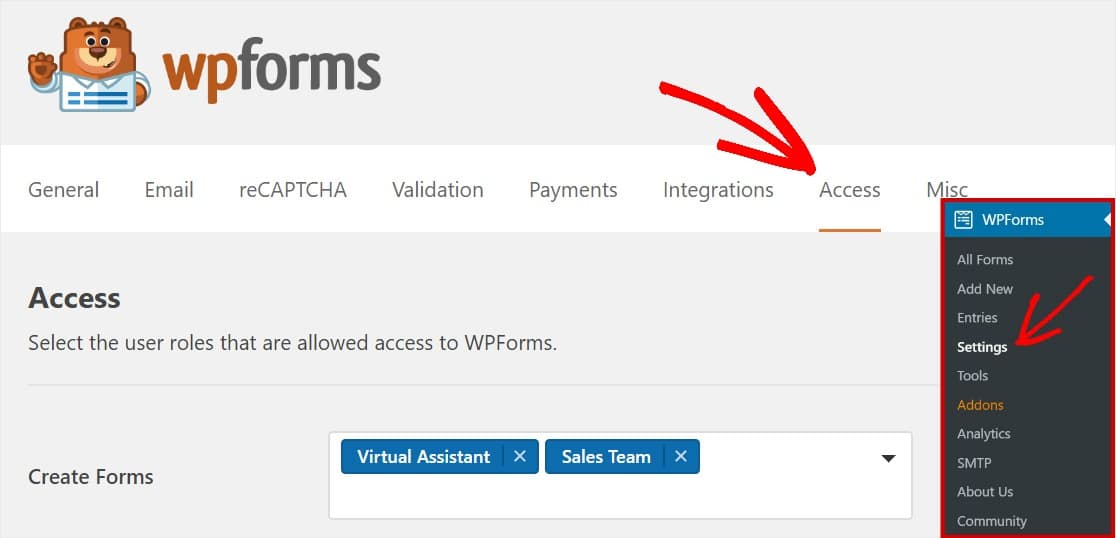 For example, you want to give your administrative assistant WPForms access to build a form on your site. With the new Access Controls feature, you'll be able to give them specific access to do so in WPForms, without giving them access to the sensitive info on the WPForms settings page.
Or say you want your sales reps to be able to view all lead entries to help with reaching out to leads, but they shouldn't be able to edit or delete forms. You can do this as well!
Make sure to see our documentation for in depth details on how to set up Access Controls.
Access Control Integrations
Our built-in, easy-to-use Access Controls settings are perfect for most users, but we know some people like to have even more control. In fact, we are those people ourselves!
That's why we also seamlessly integrated Access Controls with the two most popular WordPress role editing plugins: Members and User Role Editor.
Keeping things insanely simple for you, integration is automatic. When viewing the registered WordPress capabilities in Members or User Role Editor, you'll see the custom WPForms capabilities.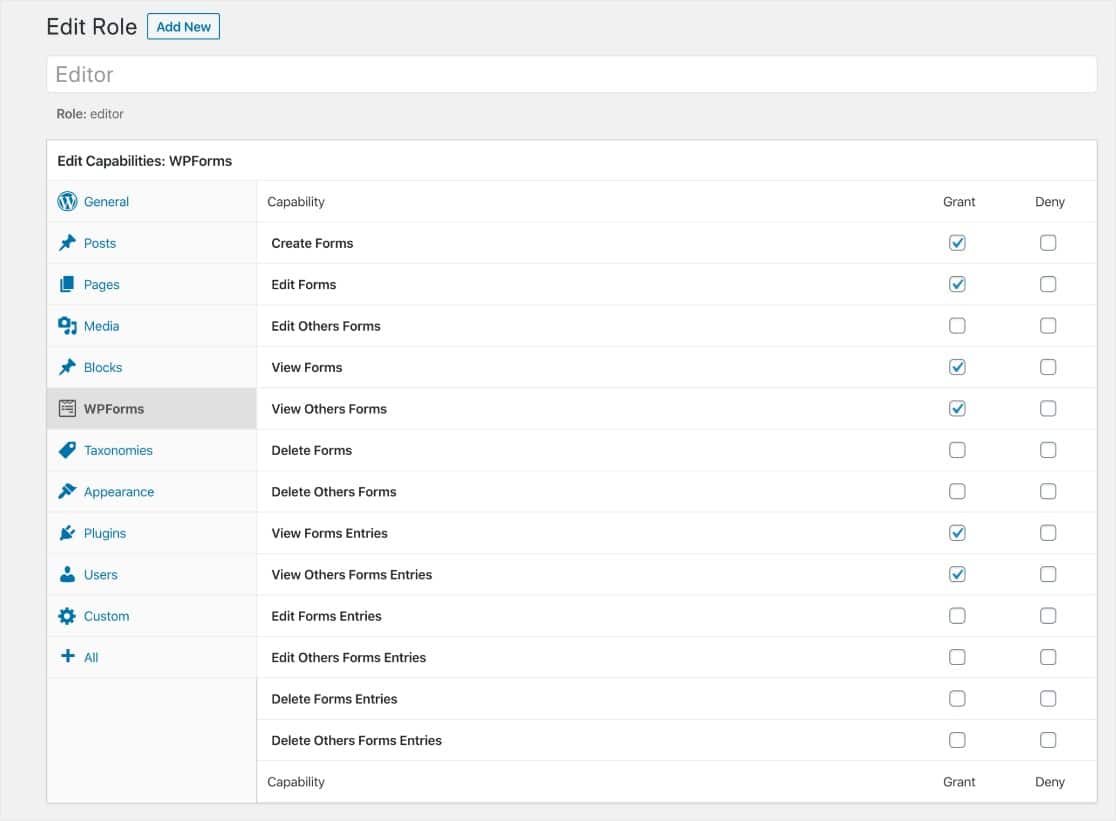 We really think you'll love the new Access Controls, so we made sure to make it accessible in multiple ways. Between the Access Controls settings page and our Access Controls integrations, we have something for everyone, and can't wait for you to check it out.
This feature is available for all paid users.
Not a WPForms customer yet? Click here to get started today!
Give the new WPForms a spin, and let us know what you think about version 1.5.8 and the new Access Controls feature — we'd appreciate your feedback. It gives us insight into what cool new releases to work on next!
As always, thanks for your continued support of WPForms, the best contact form plugin for WordPress.
Lisa and the WPForms team