WPForms 1.4.8 is finally here, and you're going to love it. There are tons of exciting new features in this release, and it also lays the groundwork for our next big feature that a lot of you have asked for. I'll share more on that later, but first let's take a look at what's new in WPForms 1.4.8!
WPForms Gutenberg Block
WordPress 5.0 is going to come with a brand new content editor called Gutenberg.
As always, WPForms team has stayed ahead of the curve by creating a native WPForms Gutenberg block, so you can easily add WPForms to your blog posts and pages when Gutenberg is officially released.
With this new feature, all you have to do is add the WPForms Gutenberg block and select the form you want to add from the dropdown menu (no shortcodes needed).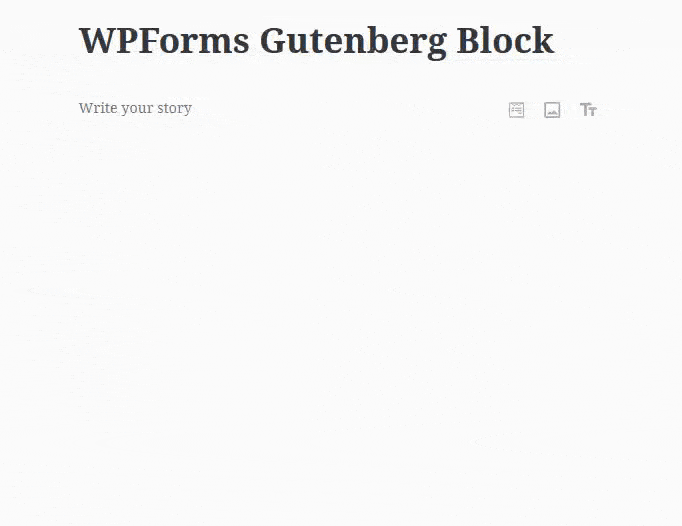 Once you select the form, you'll see real time preview of what your form will look like once published on your site.
Preparing for the transition from the Classic WordPress Visual Editor to Gutenberg doesn't have to be hard when it comes to your WordPress forms.
That's because WPForms will always be the most user-friendly and easy to use contact form builder in the market, that's our promise to you 🙂
Conditional Form Confirmations
A lot of you have been asking about conditional form notifications, and I'm excited to share that it's finally here!
In the past, when configuring form confirmations, you had to decide whether to display a message, redirect users to a page on your website, or send users to an entirely different URL.
But now, thanks to conditional form confirmations, you can enable conditional logic and apply smart rules to your form confirmation based on user's input (without touching any code).
In other words, you decide which confirmation people see based on their behavior.
For example, let's say someone fills out and submits your user registration form, and you want to create 2 form confirmations:
Default Confirmation. Display a thank you message to anyone that registers on your site.
Second Confirmation. Enable conditional logic to take all users that answer "Yes" to the question "Would you like to login immediately after registering?" to a dedicated login page on your site.
This is what your confirmations will look like: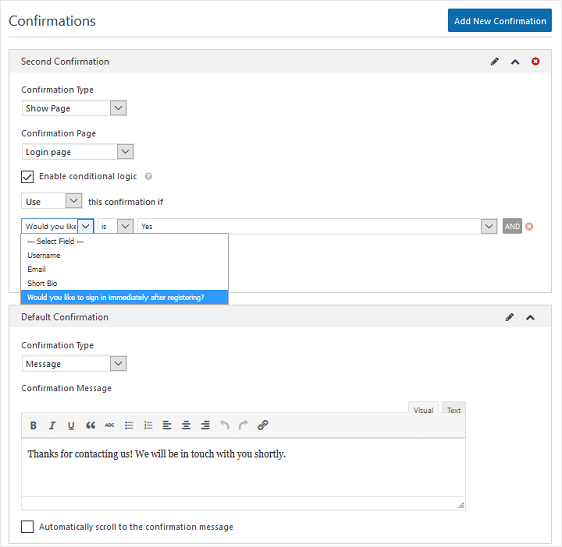 And this is just one example.
You can apply conditional rules to show people different webpages based on products they purchase, display a thank you message to those that donate to your cause, or redirect users to an entirely new website if they show interest in an affiliate product you asked about in your survey form.
The options are endless and best of all it's super easy to set up!
Updated Net Promoter Score (NPS) Template
We know how much you guys love our WordPress Surveys addon. We also understand the value of gauging customer loyalty with a Net Promoter Score (NPS) survey.
So, to make things even simpler, we've updated the NPS survey templates.
If you want to ask a few simple questions to find out whether people will recommend your business to others, then you can use the NPS Survey Simple Form template.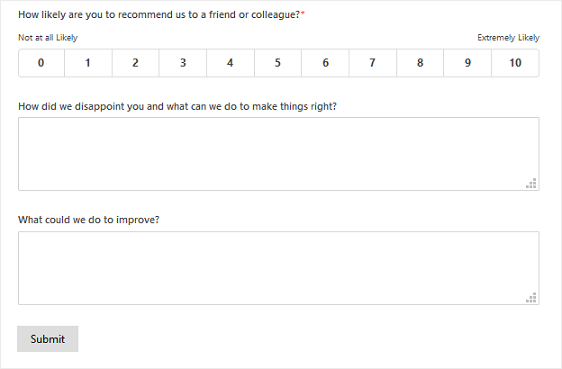 However if you want to ask more in-depth questions about people's loyalty to your brand, what you can do better, and whether they'd be willing to provide a testimonial, then you can now use the NPS Survey Enhanced Form template.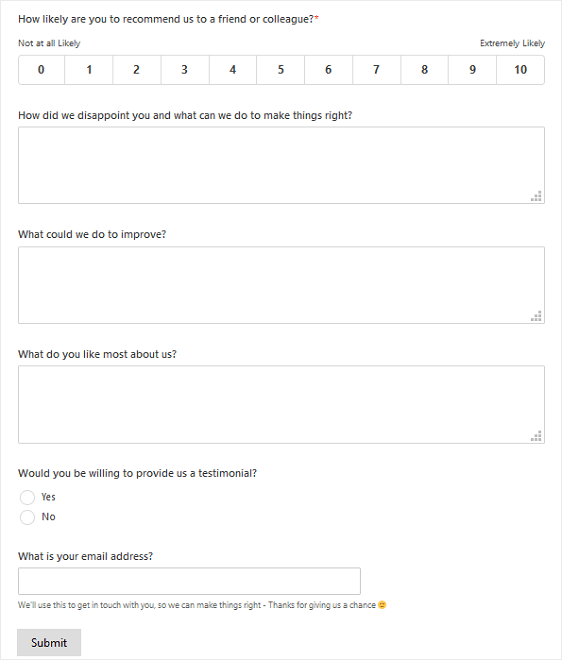 As always, our goal is to do leg-work and make the process of creating functional forms easy. Now you can create smart NPS survey forms with WPForms with a click of a button.
Two Other Important Improvements
In an effort to improve not only the user experience, but your experience too, we've also made two other important improvements in this release that we think you'll really like.
1. Improved URL Fields
Sometimes website visitors want to enter their website URL using shorthand and forgo the HTTP or HTTPS part. And whenever they do that, your form tells them to enter a valid URL.
Well, we've fixed that.
To reduce the frustration that comes with having to re-enter a website URL on your WordPress forms, we've configured the Website / URL form field to automatically fill in the missing HTTP or HTTPS part when a visitor fill out your forms.

2. Improved Integration with WP Mail SMTP
If you're using our sister plugin, WP Mail SMTP, you'll really love this.
From now on, if a WP Mail SMTP setting is in place to override a form setting, then you'll see a message explaining the hang up.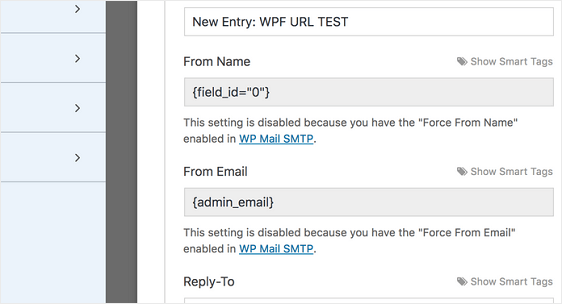 If you see this message, then don't worry. It doesn't mean that your form notifications aren't being sent out properly, it means their deliverability chances are much higher because you're using WP Mail SMTP.
What's Coming Next?
Hold on to your hats people, because the highly requested, and much anticipated, update to our Stripe addon is just around the corner.
Yes, we're talking about Stripe recurring payments.
If you currently use the WPForms Stripe addon to make money online, and have been wanting to find a way collect payments from customers on a recurring basis, then you're going to love our next big release. And though I can't tell you exactly when that will be, I can tell you it's really, really soon.
And that it's for today! We hope you like these new features and find them helpful.
As always, thank you for your continued support of WPForms, and we look forward to helping you create better online forms!
Jared and the WPForms team
P.S. Don't have a WPForms Pro license? Click here to get started today and experience the WPForms difference.