Keeping your website forms secure and free from spam is not only important but should be simple.
And that's why we're excited to introduce you to our new hCaptcha integration, which is available to all users in WPForms v1.6.4.
But there's more! Based on your feedback, we're expanding our available marketing integrations with our new Sendinblue addon.
Secure Your Forms With hCaptcha
Earlier this year, we improved our built-in spam prevention, helping your forms to be much better protected right out of the box. However, we know that many users want to add an additional layer of protection that leverages advanced AI technology.
Our new hCaptcha integration provides you with more options when considering CAPTCHA services.
hCaptcha is a free tool that helps keep spam and bots out of your forms by asking simple questions to prove your users are human. They use sophisticated machine learning and AI to help distinguish human users from spam.
hCaptcha is a popular alternative to Google's reCAPTCHA, with an emphasis on privacy. Their privacy policy is compatible with recent regulations such as GDPR and CCPA.
Whether you don't have a Google account, you're concerned about privacy issues or site conflicts, or just want to try a different way to block spam and malicious traffic through your web forms, hCaptcha makes it easy for you to get started with their free service.
And of course we've made it easy to add to your forms, too.
In WPForms settings, you'll now see the option to use either hCaptcha or Google's reCAPTCHA.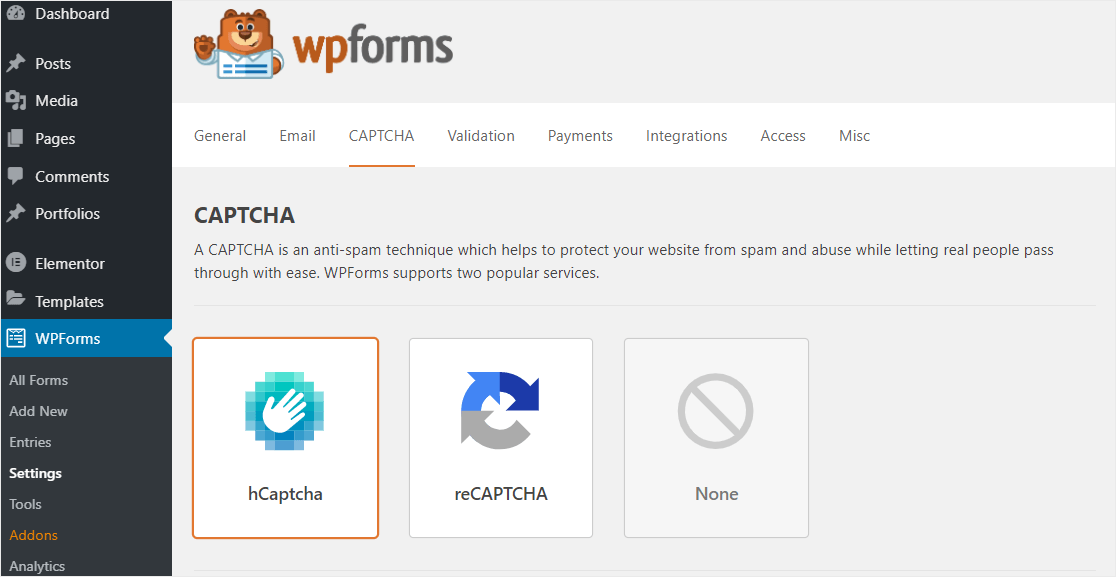 This is a great choice if you want your end-users to have a seamless experience submitting your forms, but don't want to use Google's reCAPTCHA. You can protect your forms from bots, spam, and break-ins, while keeping your information private.
Similar to reCAPTCHA settings, you can do things like adjust your Fail Message, enable No-Conflict Mode, and even get a preview of your CAPTCHA. All while looking super professional on your form's frontend.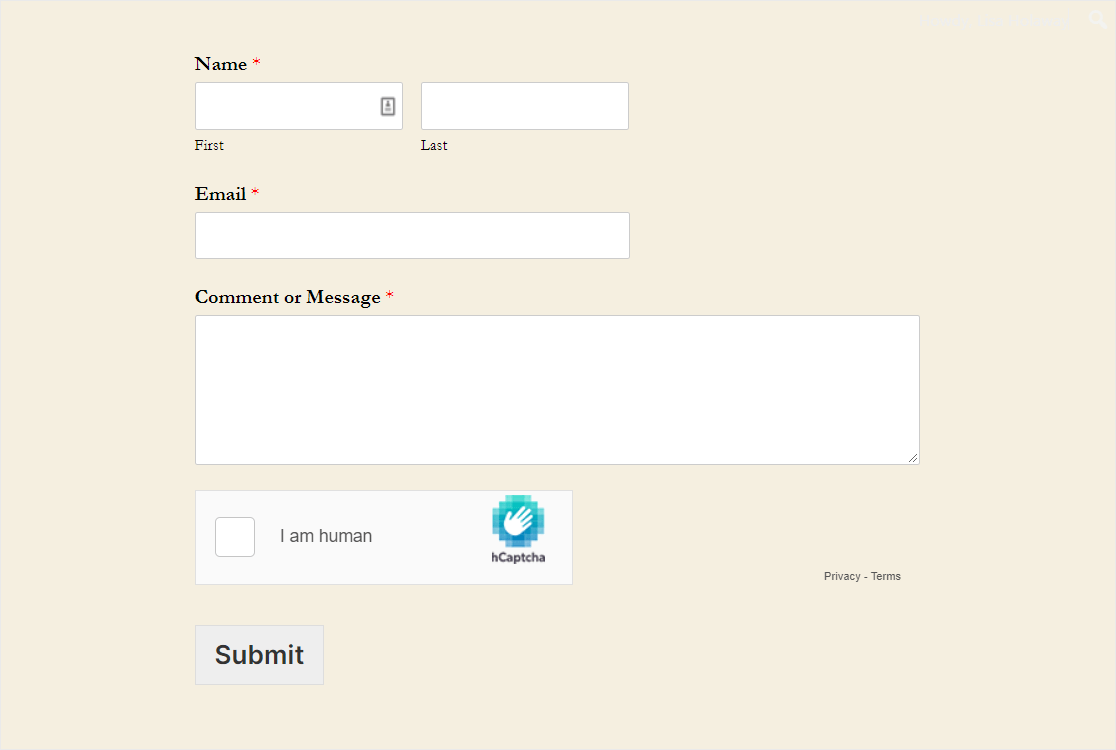 And since we added more options, we wanted to make sure these settings are crystal clear within the form builder. So, we've also made the CAPTCHA button in the form builder more detailed.
Now, once you pick your CAPTCHA service, you'll see your choice right in the builder. So once your settings are enabled, you can simply hop into one of your forms and click on the hCaptcha button to access its settings.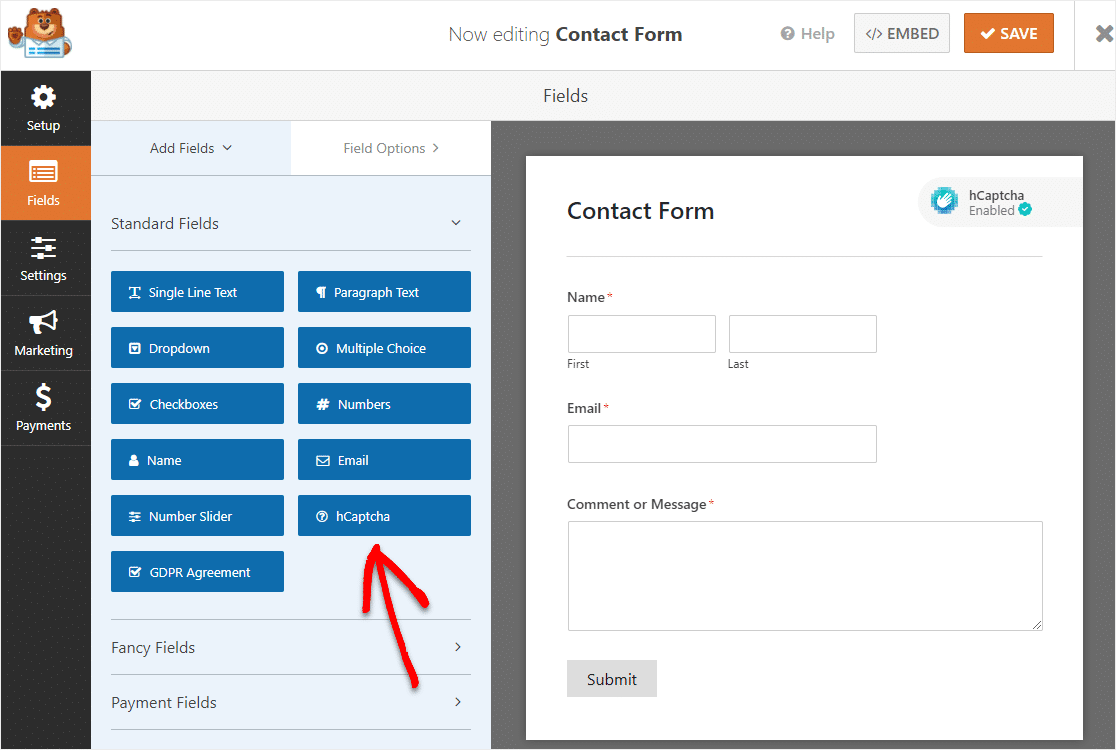 We're super excited about adding hCaptcha to WPForms and hope this extra option makes it easier for you to create smart contact forms that fit your website's needs.
Integrate WPForms + Sendinblue Email Marketing
Speaking of having more options, we've got a brand new email marketing integration.
You asked for more email marketing provider options and we heard you. We've made it even easier for you to connect your forms to your email marketing service with our new Sendinblue addon.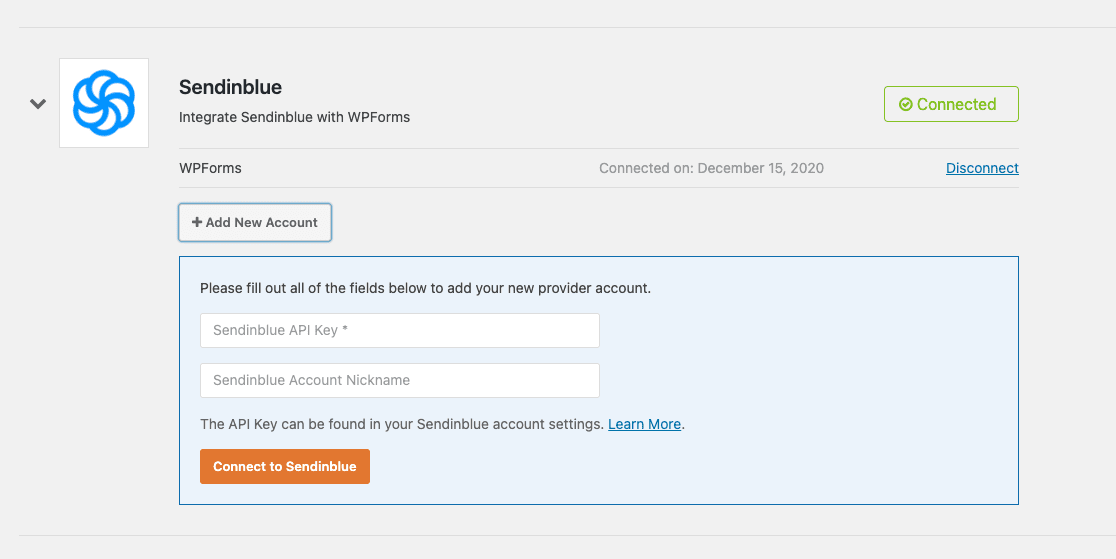 This WPForms + Sendinblue integration means you can take advantage of even more amazing email marketing growth tools within both services.
Sendinblue's robust digital marketing platform offers superior customer relationship management with tools like chat, SMS, and email marketing.
And with our integration, you'll be able to sync all of your WPForms contact forms directly to your Sendinblue email marketing lists. Meaning you can communicate better with your leads and sell more of your product.
The WPForms Sendinblue addon lets you automatically:
Subscribe Users to Lists
Unsubscribe Users
Delete Users
Track Events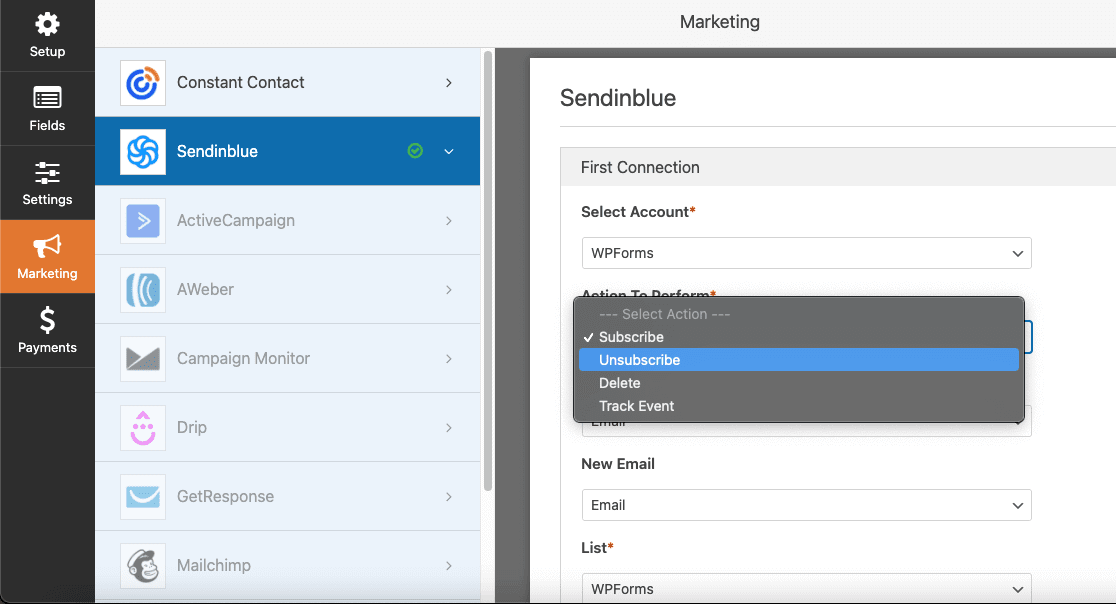 Syncing WPForms to your Sendinblue account will help organize your leads and automate your marketing, so you can increase your website's revenue. The Sendinblue addon is available to customers with WPForms Plus plans or higher.
Wrapping Up
So there you have it for what's new with WPForms. We sincerely hope you get great use out of the new hCaptcha feature and our Sendinblue integration.
Our goal is always to make running your small business website easier. So if you have any tips on how we can keep doing that, or thoughts about these new features, please let us know.
So go ahead and update to WPForms 1.6.4 from your WordPress dashboard when you get a chance.
And as always, thank you for your continued support of WPForms. We love releasing new updates and are excited to bring you even more useful features in the future.
Jared and the WPForms team
P.S. Don't have a WPForms Pro license? Click here to get started today and experience the WPForms difference.