Do you want to audit your WordPress site?
Every well-functioning WordPress site requires periodic audits to ensure that it continues to work as intended.
But where should you start the auditing process and what should it exactly involve?
In this post, we'll show you exactly how to audit your WordPress site and recommend tools that will make this task easy!
Why You Need to Audit Your WordPress Site
Your website needs to be fully functional and well-optimized at all times in order to produce value for you and your visitors. To ensure this, it's extremely important to audit your WordPress site from time to time.
Typically, a WordPress website consists of several different parts such as themes and plugins.
Like any software, your WordPress site can encounter technical problems over time. An audit is a great way of solving these problems before they become too large.
Plus, site audits give you the opportunity to test how well your website is optimized marketing-wise. For instance, you can check things like how fast your website is loading, on-page optimization for search, where your forms are located, and more.
In short, a site audit is an excellent way of ensuring that your site is running smoothly and that it's perfectly optimized for your key marketing objectives.
How to Audit Your WordPress Site (Complete Guide)
When auditing your WordPress site, we strongly recommend checking for the things mentioned below.
Let's consider these audit items in more detail.
1. Locate and Test Your Forms
WordPress forms are a common feature of most modern websites. These forms can be deployed for a huge variety of reasons including customer support, online orders, surveys, registration, and more.
But a common problem that many larger websites face is that, as they grow in size, it gets harder for marketers to keep track of all the forms on their sites. This can make auditing extremely difficult.
Thankfully, you can easily check where your forms are embedded on your WordPress site using WPForms.
Form locator is a built-in WPForms feature that scans your whole WordPress site to trace the exact location of each form currently active on your site. This way, you can find all forms on your site from your WordPress dashboard.

Knowing which pages of your site have a form is an important part of the auditing process. It helps you understand which pages you're getting most of your form entries from.
And you might also discover new pages which don't currently have a form but which may be worth adding one of your forms to.
Besides, we strongly recommend testing your forms to make sure they're fully functional and optimized to deliver the best customer experience.
you can see our form testing guide for detailed instructions on how you can test and audit each individual form on your WordPress site to eliminate any potential errors.
Auditing your WordPress forms well is simply a matter of using the right tools. And WPForms is the best WordPress form plugin you can have to make your form audits more efficient than ever.
2. Review Your Site SEO
Your site audit should include an analysis of your SEO performance. However, a comprehensive SEO audit can be very time-consuming to do manually.
The easiest way to check your WordPress site's SEO status is by using the AIOSEO plugin. AIOSEO is the best WordPress SEO plugin.
It automatically audits your website for SEO issues and measures your overall performance based on a set of crucial on-page optimization criteria.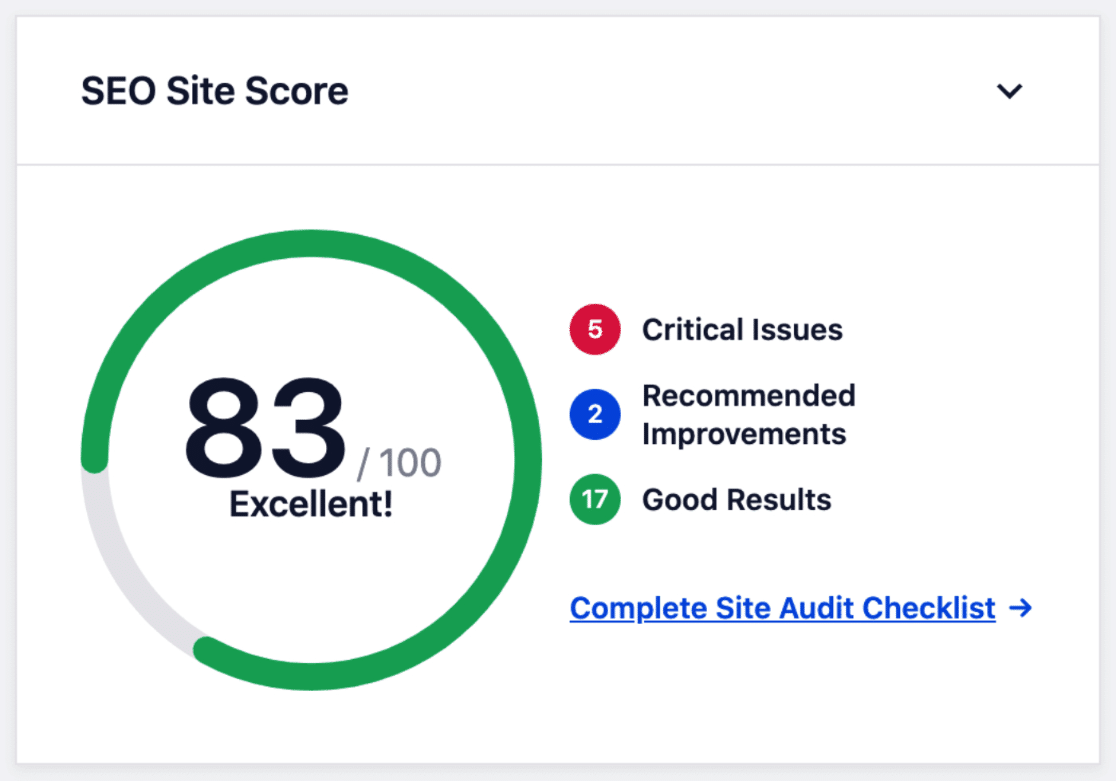 AIOSEO takes the guesswork out of on-page optimization by providing actionable suggestions for improving your current score and highlighting critical SEO issues.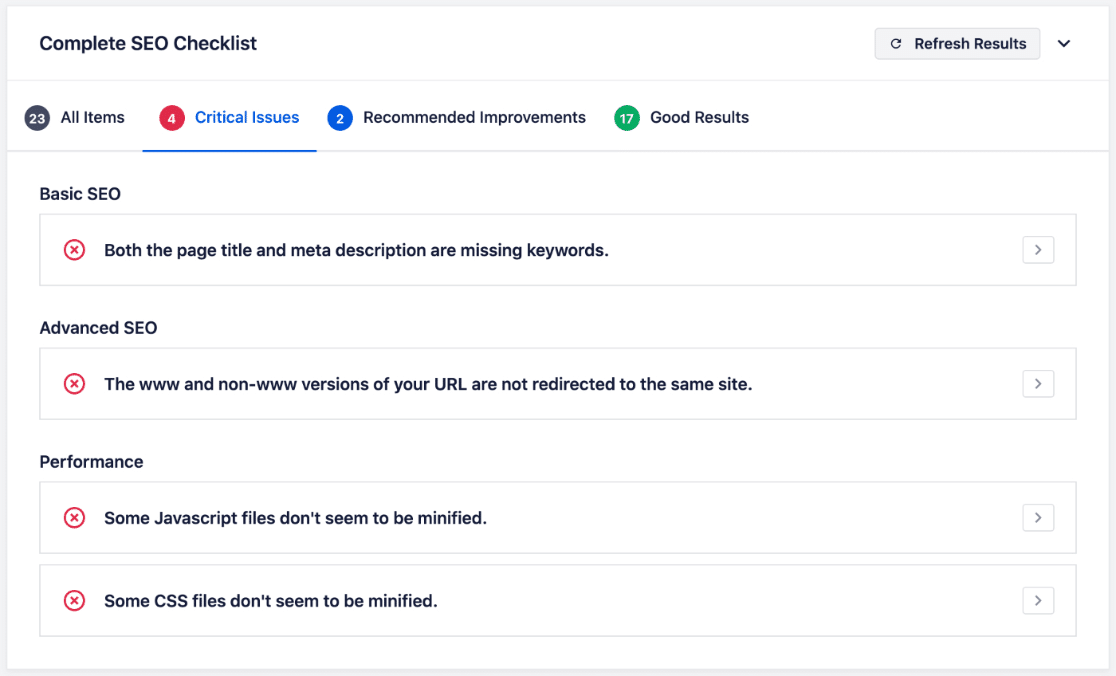 One important ranking factor which also influences how quickly your pages get indexed by Google is internal linking. An SEO audit would be incomplete without checking if your important pages are properly interlinked.
AIOSEO includes an excellent link auditing tool called Link Assistant.
With the Link Assistant, you can see how many internal links are pointing to each post, discover posts with no internal links at all, and receive helpful linking suggestions for each post.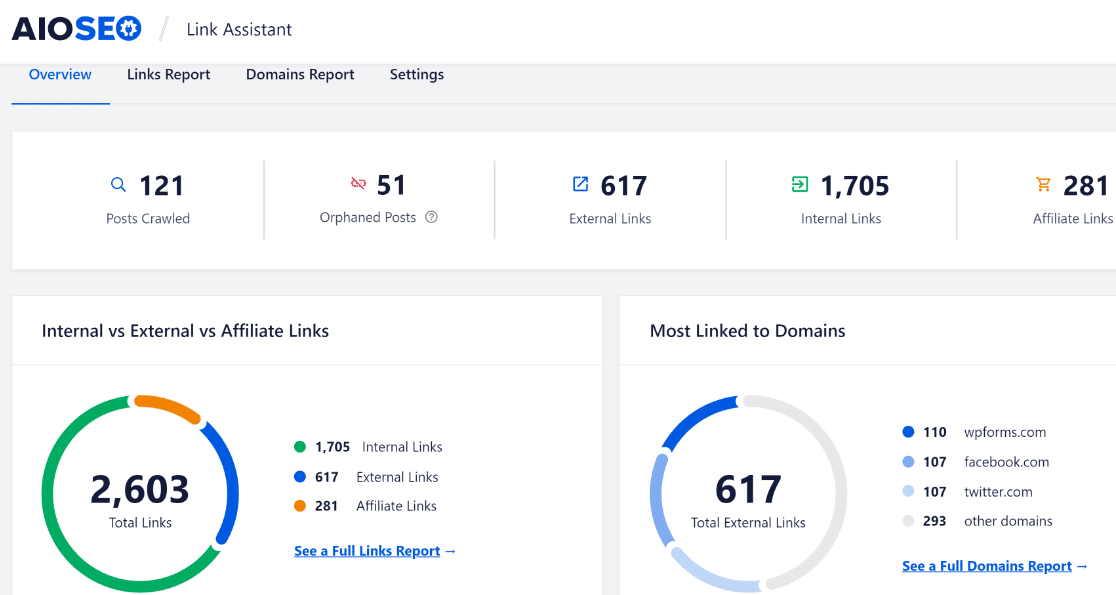 What's more, Link Assistant also helps you internal link to your forms from the most relevant pages. See how to audit links to WordPress forms.
Overall, AIOSEO is a fantastic tool WordPress SEO tool. You should utilize it during your site audits to identify SEO issues and opportunities for improvement.
3. Check WordPress Site Security
Reviewing your site's security should be one of the top priorities of your audit.
If your website is compromised by malware or hackers, it can lead to serious data loss and even harm your brand reputation.
Some WordPress security plugins like Sucuri can scan your website for malware and keep you protected.
Monitor User Activity
In addition, it's a good idea to review the activity logs of users on your site. Checking user activity on the backend allows you to see if users are changing any settings or accessing areas you don't want them to.
See our list of WordPress activity log plugins for our top recommendations.
Another benefit of using activity log plugins is that they allow you to see login events of your users. This way, you can identify inactive users and remove their accounts as a security measure.
Review Two-factor Authentication
You may also want to enforce two-factor authentication (2FA) for all users on your site. This is a great way to avoid hacking attempts and increase your overall site security.
WordPress has a built-in 2FA feature that you can enable. Or if you need more flexibility for 2FA management, you can use a third-party WordPress plugin like WP 2FA.
4. Monitor Site Analytics
Every website has a few pages and blog posts that are a lot more popular than others. But if you don't know which pages you're getting most of your traffic from, you might be missing out on conversion opportunities.
The good thing is, that it's very easy to track your site's organic analytics in WordPress. All you need is a plugin called MonsterInsights, which basically brings a simplified version of Google Analytics right to your WordPress dashboard.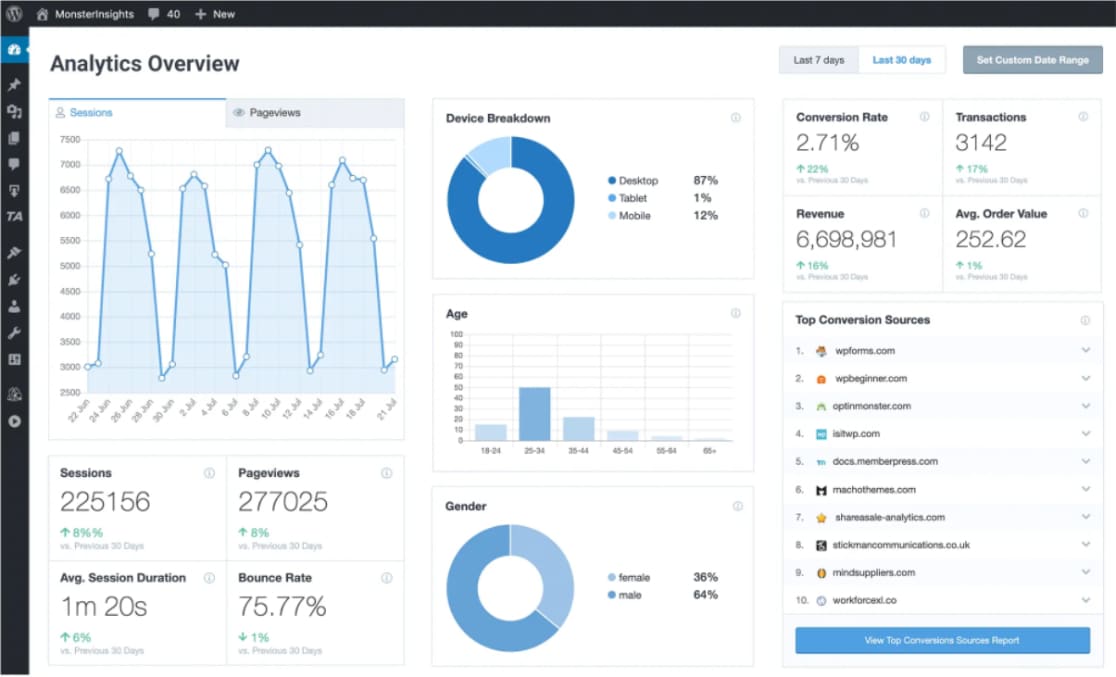 With MonsterInsights, you can gather useful information and identify low-performing pages. You can then make further optimizations on these pages to get better results.
Meanwhile, you can promote pages that are already working well for you on your social media or even your newsletter to attract even more traffic from them.
You can make a lot of data-driven decisions like these once you have the right analytics from your WordPress site audit.
5. Check Site Performance Metrics
The speed with which your website loads is a critical factor influencing user experience. It's vital to audit your site performance from time to time to make sure it's loading fast enough for your users.
There are several free tools available online that can test and measure your WordPress site's key performance metrics. As an example, take a look at this report for WPForms generated by the tool GTmetrix.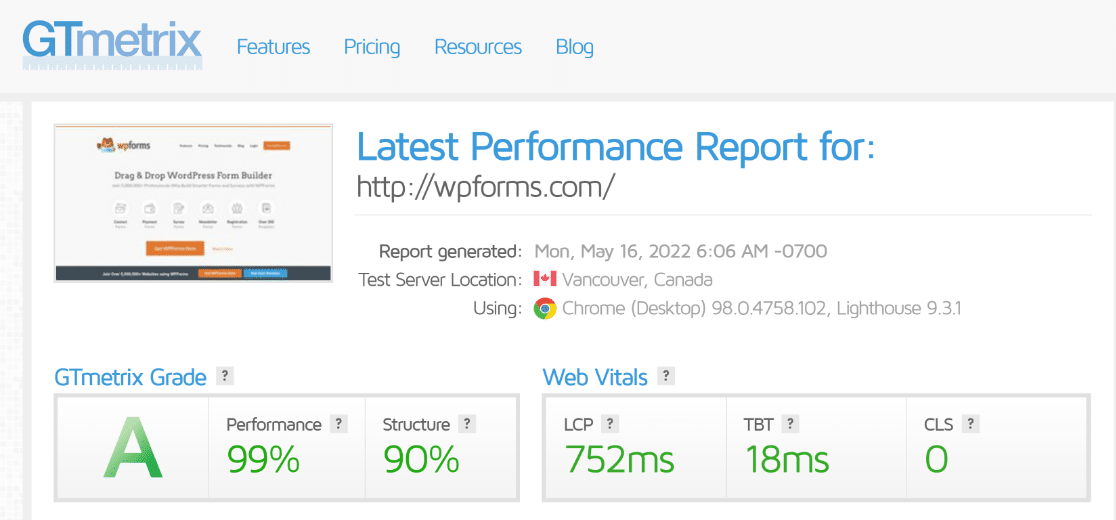 As you can see, WPForms has a near-perfect performance score. This is not an accident – it's a result of recurring audits and continuous site maintenance.
If you receive a lower score during your audit, don't panic. Almost every factor related to site speed and performance can be improved.
Typically, a low site performance score is influenced by:
Unoptimized images and media: It's not a good idea to upload images, gifs, or other media to your site without passing them through some form of compression.  Make sure that all images on your site are compressed and limit the use of gifs to no more than 1 on a single page.
Too many CSS elements and plugins: Review your website for unnecessary use of CSS and JavaScript elements because these can have a noticeable performance impact. Also, if there are more plugins and widgets on your site than you care to use, it's a good idea to uninstall these entirely.
You might discover a lot of instances of uncompressed media being used on your site. Make sure to mark these in your audit report so your team can get to work on improving site performance later.
6. Test WordPress Site Functionality
WordPress websites are incredibly flexible, which means many of your pages will probably have multiple interactive elements like contact forms, buttons, and navigation.
But if these features are broken, it can really hurt the user experience. During your audit, you can manually check your pages and click on different interactive parts of it to make sure they're working as intended.
And while you're at it, you can also test the formatting, code, and other design components of your pages.
Even the most professionally maintained WordPress sites can have broken elements in their pages from time to time. But if you're committed to your audit process, you can catch issues like these before they can compromise user experience.
7. Check Mobile Responsiveness
More than half the users today visit your website using their mobile phones. This is why it's more important than ever to make sure that your website is responsive for both large and small screens.
A good way to check if your site is optimized for mobile is by using Google's free Mobile-Friendly Test Tool.

If the tool suggests that your site isn't optimized well enough for mobile, we strongly recommend taking measures to improve your mobile-friendliness.
One of the ways you can do that is by using mobile-friendly plugins on your WordPress site. For instance, all forms created with WPForms are responsive for all screen sizes by default.
But we still recommend testing your forms and each new page, post, or widget you add to your WordPress site on smaller screens to prevent errors.
8. Check Software Update Status
WordPress is an incredibly well-maintained CMS. This means that all parts needed to run a WordPress site — the core installation, themes, and plugins are frequently updated.
To check the status of your WordPress software, click on the Updates button from your WordPress dashboard.
You can update any outdated components of your WordPress site with a single click.

Not only should you be using the latest version of WordPress itself, but it's also important to check that you have the latest plugin and theme updates installed as well.
Outdated software can lead to glitches and functionality problems at best, and serious security problems at worst.
And that's it! You now know how to audit your WordPress site and ensure it keeps running smoothly without errors.
Next, Follow These Site Takeover Best Practices
Are you taking over a new WordPress site? See our in-depth guide for tips on successfully taking over an existing WordPress site.
Also, you might want to check out this comparison of the best transactional mail services.
Create Your WordPress Form Now
Ready to build your form? Get started today with the easiest WordPress form builder plugin. WPForms Pro includes lots of free templates and offers a 14-day money-back guarantee.
If this article helped you out, please follow us on Facebook and Twitter for more free WordPress tutorials and guides.