Do you want to compare the features and pricing in Rafflecopter vs Gleam vs RafflePress?
Rafflecopter, Gleam, and RafflePress are popular tools that you can use to create and run giveaway contests on your websites.
In this article, we'll look closely at these giveaway tools so you choose the best one for your website.
Before we proceed to the comparison section, let's first understand what a giveaway tool is and how online giveaway tools help you keep a step ahead in your marketing game.
What Is a Giveaway Tool?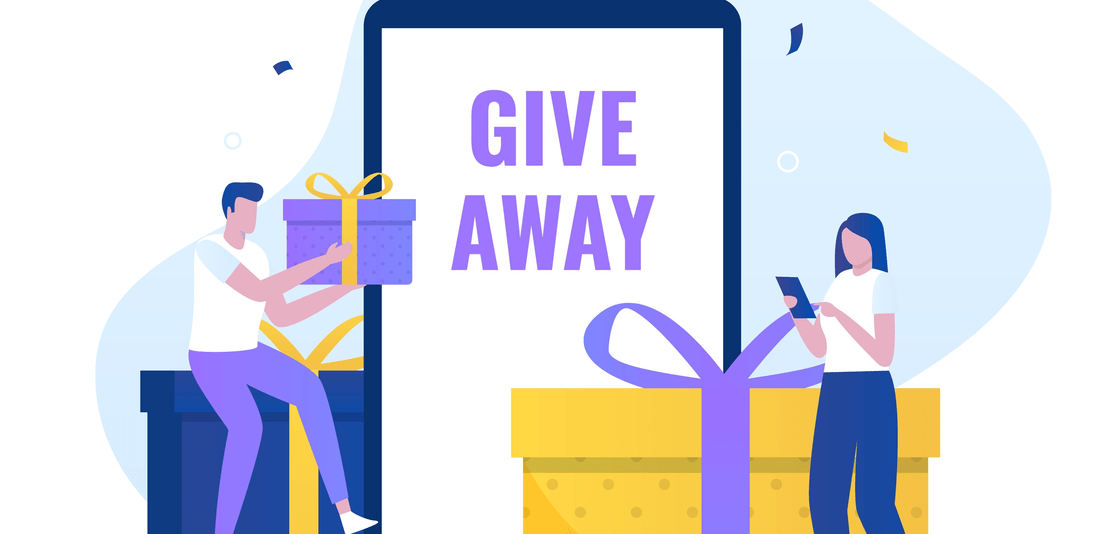 A giveaway tool is online software, application, or plugin that helps you to create and run giveaway campaigns on your website.
Running online giveaways and contests is one of the best marketing techniques that you can use to attract visitors, boost traffic and generate new leads for your websites.
Hosting giveaway contests might seem difficult. But it's not, especially if you use the right giveaway tool for the process.
Rafflecopter and Gleam are web-based applications, whereas RafflePress is the WordPress giveaway plugin that allows users to create giveaways directly from the admin dashboard.
Let's do a quick rundown of some of the benefits of using giveaway tools:
Benefits of Using Online Giveaway Tools
Helps proper tracking: Giveaway tools like RafflePress enable you to manage your online contest the best way possible. It'll help you keep track of prospects who are entering the contest.
Boost website traffic: You can promote giveaway contests on different referral sites and social media platforms and attract more people to your website.
Increase social media followers: You can instantly boost your social media followers by promoting giveaways and contests. Because who doesn't love free stuff?
Generate quality leads: Giveaways help your brand reach more people and increase brand awareness, thus helping you generate more leads.
Increase sales: Once you've got a list of prospective customers, you can turn them into paying customers and increase sales.
Rafflecopter vs Gleam vs RafflePress
Now that you've seen the benefits of using online giveaway tools, let's check out a detailed comparison of these 3 tools based on their features, ease of use, pricing, and support.
Here's a table of contents for quick navigation:
Rafflecopter vs Gleam vs RafflePress: Features
One of the most important factors that you should consider before choosing any online tool is its features.
Let's take a look at each tool's features so you can decide which of the 3 is the best fit for your needs.
Rafflecopter: Features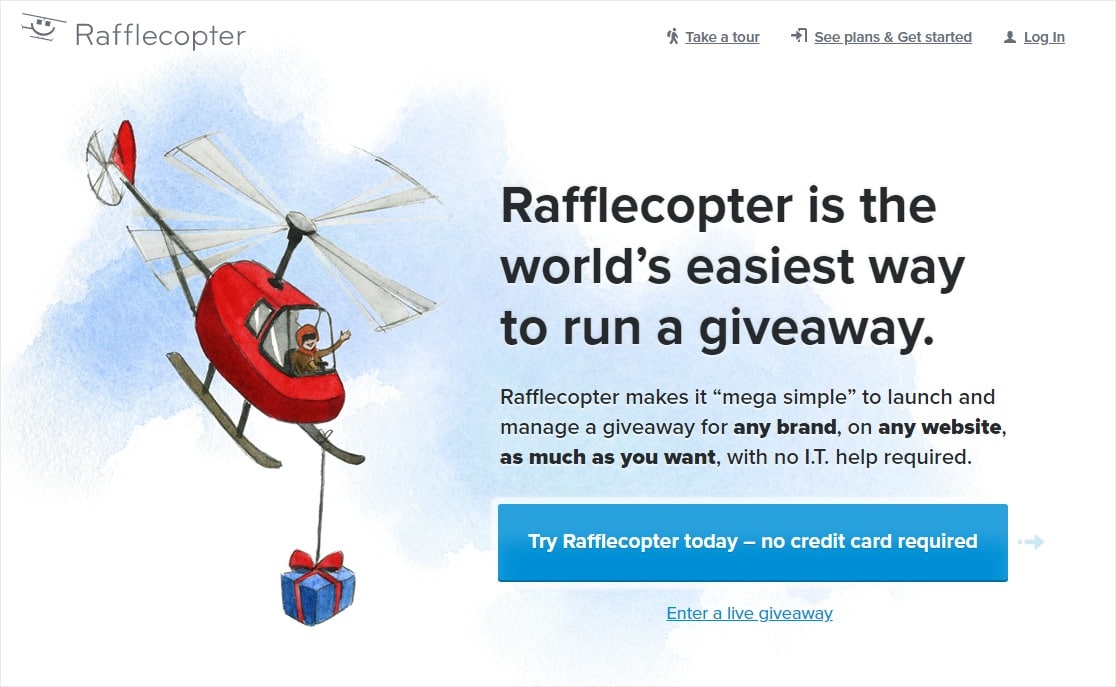 Rafflecopter is a popular tool that you can use to create and run giveaways on your website.
It's a web-based application which means you need to create a giveaway right on their site and then copy/paste code to embed the giveaway in your blog or website.
The free plan of Rafflecopter includes some basic features like CSV export and a random winner. However, for additional features like image integration and analytics you need to go for a paid plan.
Features:
Basic entry form design
Add image to giveaways – Paid Version
Viral sharing entries – Paid Version
Polls & surveys – Paid Version
Analytics – Paid Version
Social media channels – (only Facebook and Twitter on the free version)
If you're looking for a tool to run giveaways for a WordPress website, then Rafflecopter might not be the best option for you. Because it's a web-based tool, it doesn't allow you to manage your giveaways directly in the dashboard.
For creating and managing giveaways, you always have to rely on the long process of copying, pasting, and embedding code with Rafflecopter.
Gleam: Features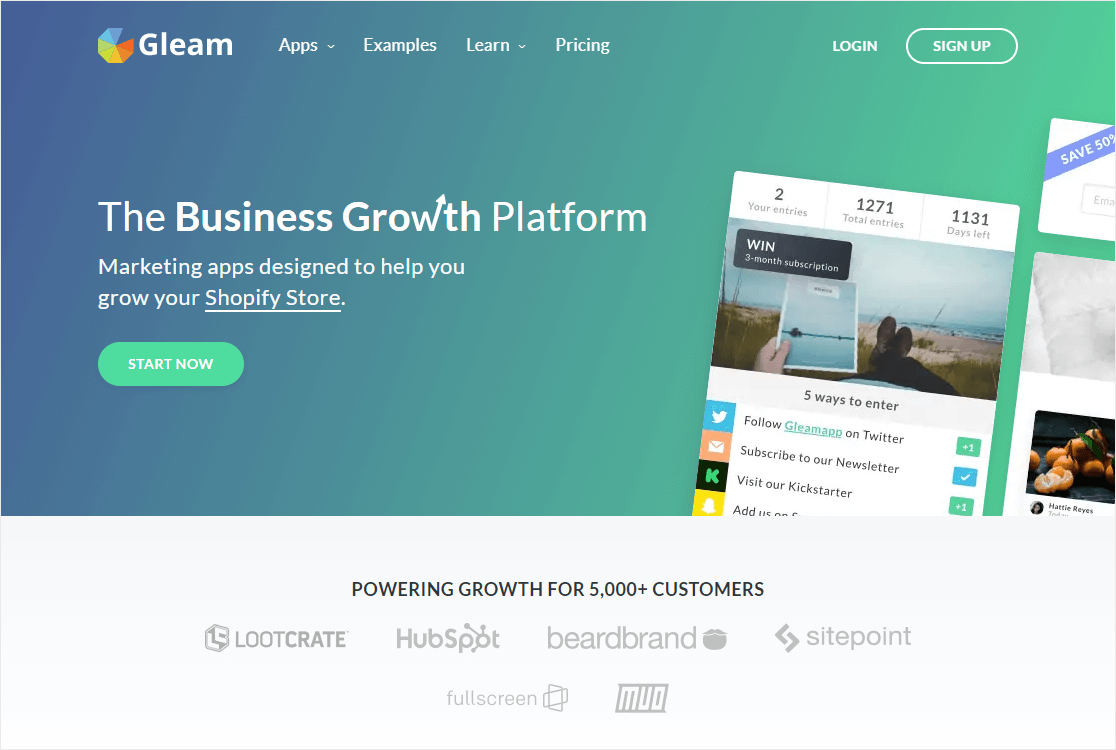 Gleam is much more advanced compared to Rafflecopter. It's a marketing platform that includes 4 different apps to manage and run giveaway campaigns.
These 4 apps are Capture, Competitions, Gallery, and Rewards, which help users promote business, engage audiences, and generate more sales.
Features:
Consists of different apps to manage giveaway campaigns
Image Integration – Paid Version
Analytics overview
Chooses a random winner from all the entries
Popular email marketing software integration – Paid Version
Overall, Gleam includes multiple features to create giveaway campaigns. However, these features are pretty advanced and not necessarily used by small businesses and non-technical website owners.
RafflePress: Features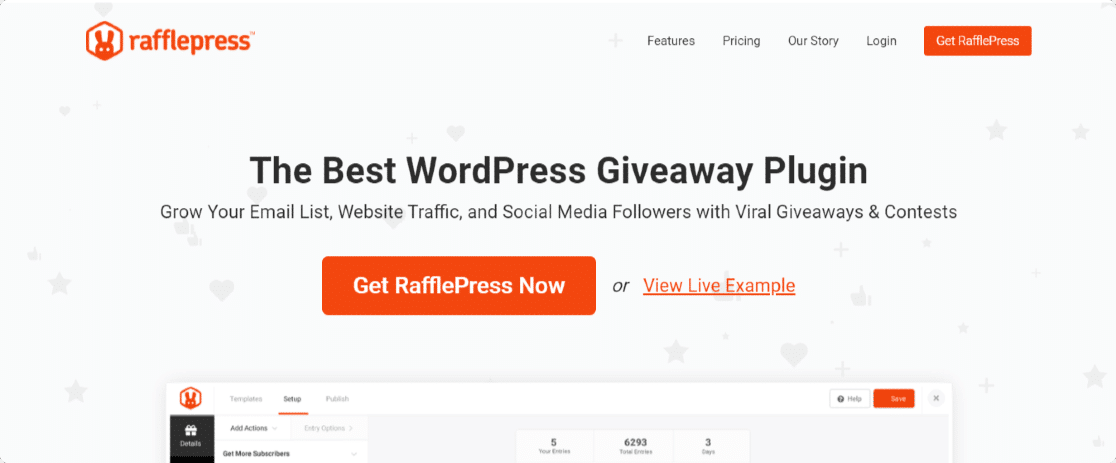 Among these 3 tools, RafflePress is the only and best giveaway plugin that allows you to create and manage giveaways directly in the WordPress website dashboard.
It's a popular WordPress contest and giveaway plugin that helps you grow your email list, boost website traffic and create successful giveaway campaigns—all these without embedding or writing a single line of code.
Features:
Easy drag and drop giveaway builder for beginners
Pre-built giveaway templates for a quick start
100% responsive, making it work great on mobile, tablets, and desktops
1- Click entry making it easier for people to enter and keep spam away
Dedicated ready-made templates for Twitter and Instagram – Paid Version
Popular social media channels integrations help you to grow on Instagram, Facebook, Twitter, Instagram, and more
Facebook like and share feature
Viral refer-a-friend helps you grow with word-of-mouth marketing
Tracking and retargeting feature for analyzing and maximizing conversion goals
Rafflecopter vs Gleam vs RafflePress: Ease of Use
Now that you know the features of each tool let's take a look at the setup process and see how beginner-friendly these tools are.
Rafflecopter: Ease of Use
Setting up a giveaway contest with Rafflecopter includes 3 main steps: Signup, Setup, and Installation.
You need to create a giveaway contest on their website so they require you sign up for a Rafflecopter account.
Below you can see the Rafflecopter dashboard. It looks pretty simple and has straightforward options. You need to click on the +New Giveaway to create your first Giveaway.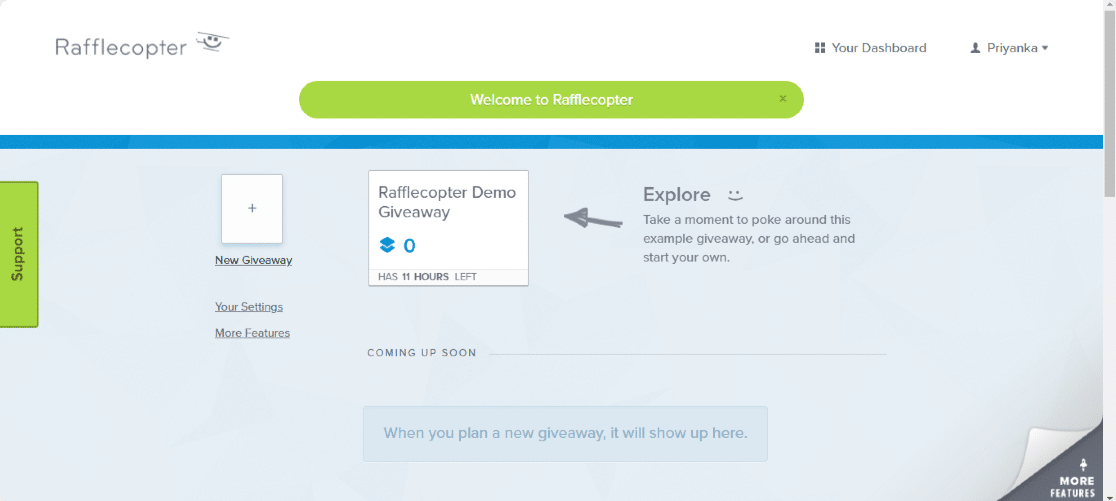 Next, you can complete your first step, i.e., Setup, by adding an entry option and defining the start and end date for the campaigns.
Rafflecopter includes the following entry options:
Follow on Twitter
Visit a Facebook page
Leave a blog post comment (great for running blog giveaways)
Invent your own action
All options you've seen above are not included in the free plan. To unlock more entry options and features, you need to upgrade to the paid plan.
The 2nd step is the Installation; here, you'll find some HTML code. To add your Giveaway to your WordPress website, you need to copy this code and paste it into your website. Unfortunately, that's not very beginner-friendly.
Right now, Rafflecopter doesn't have an official WordPress plugin to make the process easier.
Gleam: Ease of Use
To create a giveaway with Gleam, first, you need to sign up for a Gleam account. You'll need to add a site URL to complete the signup process.
Once you're done with the signup process, you can head over to the Gleam dashboard to create your giveaway.
The dashboard area of Gleam is filled with many options making it challenging to find the right feature we need. If you look at the dashboard, it's even hard to find the create a giveaway option at first glance.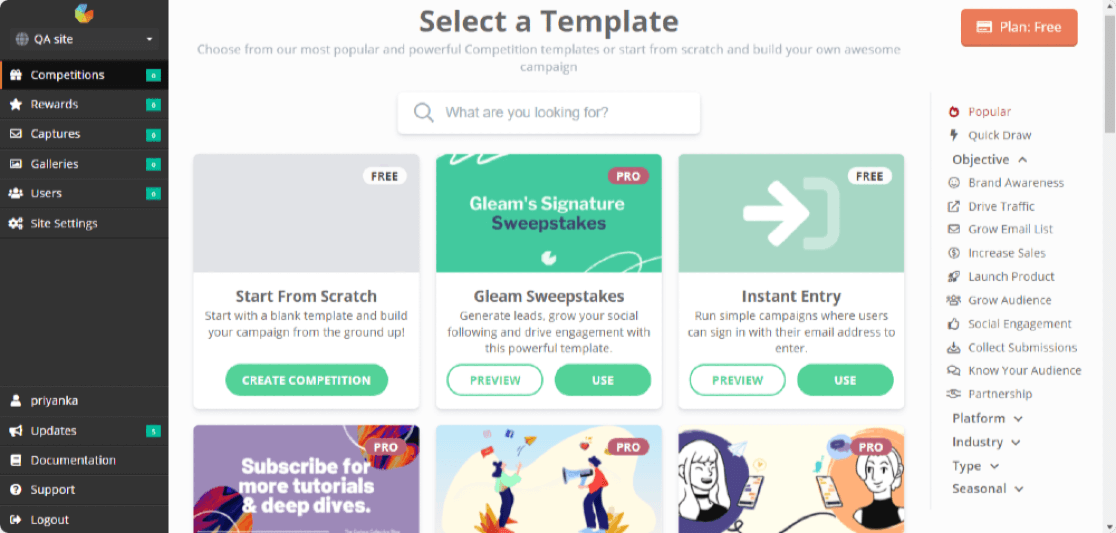 Gleam giveaway campaign creation includes 5 main steps: Setup, User Details, How to Enter, Prizes and Entries. With so many options available with each step, it's a bit overwhelming for beginners.
There are multiple entry possibilities with Gleam. You can see the options in the dashboard, many of them included in the paid plans.
Again, embedding a Gleam giveaway to a WordPress website is big deal because there isn't an official WordPress plugin for the process.
RafflePress: Ease of Use
Creating and managing giveaways with RafllePress is pretty straightforward. Following 3 simple steps, you can create a successful giveaway directly from your WordPress website.
To create a RafflePress giveaway, first, you need to choose a template, enter your prize information, add entry actions and you're done.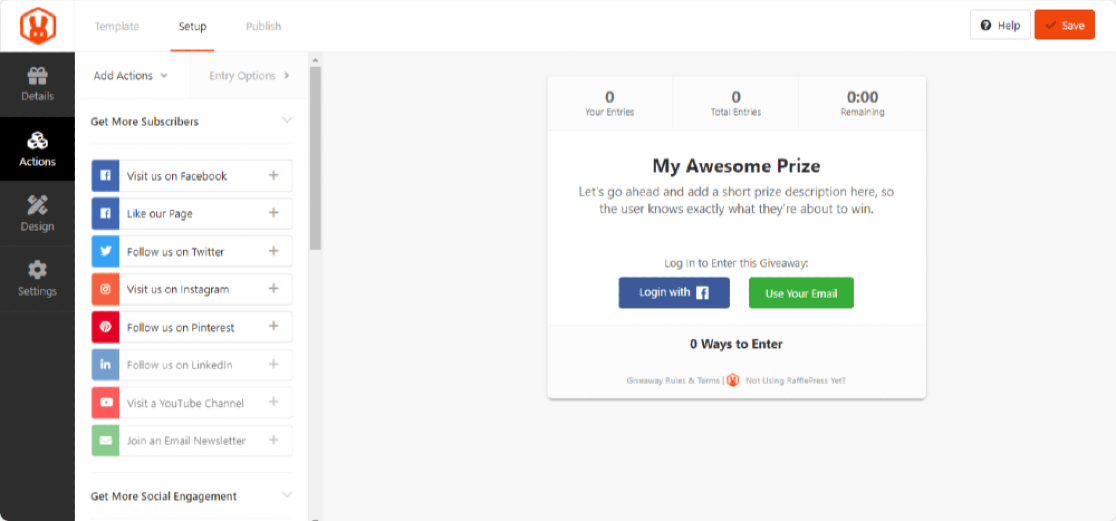 The dashboard area and setup process in RafflePress is clean and simple. You don't have to be an expert to create your first giveaway; all options are clearly visible and self-explanatory.
Entry actions available with RafflePress:
Follow on Pinterest
Follow us on Twitter
Join Newsletter
Visit a YouTube Channel
Tweet a Message
Visit a Page
Watch a Video
Create custom entries
Polls and Surveys
And many more
Being an official WordPress giveaway plugin, you can easily add a RafflePress giveaway to a WordPress website without embedding any HTML code. The built-in RafflePress content block makes the whole process smooth and easy.
Rafflecopter vs Gleam vs RafflePress: Support
Before choosing any product for your business, it's very important to look at their support services. Let's take a closer look at the support options offered by these tools.
Rafflecopter: Support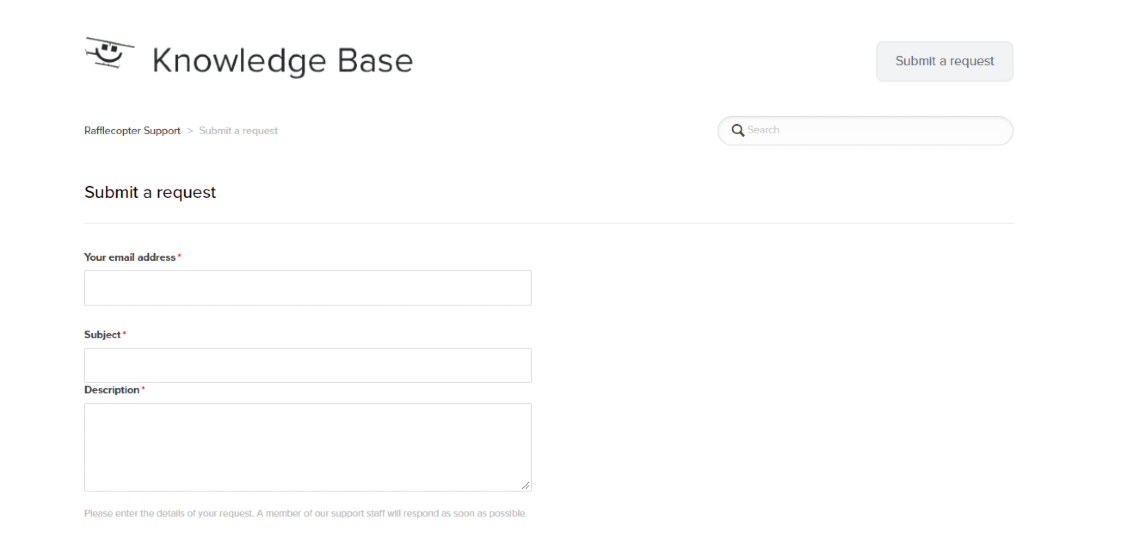 Rafflecopter support consists of an online resource center with helpful guides, knowledgebase, and videos.
They also have a dedicated docs area with a search bar that allows users to search questions/answers easily.
If you don't get your answer from their docs page, you can also submit your questions directly on their website.
Gleam: Support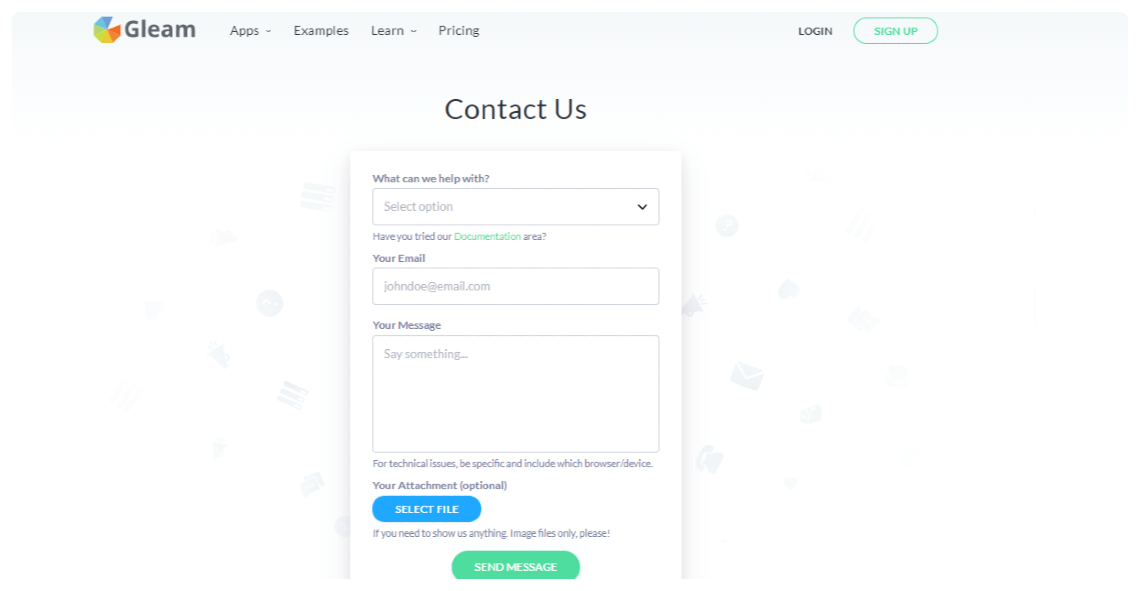 Gleam offers support via email for every user. You can submit a support request from the account dashboard area.
They also have an extensive documentation page on their website; before submitting your question, you can also explore docs for the solution.
With higher premium plans, you also get access to their Slack group.
RafflePress: Support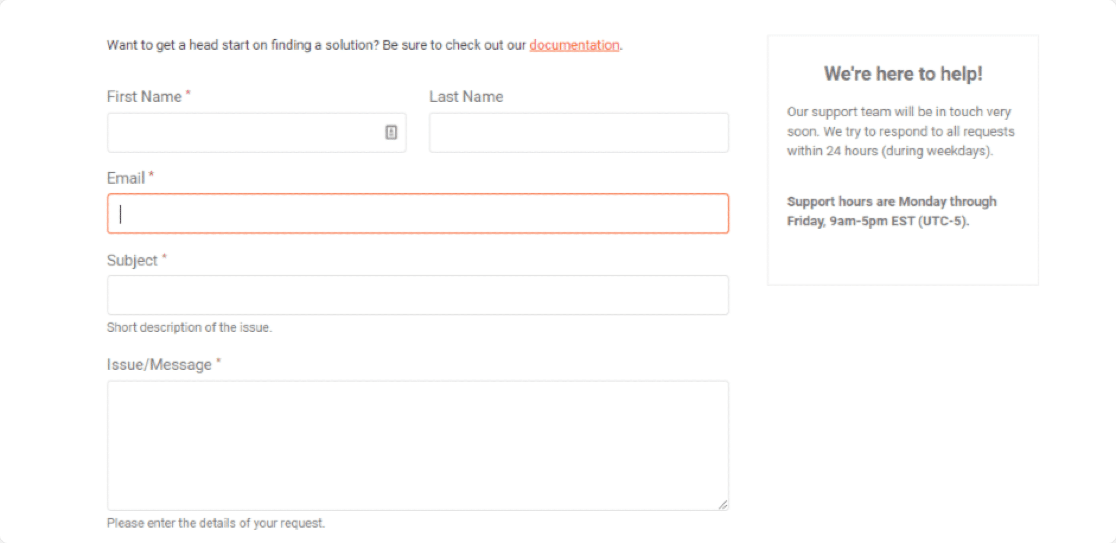 The RafflePress support team is available 24/7 for any customer question. If you face any issue related to the plugin, you can contact the support team via their online contact form.
They also have a detailed knowledge base published on their website. Plus, they update their blogs regularly with helpful tutorials and informative articles.
The support team is dedicated to solving every issue their customers face. Still, if the problem persists, RafflePress offers users a 100% money-back guarantee.
Rafflecopter vs Gleam vs RafflePress: Pricing
Here's a detailed overview of what you get in the free and paid version of each tool.
Rafflecopter Pricing
Rafflecopter is a freemium service. With its free version, you get some basic features, while for more advanced features, you can upgrade to the paid version.
It offers 3 premium plans Basic, Grow, and Premium. Each plan includes slightly different features based on the pricing.
Here's a list of features included in the paid version:
Viral refer a friend option
Real-time analytics
Branding removal
Form themes
Prize image gallery
Pinterest entries
Polls & surveys
Email integration
Rafflecopter's basic premium version starts at $156 per year.
Gleam Pricing
Gleam includes both free and premium services in its plans. However, Gleam's free version provides a limited number of features; if you want some additional features, you need to pay for them.
Gleam includes 4 premium plans, Hobby, Pro, Business, and Premium. The lowest plan pricing starts at $120 per year.
Here's what's included in the paid version
Unlimited campaigns
Location preference
Custom landing page branding
Branding removal
Photo gallery
LinkedIn support
Custom CSS
Pixel tracking
Gleam also offers a plan to buy all 4 of Gleams' apps in a bundle at $97 a month, which costs a total of $1,164 per year.
RafflePress Pricing
Compared to Rafflecopter and Gleam, the RafflePress free version is loaded with sufficient features that let you run pretty detailed giveaways. However, to unlock more powerful features, you can opt for the premium version.
Here's what you get with the paid version of RafflePress:
Multiple sites
Prize image gallery
Time controls
Email Verification
YouTube actions
LinkedIn actions
Image upload actions
Mailchimp integration
Mailerlite integration
Zapier integration
Entries Report
Design options
Subscribe to RSS action
Winner announcement
The RafflePress pricing plan consists of 3 plans, Plus, Pro, and Growth. It starts at $49 per year, which is around $4 per month, making it the most affordable option on the list.
Rafflecopter vs Gleam vs RafflePress: Meet the Winner
Considering all 4 criteria, i.e., features, ease of use, support, and pricing, RafflePress is undoubtedly the best giveaway and contest plugin for WordPress. It's easy to use, beginner-friendly and comes with plenty of features.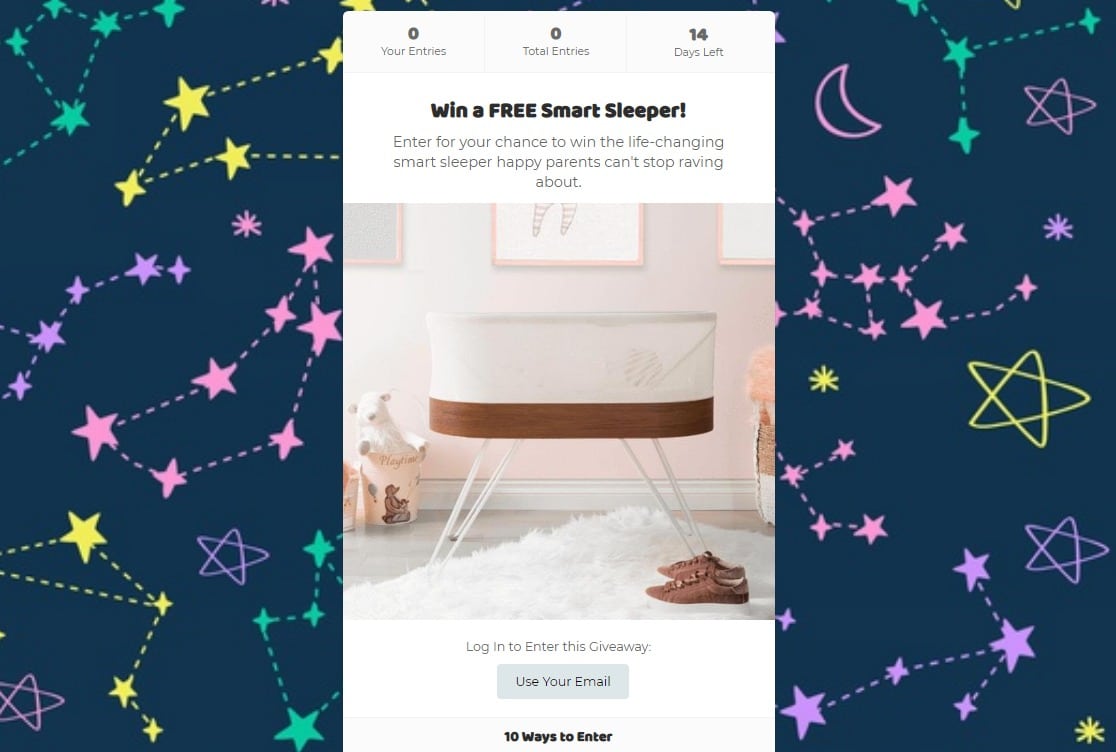 One of the best things about using RafflePress is that you get the flexibility to handle everything on your website. From creating giveaways to picking winners, you can manage everything all in one place.
Since they offer a 14-day money-back guarantee, you can use RafflePress worry-free on your website starting today.
Want to learn even more about RafflePress? Check out our in-depth RafflePress review.
Now, if you're planning to run a Facebook giveaway, check out these perfect Facebook giveaway ideas and examples for inspiration.
Don't forget, if you liked this article, then please follow us on Facebook and Twitter.