Documentation, Reference Materials and Tutorials for WPForms
How to Install and Use AWeber Addon with WPForms
WPForms makes it super easy to add email subscription signup forms using popular email service providers like MailChimp, Aweber, etc. In this article, we will show you how to install and use AWeber addon for WPForms.
Based on the license you purchase, you will have access to specific addons that will help you extend the functionality of WPForms. If you do not have access to AWeber addon for WPForms, then please see our guide on how to upgrade your WPForms license.
We are assuming, that you have already installed WPForms on your WordPress site.
1. Login to your WordPress admin area and click on WPForms and then click on Addons.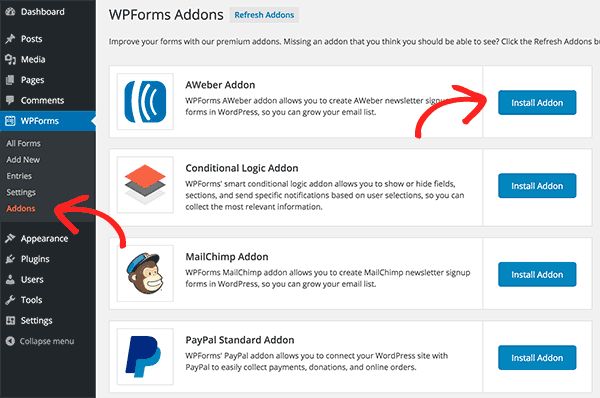 2. Click on the Install button next to AWeber addon.
This will download and install the AWeber addon.
3. You need to click on Activate button in order to start using AWeber Addon with WPForms.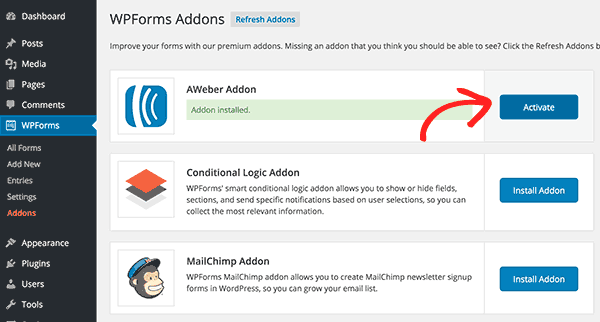 Integrating AWeber with WPForms
4. Click on WPForms menu item in WordPress admin menu, and then click on Settings.
Click on the Integrations tab and there you will find AWeber integration option. Clicking on it will display 'Add Account' button, which will display these two fields.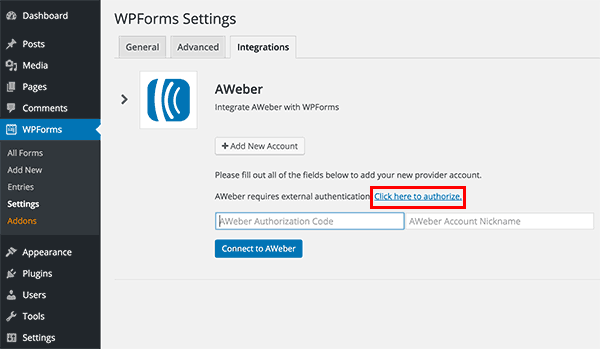 Getting AWeber Authorization Code
5. WPForms makes it super easy to connect AWeber to your WordPress site. You will see a link, labeled Click here to authorize. Clicking on the link will open a popup window where you will be asked to sign into your AWeber account.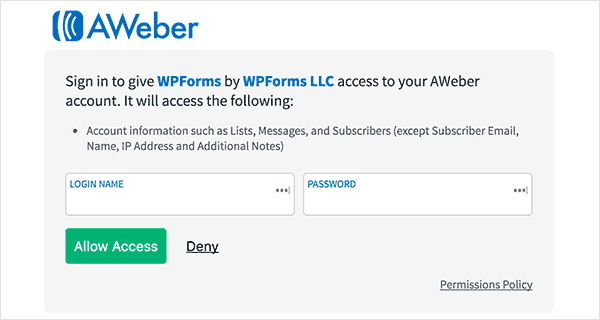 Simply enter your AWeber username and password, and then click on the Allow Access button.
6. Aweber will now show you an authorization code.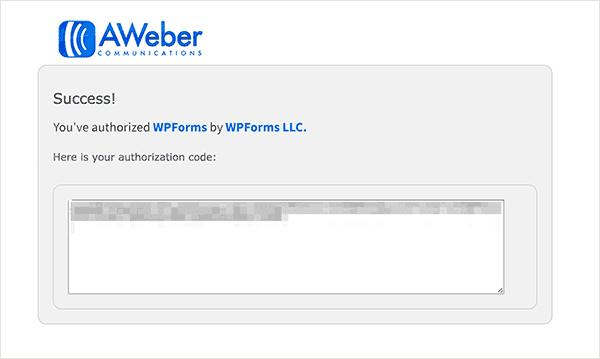 You need to copy this code and paste it in AWeber integration settings on your WordPress site.
You can use anything in the Account Nickname field. Click on Connect to AWeber button to continue.
7. WPForms will now connect your site to your AWeber account. Upon success, it will show 'Connected' status next to your AWeber integration.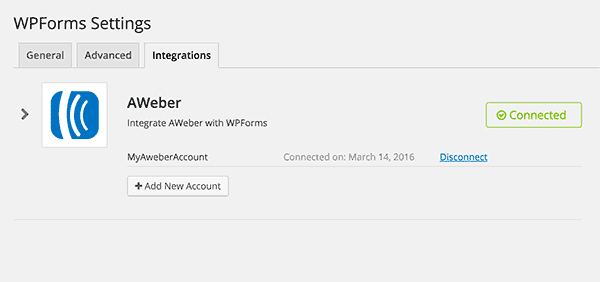 How to Use AWeber Addon with WPForms
1. Click on the WPForms menu item in the WordPress admin menu. Edit a form where you want to add email signup or create a new form.
If this is your first time creating a form with WPForms, then take a look at this article on creating your first form with WPForms.
2. In the form builder, click on the Marketing tab and then click on AWeber. You will need to click on the 'Add New Connection' button.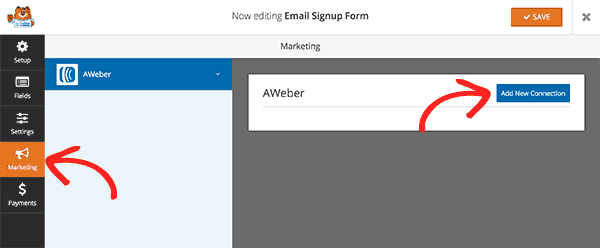 3. This will bring up a popup where you need to provide a nickname for this connection. You can use any nickname you like.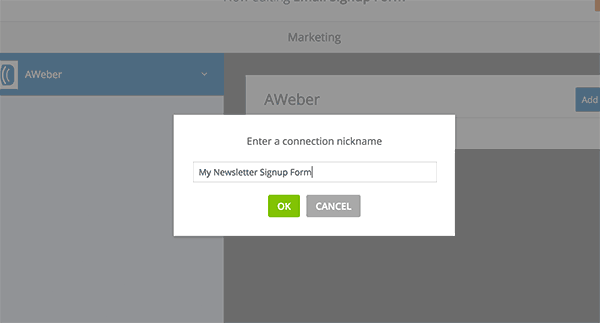 4. WPForms will now fetch your AWeber account information. You will need to select your AWeber account and email list you want to use.
After that you need to select list fields you want to add to your form fields. You can also enter any tags you'd like to apply to new subscribers who fill out this signup form.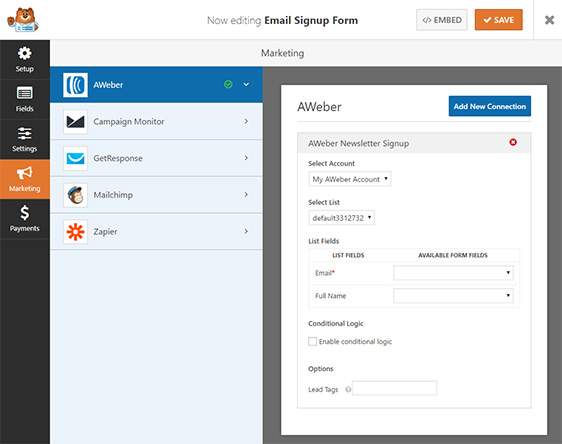 Click on the save button to continue.
That's all, you have successfully installed AWeber addon for WPForms and learned how to use it to create your own email signup forms.
Changelog
1.0.6 (2017-03-09)
Changed: Adjust display order so that the providers show in alphabetical order
1.0.5 (2017-02-09)
Added: Support for tagging
1.0.4 (2016-07-07)
Changed: Improved error logging
1.0.3 (2016-06-23)
Changed: Prevent plugin from running if WPForms Pro is not activated
1.0.2 (2016-04-12)
Changed: Improved error logging
1.0.1 (2016-04-06)
Fixed: Issue with Aweber submission failing without custom fields
1.0.0 (2016-03-11)