Are you looking for a complete PushEngage review to get you started with your push notification campaigns?
PushEngage is one of the leading push notification plugins for WordPress, with tons of features that make it easy for you to build and manage push notification campaigns.
We've extensively reviewed PushEngage, and here's our verdict!
What is PushEngage?
PushEngage is a powerful app that allows you to create and manage push notifications for mobile and desktop users across all major browsers. It's a SaaS app that integrates with WordPress and also can be used with other CMS platforms. In this guide, we'll focus on using PushEngage with WordPress.
PushEngage Review: Is this the Best WordPress Push Notification Plugin?
In the next few sections, we'll take a look at PushEngage features, ease of use, integrations, support, and pricing. We'll round up with our verdict!
PushEngage Features
PushEngage offers quite a few features, and we can't fit all of them into this review. So while we'll discuss some of the major features we've tried out, do keep in mind that there's a lot more in store!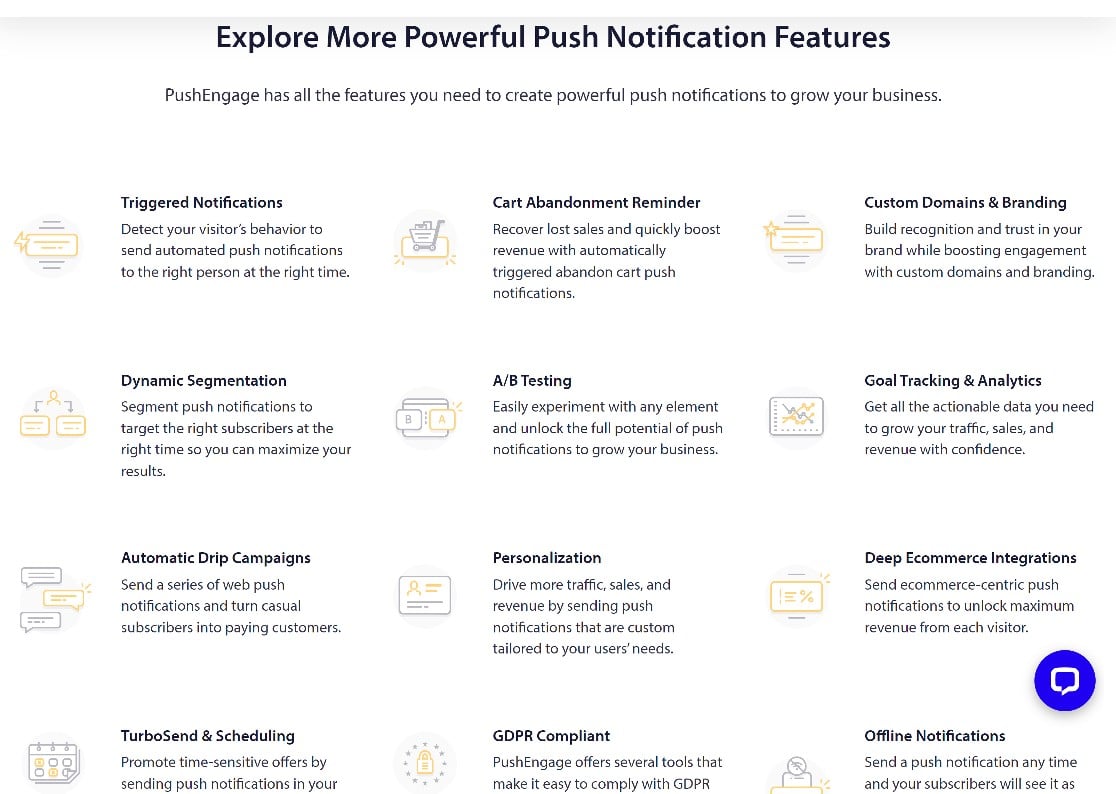 1. Easy Push Notifications
The basic thing you want from your push notification software is an easy way to create push notification broadcast messages. PushEngage does this exceptionally well.
Once you've gone through the setup process, you can get right to creating your first push broadcast with an intuitive and easy-to-use interface.
On the left of the screen, you'll see basic configuration options such as notification, title, message, and image, with a preview area on the right of the screen, where you can see what your notifications look like in different browsers.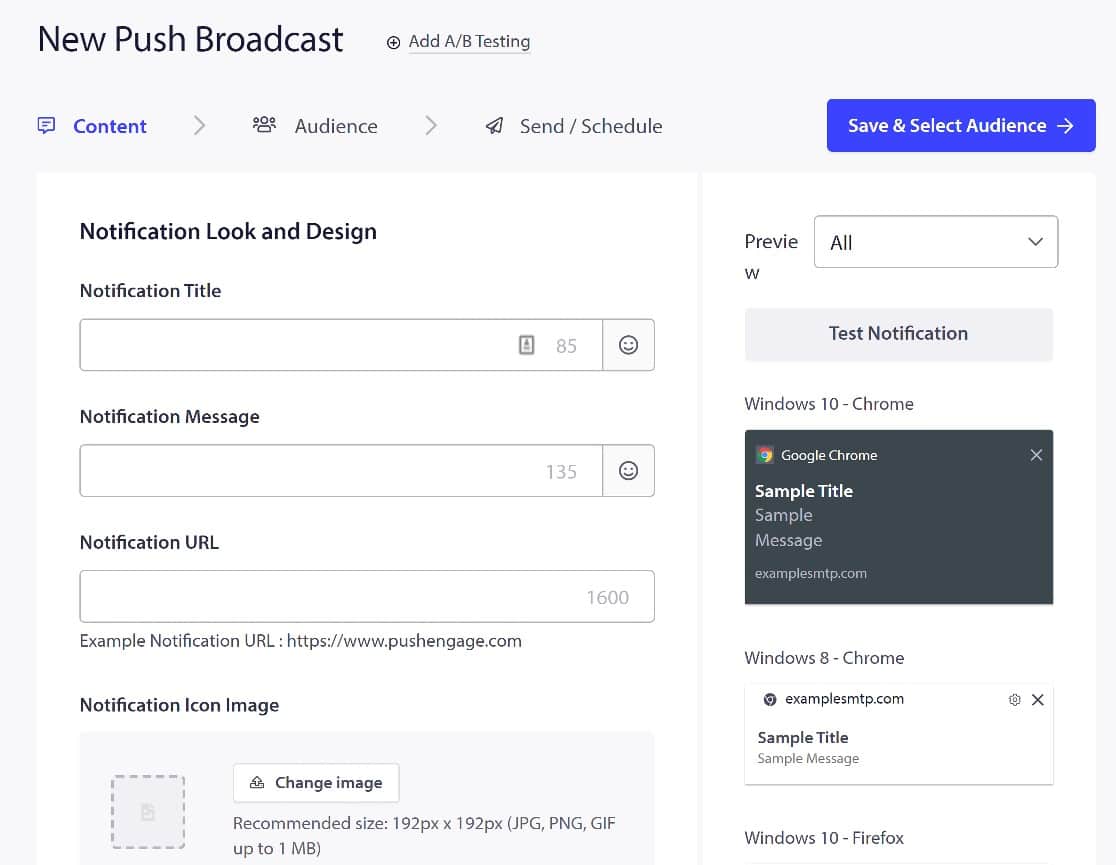 Once you're done creating your notification, you can save these settings and move on to selecting your audience. And if you're not ready to send out your notifications right away, you can simply schedule them.
Speaking of audience selection, the ability to send opt-in notifications to specific audiences is another strong feature of PushEngage, and we'll be talking about this next!
2. Audience Groups and Smart Segmentation
Whatever your product or service, you're likely to have different groups of users with different specific interests. If you send out the same generic push notifications to all users, you're likely to annoy a few.
Fortunately, it's pretty easy to create custom audience groups.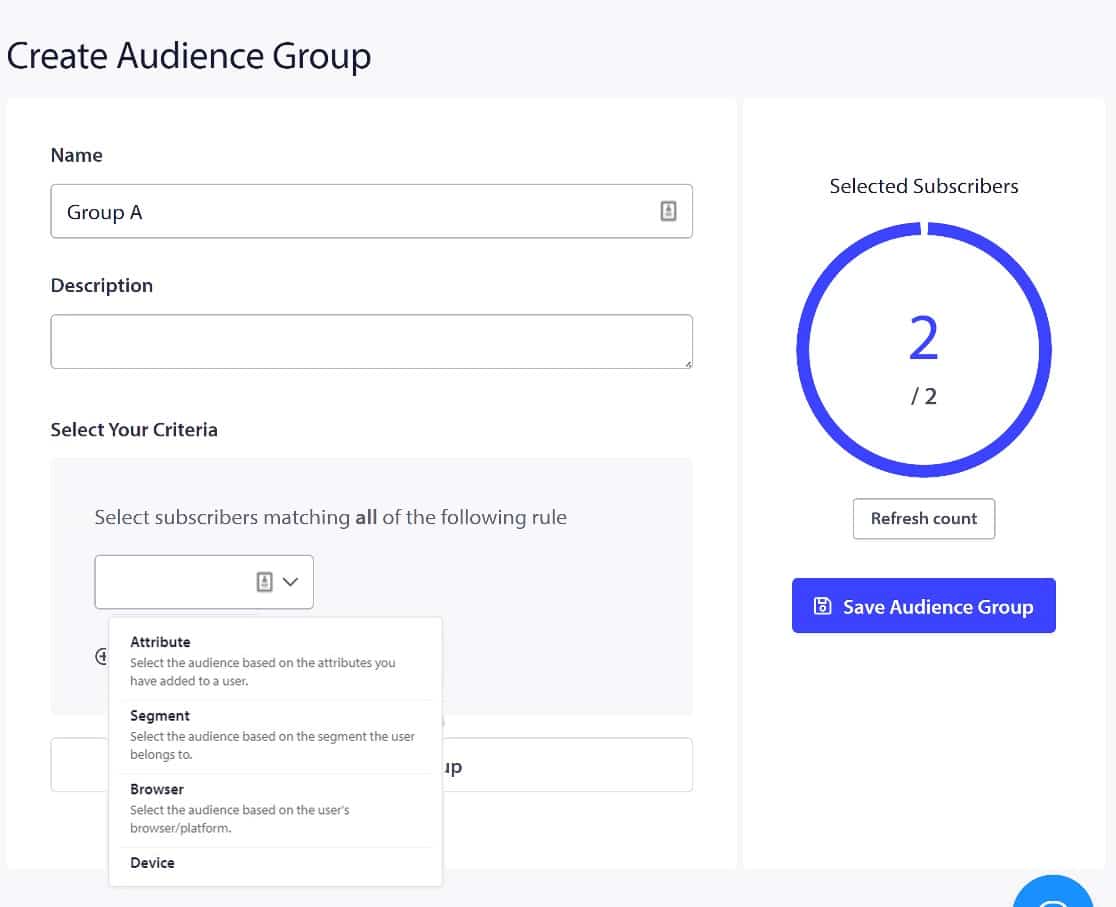 You'll also be able to use PushEngage smart segmentation rules that allow you to automatically group users into specific groups based on factors like:
The page on your site where they subscribed from
Browser and device
Location
Custom triggers
and so on.
One way to really drive this home is by sending users personalized notifications. With PushEngage, you can create custom notifications with geo-location, language, or time zone options.
Additionally, there is also the PushEngage Attributes API that allows you to easily incorporate user attributes like first name, address, hobby, and so on into notifications. However, you'll need some coding skills to set this up.
Overall, we're really impressed with the immensely powerful segmentation features of PushEngage, and we're sure marketers will enjoy the outstanding personalization it paves the way for.
3. Triggered Campaigns
PushEngage allows you to create several types of push notification campaigns. In addition to regular push broadcasts, you can create campaigns triggered by specific user behavior types. These include cart abandonment, browse abandonment, and custom trigger campaigns.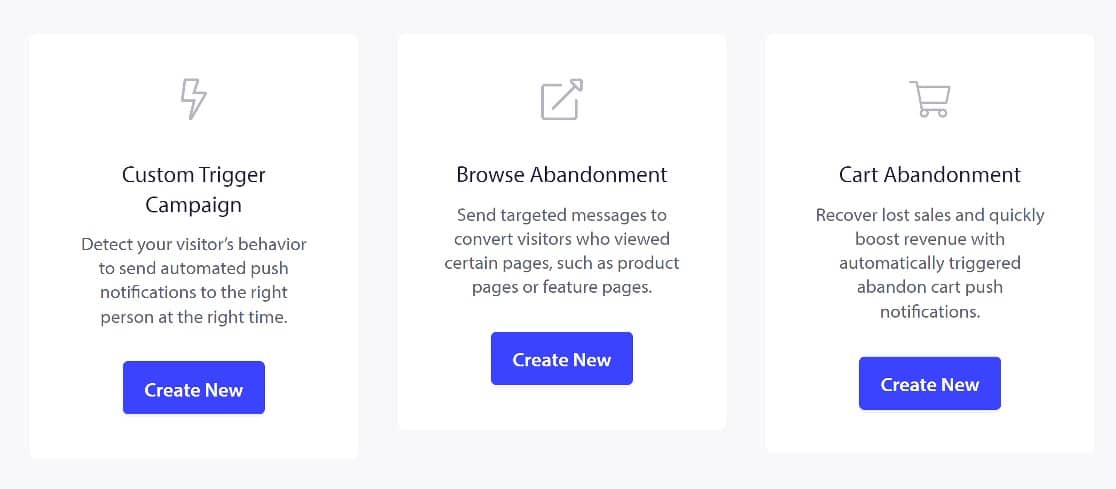 Cart abandonment is a particularly interesting feature that eCommerce store owners will love because online shoppers frequently tend to abandon their carts, especially when shopping for the first time.
But PushEngage offers some handy tools for working around this challenge. It lets you send abandoned cart push notifications for retargeting your audience. Push notifications have really high visibility, and it's an incredibly effective strategy for persuading your audience to get back to their carts and make a purchase.
Even better, you'll be able to personalize these notifications by including the specific items, prices, and other details from the abandoned cart. Your retargeting capabilities will be better than ever using PushEngage's personalization with triggered campaigns.
As we mentioned, you can also set up triggered push notifications based on other situations, such as when users have viewed transactional pages without making a transaction.
5. Flexible Styling
Another thing we really liked about using PushEngage is how flexible the styling options are. First, you'll be able to use several subscription dialogue box types templates. You'll be spoiled for choice, from a simple single-step opt-in to floating boxes and Safari boxes.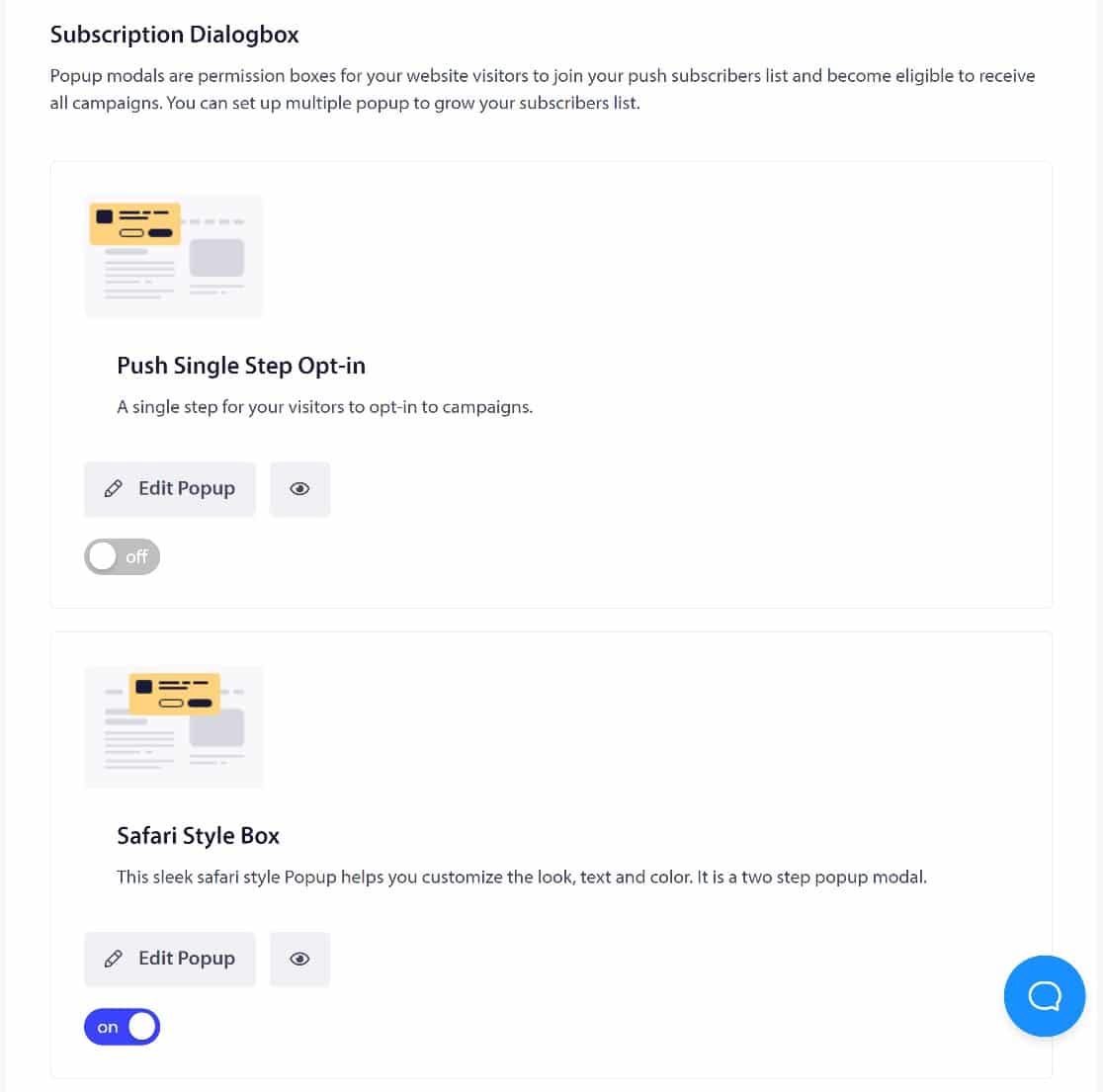 You'll also be able to add a notification overlay to your notification popup box, allowing you to add some additional information.
6. Drip Autoresponders
Drip marketing has been around in email marketing for some time but is a relatively newer concept when it comes to push notifications.
The idea is that you can have push notifications dripped out to users automatically, helping to lead them down the sales funnel with no manual input.
PushEngage has a super user-friendly drip autoresponder feature that allows you to create drip campaigns this way.

Drip campaigns are one of the most successful tools that marketers have in the context of emails. But it's remarkable how smoothly PushEngage has extended the same idea to push notifications, opening up a whole new avenue of traffic, conversions, and revenue for your business.
As an example, you can use a drip autoresponder to send a certain audience group a particular sequence of blog posts focused on one subject or product to boost engagement levels and build familiarity with your customers.
7. Advanced Analytics
Analytics are crucial to any marketing campaign, as they help you see what's working and what isn't.
You can get much of the data you need from analytics tools like Google Analytics and Monsterinsights, but PushEngage offers a suite of tracking metrics specifically focused on measuring your push notification campaigns.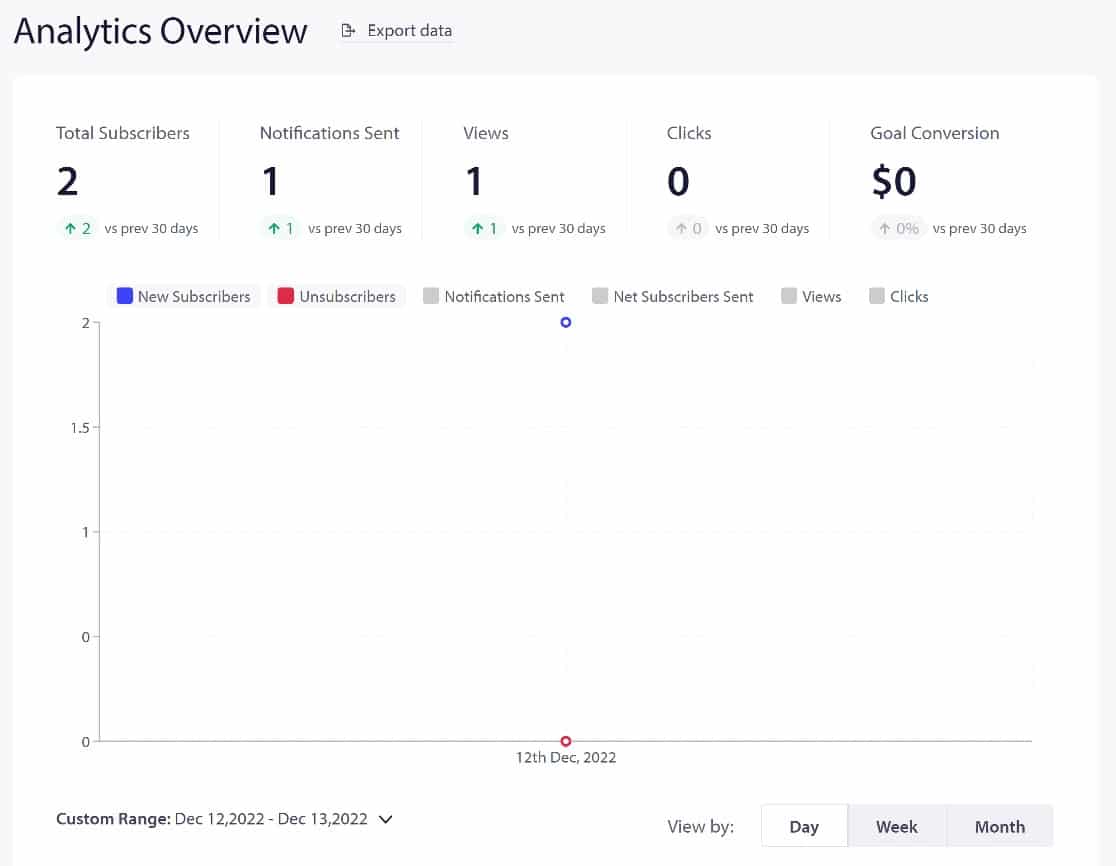 At a single glimpse, PushEngage displays a complete report of your push notification statistics over a day, week, or month.
You can also track views, clicks, and subscribers, along with custom goals for specific events on your site across a custom range of dates. This is a great way to examine and compare just how well your push engage metrics have changed over time, giving you more insight into how you can get even better results.
8. Easy A/B Testing
When it comes to any kind of marketing, A/B testing is crucial for figuring out what works and what could be improved. During our testing, we were fascinated by the many customization options on offer, and these only add to the power of PushEngage's A/B testing capabilities.
When you create a new notification, you can easily add A/B testing to it to create a separate notification that you can customize and have sent to selected users.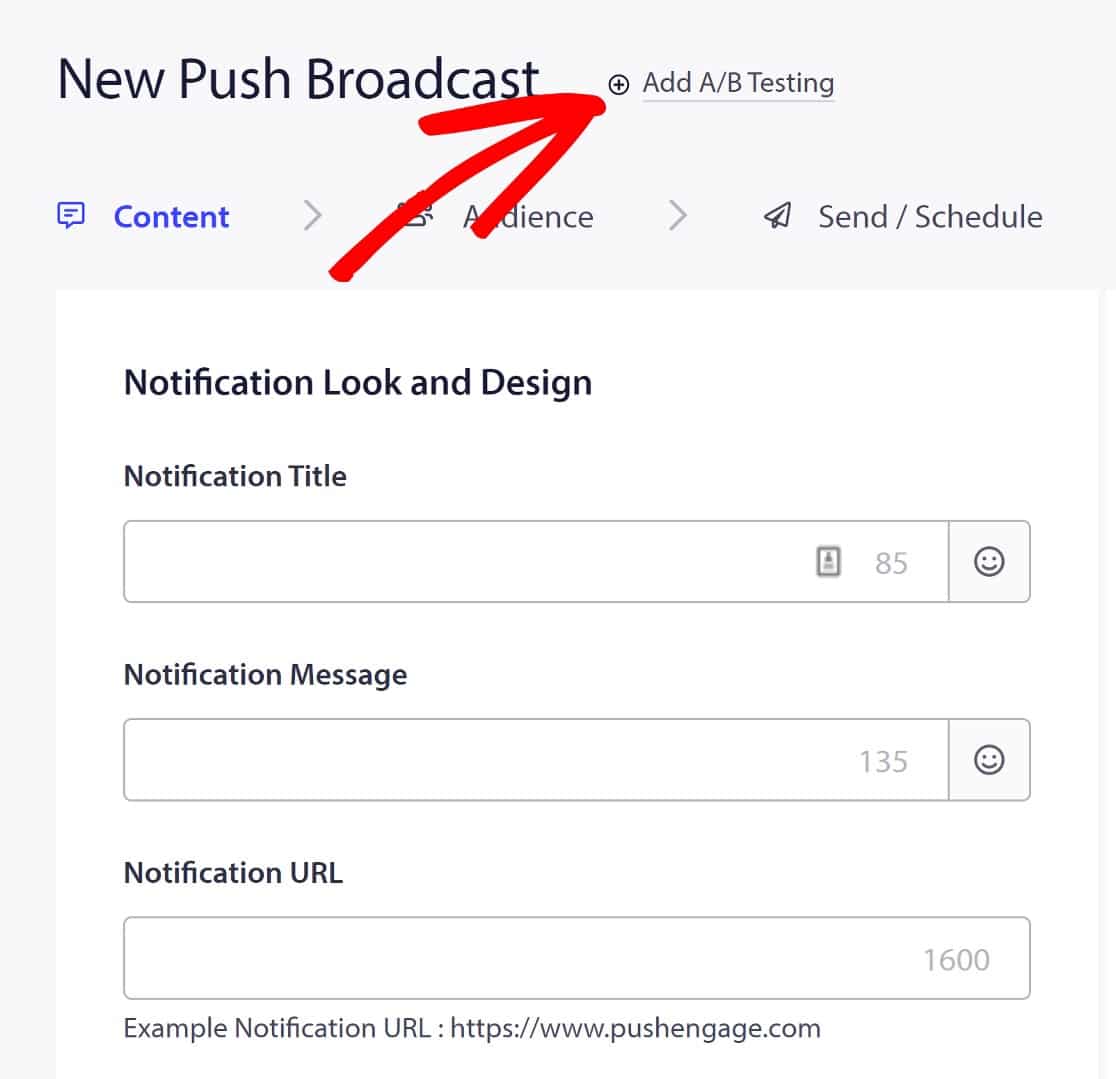 Just like with most other forms of marketing, A/B testing is a crucial component of designing successful push notification campaigns. And PushEngage's full-fledged A/B testing notification tool lets you experiment with the title, message as well as CTAs of your notification.
PushEngage can also run an "Intelligent A/B test" for you. This is an outstandingly useful feature also available in some of the best email marketing tools like Drip.
With Intelligent A/B testing, you can run highly controlled campaign experiments by sending your variations to a sample portion of your audience for a specified duration.
It's an excellent way of boosting your clickthrough rates on the basis of actual statistical results.
PushEngage Ease of Use
As you'll have seen by now, PushEngage offers lots of neat features. But you may have questions about how easy it is to work with these tools since most competing apps tend to be somewhat complex.
You'll be glad to learn that PushEngage is quite easy to work with! A few steps are required to set up PushEngage on a WordPress site, but these steps are all straightforward.
First, you'll need to create a new account on the PushEngage website. Then you'll need to install the PushEngage plugin on your WordPress website. Once you have, you'll need to generate an API key which will create the connection between your site and PushEngage.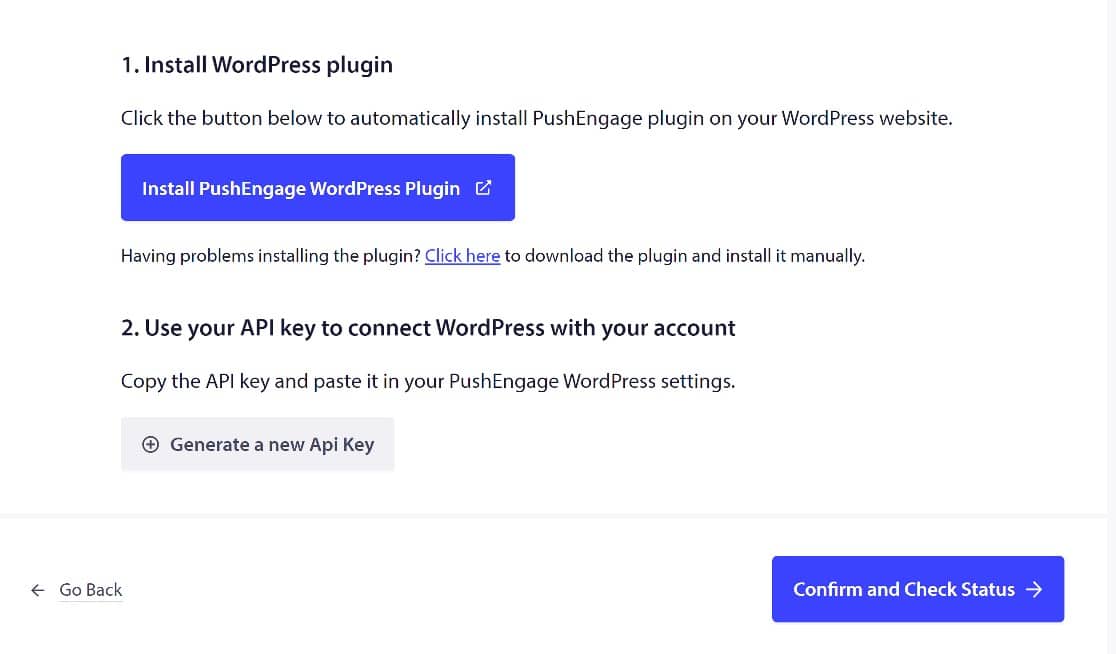 Once the connection is all set up, there are just a few more steps to run through, and then you'll be able to create push notifications on PushEngage.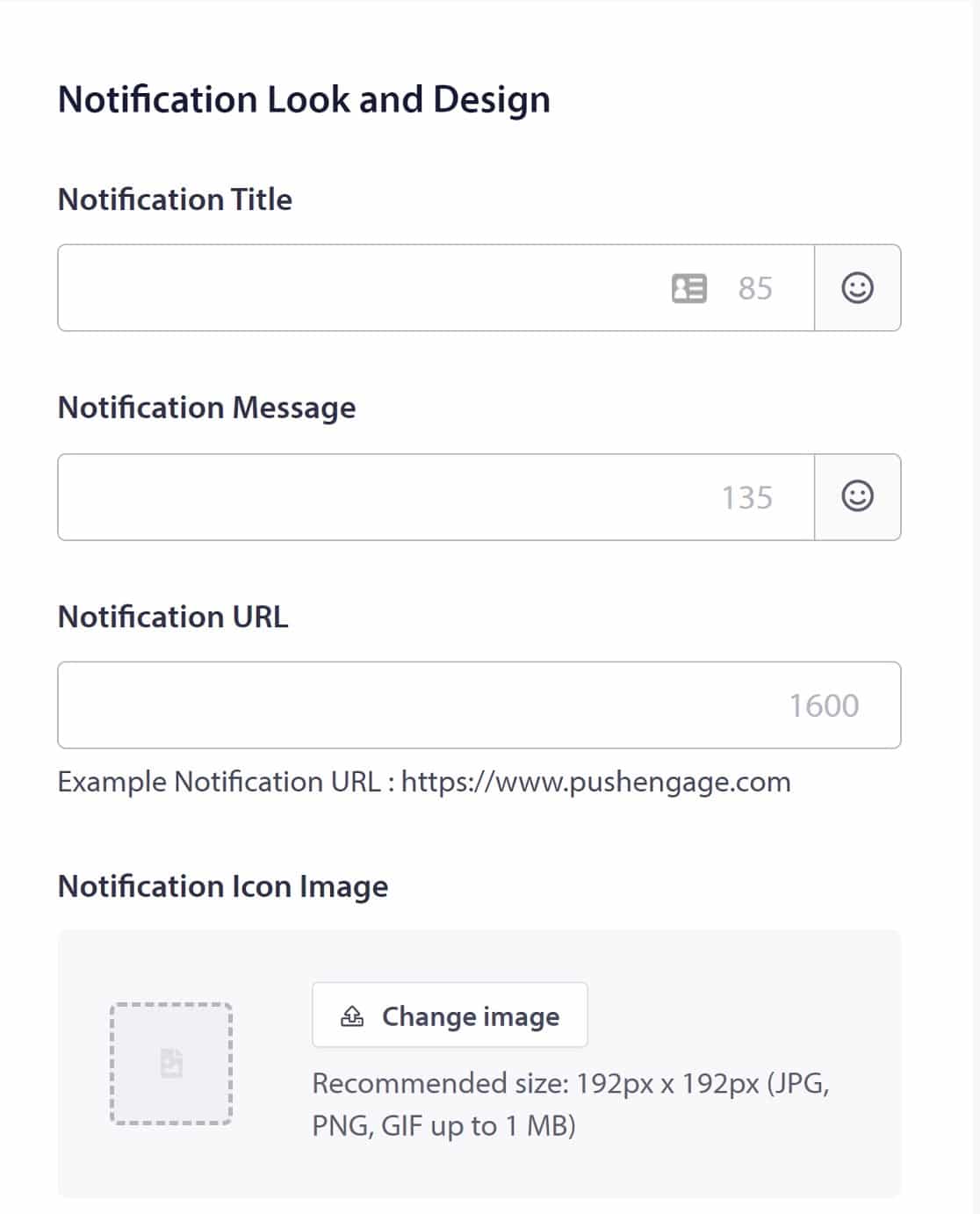 From installation to creating your first push notification, we'd say the process is quite straightforward, even though it does have a few steps to follow.
PushEngage Integrations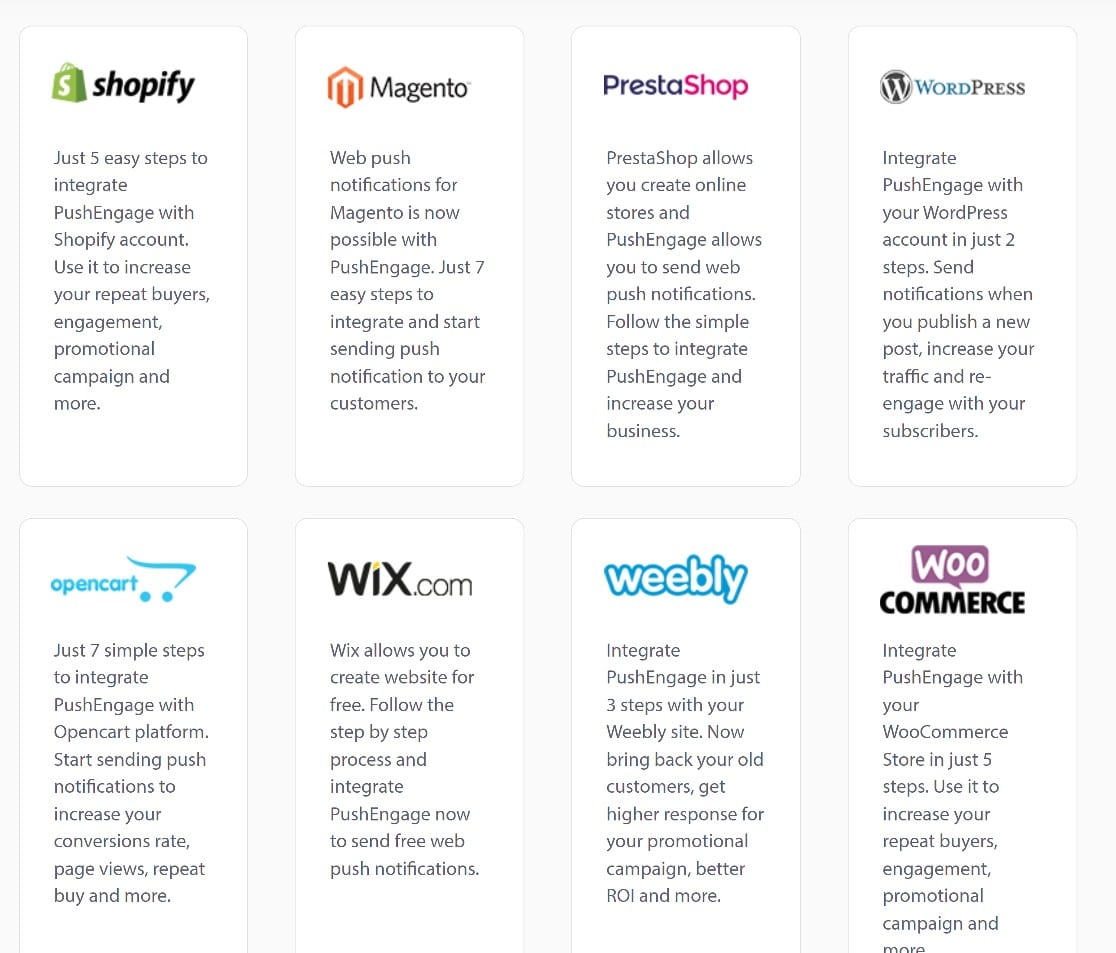 PushEngage integrates with a ton of web development platforms, browsers, e-commerce, and marketing tools. These include major platforms like WooCommerce, Magento, Wix, Weebly, Zapier, ClickFunnels, and so on.
PushEngage Support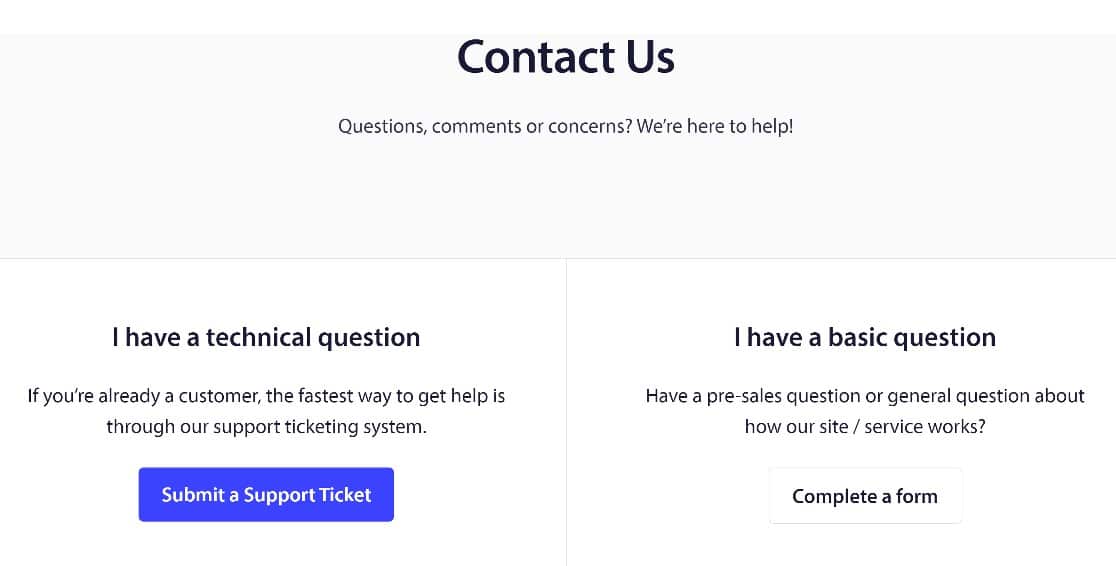 PushEngage offers two levels of support in addition to its documentation. Everyone can seek clarity on presales or general issues, but paid users are entitled to priority support via support tickets.
PushEngage Pricing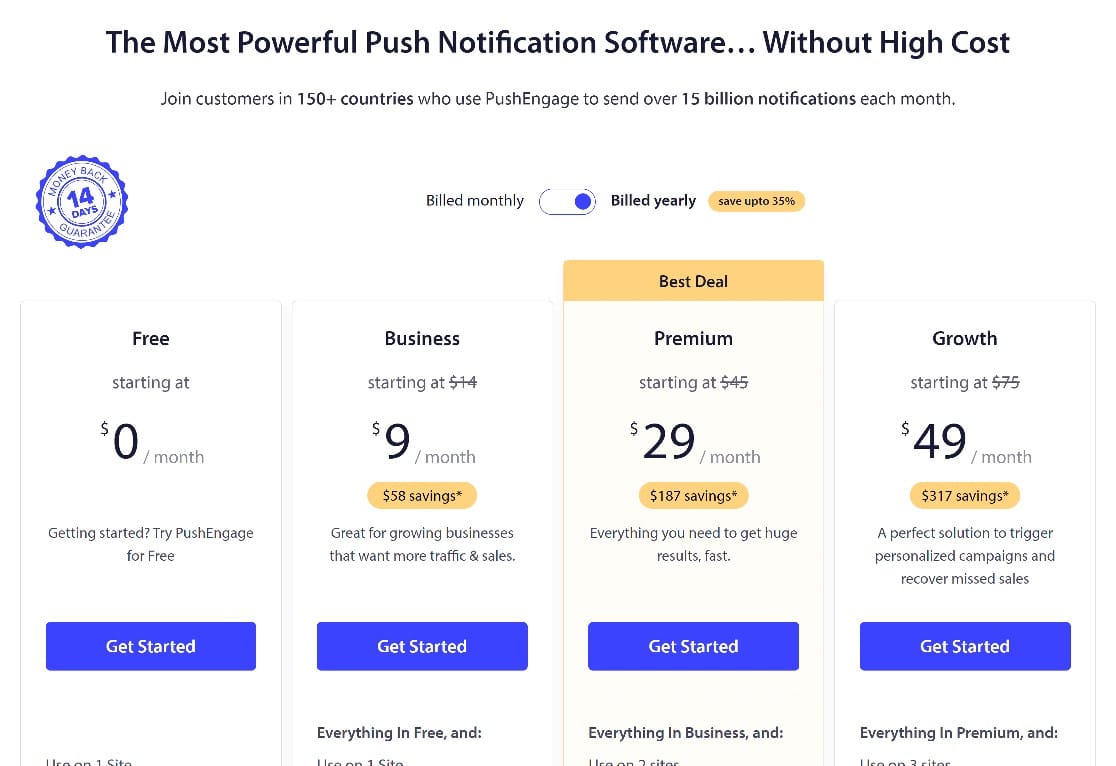 It's free to get started with PushEngage, but you'll be limited to 30 campaigns. Paid plans start at an extremely competitive $9 per month for the Business plan.
And that's it for our PushEngage review!
So, is PushEngage the best push notification app out there? We'd say yes. Considering the excellent range of features, ease of use, quality of support options, and it's competitive pricing, we'd strongly recommend using PushEngage to set up and manage your push notifications!
Next, Check Out the Best Marketing Automation Tools for WordPress
Marketing automation tools are a great way to increase efficiency so you can focus on other important tasks. Want to learn which ones we'd recommend? Here's our guide to the top marketing automation tools for WordPress.
Create Your WordPress Form Now
Ready to build your form? Get started today with the easiest WordPress form builder plugin. WPForms Pro includes lots of free templates and offers a 14-day money-back guarantee.