Documentation, Reference Materials and Tutorials for WPForms
How to Update Billing Details for Your WPForms Account
Do you need to change billing information for your WPForms account? Keeping your payment details up to date will help ensure that your license renews successfully. In this tutorial, we'll show you how to change or update the billing information for your WPForms account.
Billing updates will work differently depending on whether you selected Credit Card (Stripe) or PayPal on the WPForms checkout page.

Please select the billing option you use below to see those specific details.
---
Update Credit Card (Stripe) Billing Details
To get started, you'll need to log into your WPForms account.
Once logged in, you'll be taken to the Overview tab. On the right side, under the Actions column, click Update Payment Method.

Note:
If you do not see the
Update Payment Method
option, this means that you paid through
PayPal
.
Clicking this link will open a form where you can enter new credit card information.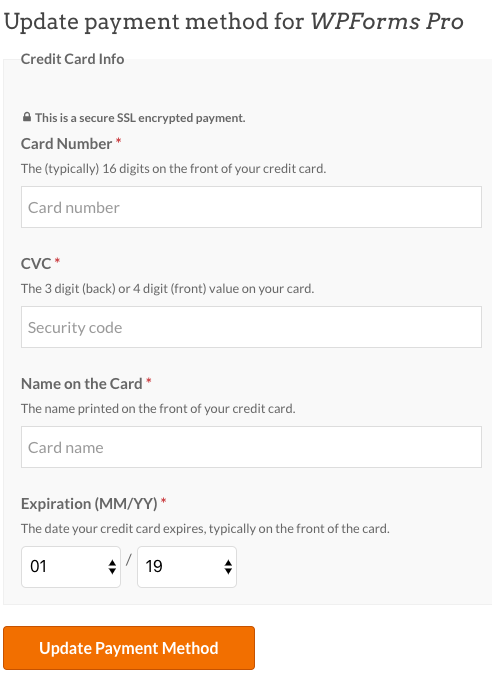 Update PayPal Billing Details
If you paid with PayPal, all payment details will be handled within your PayPal account. To update this information, please check out PayPal's guide to managing subscription payments.
That's it! We hope this guide helped you to easily update your billing details.
If you have any additional questions about your account, please get in touch with our support team. We'd be happy to assist!