Would you like to reactivate your canceled WPForms subscription? Whether you've realized its indispensable value or you're just looking to explore our newest features, you're always welcome back.
This tutorial will guide you through the simple steps to reactivate your canceled WPForms account, ensuring you get back up and running in no time.
Reactivating Your WPForms Subscription
In order to reactivate your license which has been canceled but is still active, you'll first need to log in to your WPForms account.
Next, click on the Billing tab. This page will display all of your previous license payments and all of your subscriptions. To reactivate your license, scroll down to the Subscriptions section, then click Reactivate.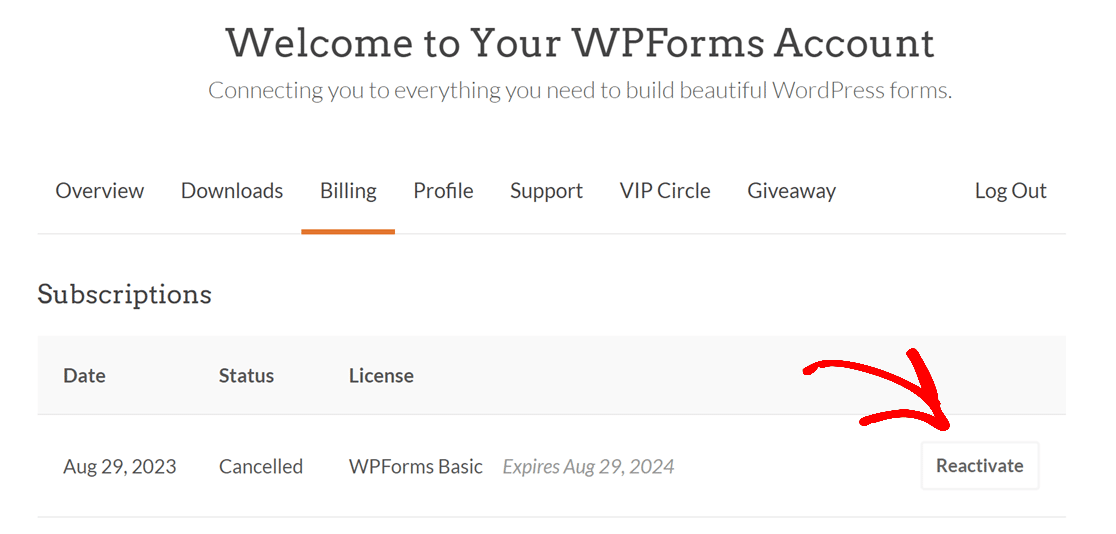 After successfully completing these steps, your WPForms subscription will be reactivated. You should soon receive a confirmation email regarding the reactivation. If you are encountering any issues, please reach out to our support team for further assistance
Frequently Asked Questions
Below, we've answered the top questions we see about reactivating your WPForms license.
What benefits do I get upon reactivation?
On reactivating, you'll have full access to all the plugin updates, latest features, and top-tier support WPForms offers.
Can I switch to a different plan after reactivating?
Yes! After reactivation, feel free to upgrade or downgrade your subscription as you see fit.
That's it! Now you know how to reactivate your WPForms subscription.
Next, would you like to explore more features and manage your WPForms account? Be sure to check out our account management guides for all the essential resources you need.