Drag & Drop WordPress Survey Plugin
The Most Beginner Friendly WordPress Survey Maker Plugin in the Market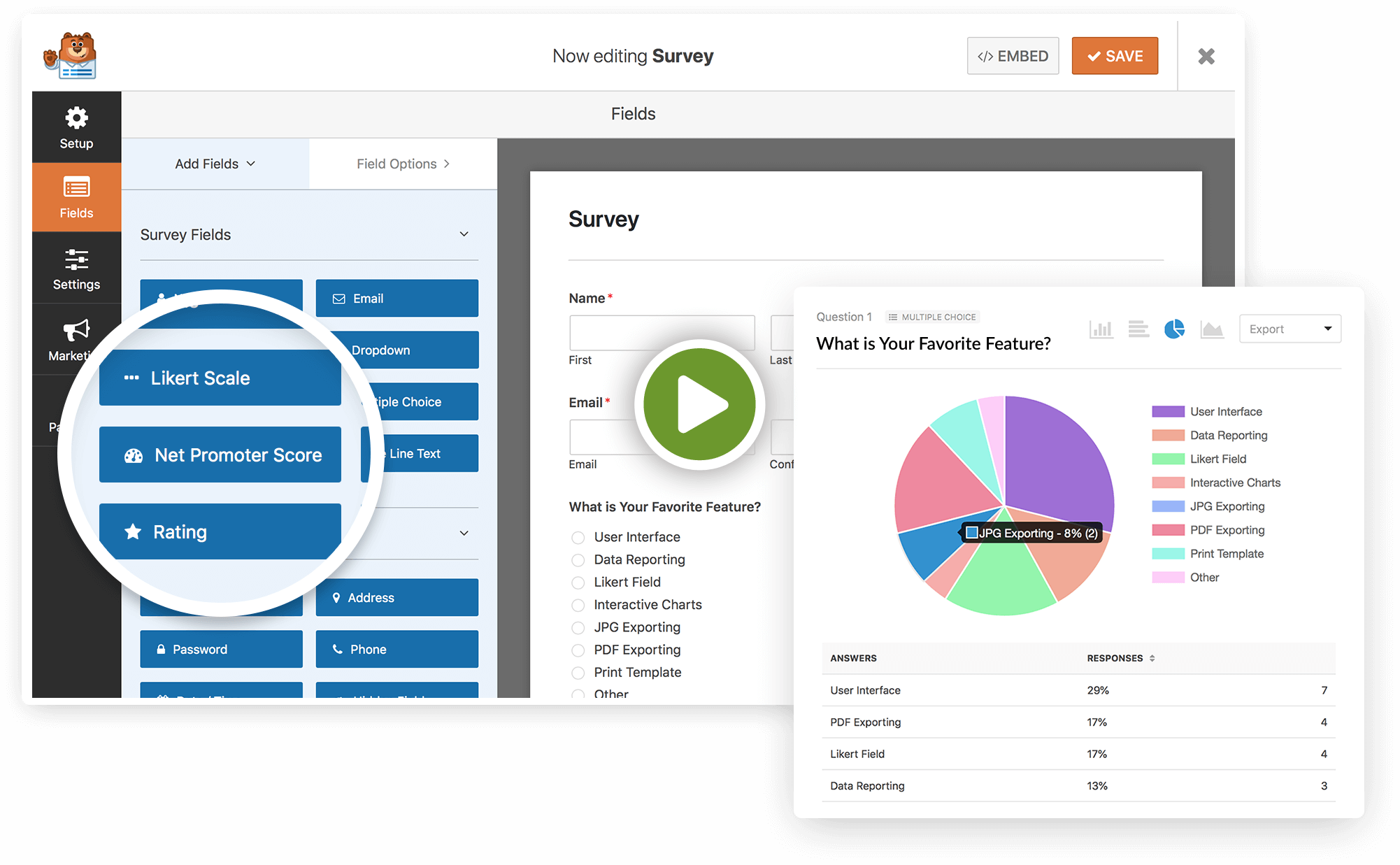 Finally, a WordPress Survey Plugin that's Easy
and

Powerful

WPForms is the best WordPress survey form plugin. Here are the features that makes WPForms the most powerful and user-friendly WordPress survey form builder in the market.
Drag & Drop Form Builder
Easily create an amazing form in just a few minutes without writing any code.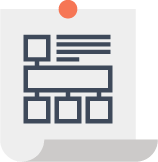 Form Templates
Start with pre-built form templates to save even more time.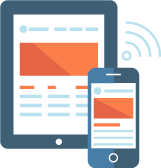 Responsive Mobile Friendly
WPForms is 100% responsive meaning it works on mobile, tablets & desktop.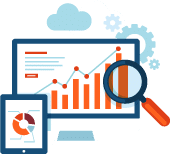 Interactive Survey Reports
Our real-time insights offer beautiful reports with best visualization.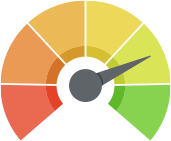 NPS Surveys
Easily create NPS surveys in WordPress with our WordPress survey addon.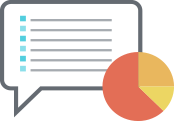 Real-time Polls
Easily create polls and display real-time results on your site.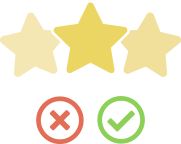 Smart Survey Fields
From Likert scale, star ratings, multiple choice, we have all the fields need.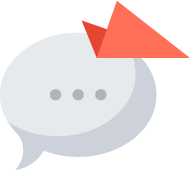 Instant Notifications
Respond to leads quickly with our instant form notification feature for your team.

Entry Management
View all your leads in one place to streamline your workflow.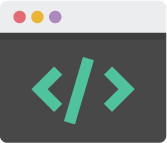 Easy to Embed
Easily embed your forms in blog posts, pages, sidebar widgets, footer, etc.

Spam Protection
Our smart captcha and spam protection automatically prevents spam submissions.
WPForms is by far the easiest form plugin to use. My clients love it - it's one of the few plugins they can use without any training. As a developer I appreciate how fast, modern, clean and extensible it is.

Bill Erickson - Erickson Web Consulting LLC

As a business owner, time is my most valuable asset. WPForms allow me to create smart online forms with just a few clicks. With their pre-built form templates and the drag & drop builder, I can create a new form that works in less than 2 minutes without writing a single line of code. Well worth the investment.

David Henzel - MaxCDN

WPForms brings innovation to the WordPress forms space by leveraging templates - making form creation fast, easy and perfect for everyone.

Chris Lema - ChrisLema.com
Top 4 Reasons Why People Love WPForms
With over 172,000,000+ downloads, WPForms is the perfect solution for YOU. Here's why smart business owners, designers, and developers love WPForms, and you will too!
Build Online Survey Forms in minutes, not hours
Building survey forms in WordPress can be hard. WPForms makes it easy.
Our intuitive drag & drop WordPress survey form builder allows you to create online surveys and polls in just a few minutes without writing any code.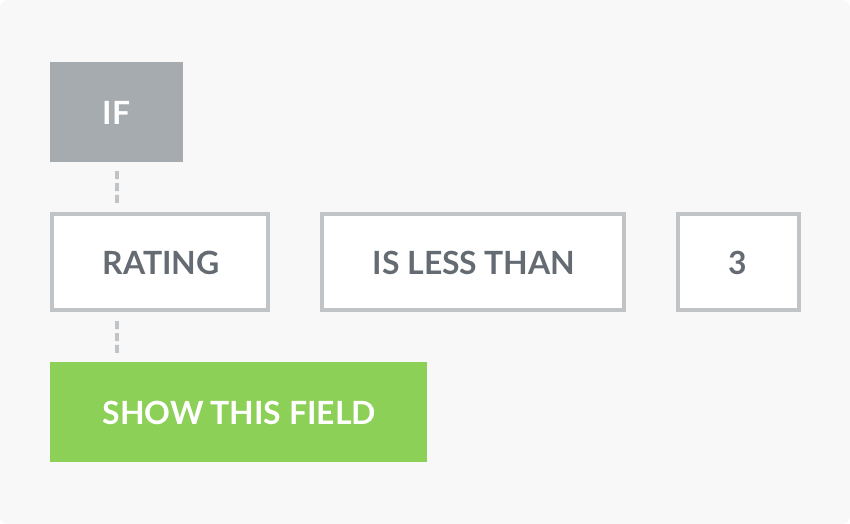 Powerful Survey Logic that Get Results
Our powerful conditional logic feature allows you to personalize your survey questions based on user's previous answer.
This allows you to collect the insights you need to make data-driven decisions while delivering a "wow" experience every time.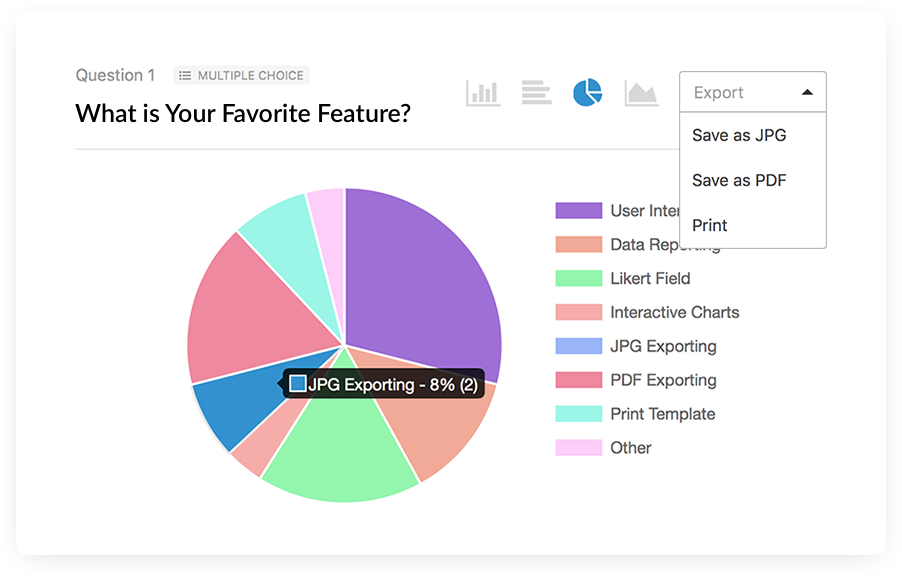 Best-in Class Survey Reporting
Our real-time insights feature automatically builds a beautiful report with the best visualizations selected for each type of question.
You can customize the reports, export the graphs for your presentations, and even display the aggregate results to your users.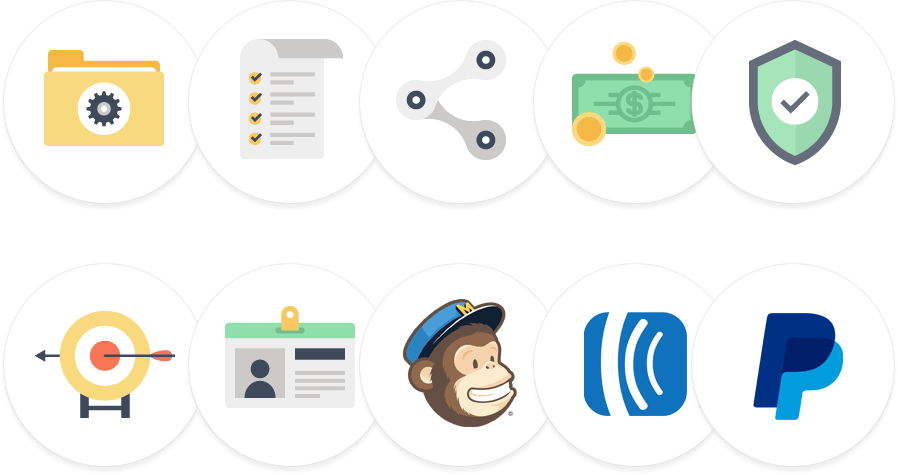 All the Fields & Features that You Need to Succeed
We have all the fields that you can ever ask for including: Multiple choice, likert scale, file uploads, multi-page forms, and more.
Easily integrate your WordPress survey forms with an email marketing service or collect payments. WPForms allows you to do it all.
Start Building Smart Survey Forms
Create and Publish Forms in Minutes... What are you waiting for?
Do you have a question about WPForms? See the list below for our most frequently asked questions. If your question is not listed here, then please contact us.
WPForms is perfect for business owners, bloggers, designers, developers, photographers, and basically everyone else. If you want to create a custom WordPress form, then you need to use WPForms.

WPForms is a WordPress Plugin. In order to use WPForms, you must have a self-hosted WordPress site. That's all.

Absolutely not. You can create and manage forms without any coding knowledge. WPForms is the most beginner friendly contact form solution in the market.

Absolutely not. WPForms is carefully built with performance in mind. We have developed everything with best practices and modern standards to ensure things run smooth and fast.

Yes, WPForms has full translation and localization support via the wpforms textdomain. All .mo and .po translation files should go into the languages folder in the base of the plugin. The same is true for every WPForms Addon as well.

No. WPForms is a WordPress forms plugin, so it will NOT work on sites that do not use WordPress. Additionally, WPForms is only compatible with WordPress.com when the account level is Business or eCommerce. You must be using a self-hosted version of WordPress to utilize WPForms.

Yes, you can use WPForms on client sites in two ways. Either you can purchase the Elite license OR purchase an appropriate license for each client sites (yes you can refer them and earn 20% commission through our affiliate program).

Yes we certainly do. We would love to have you as a partner. Visit our Affiliates page to learn more about becoming an WPForms affiliate.
WordPress Survey Form Maker

We were tired of the bloated and buggy survey form maker plugins. We believe that you shouldn't have to hire a developer to create a WordPress survey form. That's why we built WPForms, a drag & drop WordPress survey form builder that's both EASY and POWERFUL. With our online survey form maker workflow, you can create responsive WordPress survey forms in 5 minutes or less.

WordPress Survey Plugin

WPForms is consistently voted the best WordPress survey form plugin by industry authorities such as WPBeginner, ElegantThemes, ArrayThemes, and StudioPress. Unlike other WordPress survey form plugins, WPForms is 100% drag & drop, and you can create any type of WordPress survey forms including: simple survey forms, interactive WordPress polls, Net Promoter Score "NPS" survey forms, employee engagement survey, brand awareness survey, customer satisfaction survey, exit interview survey, website feedback survey, marketing survey, and basically any other kind of survey form that you can think of.

Online Survey Builder Tool

There are thousands of free online survey builder tools out there. The problem with most is that they are either too limited or extremely complicated to use. With WPForms, we created the most beginner friendly WordPress survey builder tool. You can start with our built-in WordPress survey form template or create an entirely custom survey form. Our online survey builder allows you to create WordPress survey forms that are 100% mobile responsive meaning your survey forms will always look great on all devices including desktop, mobile phones, tablets, and laptop computers. The best part is that WPForms online survey builder tool doesn't put any branding on your site which means your survey will look more professional.