Do you want to send weekly roundup posts from your blog via email to your subscribers? With Mailchimp, you can send a summary of your blog posts to your subscribers easily.
In this article, we'll show you how to set up a WordPress Mailchimp RSS for your email newsletter.
Why Set Up a Mailchimp RSS to Email Newsletter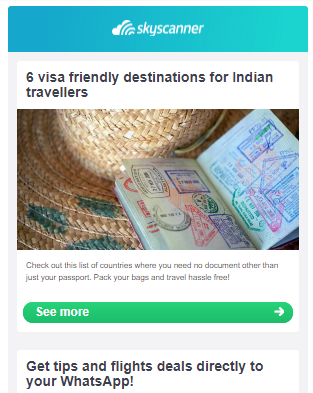 The best thing about growing your email list is that you can attract repeat visitors to your blog whenever you publish a new post. But the downside is that it may annoy your subscribers especially if you publish many articles on a regular basis.
Rather than sending automatic emails after a post is being published, you can set up a Mailchimp RSS campaign that sends emails on a regular interval, like daily, weekly or monthly, based on your choice. This way you can send updates from your blog to subscribers once in a while without annoying them.
Set Up RSS to Email Newsletter in Mailchimp
To create an RSS campaign in Mailchimp, visit the Campaigns page after logging into your Mailchimp account. Click Create Campaign.

In the modal popup that appears, click Create an Email.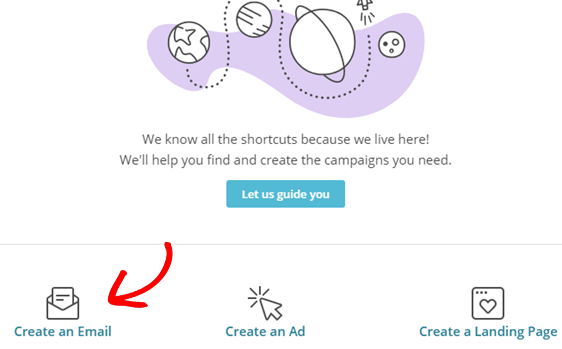 In the Automated tab, select Share blog updates.

Now you'll be asked to specify a campaign name and choose a list. Then, click Begin.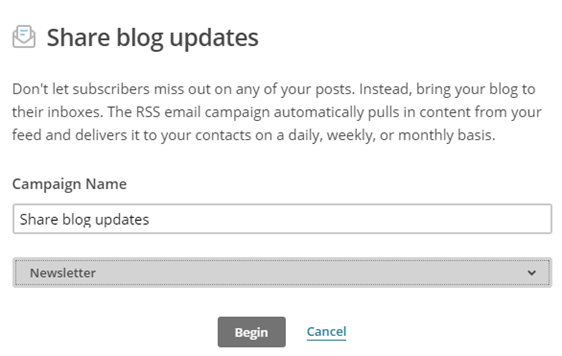 Next, you'll need to specify your RSS feed URL and choose your sending time. If you're not sure about your RSS feed URL, you can simply specify your blog URL.
The time interval could be anything like daily, weekly or monthly. Choose the best sending time for your blog. If you want, you can select the checkbox to resize your RSS feed images to fit your template.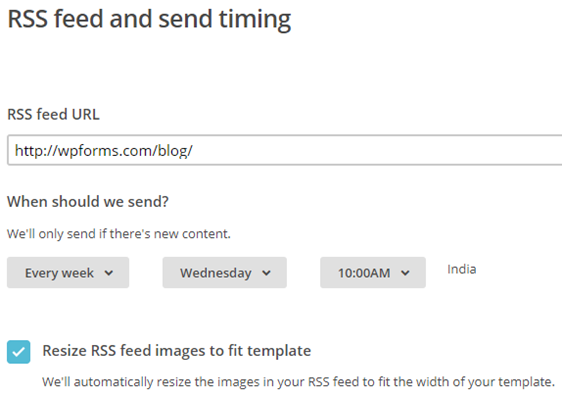 Next, you'll need to select your list, and then, specify your email marketing campaign info.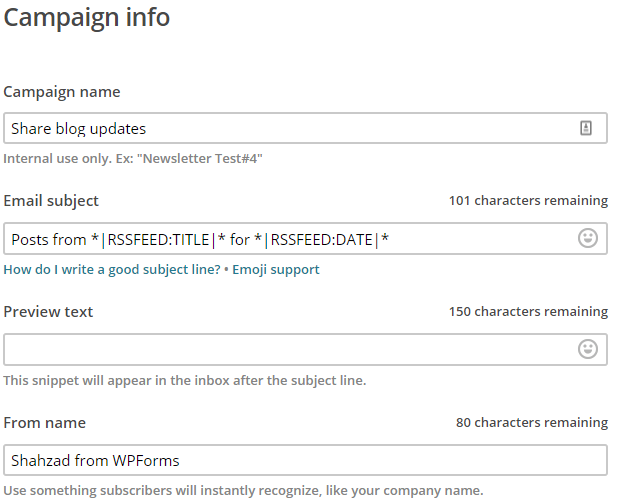 In the next step, you'll be asked to select a template. In order to make your email looks simple and pretty, let's choose the 1 column basic template in our example.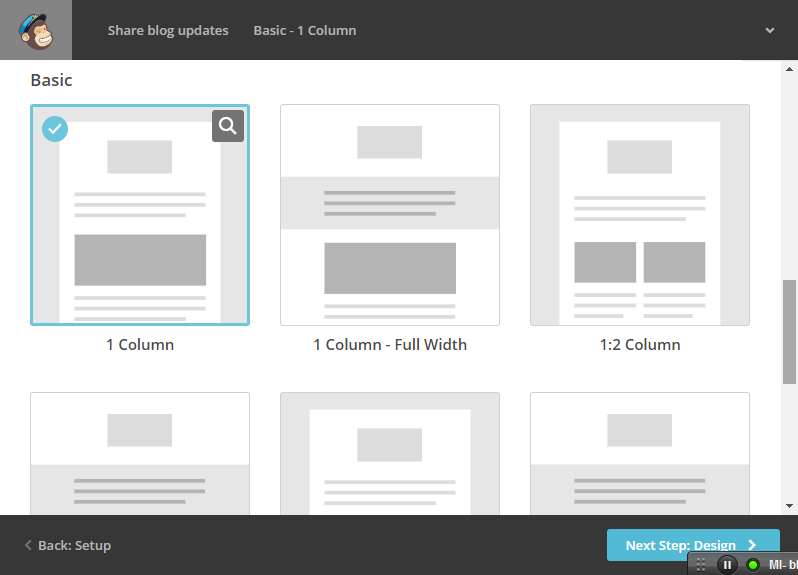 You can now start customizing your template according to your liking.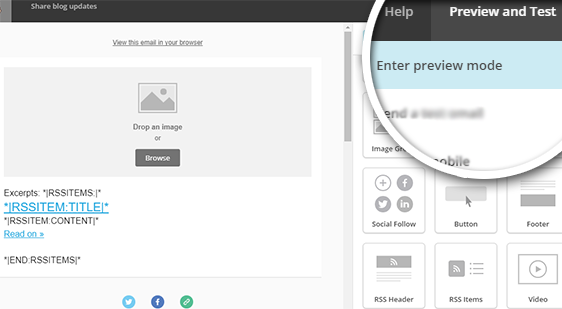 Let's add RSS Items box to the design panel. To preview the design, click Enter preview mode under the Preview and Test option.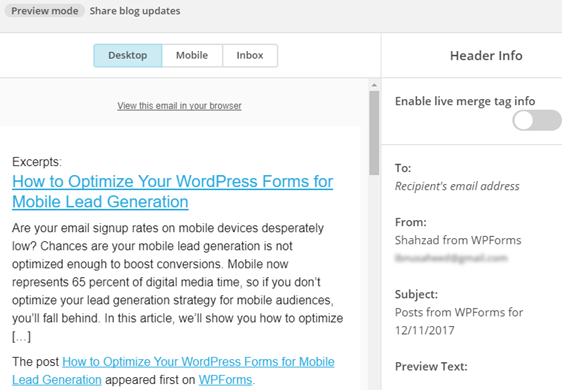 You can return to the design panel and make necessary changes per your needs. Once you're done, you can click Start RSS to send your RSS campaign based on the schedule you chose.
Create a Newsletter Signup Form
Now that you've created the RSS campaign, let's start collecting emails by creating a newsletter signup form on your site.
Log into your WordPress dashboard, and then, install and activate the WPForms plugin. Make sure to install the Mailchimp addon as well by going to WPForms » Addons.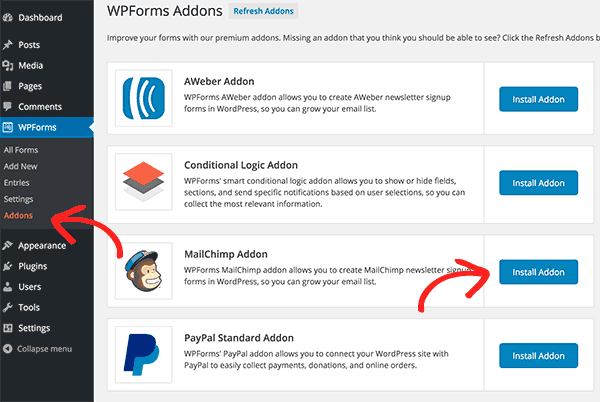 Then, create your newsletter form by clicking WPForms » Add New. Then, choose the Newsletter Signup Form template.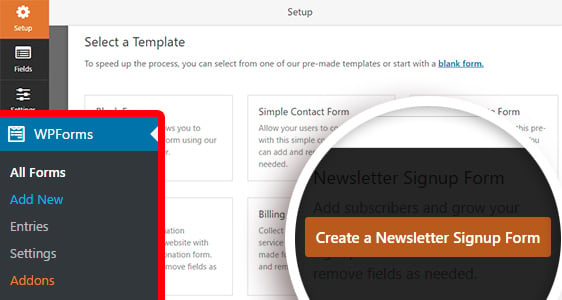 If you want, you can edit your form using the drag and drop builder.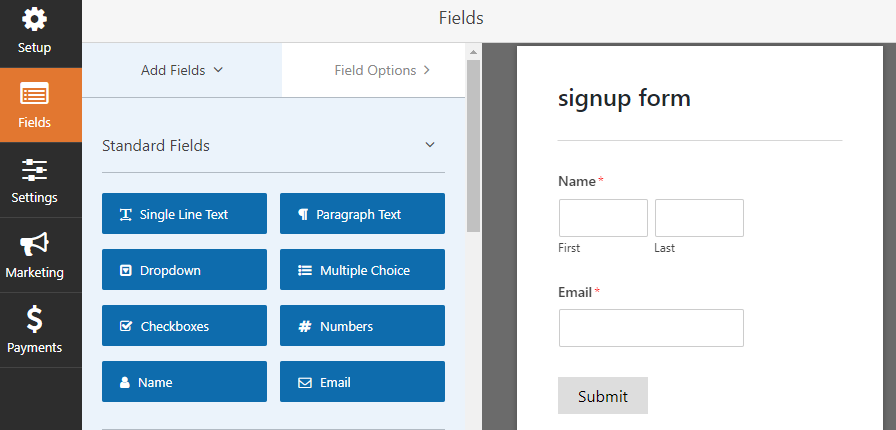 After customizing the form, go to the Marketing tab and choose MailChimp. Click Add New Connection.

Enter a name for the connection and click OK.  Now authorize your Mailchimp account by specifying your API key.
Go to the API keys page in your Mailchimp account and then, copy and paste your Mailchimp API key in your WordPress dashboard.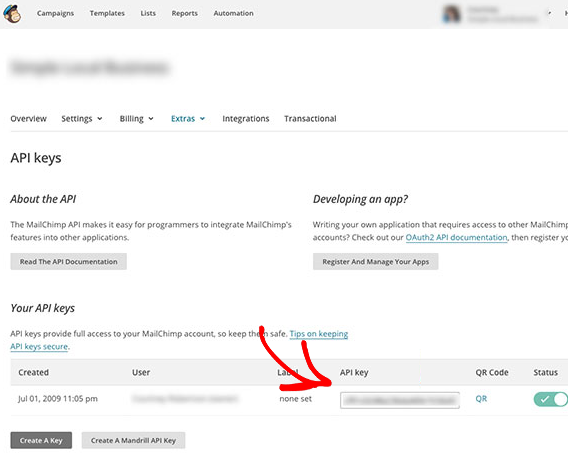 Then, click Connect.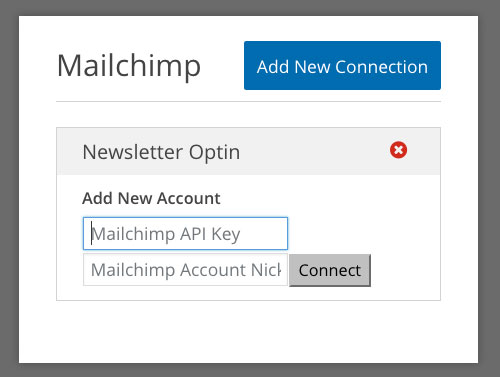 After you have placed your key into WPForms, you'll be presented with options to configure this form with your newsletter lists.
Here you can implement Mailchimp's Groups settings and match the fields in your form to the fields in the Mailchimp list.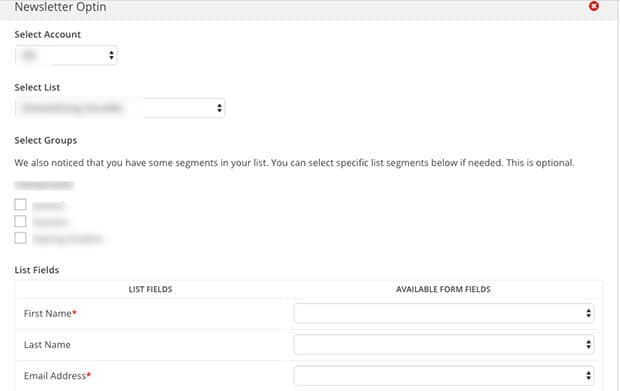 After configuring these settings, go ahead and save your form.
You can go ahead and publish your form on your site.
In Conclusion
Congrats! You've just set up a Mailchimp RSS to email newsletter in WordPress. Thinking about using a different email marketing service? You may also want to check out our guide to setting up ActiveCampaign on WordPress forms.
Plus. you might also like some other Mailchimp related posts:
What are you waiting for? Get started with the most powerful WordPress forms plugin today.
If you like this article, then please follow us on Facebook and Twitter for more free WordPress tutorials.