Do you want to be able to send targeted emails to Mailchimp segments? Being able to send your email campaigns to subscribers based on their behavior makes your email marketing efforts more effective.
In this article, we'll show you how to create segmented Mailchimp mailing lists so you can send the right information to the right subscribers every time.
Mailchimp Groups versus Segments
Mailchimp is one of the most popular email marketing services. But when it comes to Mailchimp groups and segments, there's a lot of confusion.
That's why we're going to clear that up for you, before showing you how to segment your Mailchimp lists. This is a great way to better understand your subscribers and their behavior so you can improve your email marketing campaigns.
Mailchimp Groups
A group in Mailchimp is an easy way of assigning subscribers to a simple category within a Mailchimp list. For instance, here we divided users into 3 groups based on their interests: Donating, Volunteering, and Events.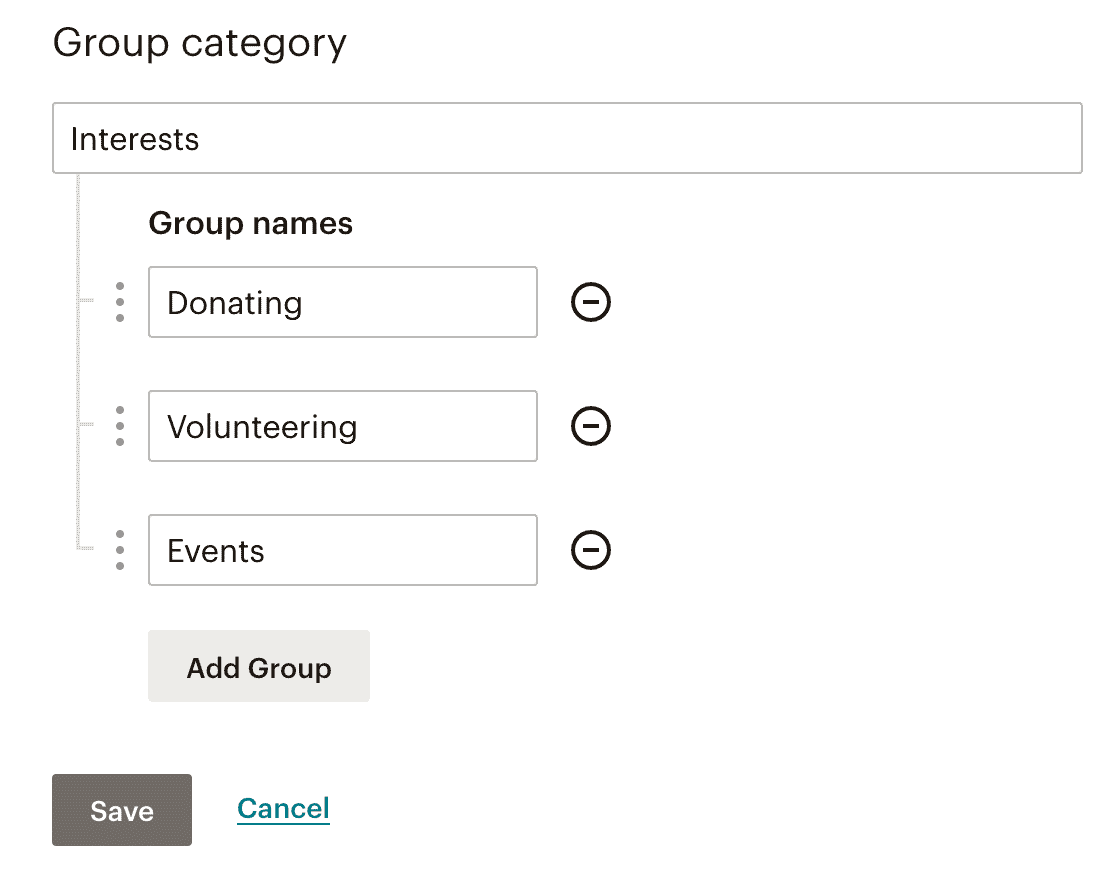 Other examples of groups include age groups, gender, or nearby cities.
See our tutorial showing you how to give subscribers a way to select a Mailchimp group for details on how to set up groups.
Mailchimp Segments
Mailchimp segments are a way to divide your subscribers into very specific categories based on multiple conditions, many of them related to how your users behave.
For instance, you might want to target those who have subscribed after a certain date or number of days, signed up for your list using a certain method, live in a certain location, or have spent more than $100 in your eCommerce store.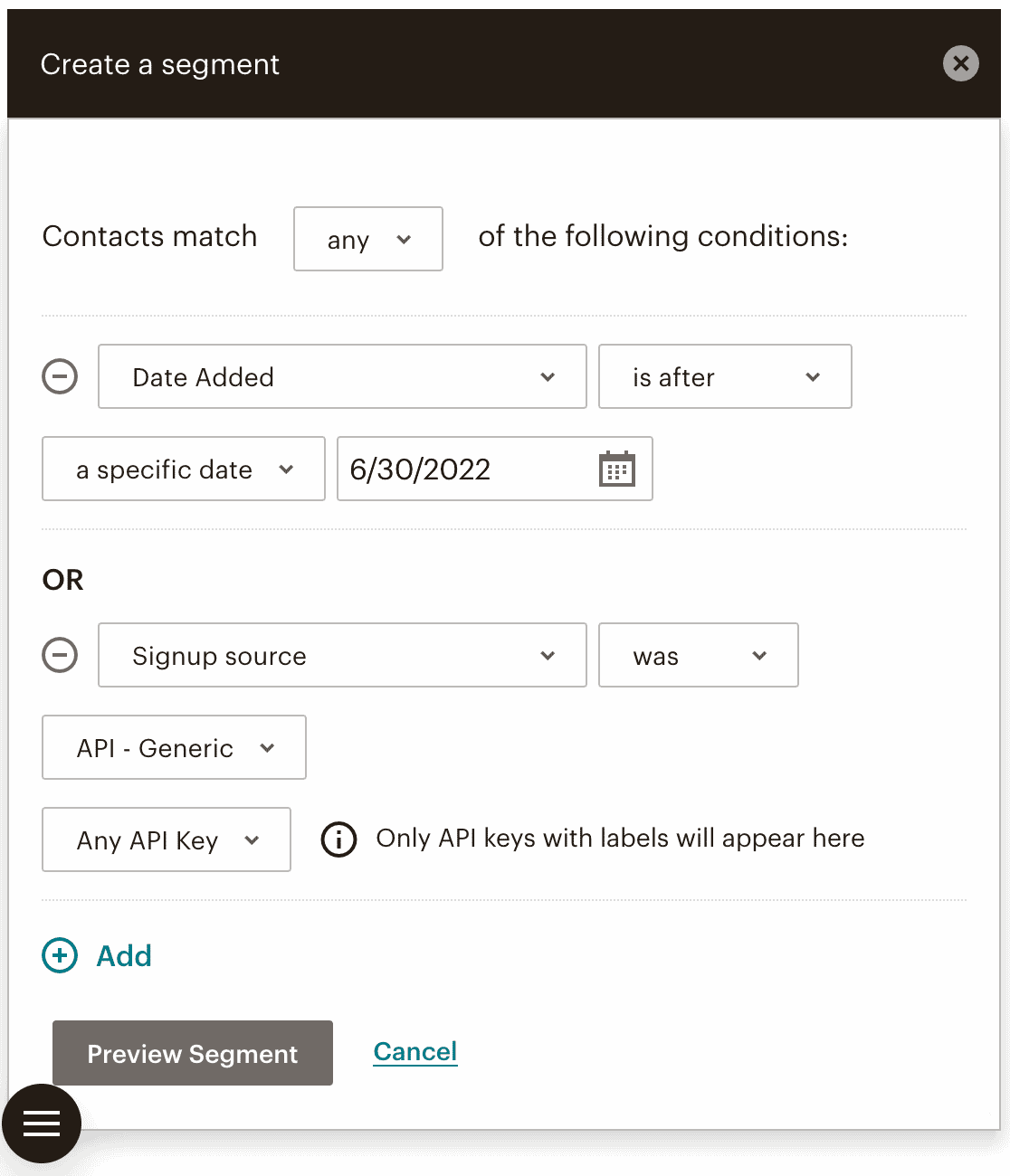 You can take it even further and filter your segments using some of the five conditions available. For example, you may want to create a segment that is meant only for subscribers that are female, aged 25–35, and have spent more than $100 in your online shop.
The only way for a subscriber to be assigned to a segment in your Mailchimp mailing list is to satisfy all of the conditions you define.
In the end, it is easiest to think of groups as a way to find out who your audience is, and segments are a way to find out how your audience behaves so you can personalize your email campaigns.
How To Send Targeted Emails To Mailchimp Segments
Now, let's take a look at how to segment your existing Mailchimp lists for sending out targeted email campaigns to specific subscribers.
Step 1: Create a Mailchimp Signup Form
The first thing you'll need to do is install and activate the WPForms plugin. For more details, check out how to install a WordPress plugin.
From there, you'll need to integrate your form with Mailchimp using the Mailchimp addon, as well as create a newsletter signup form.
For a step-by-step tutorial, you can read how to create a Mailchimp signup form in WordPress.
Lastly, you'll need to make sure you have at least one list created in your Mailchimp account. For instructions, read up on how to create a Mailchimp list.
Step 2: Add Segments in Mailchimp
The next step is to create a segment in your Mailchimp account. To do this, go to Audience » Segments.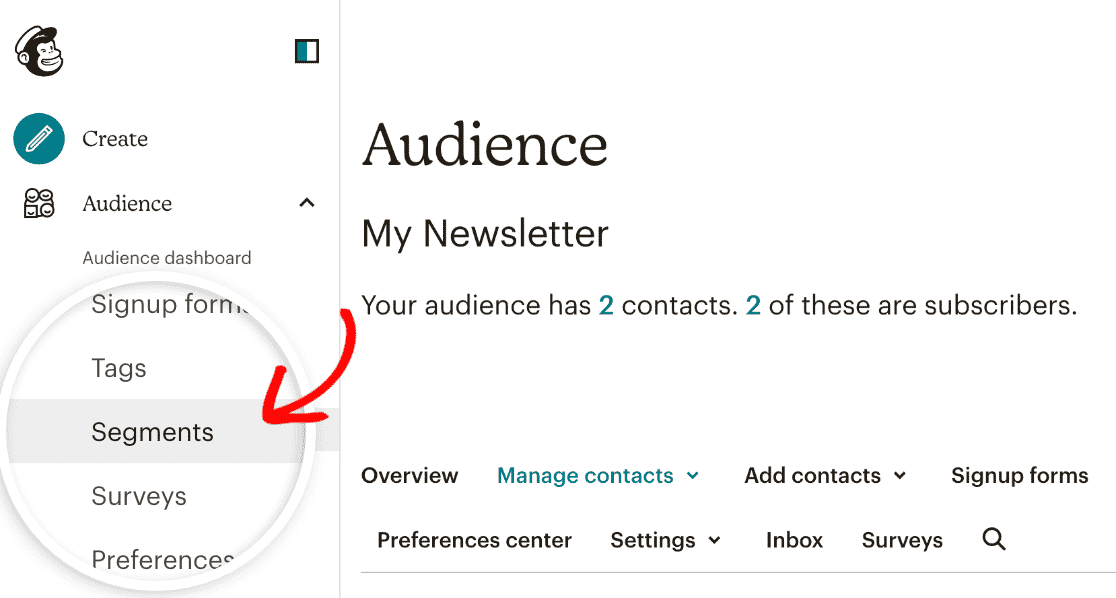 Next, click on Create Segment.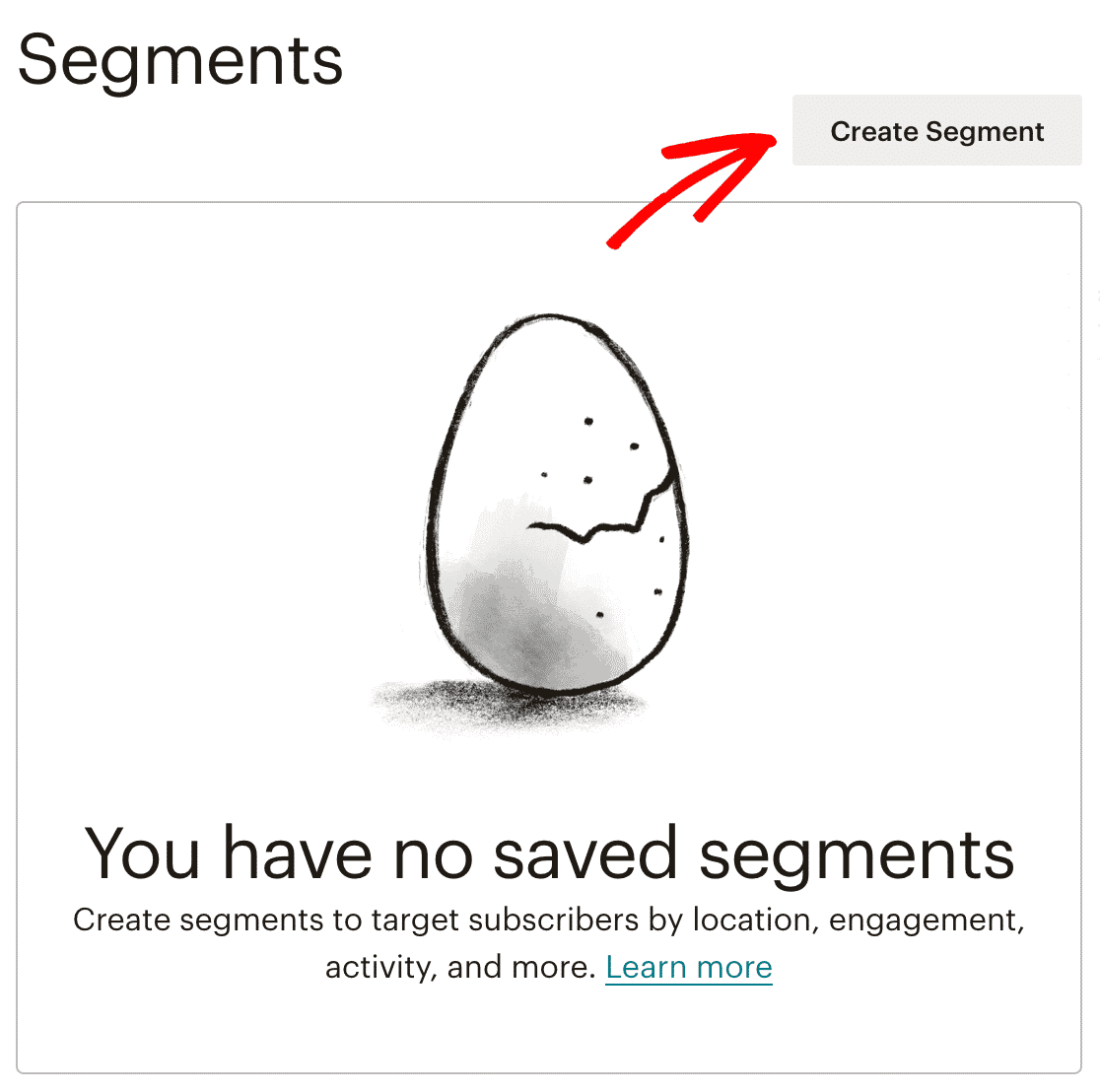 You will now see the section where you can define your conditions.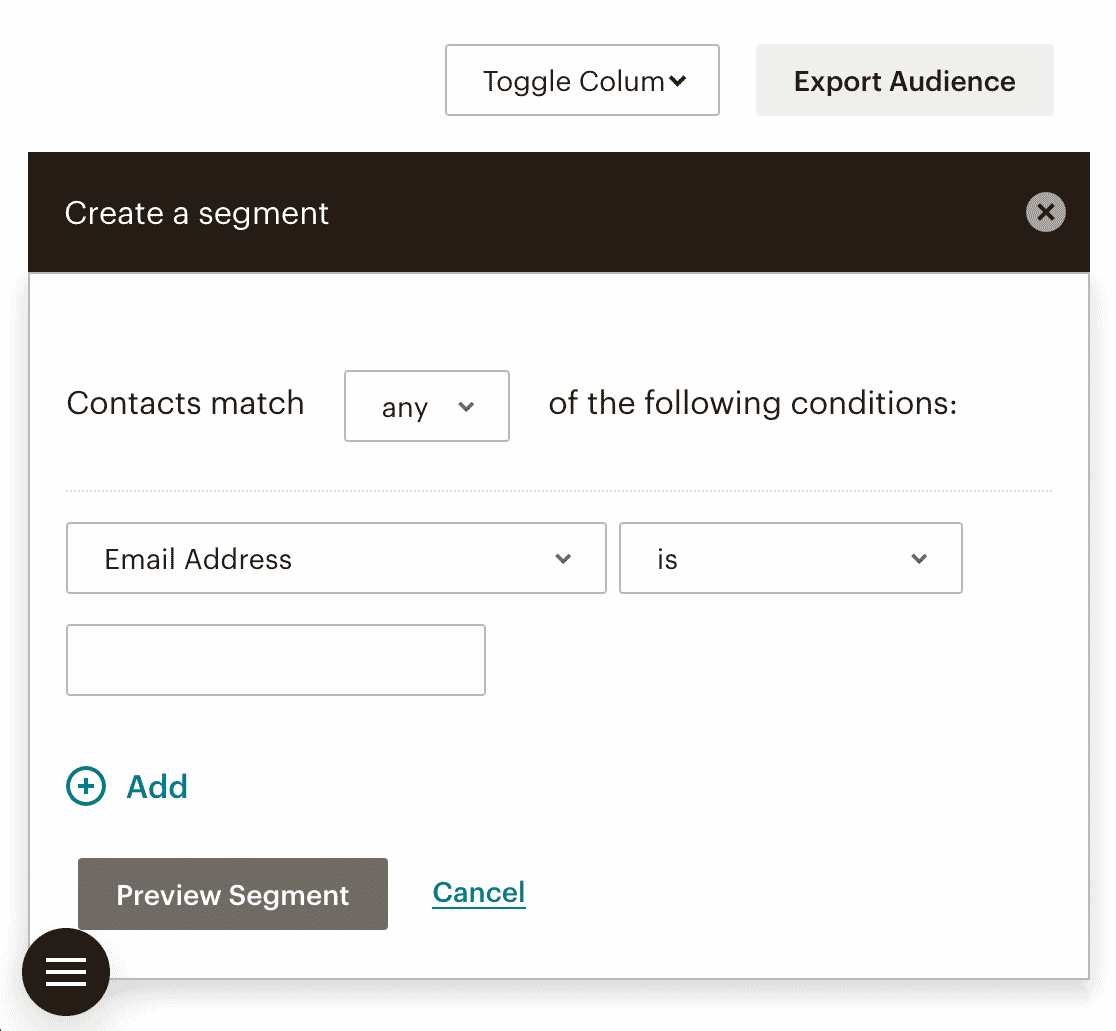 Use the dropdown at the top of this section to specify if subscribers have to meet all of the conditions or just 1 of them.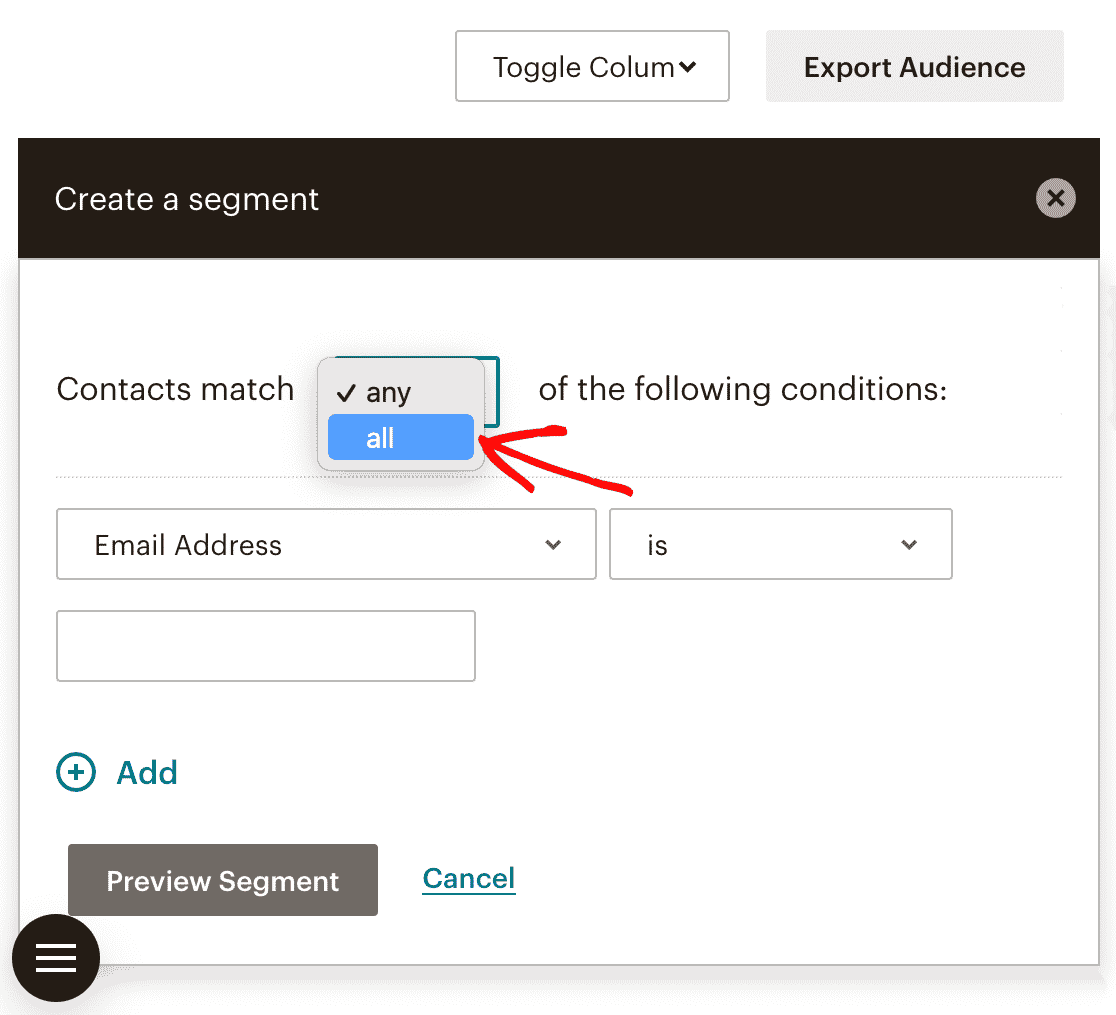 You can define up to 5 conditions. Click on + Add to create another condition.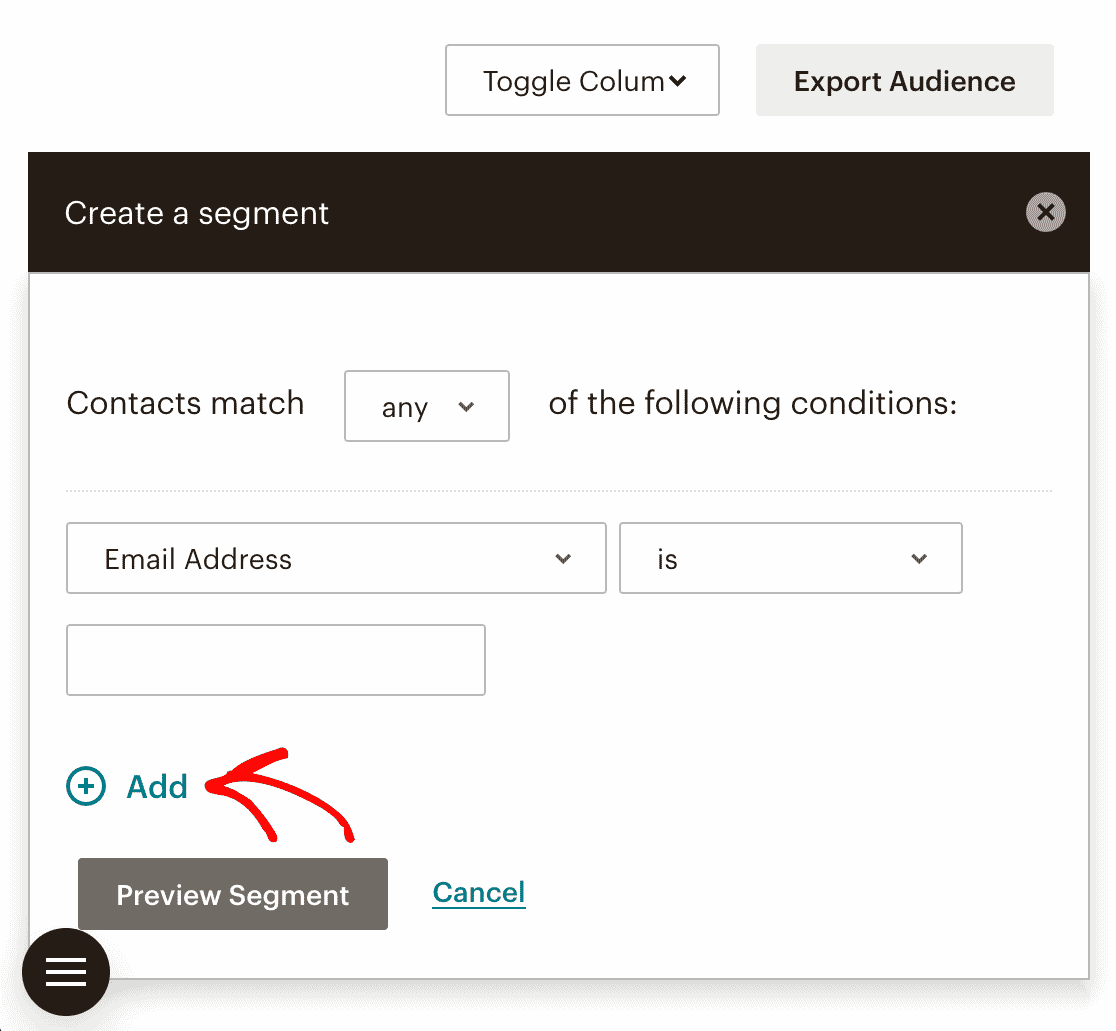 All Mailchimp users can use the following conditions:
Personal Details About Your Contacts

Address
Birthday
Contact Rating
Email Address
Email client
Email marketing engagement
Email marketing status
First Name
Info Changed
Language
Last Name
Location
Phone Number
VIP Status

How Your Contacts Were Acquired
What Your Contacts Have Done

Automation activity
Campaign activity
Conversions activity
Landing Page activity
Postcard activity
If you have any API 3.0 eCommerce data in your account, you can segment subscribers based on purchasing behavior. For example, you can define conditions based on whether they have purchased from you in the past, if they are a repeat customer, or have made a purchase from you in the past X days.
Lastly, if you have a Mailchimp Standard plan or higher, or the Mailchimp Pro addon, you can also use demographic segments such as gender and age.
Using Pre-Built Mailchimp Segments
Mailchimp includes some pre-built marketing segments. You can automatically create campaigns targeting some of these segments in your Audience Dashboard.
Hover over any paper airplane icon in your dashboard to create a campaign for the corresponding segment.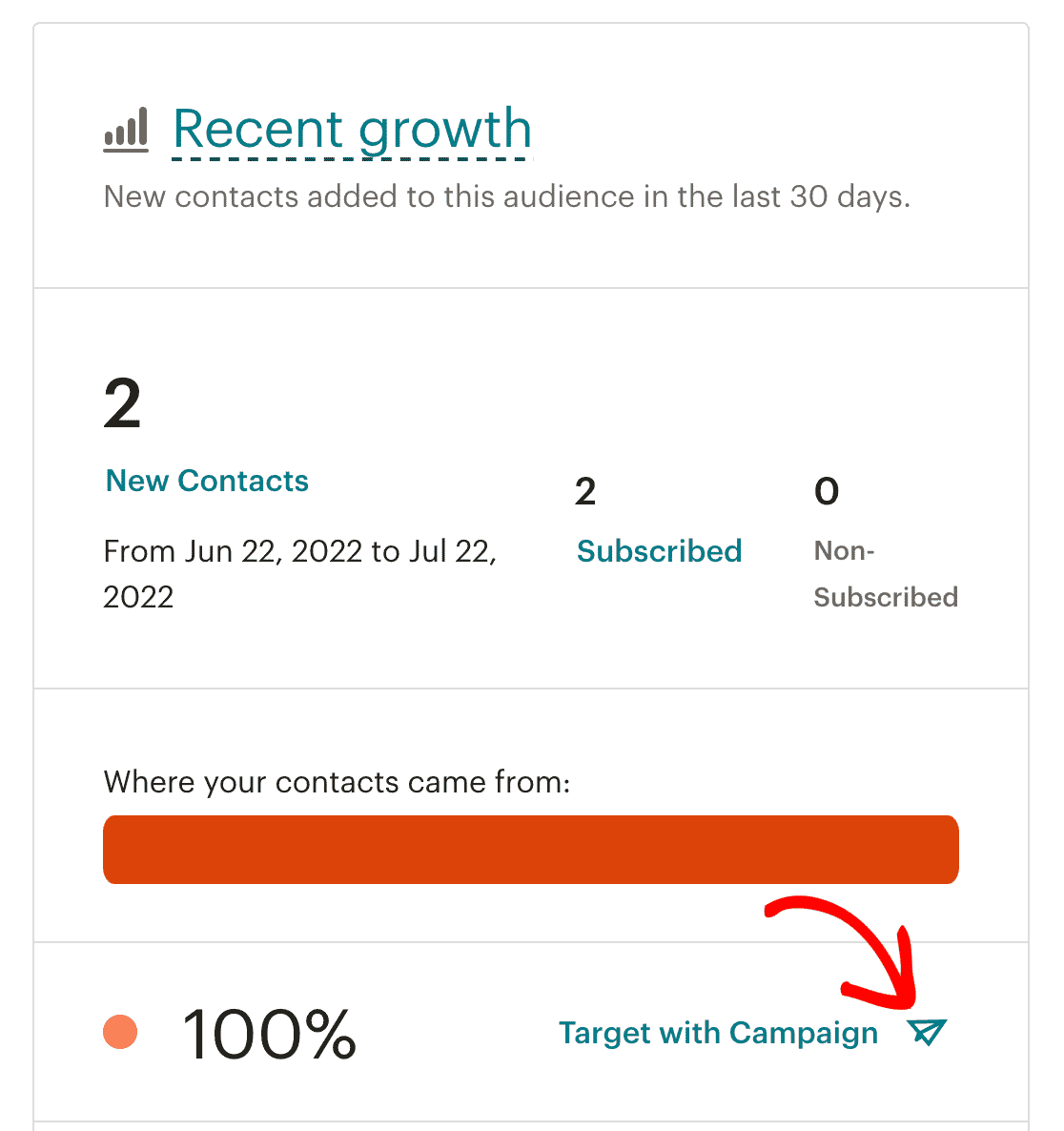 Some of the pre-built segments you'll find here include signup source, location, marketing engagement, and more.
There are also some pre-built segments in the campaign builder. To access them, click on Edit Recipients in the To field.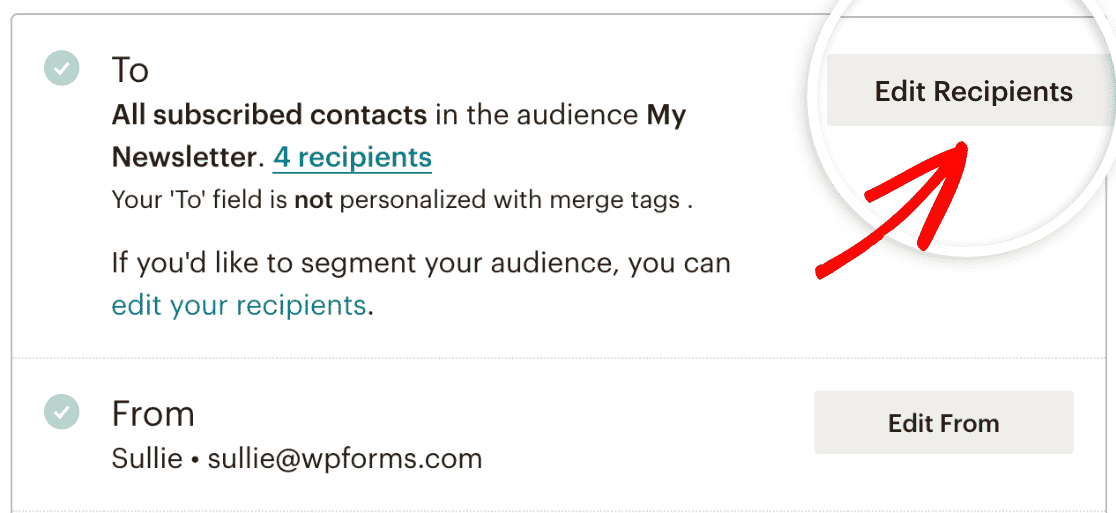 Then select a pre-built segment from the Segment or Tag dropdown. The options are:
New Subscribers
Active Subscribers
Inactive Subscribers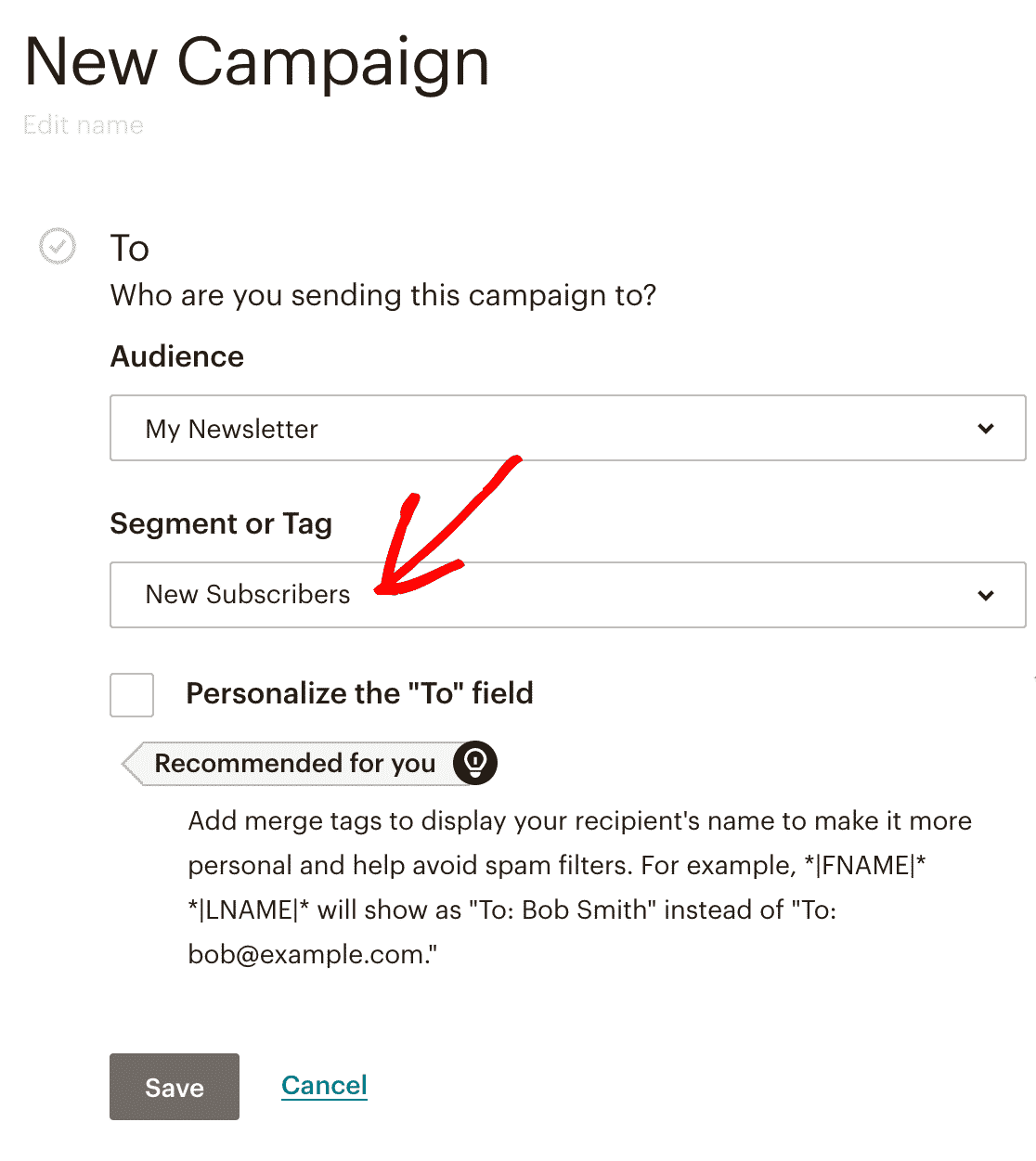 Click Save to add your chosen segment as this campaign's recipients.
Step 3: Preview and Save Your New Segment
In this example, we'll create a segment with 2 conditions. A subscriber must have signed up after the specified date and via API.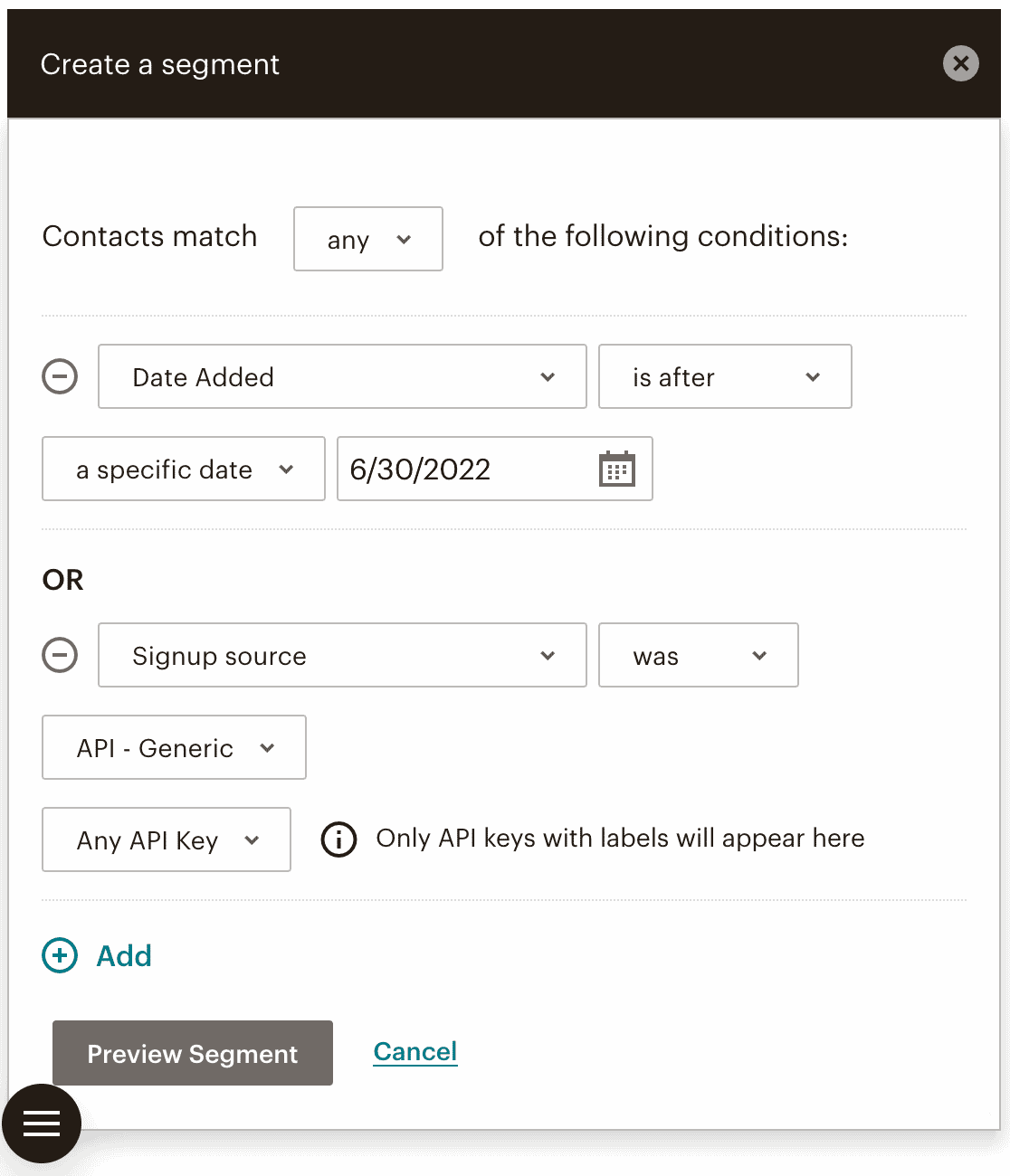 Once you've set your conditions, click on Preview Segment.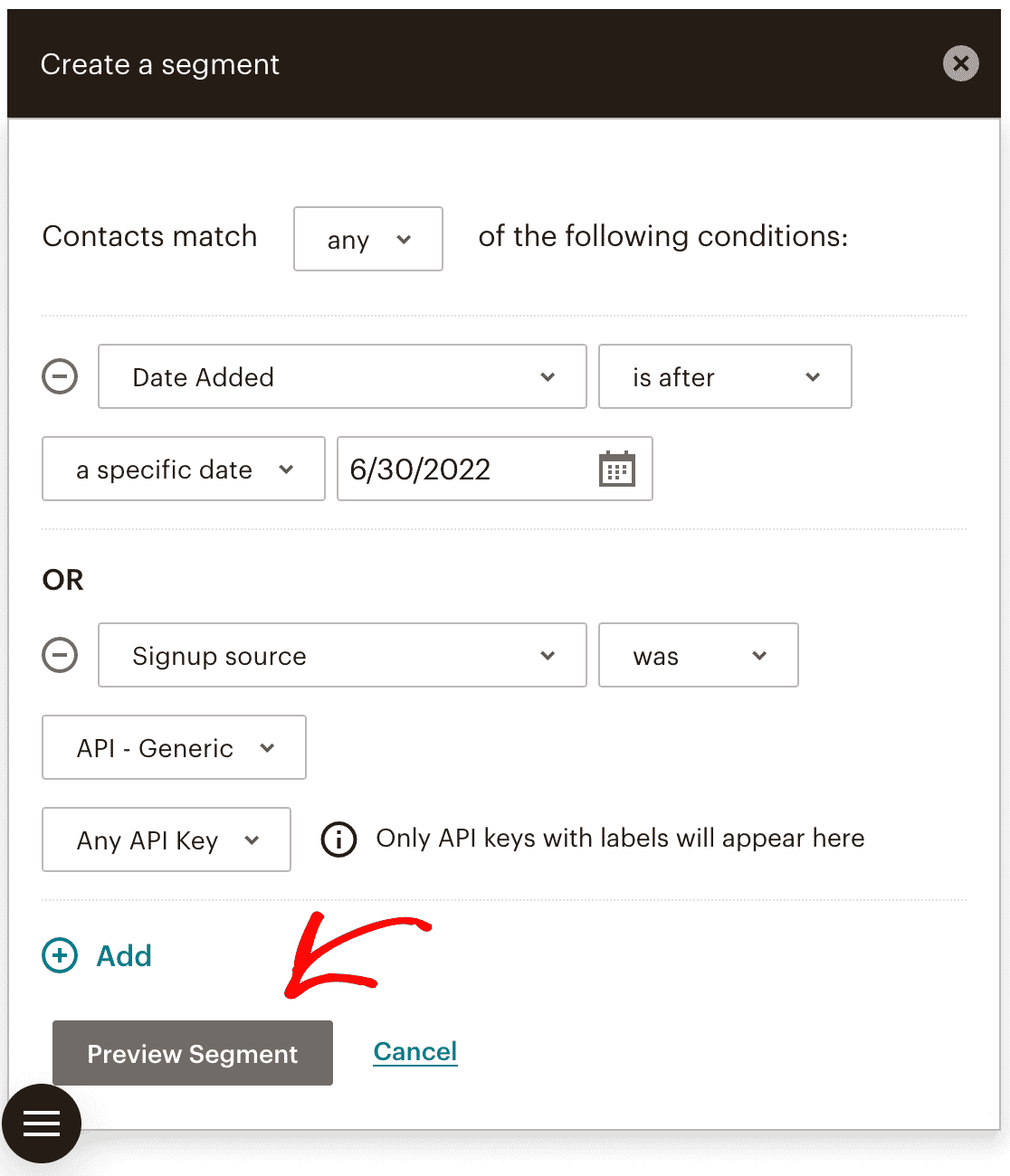 This will show you a list of the subscribers who will be added to your new segment. When you're happy with your segment, click on Save Segment.

In the modal popup, give your segment a name.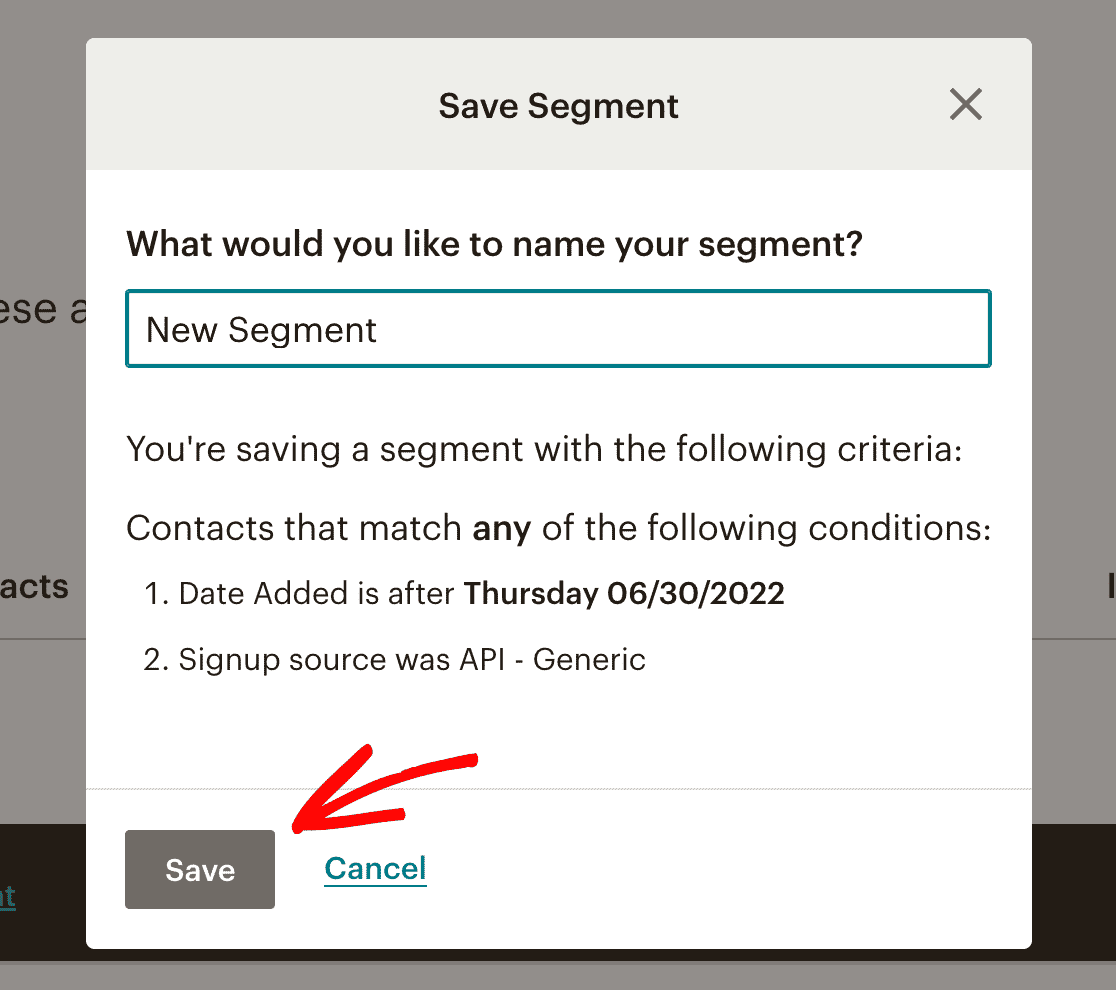 Finally, click Save.
Once you've saved your segment, you'll be able to send campaigns to the subscribers it includes by selecting it from the Segment or Tag dropdown in the To field in the campaign builder.
Next, Do More With Mailchimp
And there you have it!
You have now learned how to segment Mailchimp mailing lists with WPForms. Every time someone subscribes to your newsletter form after the defined date, they will automatically be added to your mailing list segment.
Thinking about using a different email marketing service? You may also want to check out our guide to setting up ActiveCampaign on WordPress forms.
Plus. you might also like some other Mailchimp related posts: